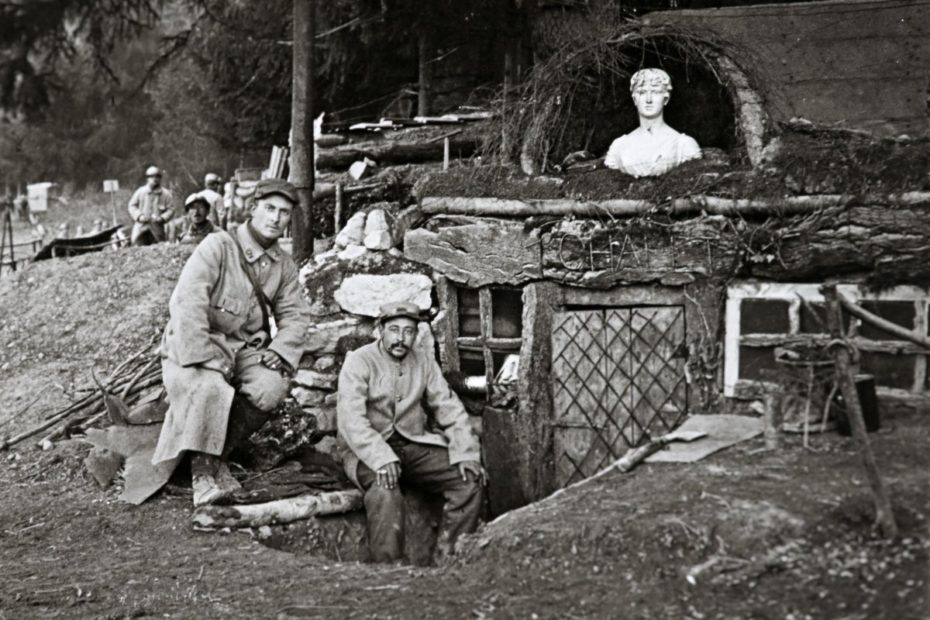 It all started with one photograph that caught my interest, and then through the course of today, I think I've easily gone through about 10,000 photographs, searching through various archives for another glimpse into how soldiers made a home for themselves on the front line.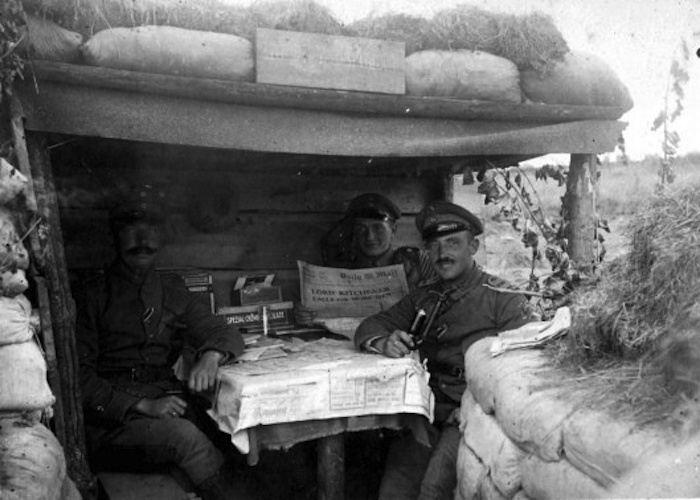 Even amidst the unimaginable horrors of war, there's just something so relatable about bringing the comforts of home into such an unlikely setting, especially as someone who has always had a thing about personalising my own environment, whether it was the backyard forts I built with my brother as a kid or my workspace today.
Pictured above: German troops reading "The Daily Mail" in a dugout at Wieltje, East of Ypres, 1915.
To see these men customise their dreary dugouts with make-shift furniture, decorative accents, window frames, flower pots and other feminine touches, it gives you an entirely different perspective on war, regardless of which side the soldiers in the photographs were fighting for. With every unfamiliar image I found of these rare moments in the trenches, I was sent deeper down the rabbit hole…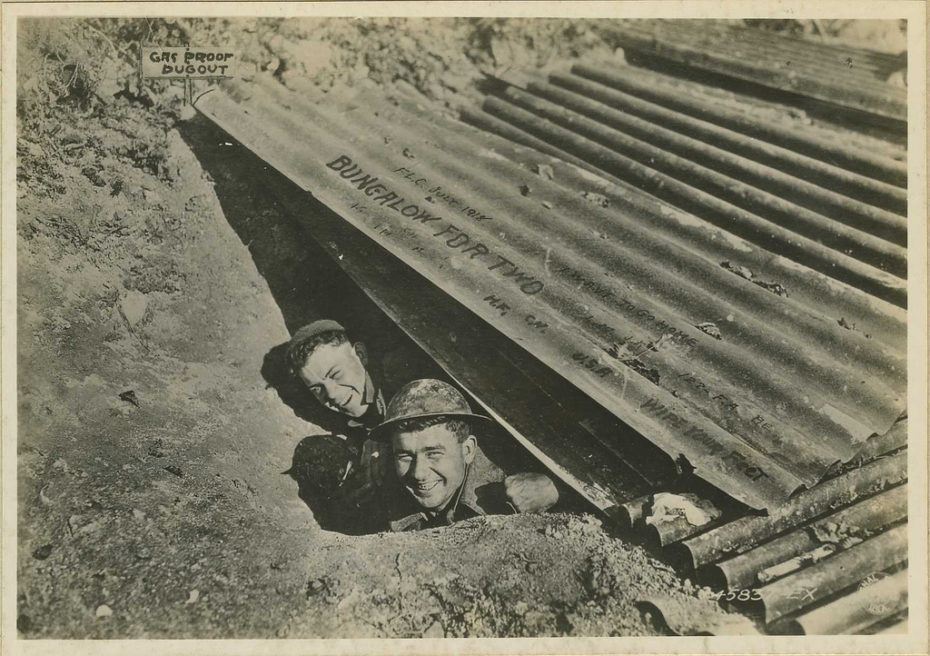 Dugouts came in all shapes and sizes, from the elaborate and creative to the most basic, but somehow cozy. Some were several stories deep, almost like small hamlets, while others made do with the little resources they had to make the best of an impossible situation.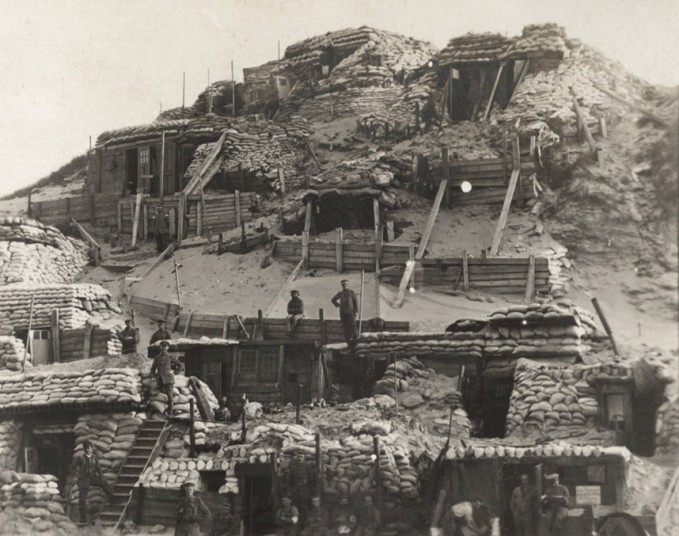 A German observation post on the Yser Front in Belgium in 1917 (c) REUTERS/Archive of Modern Conflict London
In sifting through what seemed like a good chunk of imagery available on the internet, I found that the German front seemed to have the most sophisticated dugouts, if you will, as if making a more permanent home for themselves during wartime was somehow more instinctive to them than the other troops. However, this could also be down to the fact that the Germans were better at documenting everything they did during both world wars.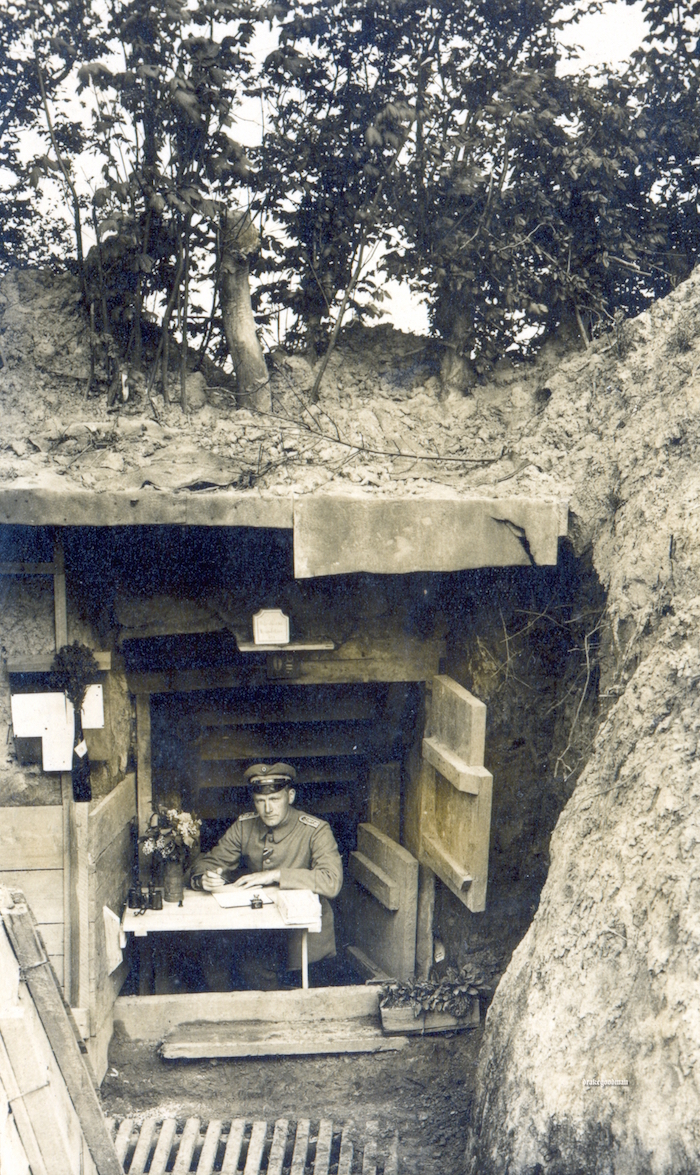 One of the most extensive archives I found of war dugouts was on a Flickr account of nearly 7,000 rare postcards, mostly German, scanned at high resolution by an Australian collector called Drake Goodman who writes in his profile that his wife "keeps threatening to put me in concrete boots if I don't stop buying postcards". His postcard above, of a Commander Rumpf, writing at a desk outside his WWI German-built dugout, was the image that first started me on this fascinating journey and his Flickr account is well-worth digging through. Each submission has been meticulously labelled, scanned on both sides and translated to share the letters written by soldiers on the back.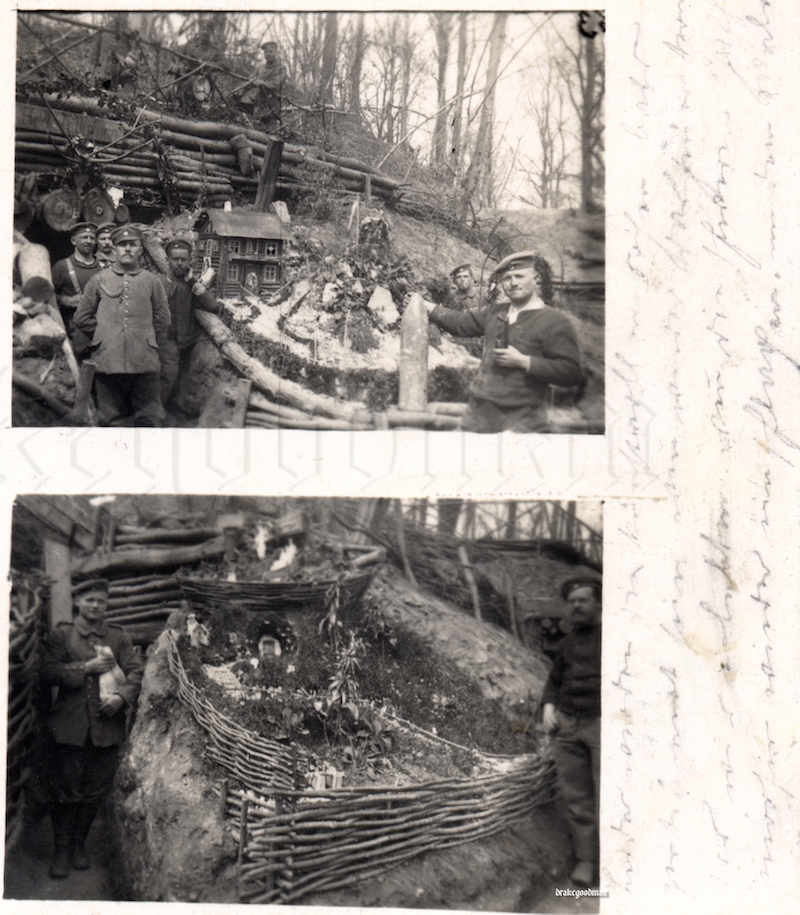 Take a look at this one, photographed on the German front, where soldiers built miniature dioramas of Lilliput and Blefuscu, the two fictional island nations from Gulliver's Travels by Jonathan Swift, in the front yard of their dugouts. See it in a larger format here. Goodman had the letter on the postcard translated dated June 1915, in which the sender asks his cousin for his opinion on how the war is progressing.
"Now what is your opinion about peace. I think that if the two forthcoming months do not bring success at Warsaw and Verdun and pending any other setbacks, then we will still be sitting in the trenches of France for the next year."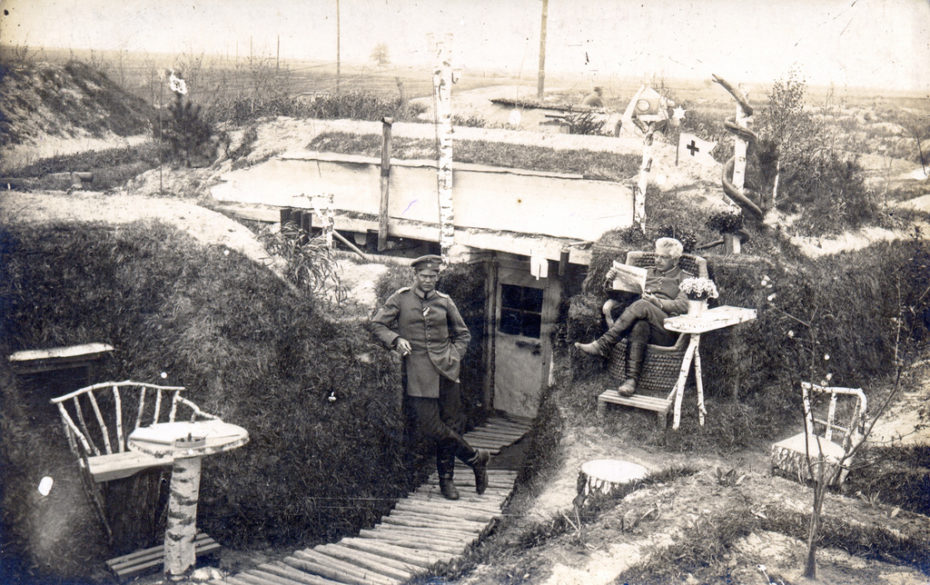 Landwehr Regiment Officers and NCOs seated around a table on which sits a portrait of a Saint Nicholas and a vase of flowers. Possibly a special occasion such as an award presentation, 1915. (c) Drake Goodman.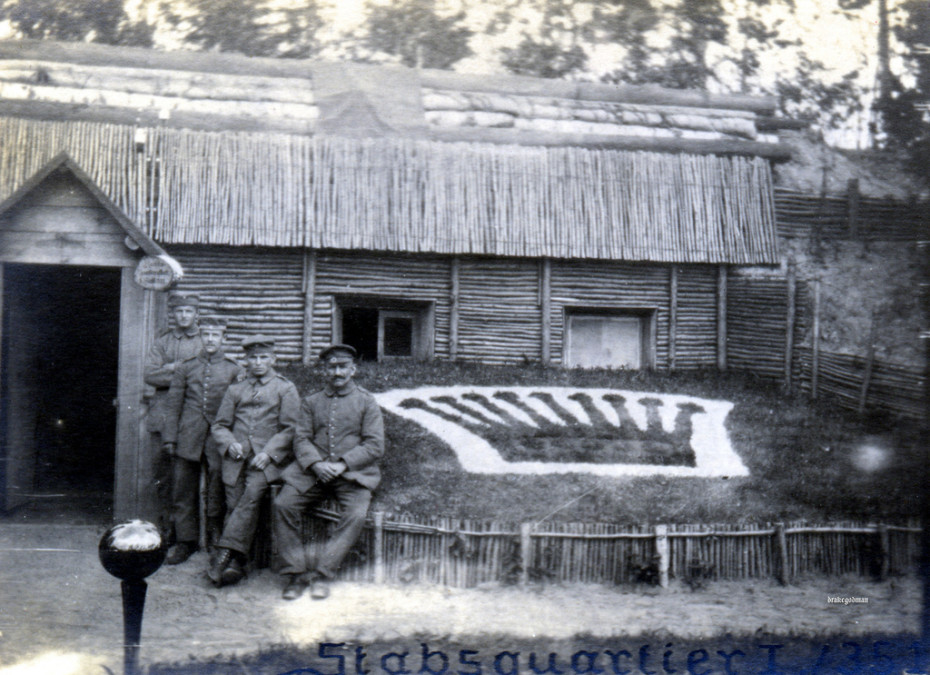 "Headquarters", Kgl. Sächsisches Infanterie-Regiment Nr. 351 (c) Drake Goodman.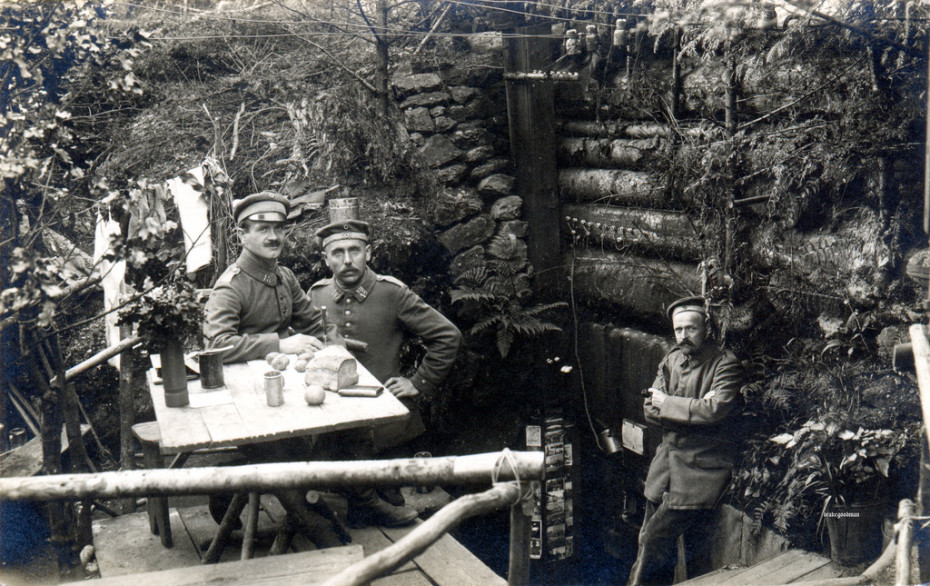 German trenches, 1916 (c) Drake Goodman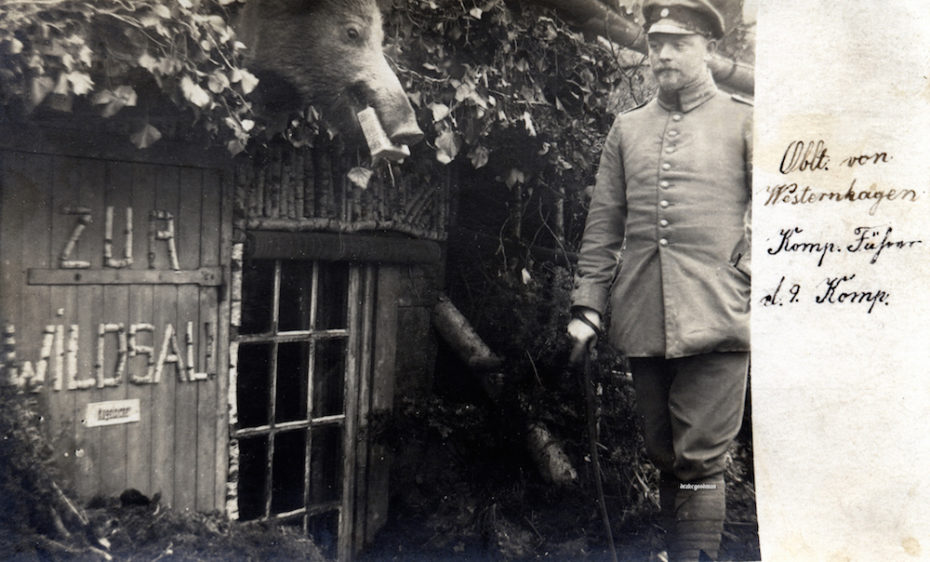 The company commander's bullet-proof ("kugelsicher") bunker or hut is called "Zur Wildsau" (the name of a pub "The Boar's Head") to match the stuffed wild boar's or sow's head above the entrance. Not sure what is stuck in the animal's mouth. (c) Drake Goodman.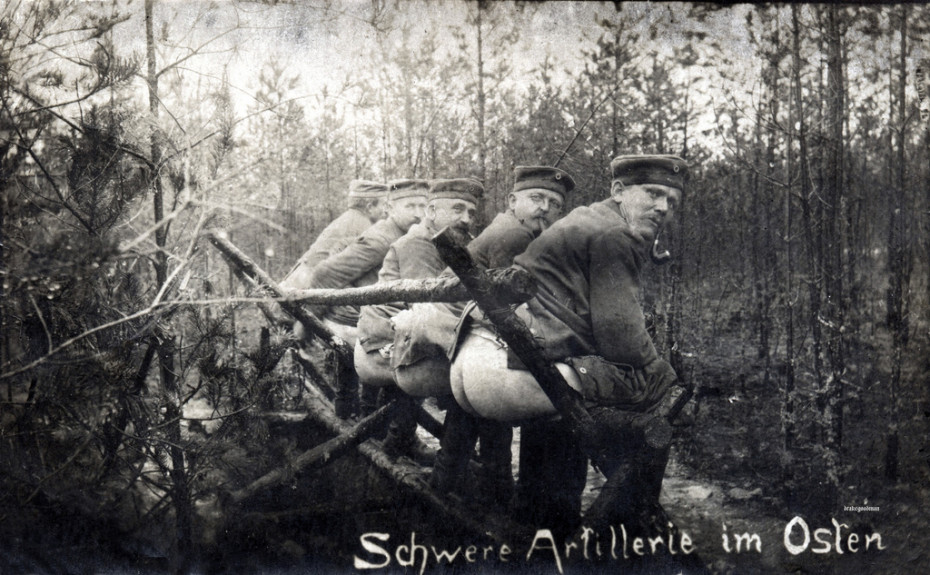 I hope you won't find my choice to include this one too distateful, but I found it pretty eye-opening to see just how extensively the Germans documented their life in the trenches.
The postcard is captioned, "Schwere Artillerie im Osten"/ Heavy artillery in the East. (c) Drake Goodman.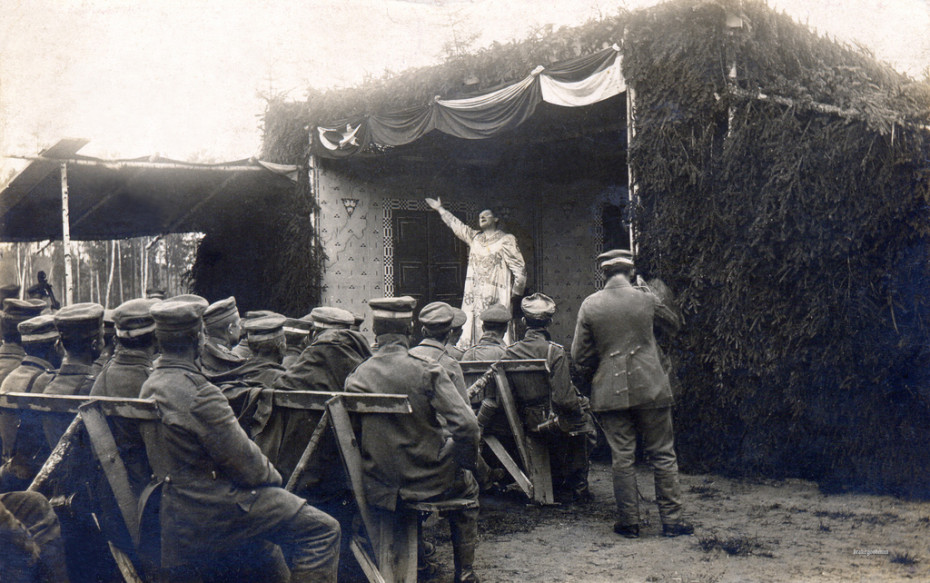 They even had a theatre in their trenches!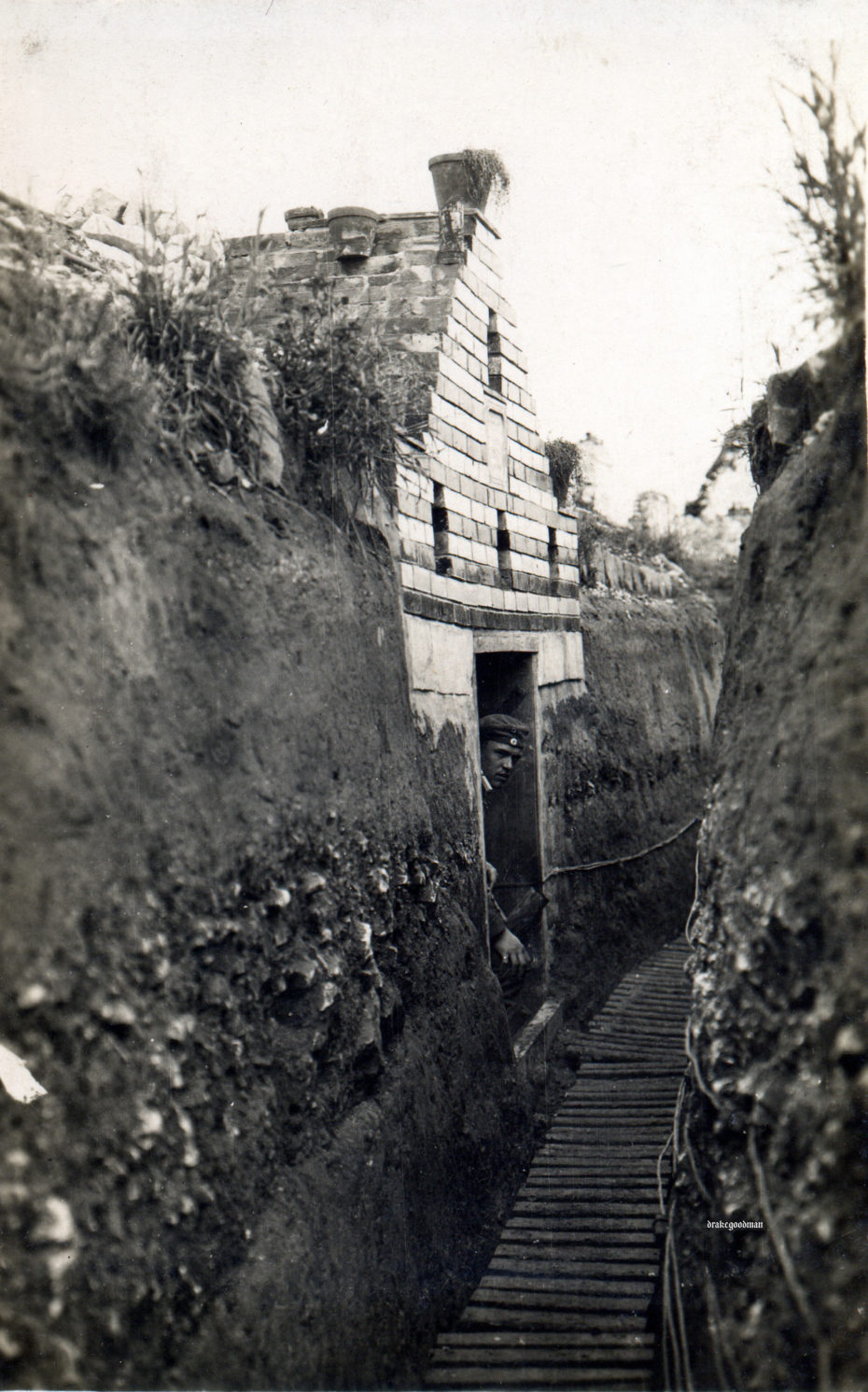 What looks like a German communication trench with phone wires running into the house. (c) Drake Goodman.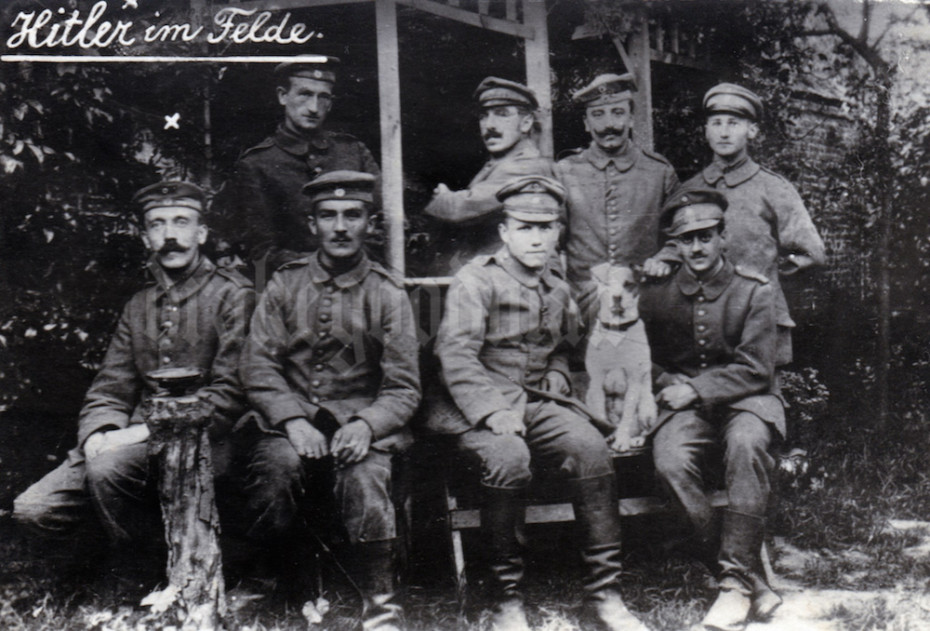 Although this one doesn't necessarily demonstrate the comforts of home in a dugout, I couldn't help but notice the writing in the top left hand corner. Sure enough, this postcard found by Goodman is a rare photograph of Adolf Hitler and his colleagues from Bayer of the Reserve-Infanterie-Regiment Nr. 16 in a pleasant garden setting during WWI.
He is wearing the Iron Cross Second Class which he was awarded in 1914 and would later go on to receive the Iron Cross First Class in 1918, after being recommended by a German-Jewish Leutnant, Hugo Gutmann. (c) Drake Goodman.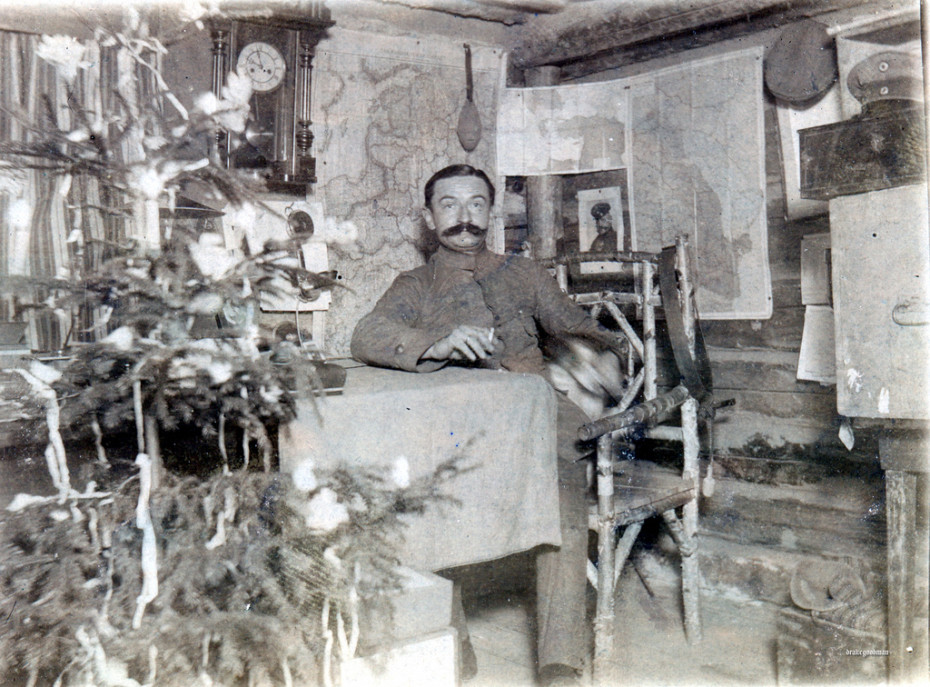 The interior of an officer's digs at Christmas time. No doubt well appointed by comparison with the lodgings of the men under his command. (c) Drake Goodman.
There is a photograph of Hindenburg in the background.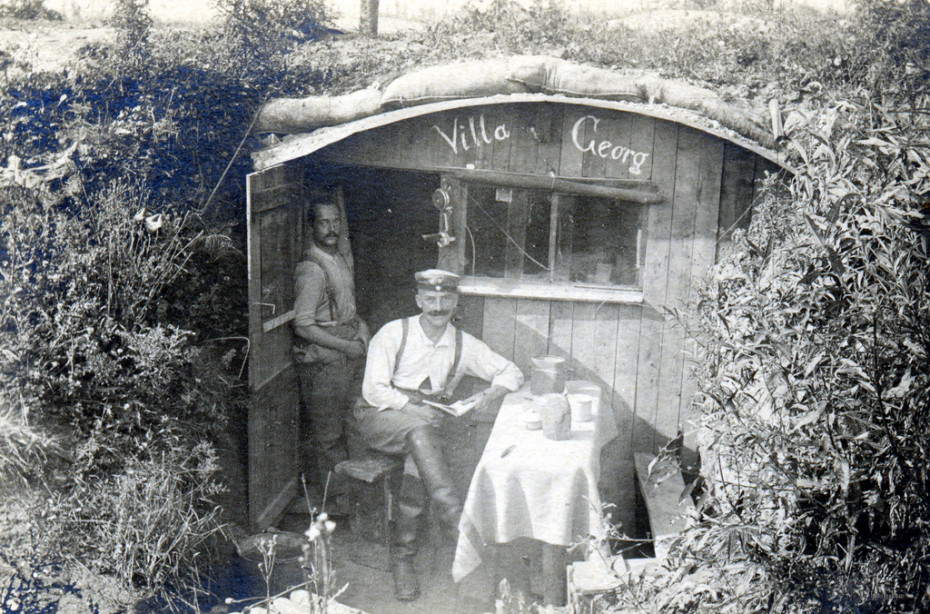 A Field Artillery Regiment communications bunker dubbed "Villa Georg" by it's occupants. A field telephone can be seen close to hand as an artilleryman enjoys the sun with a good book and some bread. (c) Drake Goodman.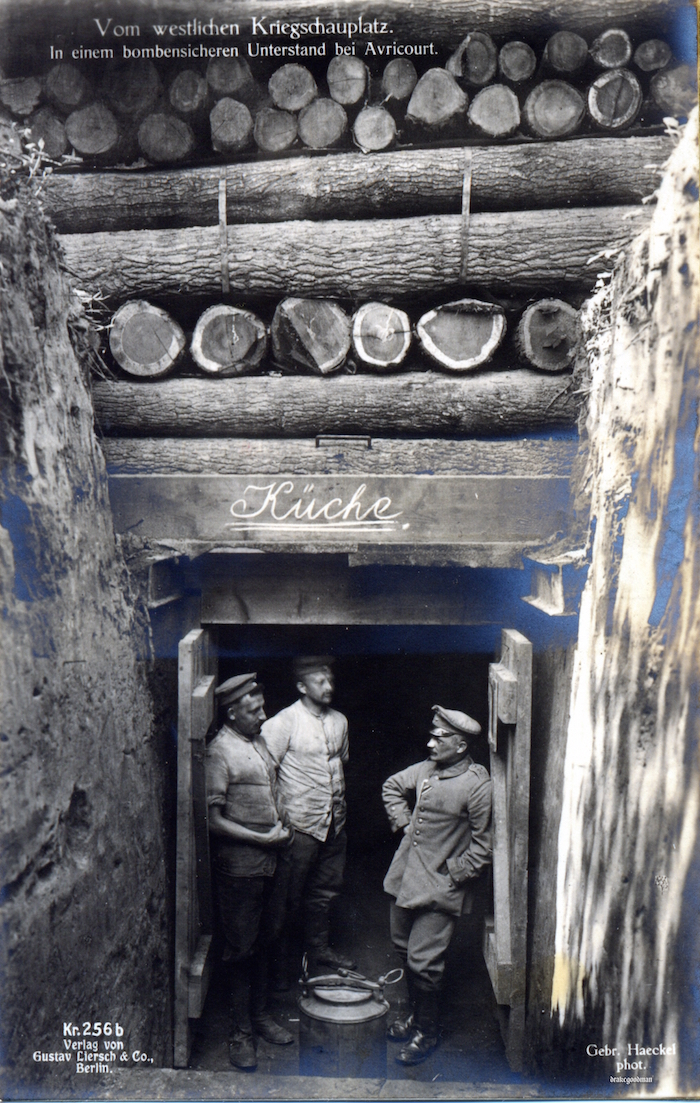 Showertime in the French trenches, 1914, 600 meters from German lines. (c) Del Campe