As a Parisian, I've learned a lot about the second time the German army occupied the French capital during the Nazi invasion of WWII. But what about the first time the Germans took hold of the city of Paris? One forgets they managed it twice. The winter of 1870-1871 was a traumatic time for Parisians, an ordeal that saw the city sustain more damage over just a few months than in any other conflict in history. And yet, it's one that seems to have almost vanished from collective memory– perhaps for a few very good reasons… (anyone ever tried "elephant soup"?)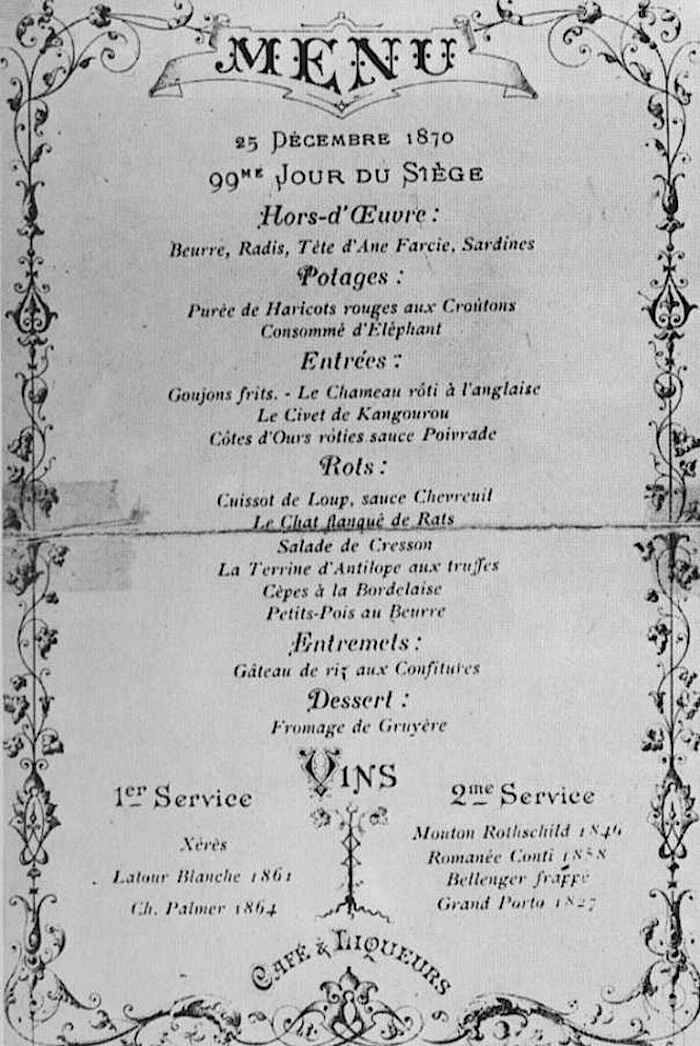 What you're looking at is a restaurant's Christmas day menu during the five month-long siege of Paris at the end of the Franco-Prussian War. The French capital was surrounded by the soon-to-be German Empire, its citizens bombarded into surrendering and starved into submission. A dire shortage of food supplies into the city saw the Parisian diet change quite drastically.
A few key dishes to look out for…
Consommé d'Elephant → Elephant soup.
Goujons Frits – Le Chameau rôti à l'Anglaise → Fried Camel Nuggets
Le Civet de Kangourou → Kangaroo stew.
Côtes D'Ours roties sauce Poivrade → Bear Chops with Pepper Sauce
Cuissot de Loup, sauce chevreuil → Haunch of Wolf with Venison Sauce
Le Chat Flanqué de Rats → Cat flanked by rats.
La Terrine d'Antelope aux Truffes → Antelope terrine with truffles
Oh, and lest we forget the stuffed donkey's head as the hors d'oeuvre. This menu was cooked and served by the great Parisian chef, Alexandre Étienne Choron at one of the fanciest restaurants in Paris once upon a time, Voisin, located on Rue Saint Honoré.
By now in its fourth month, the siege of Paris had brought the population to near starvation. Napoleon III, a man of astoundingly terrible judgement, had infamously declared war on Prussia over some he-said-she-said, alleging the Prussian emperor had insulted him. (It actually makes modern politicians seem like saints).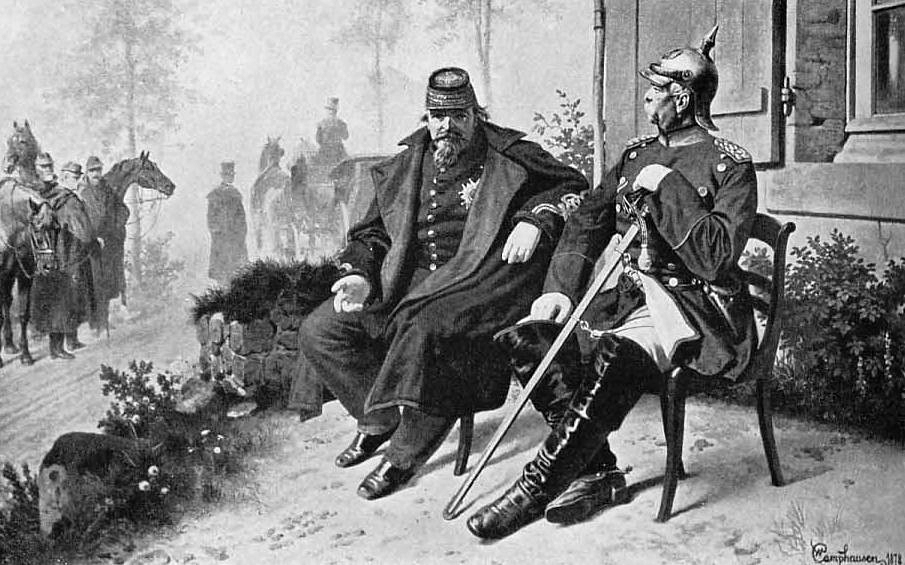 Bismarck with Napoleon III after his capitulation
Prussia's prime minister Otto von Bismarck with a strong and obedient army at the ready, was all too happy to go to war and suggested shelling Paris to ensure the city's quick surrender. The King of Prussia, said to be a chivalrous man, didn't like that idea, so instead it was decided that the capital would have to be starved into surrender.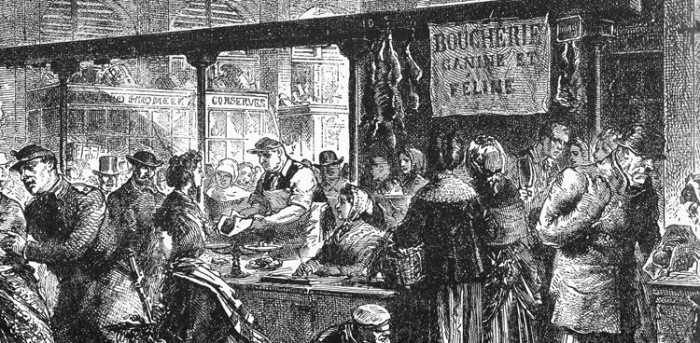 A dog and cat butcher
While the Prussians were set up comfortably at Versailles, in a strange repeat of history, Parisians were once again so famished that they began killing and eating dogs, cats, pigeons and rats. Butcher shops had crowds queuing outside to buy scraps of cat and dog meat. Around 65,000 horses were sacrificed for food between September 1870 and January 1871, including two of Napoleon III's stallions.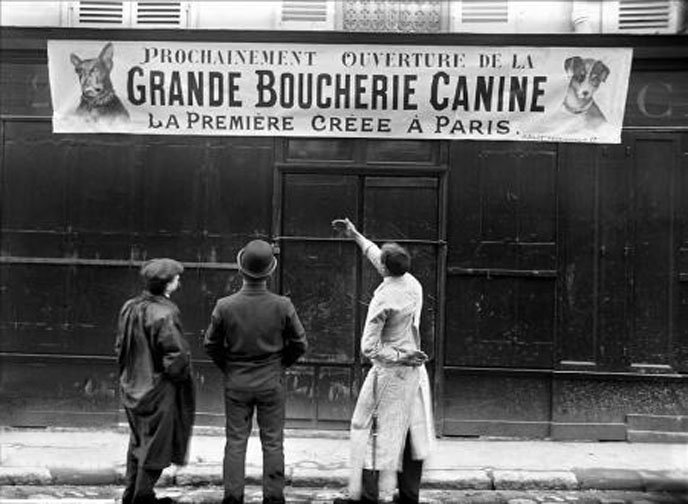 Historians argue that the siege of Paris had a profound impact on the relationship between Parisians and animals – especially culinary habits, most notably the taste for horsemeat. There were still canine and feline butchers like this one in Paris in the early twentieth century.
In a letter from the French painter Manet to his wife during the siege, he wrote: "There are cat, dog and rat butchers in Paris now, we eat nothing but horse when we can get it at all."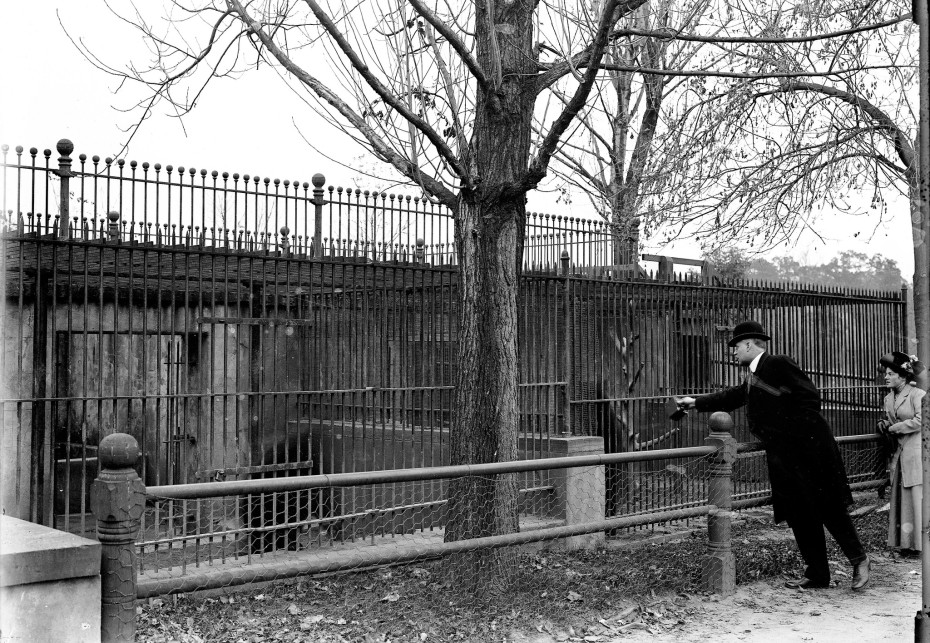 The animals at the Jardin des Plantes zoo were next. The only animals spared were the monkeys (presumably because it would feel too much like cannibalism), the lions, tiger and the hippos– allegedly because they were deemed too unsanitary to consume. Along with the zoo's only two elephants who had once been hugely popular with the Parisian crowds, Castor and Pollux, the rest of the animals were shot, killed and sold to butchers, where the likes of Chef Choron would have his pick of the most exotic beasts.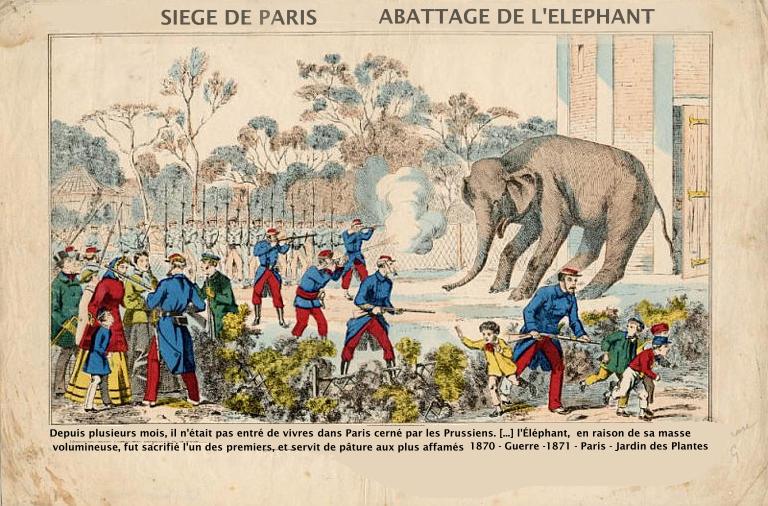 His gastronomic menu so awful and grotesquely vulgar, historians suggest it might have been the legendary chef's own way of showing what he really thought of the absurd and pointless war. In essence, it was a parody of war on a plate.
And Chef Choron wasn't the only one defiantly producing menus of exquisite gastronomy amidst famine and conflict. Here are menu samples from Restaurant Peter's near the Paris opera house. On New Year's day, they offered fillet of elephant, donkey roast and Bear thigh.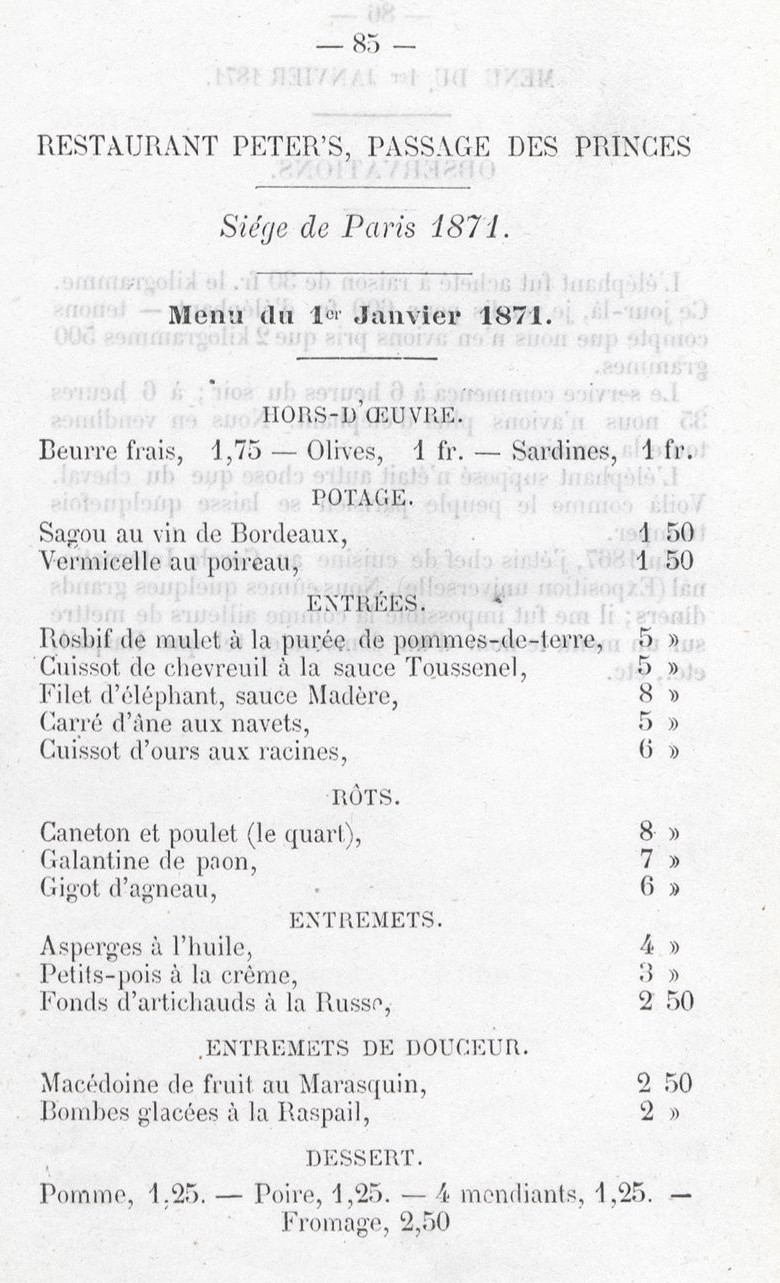 There's a story about a Parisian lady who dined at a restaurant during the siege and put off by the offerings of sautéed rat, wanted nothing but a salad. The waiter haughtily answered her "Madame, this is a restaurant, not a meadow!"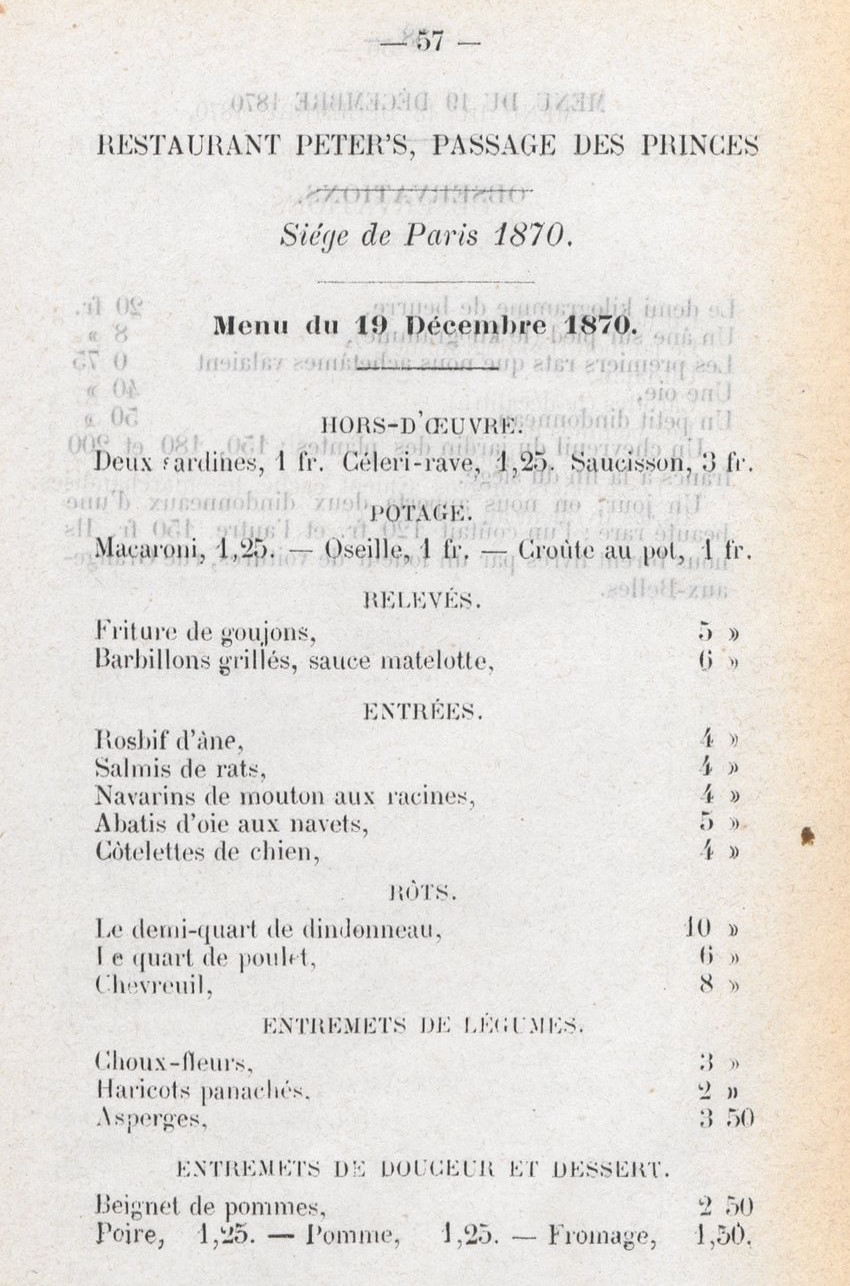 Rat prepared using the traditional French "salmis" recipe and dog cutlets.
In the end, Bismarck got his way, and the Germans fired some 12,000 shells into the city over 23 nights in an attempt to break Parisian morale. About 400 perished or were wounded by the bombardment. It was a decision that paved the way for a looming darkness in Europe.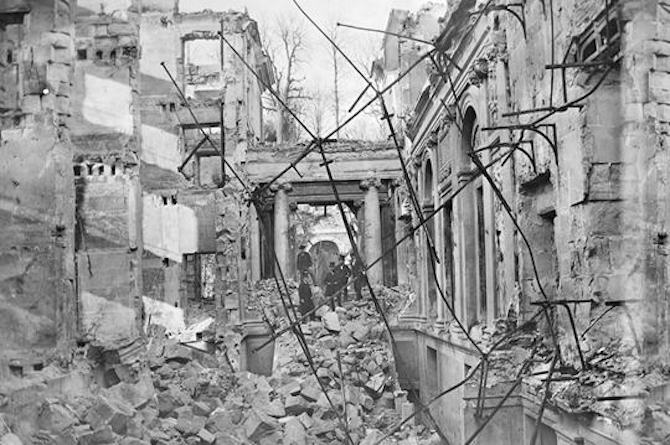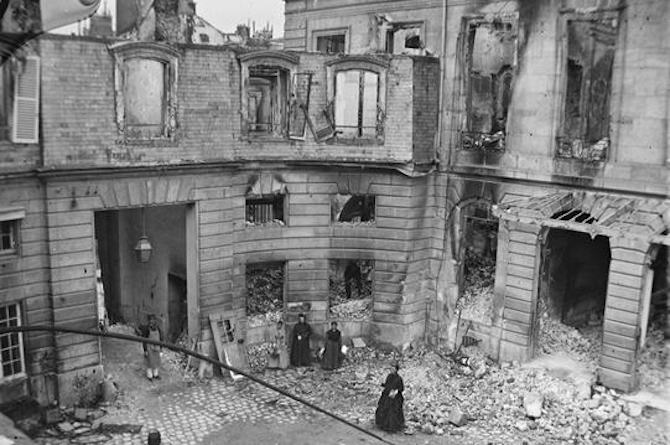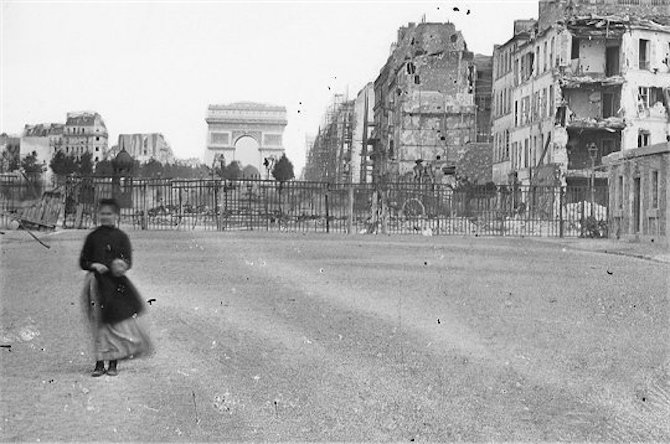 The consequent capture of the French capital ended of the Franco-Prussian War and gave birth to modern Germany. But as terrible events have demonstrated again recently, even in crisis, Parisians stubbornly never gave up their spirit of resistance, their joie de vivre– and especially not their haute cuisine.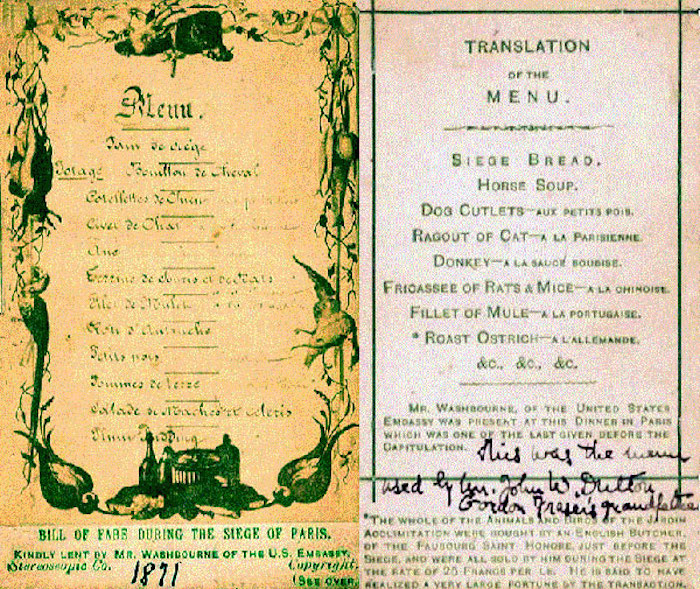 In the words of comedian John Oliver following the November attacks on Paris: "If you're in a war of culture and lifestyle with France, good f*cking luck!" Indeed, the French were so pissed off with the Germans after the Franco-Prussian War, that from that moment on, France began preparing and planning for the next showdown, entering into a series of alliances with other nations to help them in a future war with Germany. That future war would be the First World War, which would of course later snowball into a Second World War that would once again see Paris occupied by Germans.
Food for thought, albeit worryingly difficult to swallow.