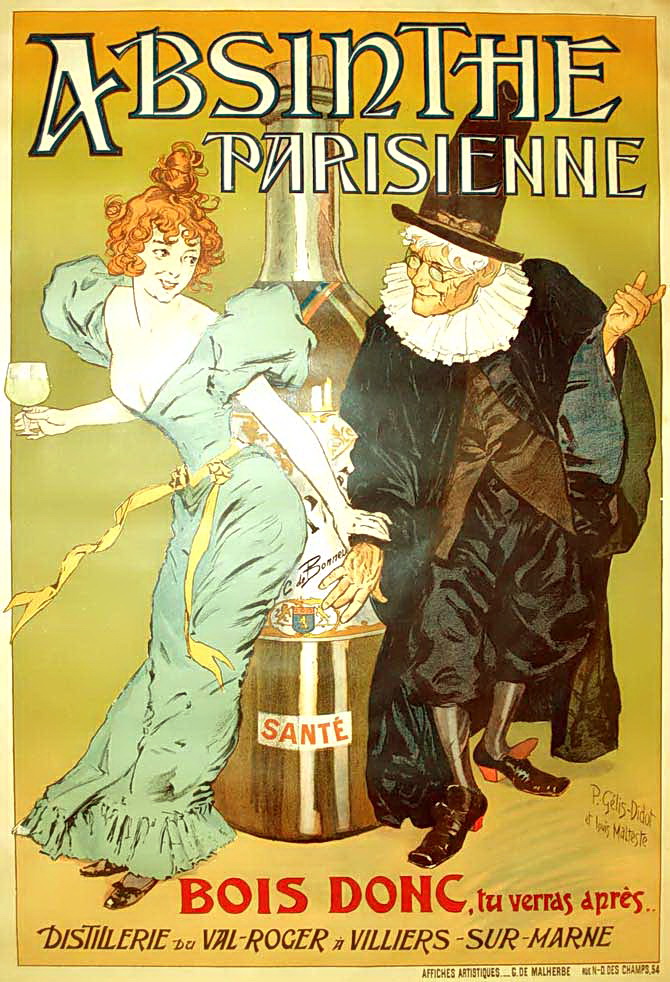 When Parisians used to call it "la fée verte" (the green fairy), the custom of drinking absinthe had became so popular in bars, bistros, cafés, and cabarets that, by the 1860s, the hour of 5 p.m. was called l'heure verte ("the green hour"). It was a green and ghoulish drink traditionally served by placing a sugar cube on a slotted spoon over the glass with ice cold water then dripped on the sugar to dillute the high-proof absinthe, favoured by all social classes, from the wealthy bourgeoisie, to struggling bohemian artists and working-class people. Mass production in the 1880s had caused the price of absinthe to drop sharply and by 1910, the French were drinking 36 million litres of absinthe per year.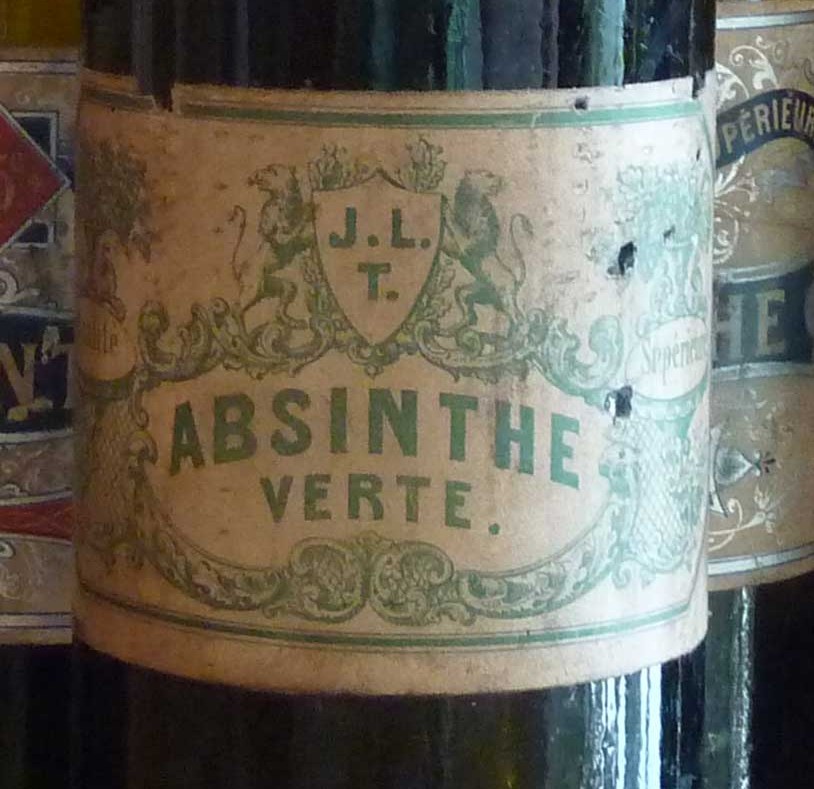 This rare and unusual absinthe dates from – at least – the early 1880's.
Imagine owning a bottle that that could have been served to Henri de Toulouse-Lautrec or Van Gogh, notable absinthe drinkers on the Parisian Belle Epoque scene. Pablo Picasso, Oscar Wilde and Ernest Hemingway of course followed in their footsteps, all featuring absinthe in their work. Hemingway ordered it regularly in Paris' Left Bank throughout his moveable feast and a famous cocktail of absinthe and champagne was invented by Ernest and named after his book, Death in the Afternoon. An inebriated Oscar Wilde famously described a phantom sensation of having tulips brush against his legs after leaving a bar at closing time.

This is the classic "benchmark" Pernod Fils with the labels overprinted "Fabriqué en 1913" (made in 1913). This is a very rare bottling – these bottles were the very last stock produced by Pernod before the ban in 1914. 
I've just come across a site selling bottles of absinthe that would have graced the gilded bars of bygone Paris, bottled for the great bohemians of the Belle Epoque, stashed away while Hemingway's generation was not yet lost, and then hidden away in the restaurant caves, forgotten for decades. Finest & Rarest's primary focus is 19th century spirits, unique irreplaceable bottles; nothing less than 50 years old.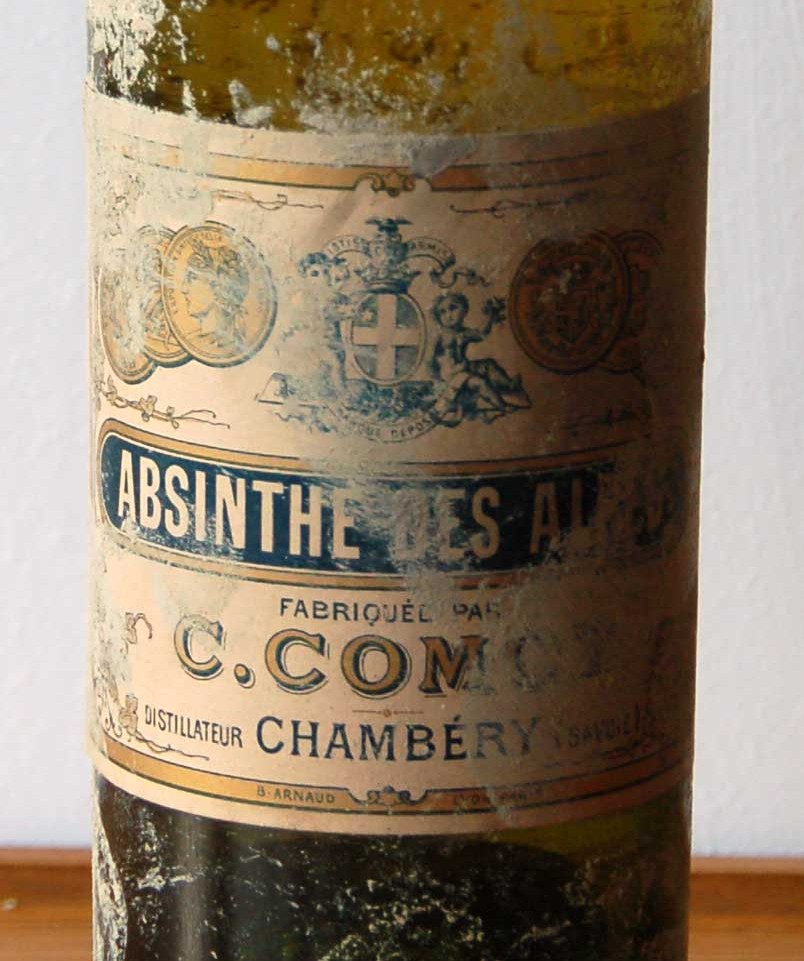 They are the leading specialists in pre-ban absinthe, pre-phylloxera cognac and 19th century rum. Finest & Rarest also claim to have sold the oldest known cognac on earth from 1748 and a Vieux Cognac Clos de Griffier 1788 with the label of the Café Anglais, found in the cellars of the famed Tour d'Argent restaurant in Paris.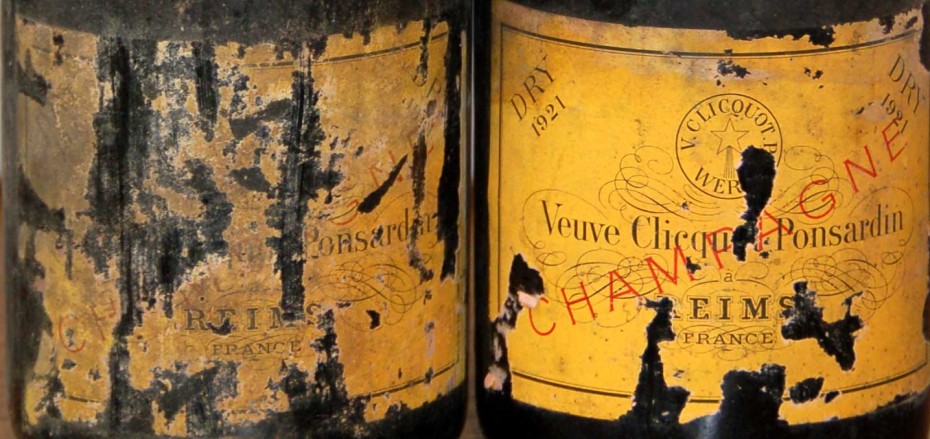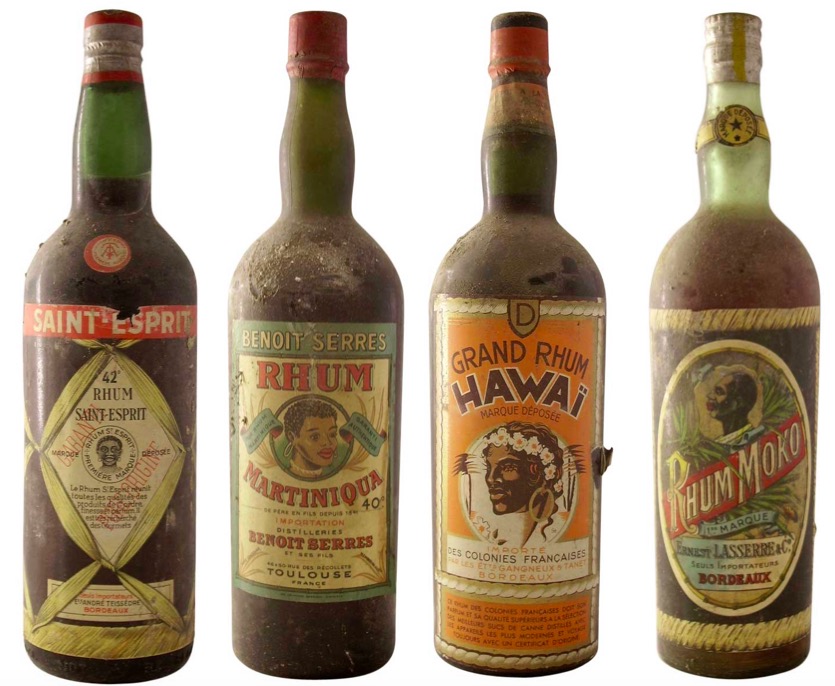 Only a small percentage of what they sell is shown on the website, but it's nevertheless a visual treat to trawl through.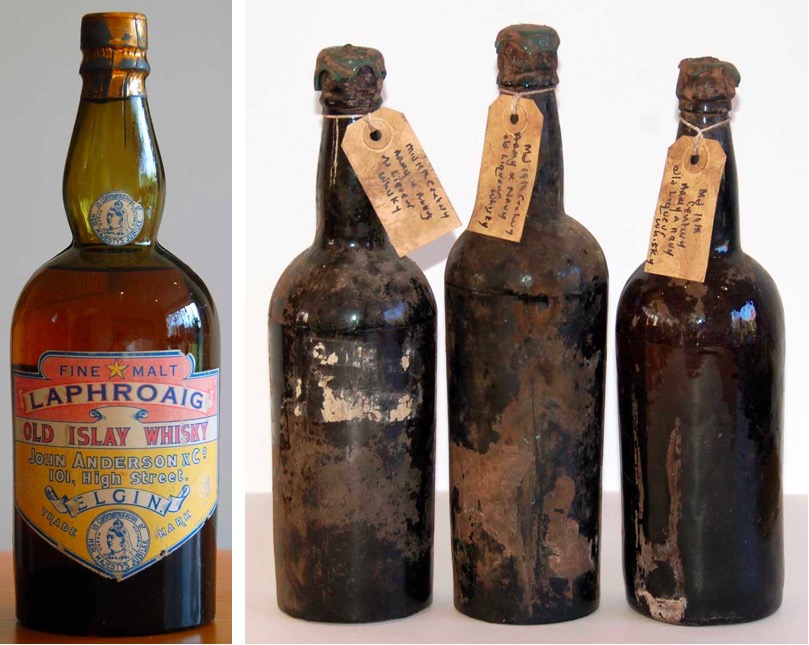 But of all their spirits, vintage Absinthe is the one that really captured my imagination. And while a whole vintage bottle is certainly out of my price range, the site does offer 30 or 50 ml samples in phial-shaped amber glass bottles. A 30ml bottle will set you back €80. They also sell rare empty bottles. (More info here).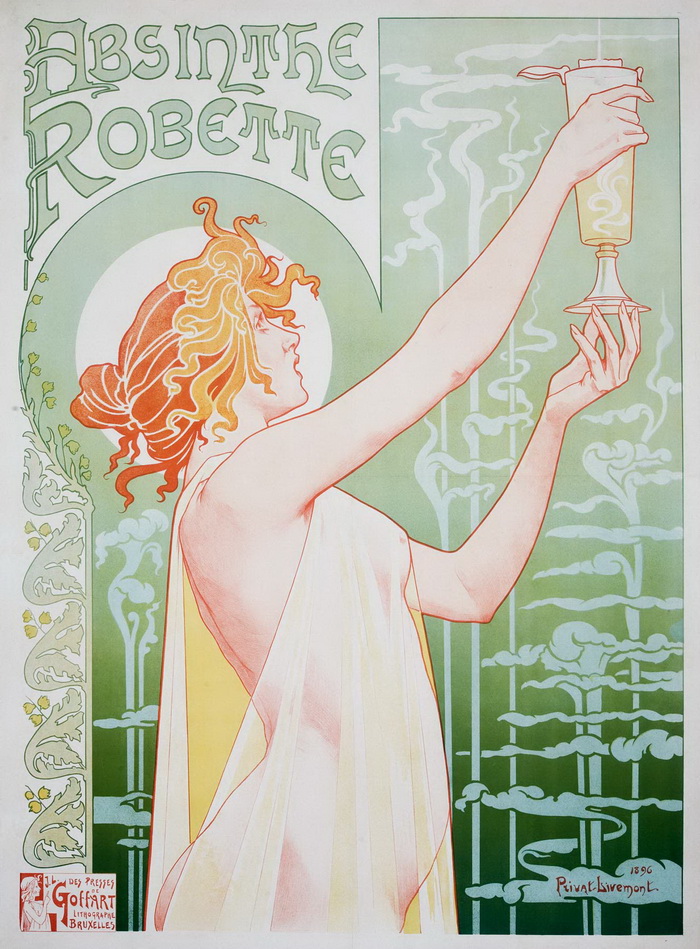 Finest & Rarest claim that "to drink a pre-ban absinthe from 1910, from the era of Toulouse Lautrec and Van Gogh, of Verlaine and Rimbaud is an extraordinary and life enhancing experience – this is truly, in Barnaby Conrad's words, history in a bottle – one has the feeling of reaching back like a time traveller into the distant past, and feeling for just a moment a flicker of the warmth of a summer's day on a Parisian boulevard a century ago. Vintage absinthe is far rarer than ancient cognac, pre prohibition bourbon, or any other vintage spirit. Every surviving bottle is a precious relic. No more than a few hundred people on earth have tasted vintage absinthe."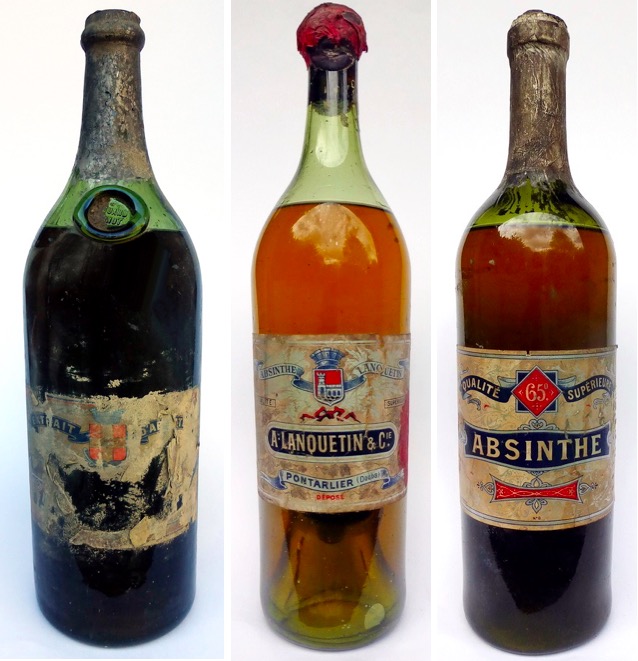 Absinthe has been frequently and improperly described in modern times as being hallucinogenic. Spurred by the temperance movement and the winemakers' associations, absinthe began to be publicly associated with violent crimes and social disorder. After Switzerland, Belgium, Brazil, The Netherlands and the USA, France banned the drink in 1915, which does beg the question how Hemingway managed to drink it in Paris since he didn't arrive until 1918. But of course, Hemingway was no ordinary patron of Parisian cafés.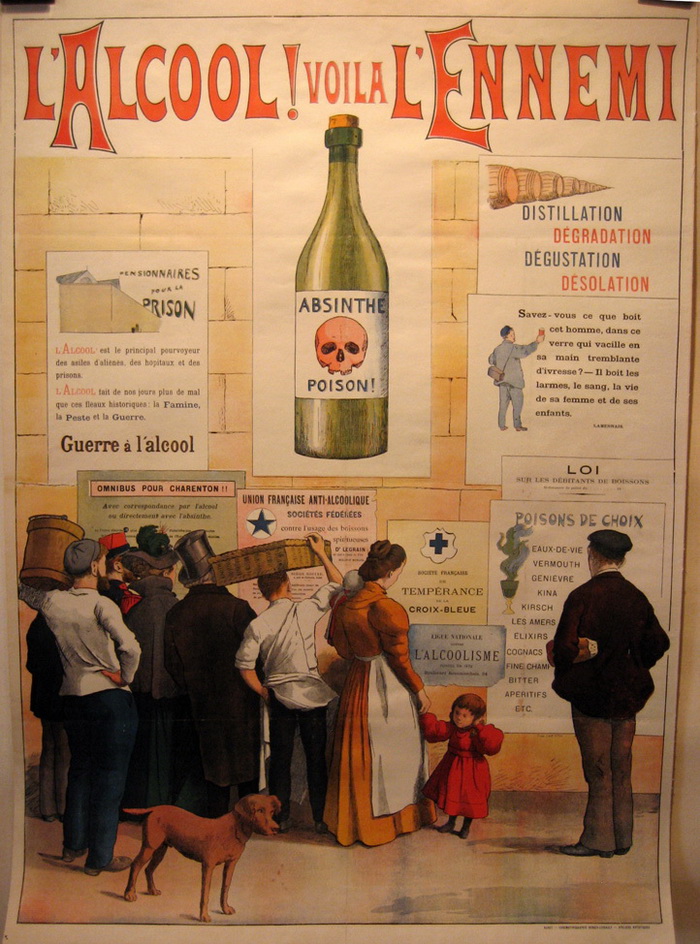 The prohibition of absinthe in France would eventually lead to the popularity of pastis, and to a lesser extent, ouzo, and other anise-flavoured spirits that do not contain wormwood.
Today it is known that absinthe does not cause hallucinations. It is widely accepted that reports of hallucinogenic effects of absinthe were attributable to the poisonous adulterants being added to cheaper versions of the drink in the 19th century, such as oil of wormwood, impure alcohol, and poisonous colouring matter.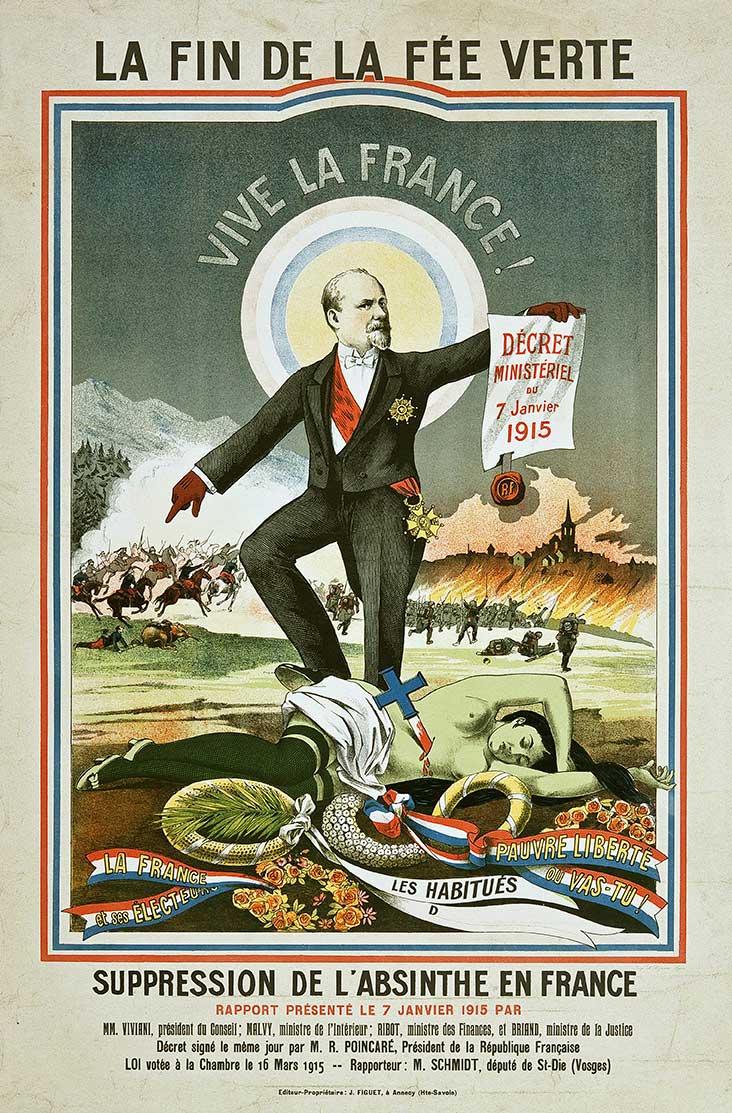 Nearly 100 years later, the French Absinthe Ban of 1915 was repealed.
"Banned for almost a century until its recent revival, absinthe is something of a living fossil, a coelecanth amongst drinks, able to magically transport us back to the glittering world of Paris and the Belle Epoque, a world of bohemian musicians and writers, of the Moulin Rouge and the cafés of Montmartre, a world of starving struggling artists and glittering courtesans."
Discover Finest & Rarest.