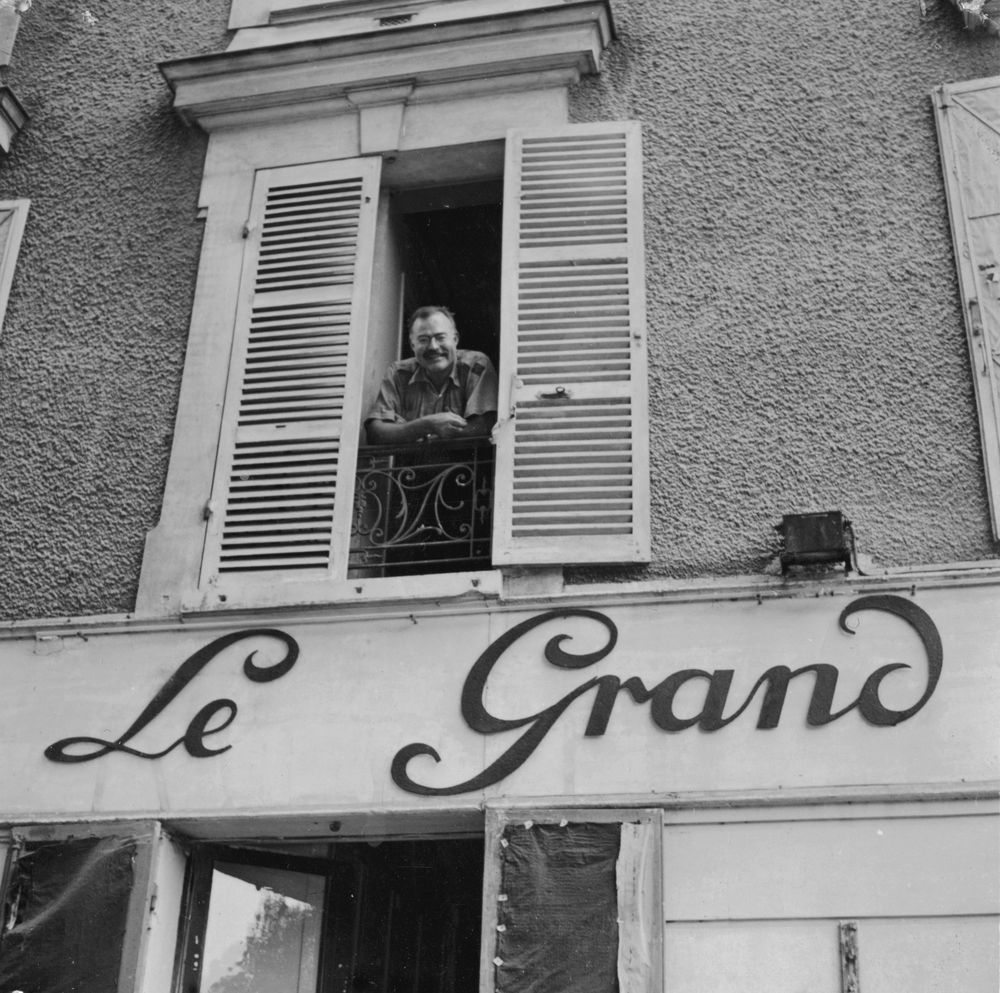 If I'm ever asked to choose a character from the past to have a dinner with, my answer is always going to be Papa Hemingway. Not just because I'd want to talk endlessly with him about his Paris years, but also because for me (and surely I'm not alone), Ernest Hemingway is simply the paradigm of what a man strives to be.
But enough about my date with Hem, I've come across an incredible archive of his personal photographs, papers and scrapbooks that I can't believe took me so long to find…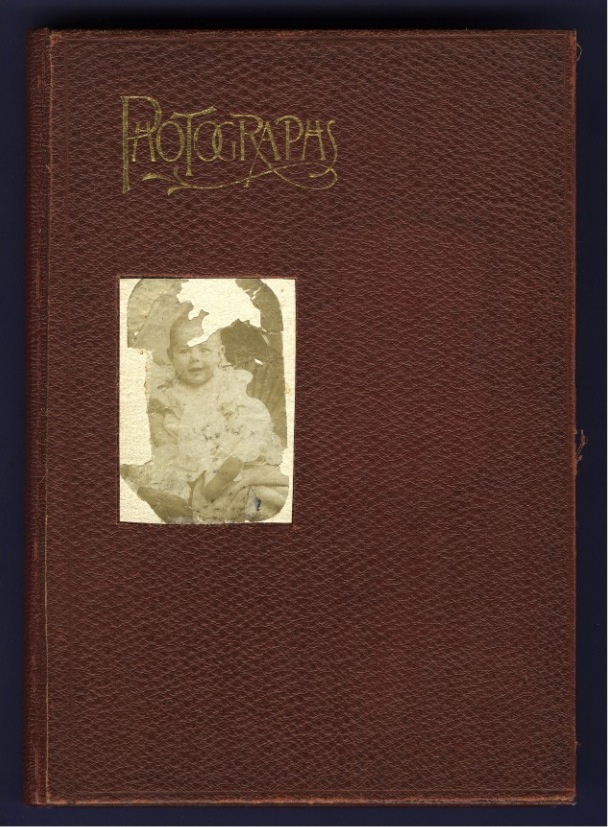 The JFK Library's Ernest Hemingway Collection is a treasure trove for fans of the writer including up close & personal (and rarely shared) photos, letters, receipts, book lists, fishing logs and other notebooks. Much of it has been digitised, but onsite research with permission from the archivists to see the collection is also possible. I went through as much as the digital archives as I could and picked out some highlights to get you started…
Grace Hall Hemingway created and annotated six scrapbooks to document her son Ernest's first eighteen years of life, long before he became a Nobel Prize winning author.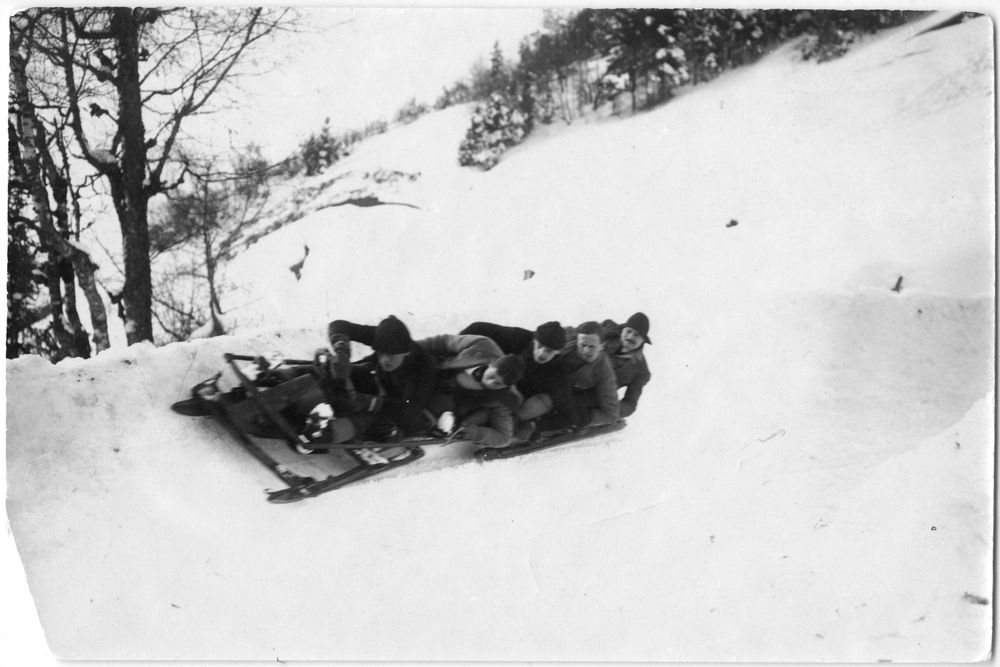 Ernest Hemingway (far right) and four unidentified men ride a bobsled on the Sonloup trail during a race in Les Avants, Montreux, Switzerland, circa 1923.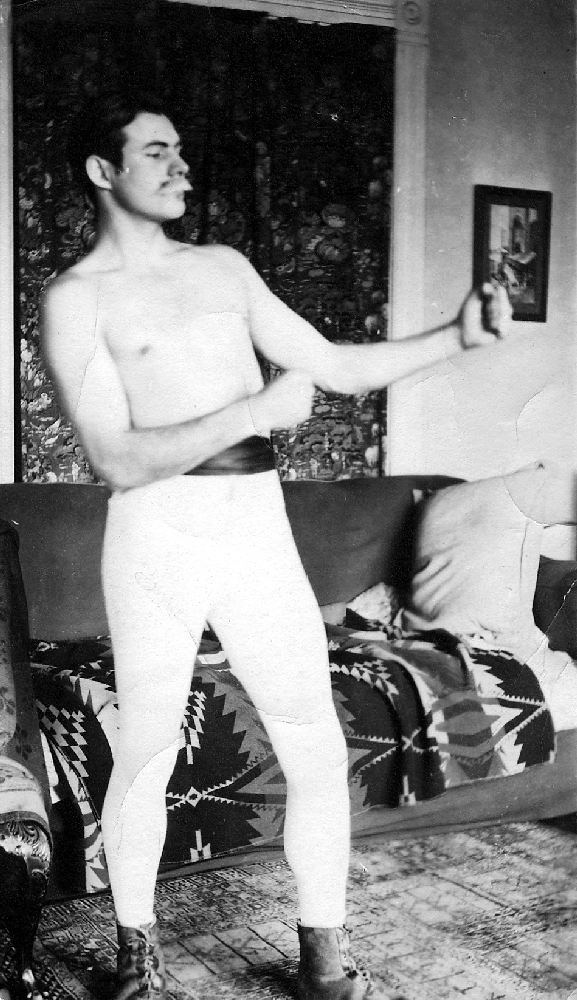 Hemingway pretending to box, undated.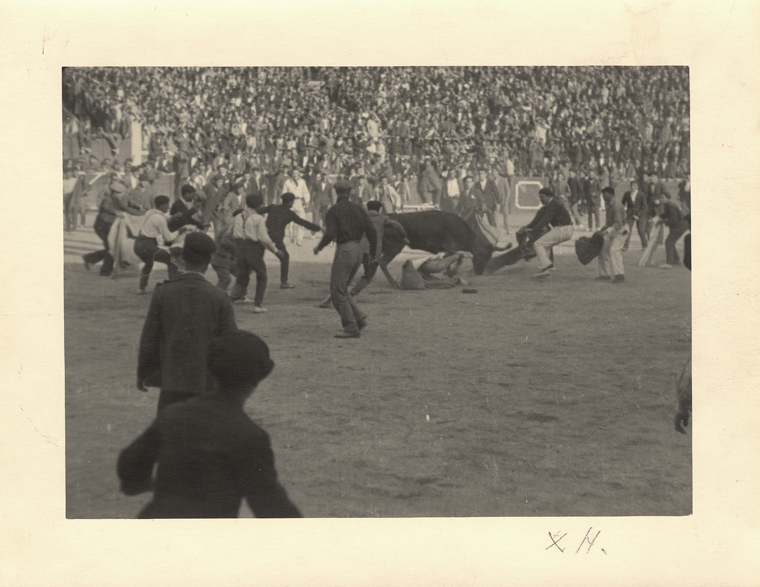 Ernest Hemingway fighting a Bull in Pamplona, Spain (pictured in front of the horns of the bull).  Hemingway was participating in "The Amateurs" in 1925, one year before the publication of "The Sun Also Rises."
Bullfighting ticket stubs, attended by Ernest Hemingway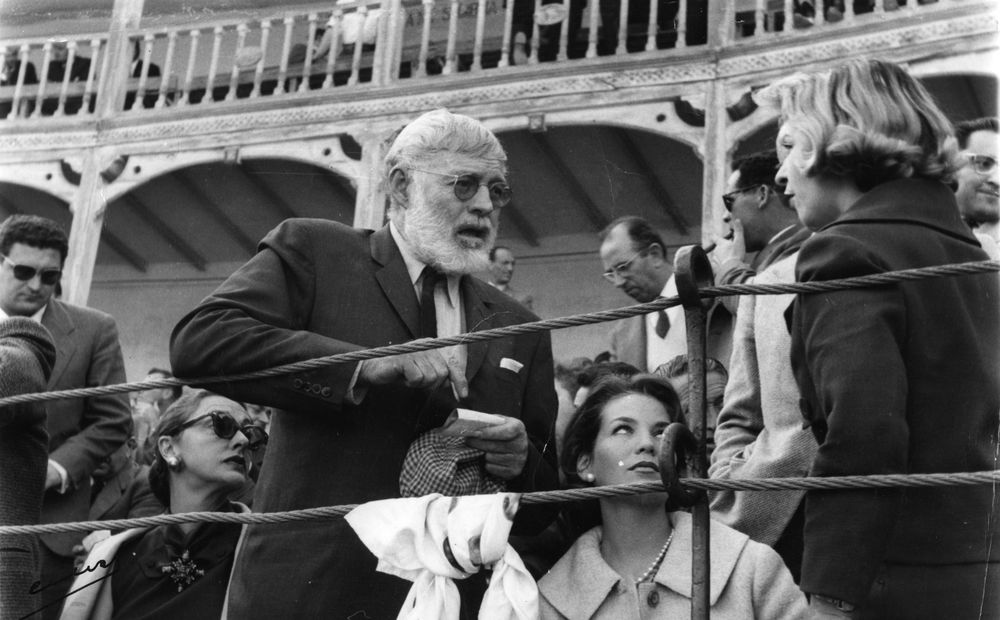 Ernest Hemingway signing an autograph at a bullfight in Aranjuez, Spain
Spain, 1953-1960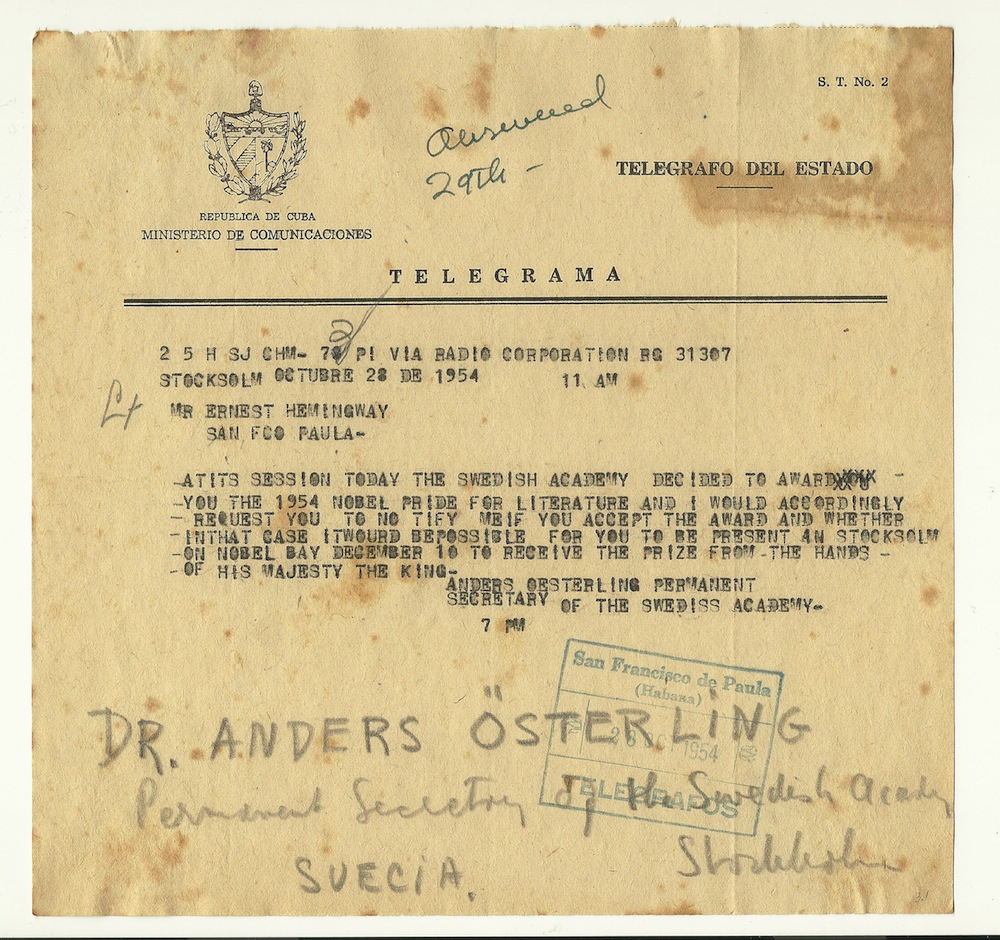 Telegram from Dr. Anders Osterling of the Swedish Academy, notifying Ernest Hemingway that he has been awarded the 1954 Nobel Prize for Literature.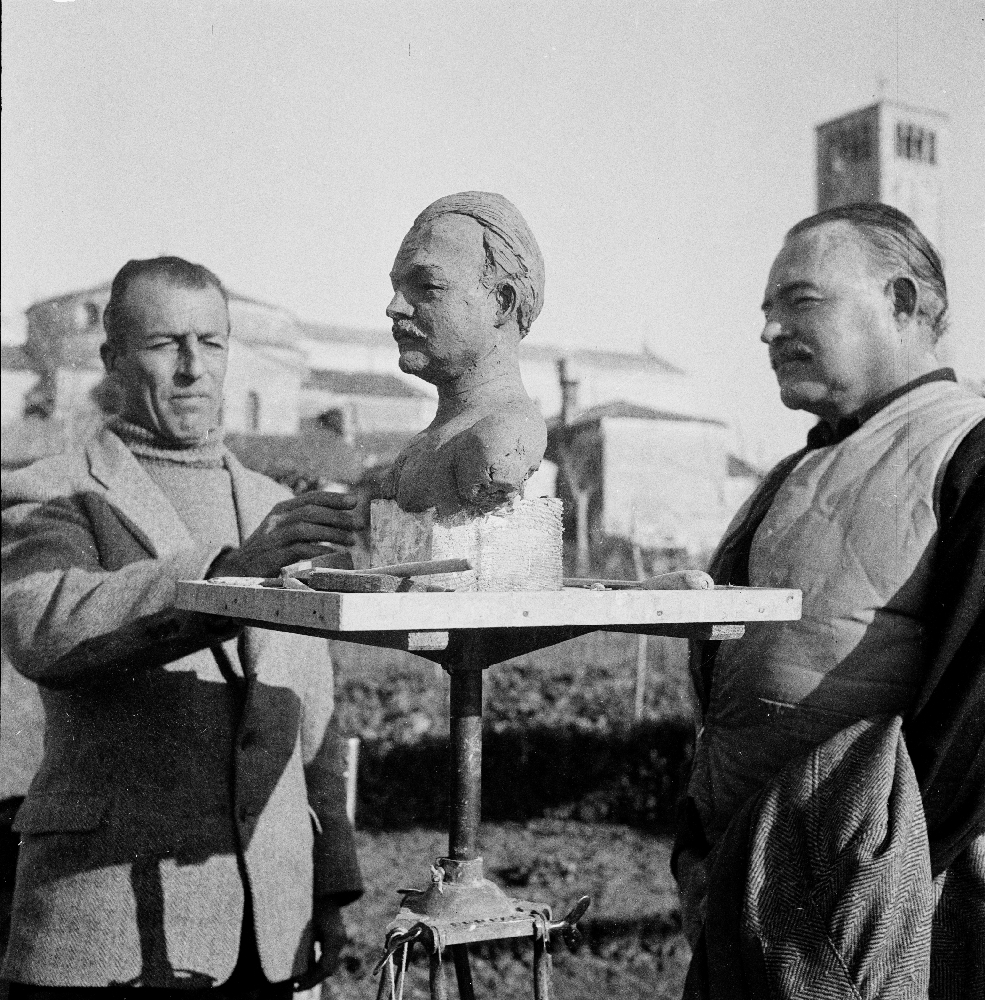 Ernest Hemingway with unidentified man and a sculpture of Hemingway's bust, 1948.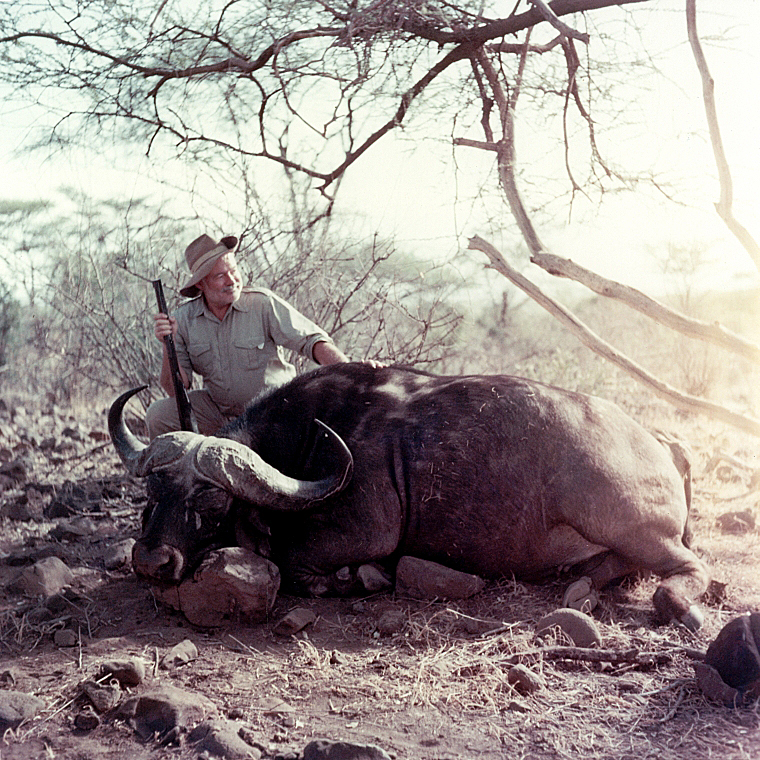 Ernest Hemingway poses with a water buffalo in Africa, 1953-1954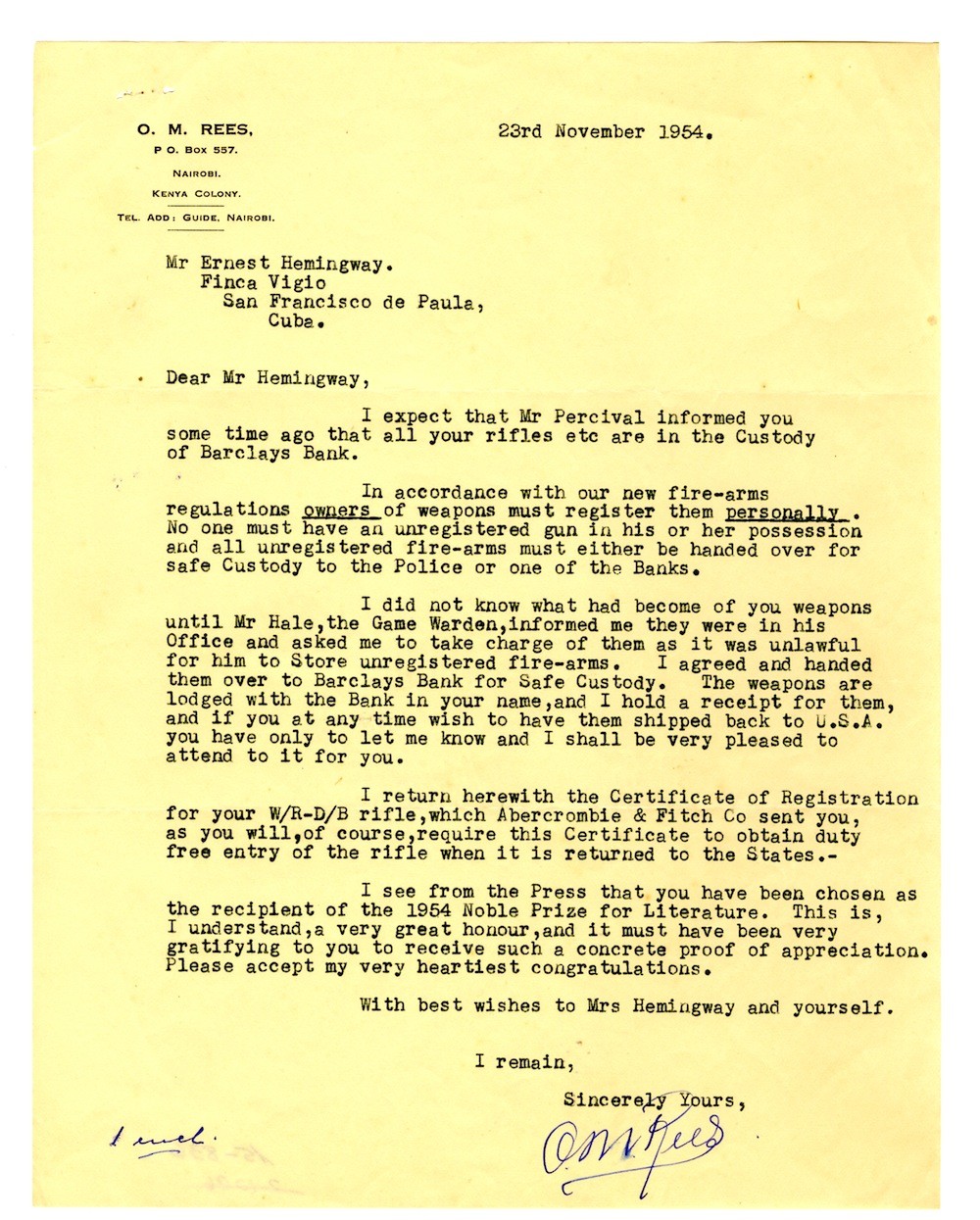 A letter from Kenya safari guide O.M. Rees to Ernest Hemingway, informing Ernest Hemingway that his hunting rifles are in the custody of Barclays Bank in Kenya. Rees also congratulates EH on the Nobel Prize.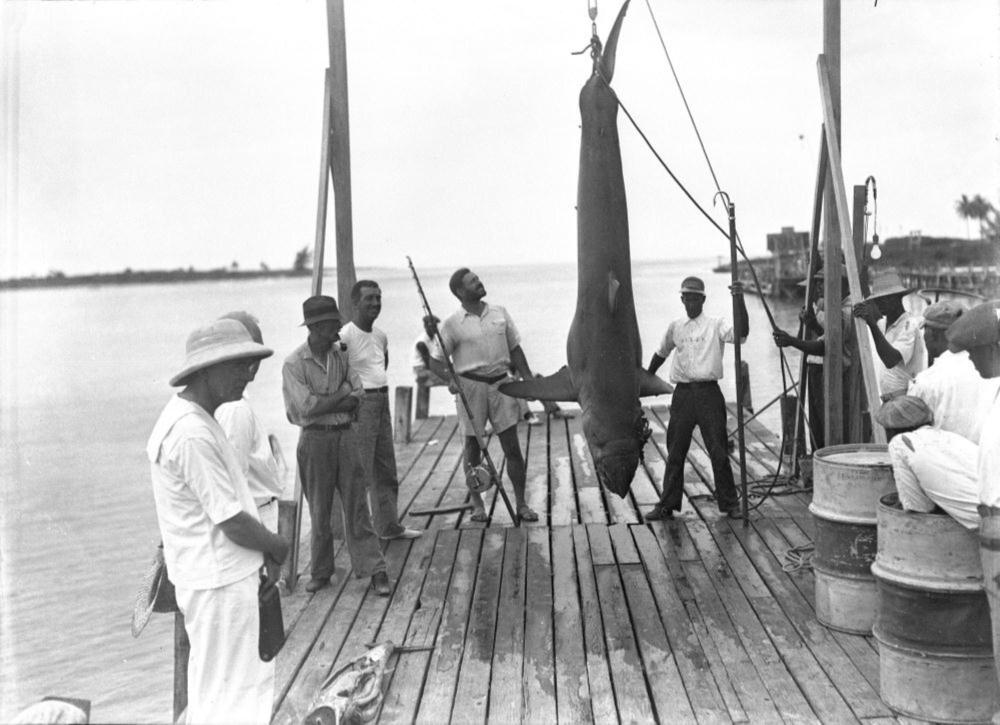 Ernest Hemingway and others pose with a shark. Bimini, Bahamas, circa 1935.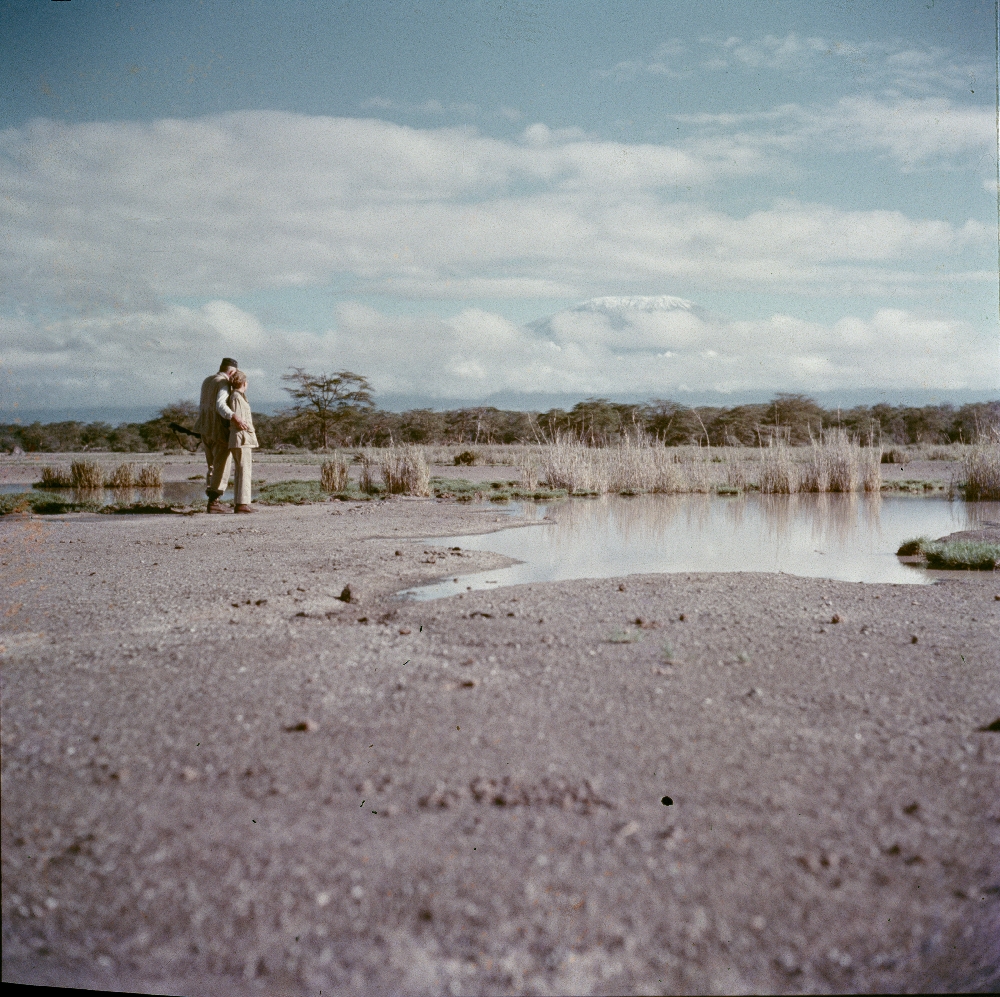 Ernest Hemingway and Mary Hemingway arm in arm, hunting. Africa, 1953.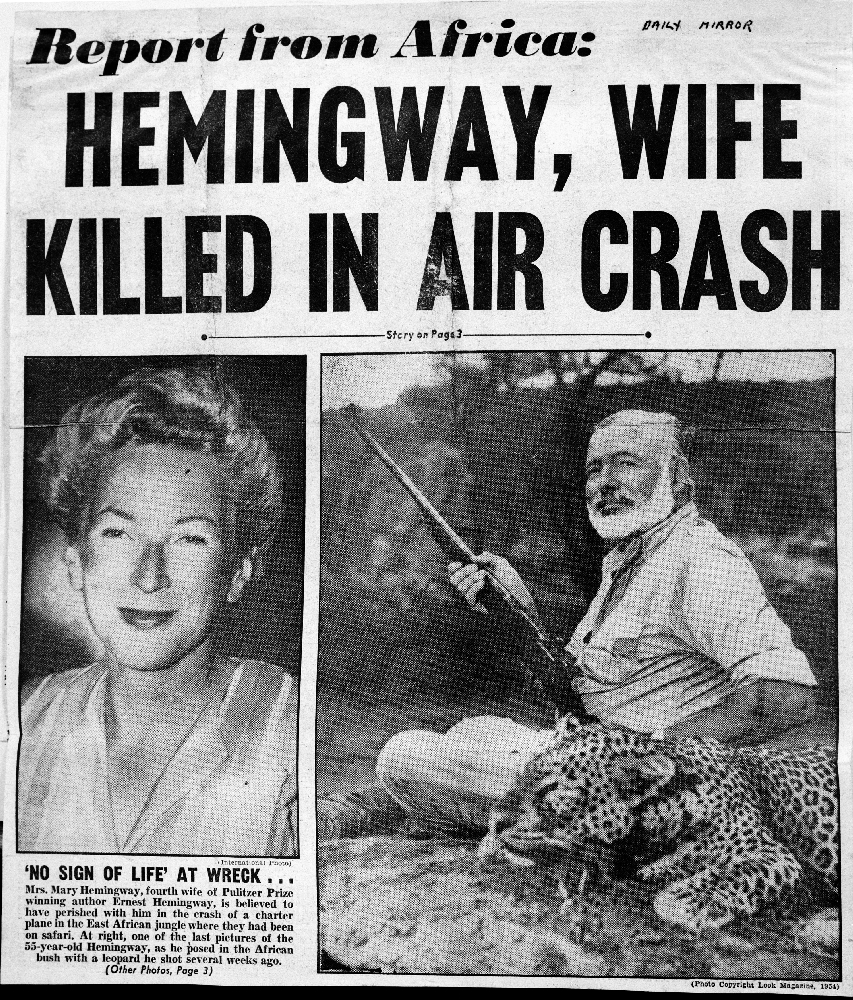 Front page of the Daily Mirror falsely claiming that Ernest Hemingway and Mary Hemingway died in a plane crash in Africa.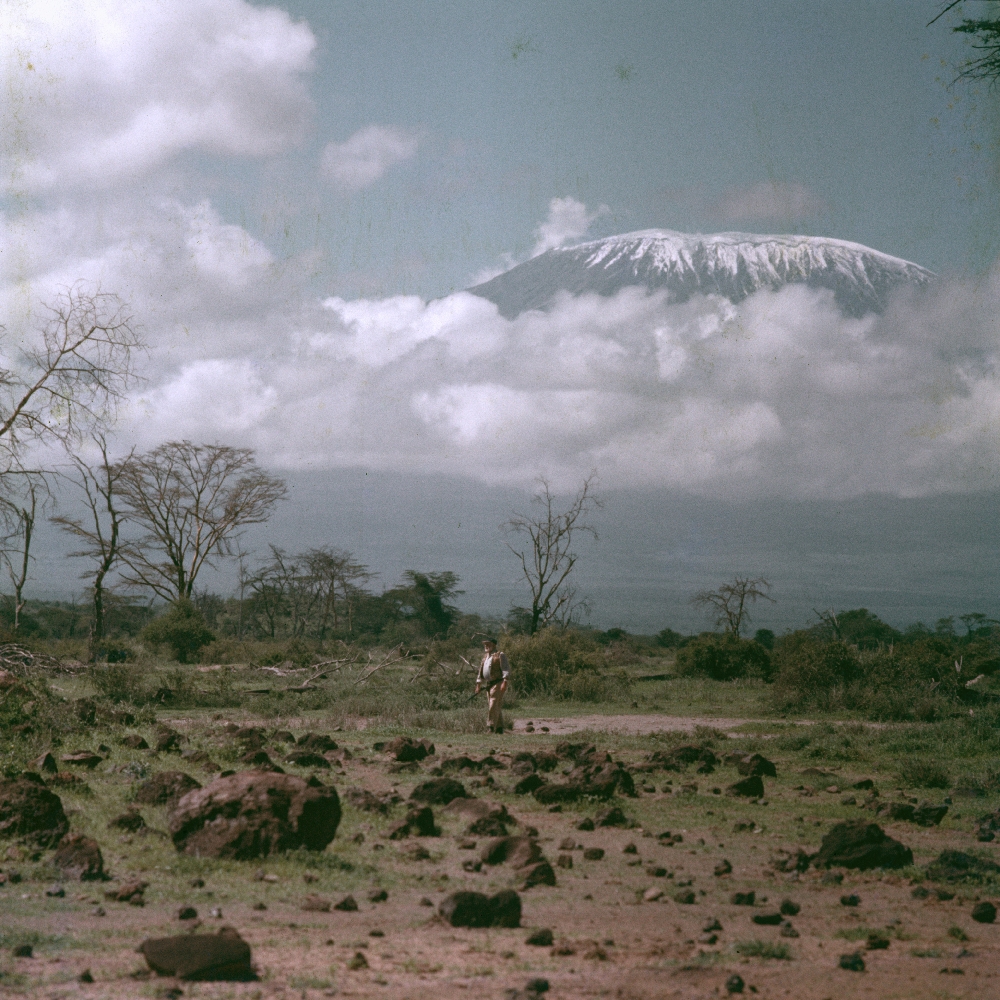 Ernest Hemingway in Africa with Mount Kilimanjaro in background.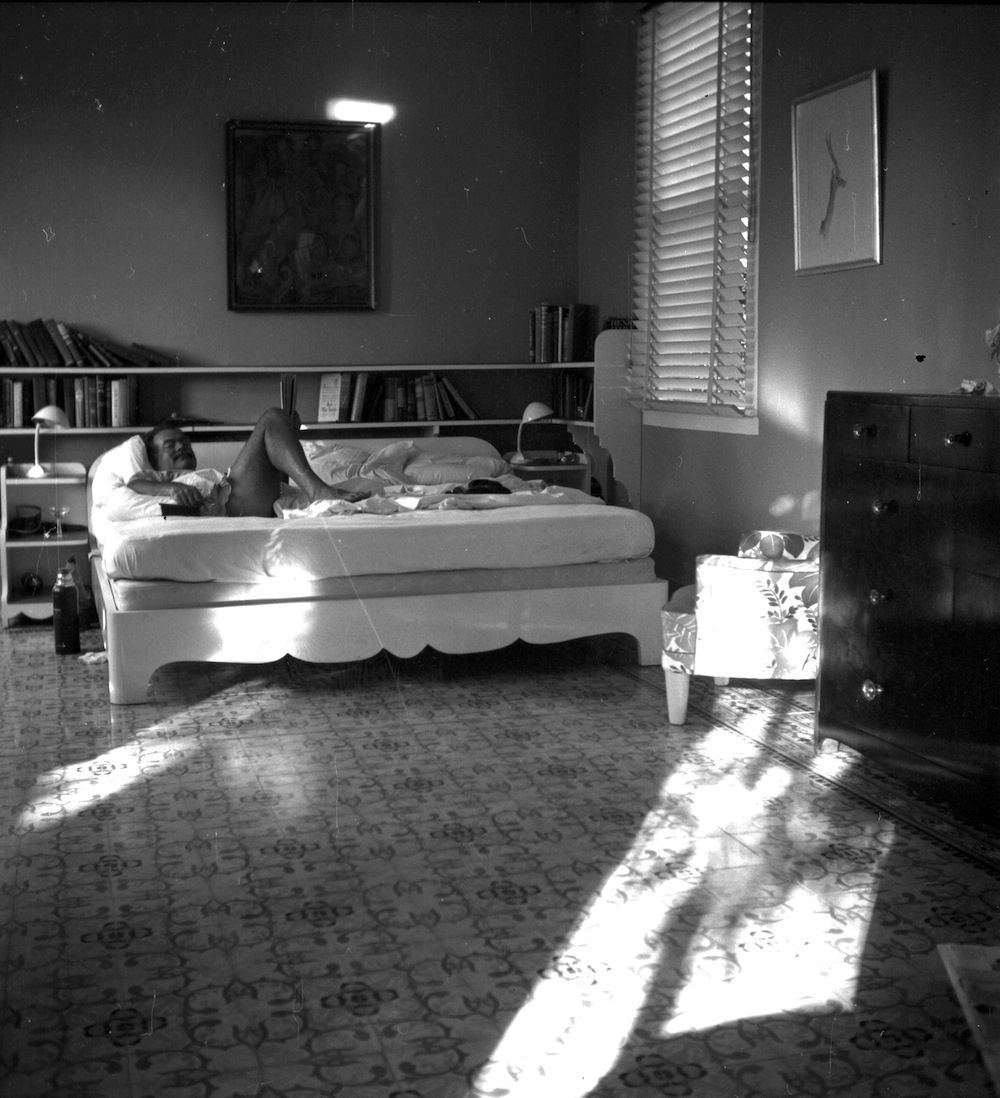 Ernest Hemingway lying on a bed in bedroom. Finca Vigia, Cuba.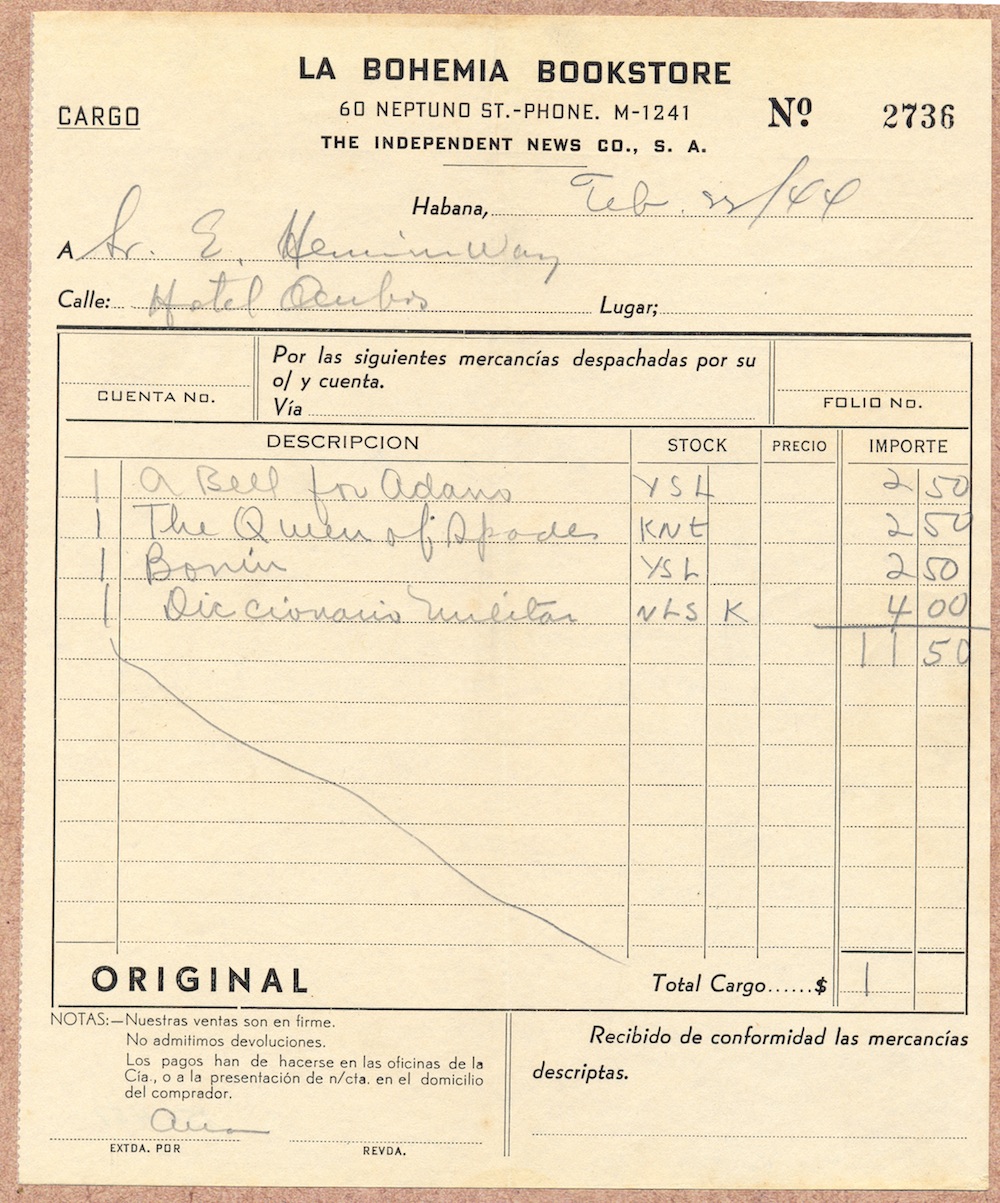 Ernest Hemingway's receipt for books purchased at La Bohemia bookstore in Havana, Cuba, 1944. The books include John Hersey's A Bell for Adano; Alexander Pushkin's The Queen of Spades; Robert Standish's Bonin: A Novel; and a "Diccionario militar."
La Floridita, Havana, Cuba. Roberto Herrera, Byra "Puck" Whittlesey, John "Bumby" Hemingway, Spencer Tracy, Ernest Hemingway, and Mary Hemingway, circa 1955.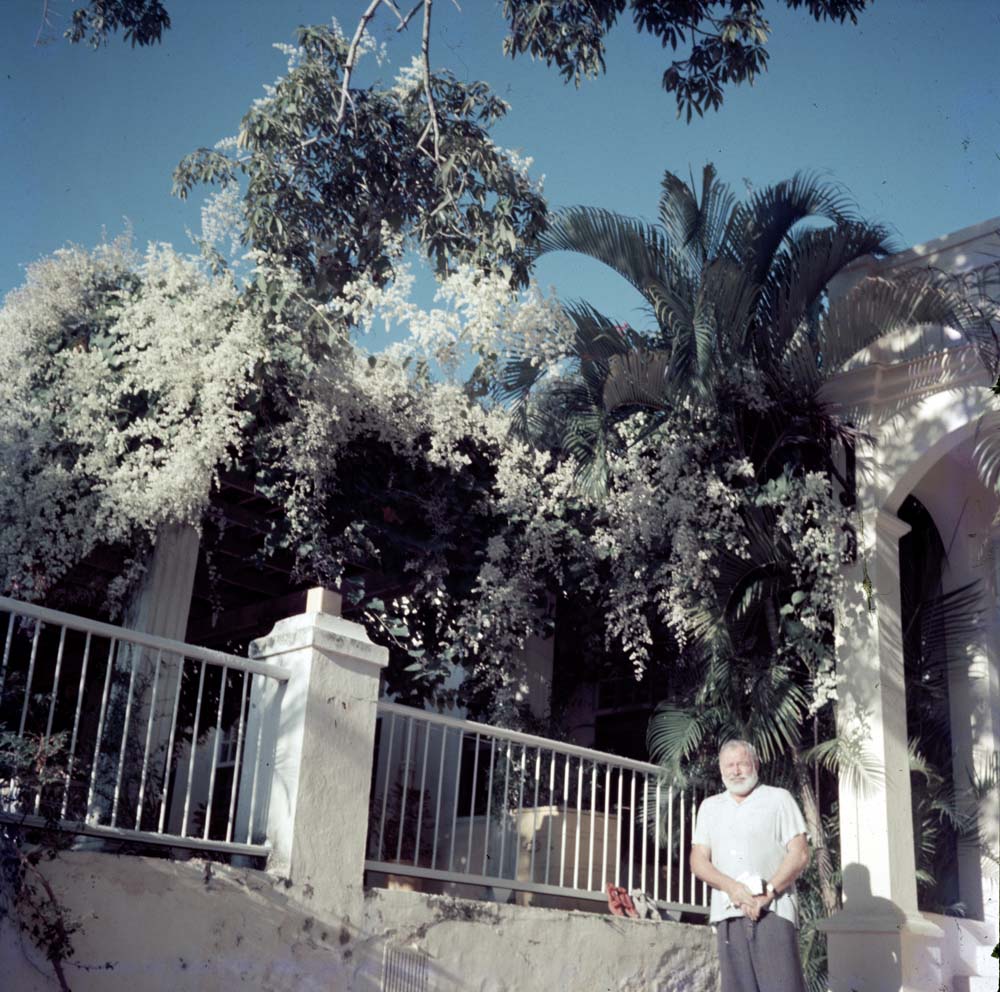 Ernest Hemingway outside of his home, Finca Vigia, San Francisco de Paula, Cuba.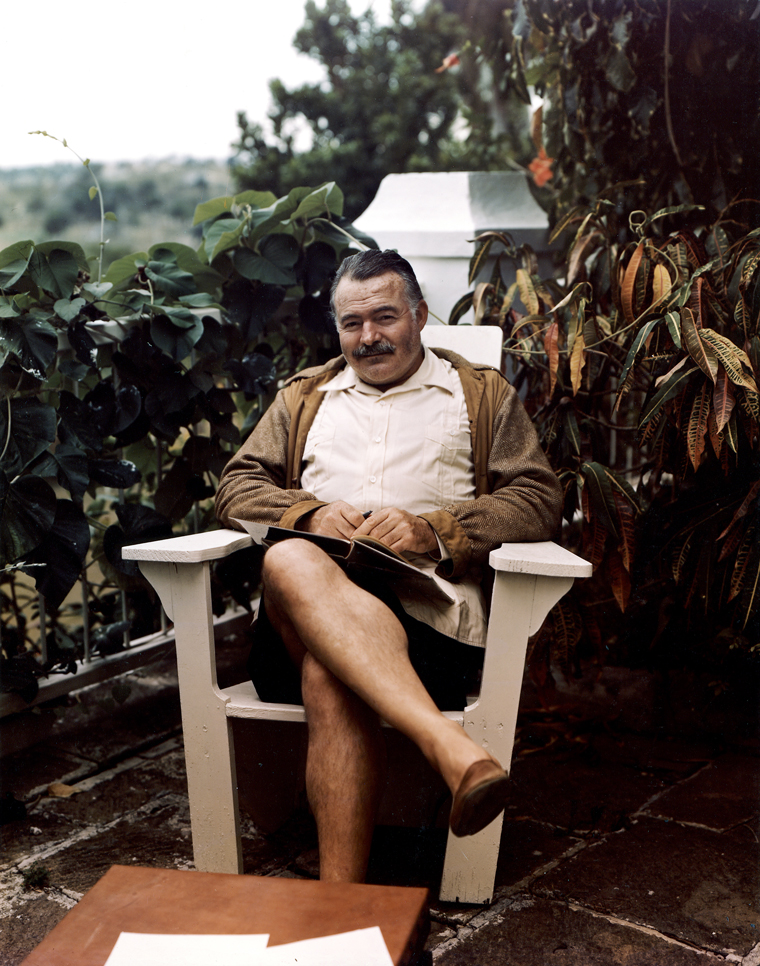 Ernest Hemingway at his home in Cuba, the Finca Vigia, circa 1947.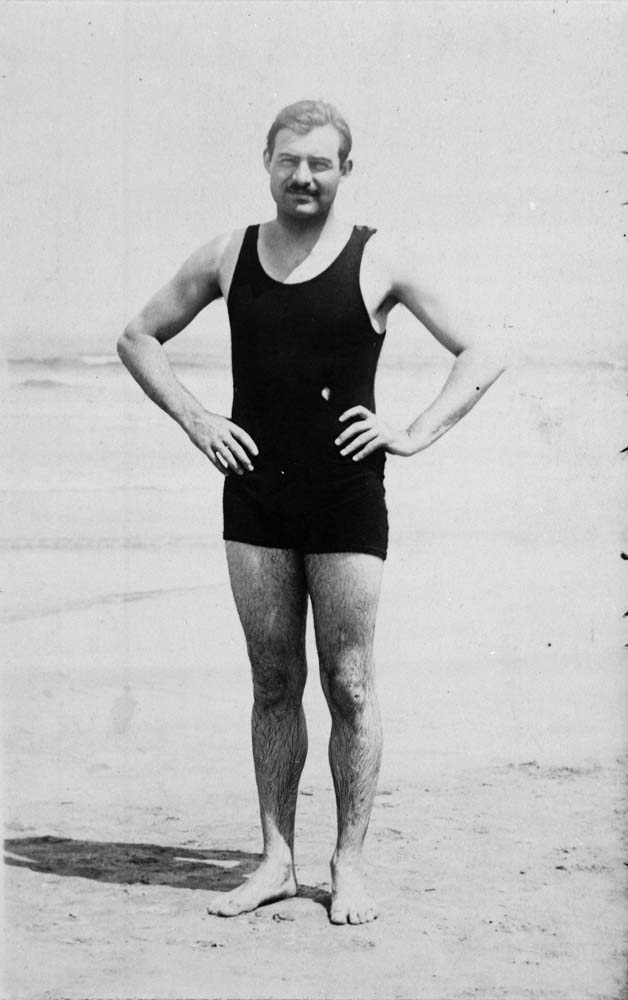 Ernest Hemingway in bathing suit on the beach. San Sebastian, Spain, 1929.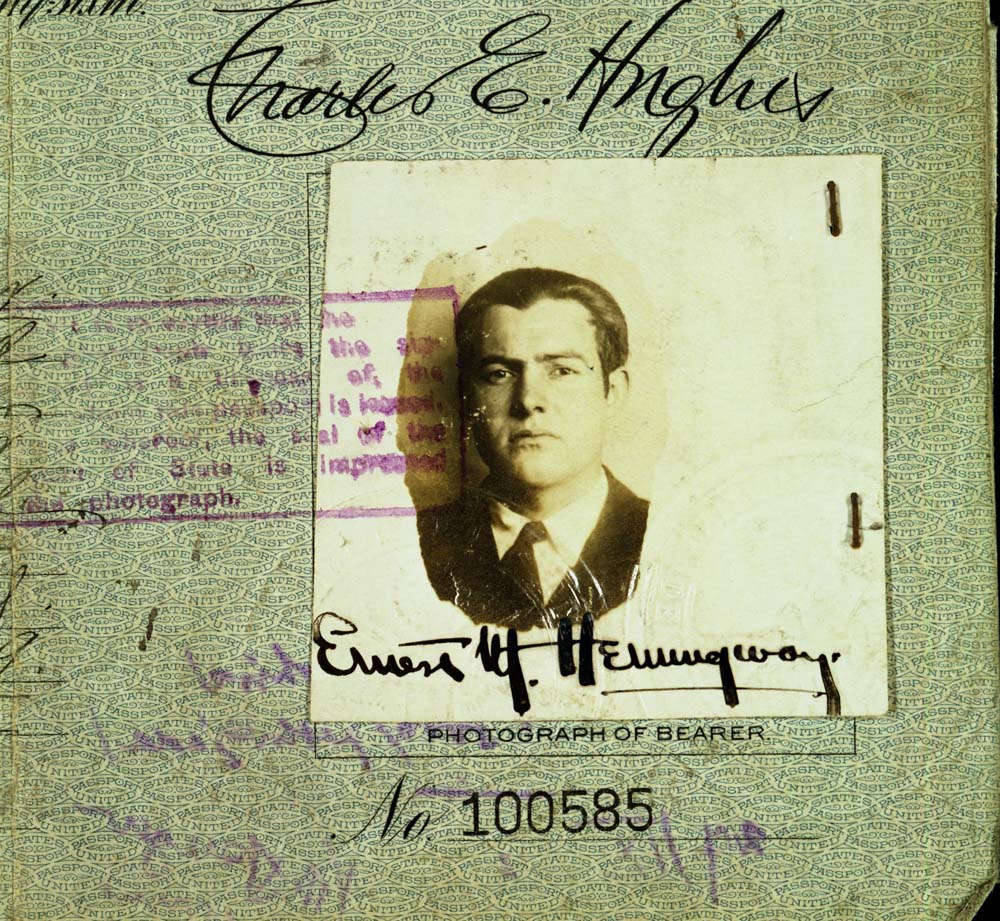 Detail of photograph from Ernest Hemingway's 1921 United States Passport, with his signature across the bottom of the image. Passport number 100585, with stamp and other writing at edges.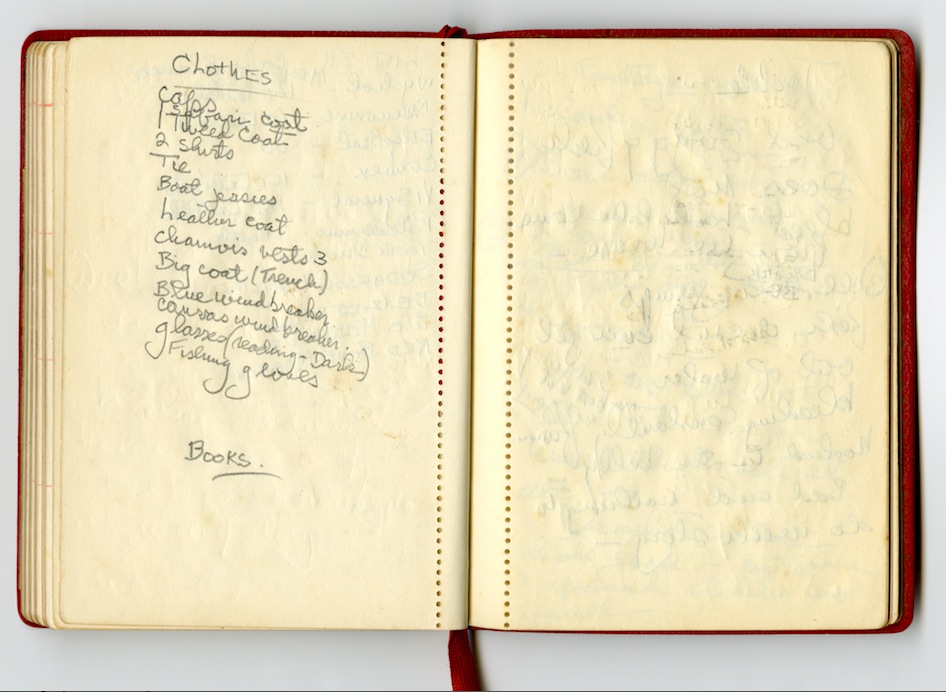 Packing list for a trip to Cabo Blanco, Peru; this list includes clothing.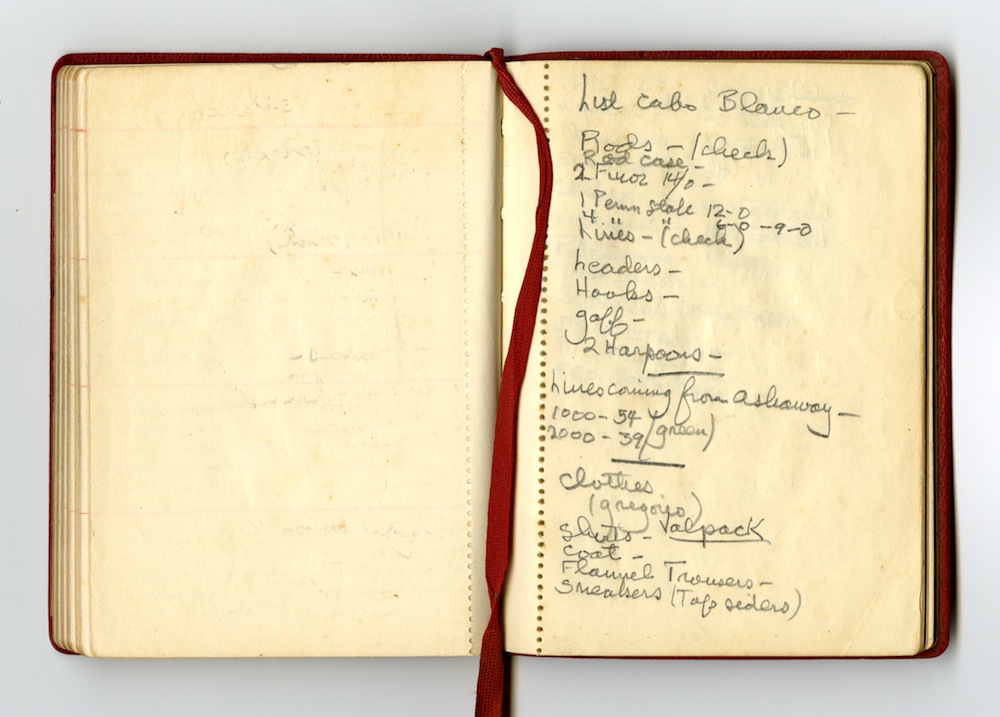 Packing list for a trip to Cabo Blanco, Peru, famous for the Cabo Blanco Fishing Club; this list includes mostly fishing equipment. Ernest Hemingway traveled to Cabo Blanco during the filming of The Old Man and the Sea.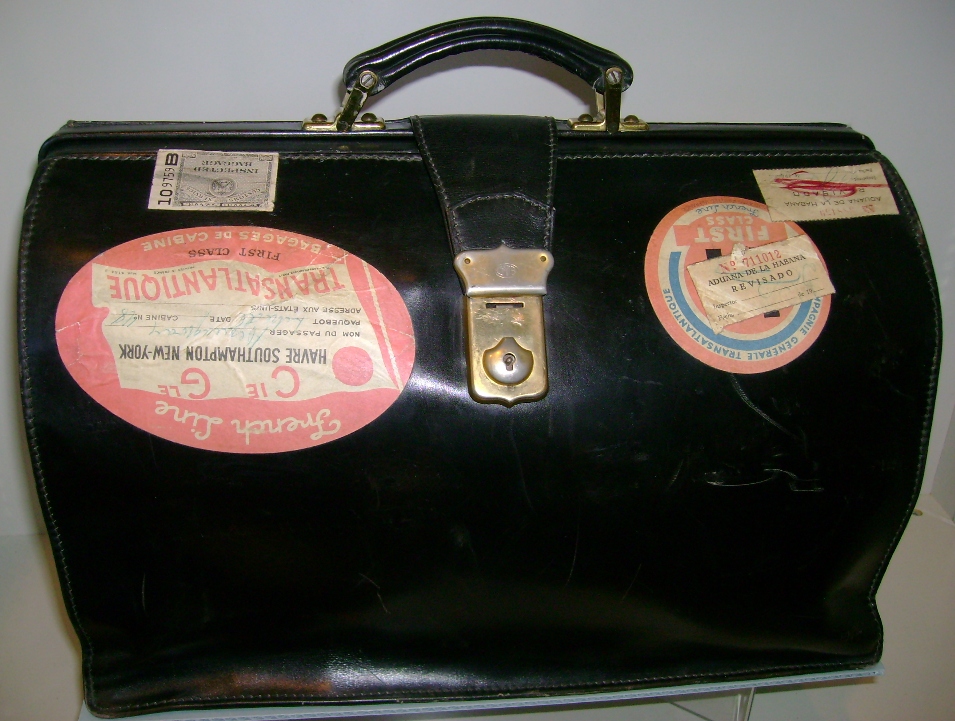 Hemingway's Travel Bag: Black leather traveling bag with foreign stamps in French and Spanish attached to exterior surface.
Located on the 5th floor of the John F. Kennedy Library in Boston, researchers who are granted permission to use the Hemingway Collection are escorted after checking in at the Main Research Room. More information on onsite research here.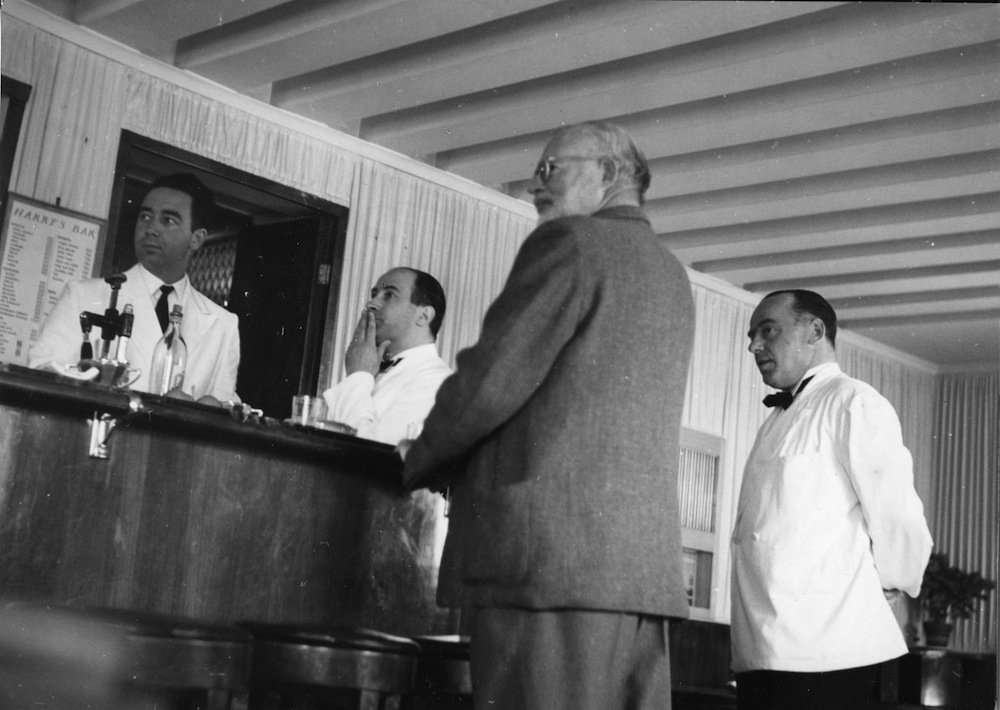 Ernest Hemingway and waitstaff at Harry's Bar, 1949.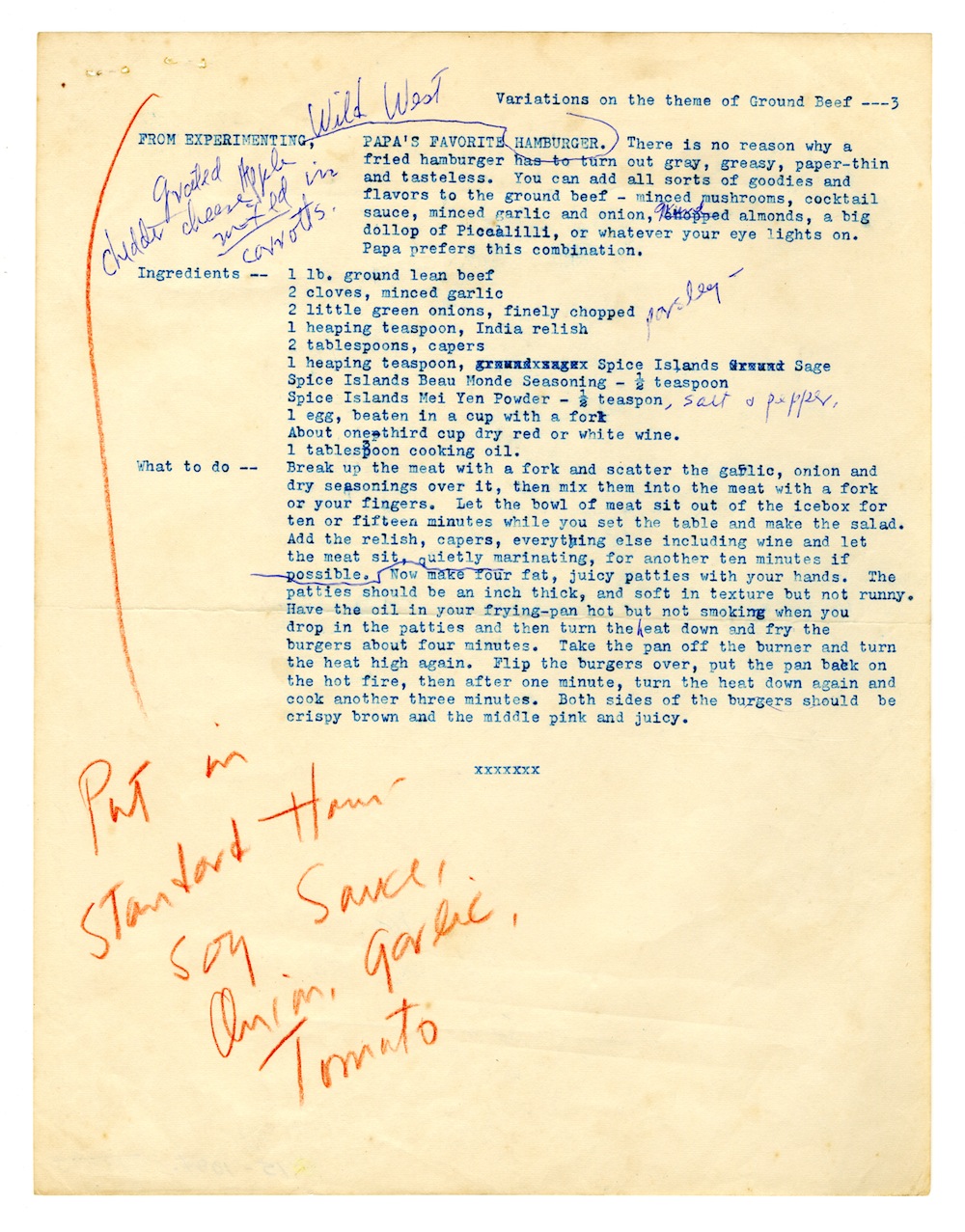 "Papa's Favorite Hamburger" recipe, with Mary Hemingway's handwritten notes.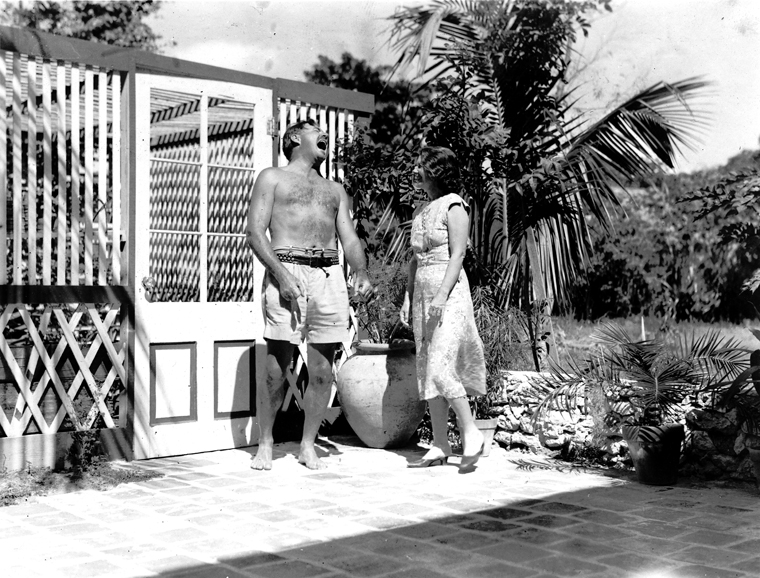 Ernest and Pauline Hemingway at the Hemingway's Key West home.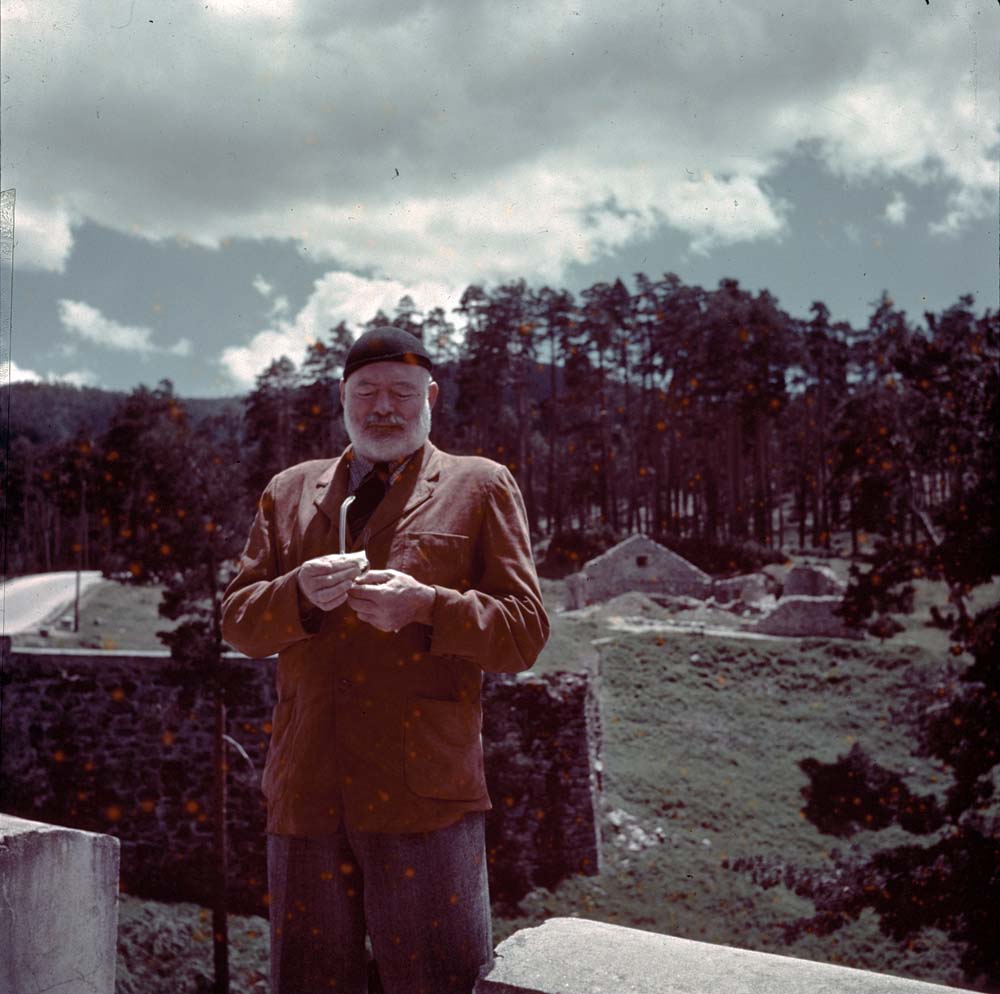 Ernest Hemingway cleans his glasses outdoors, circa 1949.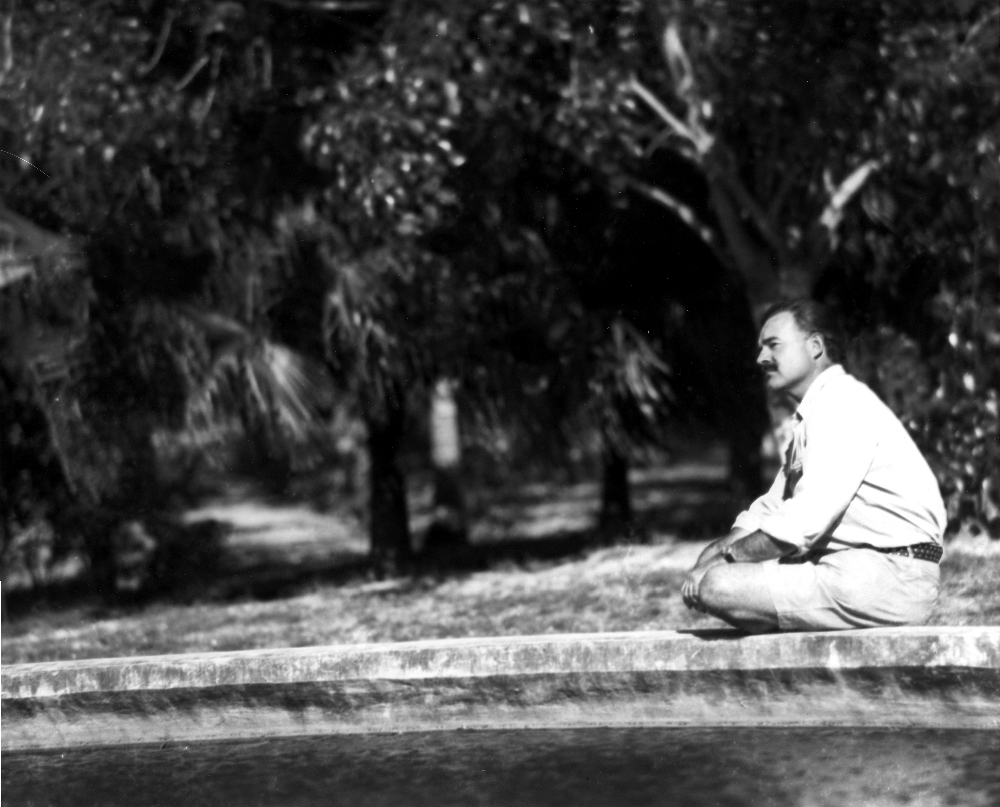 Ernest Hemingway at Finca Vigia, Cuba.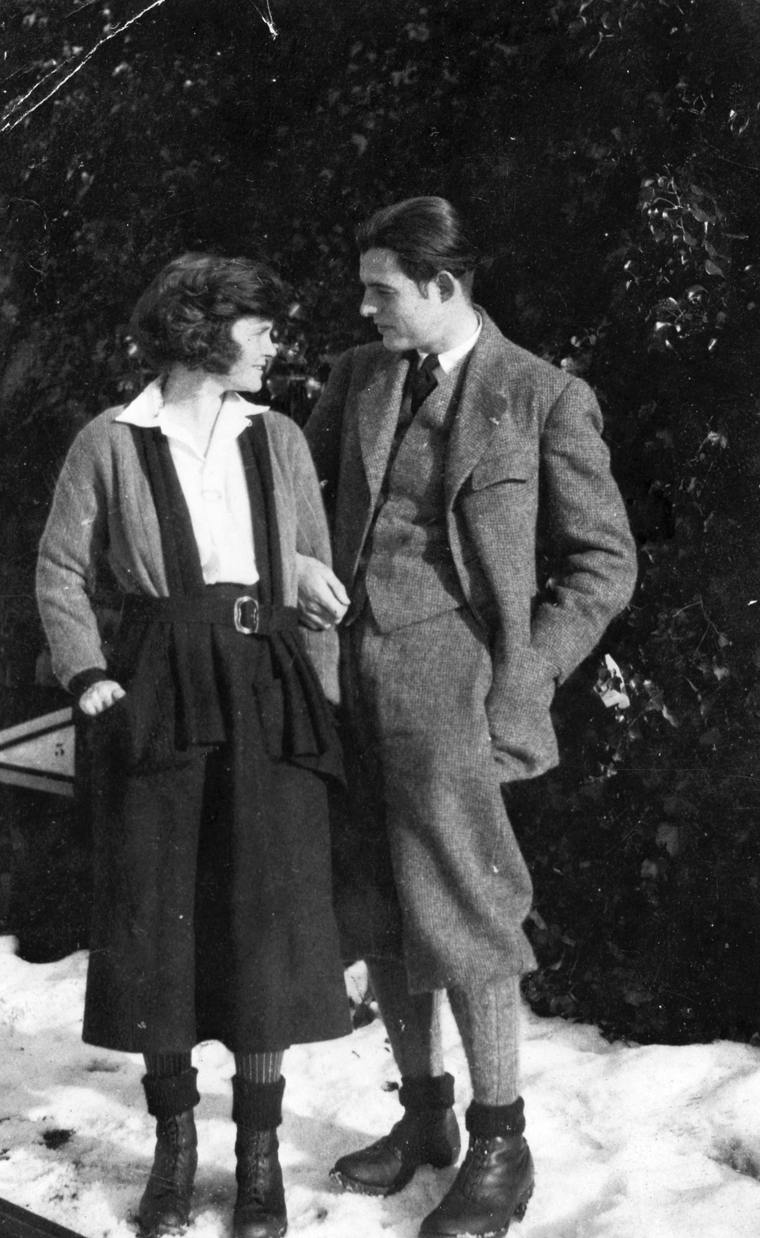 Ernest Hemingway and Hadley Hemingway in Chamby, Switzerland, 1922.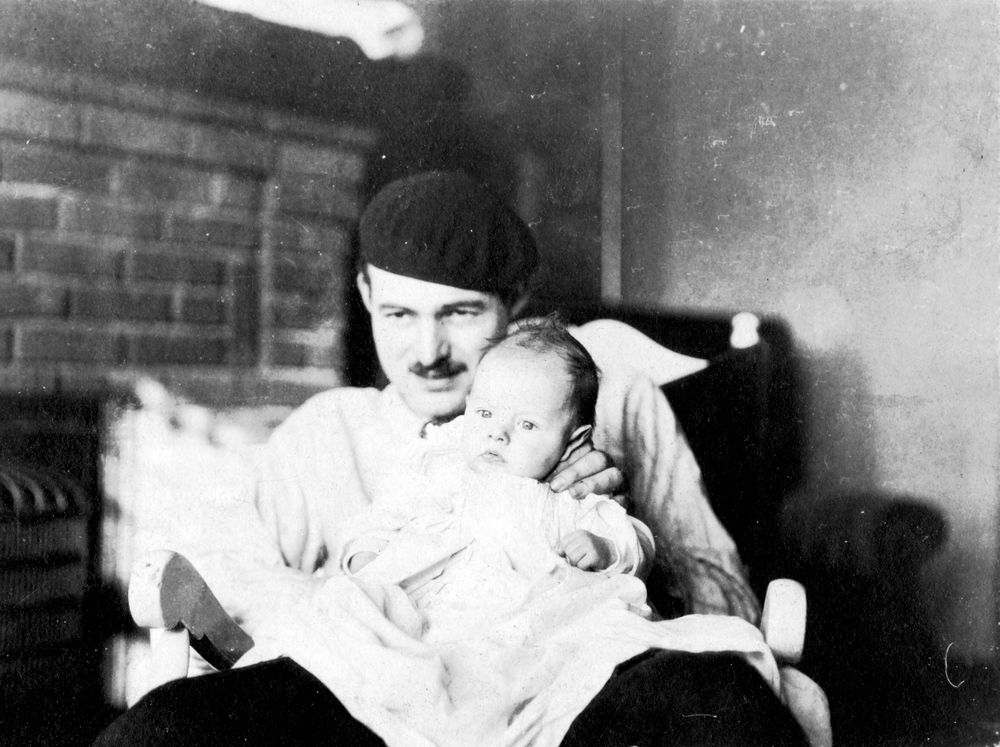 Ernest Hemingway (wearing beret) holds his son, Jack "Bumby" Hemingway, in their apartment in Paris, France, circa 1924. 

Hemingway once sent F. Scott Fitzgerald a typescript of A Farewell to Arms. Fitzgerald sent back ten pages of edits and comments, signing off with "A beautiful book it is!" You can see Hemingway's first reaction above (signed EH). In later drafts, it seems, he took some of Fitzgerald's advice to heart.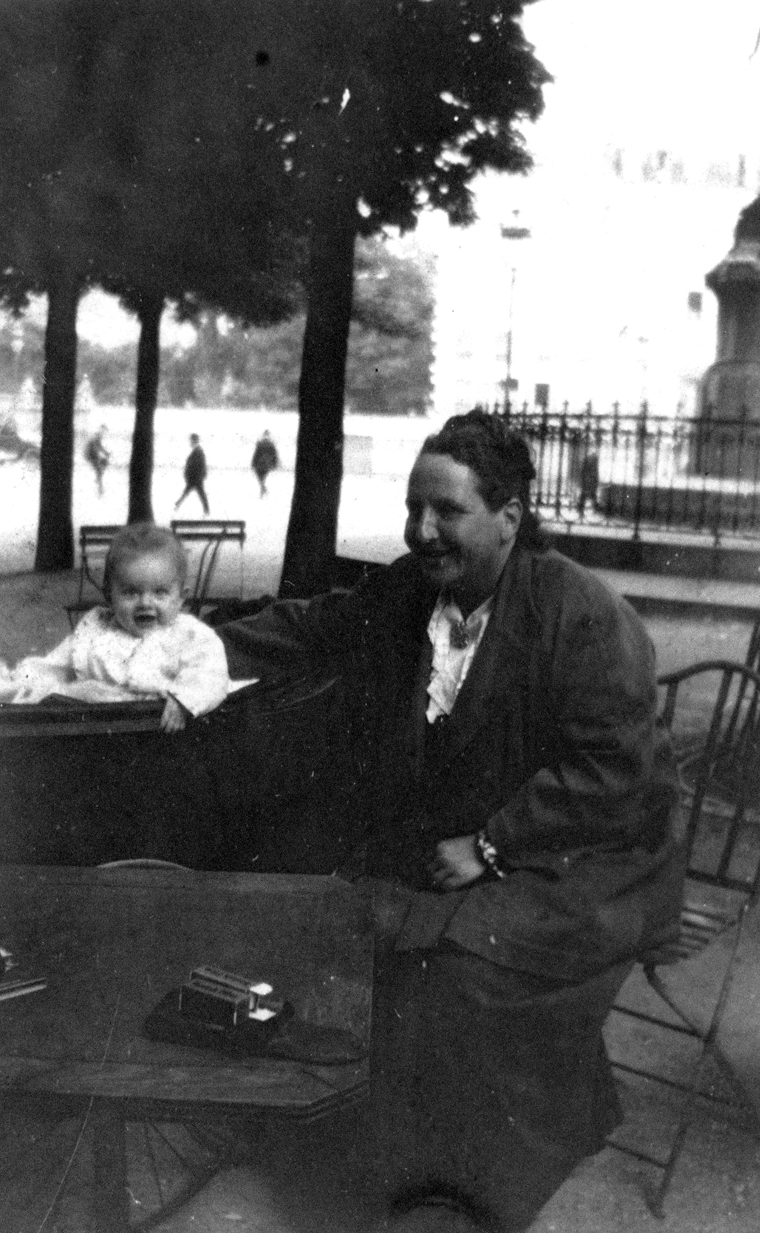 John "Bumby" Hemingway and Gertrude Stein. Paris, 1924.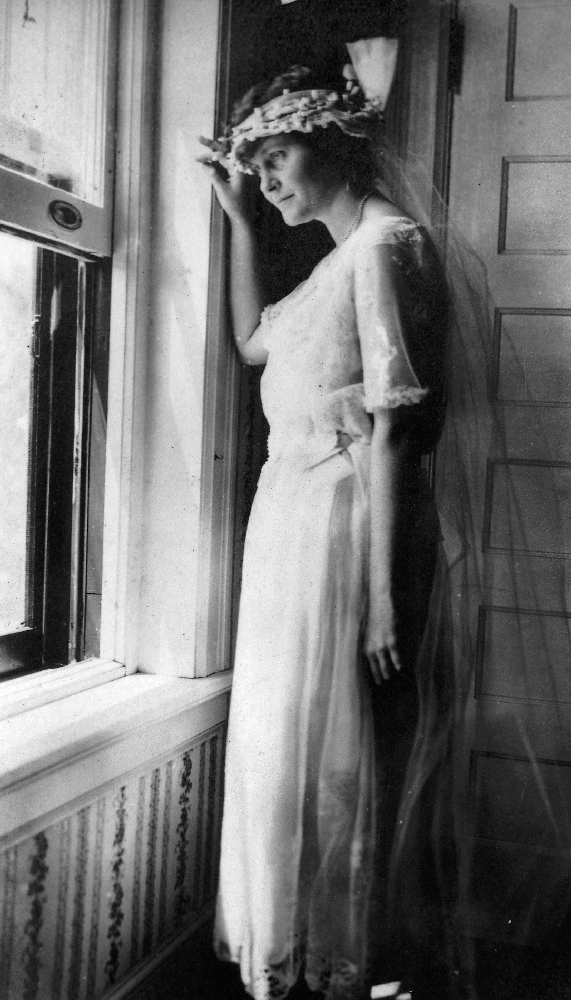 Hadley Richardson in her wedding dress looking out the window on her wedding day in Horton Bay, MI, 3 September 1921.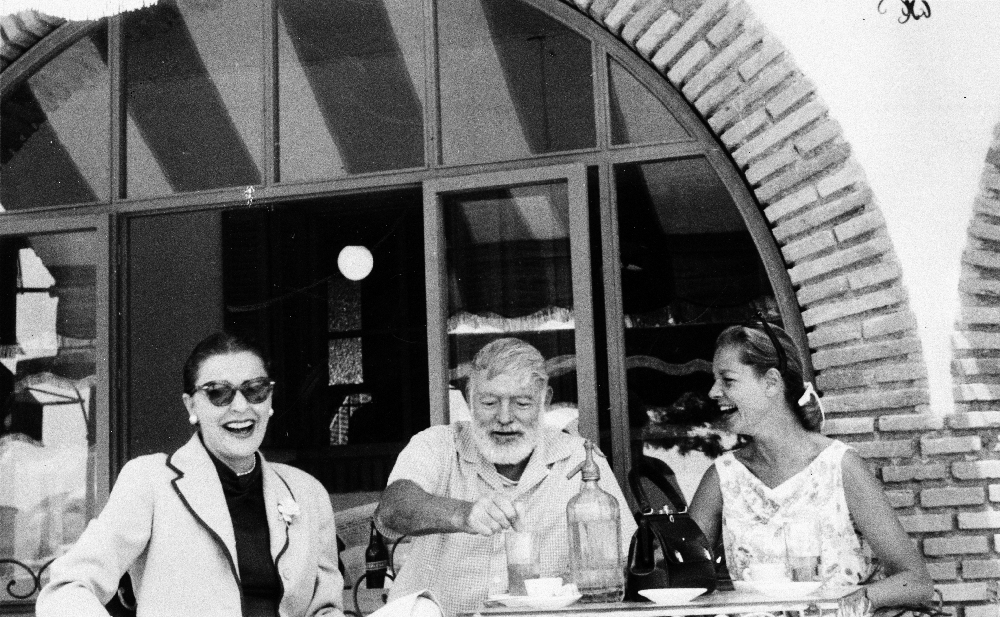 Ernest Hemingway, Lauren Bacall, and Veronica Cooper (also known as Rock Cooper) drinking in a cafe. Cuba.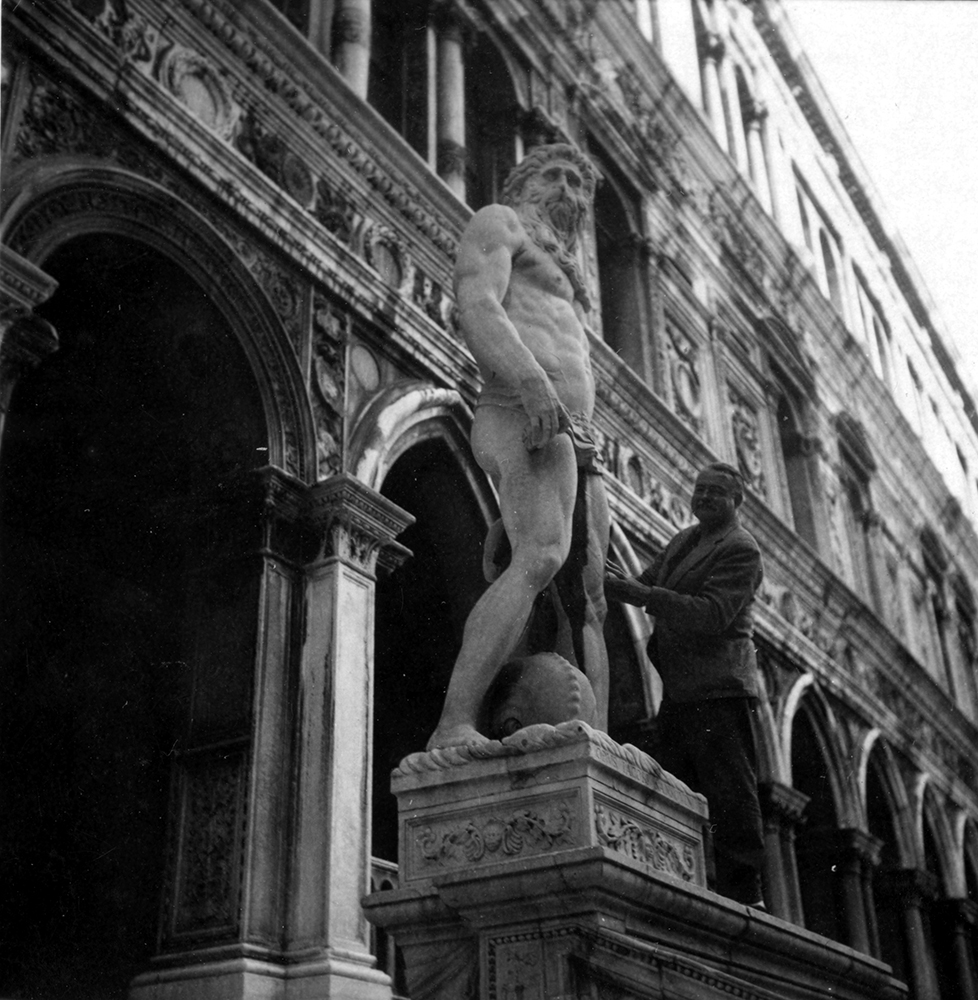 Ernest Hemingway below a statue of Neptune at the entrance to Palazzo Ducale (Doge's Place) in Venice, Italy.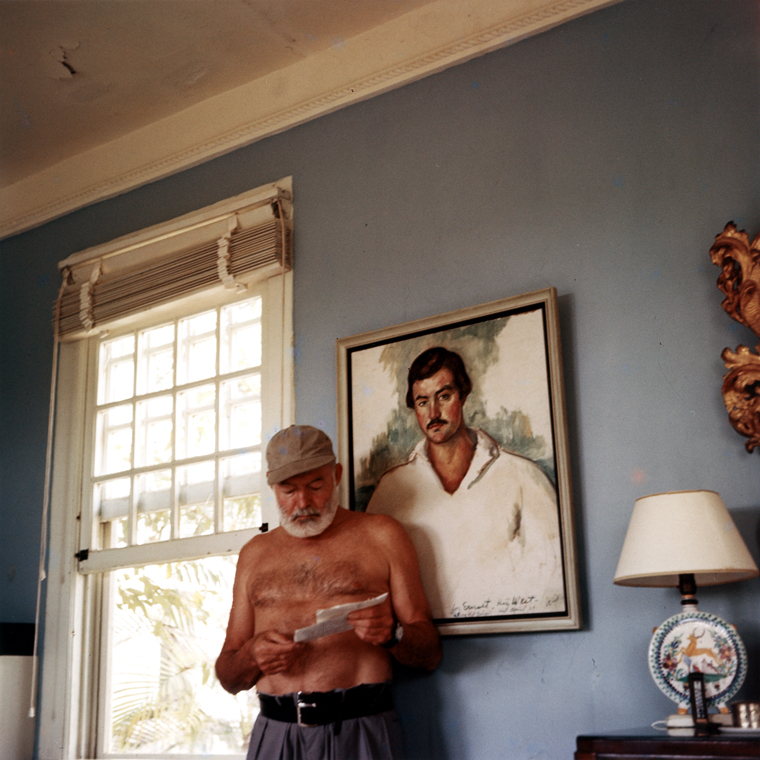 Ernest Hemingway at his home in Cuba, circa 1953, standing in front of a 1929 portrait of himself by Waldo Pierce.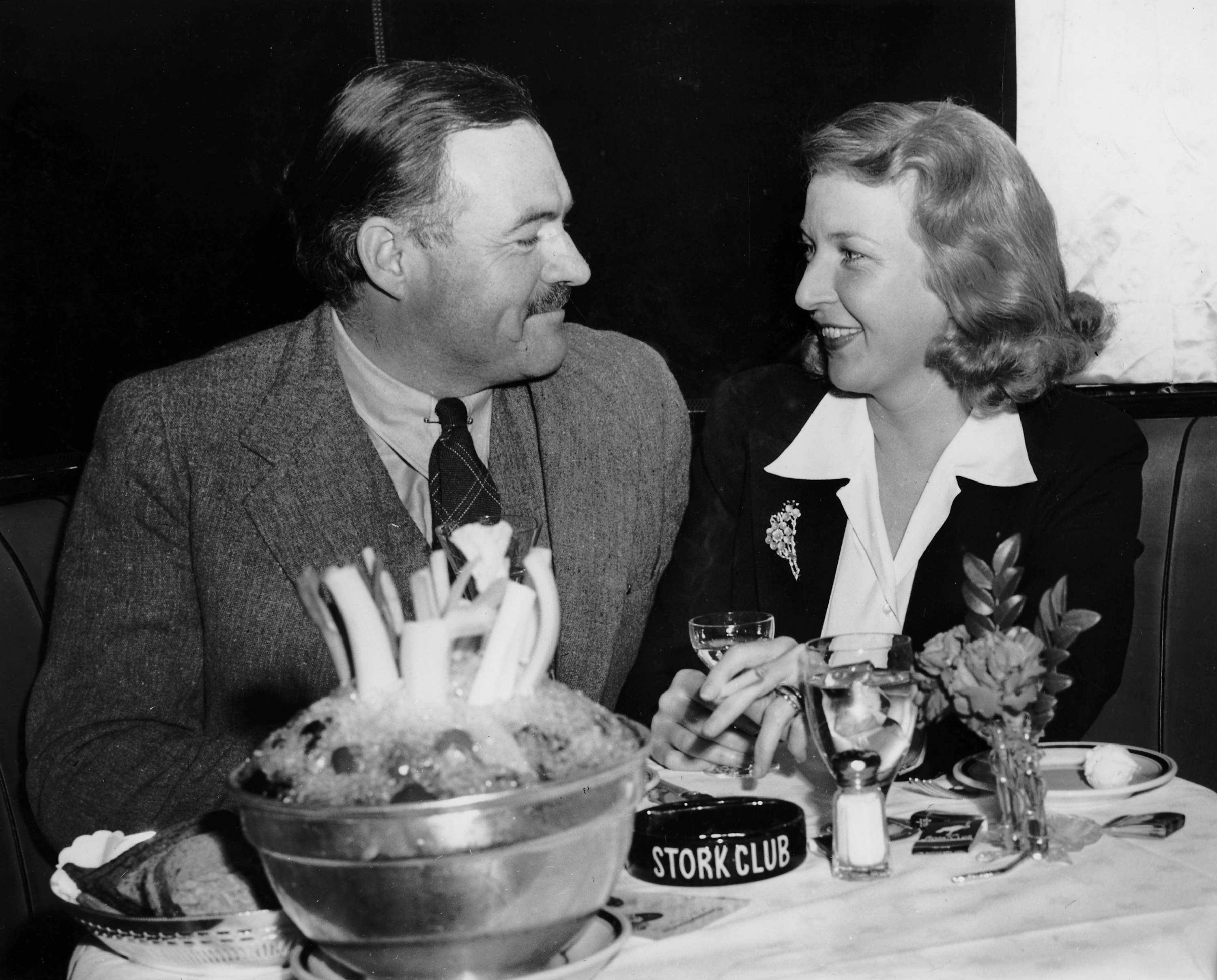 Ernest and Martha Hemingway at the Stork Club, New York City, 1941.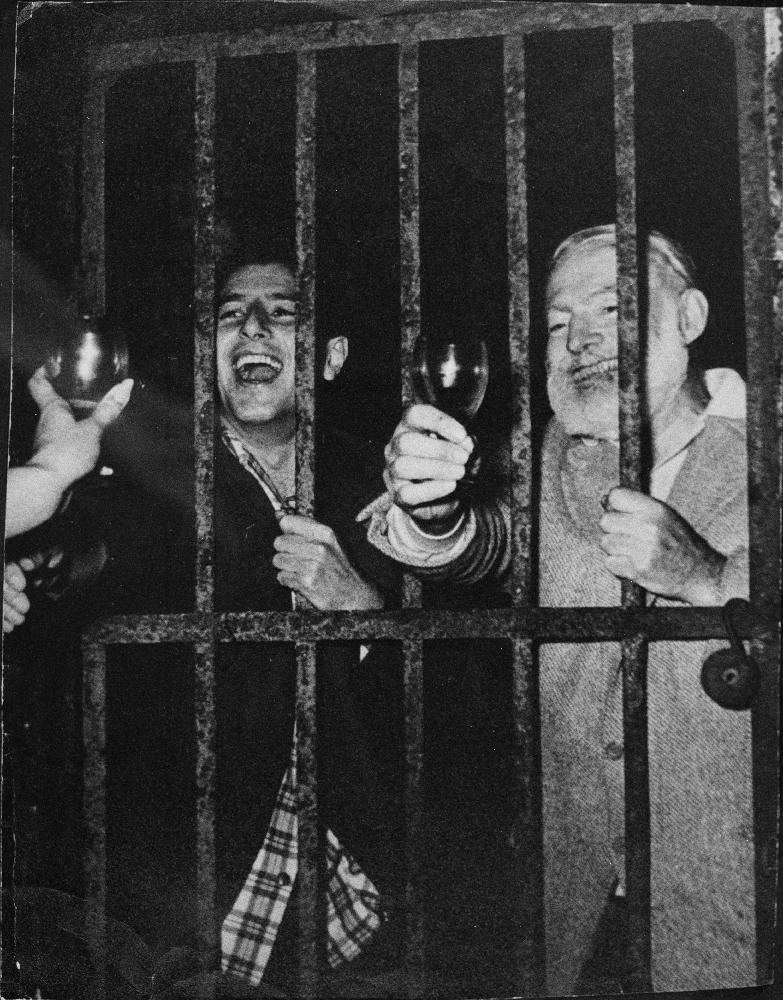 Ernest Hemingway and Antonio Ordonez behind bars drinking and laughing, 1959
All content (c) the Ernest Hemingway Collection of the John F. Kennedy Presidential Library and Museum, Boston. For information on visiting the online collection, contact archivists via here.
PS. Happy Birthday Hemingway!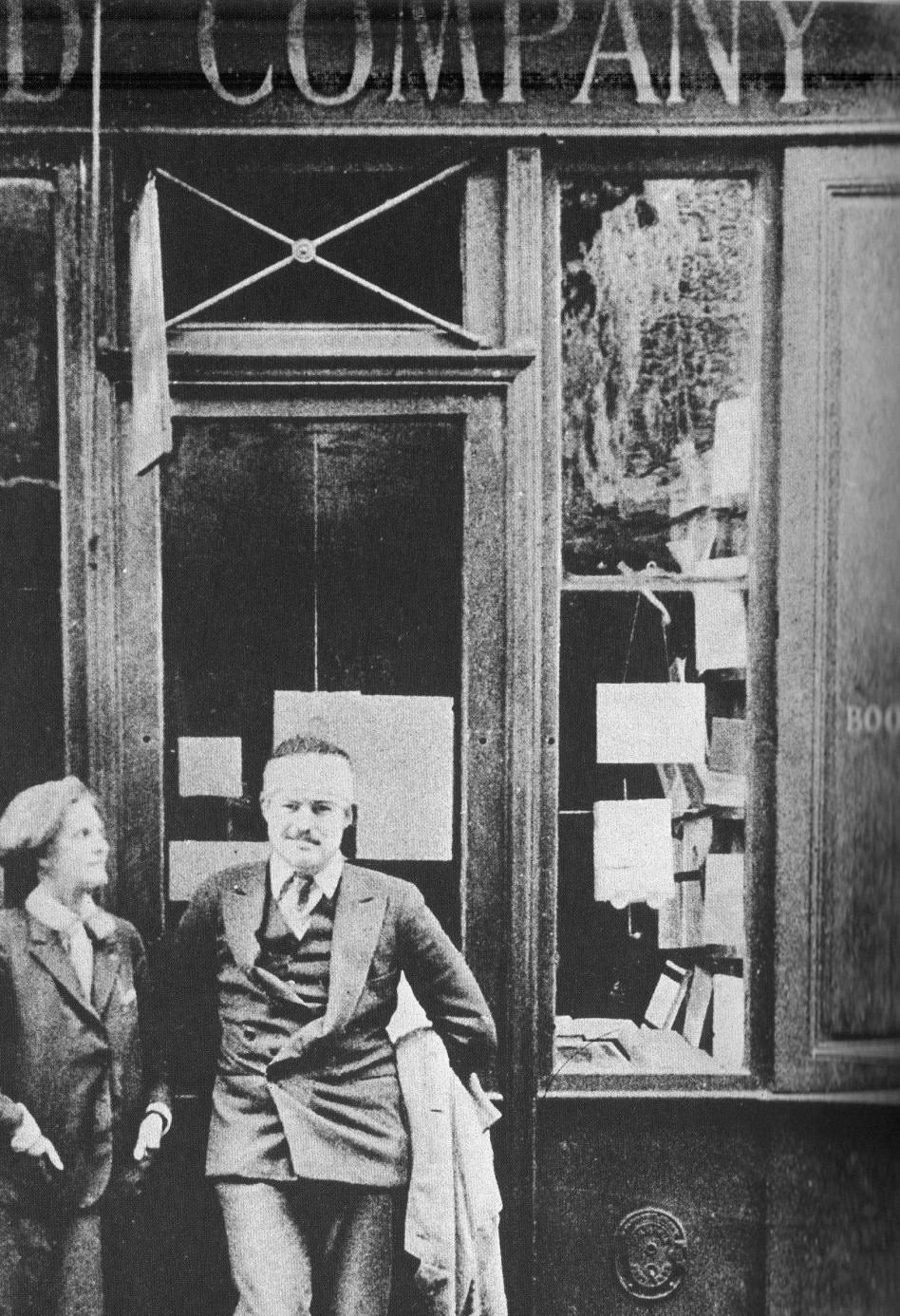 Ernest Hemingway was born into this world on July 21st 1899. Pictured here outside Shakespeare & Co, the bookshop that will soon be carrying my own book, "Don't be a Tourist in Paris". Thanks ol' Hem for convincing me to stay in Paris seven years ago with your moveable feast.