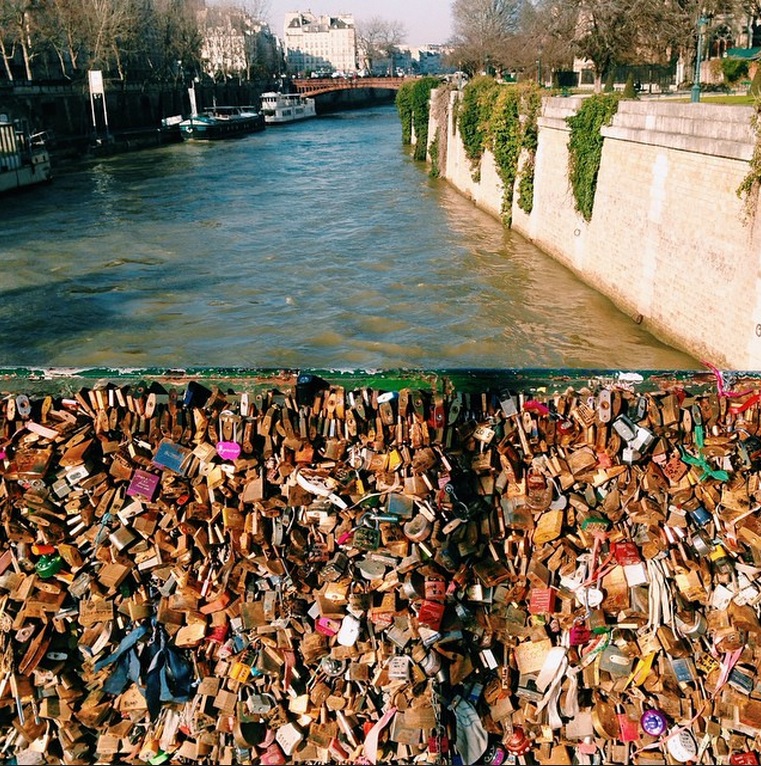 So you might have heard about our famous "love-locking" bridges in Paris giving way under the strain of thousands of padlocks, calling for authorities to block the practice with preventative barriers. It's a tradition which has fast become a total and utter tourist cliché. The sheer amount of padlocks simply shows that there's nothing unique about it. So while the love-locking bridges are currently having a few issues, I thought this might be a good opportunity to suggest a few other romance-related things to do in Paris and give its bridges a little rest…
1. Make a Journey to the Island of the Temple of Love

If you feel like a particularly good sunset might be coming on, there's a special place in Paris to make a bee-line for with your date. I'm serious about the whole "Temple of Love" thing– that's what it's actually called, sometimes also referred to as the Temple Romantique, and it sits on an island in the middle of a lake in the Bois de Vincennes, the largest public park in the city.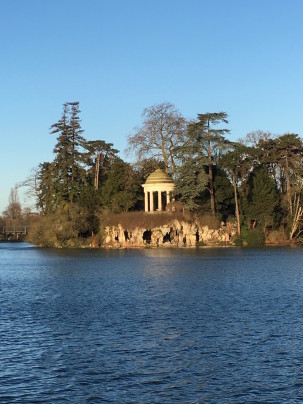 Built by an architect in 1860, influenced by the Rococo movement, the temple has a twin in another park of Paris, the Buttes-Chaumont, except this one is much less well-known, so you won't be sharing your romantic moment with dozens of other couples trying to do the same.
It requires a little bit of a field trip from the very centre of Paris, but that will make it all the more exciting for your date who doesn't know where you're taking them to. Hop on the line 8 metro and hop off at the stop Michel Bizot. Walk up the palm tree-lined avenue, passed the fascinating building that is the Musée national de l'histoire de l'immigration (we'll have to save that visit for another article) and over the road where the Lac Daumesnil awaits (that's the lake).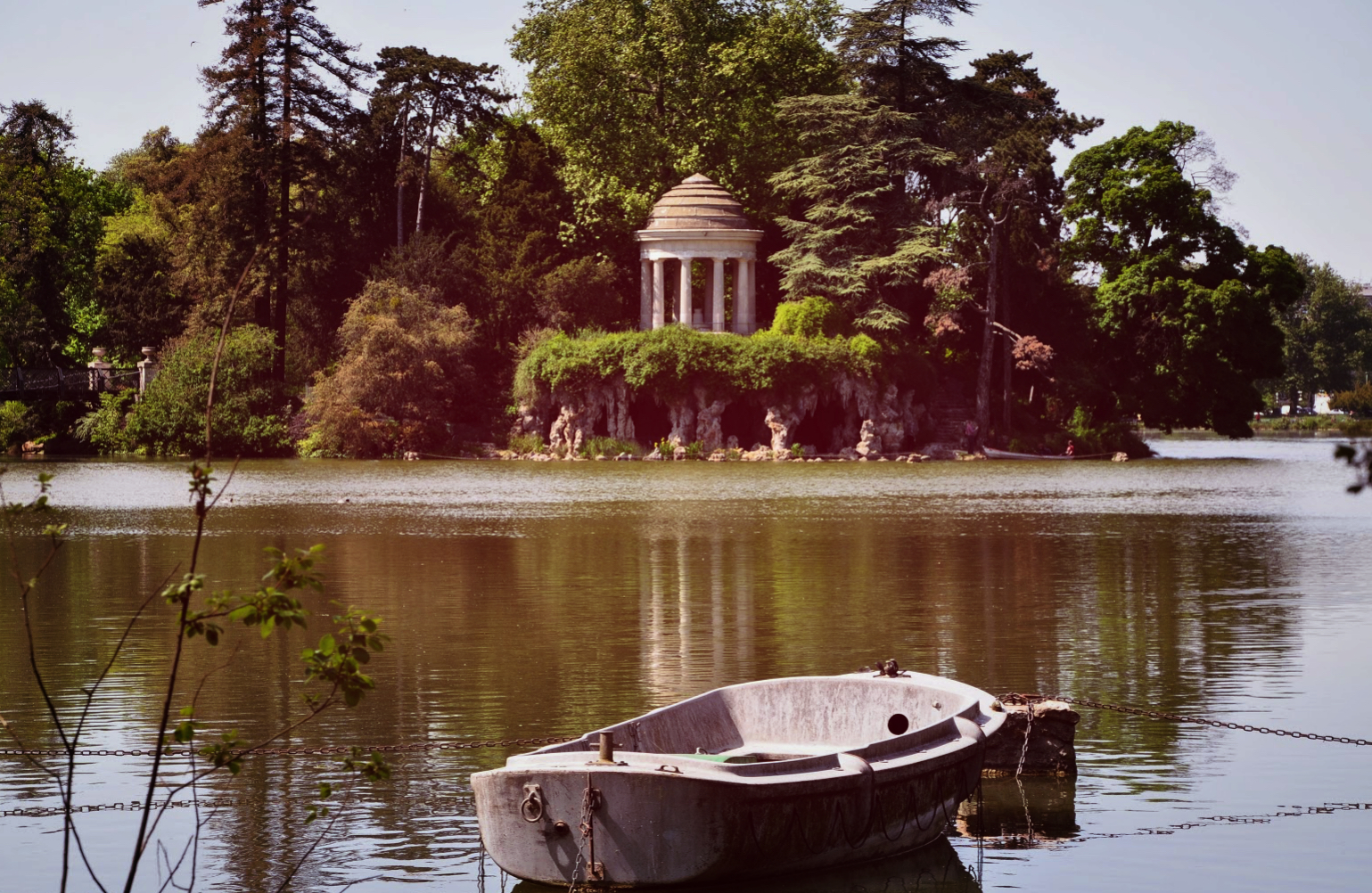 Take a tour round the lake until you spot the Temple of Love from the shore. You can either access the island (Île de Reuilly) by bridge on the other side of the lake, or rent a little rowboat to get you across, which will get you extra points on your date, especially if you manage to nab one with your love's name written on it…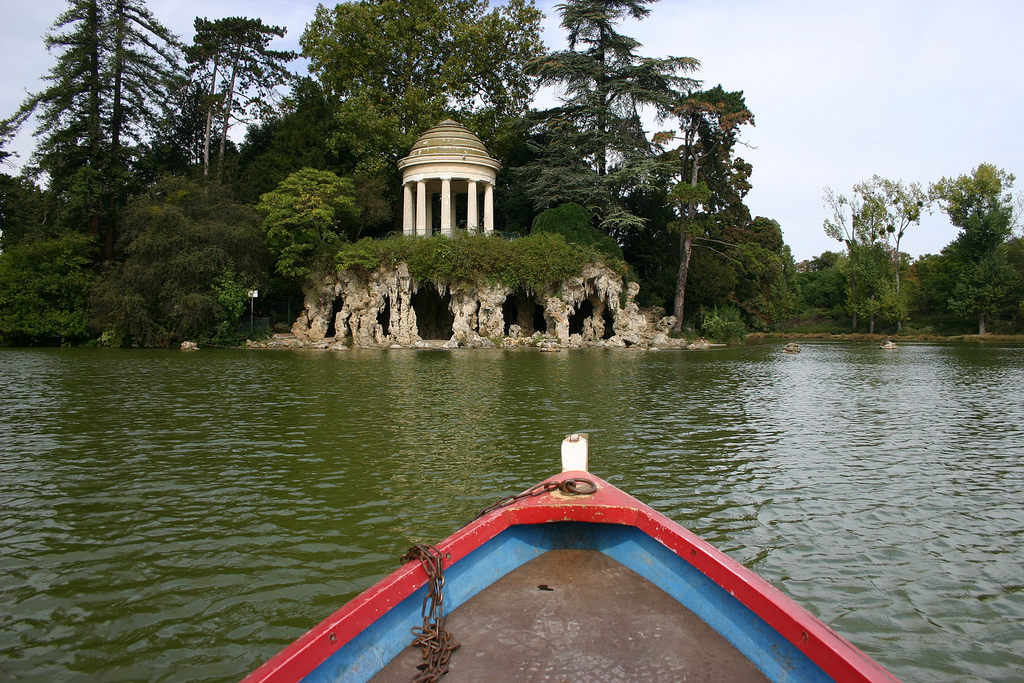 (c) Cora Bailey / Julien Fourniol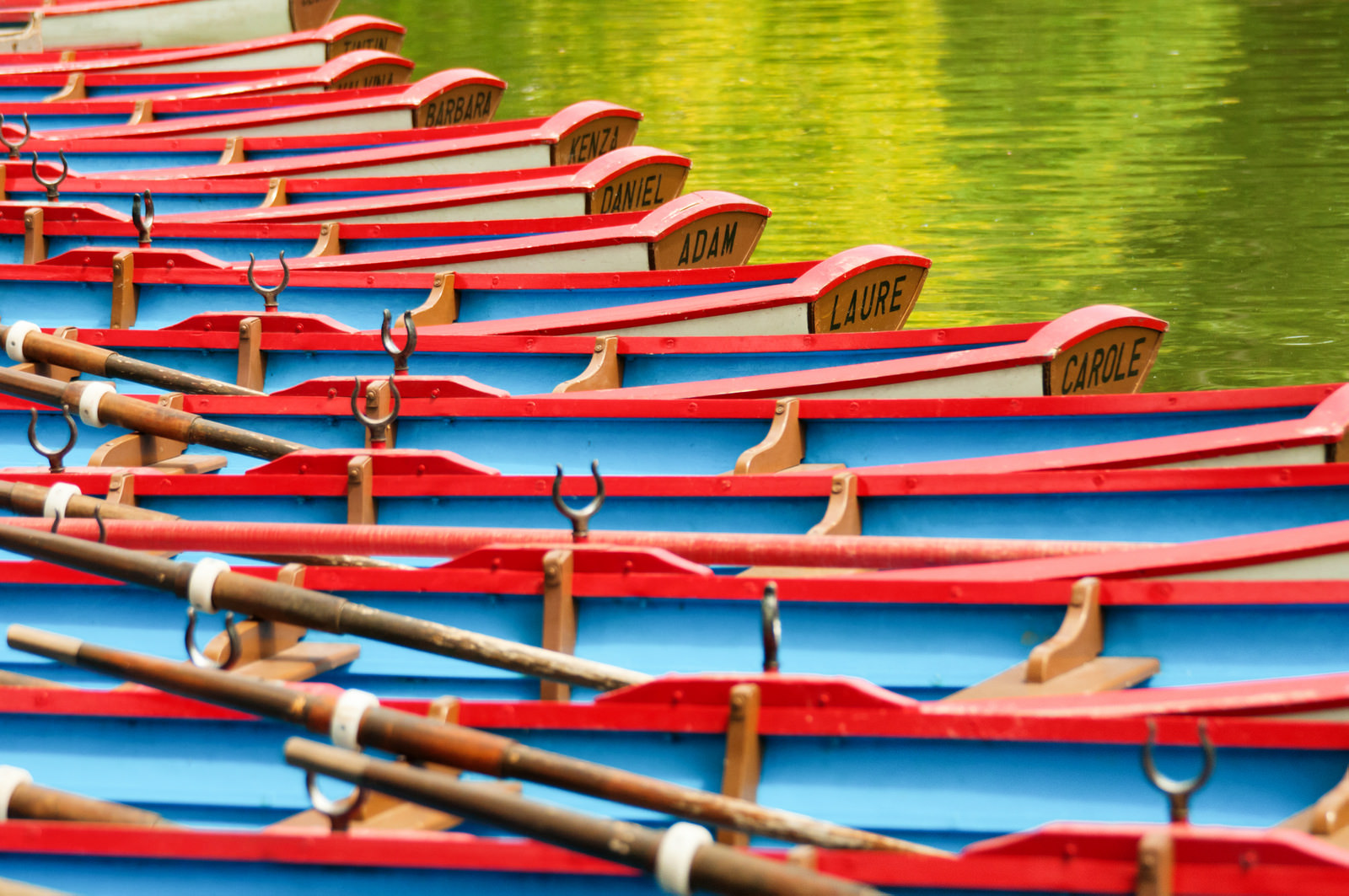 When you finally reach the Temple of Love, the views will certainly not disappoint.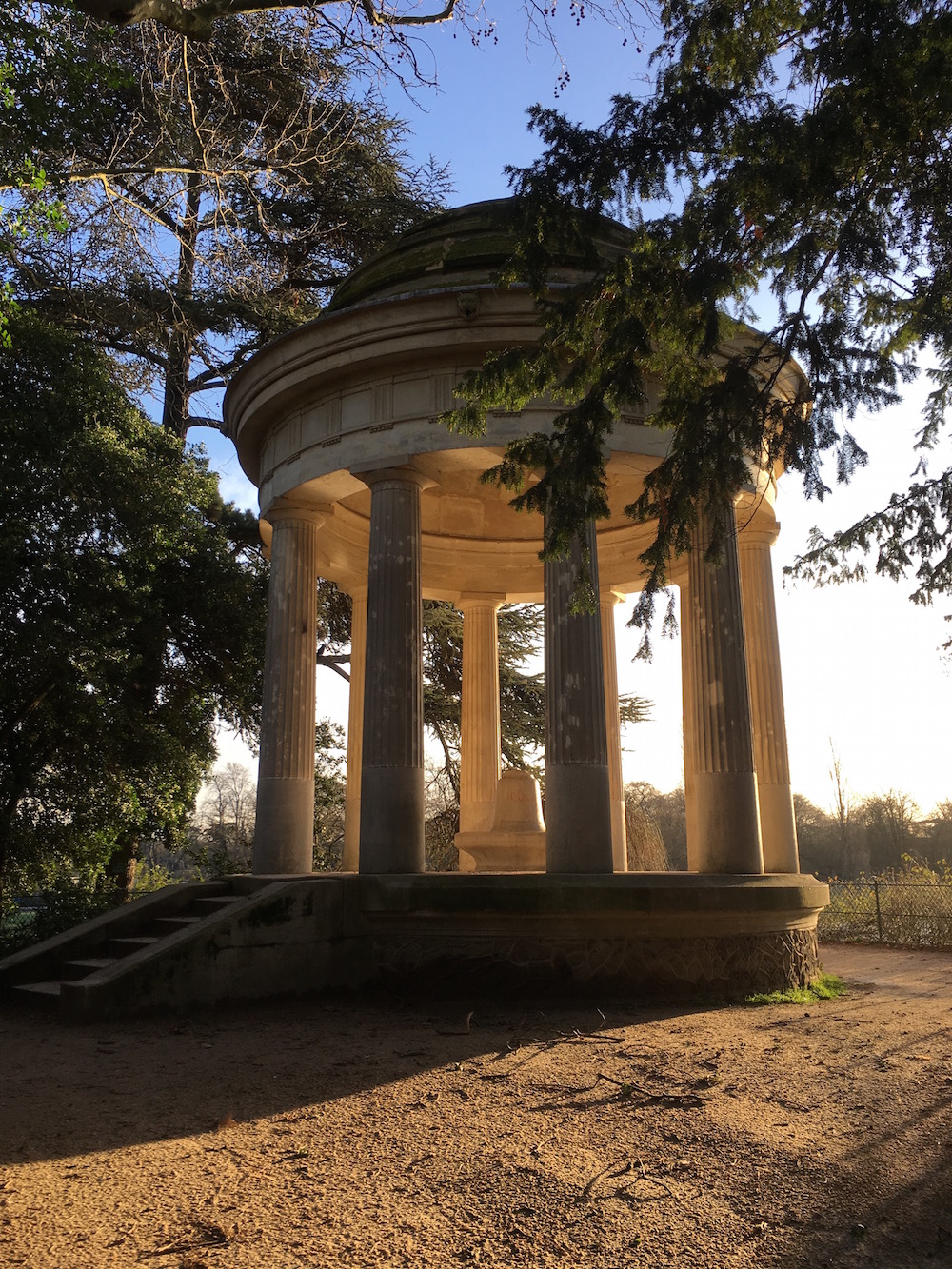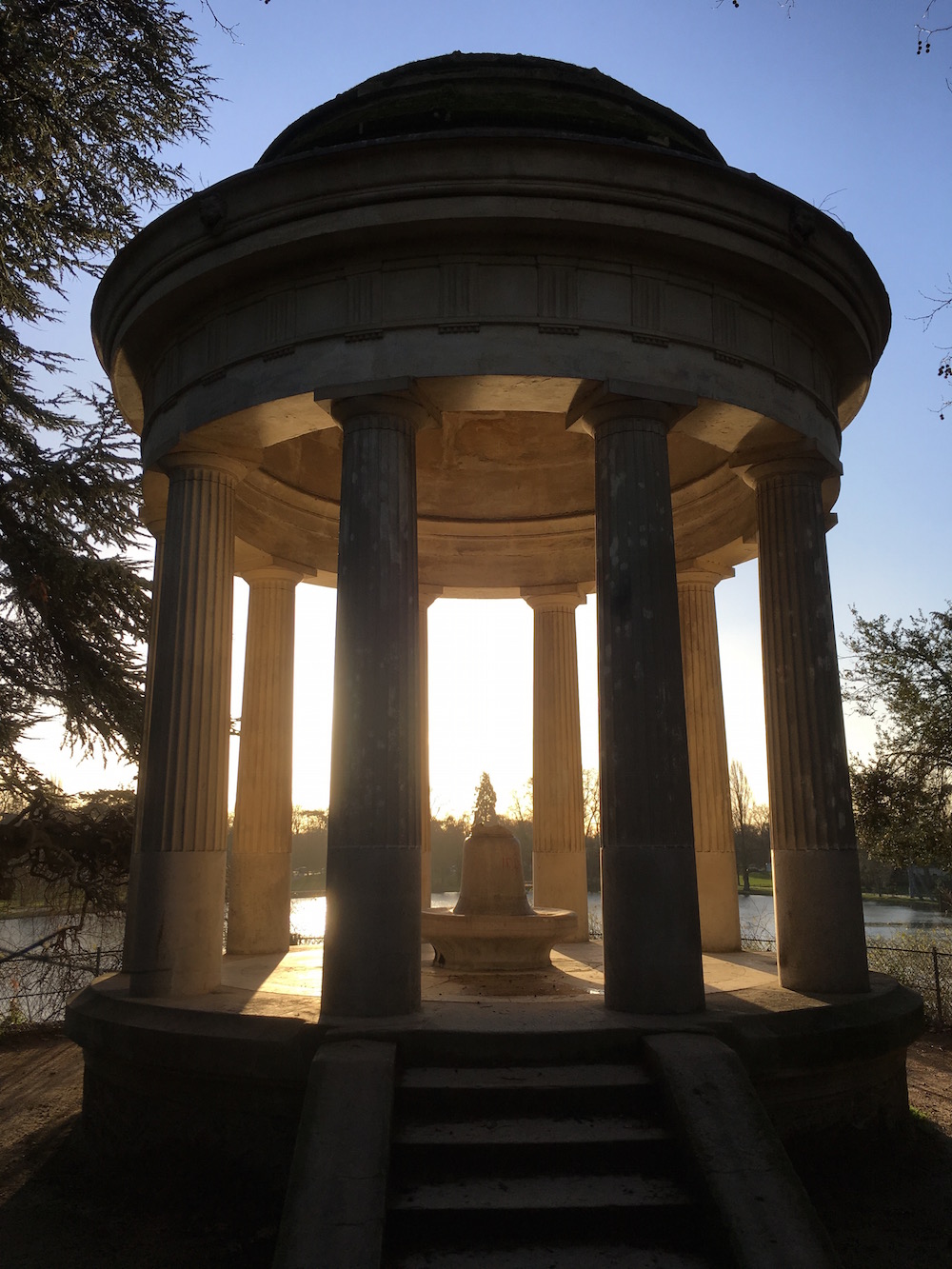 I dare say it's a scene good enough view to make a marriage proposal in front of.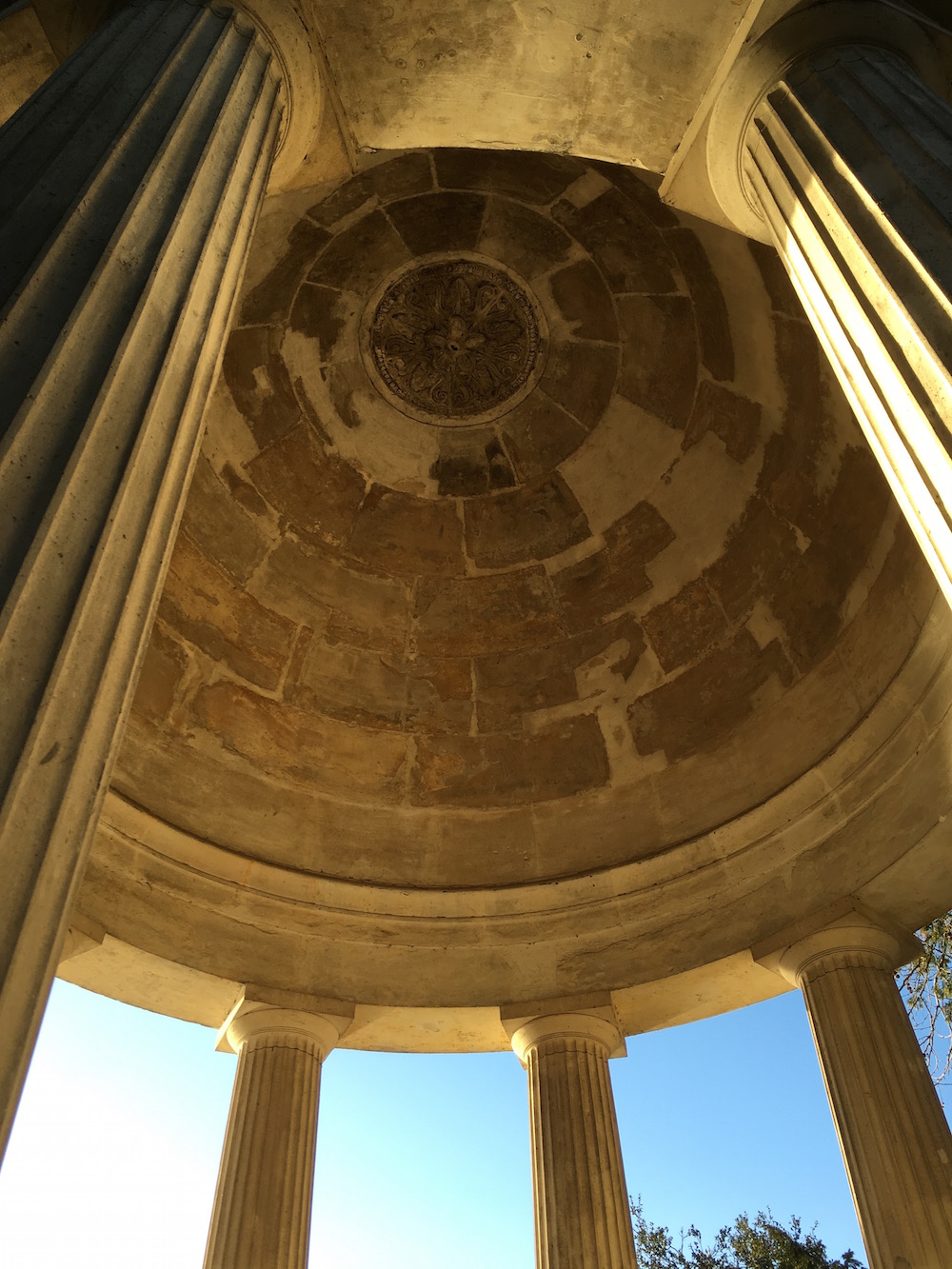 And that's not all, because there's more to discover beneath the temple.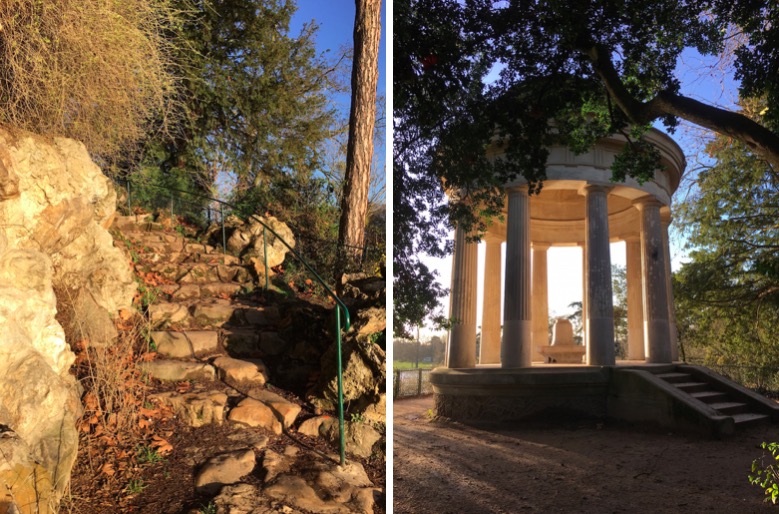 To the left of the kiosk, you'll find a rocky stairway down to the shore of the lake where a dreamy grotto awaits.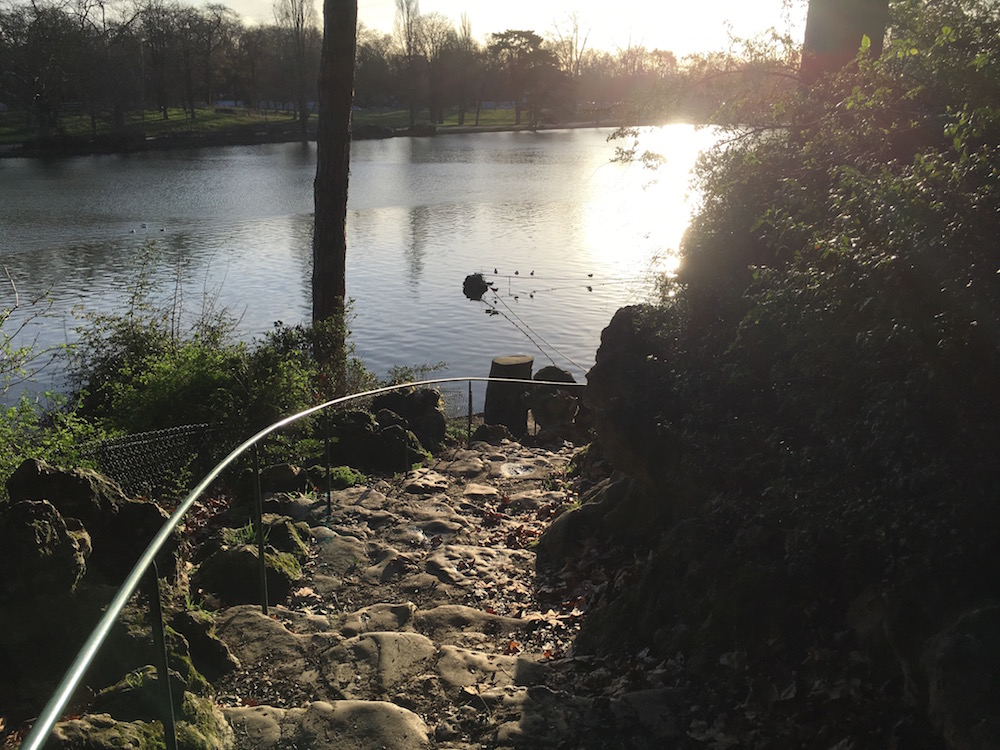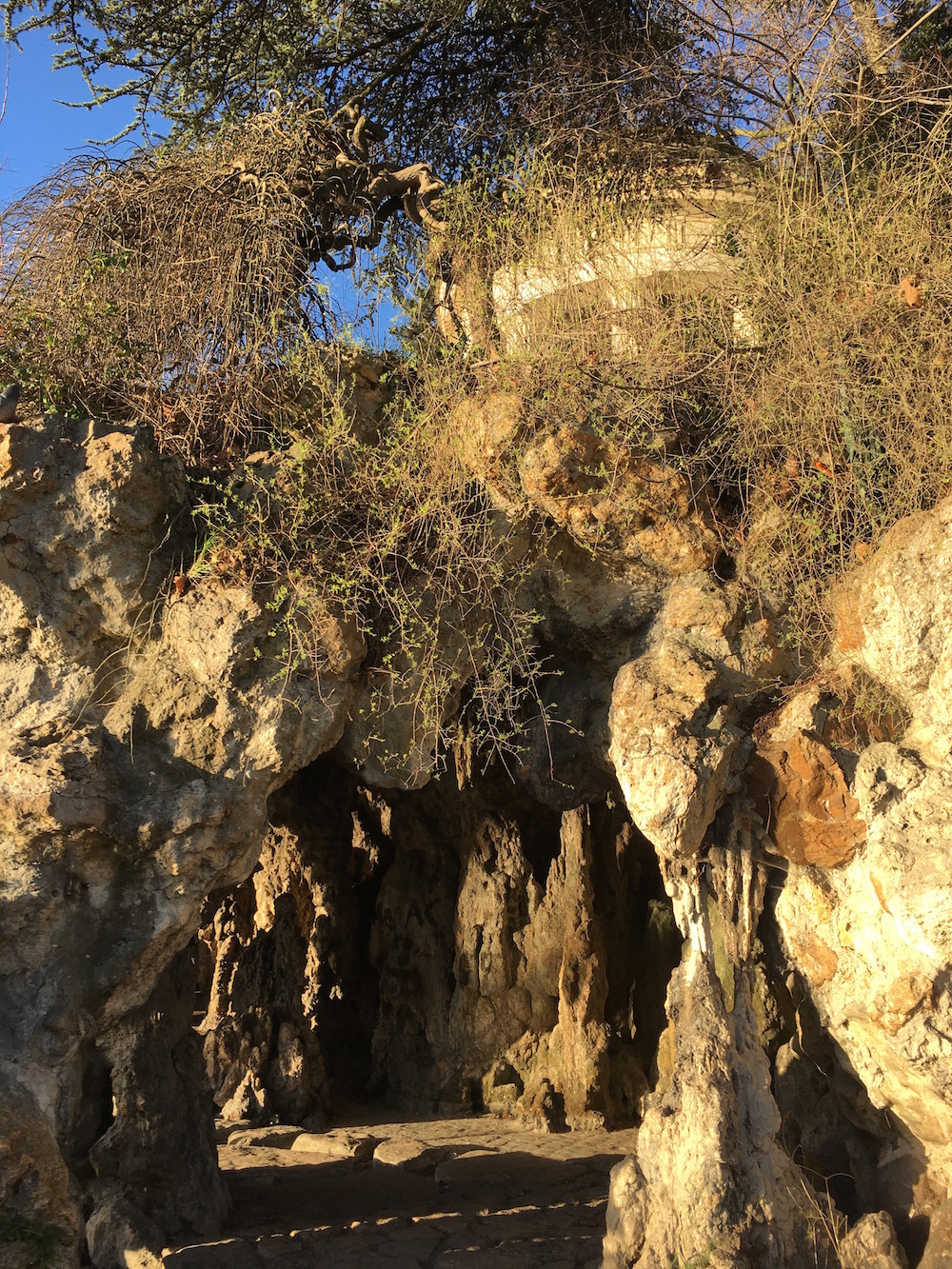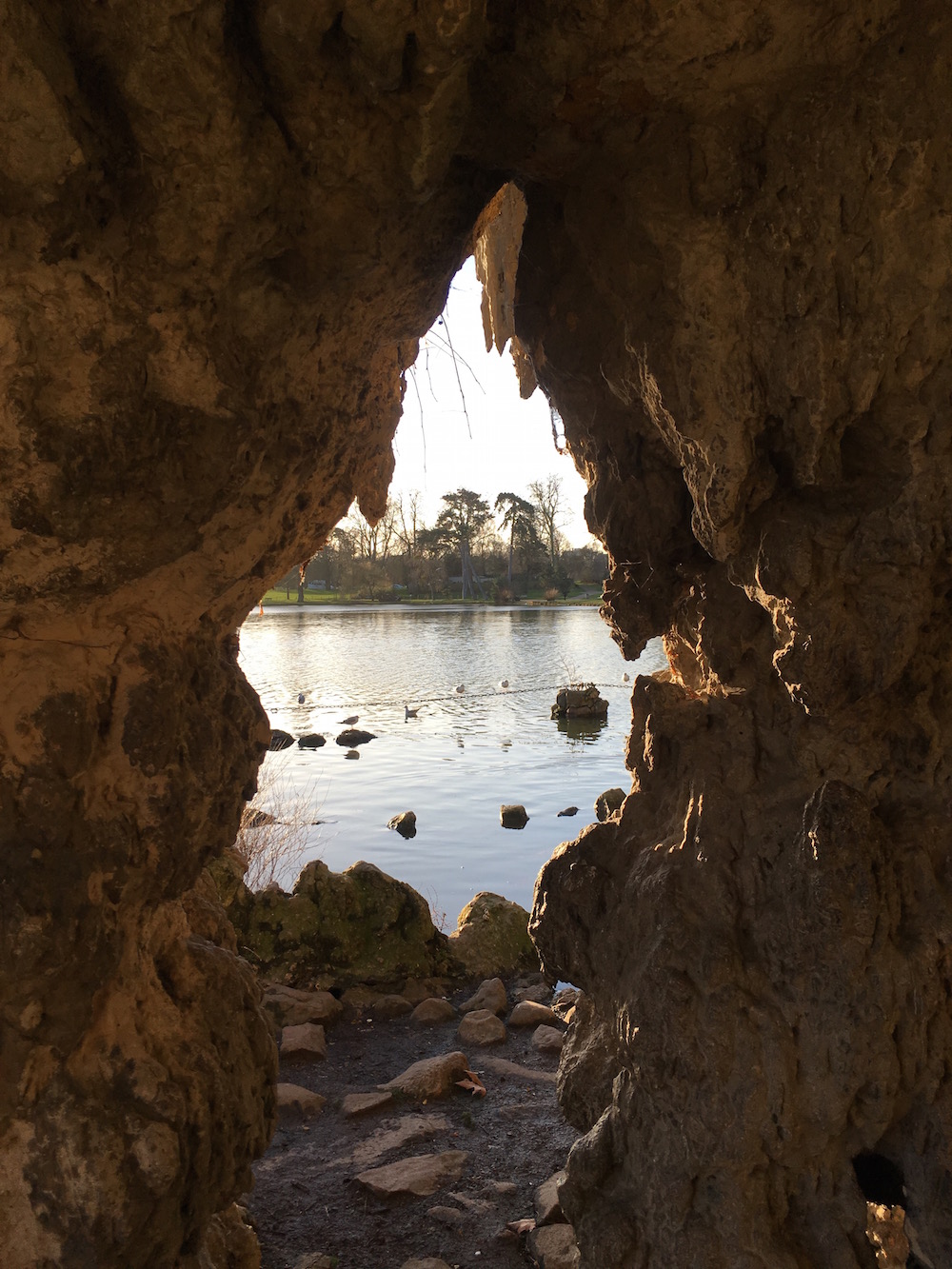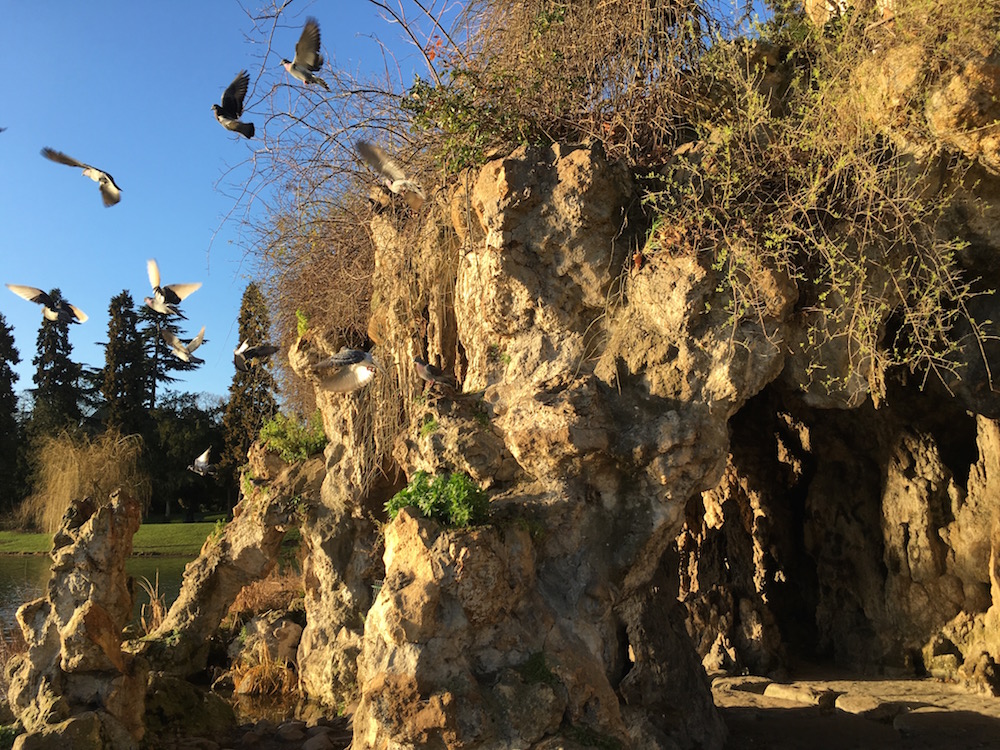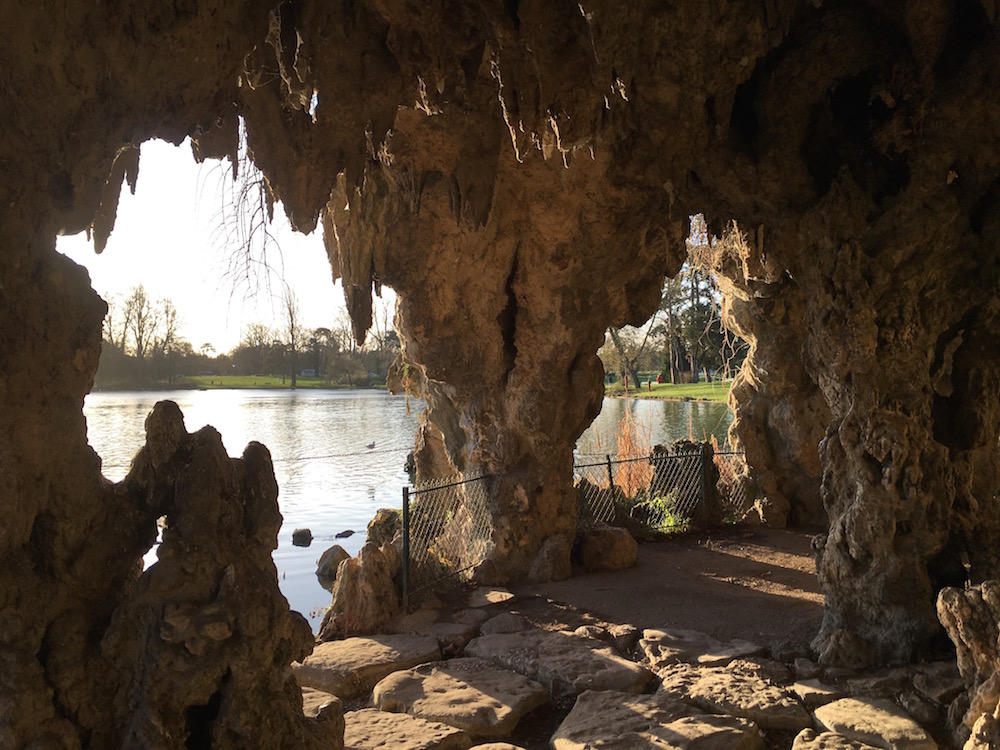 Birds are flapping about outside the caves to make it even more atmospheric (and we'll pretend they're doves and not pigeons).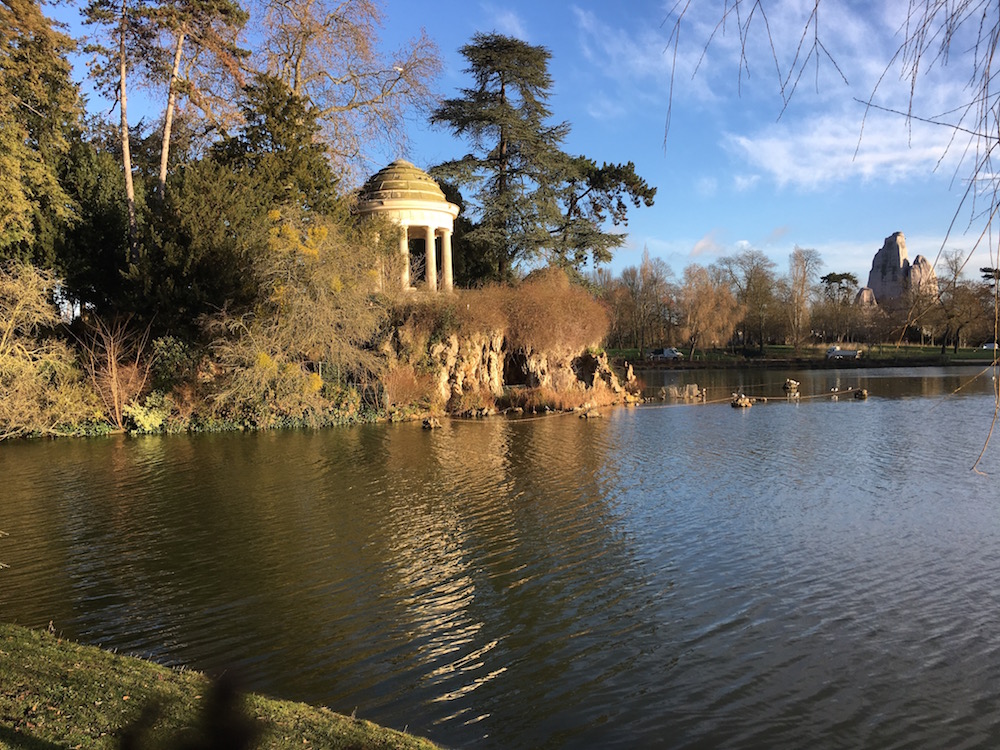 If you've been really clever and brought a picnic, there's a perfect little grassy beach to perch on with an absolutely awful view of the temple and the mountain rocks of Paris zoo in the distance.
Find the Temple of Love here. 
2. A Lady and the Tramp Dinner in a Hidden Alley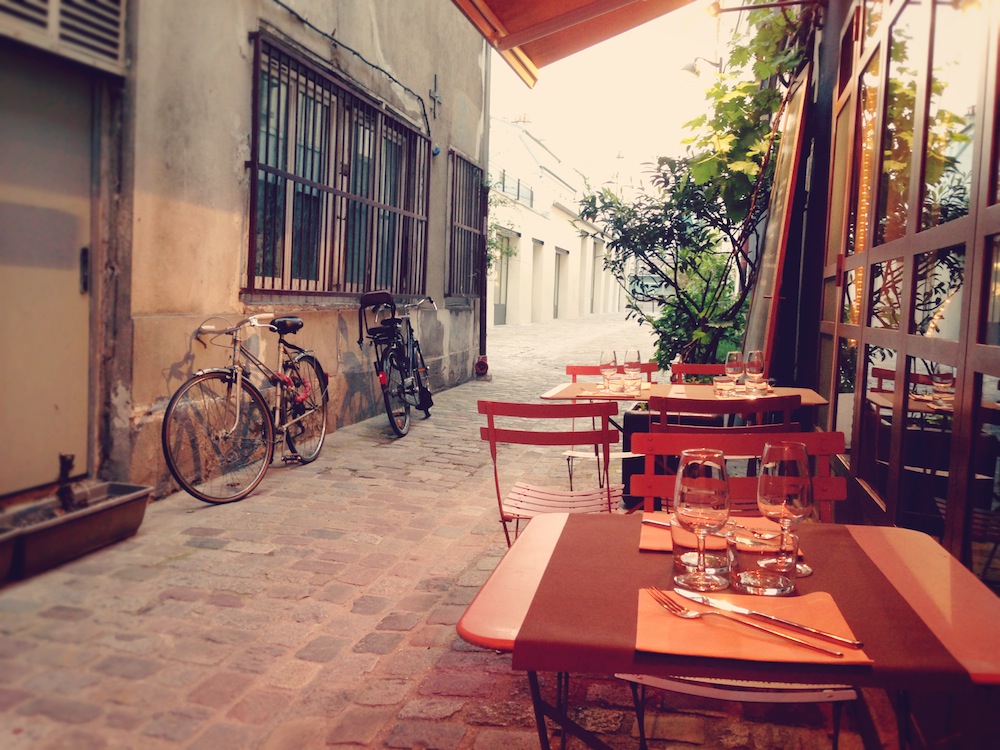 If you ever wanted to re-create that spaghetti scene in a cobblestone alleyway from Lady and the Tramp, I have your place. Keep a sharp eye out on the Rue du Faubourg Saint-Antoine or you'll surely miss the hidden passage at number 159. Sample Fabrizio's homemade pasta and Italian dishes such as clam linguine and melt-in-your-mouth saffron risotto, at this charming little secret of the 11th arrondissement.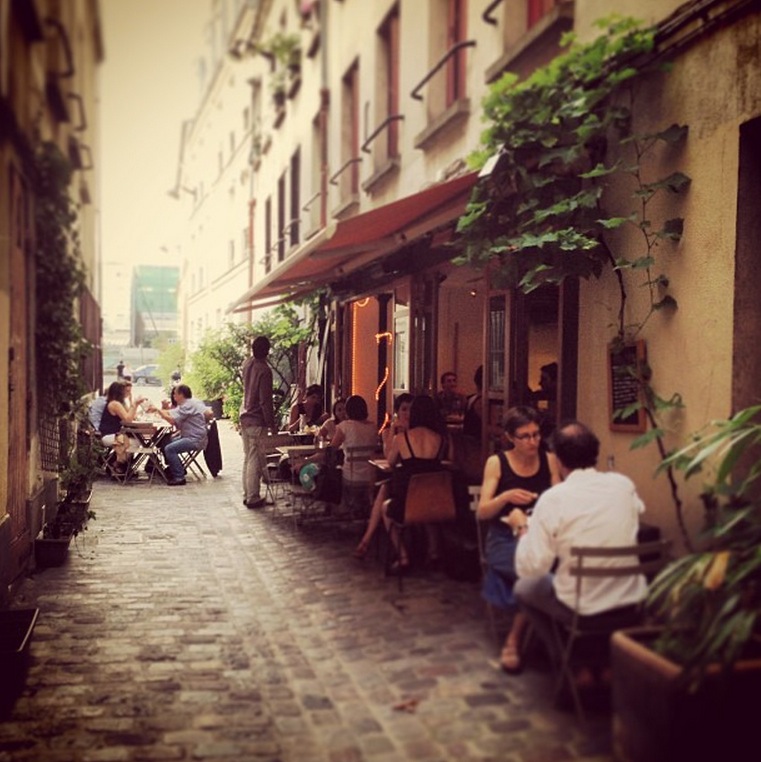 When you've finished dinner, no need to retreat home. Head back out of the alley, down Rue du Faubourg Saint-Antoine (towards Bastille), and turn right onto Rue Charonne for an off-beat evening stroll through the local neighbourhood with charming bars (avec terrasse) for a drink.
With no more than 10 twinkle-lit tables inside and out, booking is imperative and try for the first-service slot at 7pm when it's quieter.
Update
The ownership of this spot has changed since I first posted this article, and it now goes by the name of Capucine. It's still homemade Italian cuisine, but they might not necessarily have spaghetti on the menu everyday. Open everyday, from 9am to 10pm, it's a little more of a café than a formal restaurant now, perhaps best for a lovely brunch.
159 Rue du Faubourg Saint-Antoine +33 1 43 46 10 14
Back-up Plan
If you really do feel like some spaghetti in an equally romantic setting, try La Capannina (this will be your dinner view). Situated across from the very steps where Woody Allen filmed his time-traveling scenes for Midnight in Paris, is this no-fuss Italian restaurant with very pleasing prices. After dinner, make sure to wave to Ernest Hemingway's old window at 74 rue du Cardinal Lemoine.
La Capannina, 64,rue de la Montagne Sainte Genevieve, booking not necessary. 
3. Tango on the Seine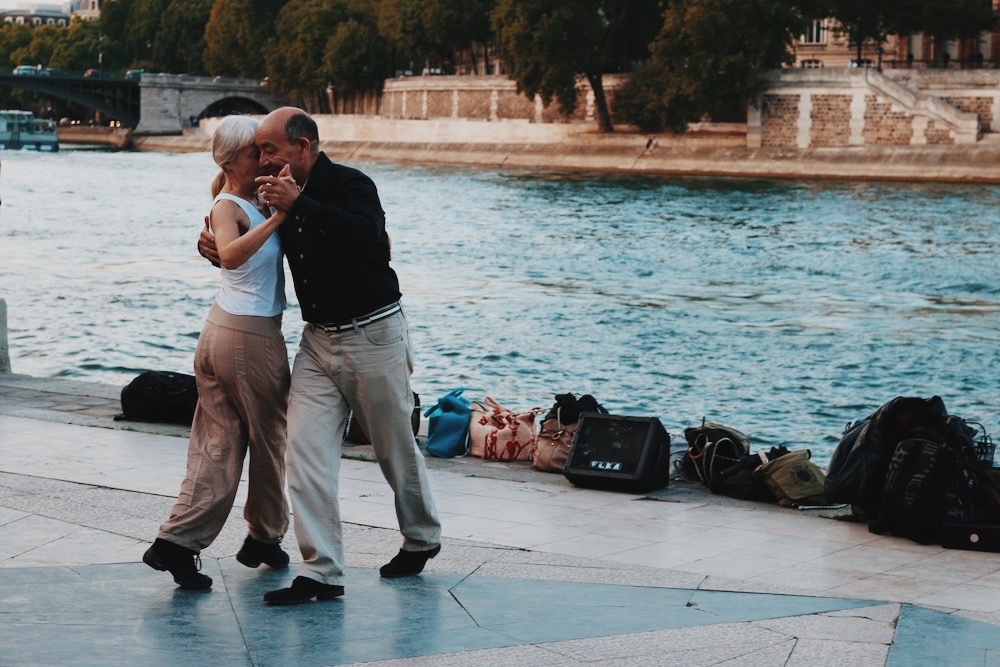 As long as the weather is good, tango enthusiasts (advanced and never-before-danced) gather at the mini amphitheatres along the Seine in the 5th arrondissement to dance seductively until twilight. If you don't want to join in, sitting with a bottle of wine on the steps, watching these dancers is still absolutely mesmerizing and incredibly atmospheric.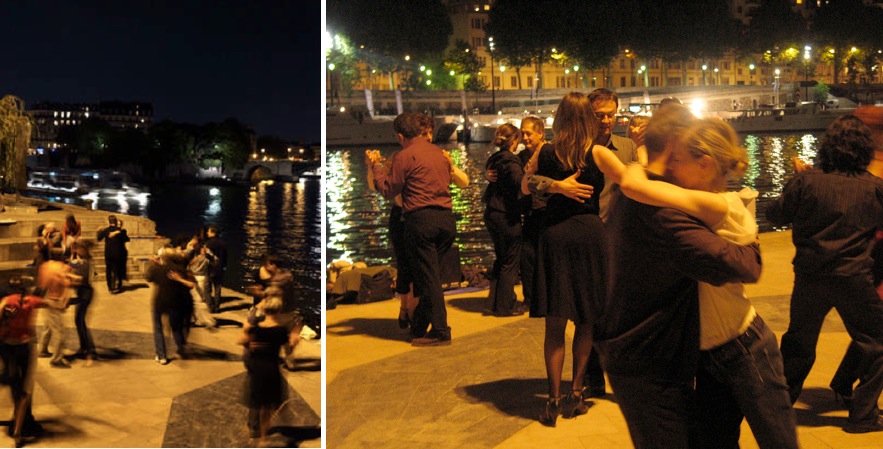 A little old man sits on the edge of the river with his radio playing tango-esque music and guarding the dancers' belongings. Spectators watch quietly, listening to the dragging of tango feet on the stone quai. Beautiful Parisian women often turn up alone here in paisley summer dresses, waiting to be asked to dance by strangers. It's people watching with a very sexy twist– the perfect date spot in Paris.
I've dedicated a whole article to it here.
Square Tino Rossi, Quai St. Bernard, in the 5th Arrondissement (Métro stop Jussieu or Gare Austerlitz).
4. A Canal + a Pink Balloon + Pizza Delivery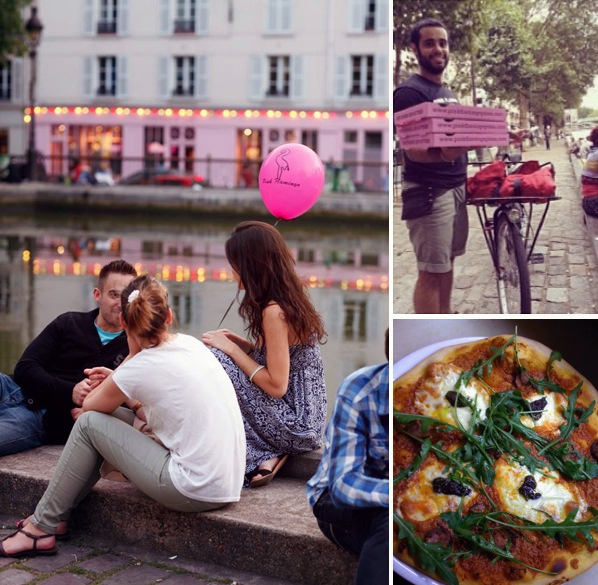 You're sat holding a pink balloon in a spot you chose along the banks of the Canal Saint-Martin, a four-kilometer-long picturesque canal lined with art galleries and old warehouses converted into trendy lofts. You were given the pink balloon by Pink Flamingo, a pizza parlour down the nearby Rue Bichat, whose bicycle delivery man will use the balloon as a beacon to locate you on the canal and present you with your order– a fresh pizza pie reminiscent of some of the best New York-style slices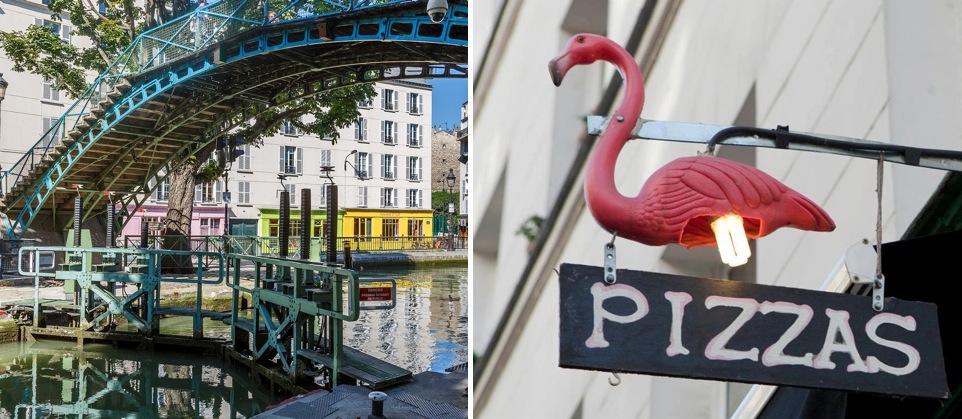 A Franco-American couple co-owns the Pink Flamingo, a stylish little company that brands itself "pas comme les autres" (not like the others) on the side of its pizza boxes. Indeed, this will be one pizza delivery you won't forget.
Pink Flamingo Canal is located at 67 rue Bichat, 75010 (Metr0 Jacques Bonsergent or Colonel Fabien)
PS. There's good boutique shopping in the area, particularly Rue de Marseille.
5. Go for a Drive in a Vintage Citröen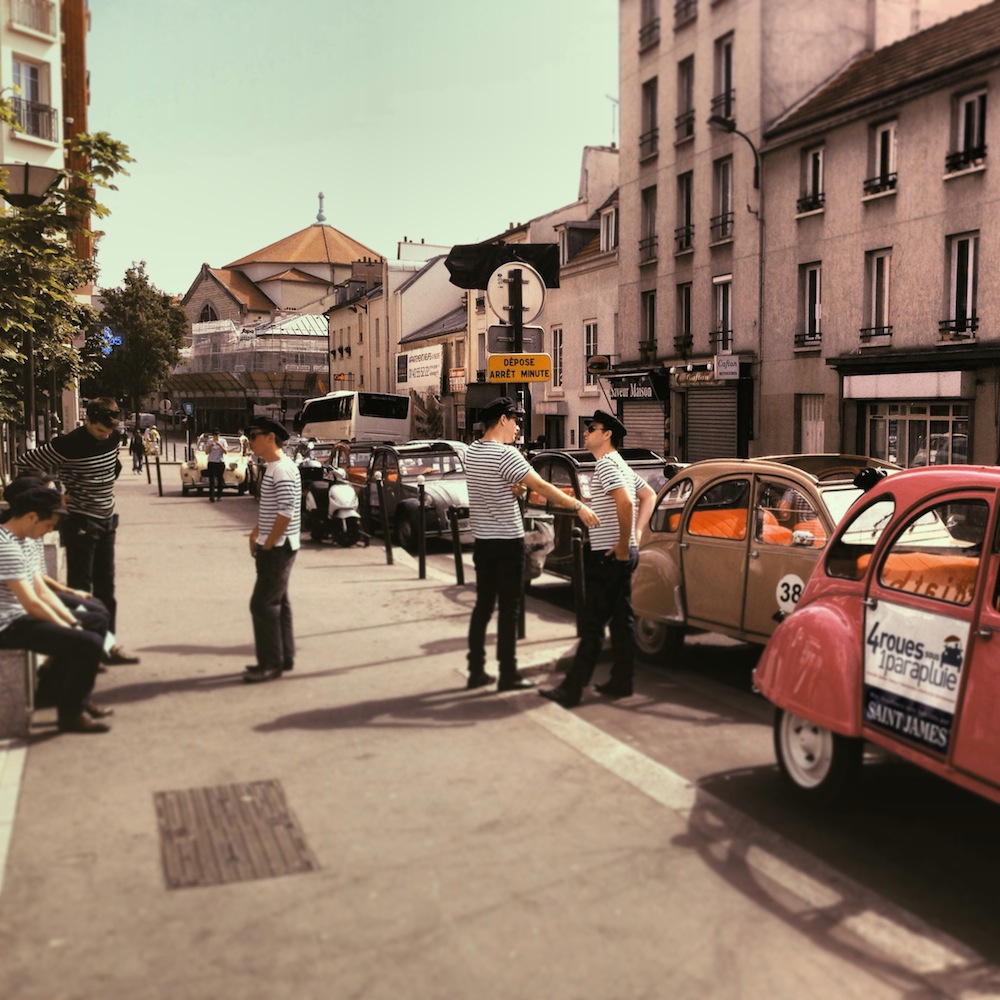 Chauffered by a local Parisian to show you all their secret spots no less…
Here's a nifty idea for a special day (or night) out in Paris: a charming Frenchy wearing a striped Breton shirt shows up at your hotel/ apartment to take you on an open-roof tour of Paris in his vintage convertible Citröen CV2. You can tell him to lead the way and show you all his secret spots of the city, or give him a more specific idea of the sort of off-beat things you'd like to see. All the drivers have an encyclopedic knowledge of Paris and speak several languages. This could also be the perfect activity for any parents visiting Paris with a teenage daughter– she gets to sit up front, chatting with the cute young Parisian chauffeur while Mum and Dad make eyes at each other in the back! Just a thought.

Anyhoo, the company is called 4 Rues sous 1 Parapluie rates for one hour drives start at 120 euros and 180 euros for an hour and a half. You can also do evening drives starting at 8pm.
All the information for booking is here and you can call them on +33-6-67-32-26-68. 
Or rent your own scooter…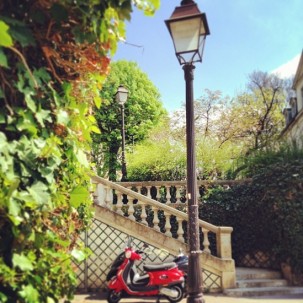 I've always said it, Paris is best discovered on a scooter. Rent a ruby red Vespa and do Paris like a local with your sweetheart, zipping around the picturesque streets of Montmartre (pictured left, map & info here). Scooter rates start from €45 a day on weekdays and €110 for the entire weekend. Find the FreeScoot, boutique located next to the Notre Dame at 63 quai de la Tournelle or in the 11eme at 144 boulevard Voltaire.
6. Until Death do us Part…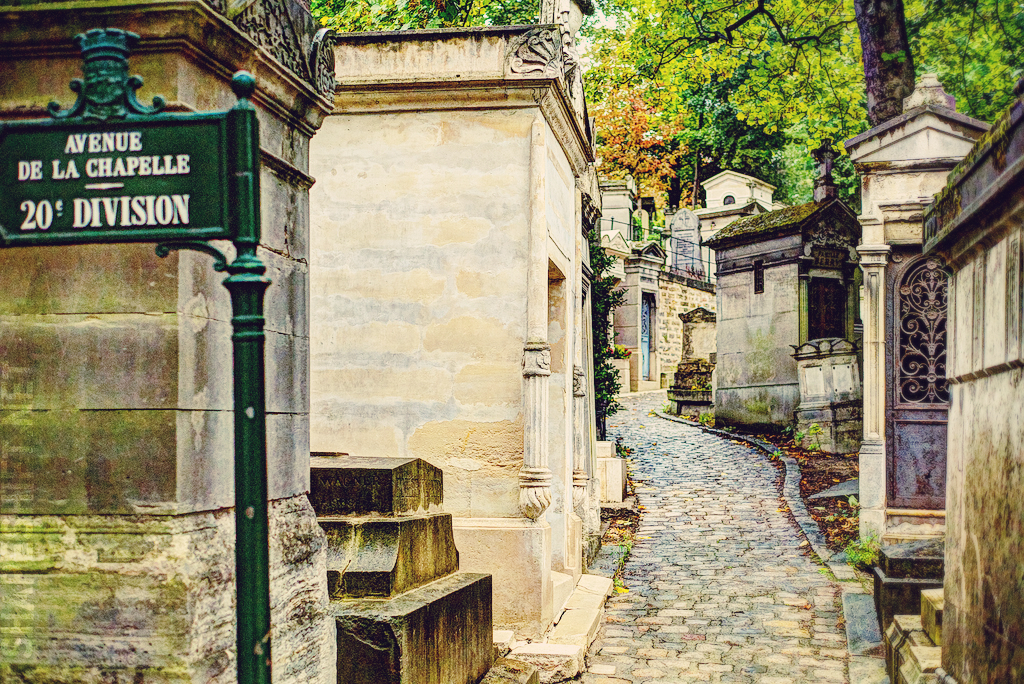 Sending you to a cemetery in search of romance is probably going to sound a little odd, but then again, this is Paris. Yes, trust the city of romance to have made its largest cemetery not in the least bit spooky but rather, irresistibly romantic. Père Lachaise is like a miniature city of its own; all the winding pathways have their own street signs and names, and the tombs look like beautiful little Wendy houses (Jim Morrison, Edith Piaf, Oscar Wilde, Chopin, Maria Callas and Marcel Proust to name a few are all buried here). Strolling hand in hand with your other half, I guarantee you'll start, rather bizarrely, hoping that one day you can be buried here with the love of your life.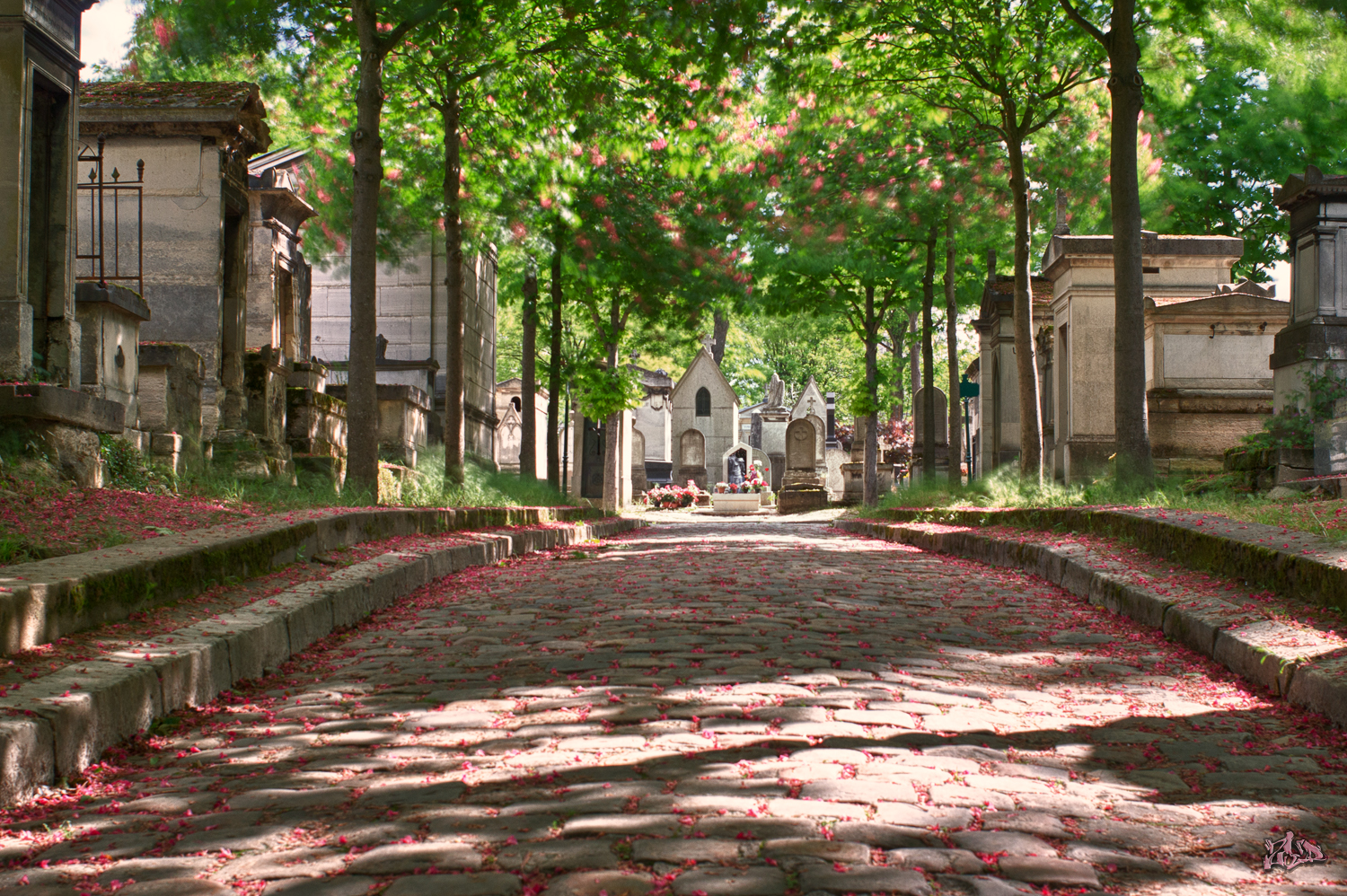 (c) David Pham
P.S. Notable nearby suggestions for eating/ drinking: Le Perchoir rooftop bar, Les Mondes Bohèmes, a hidden terrace in the 20th arrondissement and Le Soleil Levant, the perfect local schmocal and don't forget to check out the curious caravan de Paris!
Père Lachaise Cemetery, 16 rue du Repos 75020 Paris, free entry. 
7. Blues in a Wine Cellar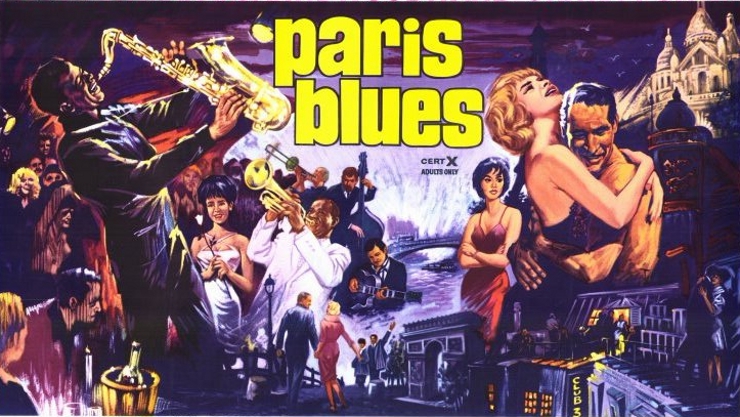 Blues jazz– you know the kind that consists of a soulful harmonica player, a dirty electric guitar solo and lyrics like, "woman you ain't no good for me"– is seriously seductive music. On Sunday nights, Le Caveau des Oubliettes, is exactly where you need to go to be seduced by the best live blues in Paris. The oldest jazz club in Paris and remembered as a hotspot or post-war jazz, there's nothing much to the bar upstairs, but it's the 12th century underground wine cellar that draws in the music-savvy crowd. It's cosy to say the least, be sure to get there before 9pm to get a seat.
Le Caveau des Oubliettes, 52 Rue Galande , 75005 Paris (Métro: Maubert Mutualité)
8. Explore the secret Waterfalls & Vineyards of Paris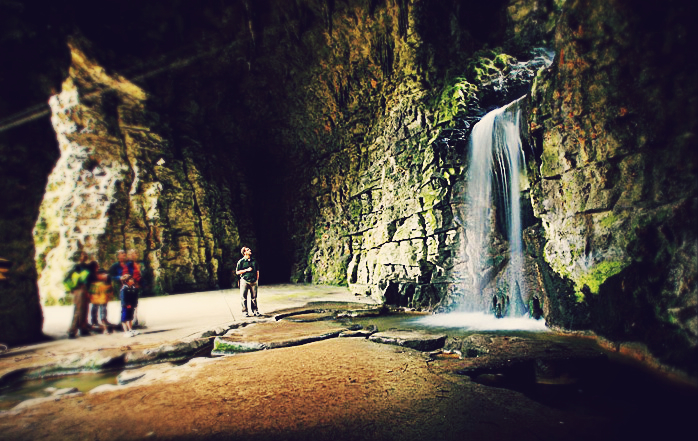 Pay a visit to Paris' most exotic park and take a little adventure down to the foot of a waterfall to explore the impressive grotte (ps. inside the park, there's the jovial Rosa Bonheur, the infamous watering hole of hip young Parisians for a rewarding glass bottle of house rosé). Then, just minutes from the gates of the well-known Parc des Buttes Chaumont, a quiet hilltop village hidden in the 19th arrondissement, awaits, accessible only by three staircases or a single winding road….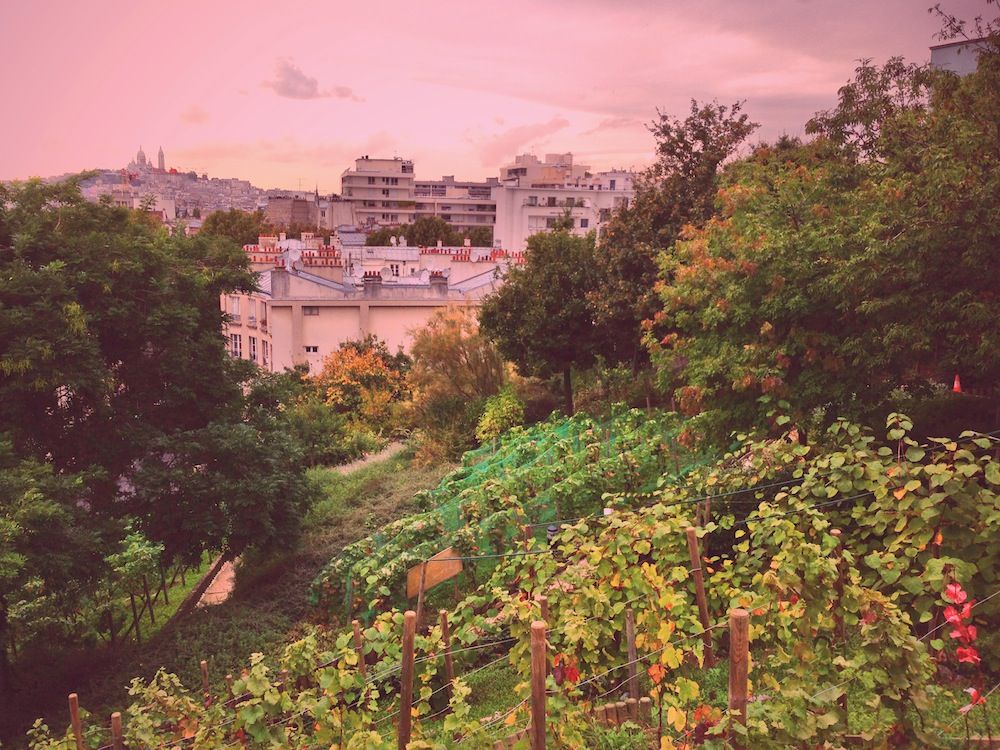 On top of the hill is your own private view of Montmartre across town, with a halo of sunlight perfectly centred over the Sacré Coeur. And you'll be so taken with the view that like me, it might take you a several minutes to realise that there's a vineyard right under your nose– one of the last of three remaining vineyards in Paris. I've dedicated an entire post to this place here, complete with a treasure map. 
You can find the waterfall at Parc des Buttes-Chaumont, Rue Manin et Rue Botzaris in the 19eme, Metro Buttes Chaumont.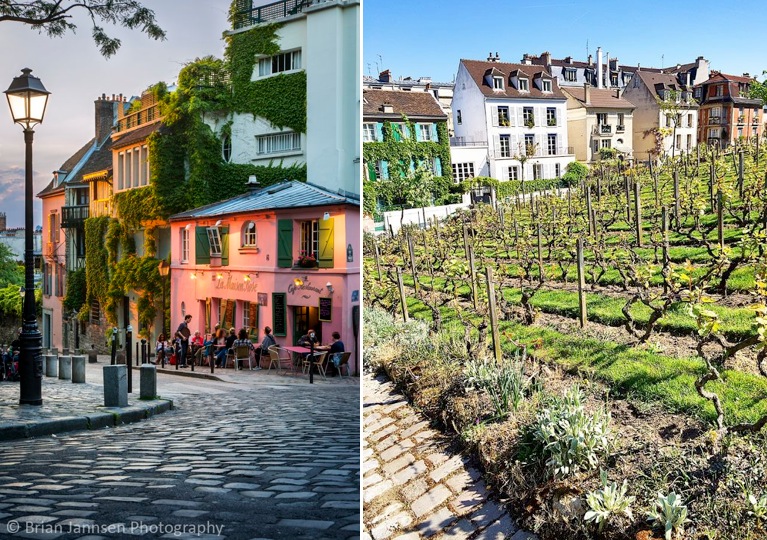 Over in Montmartre itself, there is the more famous vineyard, the Clos de Montmartre, next to a picturesque teacup café, conveniently painted in pink, called La Maison Rose. You won't be alone in your romantic endeavours but you'll certainly be getting the scenery right.
9. A Platter of Aphrodisiacs: Oysters in the City of Romance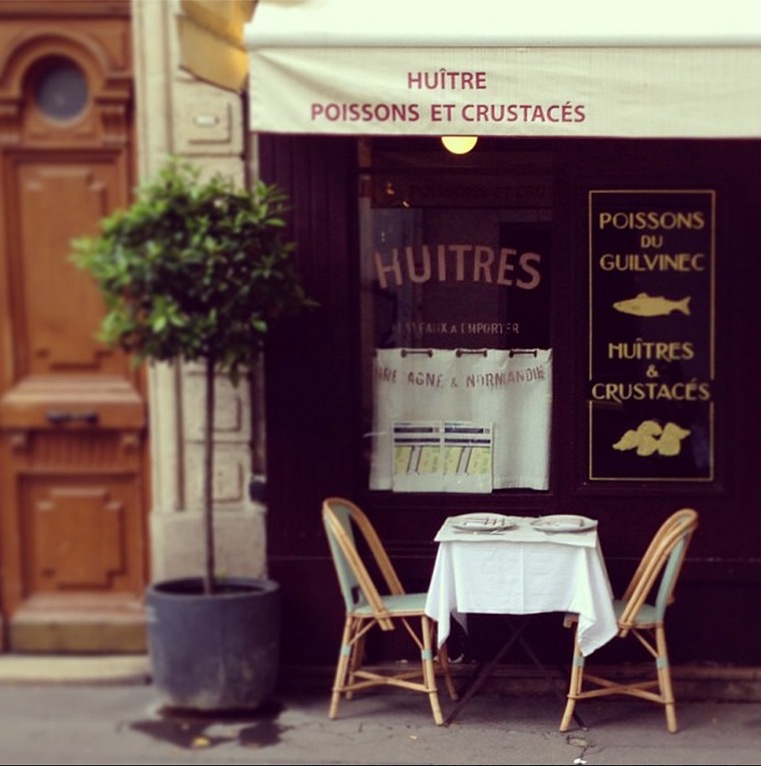 Huitres, (oysters), don't they just sound sexier in French?! Then again, a bad oyster can do some rather unsexy things to your tummy so here are my two fool-proof recommendations for oysters in Paris.  L'Ecailler du Bistrot (pictured above), serves up five star seafood platters in that ridiculously charming old bistro setting. It's on Rue Paul Bert in the 11eme, which is sort of littered with adorably quaint French bistros.
L'Ecaillier du Bistrot, 22 rue Paul Bert 
Less classic but on the trendier side of things is Clamato, a seafood only, no-reservation little gem…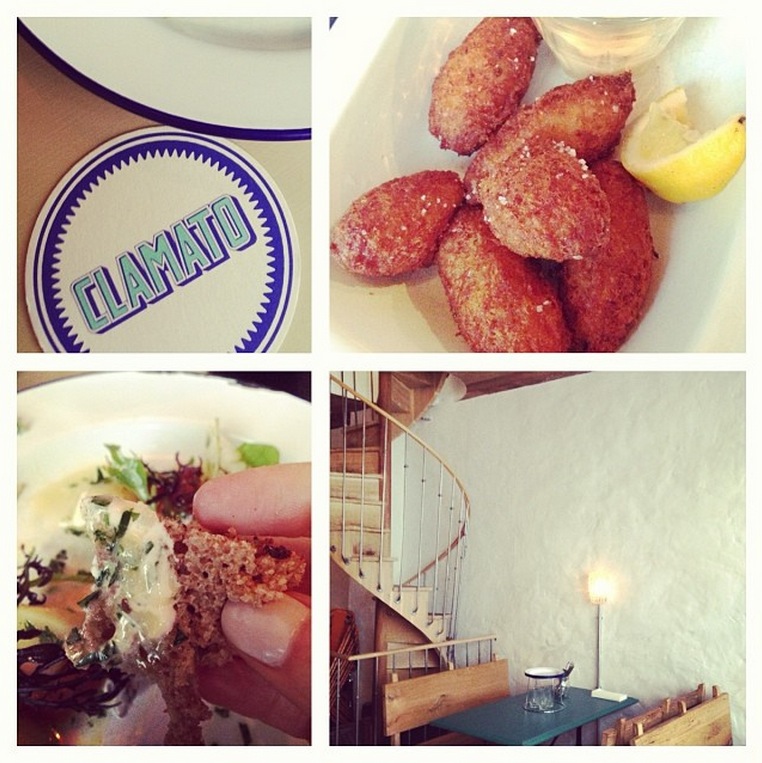 Get there at 7pm to avoid disappointment and grab my favourite spot for two at the bar, next to the window on the left as soon as you walk in. The menu changes all the time depending on what type of oysters and seafood are in season. Neither recommendations are cheap, but oyster joints never are.
Clamato at 80 Rue de Charonne, 11eme.
10. Sip Iced Tea in the Garden of Hopeless Romantics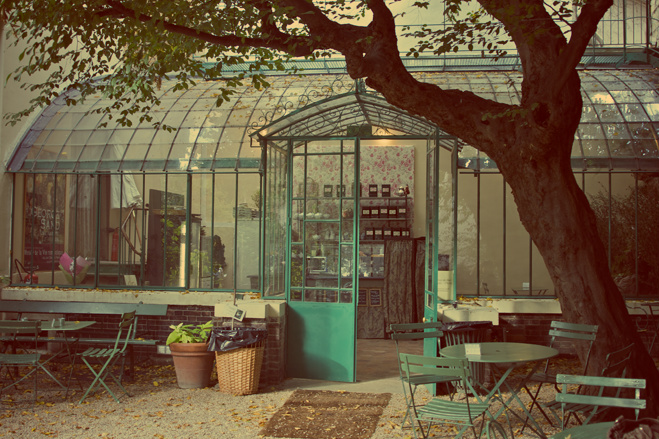 Since 1981, the private townhouse that once entertained the likes of Delacroix, Chopin and Rossini, has been a museum devoted to the romantic movement in the arts. But come mid afternoon, it's simply paradise. Nestled at the top of a tree-lined lane shutting out the noise, bell flowers, lilacs and wisteria are thriving happily as if they were in the middle of the countryside.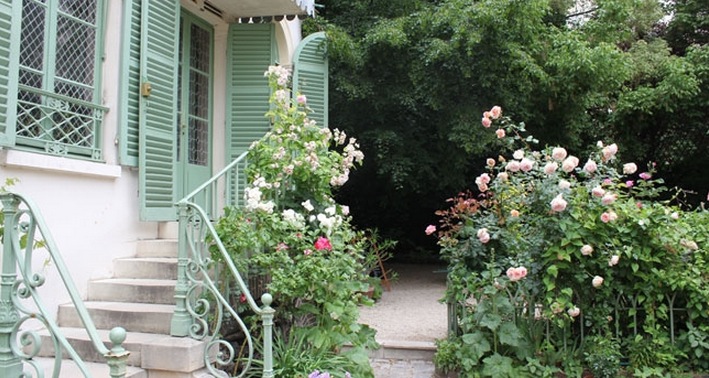 An old glass-house next to the main townhouse that used to be commissioned by artists as a studio is now home to a lovely tea room serving lunch and the best iced tea you might ever try– Egyptian style made with hibiscus flowers and cinnamon. Paradise: found.
Musée de la Vie romantique, 16 Rue Chaptal, 9eme, 10-6pm, closed on Mondays. 
Oh go on then, one more …
Houseboat Hunting on the Seine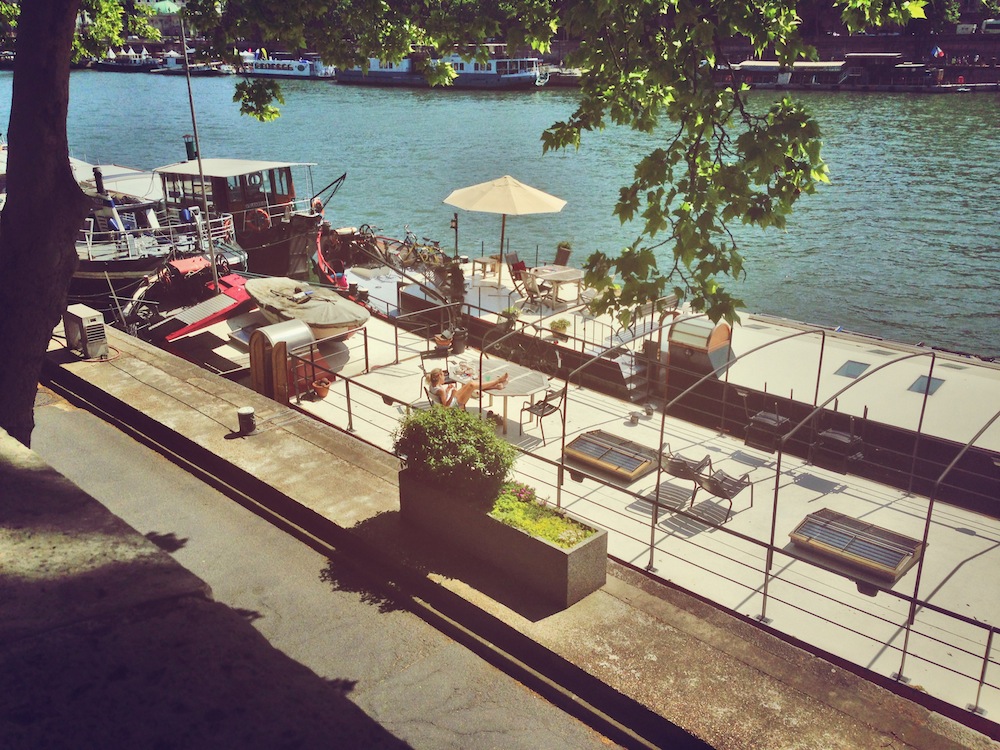 So let's end this post back on the Seine, but instead of love-locking on a bridge that might be about to collapse, how about just locking hands and actually taking a stroll down the river itself, spying on all the lovely houseboats as you go. Below street level, down the staircases to the riverbank and under the bridges, finding solace away from the crowds here is one of my favourite activities with my guy on a sunny Sunday. It's free and involves doing that thing I love– snooping around other people's stuff.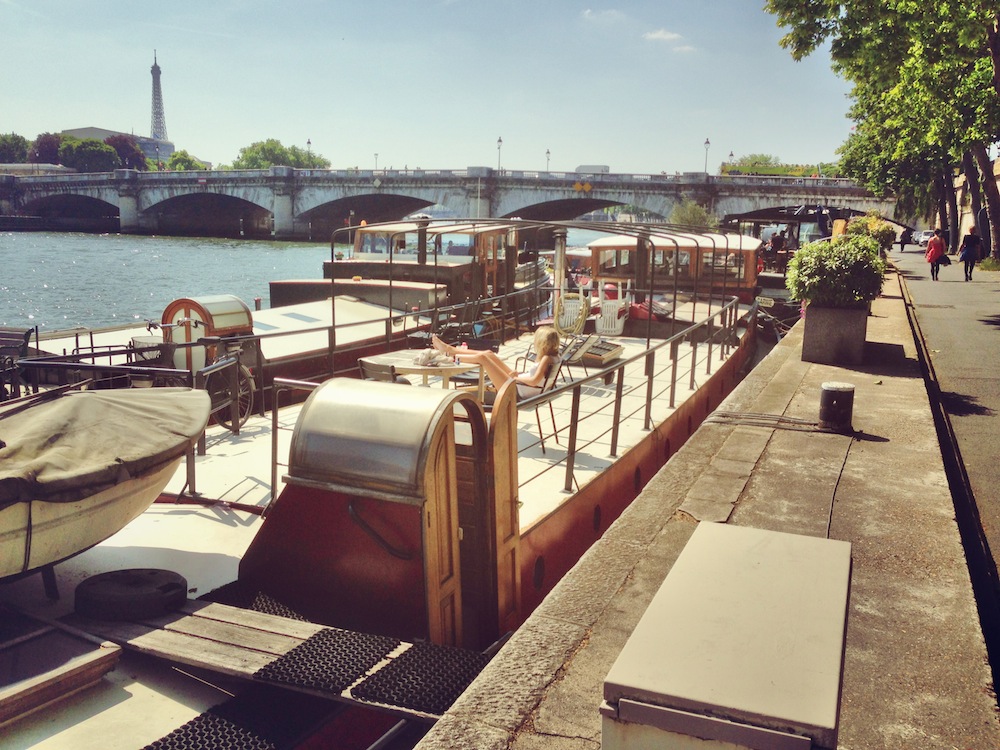 My favourite bit of the Seine for houseboat hunting is the Quai des Tuileries; you can find an entrance down to the banks at Port de la Concorde and walk up. Pick up a bottle of rosé from the supermarket before-hand (screw cap or remember to ask the cashier to uncork it), perch yourself in between the two prettiest houseboats and dangle your feet over the water. Who knows, maybe you'll get invited aboard for a second bottle.
For more on-the-go Paris tips and Paris romance from MessyNessy, it's here.