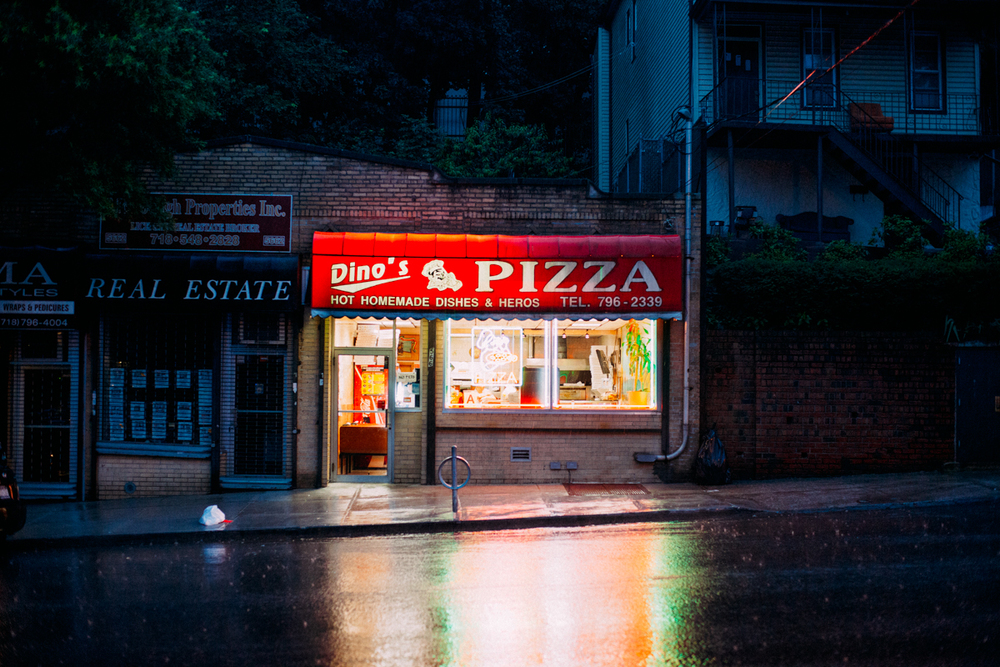 Can you believe that I've never tried real New York pizza? I know. It's on my "To Do Urgently" list. And yet despite my unenlightened tastebuds, even I can see that New York pizza is not just about the pizza itself, but about the people and the places that are the beating heart and soul behind New York City's favourite food. The neon signs for every Italian forename in the book, the leaning towers of pizza boxes, the pride behind their pie, the loyalty of their locals; there is a beautiful story here that hasn't really been told– until now…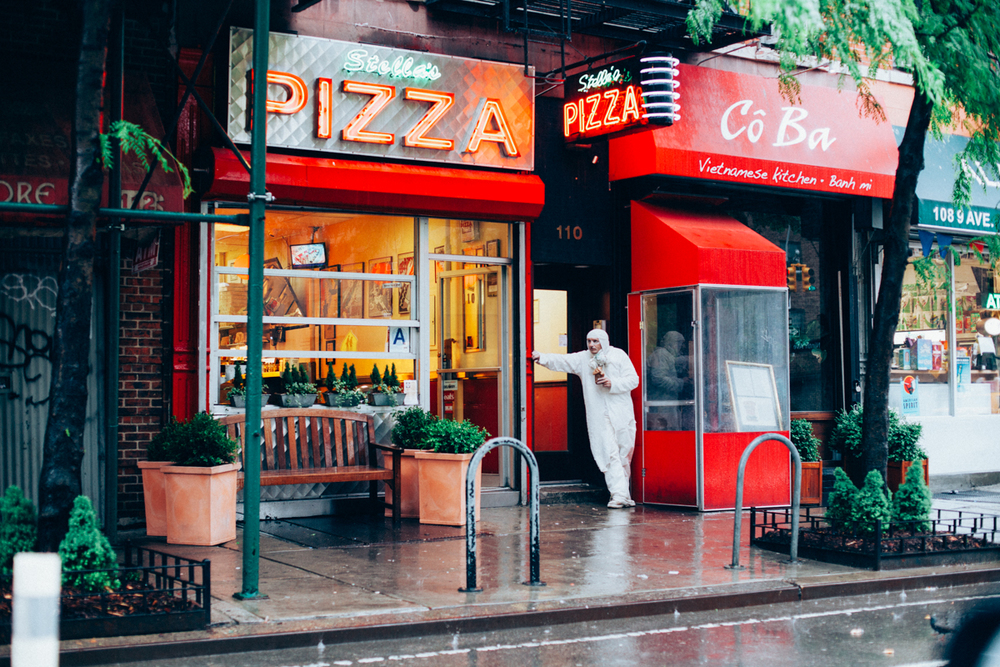 The New York Pizza Project is the creation of five 30 year-old native New Yorkers who spent the last five years documenting New York City's last authentic pizzerias through photography and interviews. It all started as a passion-project, an homage to the pizza shops that "serve as guardians of authenticity in the face of homogenization". As the word spread, the five New Yorkers, Gabe, Nick, Ian, Corey and Tim raised almost $30,000 through crowd-funding on Kickstarter. Today, The New York Pizza Project is a beautifully designed and printed coffee table book– "for New Yorkers, pizza lovers everywhere, for neighbourhood businesses and for anyone who has ever spent time in New York City".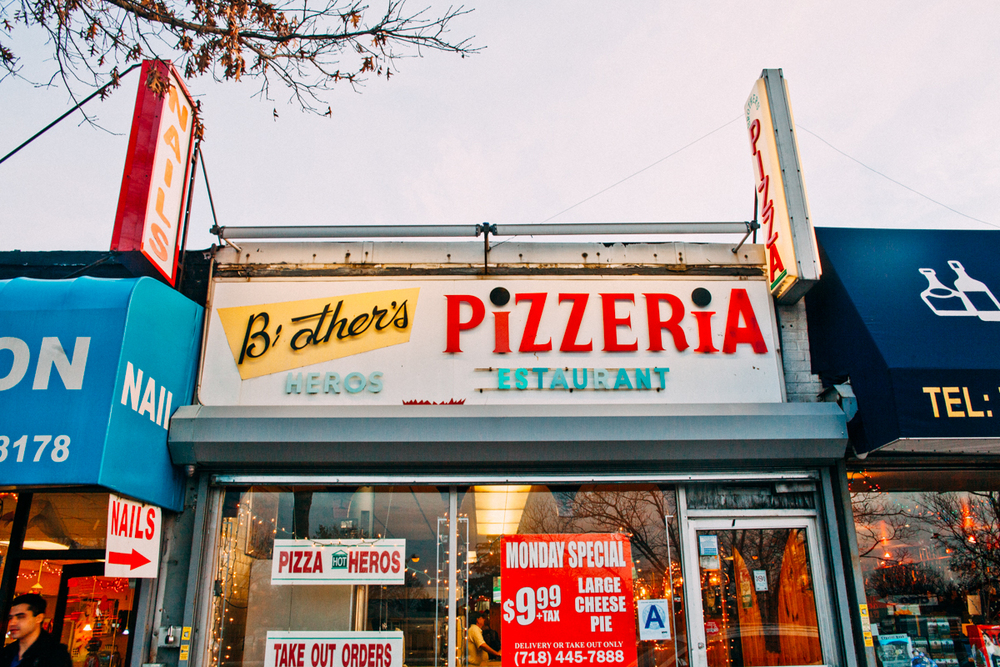 "The photography captures the men and women who serve loyal customers year after year. The guy all by himself, eating a slice before hopping on the train. The details, the orange booths, the urban landscapes that surround these institutions. If you look for this kind of stuff, it's there in excess. Yet somehow it's never been documented before."
The story is made up of four key elements: the block, the shop, the makers and the eaters. So let's have a taste of The New York Pizza Project…
The Block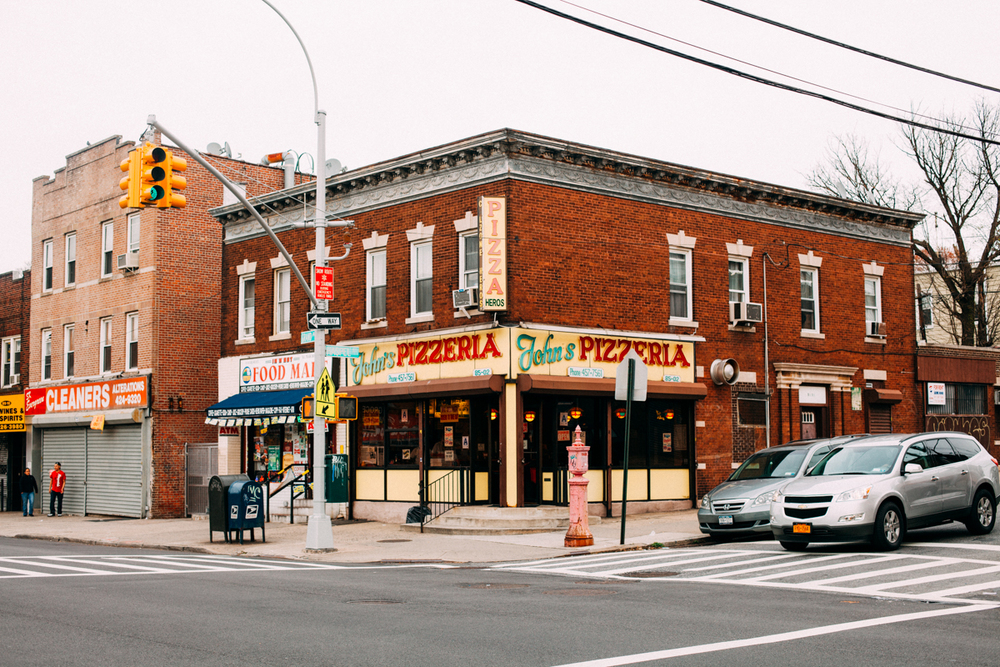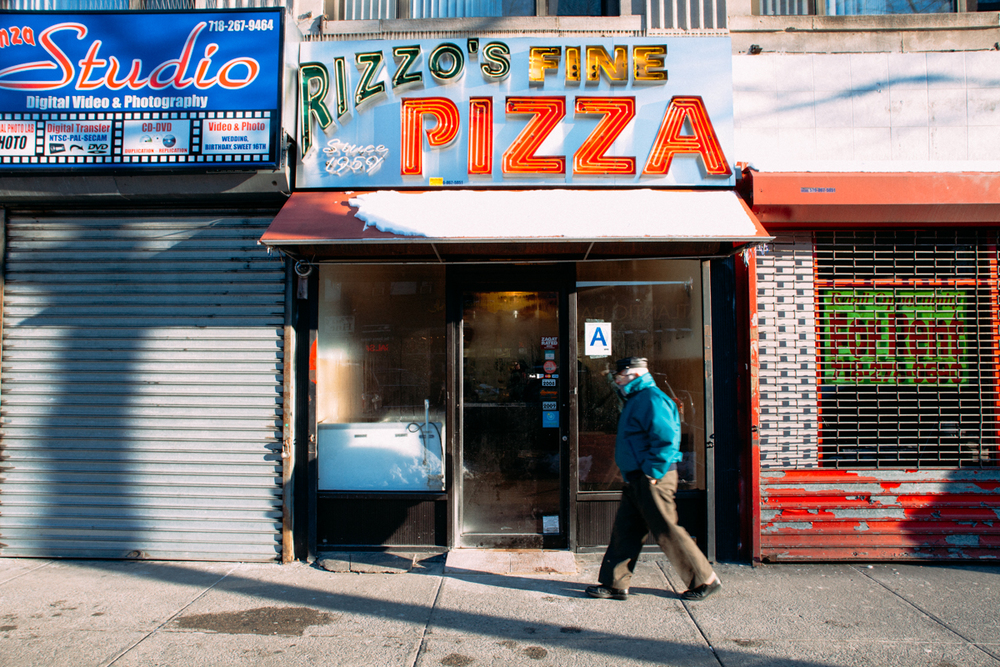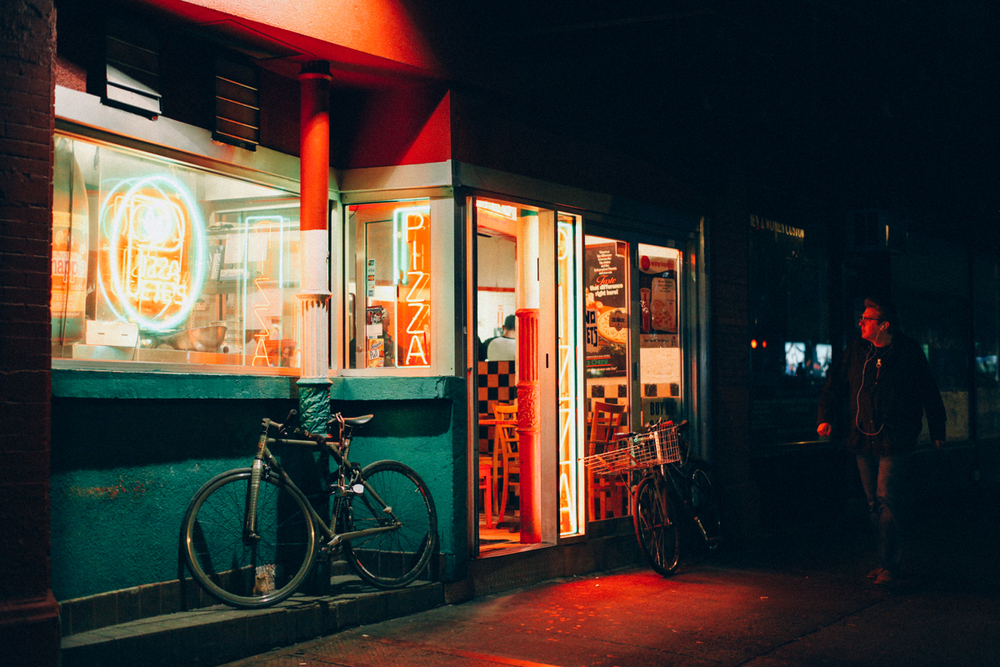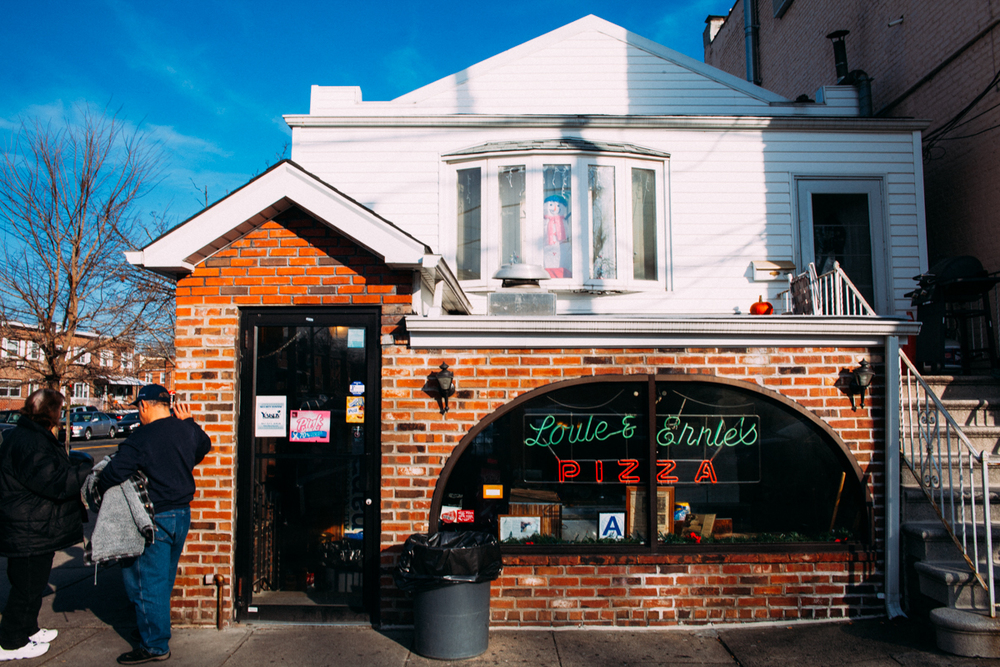 The Shop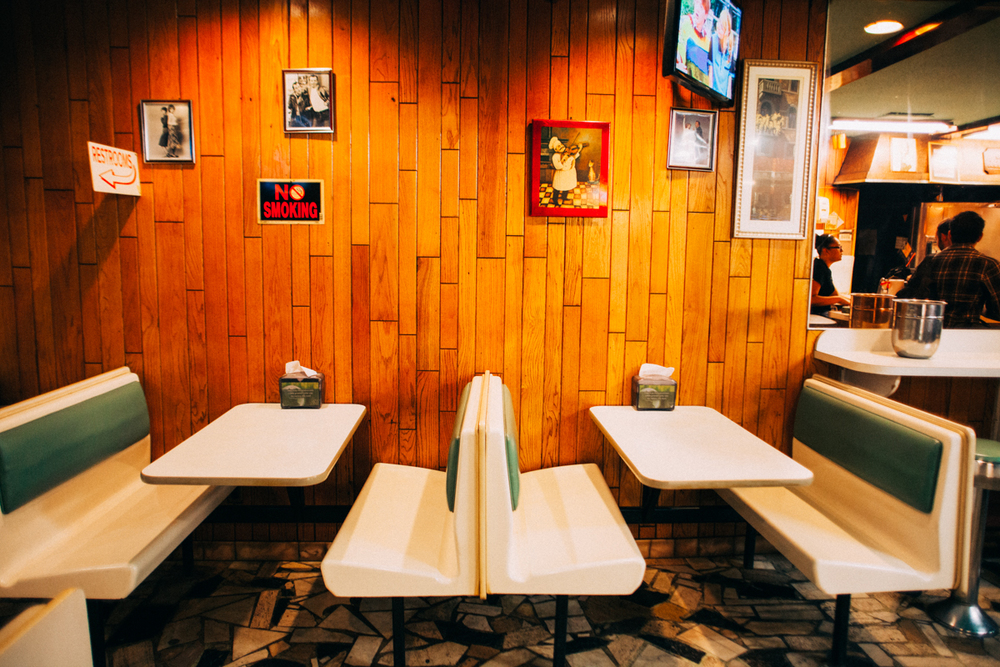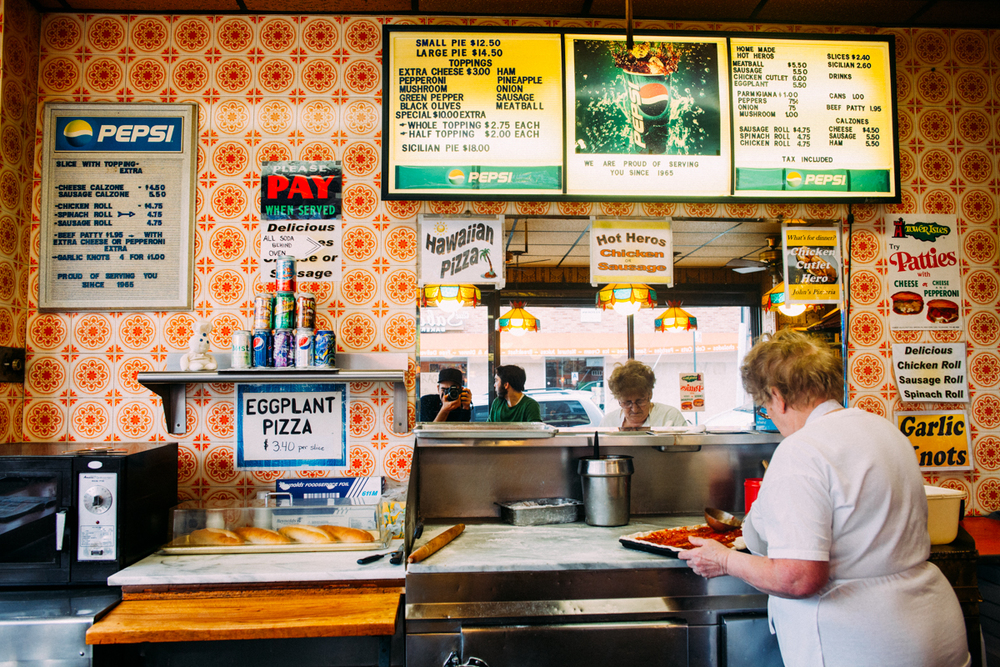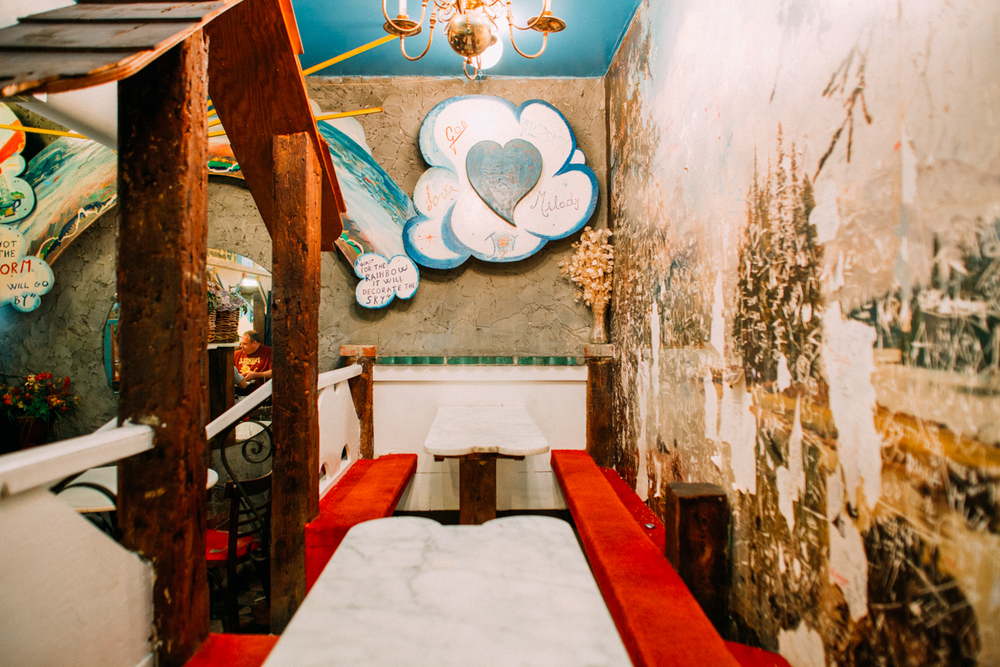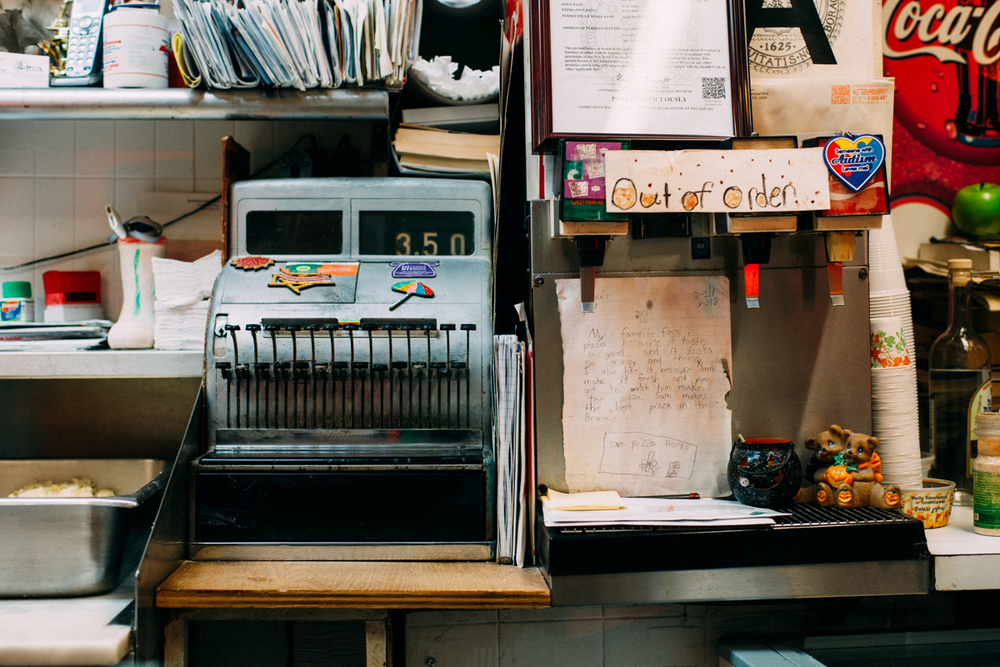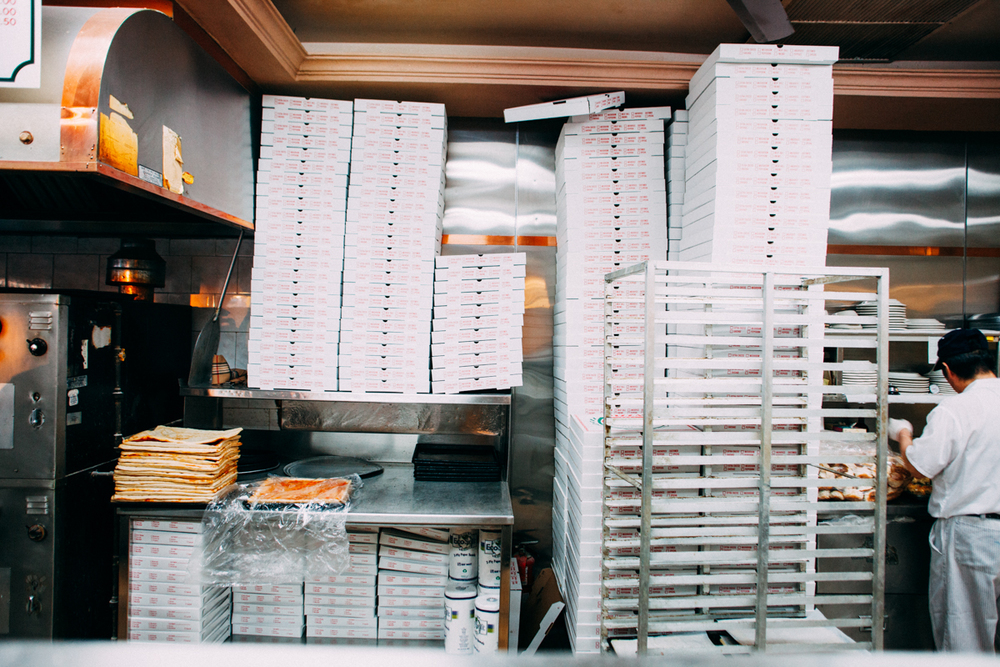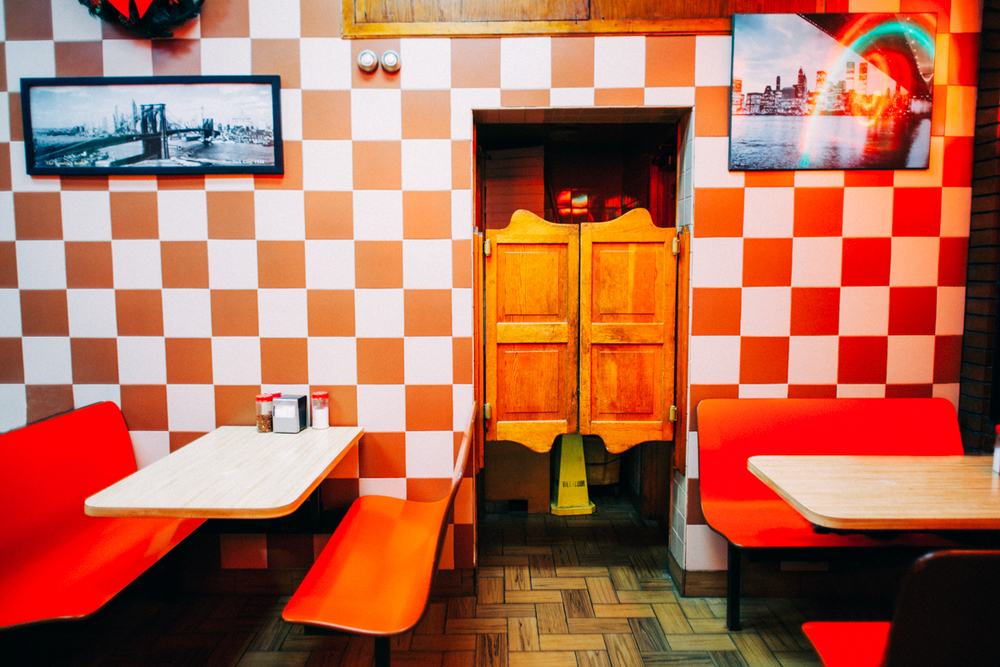 The Maker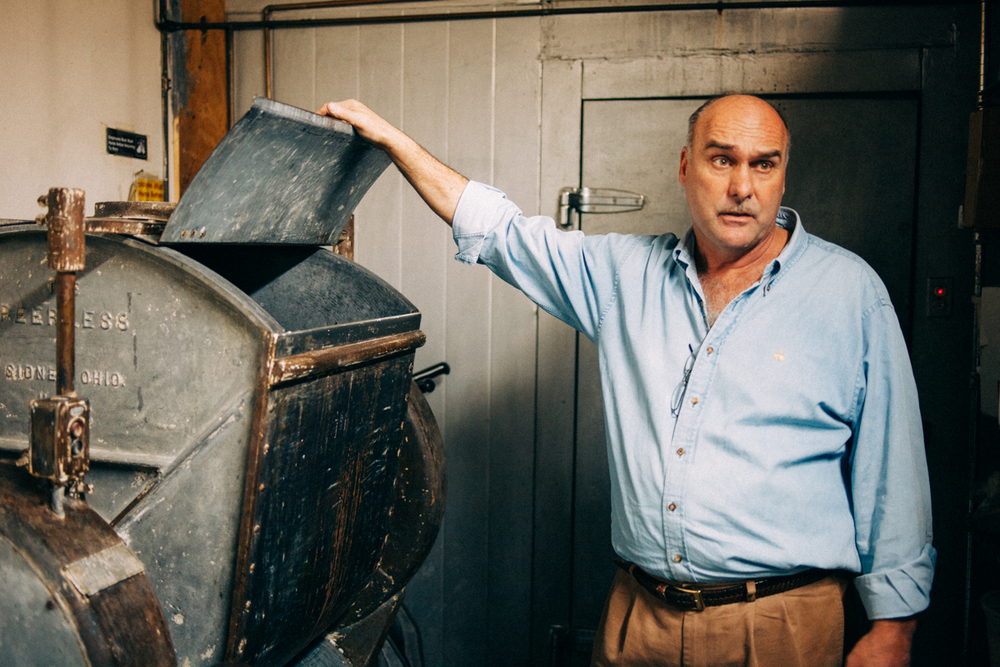 "This is part of New York. You can't take away the slice of pizza from the city of New York and the culinary history of this town. It's part and parcel of who we are. And it's nondiscriminatory. We have all types of guys who come in here. "Gimme a slice of this! Gimme a slice of that! I want a slice now!" It's just who we are, and this is the world that we've created.
Listen to John, maker at at Patsy's Pizza in East Harlem.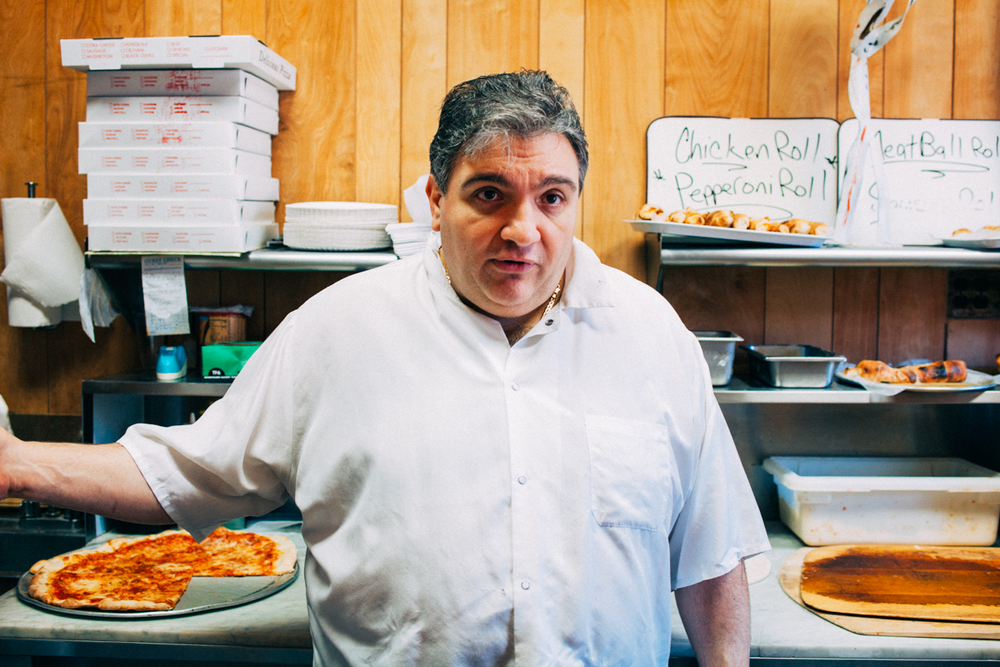 "My father was never at any family functions because he was always working. My mother was by his side. You know what? You're only as good as the woman behind you, and you need a strong woman. My mother is stronger than my father because she supported my father in everything they did. It's amazing. I give them all the credit in the world. Today, people tell me to open up other pizzerias. Think about it…how do you just do it? You're taking the money you earned, you saved—that was hard to save—and just opening up a business? Not easy. Gimme the wedding book…my parents wedding book. You wanna see something? I'm gonna show you my parents limousine when they got married."
Listen to Gio, maker at at Luigi's Pizza in South Slope.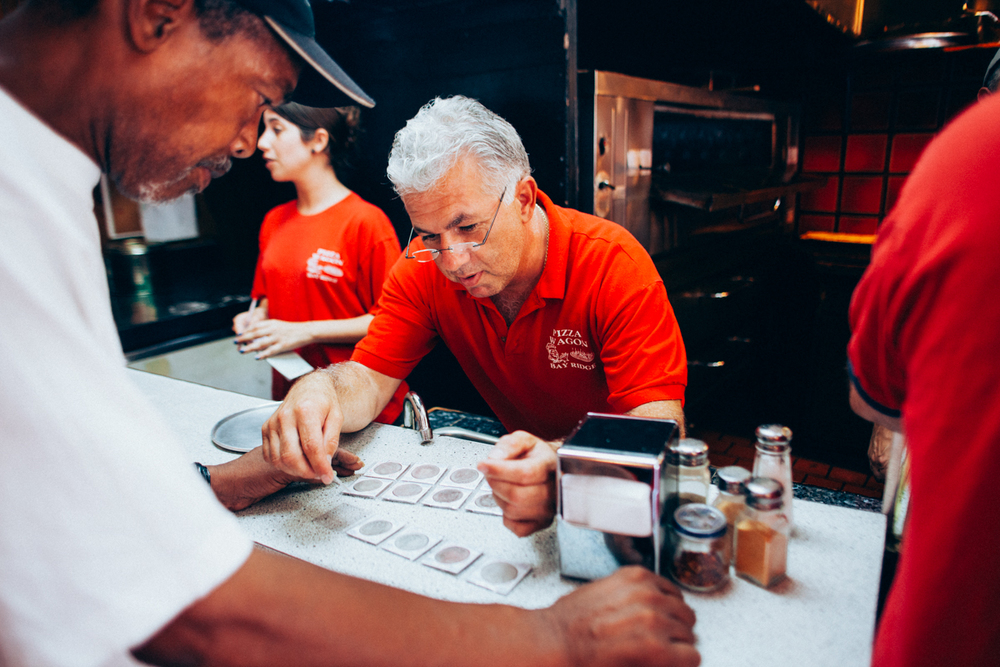 Listen to Vito & Leandra, makers at Pizza Wagon at Bay Ridge.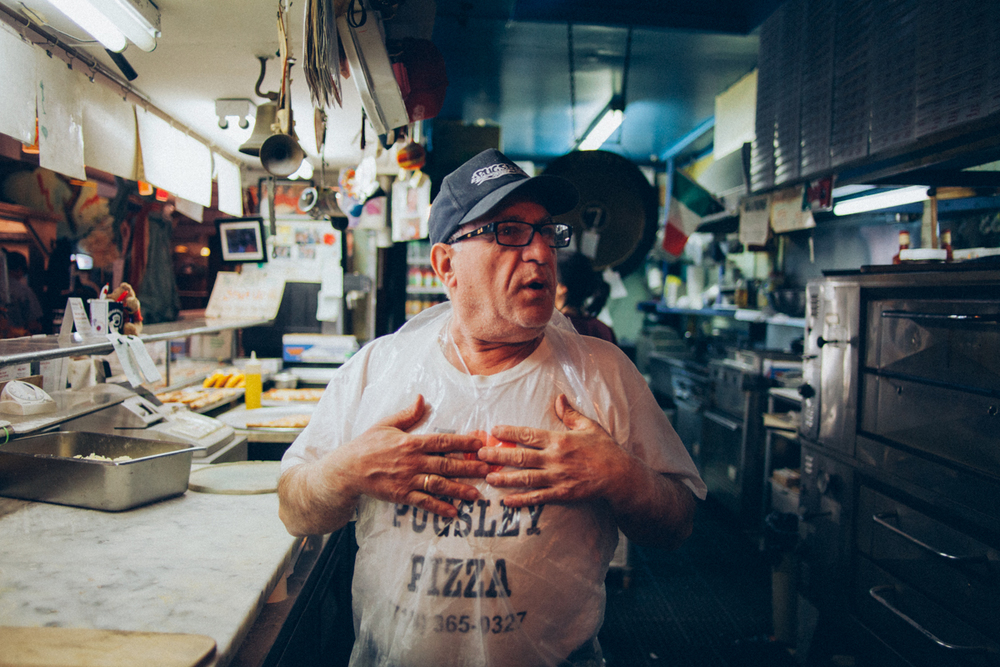 "I have an ego. I want to be the best pizza man. But there is a challenge right now. The people rate the best pizza, and the sexiest pizza man. For many, many years I was the number-two best pizza, but the number-one sexiest pizza man. But now, two years in a row, I am very upset, because they say I am the best pizza, but now I am only the second-sexiest pizza man in New York."
Listen to Sal, maker at Pugsley Pizza in Belmont.
Tony, maker at Ivana Pizzeria in Belmont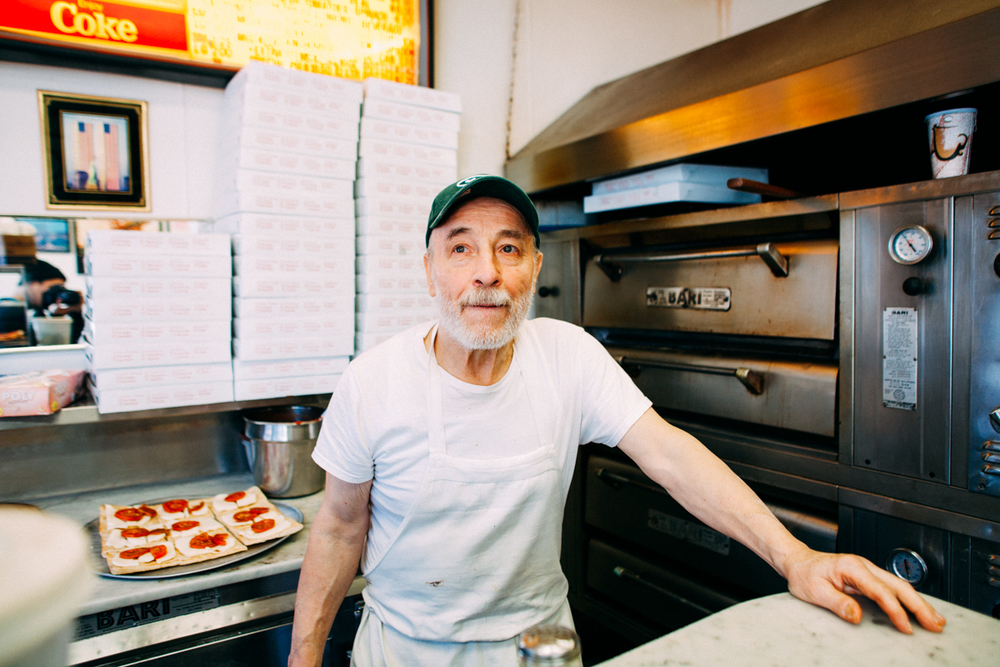 "I say not too many people can make this crust. Cuz they learn how to make a pizza, they go into the business and you know … if you want to make a good dough, you gotta know what you're doing. You know what I'm saying? Yeah, I know because I learned myself. When I made a breadstore – I opened it up, there was supposed to be somebody who made [the bread] but he never showed up. So everyday was improvise. You learn to cook, this and that, and by then, it come out good."
Listen to Carmine, maker at Carmine's Original Pizza in Greenpoint.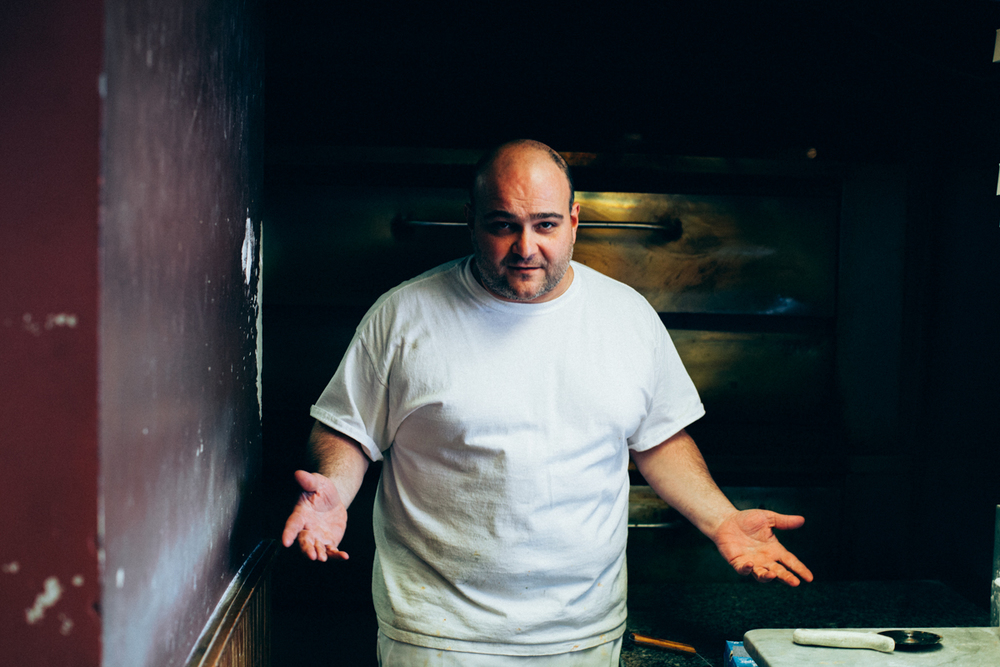 "We have a very, very simplistic business. It's just pizza. There are no dinners. We don't have a late-night crowd. Very simple. No salads. No dinners. No pastas. No garlic knots. We're a pizzeria. We're one of probably the "Last of the Mohicans." No fried mozzarella sticks. No delivery. Just what you see. You won't find many more places like this left."
Listen to Cosmo, maker at Louie and Ernie's Pizza in Schuylerville.
The Eater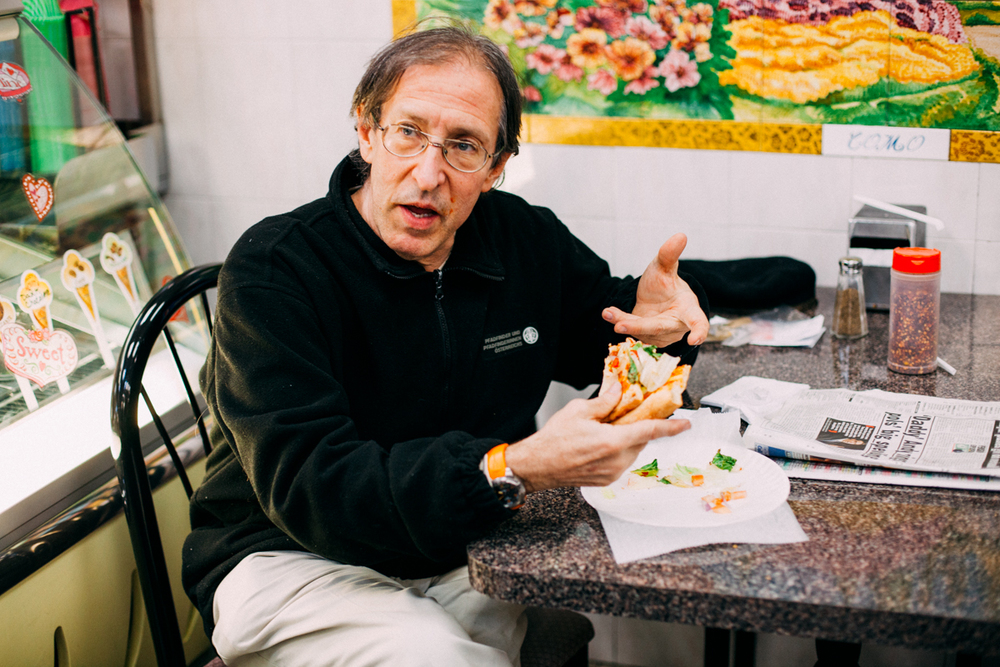 "…the New York City way is folding them and then walk out down the street and eat it that way. Now, I'm 62, I had a triple bypass two years ago, so what I have here is a salad on top of a slice a pizza…no cheese."
Listen to Michael, an eater at Italian Village in Yorkville, NY.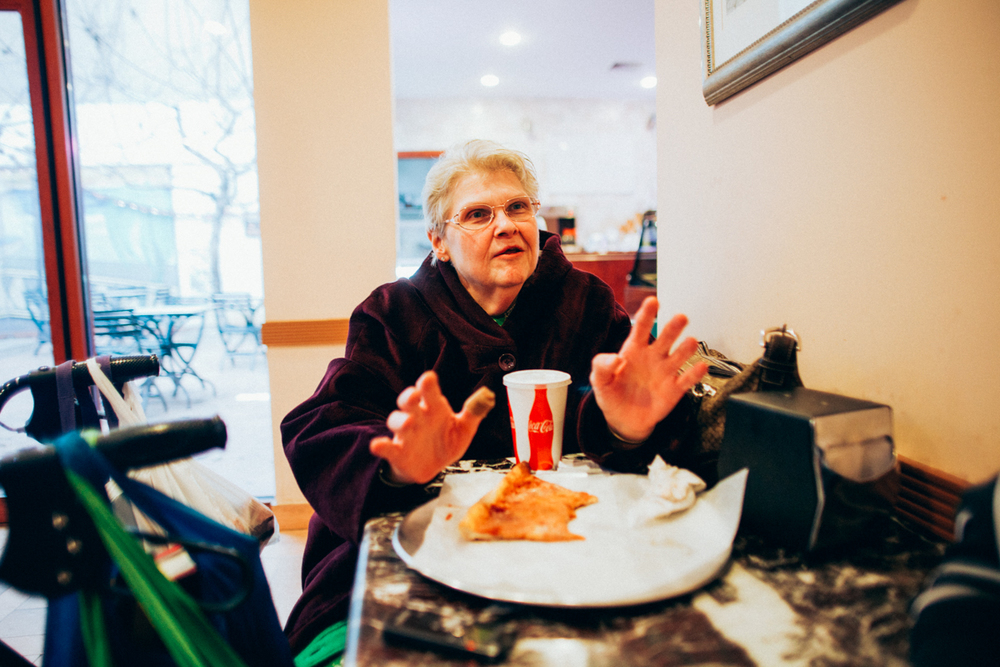 "It strikes me that pizzerias are sort of like the old malt shops  – what I see about malt shops in the movies. People go and hangout and—because I'll see teenagers all come in and they each get a slice—and I think the slices probably weigh more than the girls do. And they sit in the back and they decompress from the day, and uh, it's just a—oh, I don't know… it's sort of a community thing. There aren't that many of those around anymore. You have to set them up for old people, the senior centers, and you set up the day cares and the play dates for children, but for everybody between the ages of five and under the age of 60, you gotta fend for yourselves, or find a pizza place."
Listen to Betty, an eater at My Little Pizzeria in Brooklyn Heights.
Listen to Marsha, eater at Not Rays, Fort Greene.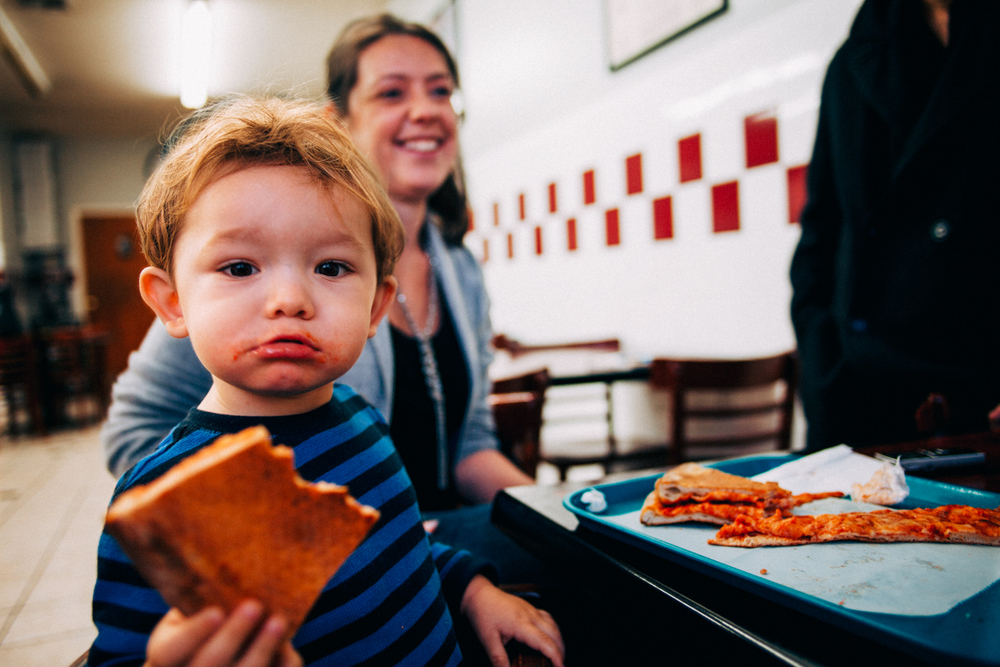 Chance and her son, eaters at Fivo's Pizza in Washington Heights.
Discover The New York Pizza Project online and get your slice of the greatest city in the world with the book, available here. Meanwhile, I'll start planning my pizza pilgrimage to New York City.