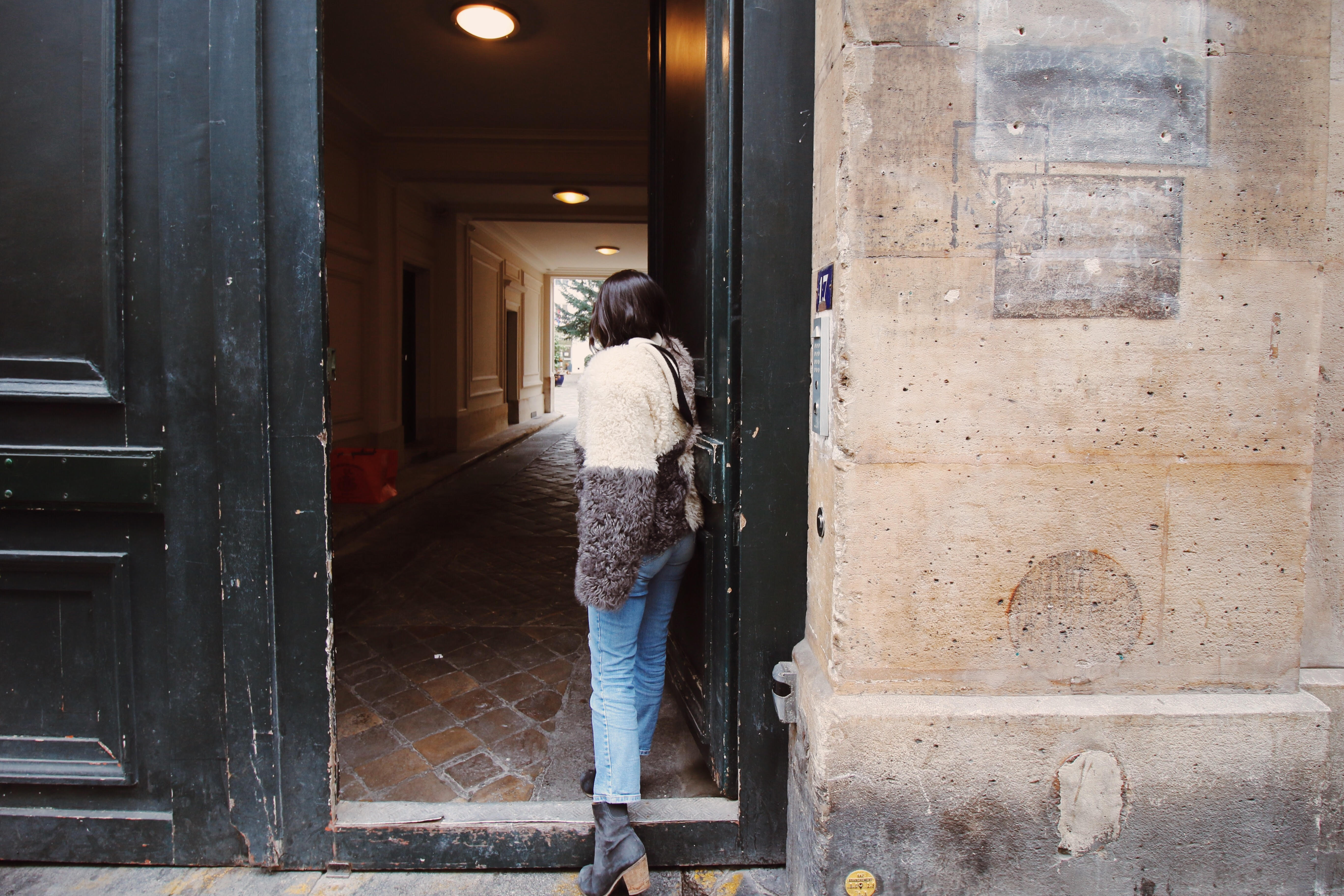 Behind an unmarked door in the 9th arrondissement, at the back of peaceful courtyard, I found another Paris secret. The kind of place that you would only hear about via word of mouth, I heard about it from a guy in a bar one night who was teasing a few of his favourite local secrets after one too many rounds. He didn't provide any specific directions, which felt much needed when I went on a determined search for it the next day…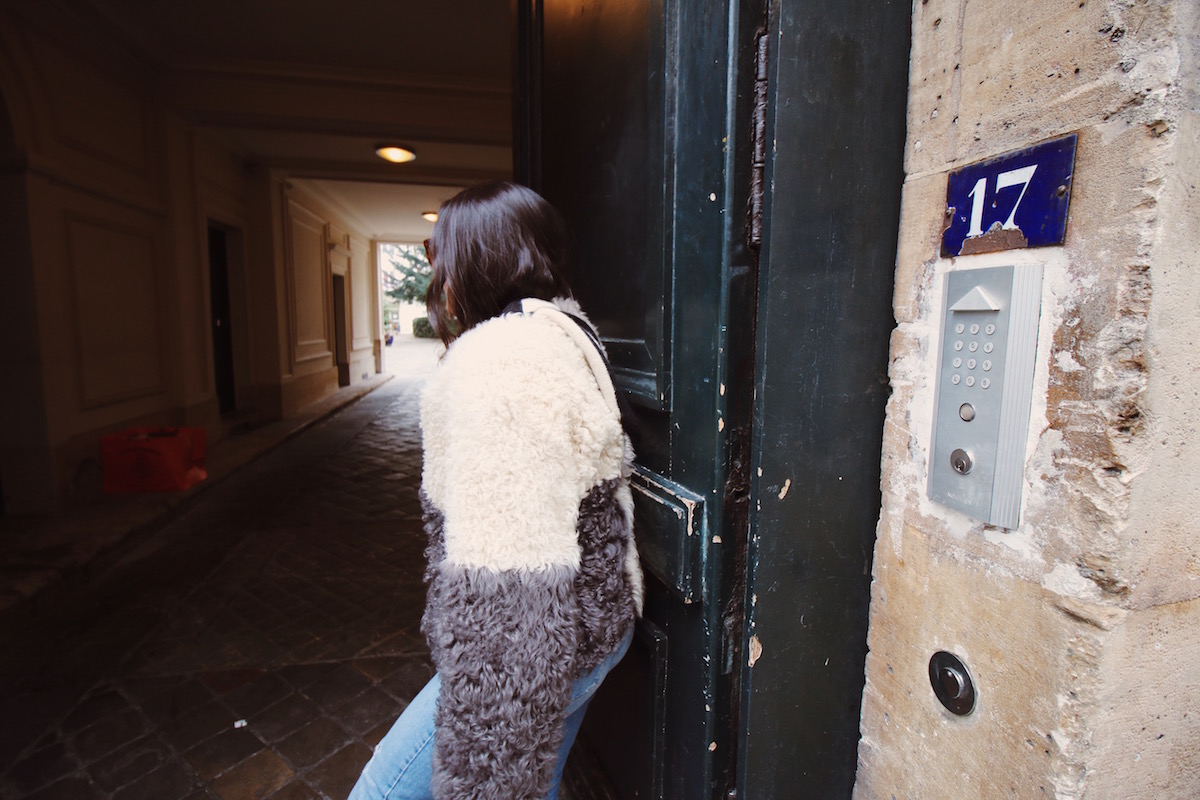 There is absolutely zero indication of a restaurant behind the street entrance at 17 rue Bleue, just a door code with a keypad.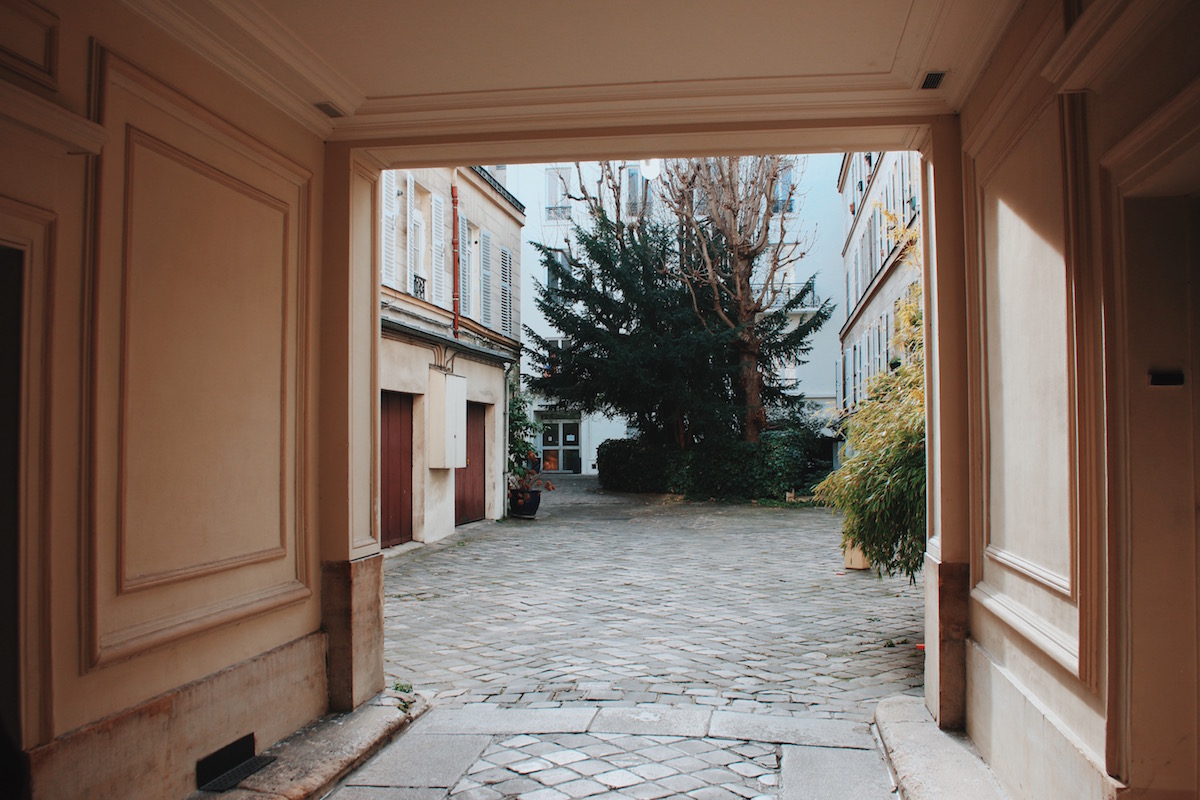 Don't panic, there isn't in actually a code. Just push the button at the bottom, wait for the door to click and let yourself in.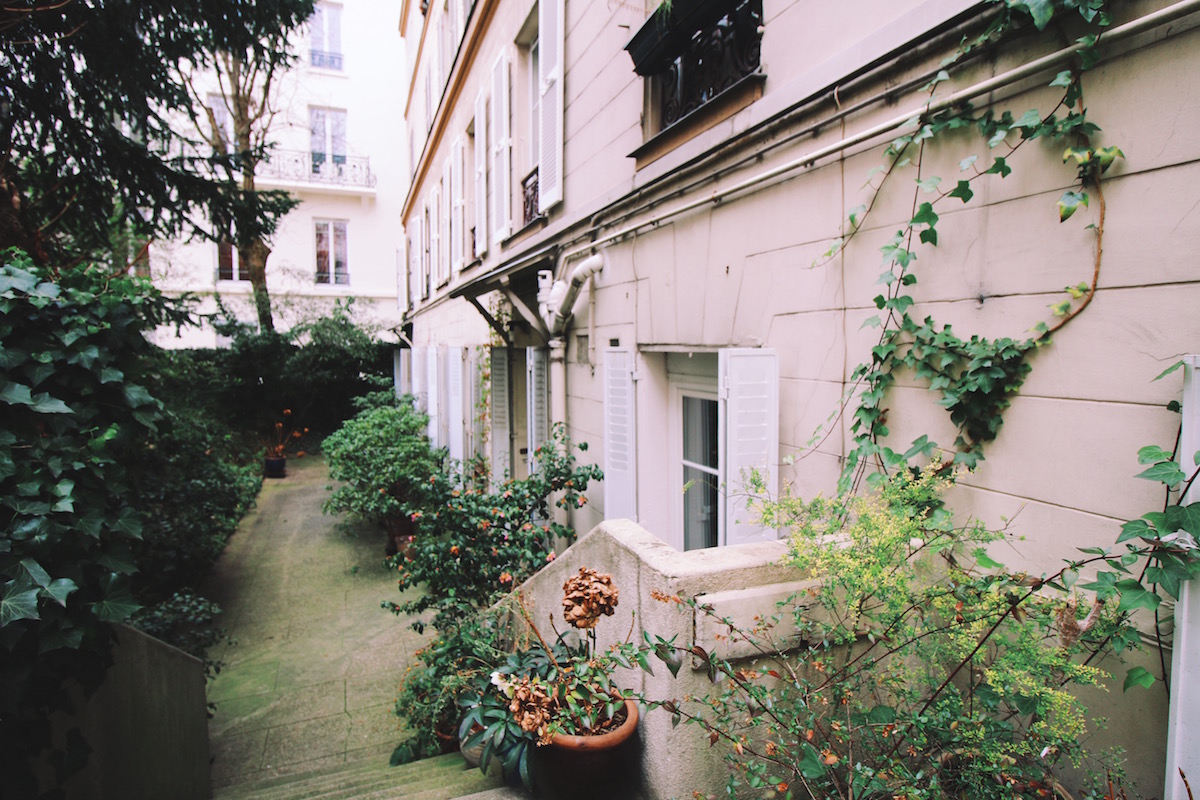 Keep walking past the bamboos and veer to the left towards the end of the residential courtyard. Look for the Armenian and French flags swaying together above the doorway marked "Maison de la Culture Arménienne".
You've found it.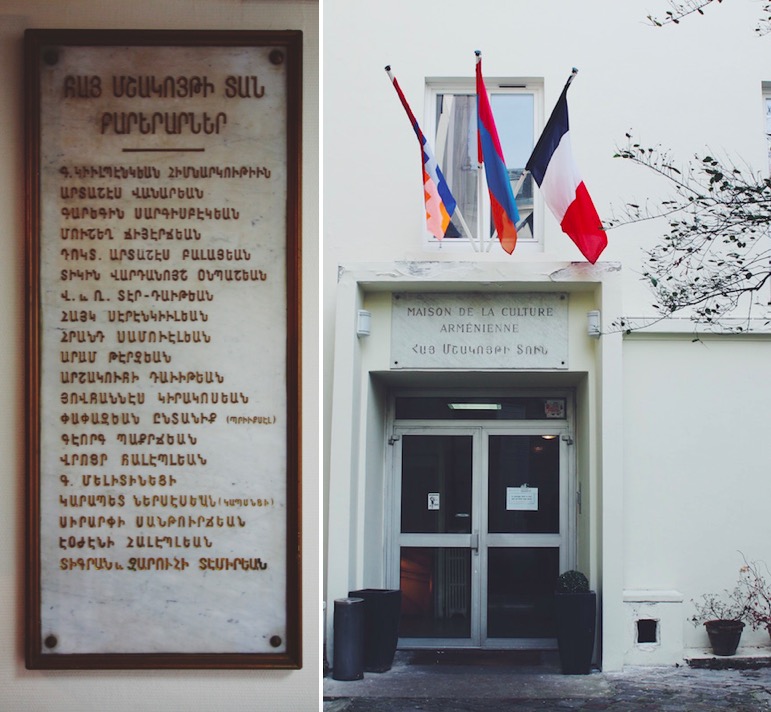 Door's open. Follow the comforting smell of simmering onions and spices up to the first floor where you'll find the warmest welcome in Paris…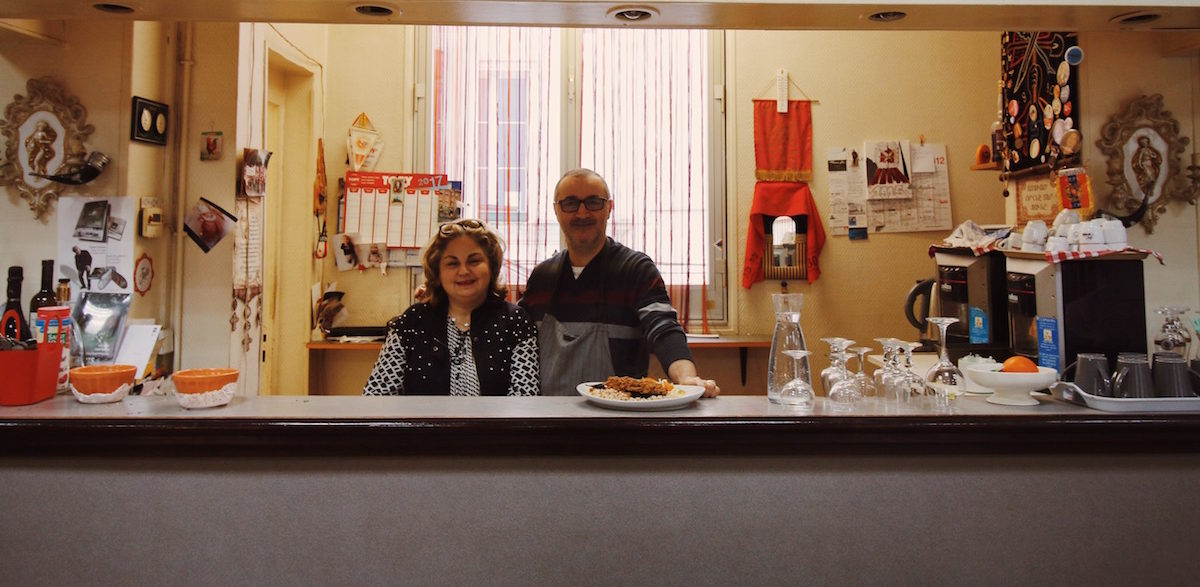 "Bonjour ma cherie!" I've never been here before, but I'm being greeted just as if I were part of Tchinar's own family stopping in for some home-cooked lunch. Tchinar is la patronne and she runs this place while her husband mans the kitchen.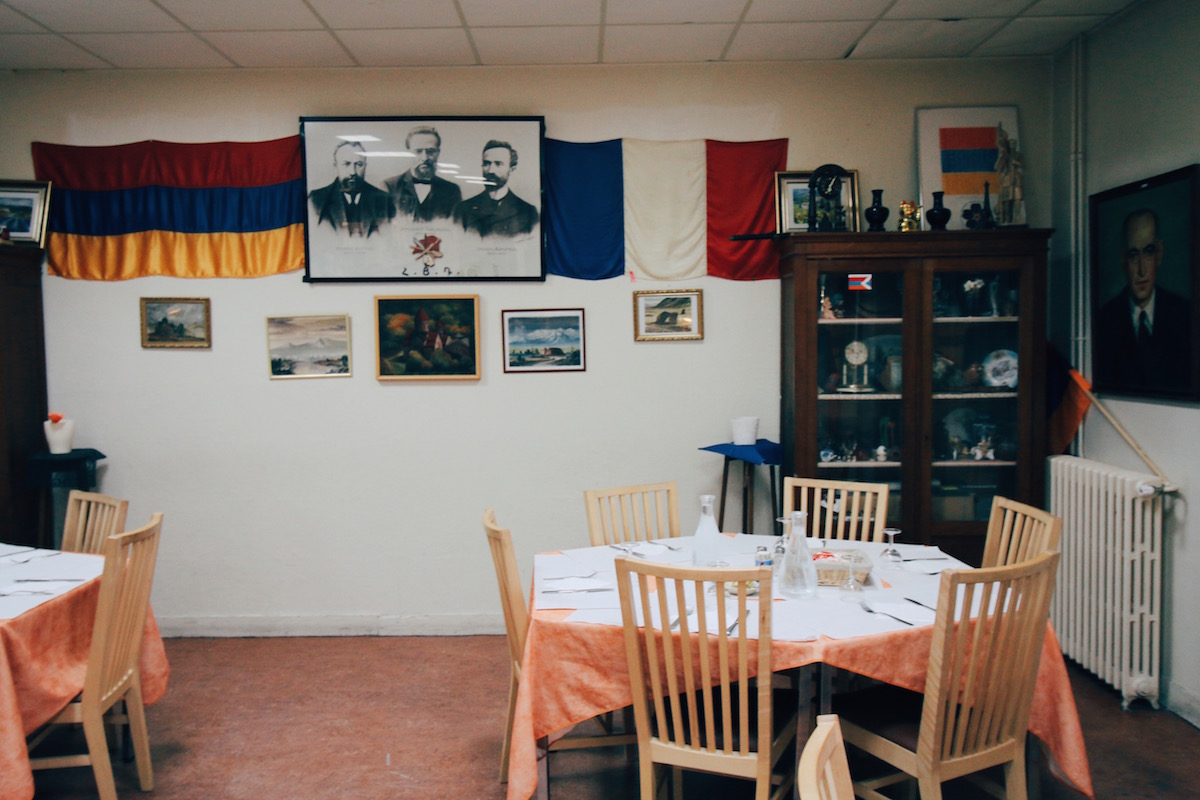 Just like at home, there's no menu. But for the life of me, I honestly couldn't have told you what Armenian cuisine looked or tasted like before stepping into this hidden kitchen. "What can I get you kids?" asks our honorary Mama Armenia. She lists the choices of plat du jour which include the house specialty, an ancient recipe for one of my favourite things in the world: dumplings!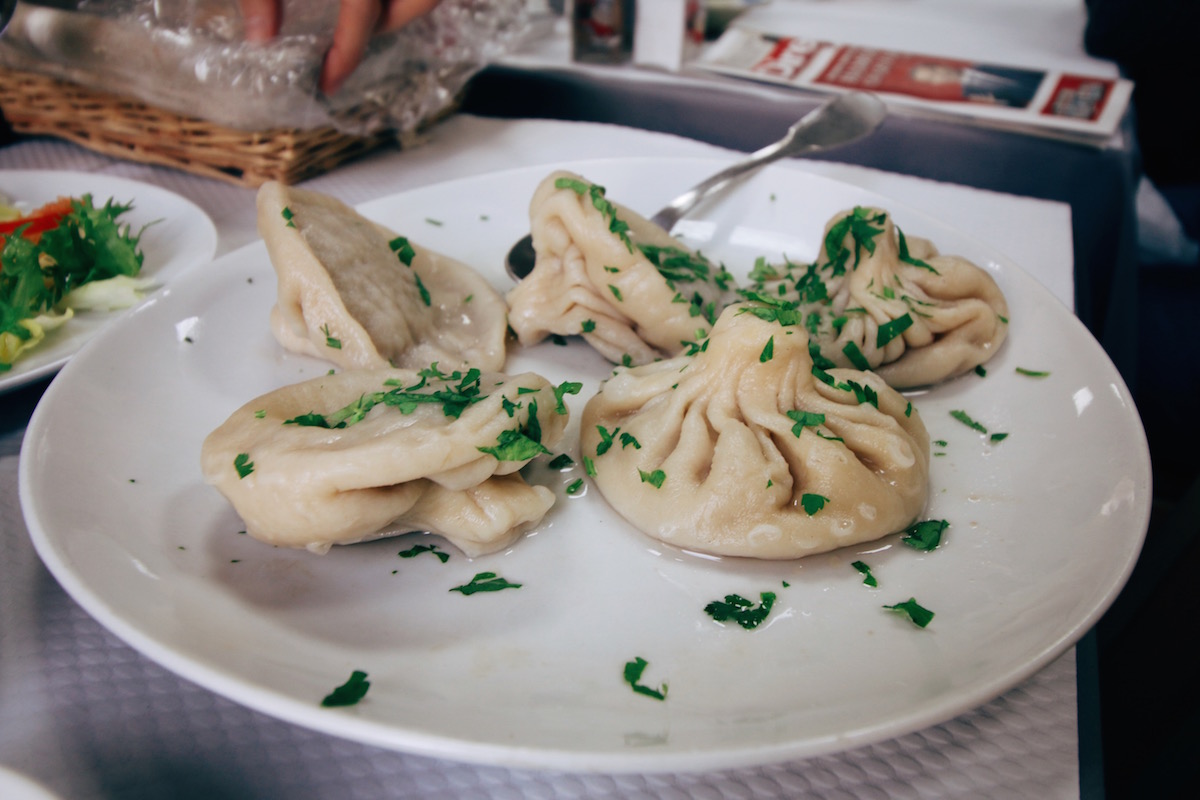 The Armenian or Caucasian variations of a dumpling are known as a mantu or khinkali . The recipes were carried across Central Asia along the Silk Road to Anatolia by migrating Turkic and Mongol people as early as the 13th century. The manti allegedly first reached Armenian people during the crusades a result of a cultural interaction with the Mongols during their alliance in the 13th century. Nomadic horsemen carried frozen or dried dumplings that could be quickly boiled to perfection over a camp-fire. Mantu typically consist of a spiced meat mixture, usually lamb or ground beef in a dough wrapper, and either boiled or steamed.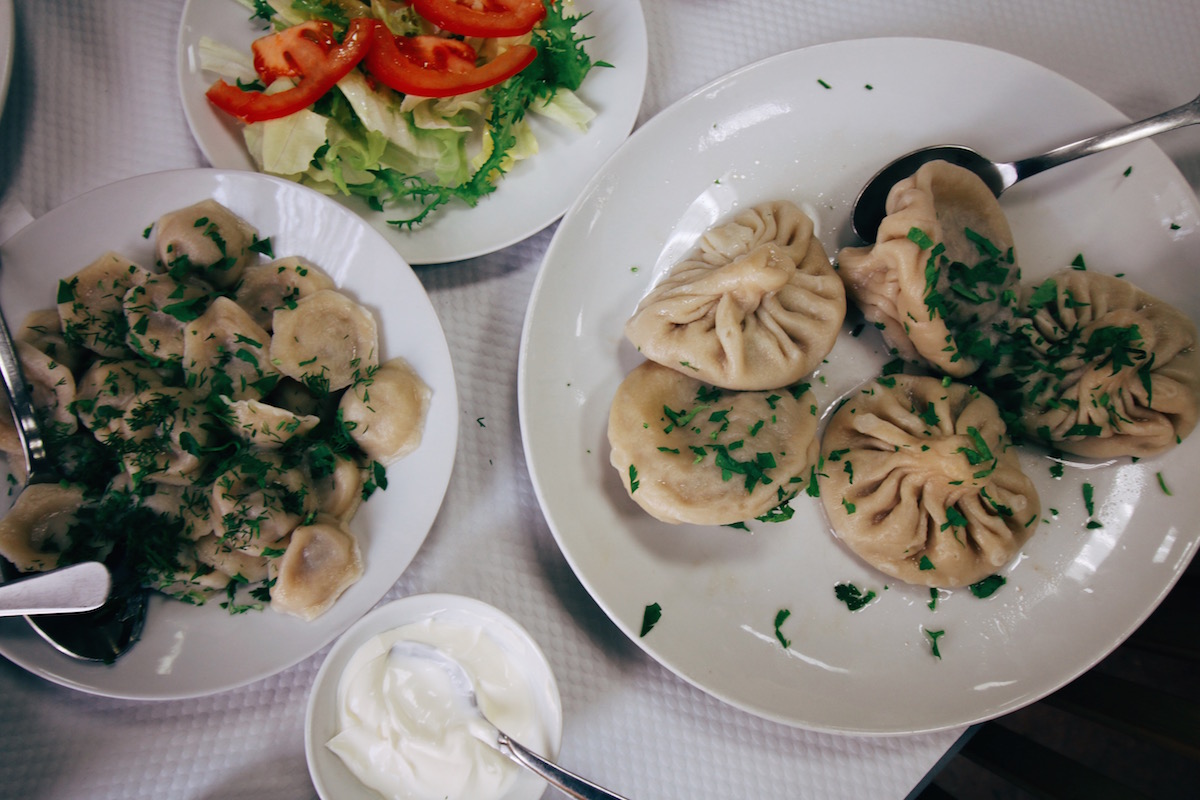 We order both variations of the house dumplings, stuffed aubergine, and salmon with wild rice. Absorbing our surroundings of the restaurant overlooking a private courtyard, the rustic but noble canteen feels lost in time and place, We could be dining circa 1980-something in a Soviet country, which indeed Armenia was until the early 90s.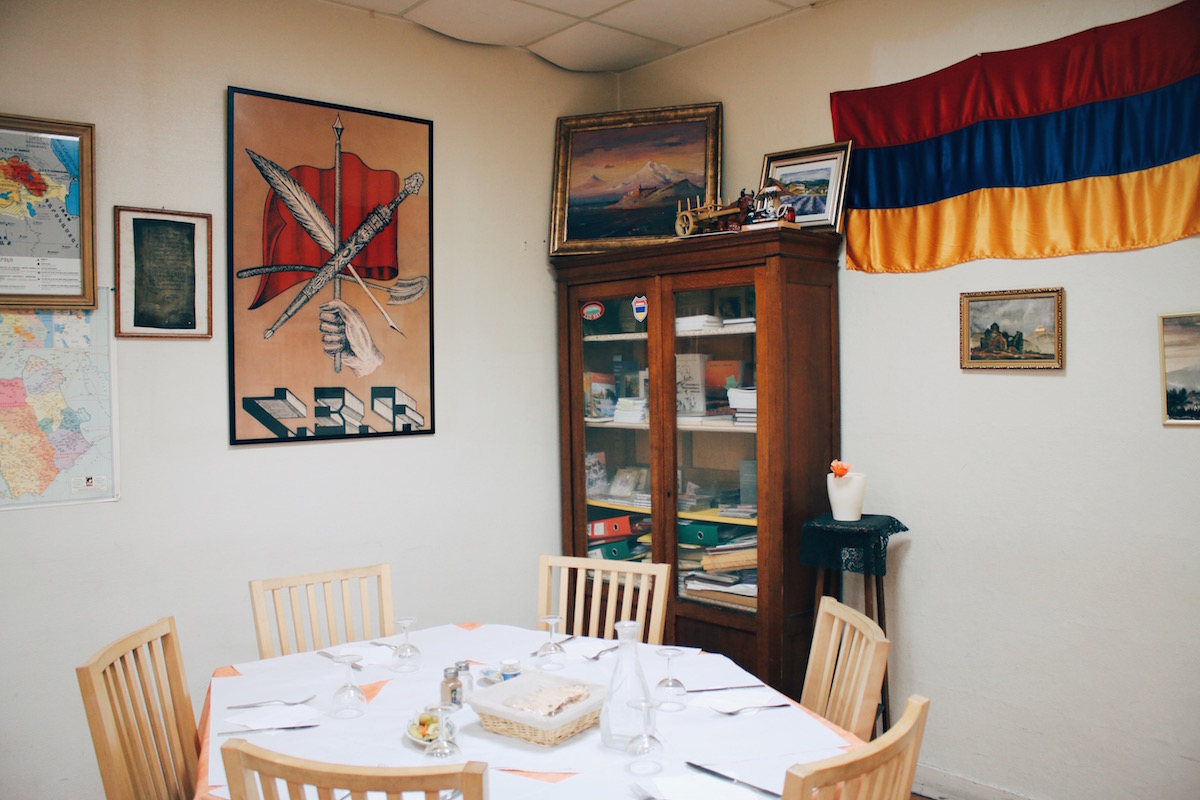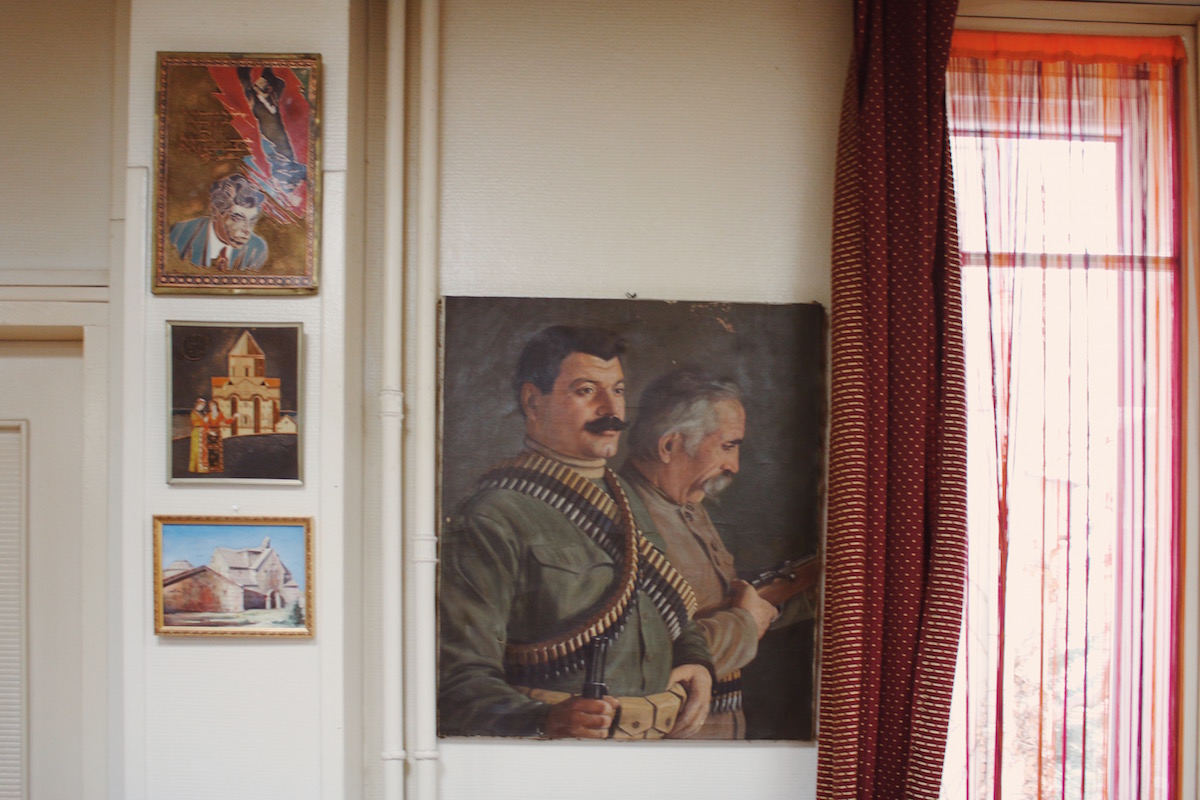 Tsichiri notices me fixating on a portrait of a mustached man in uniform hanging on the wall. "That's not Stalin if you're wondering."
I was.
"He's an important Armenian hero, but not Stalin," she says wagging her finger and tutting.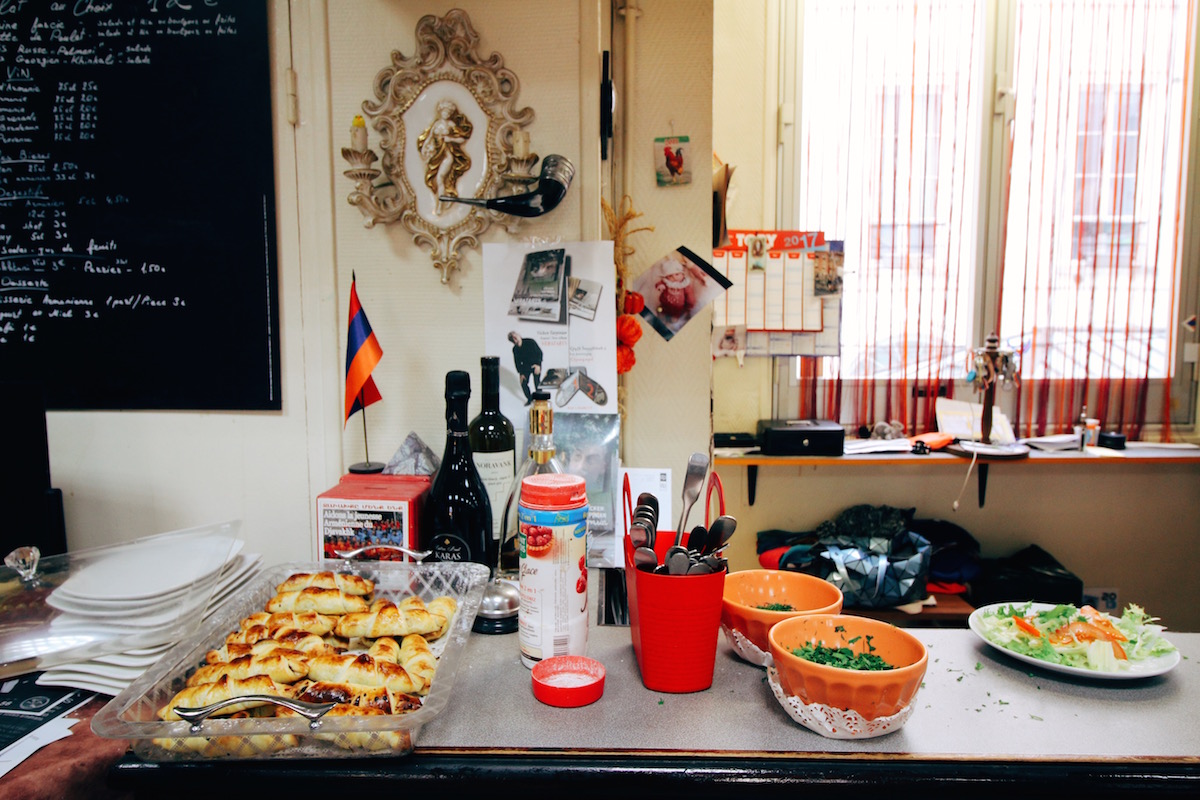 Humbly decorated with trinkets alluding to their Armenian roots, this restaurant tugs at your heartstrings.
Oh, and the food?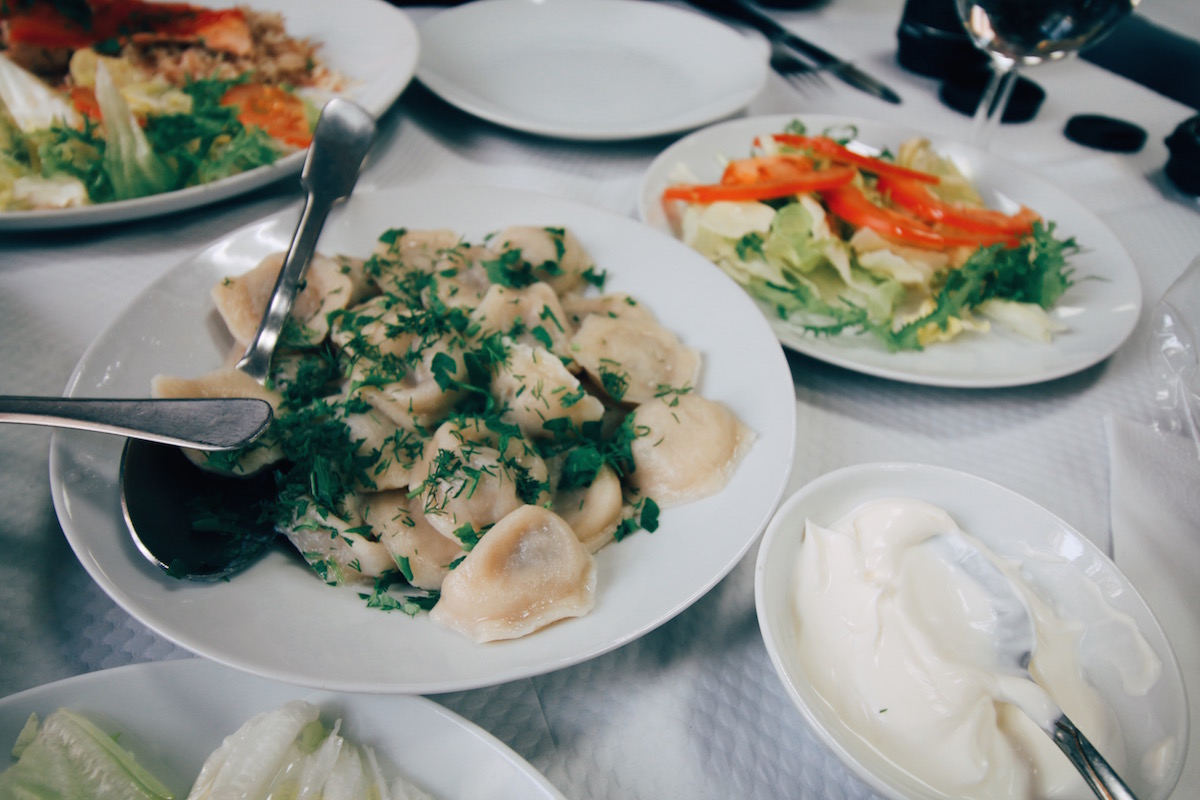 When it's made with that much love, you simply can't go wrong.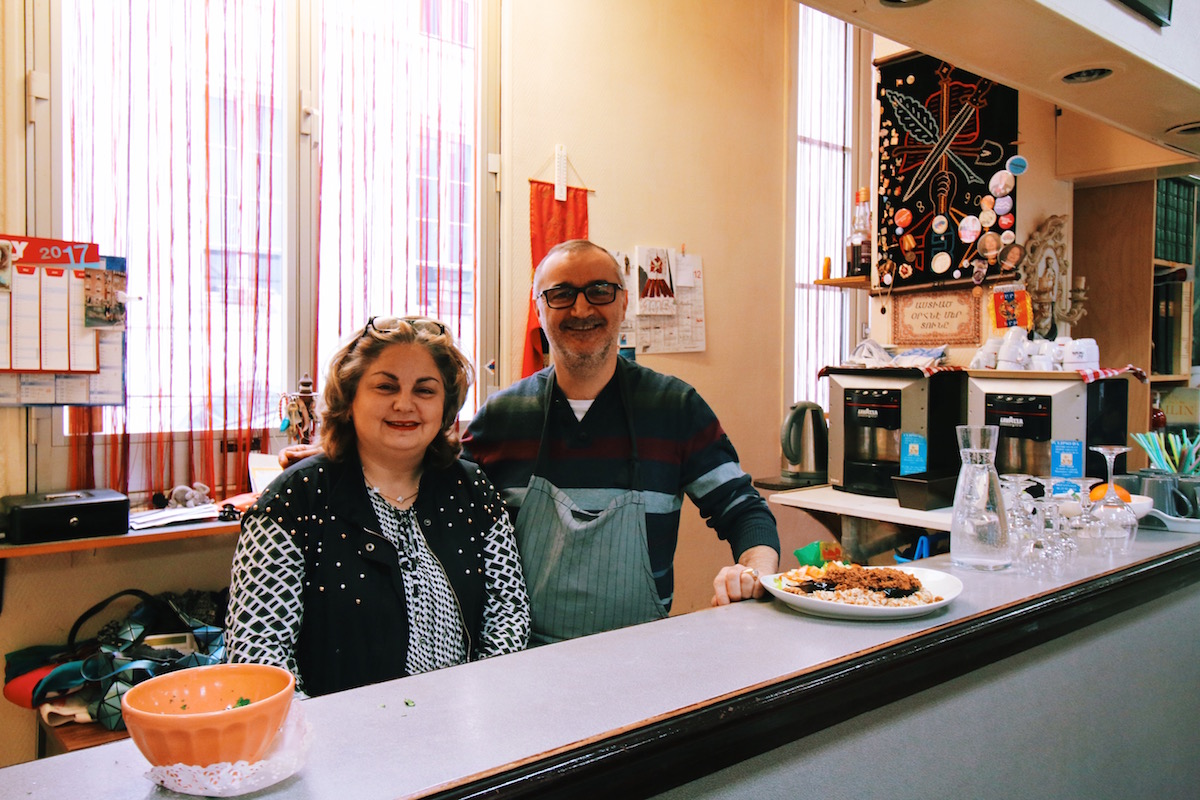 We stayed until we were stuffed (although Tsichiri did inform us that the crème fraiche for dunking our dumplings is only 15% fat) and then we stayed some more, chatting with other diners in the comfort of our new hidden home away from home.
Take a video tour…
P.S. Just around the corner….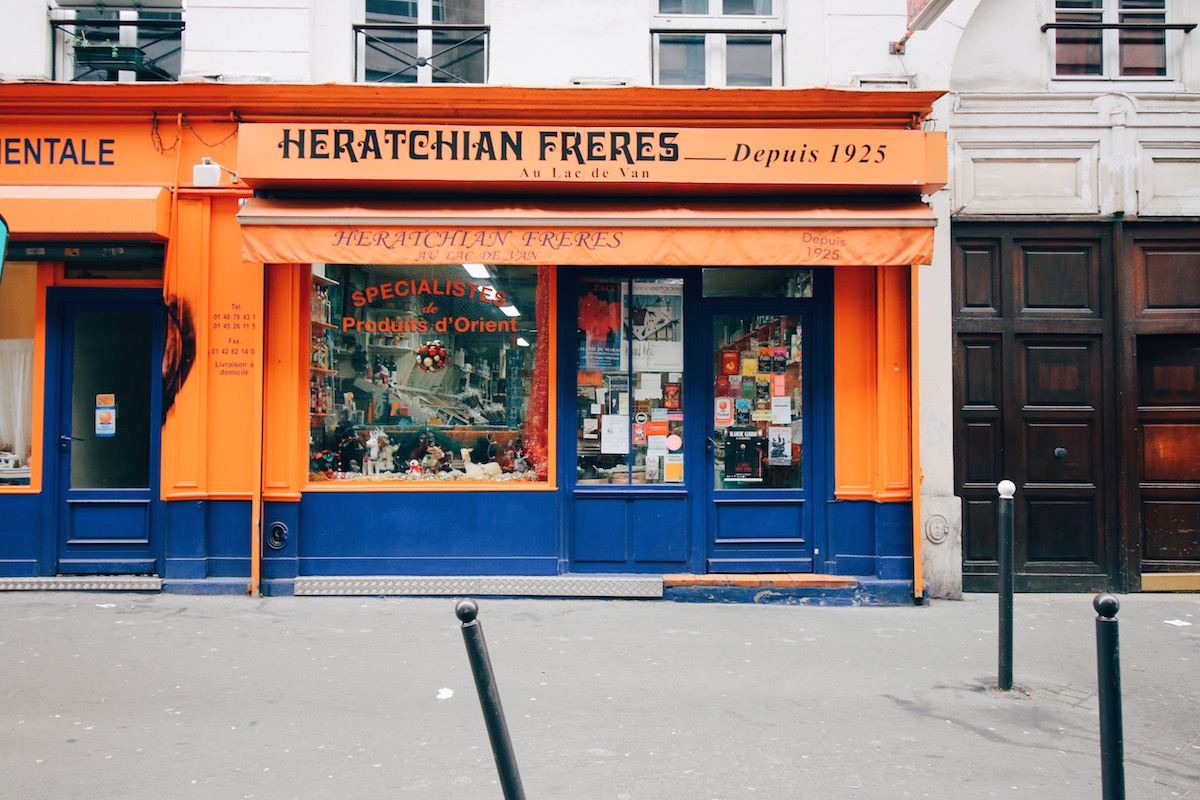 A French-Armenian couple from out-of-town at the table next to us gave us a very good a take-home tip: just around the corner, there's another Armenian gem on the rue Lamartine…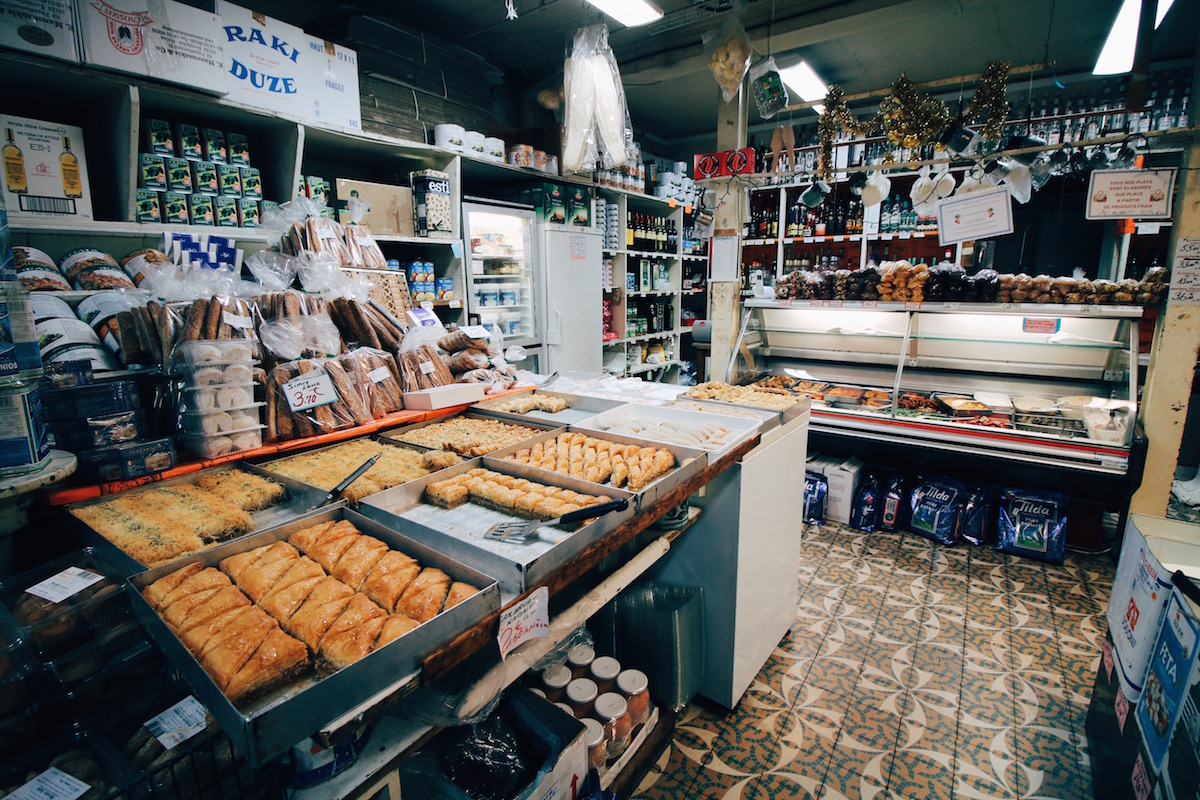 Since 1925, the Heratchian family have been running this colourful culinary bazaar, overflowing with far-fetched produce, sacks of fresh spices, fresh ingredients and arguably the best Baclava in the city. Stop here for dessert to complete your moveable feast on the Parisian Silk Road…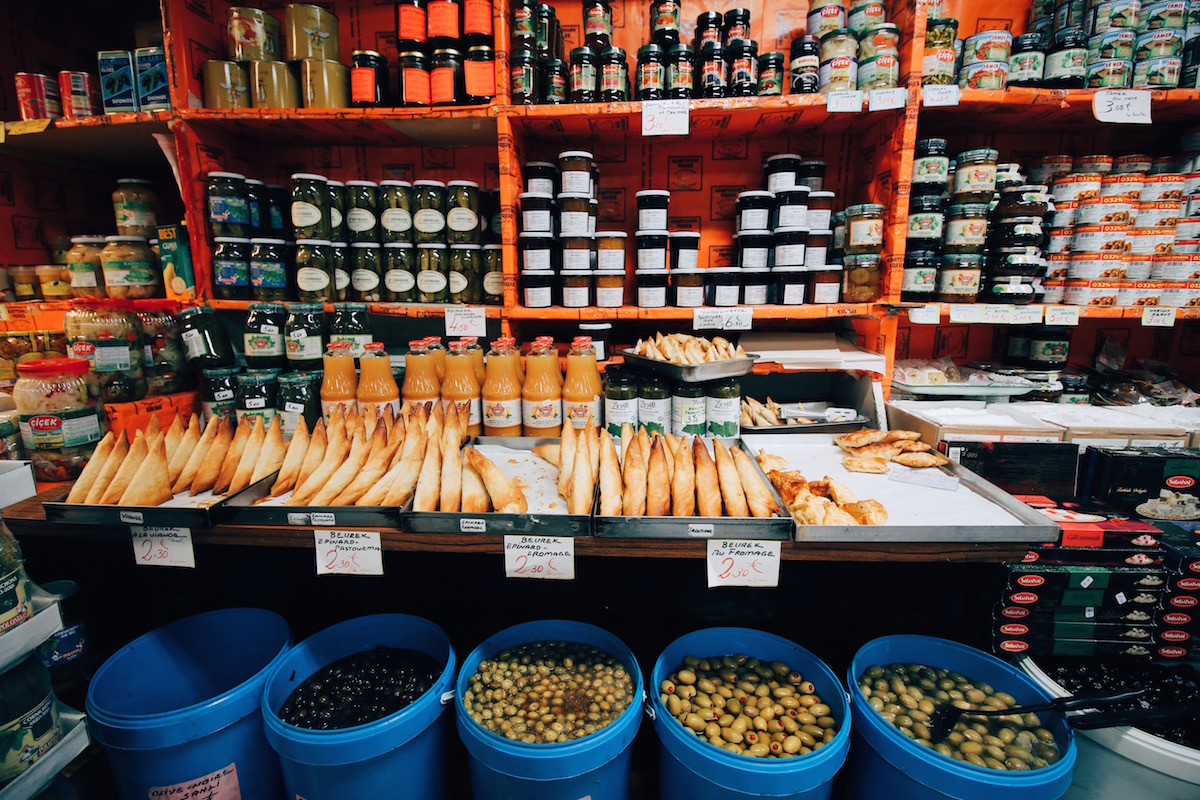 Find the Secret Armenian Restaurant: 17 rue Bleue, Paris, 9eme; Mon-Sat for lunch from 12pm-15pm, dinner from 7pm-11pm. 12€ for the plat du jour, cash/ cheque only or tickets resto accepted.
Heratchian: 6 Rue Lamartine, 9eme; Paris Mon-Sat, 8.30am-7.15pm.
Hungry for more Paris? The updated edition of Don't Be a Tourist in Paris is now available. Or become a MessyNessy Keyholder to gain access to our Travel eBook library and a direct line to our Keyholder Travel Concierge to plan your perfect trip. Need help planning a weekend in France? Need some restaurant recommendations for a remote village in the North Pole? We're here to help.