1. England's Smallest Castle is For Sale

This is Molly's Lodge, a Grade II Listed castle that sits on a 0.61 acre plot of land near the village of Long Compton in Warwickshire.


Originally a gatehouse for the Weston Park Estate on the northern edge of the Cotswolds, Molly's Lodge was built by the famous British architect, Edward Blore, in the 1830s. Mr Blore is also known for restoring Lambeth Palace and extending Buckingham Palace for Queen Victoria.

The listed price of £550,000 (about $690,000 U.S.) also includes Molly's Mews, a second building with a double garage, office, and one-bedroom apartment.
Found on Saville's (although by the time you click it may have already been swooped up), more pictures on Refinery 29.
2. It only costs $25 to own a portion of Sealand, the tiny micronation (and from $35 to become a Lord/ Lady or Baron/ Baroness)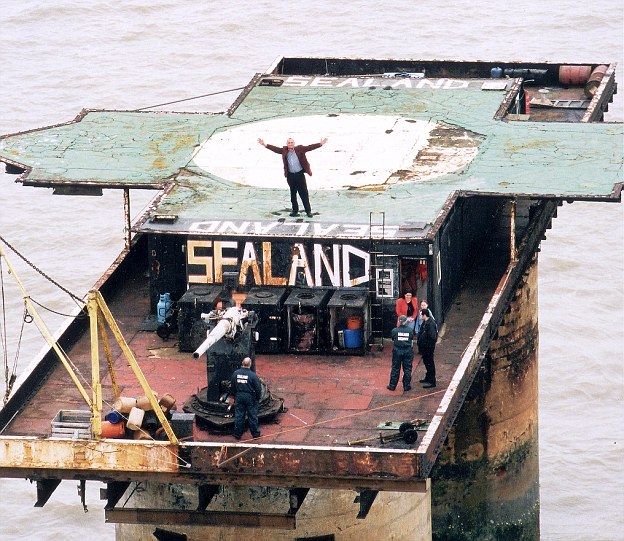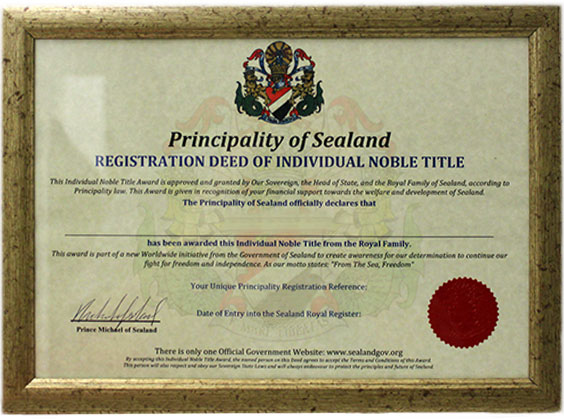 This could make a pretty fun and unique gift to someone! Lady Nessy of Sealand. It has a nice ring to it, no?! To own a piece of Sealand it's here, to become a Lord/ Lady, Baron or Baroness it's here, and to be a Count or Countess it's here.
3. This Company will take you down to the Titanic … (for just under $60K)

Not only are you seeing a piece of history up-close, you are in an environment that it otherwise impossible to get to. You might as well be in outer space. But good luck holding it in for 11-12 hours!
You will journey to the wreck of the Titanic aboard the MIR I or II submersibles.They are capable of reaching ocean depths of 20,000 feet (6,000m)… Following a final briefing, you'll enter the submersible, and the Keldysh on-board crane will lift the MIRs into the ocean… you'll begin your descent at a rate of 100 feet (31m) per minute … Beyond 800 feet (250m) all traces of sunlight will be gone and you will be immersed in total darkness…the MIR submersible descend without external lights. However the pilot will, at times, switch them on to observe passing marine life. Even in the darkness, the ocean is alive. Be sure to look for bioluminescent creatures, whose glowing characteristics require no illumination to be seen… We expect your dive duration to be approximately 11 to 12 hours. Illuminated by the powerful lights of the submersible your viewing port will be filled with images of the RMS Titanic.The bright lights will pick up her huge anchors, larger than the submersible, and the capstans, the bridge and the famous grand staircase, all nestled amongst rivers of rust as the ocean slowly consumes the grand old lady.You'll see the ship's telemotor, the massive boilers, the propellers and the Marconi Room, from which the world's very first SOS was broadcast. Amongst thousands of tonnes of twisted and corroding metal you may catch a glimpse of articles of a personal nature such as ships bags or small ladies shoes, graphic and solemn reminders of the human loss.
Read all about the descent here.
4. This Chinese Farmer Built a two-storey Space Shuttle Replica On the Roof Of his House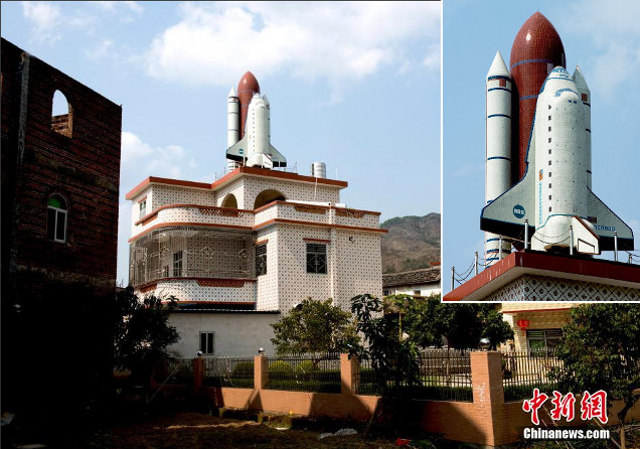 I'm gonna go with "just because". Found here via Geekologie.
5. There's a memorial sitting on the Moon for every astronaut who died in the pursuit of space exploration, including Russian Cosmonauts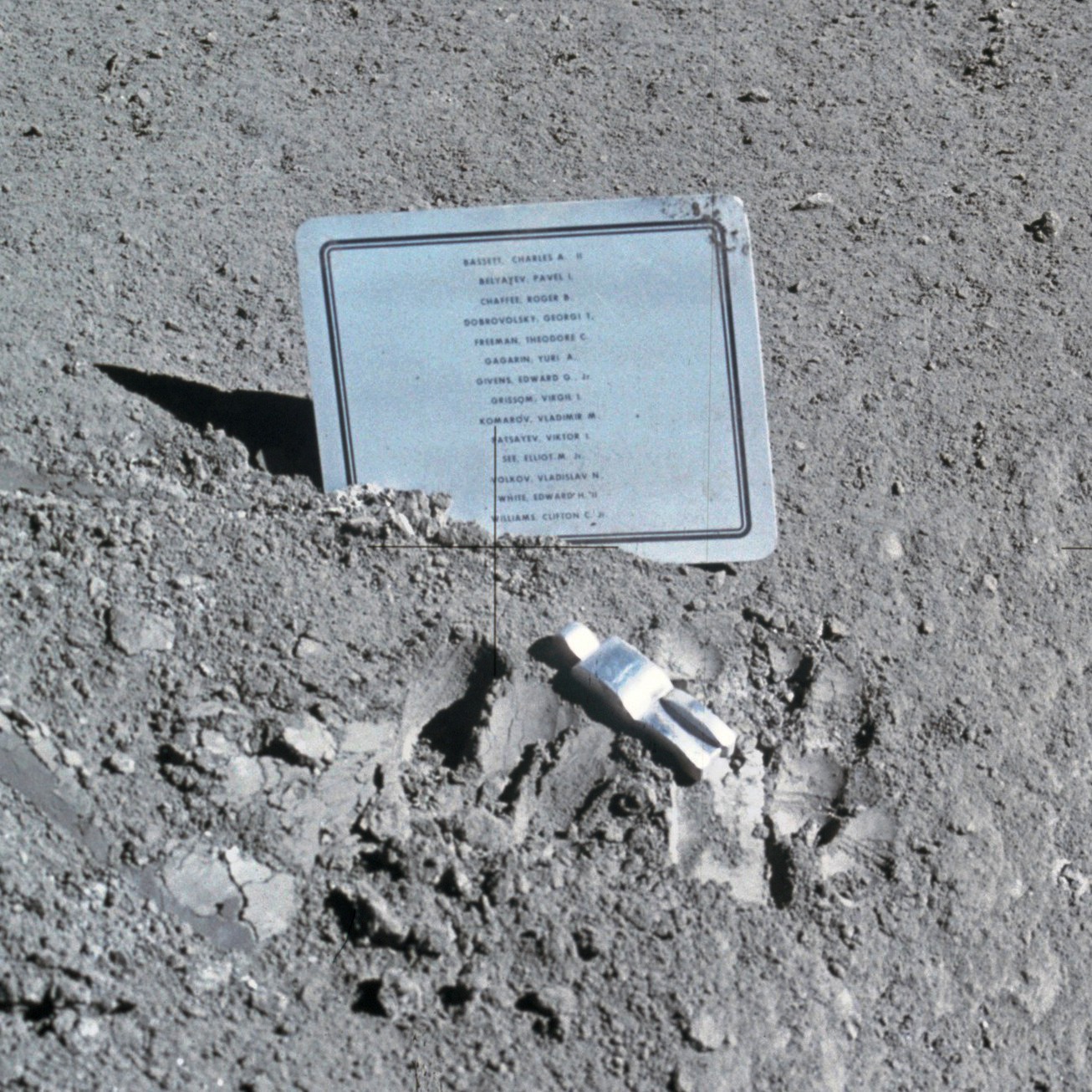 View of Commemorative plaque left on moon at Hadley-Apennine landing site. Fallen Astronaut is an 8.5-centimeter (3.3 in) aluminium sculpture created by Paul Van Hoeydonck. It was commissioned and placed on the Moon by the crew of Apollo 15 at Hadley Rille on August 1, 1971, next to a plaque listing the fourteen men known at the time to have so died.
Found on Wikipedia.
6. A cookbook called "Fat Brad" that features recipes for all the meals that Brad Pitt has eaten onscreen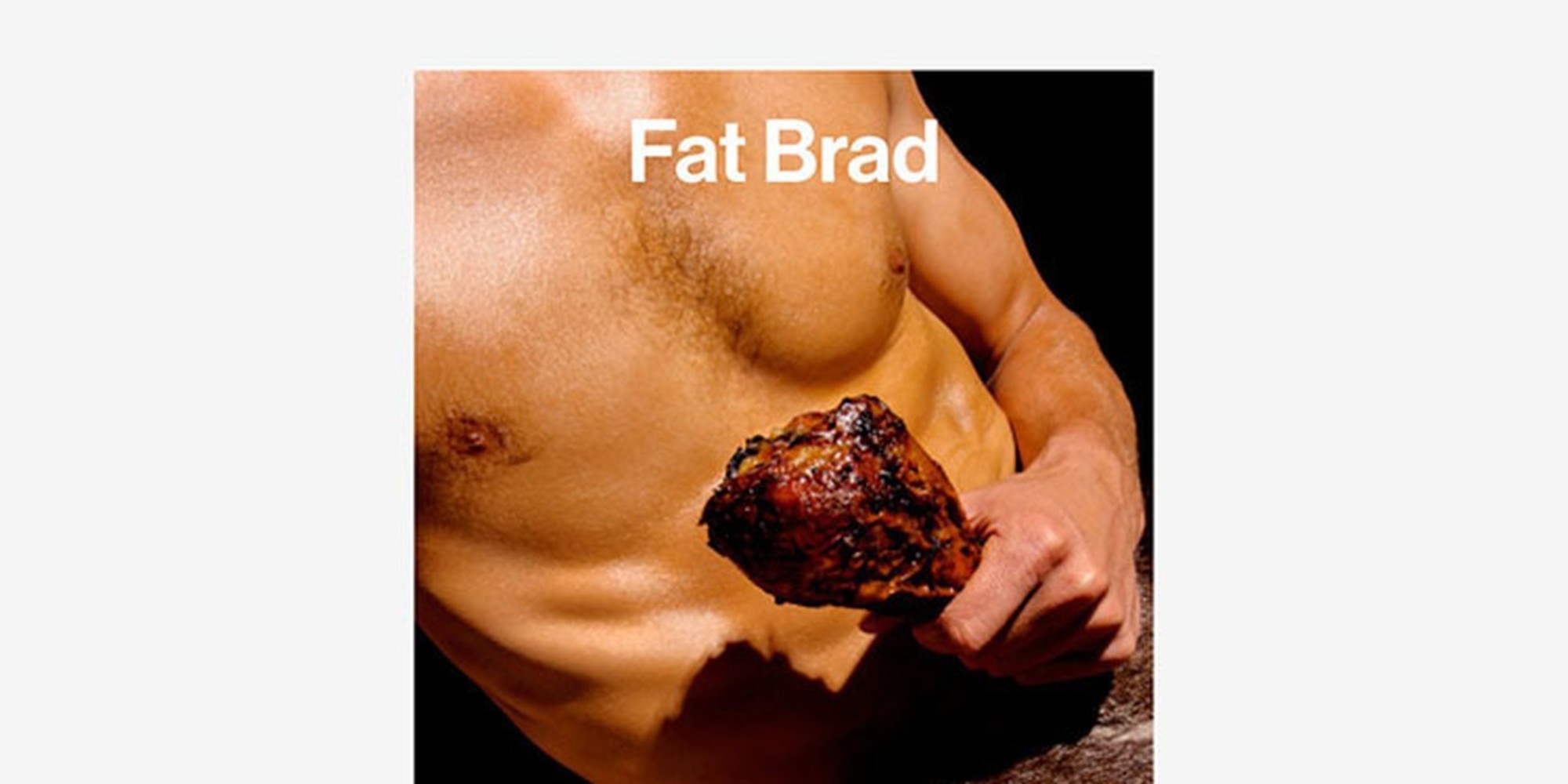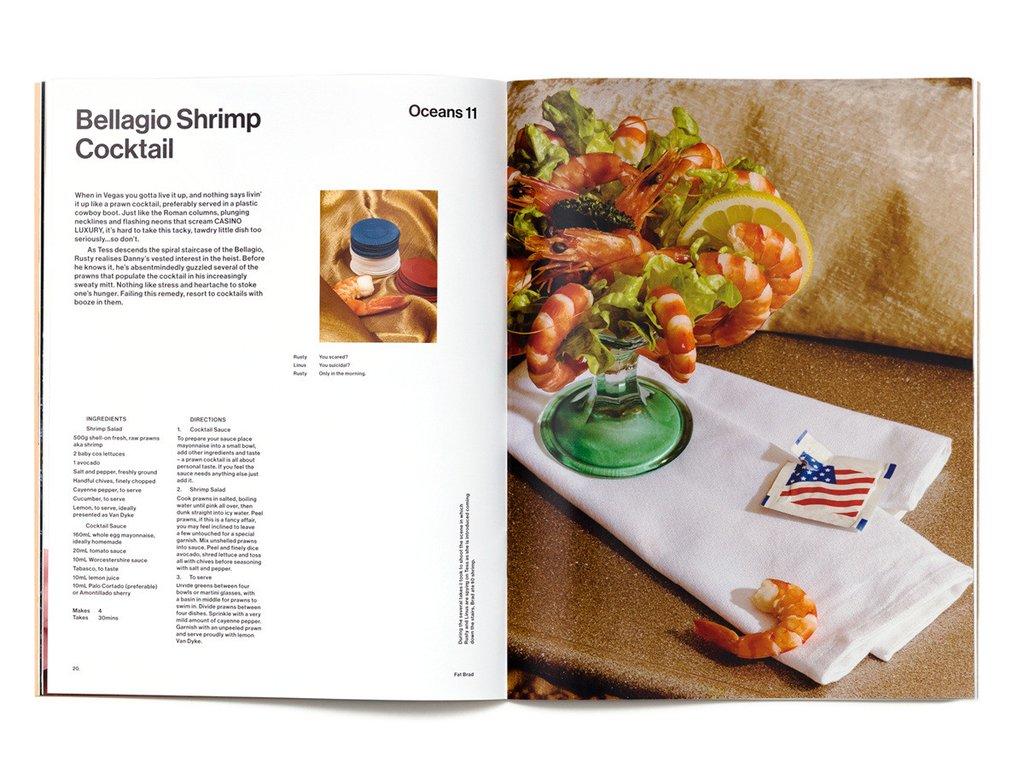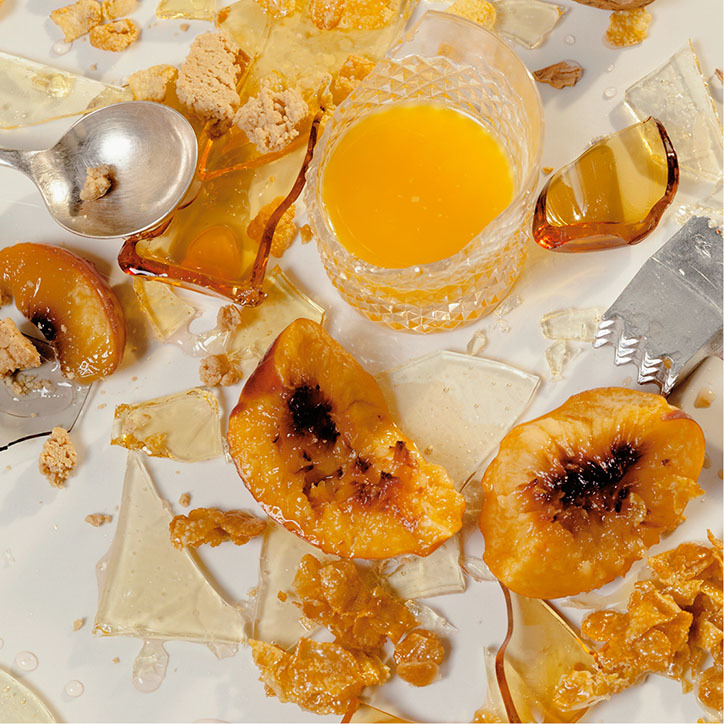 Recipe visuals for Mr. & Mrs Smith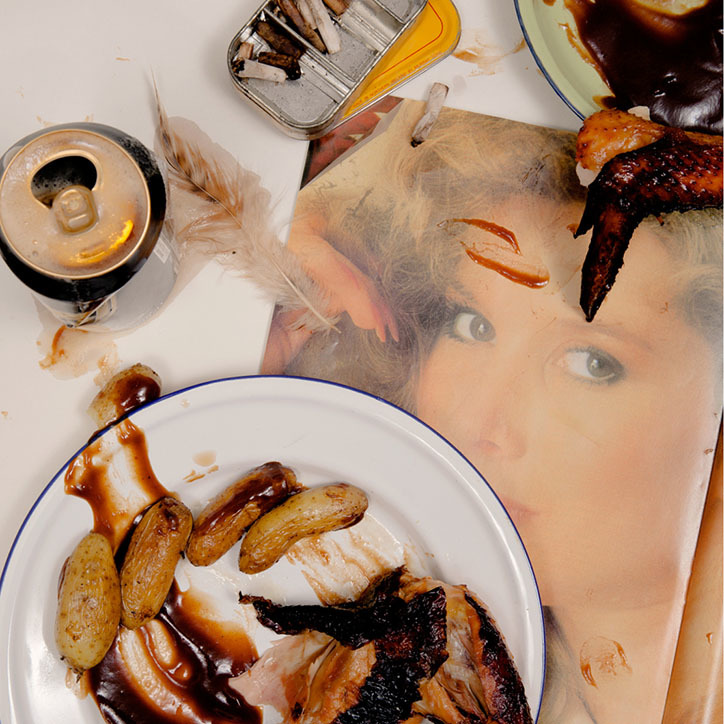 Recipe visuals for Snatch.
It's currently sold out.
7. "Grooviest Earrings Ever"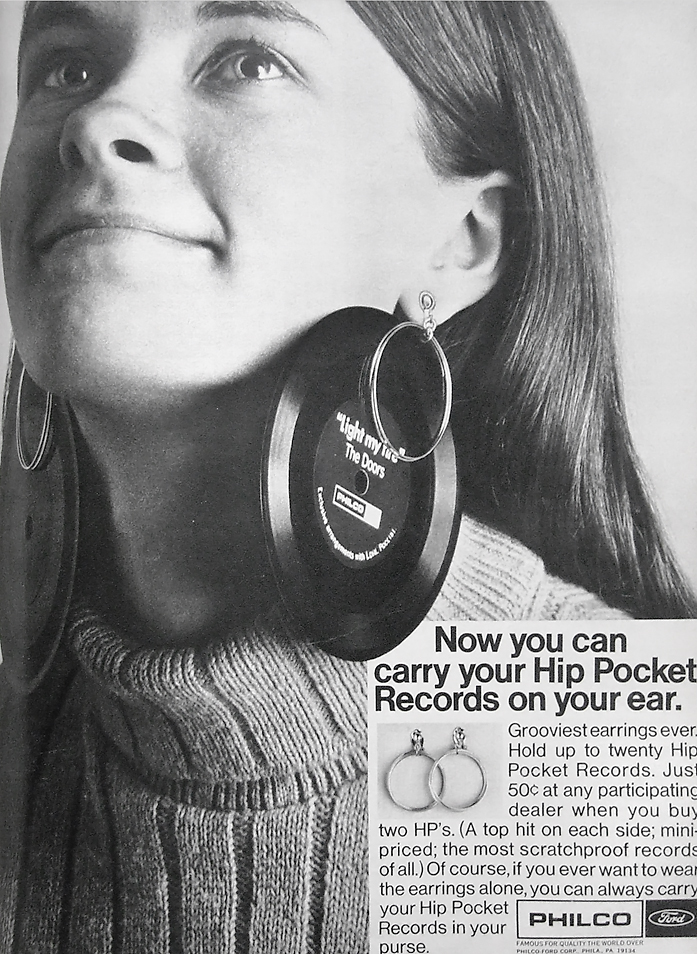 Found on Kitschatron.
8. A blog dedicated entirely to Japanese sweets in endless shapes & colours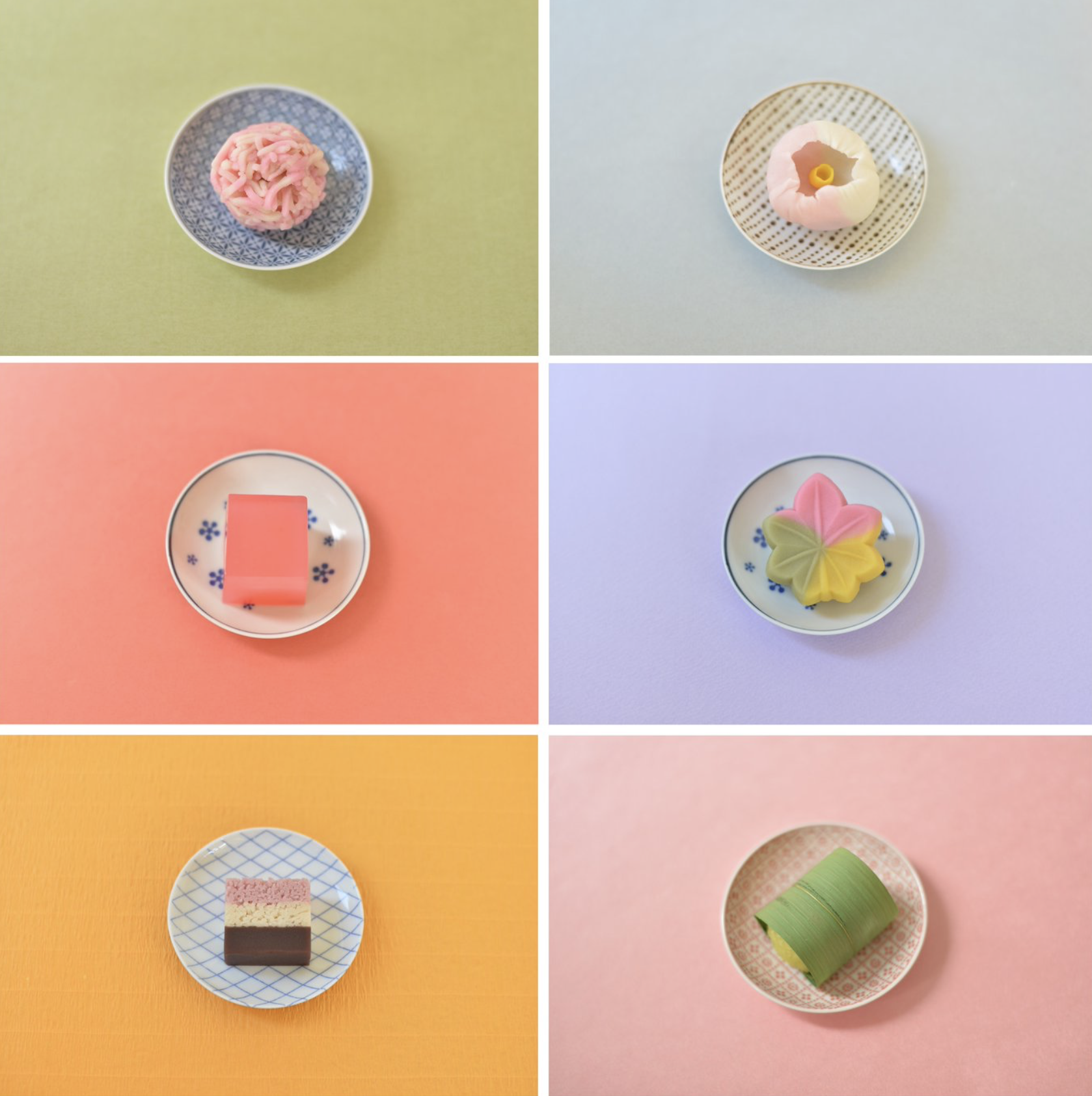 Discover it here.
9. Pop Art Rooms by Verner Panton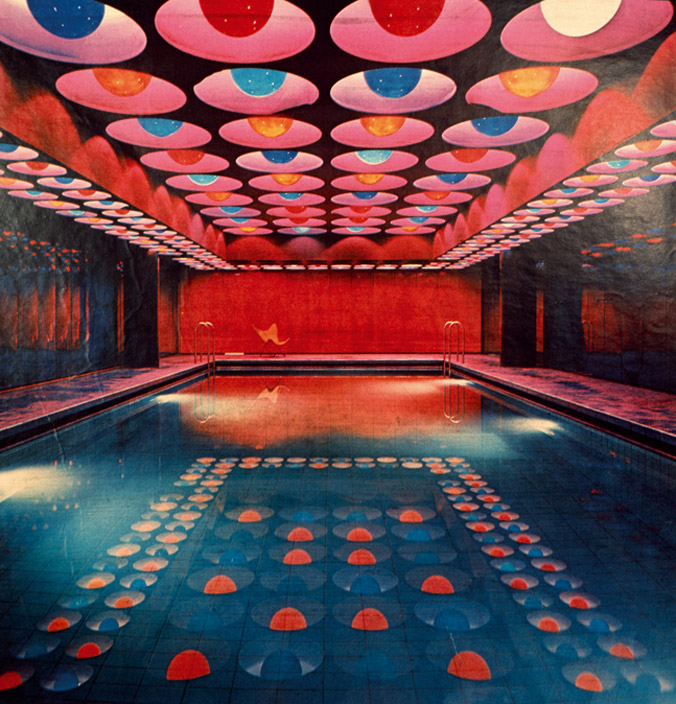 Hotel Astoria, Norway 1960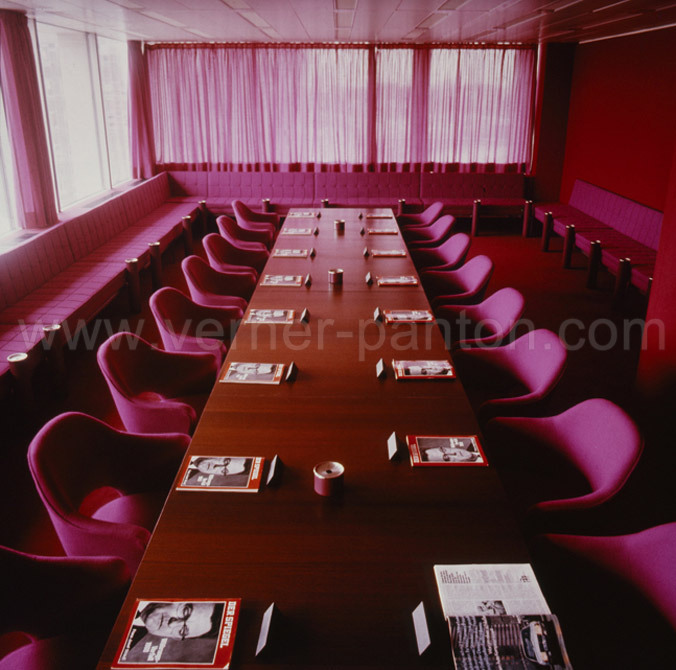 Offices of Der Spiegel in Hamburg.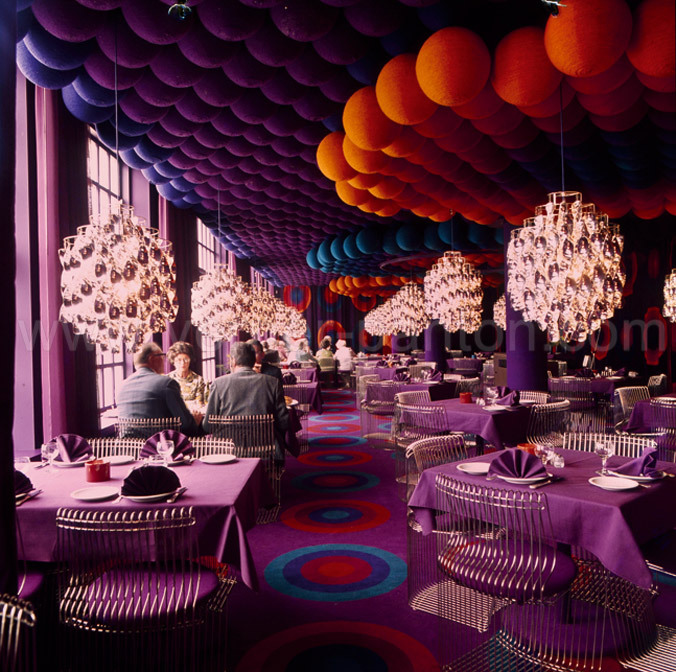 Varna restaurant, Arhus DK, 1971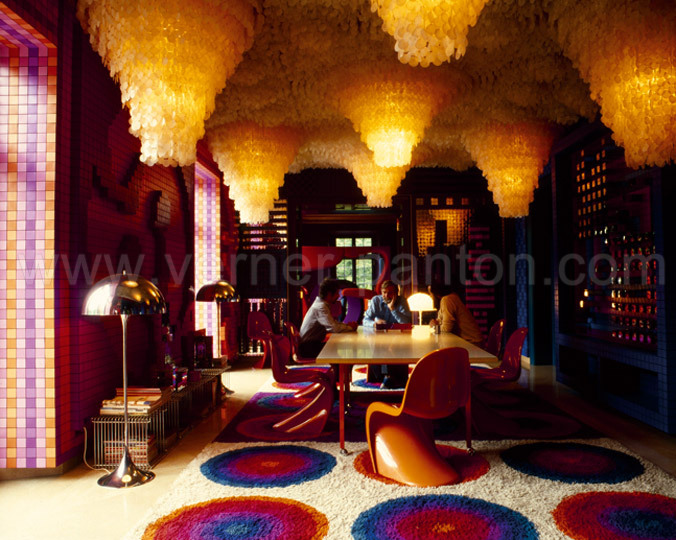 Private House at Binningen, 1972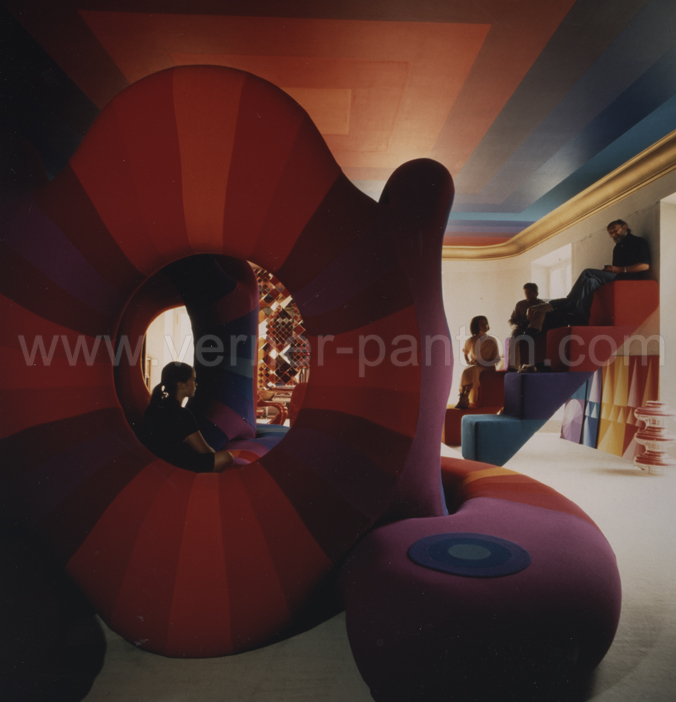 Private House at Binningen, 1972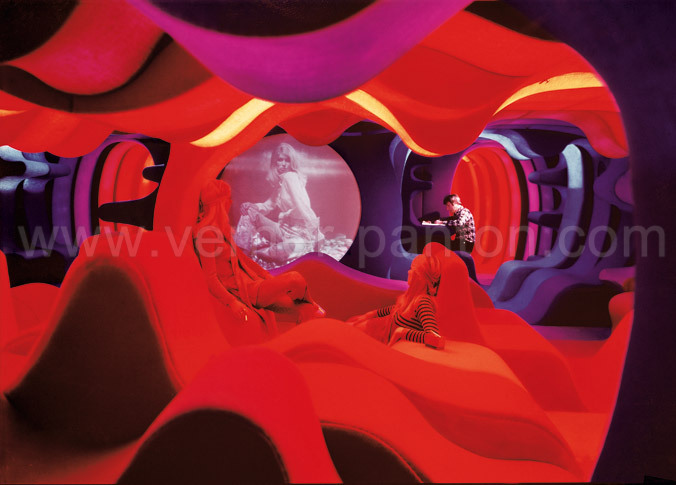 The 1970 'Visona 2' pleasure boat exhibition.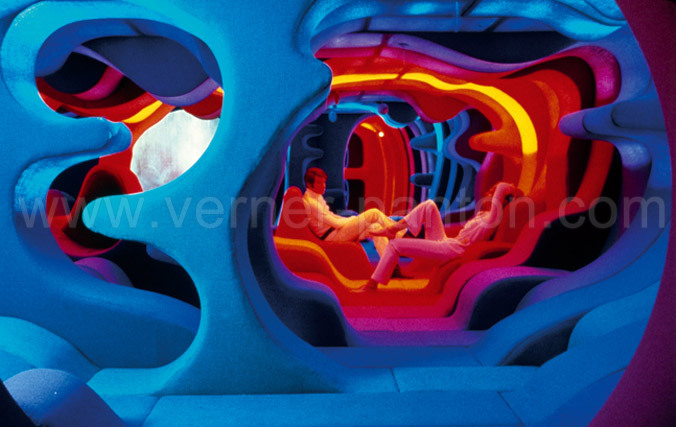 Seriously, check out Verner Panton's online museum.
10. Pakistani hippies rolling up a joint in Karachi, 1973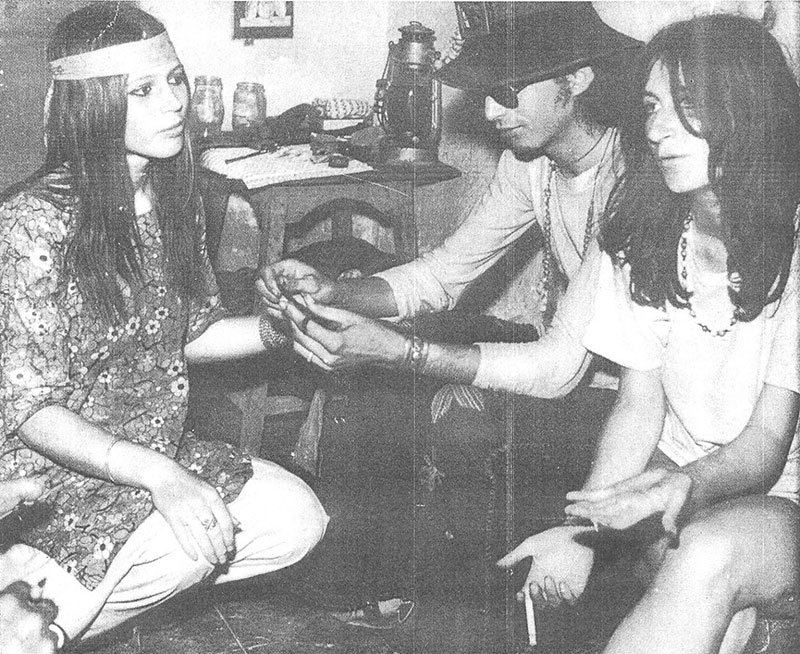 Found on Reddit, Old School Cool.
11. Gas-Powered Car Shoes, 1951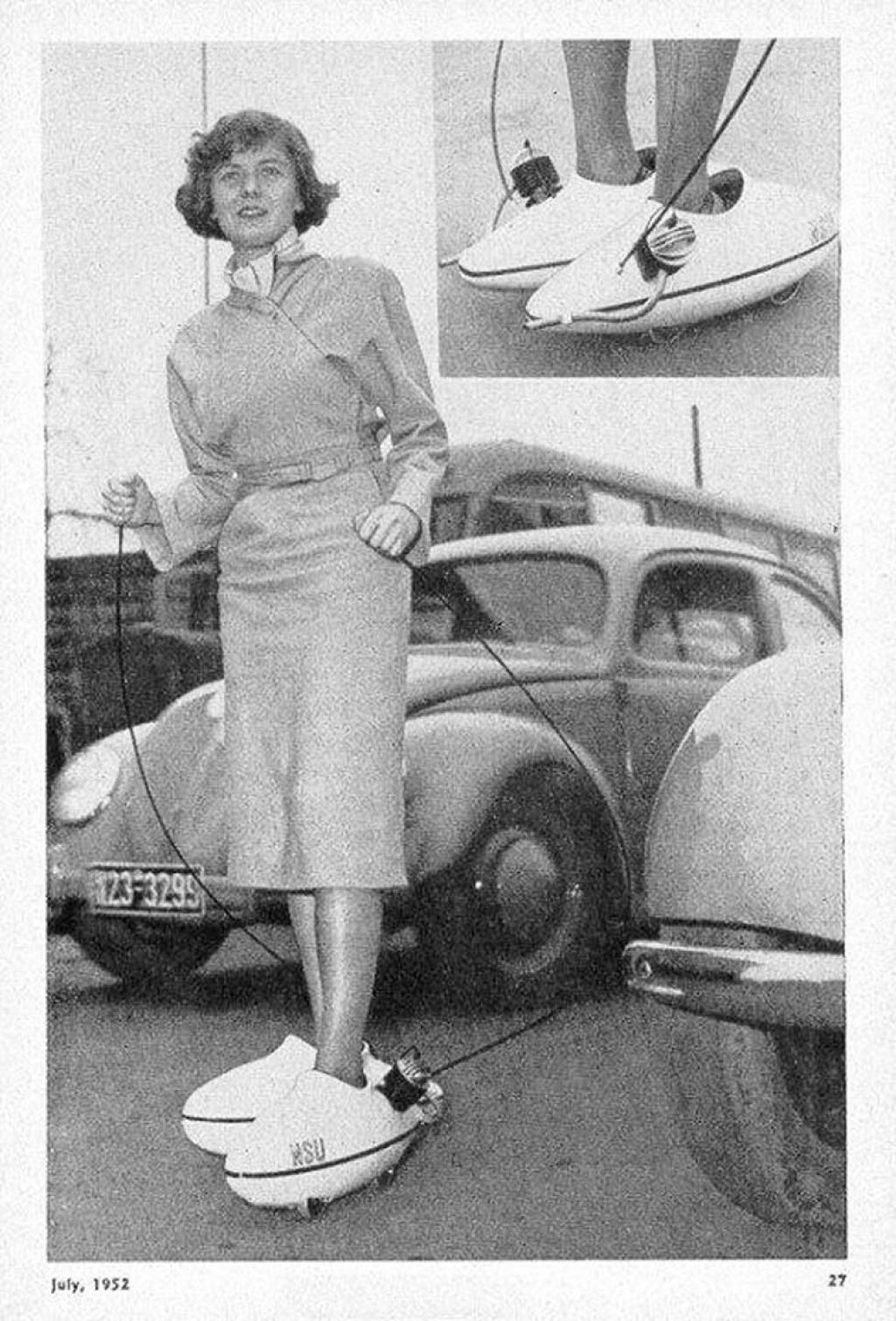 Lady is holding the throttle cables. Found via here. 
12.  The 1949, the Kurtis Sports Car, one of 36 produced

Found on Motor Trend
13. This House is a Masterpiece