1. Shoppers and their Outfits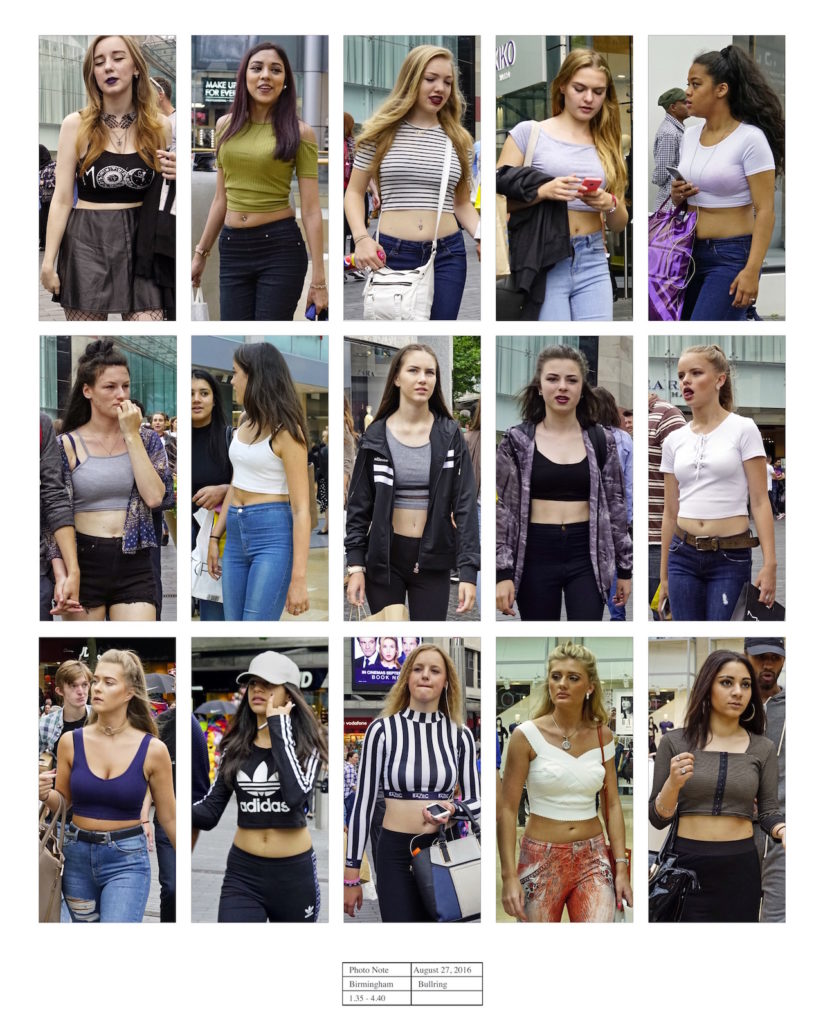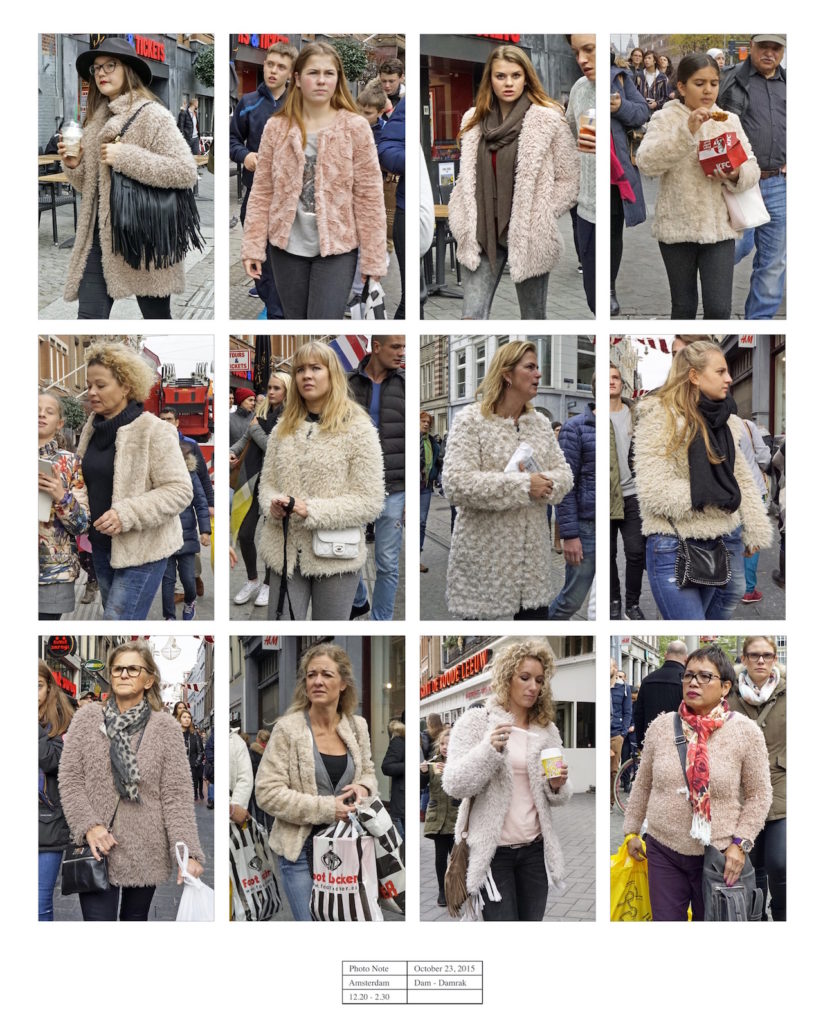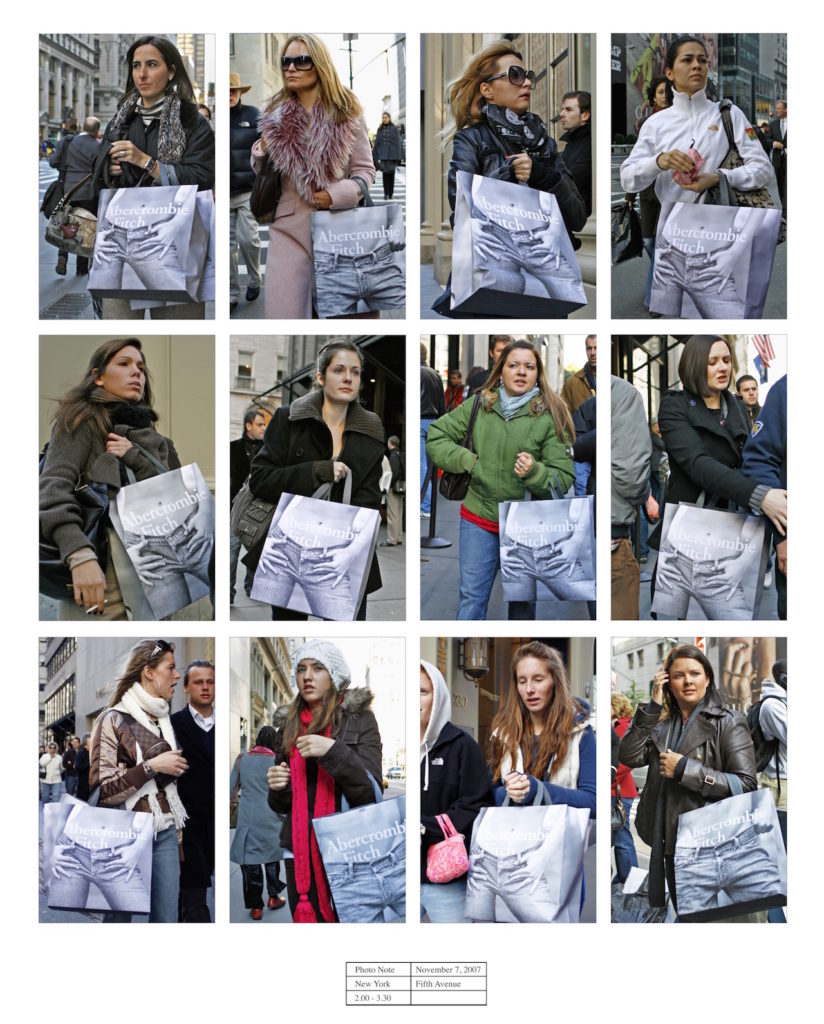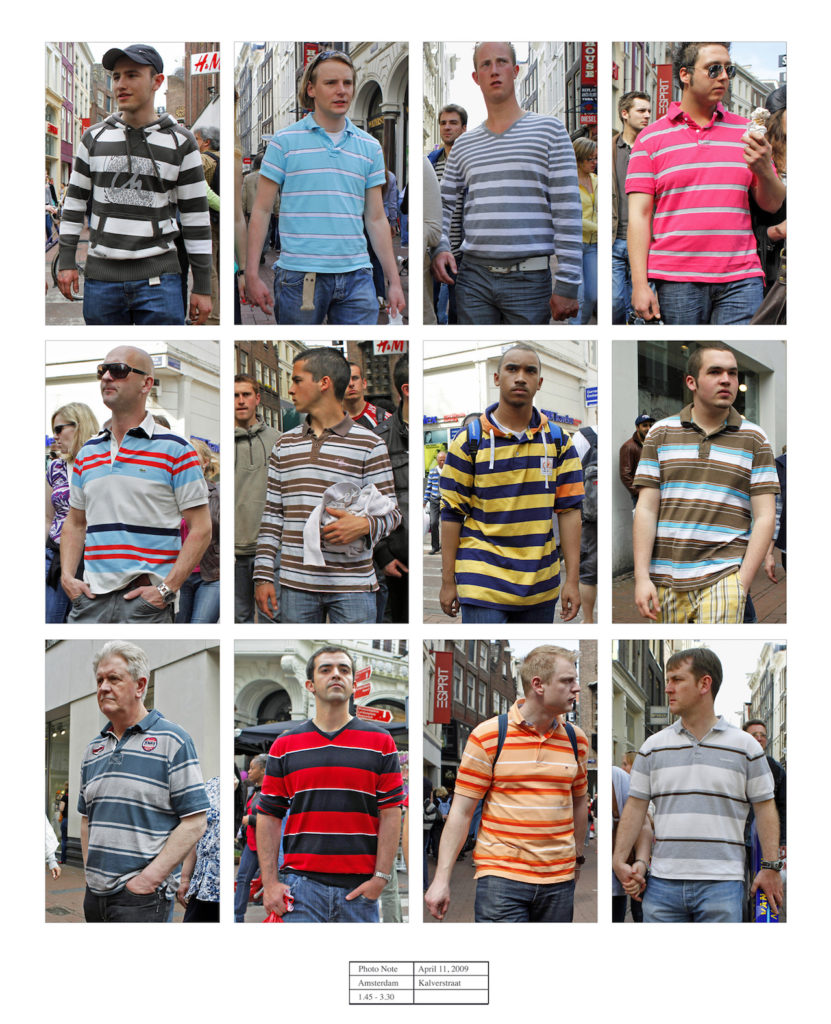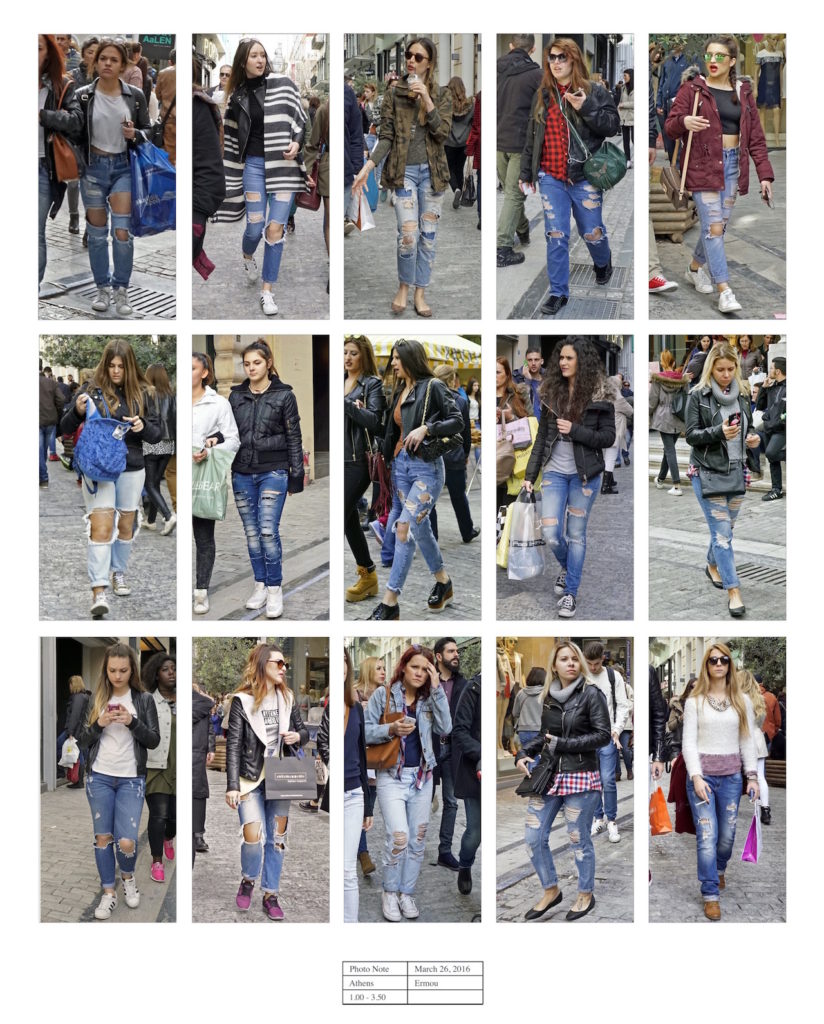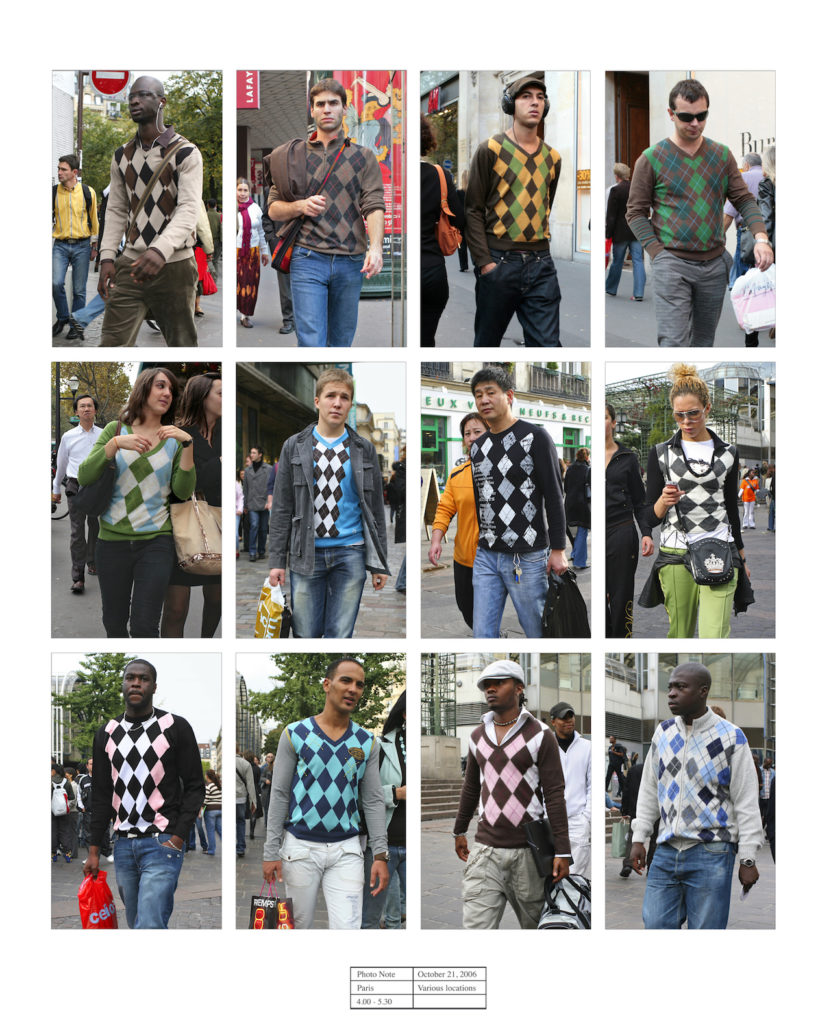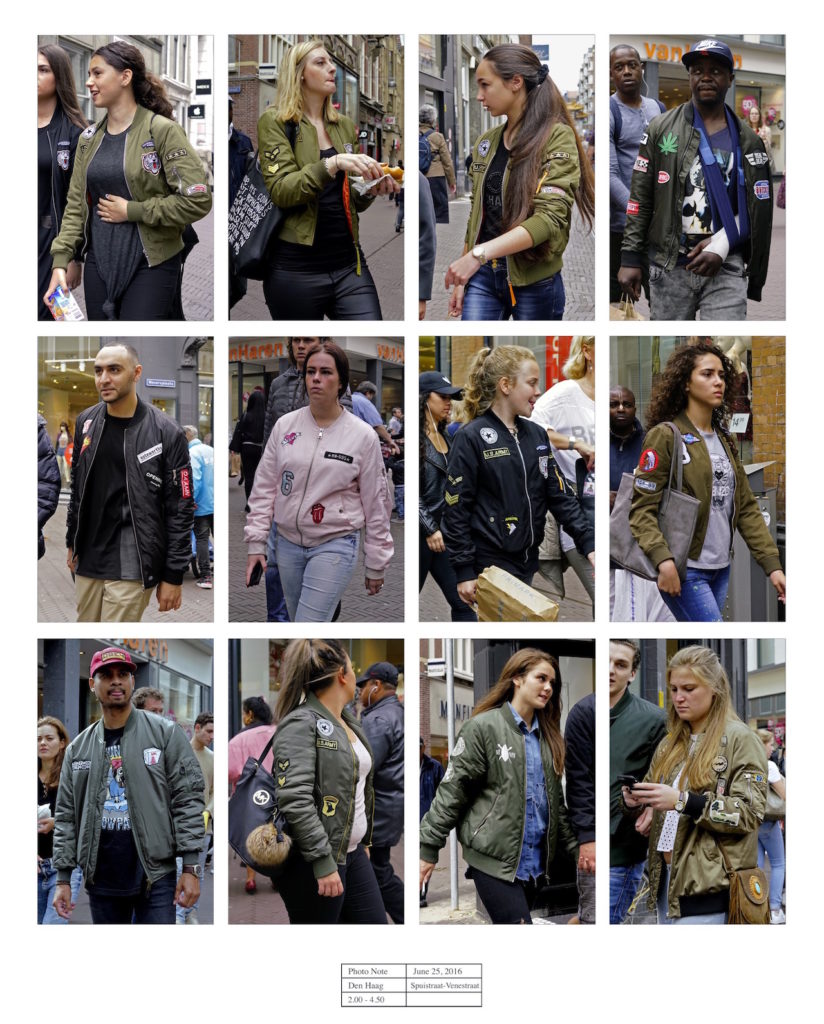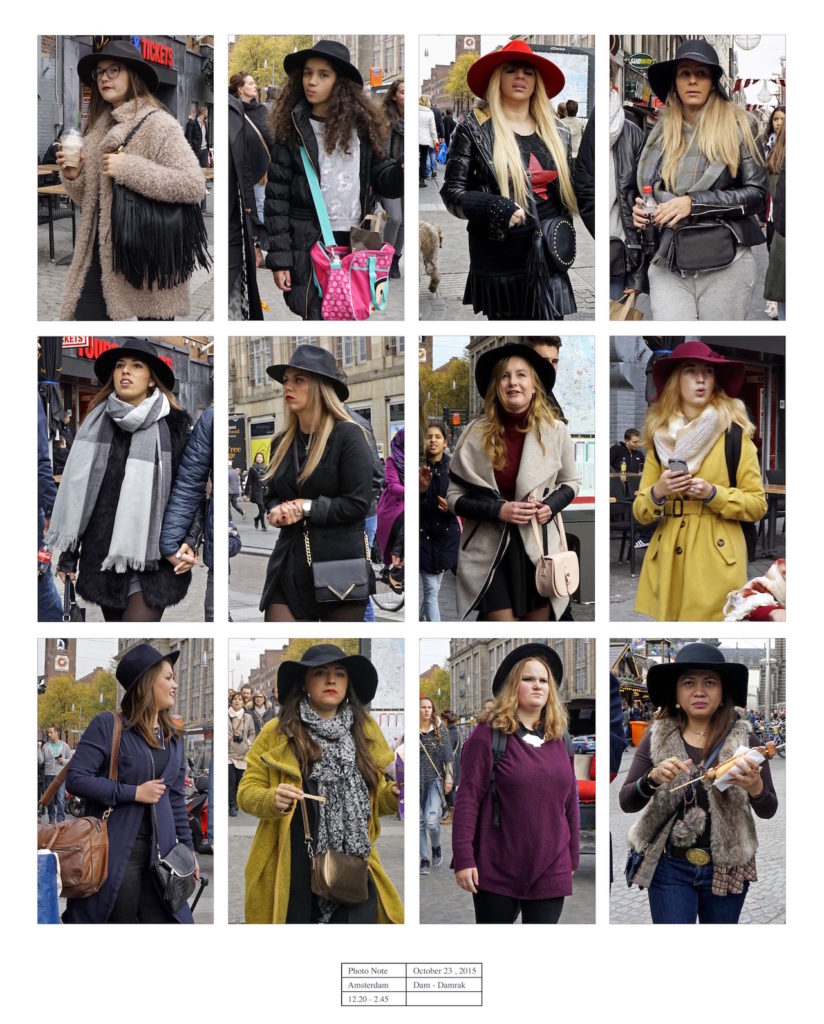 Hans Eijkelboom's work makes you think twice about ever following a trend ever again.
Found on the British Journal of Photography.
2. This Forgotten Brazilian Magazine, first published in 1917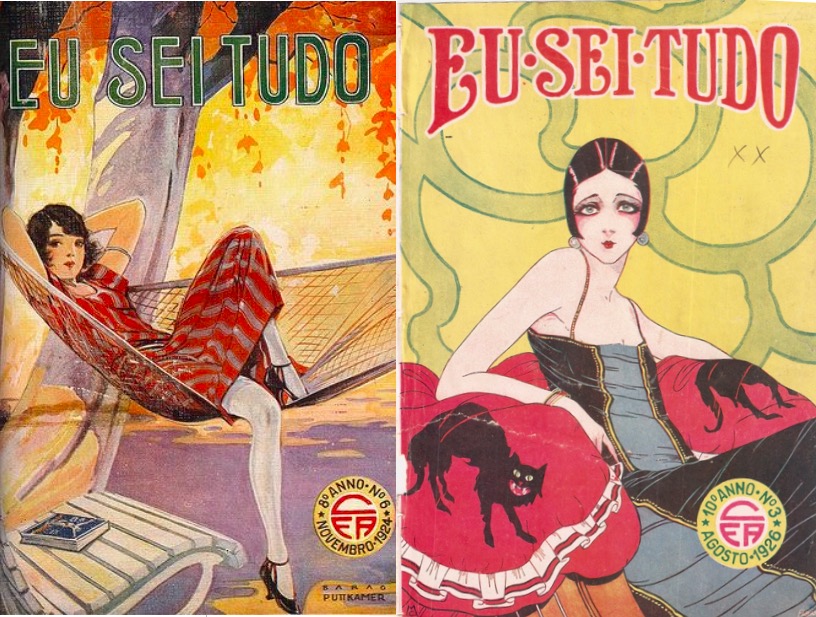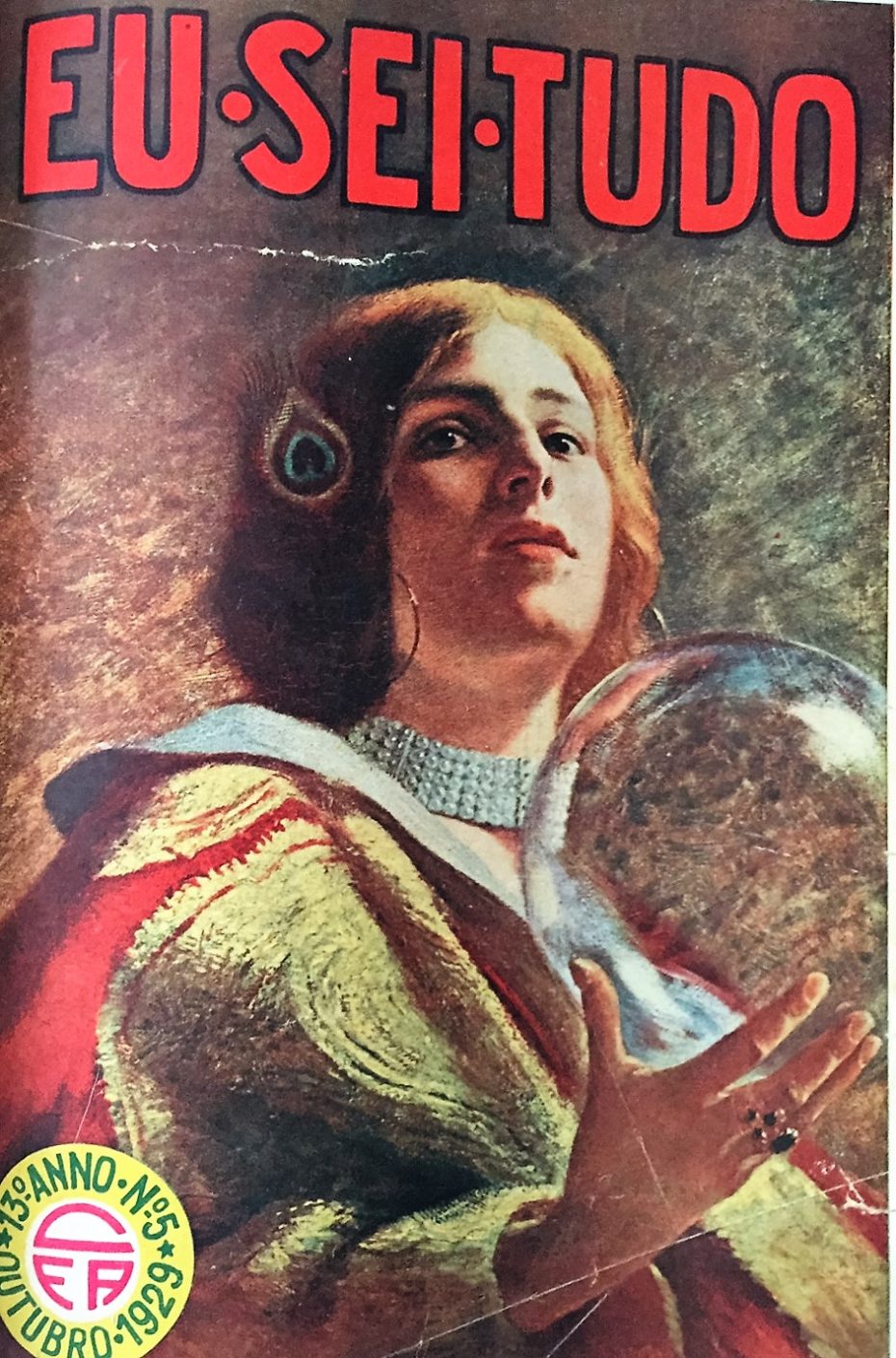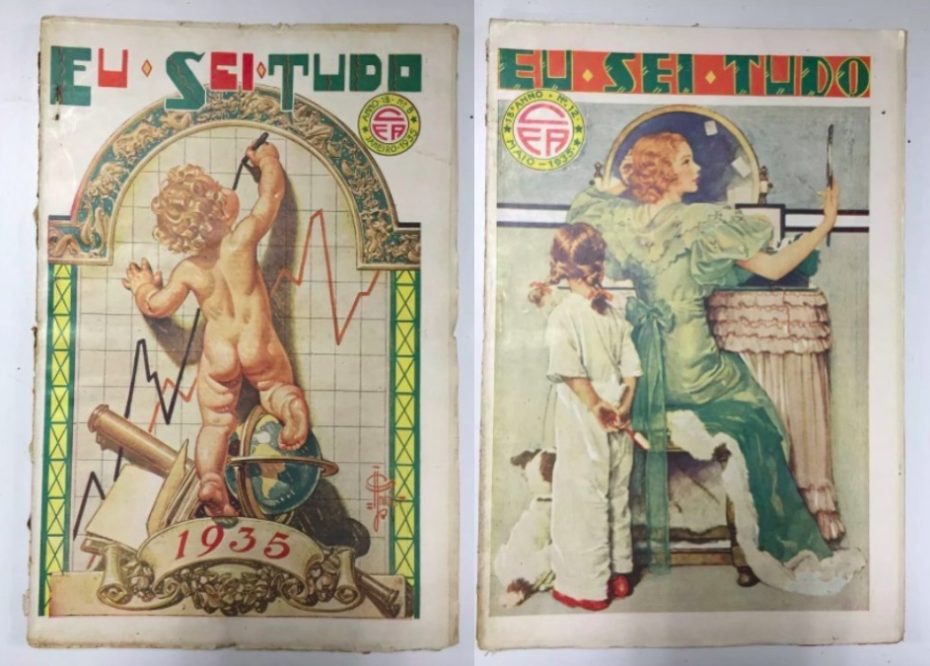 "Ei Sei Tudo" (I know everything) was an illustrated monthly magazine released in Rio de Janeiro, June, 1917.
Despite appearances, in its early days of publication "there was no lack of predictions and scientific hypotheses for the technological future and destiny of mankind – including the end of the world, the possibility of journeys to the Moon (October 1943 edition), the melting of the polar caps (February 1950) and the possibility of the existence of extraterrestrials (editions of the 1950s)."
More found on the Brazilian National Library.
3. A $2 Tintype found in an Antique Shop, now Valued at $5 Million
Turns out it's Billy the Kid's second known photo…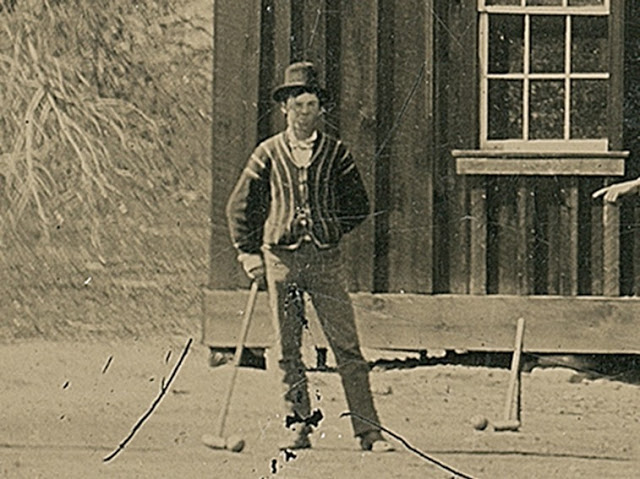 In a California memorabilia shop in 2010, collector Randy Guijarro bought this 4-by-5-inch tintype for just $2. After enlarging the image, he saw what looked to be a familiar figure—Billy the Kid—playing croquet with his gang known as The Regulator.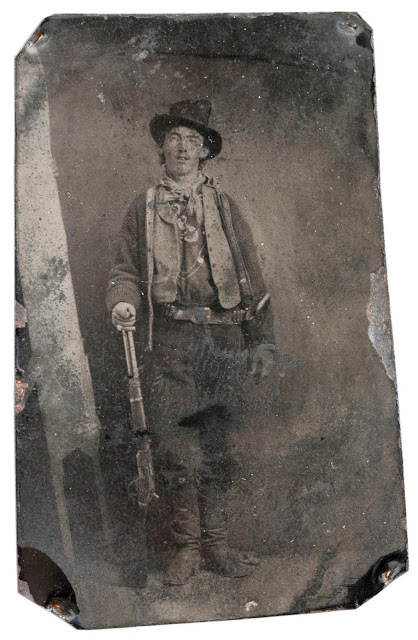 The only other confirmed photo of the outlaw synonymous with the Wild West, is a portrait of him posing with a gun taken in 1880, sold for $2.3 million to billionaire William Koch in 2011, making it one of the highest priced photos in history.
Another reason why we should all be spending more time at antique shops & flea markets.
Found on National Geographic.
4. "Weedhead, Tramp"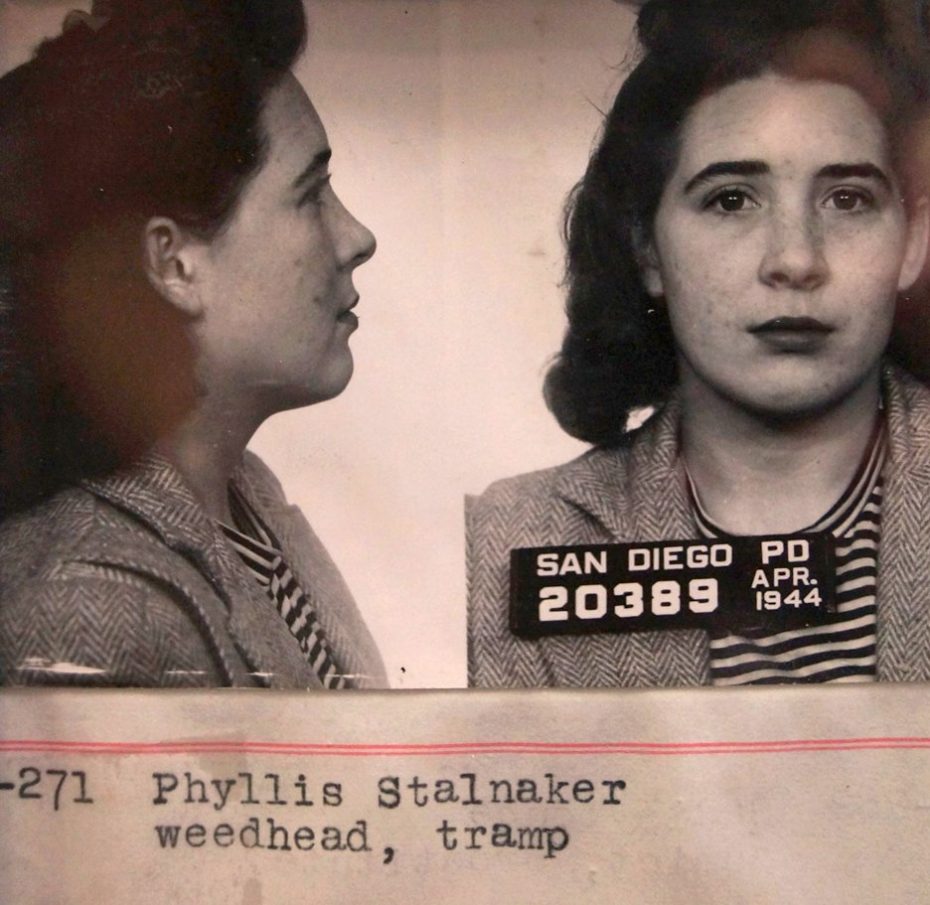 An actual booking photo from the San Diego Police Department in 1944.
Found here.
5. How to Walk Out of the Louvre With a Masterpiece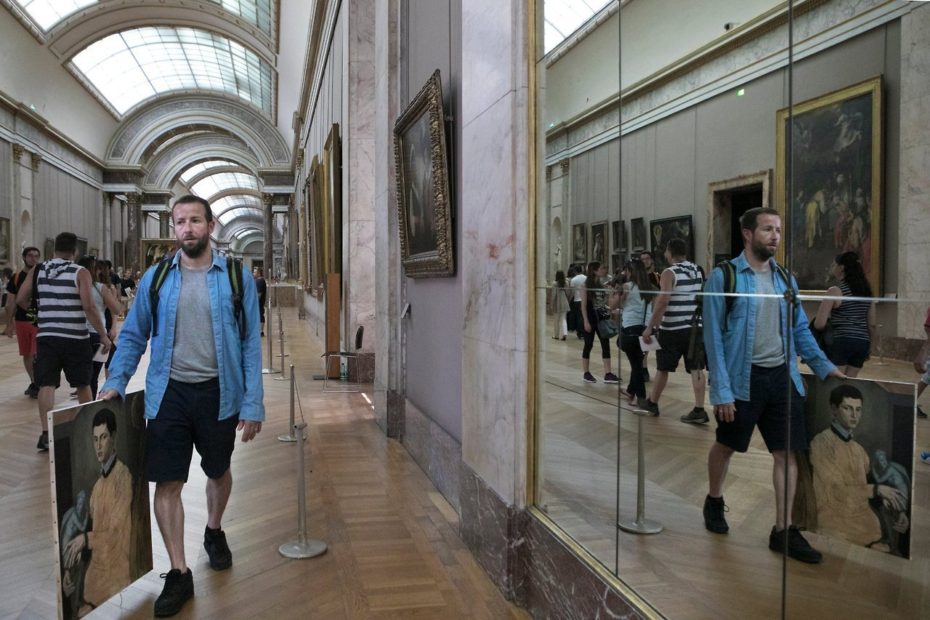 Louvre copyists, upholders of what Ivan Guilbert, a Parisian photojournalist, calls "a beautiful tradition" that dates to the French Revolution.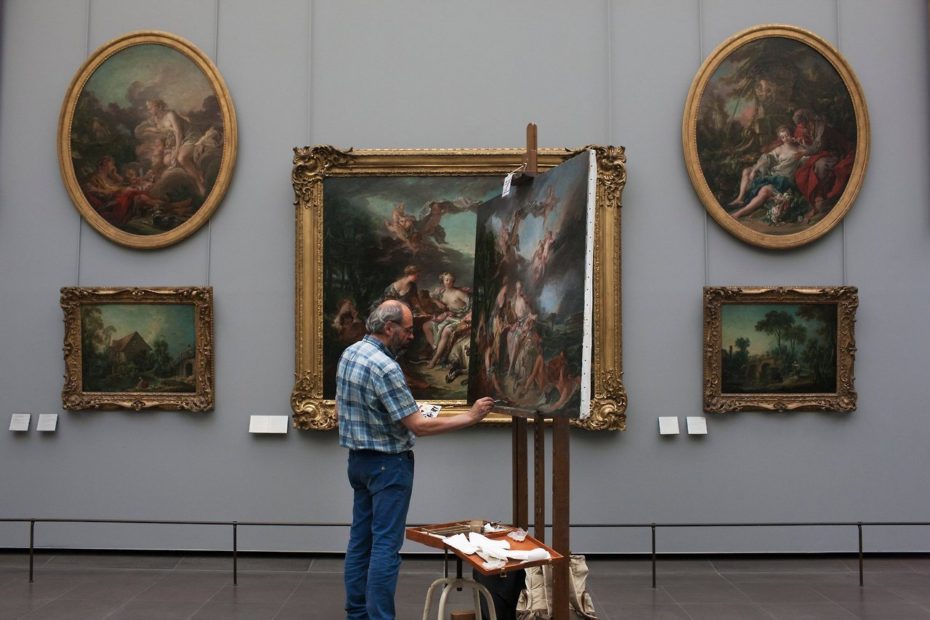 …One month after Marie Antoinette was beheaded, the revolutionary national assembly declared the Louvre Palace … open to the public…
Any professional, amateur or aspiring painter was invited to enter the museum, set up an easel … and have a go at copying a masterpiece… Among them … Paul Cézanne, Edgar Degas, Marc Chagall, Pablo Picasso and Salvador Dalí.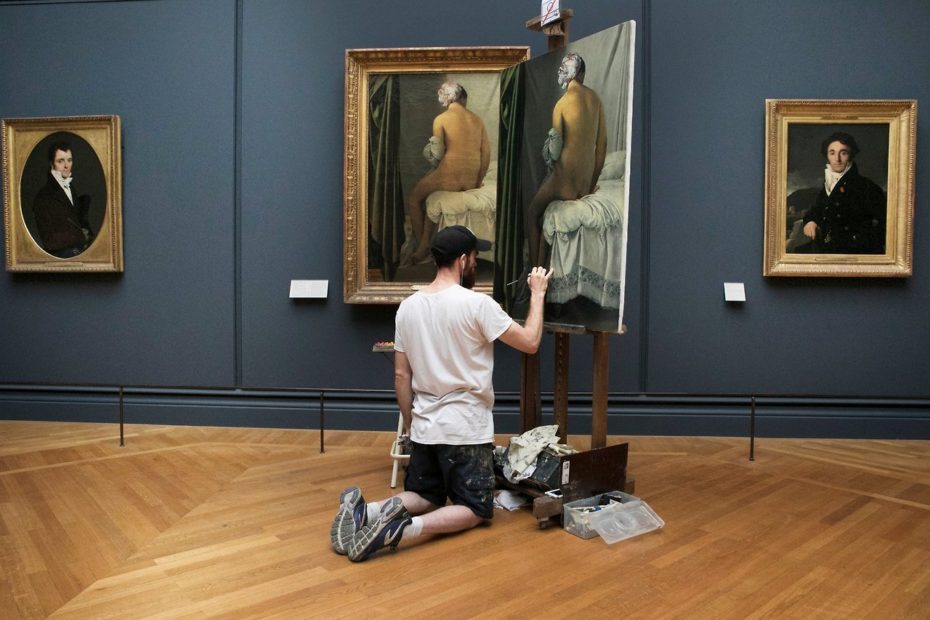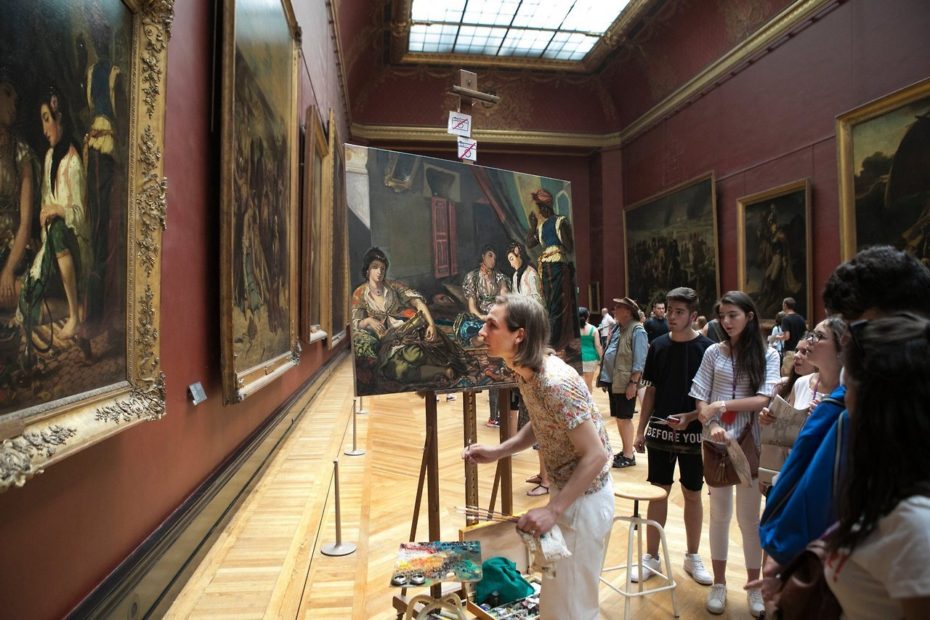 "It's like a free school," says Mr. Guilbert.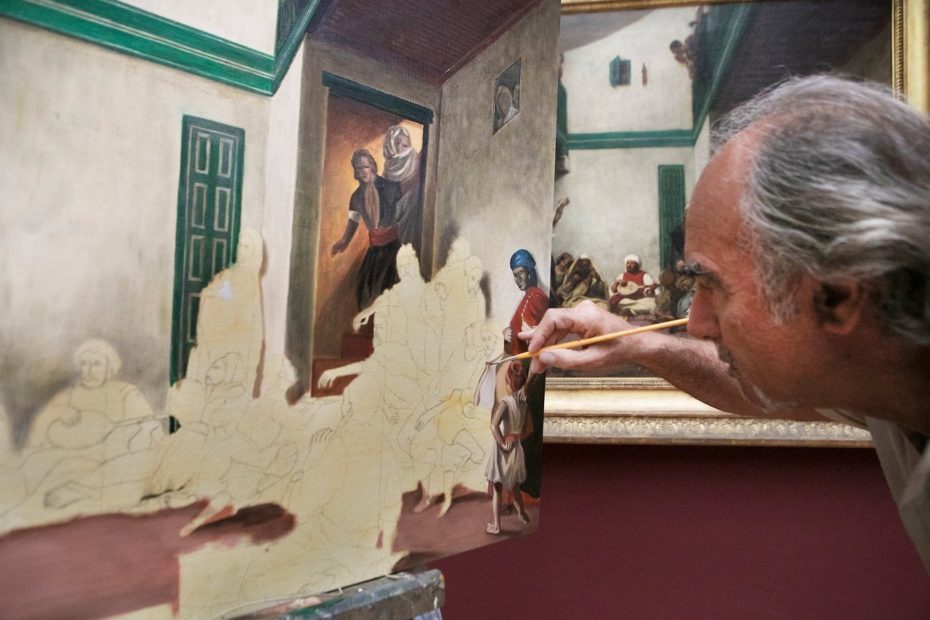 Though the Louvre, unlike other leading museums, does not charge copyists for the privilege, applicants can wait up to two years for one of the 250 permits the museum issues annually. Valid for three months, it allows them to work in the museum's galleries from 9:30 a.m. to 1:30 p.m. most days, except Sundays and holidays, from September through June.
Full article on the New York Times, photographs of the copyists by Ivan Guilbert.
6. The Non-sensical Book Paintings of Anna Hoyle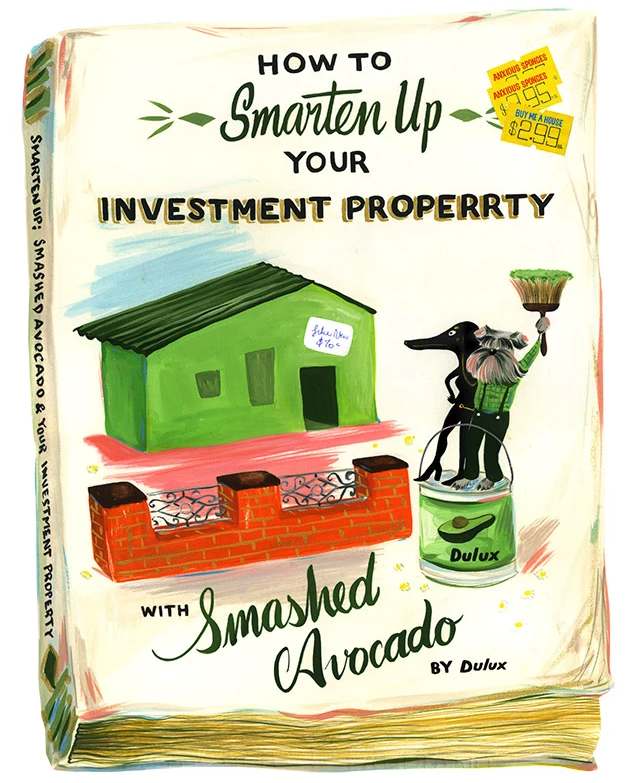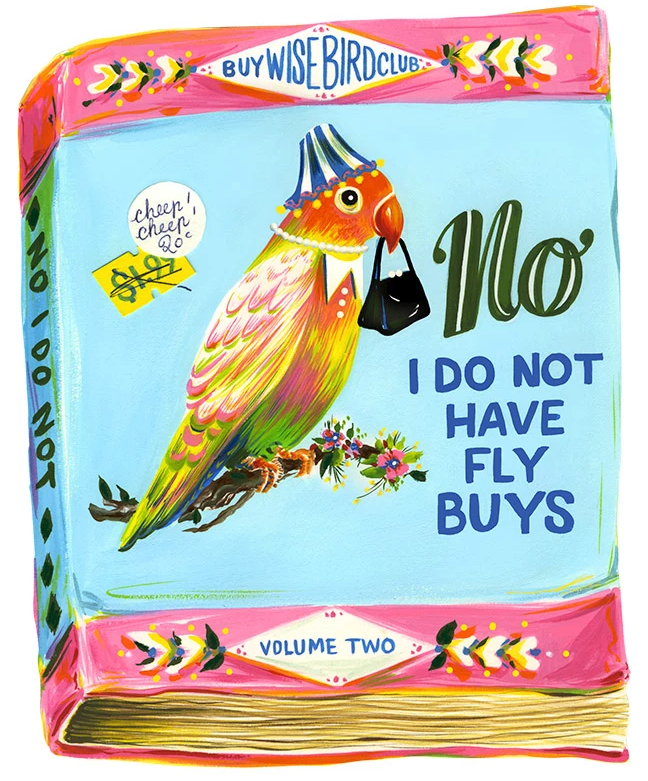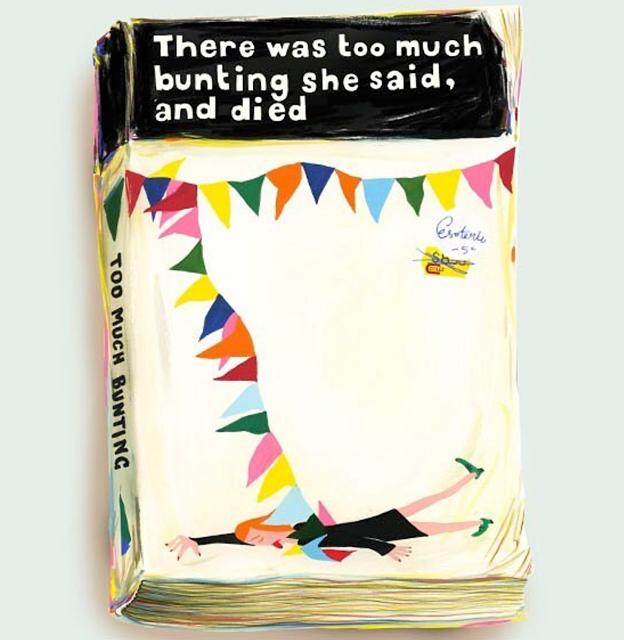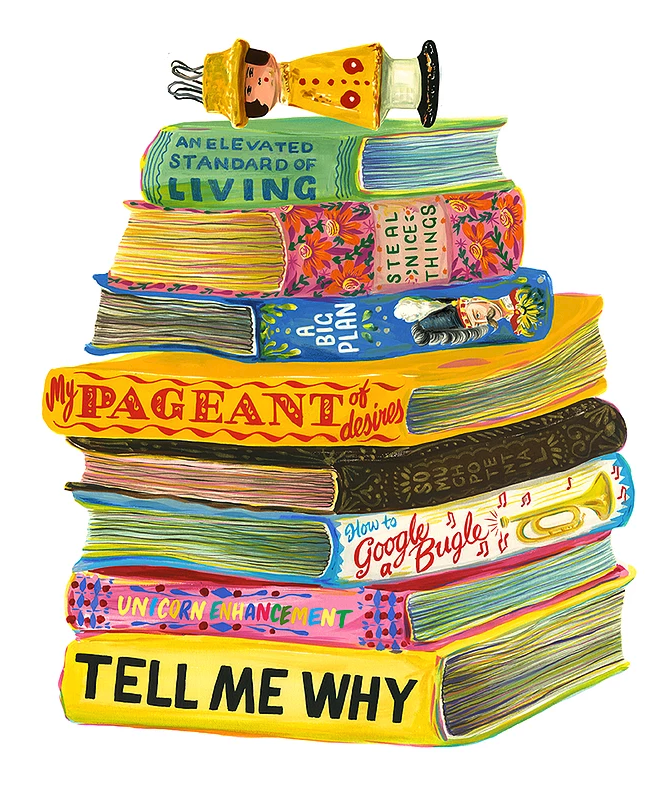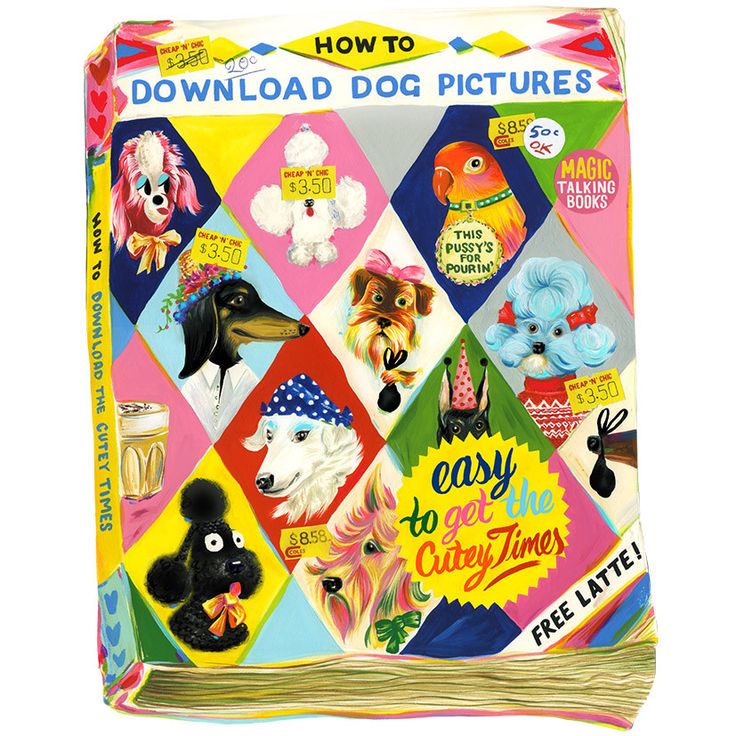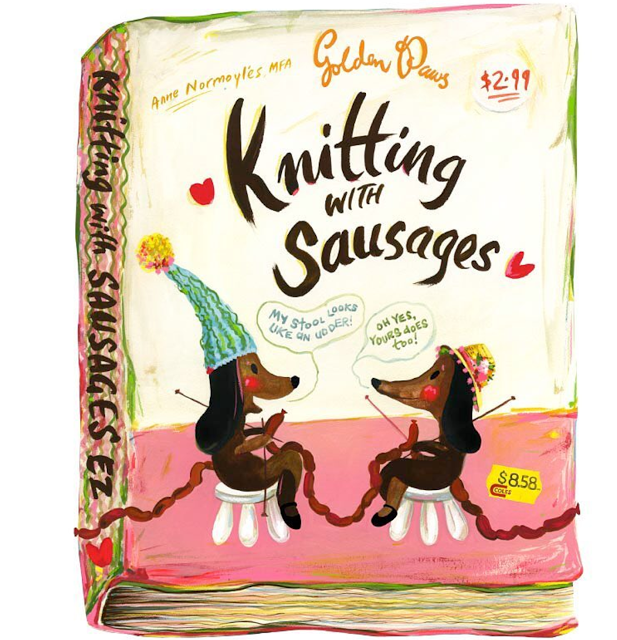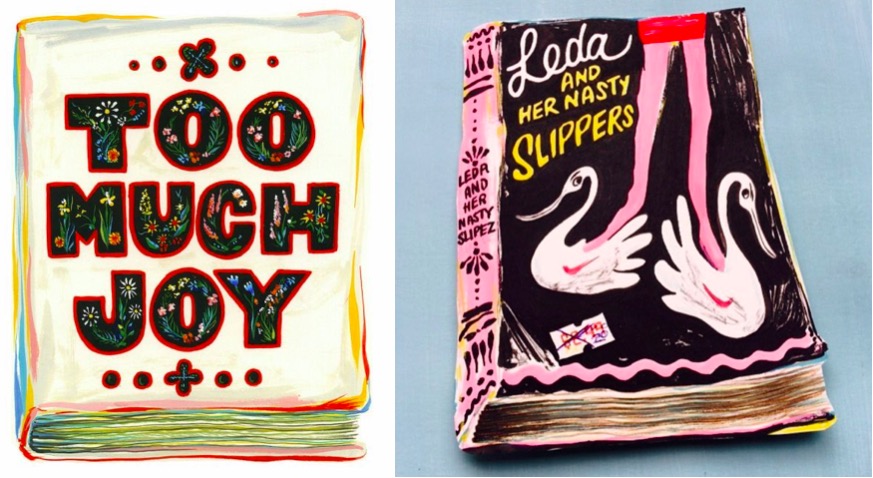 You can buy them as cards & wrapping paper on Etsy or purchase a print from her website.
7. The State Law Library in Des Moines, Iowa
8. Karen Knoor's Animals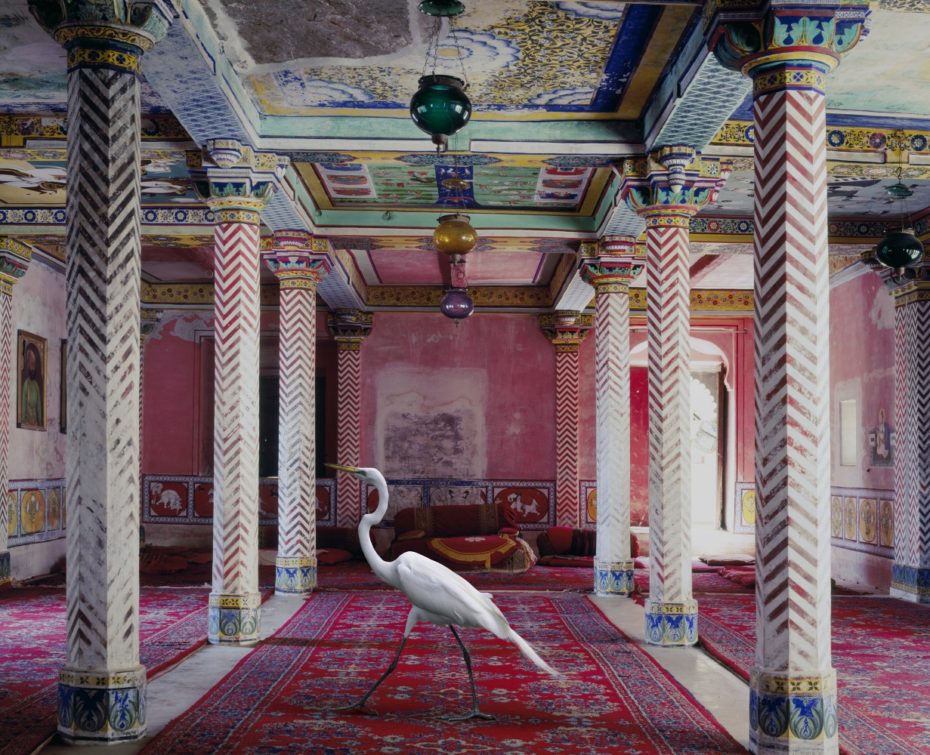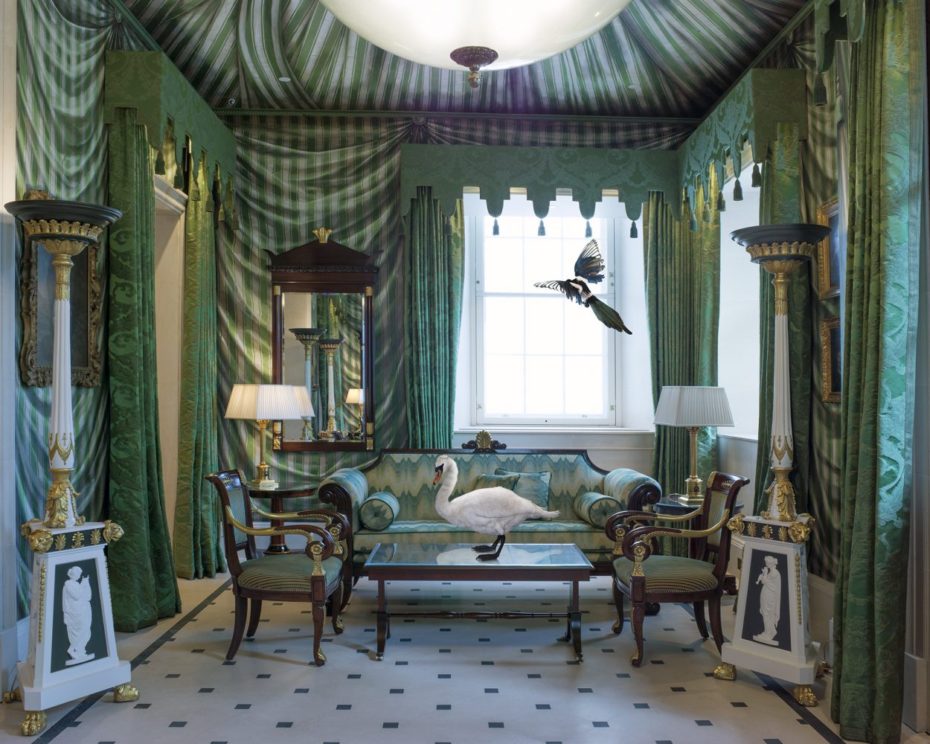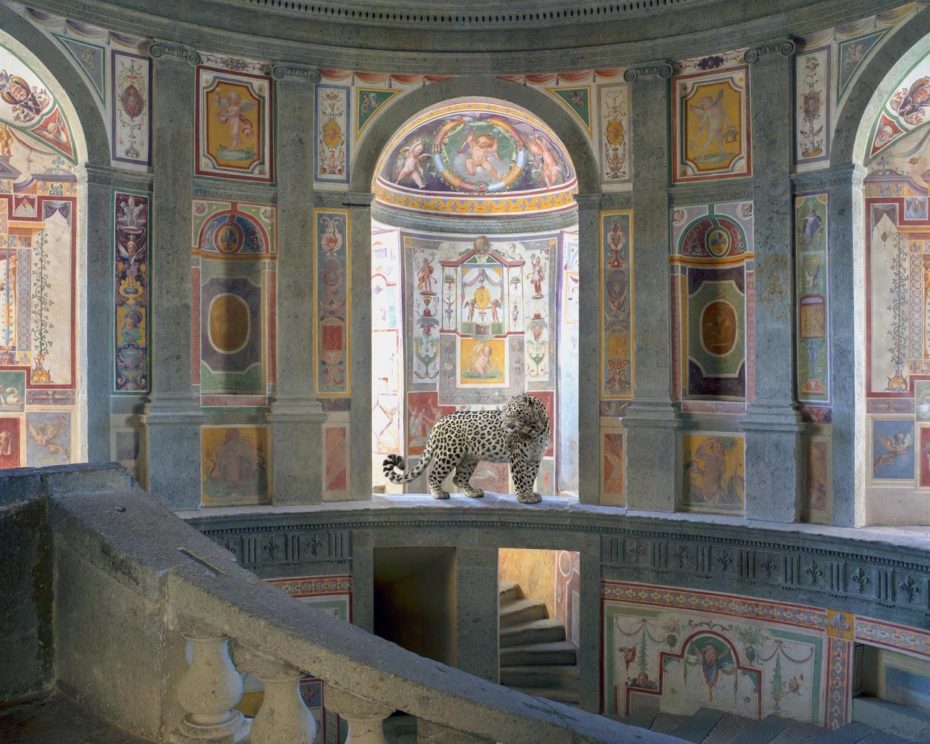 Her website is here.
9. Not sure what this is, but it's highly satisfying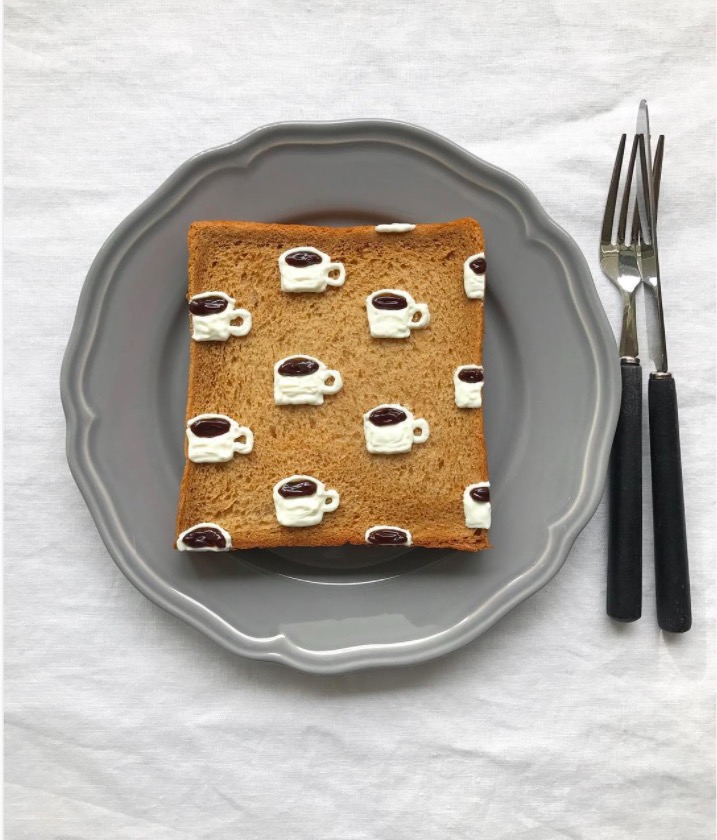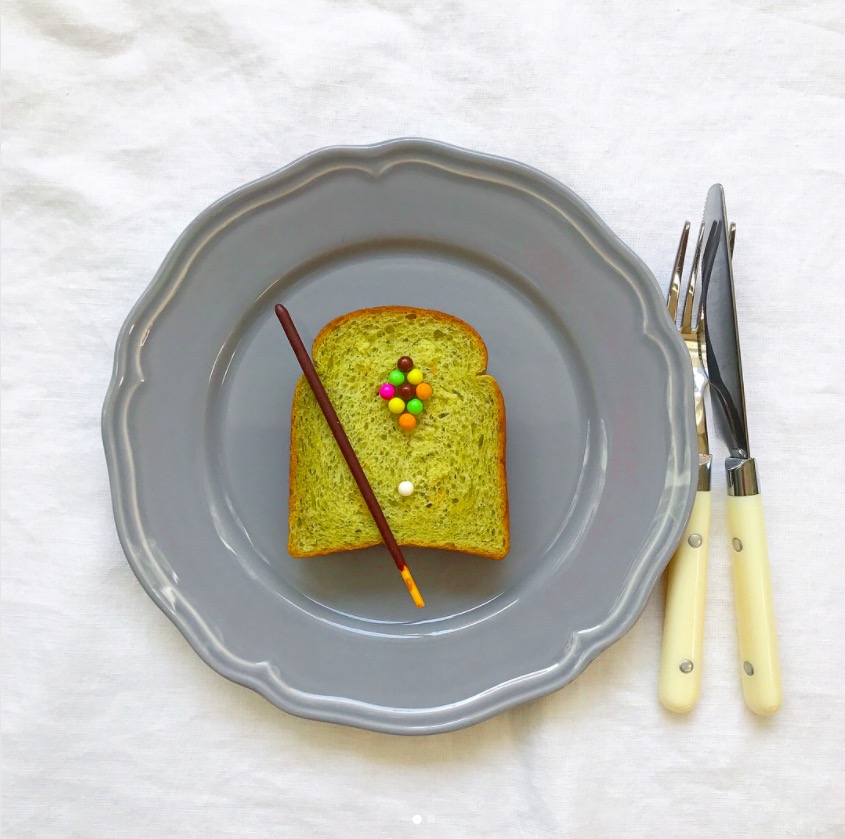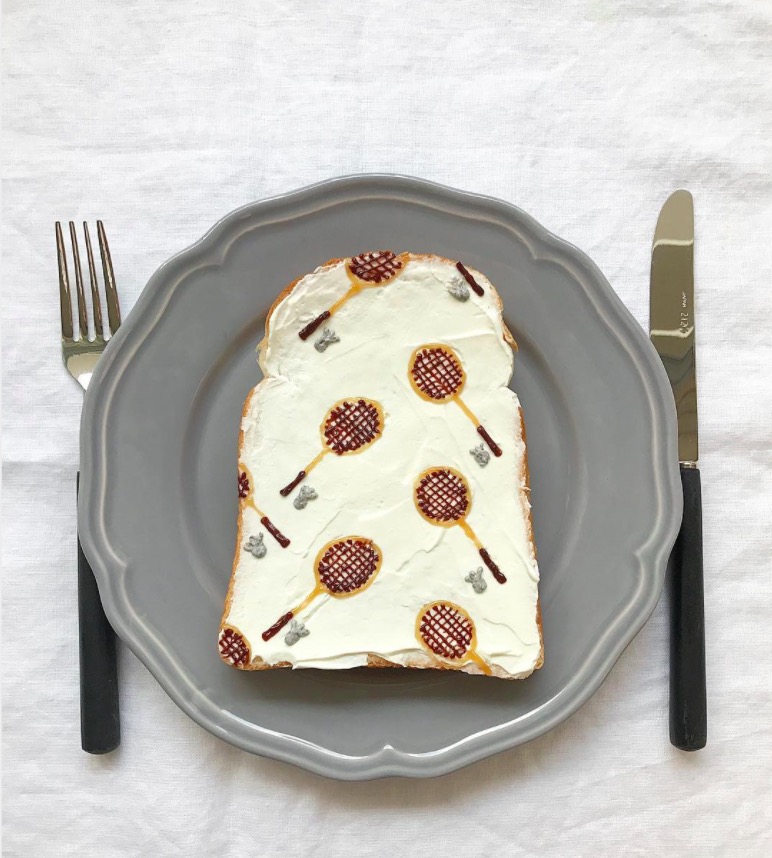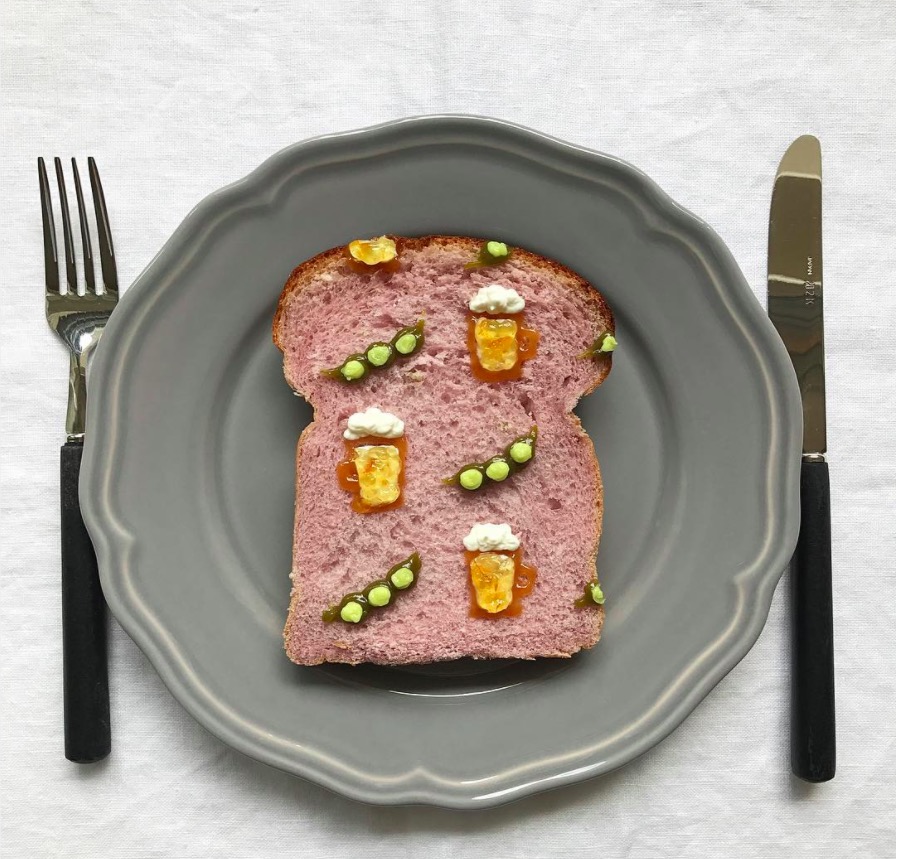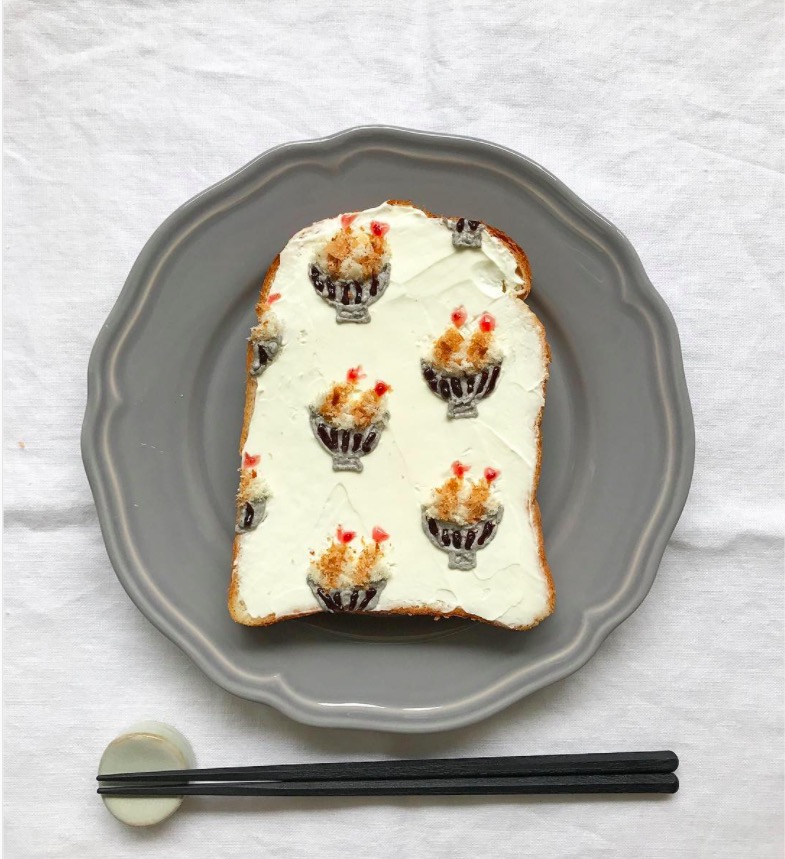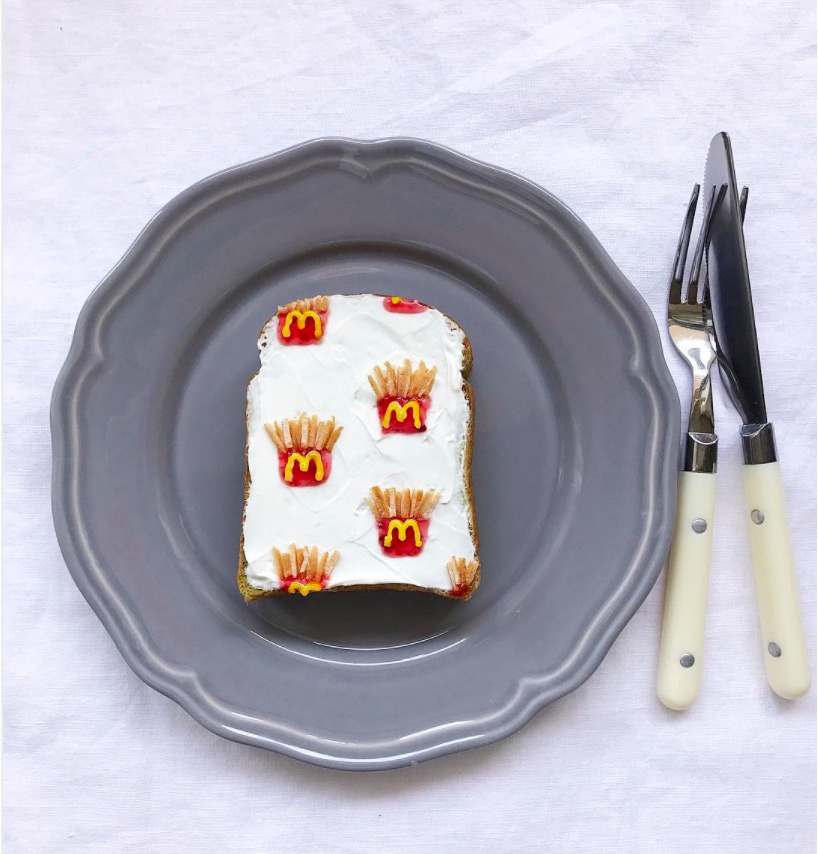 Apparently it's call toast art, by Japanese artist Eiko Mori, who shares all her works on Instagram.
10. "Kodak Shirleys" that set Photography's Skin-Tone Standard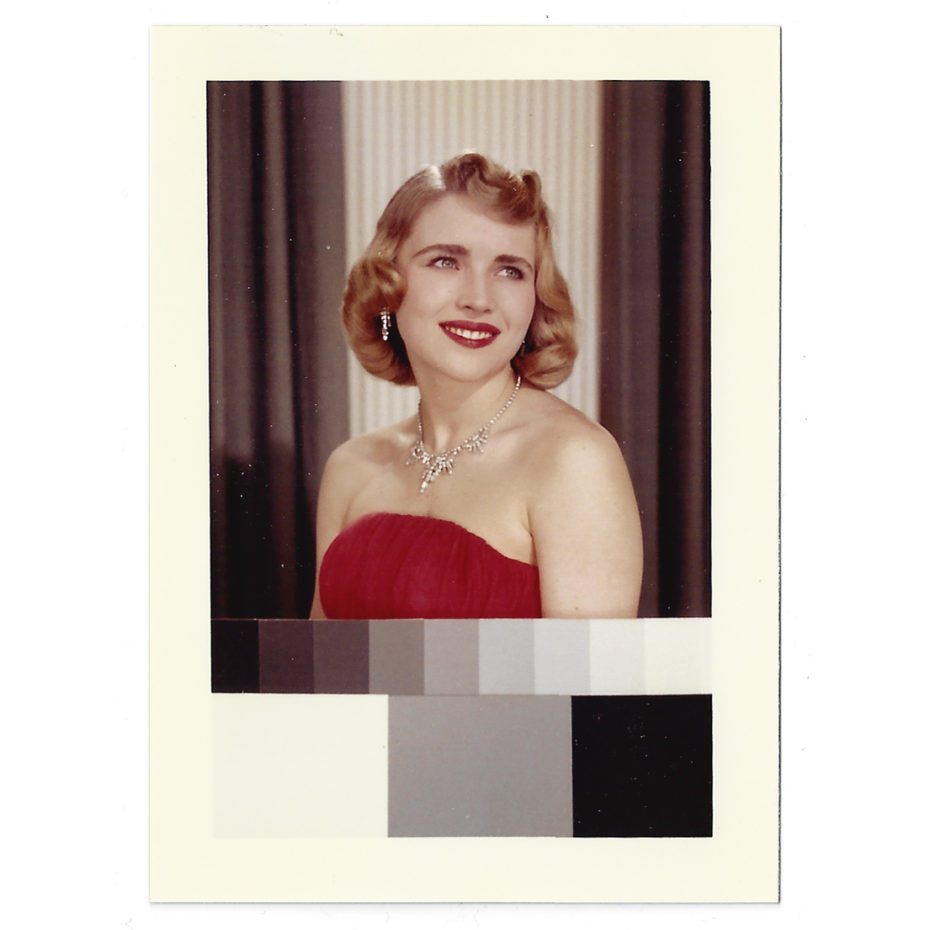 Shirley cards go back to the mid-1950s, a time when Kodak sold almost all of the color film used in the U.S. They were color reference cards used by photo labs to correctly print skin tones based on Kodak standards, originally featuring Shirley Page, who worked as a studio model for Kodak's new products.
"They would take hundreds of pictures. And, of course, she had to have her eyes open and be smiling…It was days in the studio, and sometimes we'd have to take a day off to give the model an eye rest."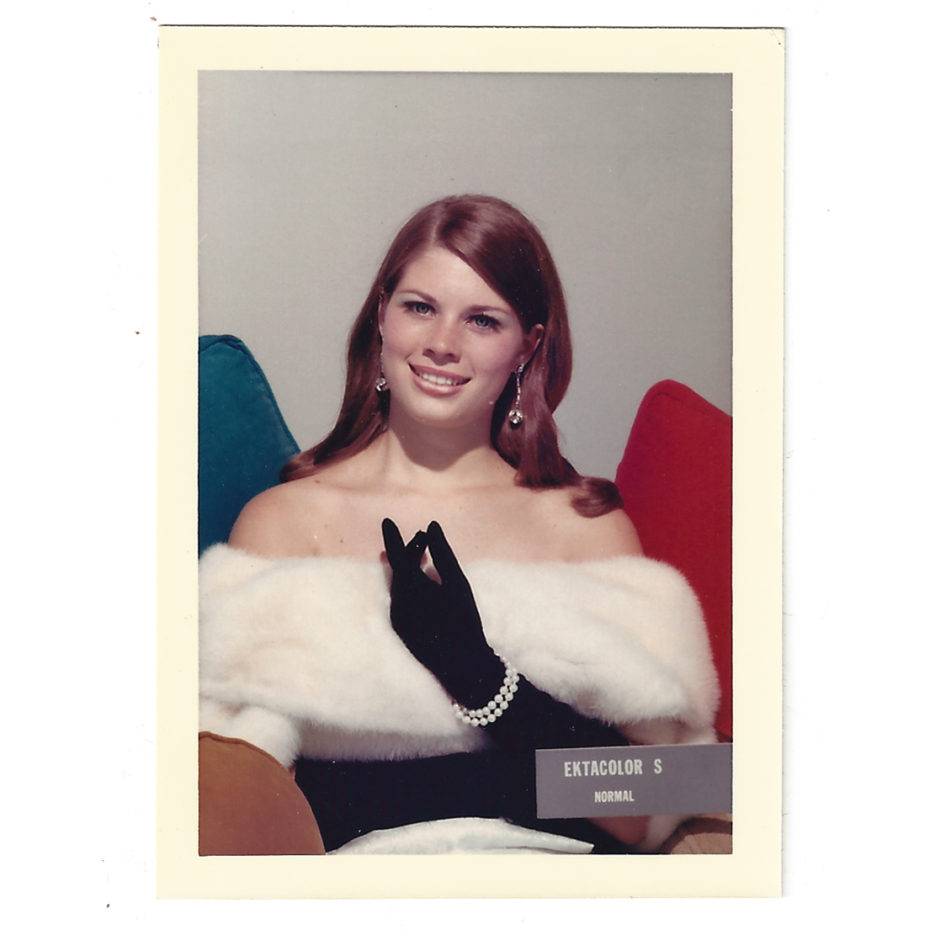 The Shirley cards were used all over the world, wherever the Kodak printers were used. "It didn't make any difference which model came in later to do it … It was still called 'The Shirley.' "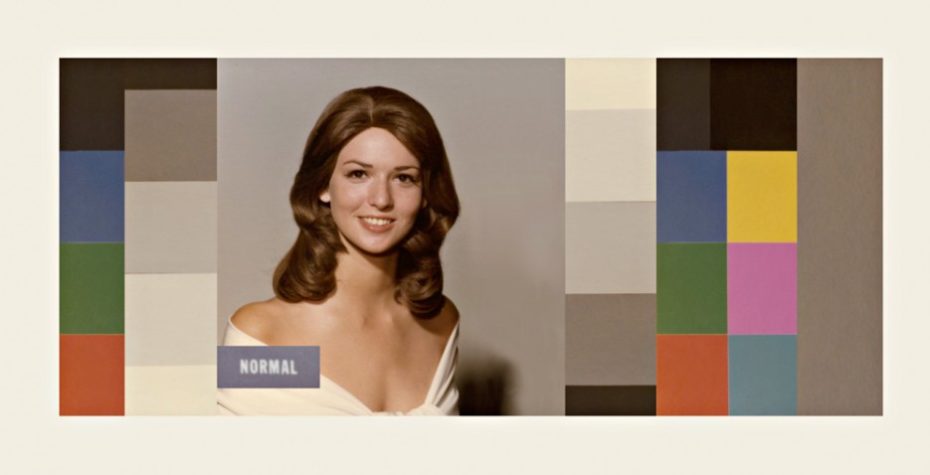 "At the time, in the '50s, the people who were buying cameras were mostly Caucasian people … And so I guess they didn't see the need for the market to expand to a broader range of skin tones."
In 1978, the filmmaker Jean-Luc Godard famously refused to use Kodak film to shoot in Mozambique because he declared the film was racist. People also complained that photos of blacks and whites in the same shot would turn out partially under- or over-exposed.
 By the 1970s … the company recognized there was a problem with the all-white Shirley cards … and Kodak started making multiracial norm reference cards with black, Asian, Latina and white Shirleys. Then came digital photography. Kodak went bankrupt in 2012.
More about the history of Shirley Cards found on NPR and here is a collector of Shirley cards.
11. These Awkward Mid-Century Amateur Modelling Photos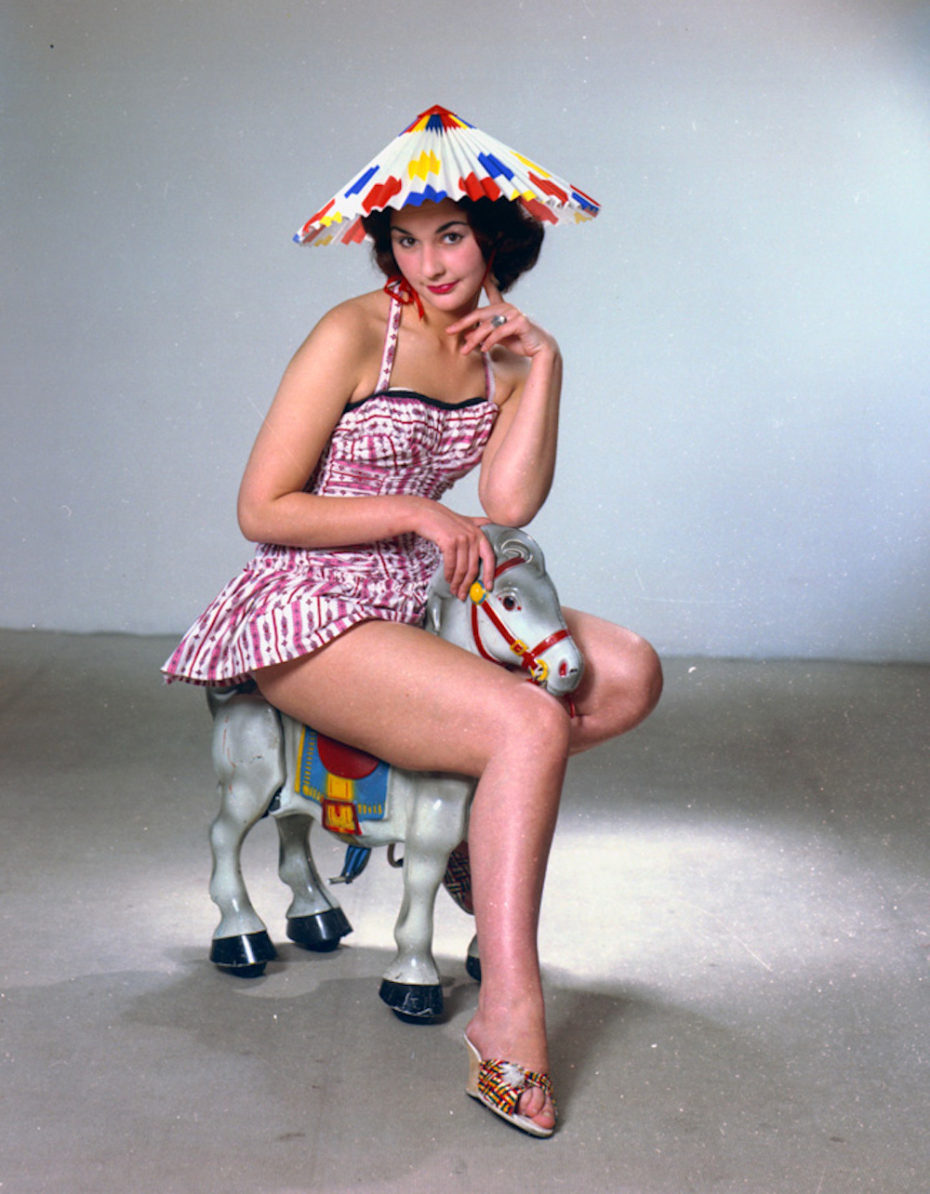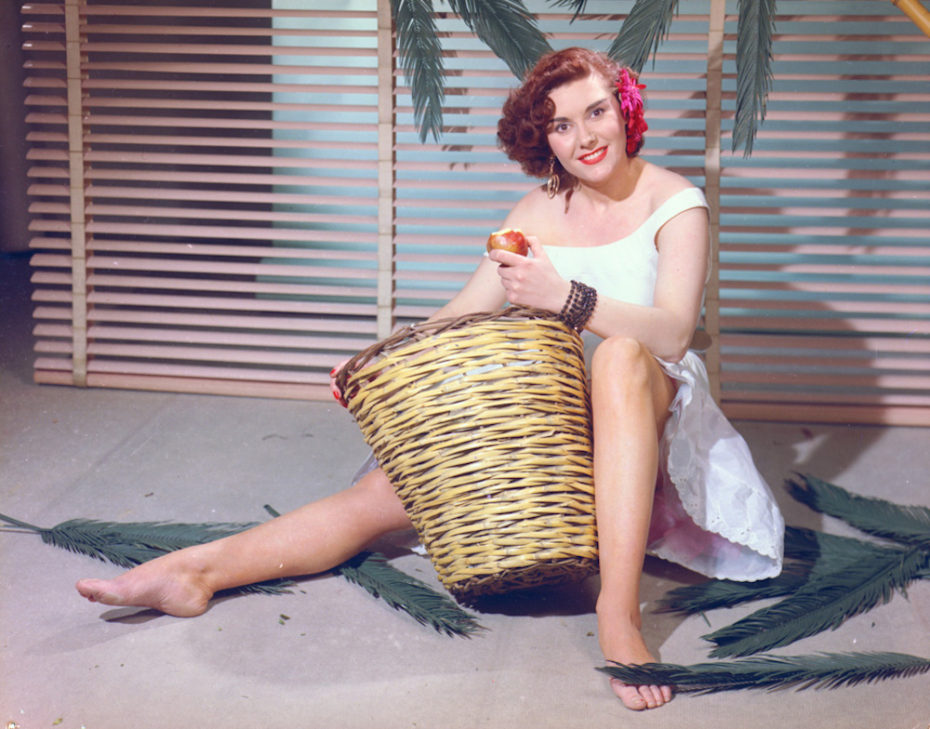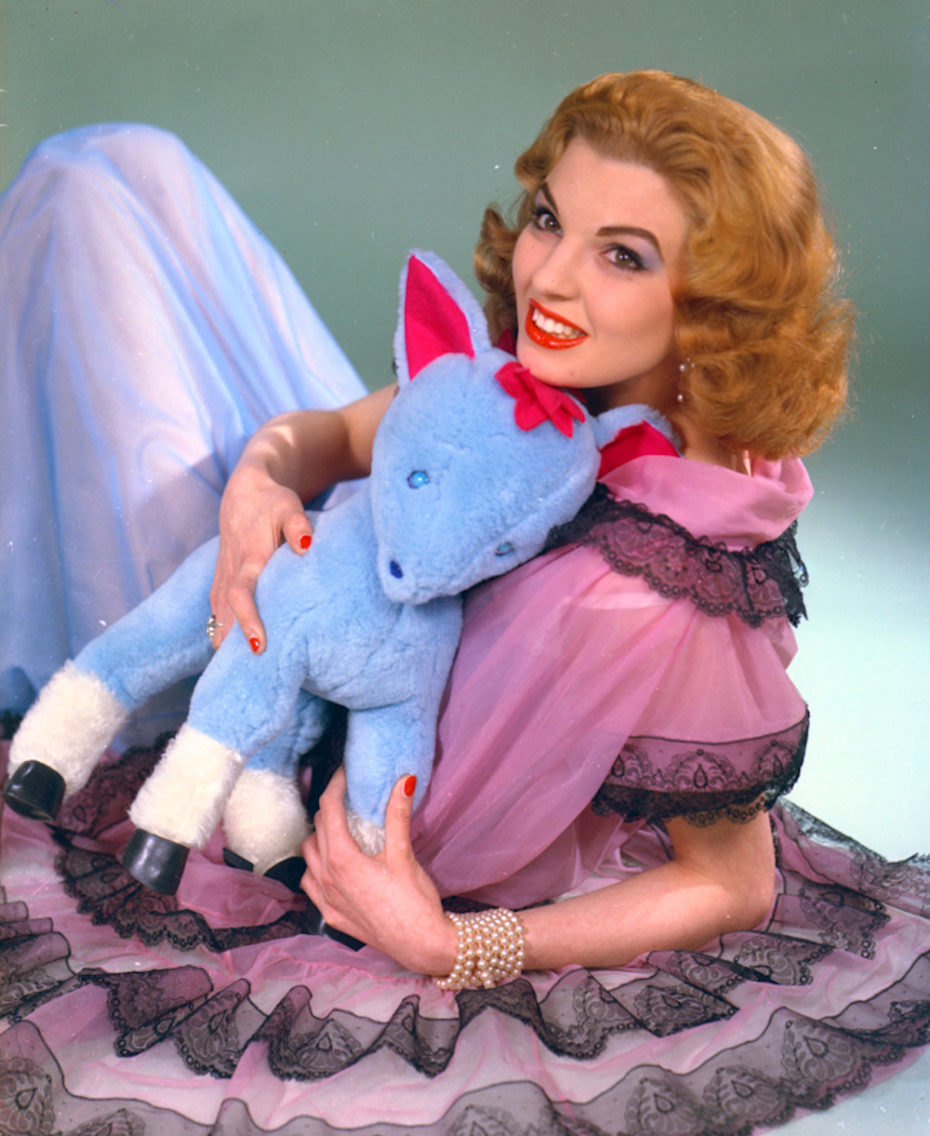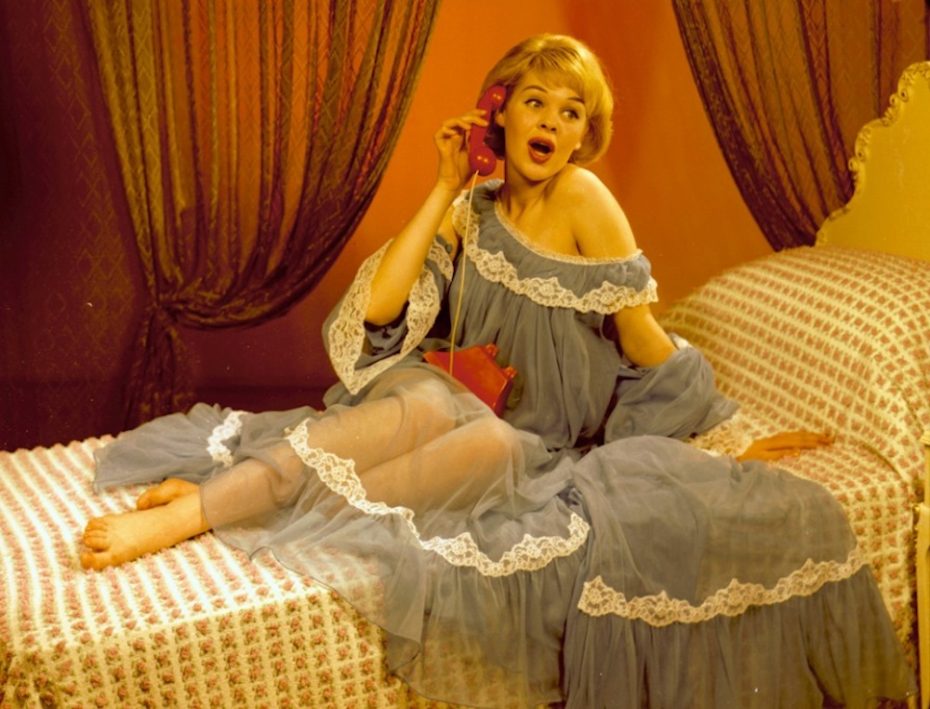 Newcastle-based photography shops Turners hired models (or bored housewives) to promote their work.
Found on Flickr.
12. Hippies looking for love in the classifieds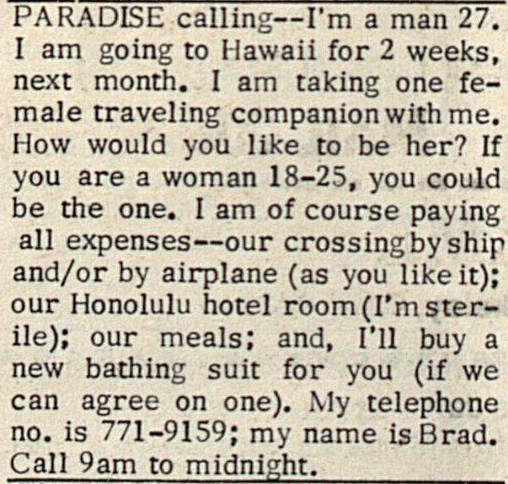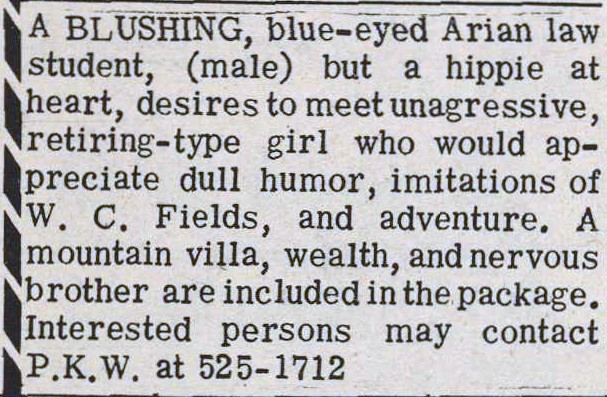 Personal ads from The Berkeley Barb, perhaps the country's most radical newspaper, calling for protests of the Vietnam War, civil rights sit-ins, and takeovers of public spaces.
Found on Timeline.
13. Humans of New York, the Facebook Series
Anyone else been enjoying this series?