Ask any New Yorker how they feel about a visit to Times Square, and most likely you will be met with a withering stare, if not an audible and inward groan. With good reason; for despite being packed with millions of selfie stick brandishing visitors every year, coming to a New York landmark as iconic as the Statue of Liberty, you will most likely be accosted by gangs of ticket touts for comedy shows, or people dressed as Spider Man, whilst wandering around under lights so bright they are supposedly visible from space – a Great Wall of China for the garish and gaudy if you will. A trip to Times Square is, to the native, as appealing as a rush hour subway car.
But there is one oasis! A veritable safe haven, where one can escape the thronging hordes aimlessly rambling around Times Square. Hidden away on a side street, so small that most people pass by without knowing it's there, is one of the great bars of Manhattan, Jimmy's Corner.
It also happens to be one of the last remnants of the old Times Square. Before the sweeping Disney & Giuliani clean up of the late 1990s, Jimmy's Corner is a living throwback to a more squalid Times Square, when the garish neon signs weren't advertising Toys R Us and Bubba Gump Shrimp, but peep shops, grind houses and seedy saloons; and era when 42nd street was still known as 'The Deuce'.
So come don your best 1970's flared leather jacket, and step through a narrow doorway on West 44th Street, that leads to Jimmy's Corner, and the heart of old Times Square.
One of the first things you'll notice about Jimmy's Corner is that it is tiny. There is barely room enough for three people to stand up to its long bar. But the size of Jimmy's Corner is inversely proportional to its character; its smallness adds to its friendliness. The second thing people notice is that every inch is covered with boxing memorabilia.
For Jimmy's Corner is owned by the legendary Jimmy Glenn, the long time boxing trainer and cut man to some of the greatest fighters of the greatest of Metropolis.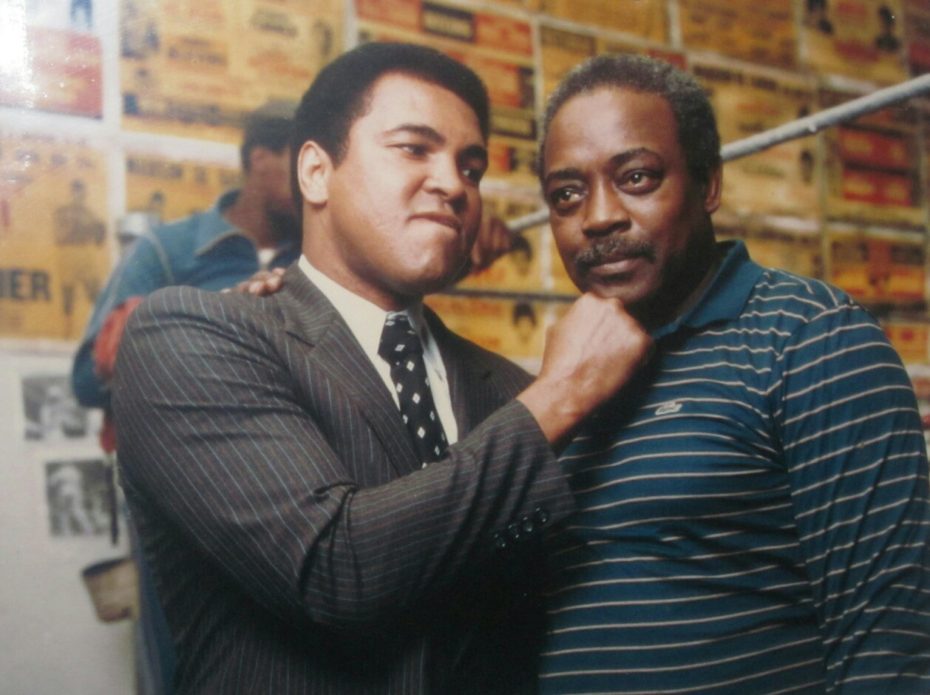 Jimmy Glenn grew up a boxer. First in the New York Police Department, and as a Golden Glove champion, hovering between the welter and middle-weights. He ended up with a record of 14 wins and 3 losses. Given one of those losses was to Floyd Patterson, that's an admirable record.
Jimmy took his love of boxing to the streets of East Harlem, where he ran a church sponsored boxing program to the troubled youths of the neighourhood. Jimmy must have been an inspiring influence; for this was a boxer and man who had once trained and sparred with Ali. He opened a gym in Times Square in the 1970s, right in the midst of the grime and sleaze, the Times Square Boxing Club. He also opened a cosy, friendly neighbourhood bar around the corner, in 1971.
In Jimmy's Corner the Christmas lights are on all year round. The narrow windows are permanently steamed up, looking out onto 44th Street. The drinks are basic but cheap. "I'm not going to be a billionaire", says Jimmy. "Its too late now. So I sell $3 dollar beers."
Jimmy's Corner remains one of the last heartwarming ports of call in one of New York's most iconic and lost neighbourhoods. It is a bar that is more Pottersville than Bedford Falls, and all the more charming for it. It is a bar steeped in the warmth and camaraderie of an old New York boxing gym, smelling equally of whiskey and the heavy bag.
During an evening there, you can almost feel the presence of Joe Louis, the Louisville Lip and Rocky Marciano, not least in the bell which rings last orders, for it is the old corner bell from Madison Square Garden, which sits on the left hand side of one of the most special bars in New York.
"It's my museum", explains the owner, and one time sparring partner of Muhammed Ali. "I love this place."
If you ever find yourself stumbling and bewildered around the din of Times Square, you will too.