John Young was a true pioneer of space exploration: he walked on the moon, orbited it alone, and commanded the very first space shuttle mission. But in 1965, he was also the first man to nearly ruin his illustrious career for smuggling a corned beef sandwich into space.
Just three years after joining NASA, Young departed on the Gemini 3 mission with Gus Grissom, one of the legendary Mercury Seven astronauts – but not before another Mercury astronaut, Wally Schira, slipped Young a corned beef sandwich from Wolfie's Restaurant and Sandwich Shop in Cocoa Beach, Florida. John tucked it into a pocket on his suit and headed for the stars. But outer space is no place for a sandwich…
"There is a danger they could clog air vents," explains NASA on the dangers of bringing non-government approved grub aboard, saying it could "contaminate equipment or get stuck in an astronaut's eyes, mouth or nose." For what it's worth, peanut butter is supposed to be A-OK.
Just two hours into flight, Young whipped out his Earthly delicacy and handed it to Grissom — but after just a few bites, the sandwich began to disintegrate. Crumbs filled the tiny capsule, and the poignant smell of corned beef lingered like crazy (it's a microgravity thing, apparently).
Check out the transcription of the infamous hand-off:
Grissom: What is it?

Young: Corn beef sandwich.

Grissom: Where did that come from?

Young: I brought it with me. Let's see how it tastes. Smells, doesn't it?

Grissom: Yes, it's breaking up. I'm going to stick it in my pocket.

Young: Is it?

Young: It was a thought, anyway.

Grissom: Yep.

Young: Not a very good one.

Grissom: Pretty good, though, if it would just hold together.
Young didn't mind a beef scented spaceship, but the U.S. government sure did. Congress had to shell out millions to save face after the incident, and banned sandwiches from ever venturing into space again. The particles, they said, could have made their way into the smallest crevices of the (pricey) spacecraft and compromised the whole mission. Today, you can visit a resin-bound corned beef sandwich at the Grissom Memorial Museum in Mitchell, Indiana (it's not the original, but another made "in memoriam").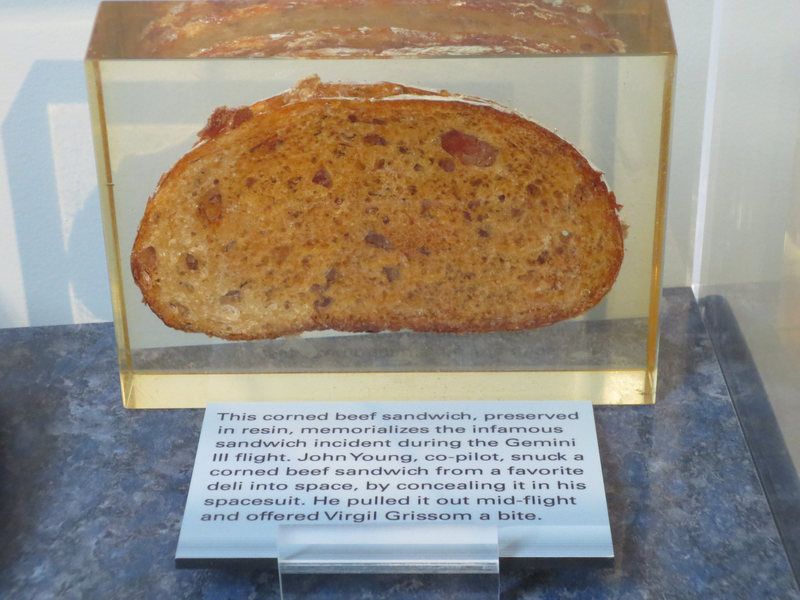 In Young's memoir, Forever Young, the Californian astronaut chalks down the affair to "a couple of congressmen (getting) upset, thinking that, by smuggling in the sandwich and eating part of it, Gus and I had ignored the actual space food that we were up there to evaluate, costing the country millions of dollars." Other than the sandwich drama, the mission was a success.
The sandwich incident wasn't the last of Young's embarrassing space-capades, however. Years later, on Apollo 16, he suffered from flatulence after drinking excessive orange juice during the mission to the moon. "I have the farts again," he said, unaware that the status of his bowel movements was being reported — and broadcast — back to Earth, "I got them again, Charlie." Have a listen for yourself:
Personally, we think the astronaut's candor was just another part of what made him such a loveable figure. It's hard to believe that a sandwich almost came between Young, who passed away earlier this month, and his 42-year career at NASA. But we're sure glad it didn't. Have you ever made a bad call that nearly cost you your career? Spill the beans in the comments…
By Mary Frances Knapp, our Californian in Paris & beatnik at heart.