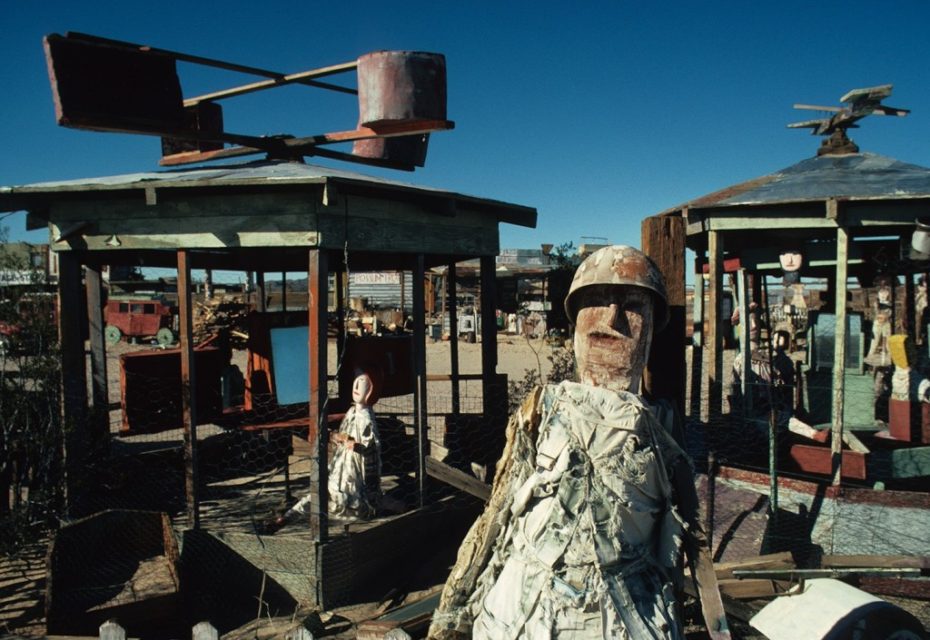 Welcome to Possum Trot, California. Human population: 2. Doll population: 80. For decades, its human residents were Calvin Black and his wife Ruby, who moved out to the Mojave Desert in 1953, bought some land off of Ghost town rd. (an actual road that still exists), and proclaimed it "Possum Trot." Over the course of 20-years, the Blacks populated the makeshift village with their handmade dolls and folk-art attractions.
By the 1970s, the town boasted a train, a totem pole, stagecoaches, a merry-go-round, and a theatre for the spectacular main attraction, "The Fantasy Doll Show."
Initially, Possum Trot was just another rock souvenir shop by the side of the road. Neither Calvin nor Ruby had received a formal education, but Calvin's creativity blossomed in the desert. He began painting tongue-in-cheek signs (i.e. "beautiful dolls of the desert wasteland," and "we don't know where ma is but we got pop on ice" ). Some  made some pretty poignant social commentaries: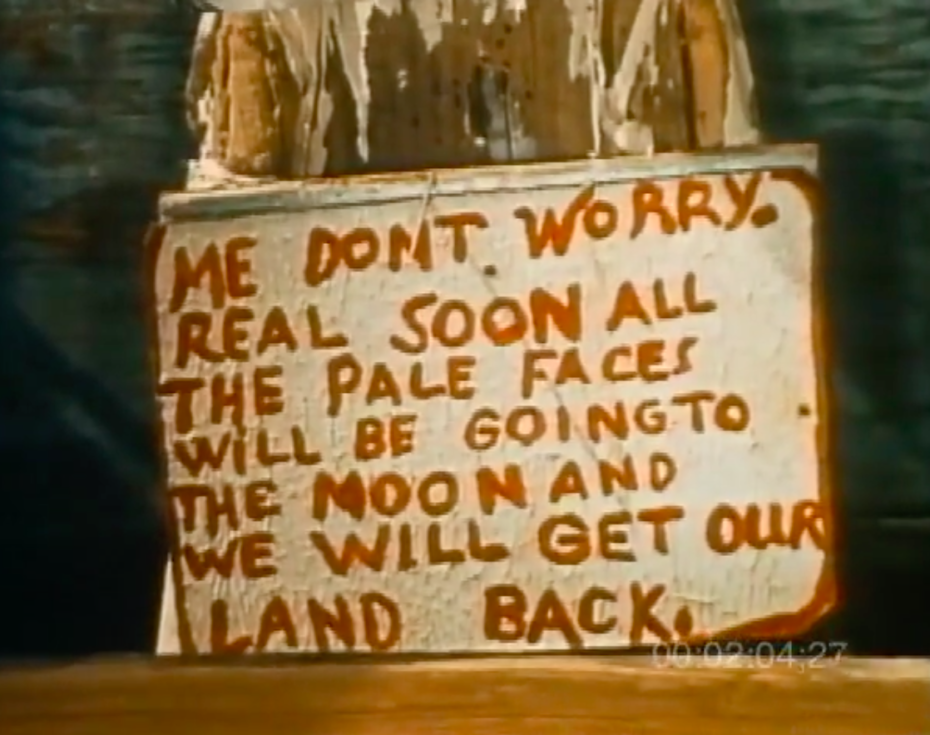 As a resourceful inventor, Calvin used what he had. In this case, that meant harnessing the desert wind to power his creations. It was an environmentally friendly move as well: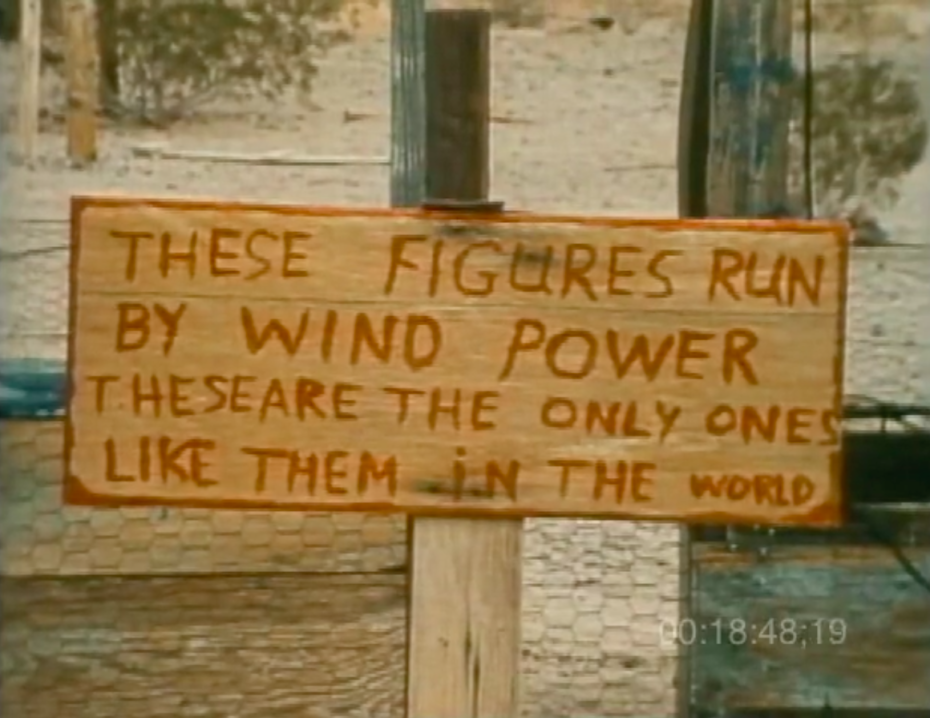 Calvin soon began carving dolls out of found objects like telephone polls that had been damaged by cars from roadside accidents. He even learned how to wire speakers into the 3-4 ft. tall dolls to project his own falsetto singing voice from their mouths.
In the 1970s, documentary filmmakers Allie Light and Iriving Saraf stumbled across Possum Trot and created a 28-minute film about the site (released in 1977). They were lucky enough to interview Ruby, who looked after Possum Trot's attractions after her husband's death in 1972, and up until her own in 1980, with the utmost diligence:
Interviewer: What is this place? What do you have inside?

Ruby: All kind 'o stuff.

Interviewer: Who made all these dolls?

Ruby : My husband carved the dolls. Their bodies are made out of redwood and their noses and arms and feet and legs are made out of sugar pine.

Interviewer : Do you have more dolls inside ?

Ruby :  Yeah…Even have one with teeth carved in her mouth.
The film treads lightly, and with a sensitive eye, into Calvin and Ruby's world. By its end, you're head over heels for the couple who wanted nothing more than to bring joy to the passer-byes on Ghost town rd. "I'm happy to say that I've made thousands, and thousands, and thousands of people happy," Calvin says in a sound-clip taken from a previous interview in the film, "As long as I can do that, money don't mean a thing to me."
Calvin's friends said his dolls were an homage to women, who he admired and respected, and that he took particular inspiration from British actress Lillie Langtry's soft voice when he performed with his dolls. But in matters of love, says a friend in the documentary, "there was only ever Ruby."
Every Fantasy Show doll had her own name-tag and personality, from the blonde-haired ticket seller at the local theatre, to the "Lilly" doll dressed in a blue, lace-collared gown (sewn by Ruby). They were cowgirls, and mothers. They were princesses, and musicians.
The Fantasy Show climaxed with Calvin singing his song "Baby Tangerine" through one of his puppets while the other dolls twirled on-stage in tutus, worked sewing machines, played the guitar, the tam-tam, the accordion, and did the hula. There were even five dolls relaxing on a couch during the number in front of a television aptly labeled, "Doll Vision" that had its very own puppet show inside.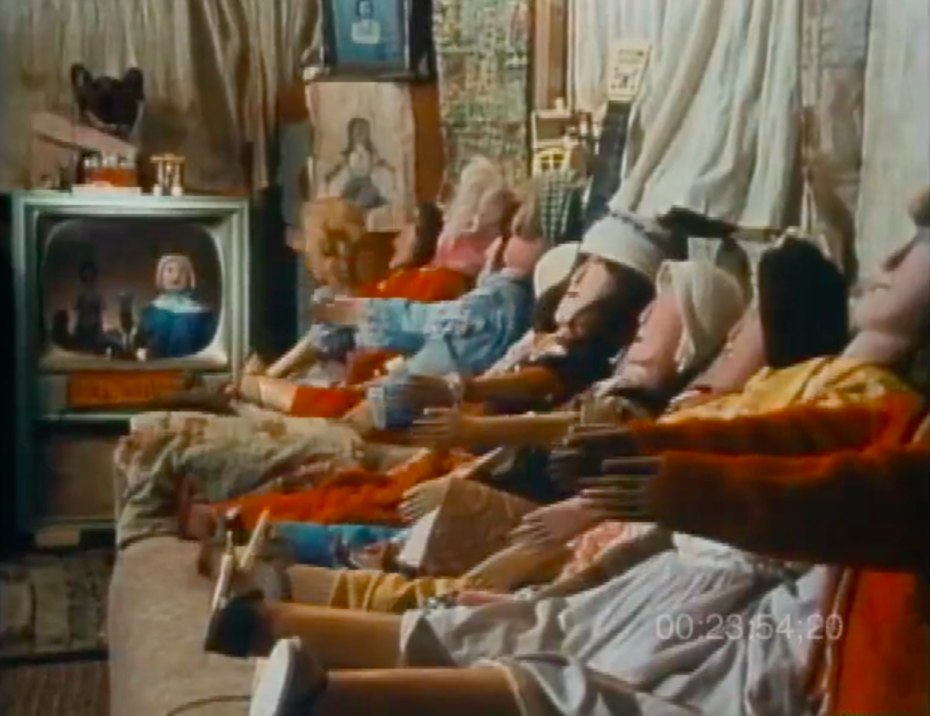 Calvin had boundless ambitions for his ladies. "I've spent a lot of time and a lot of money trying to get 'em where I got 'em today," he says, "Some of these days, if I live and the Lord's willing, we gunna have some dolls here that walk backwards, upside-down, or some way." He was an outsider artist, a poet, and an electrician; a carnival curator and true entrepreneur.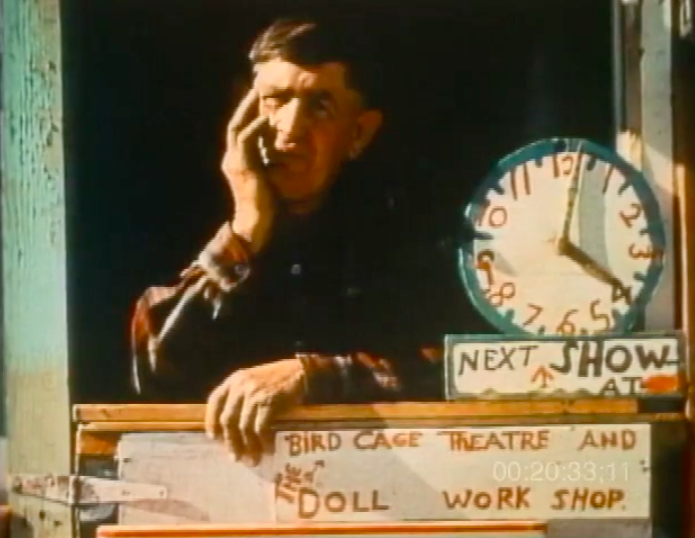 "A lot of people just buy a place and they live in it, they fall down, and they die," he says, "They get too old to work…when I get that old, well, I'll stir-up something, y'know? Ham 'n eggs or something. Gotta do something…We'll keep on making more dolls, and more sounds."
So what happened to Possum Trot and its not-so-inanimate dolls? Well, with no relatives or children of their own to tend to the bizarre little oasis, the attraction eventually fell to ruin.
Luckily, the Blacks' creations were saved by various collectors of outsider folk art, and in 2007, a red-haired doll named "Gypsy Wheel" even sold for $82,500 at auction. You can also visit the dolls at the Milwaukee Art Museum, The Museum of American Folk Art, and the New Museum in New York.
Watch a scene from the cult 1977 documentary below, and learn more about the Blacks and similar aspects of American history via Folkstreams.net. If you'd like to learn more about the filmmakers and support their work, you can visit Lightsaraffilms.com.
By Mary Frances Knapp, our Californian in Paris & beatnik at heart.