We think of the corsets and voluminous petticoats of the 1800's as painfully limiting to the women who wore them, but a group of female gang members in 20th century London would be inclined to disagree. Enter the "Forty Elephants", also the "Forty Thieves", an all-female gang that terrorized London and the surrounding area for over two centuries and were responsible for the largest shoplifting operation ever seen in Britain between the 1870s and 1950s. 
While many of the male gangs of the era were violent "smash & grab" thieves and crooks, the Forty Elephants was a group of tightly organized and efficient crime cells operating across London and the surrounding area.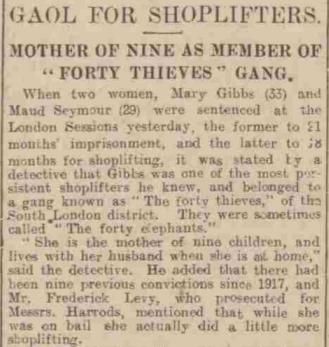 They wore specially tailored clothing that would allow for easy stashing of expensive items in high end retail stores. Women were traditionally afforded a fair amount of privacy while shopping, which the elephants took full advantage of, making their exit with thousands of pounds worth of stolen merchandise.
They travelled in small groups and as security personnel were distracted by inexperienced thieves, the elephants gang would have  come and gone without the shop owner even knowing they had been hit. While posing as maids or housekeepers, the ladies robbed countless houses and often blackmailed wealthy men who had fallen prey to their seduction.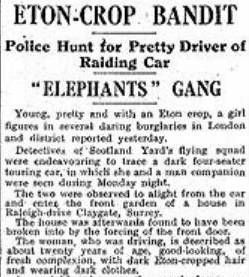 Named after the district in which they operated, Elephant and Castle, the ladies gang was also said to be known for their distinct "elephant-like waddle" when leaving the scene of the crime. The gang was in existence from at least 1873 to the 1950s and over seventy direct members of the gang operating in the 1920s and 1930s have been identified.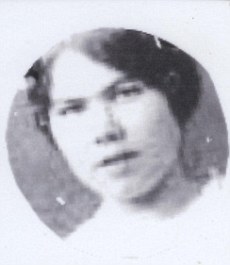 In the early 20th century, the gang was lead by Alice Diamond, aka "Diamond Annie" or "the Queen of the Forty Thieves". She was known for her punch, made memorable by her fist full of diamond rings
Notable for the gang's longevity and skill in avoiding police detection, the Forty Elephants would use their earnings to throw lavish jazz age parties and enjoy luxurious lifestyles normally unattainable to women of modest birth.
The Forty Elephants became so infamous in the West London area that their mere presence near shops would bring alarm. Too famous for their own good, the women were eventually forced to target smaller towns nearby, bringing empty suitcases with them on their journeys that would come back filled with goods.
Once a member was initiated into the 40 elephants, she was involved for most of her life, many of them starting as young as 14 and continuing into old age. Even if they were captured, they were never sentenced to more than 3 years in prison.
The Forty Elephants did not specialize in violent crime, but they protected their turf fervently and would demand a cut from anyone who was deemed to have overstepped into their territory. Gang member Maggie Hughes, infamous for running from a store with a tray full of 34 diamond rings, was arrested after stabbing a police man in the eye with a hat pin.
As security became much tighter in the 1950's and shoplifting became a much riskier endeavor, The Forty Elephants eventually faded away, but not without leaving a legacy of terror in the hearts of many a London shopkeeper.
By Elizabeth Van Flandern