I once read that it was the legendary writer Ernest Miller Hemingway who brought the Swahili word "safari" (meaning journey) into popular use in the English language. In 1935, a New York Times reporter reviewed Ernest Hemingway's latest novel and wrote: "Even if you do not approve very strongly of men who go out and blast innocent rhinos into kingdom come you can still enjoy Green Hills of Africa for many other things." As someone who does indeed strongly disapprove of blasting innocent rhinos into kingdom come, Hemingway has often been very hard to admire at times– as someone who does in fact, greatly admire him. But as the reporter says, you can still enjoy Hemingway for many other things. The way he travelled, being one of them.
Ernest was a frequent and expert traveller. You might say he was as good at it as he was at writing. Long before travel was made easy by the internet, Hem was navigating the globe by sea, by rail, road, and air, always acting as his own travel agent, planning every last detail from booking passage, checking timetables, hotel reservations, currency exchange and credit to obtaining visas, fishing permits, hunting licenses and seats at the bullfights, all the while keeping his mobile office open for business as an in-demand working journalist. And of course, he did it in style.
If I can ever get that feeling when I travel, even just for a moment, that this might have been how Hemingway would have done it– I'll take it. That old world elegance fused with adventure and the possibility of danger; it's the kind of nostalgia I'd cross oceans and deserts for.

Enter Elephant Pepper Camp. That one photograph of their mahogany wash basins peeking out from behind a khaki curtain had me at hello. The photograph wasn't even credited to the location, which entailed some internet digging to find the source– but this was it. This was the place, when I finally make my first voyage to the heart of Africa, that has to be my home– even just for one night. Elephant Pepper Camp.
Inevitably, turning back time to Hemingway's Africa comes at a price. This unquestionably luxurious camp will require some saving, but reassuringly, Hemingway didn't make his first trip to Africa until the age of 34, which gives me just under two years to find the funds.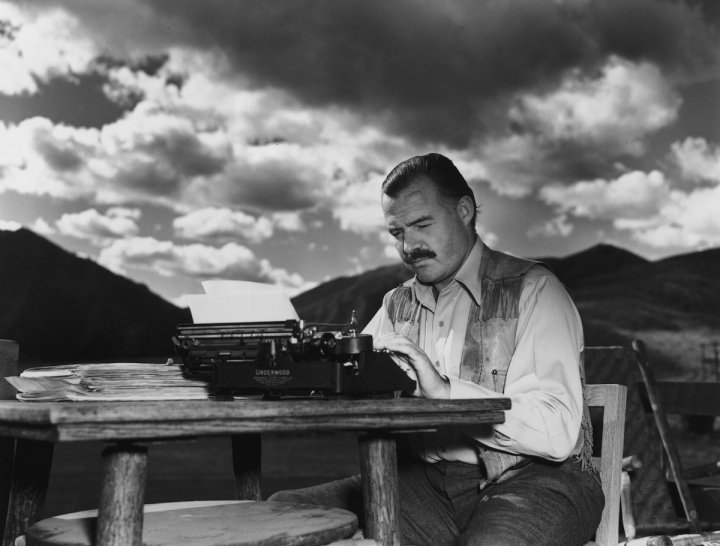 In the summer of 1933, Papa Hem travelled to the African continent with his second wife Pauline, funded by money Hemingway had borrowed from her uncle. They stayed in Kenya for two months, living in a tent for the writer's first African safari, which provided him with the material and inspiration that gave rise to Green Hills of Africa, and iconic short stories The Snows of Kilimanjaro and The Short Happy Life of Francis Macomber.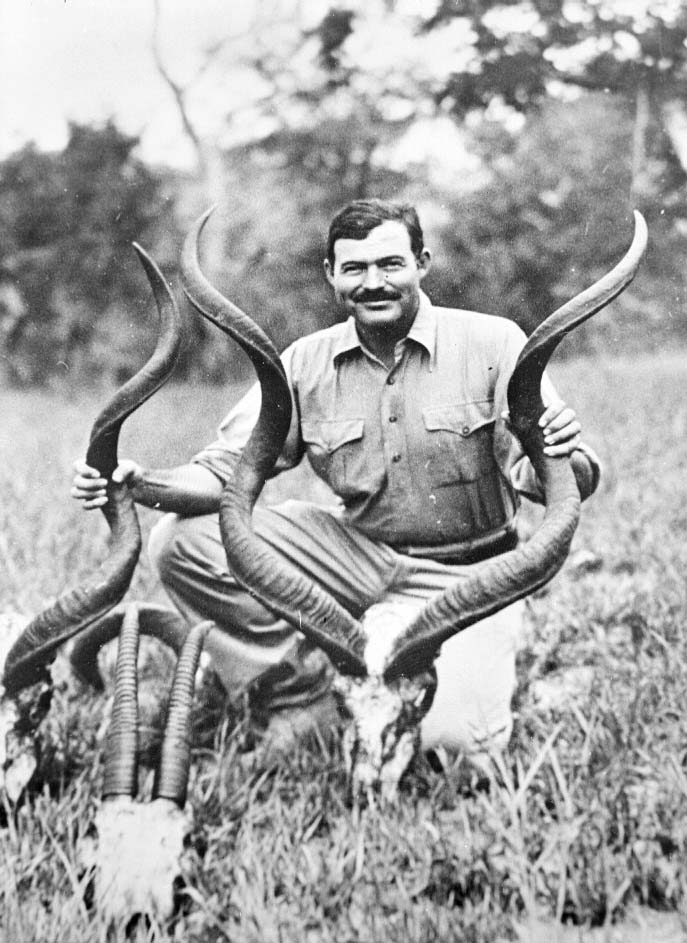 Some claim Hemingway wasn't even that good of a hunter. But he fell in love with the experience of hunting, or more like competing with the wild, and of course, he fell in love with Africa. Without studying the native language, his writing shows that he also managed to develop an understanding of the Kenyans, which was far from common at the time.
On his second trip to Africa in the winter of 1953, Hemingway was then a year shy of 65, drinking a lot more and married to his fourth and last wife, Mary. It was on this voyage that Hemingway would get to read his own obituary in the newspaper after he was involved in not one but two serious plane crashes within the space of two days, flying between Nairobi to the Congo and a second time in Uganda. The first crash was an emergency landing, where the pilot of the couple's small plane had to choose between landing in "a sandpit where six crocodiles lay basking in the sun or an elephant track through thick scrub," according to 1954 New York Times article. They ended up spending the night in the jungle surrounded by elephants. "We took turns going to the river, but the elephants were very stuffy about it. There were lot of hippos and crocs wandering around the river bank," Hem told the Times.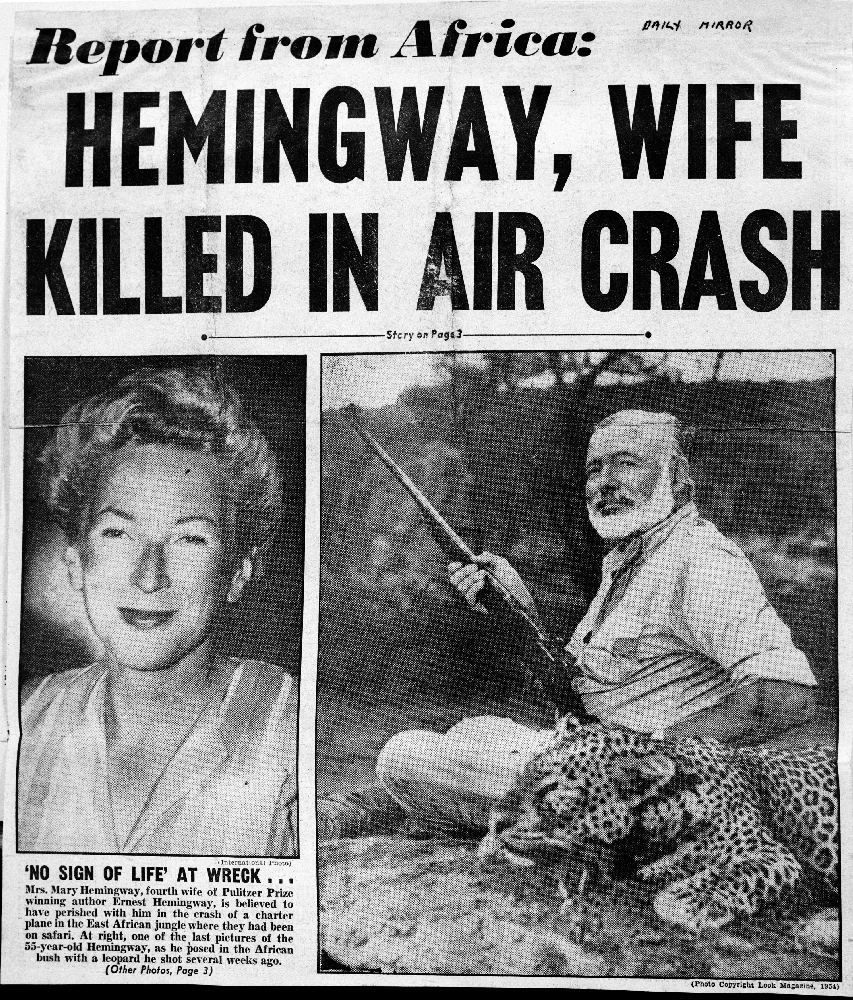 The following day, Ernest and Mary boarded another small plane, which crashed and disappeared in flames. Presumed dead, several newspapers reported their death until a wounded Hemingway and his well-suited wife allegedly walked out of the jungle in high spirits. Life Magazine reported that he emerged "carrying a bunch of bananas and a bottle of gin, and was quoted, possibly even correctly, as saying: 'My luck, she is running very good.'"
It's hard to beat Hemingway at adventure (or just getting into trouble) but without the near death experiences and the animal trophies, there's still the place that greatly inspired and influenced one of history's most legendary writers.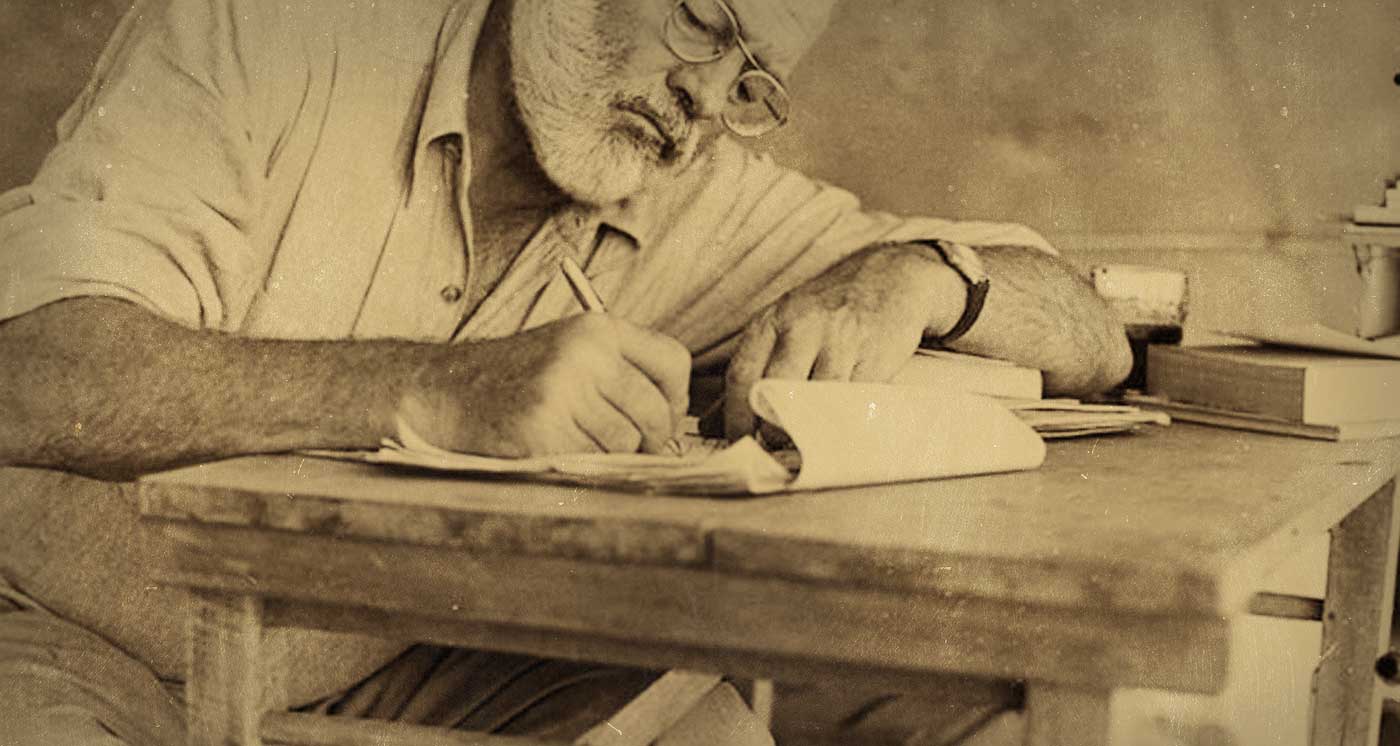 Elephant Pepper Camp is exactly what I picture when I think of Hemingway in Africa, penning his first pages of The Snows of Kilimanjaro from the warm glow of his tent, with a glass of whisky at his desk, pausing every now and again to look over at his wife by the crackling campfire, gazing up at the blanket of stars.
Located in the Mara North Conservancy, the heart of the Masai Mara ecosystem, Elephant Pepper Camp is named after the tree, that grows throughout site. Founded by a couple, passionate conservationists Liz and Stefano Cheli, the luxury boutique accommodation has maintained the ethos of non-permanence and is designed so that it can still be completely removed to leave a virgin site. The camp has been around since the 1980s, but you could swear ol' Hem just put his writing pen down at the desk and wandered off into the bush to get himself into more trouble.
Also on the list: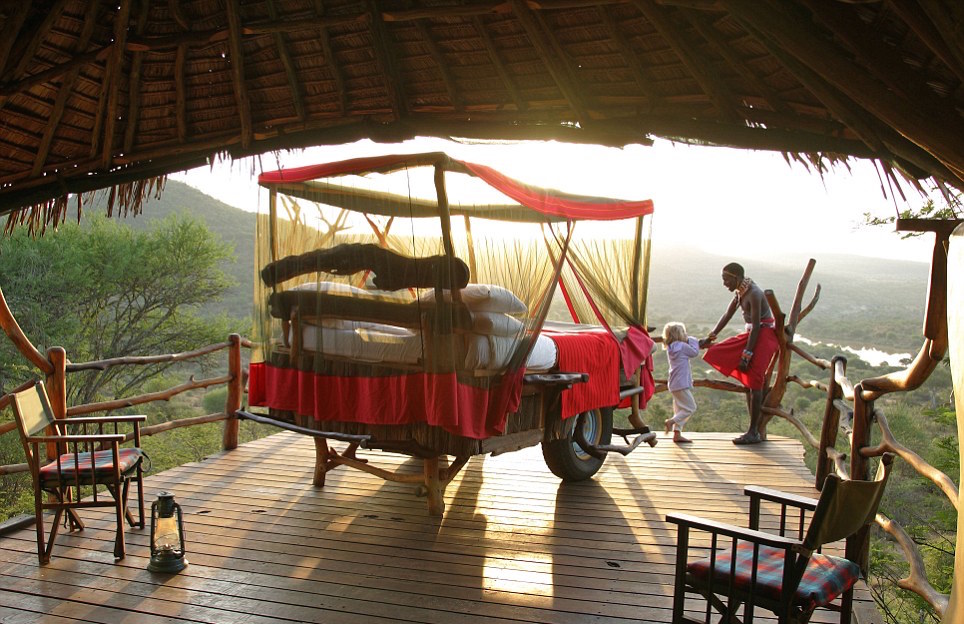 "Handcrafted four-poster wooden beds sit on raised wooden platforms jutting out from a thatched-roof accommodation, rolled out each night for guests to enjoy the most memorable sleep under the endless African sky."
– Loisaba Star Beds in Kenya, incidentally, a sister camp to Elephant Pepper Camp, part of the Elewana Collection.