Poking out of the treetops in Tuscany, and spread across Etruscan ruins, is the sparkling masterpiece of French-American artist Niki de Saint Phalle, Il Giardino dei Tarocchi — The Tarot Garden.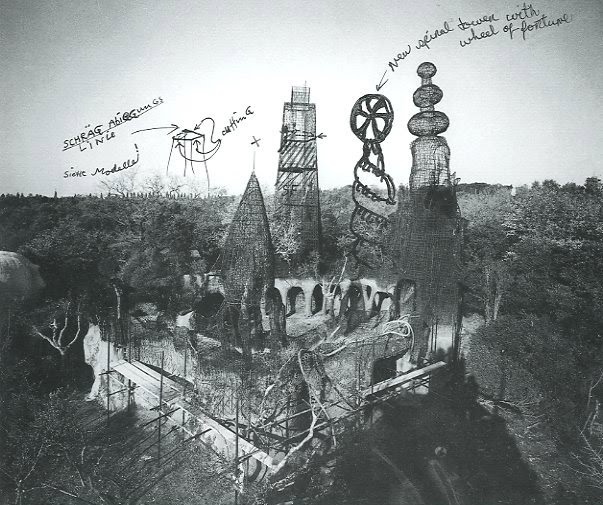 De Saint Phalle acquired the land in the 1979 through a close friend, and from the get-go her intent was to transform its 14-acres into a surreal, joyous landscape. Inspired by Gaudi's park Güell in Barcelona, she "dreamt of building a garden that would be a dialogue between sculpture and nature. A place to dream in."
Built by the seashore in Capalbio, Tuscany, the garden took almost 20 years to complete, and includes 22 of the archetypal Tarot figures. "As soon as I started," she said, "I knew it was going to be a perilous journey. But I was bewitched."
"The twentieth century was forgotten. We were working Egyptian style," said Niki, "The ceramics were molded, in most cases, right on the sculptures, numbered, taken off, carried to the ovens, cooked and glazed, and then put back in place on the sculptures."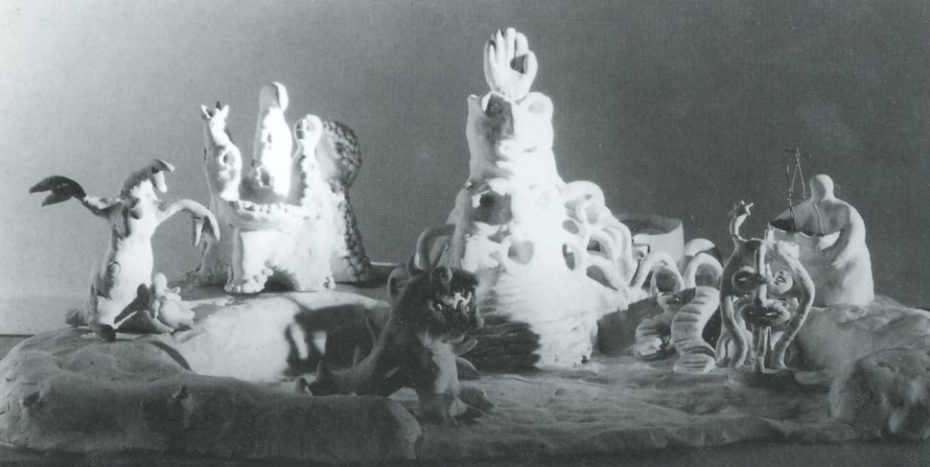 Castles, goddesses, girls and monsters were already fixtures of Niki's art. By the late 1950s, her staple gouache paintings became more and more embellished with stones, twigs, and glass. "Green, red, hate, love, laughter. Tenderness. I would show everything," she said about her work. She was a fervent champion for uplifting women in the arts.
A stroll around the garden takes you in and out of glittering caves and grottos, around corners with mouths big enough to walk in, and to the feet of a tower with bicycle flying out of its roof.
Niki was the only female member of the Nouveau Réalisme movement in Paris in the 1960s, a period in which she also fell madly in love with fellow sculptor Jean Tinguely. Their fusional, creative relationship encouraged Niki to push the boundaries of her expression, and his help on the sculpture garden's framework proved invaluable.
"The enlargement of my models was made perfectly with a medieval eye, by Jean Tinguely," she explained, "All of the monumental sculptures armatures were made from welded steel bars, formed by brute strength on the knees of the crew."
The World was portrayed as a woman balancing on an egg, her hand raised in triumph. The Oracle, yet another woman crawling in golden and red snakes:
Strength is depicted as a delicate woman leading a dragon, "the monster the maiden must tame inside herself, and through this difficult task she'll discover her own strength." The complex "Hanged Man" card is often meant to open one up to new perspectives, and Niki's can be found suspended by his ankle in a glittering cave.
The artist became totally immersed in her creation, so much so that she even developed arthritis. When costs escalated through the roof, she launched a Niki de Saint Phalle perfume that would end up paying for one-third of the 5 million dollar project. She was quite the trailblazer: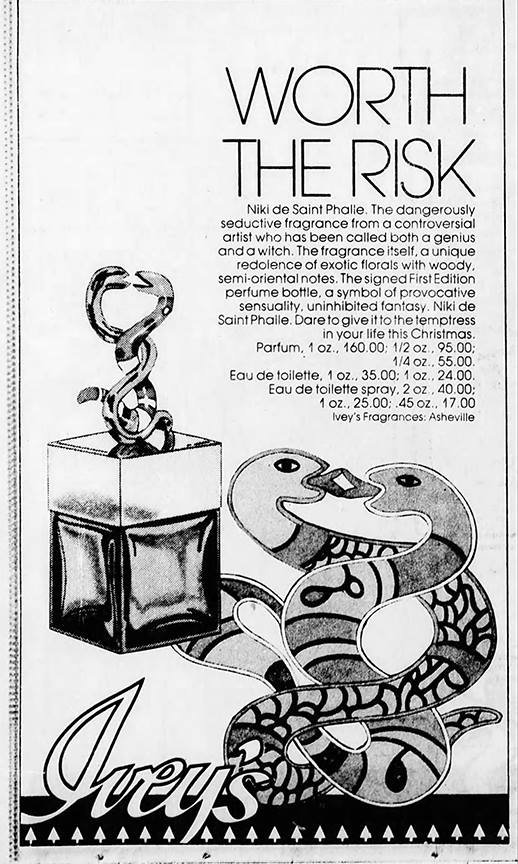 The park was finally opened to the public in 1998, just four years before Niki's death. To this day, it remains tucked away in the Italian woods for those curious enough to find it. Check out the garden's website to get the adventure started.
By Mary Frances Knapp, our Californian in Paris & beatnik at heart.