During the final moments of Ernest Hemingway's The Sun Also Rises, the reader is invited to pull up a chair beside 'ole Hem at the Sobrino de Botín in Madrid, an eatery that's not only famous for its suckling pig and free-flowing rioja alta, but because after 300 years it holds the Guinness World Book of Records' title as the world's oldest restaurant…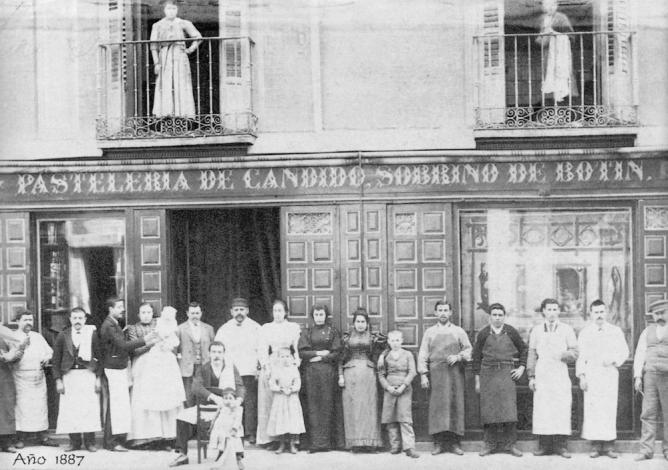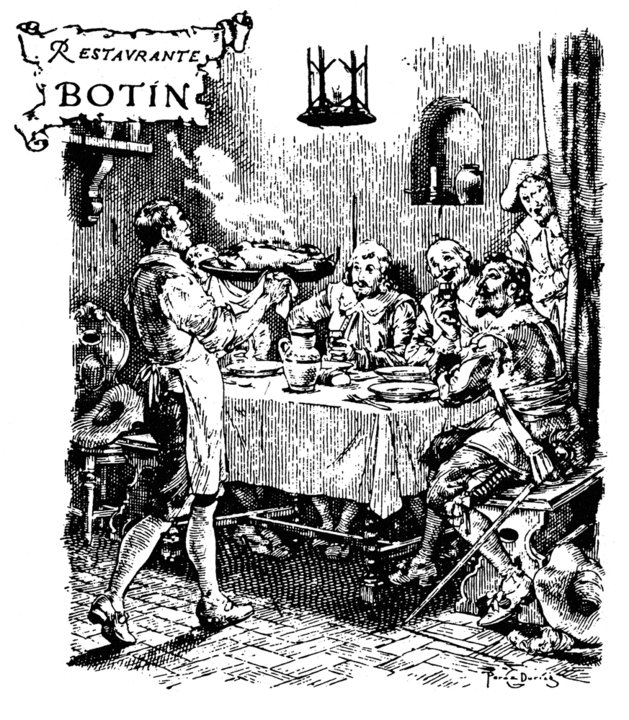 Stacked four floors high with the smells of traditional Castilian fare, "Botín" (as it's affectionally called by Hemingway) was started in 1725, making it 293 years old by our calculations. The building itself, located near the famous Plaza Mayor, dates back to 1590.
The nephew of French cook Jean Botín bought the building in the 18th century, transforming it into an inn with a hearty restaurant whose name paid homage to his family: Sobrino de Botín. But the Botíns' lineage died out, leaving the torch to be passed on in 1930 to the reputable Gonzalez family, who has proved to be a worthy inheritor of their now iconic wood oven. We took the liberty of tracking down a menu for you, just to get your mouth ready and watering…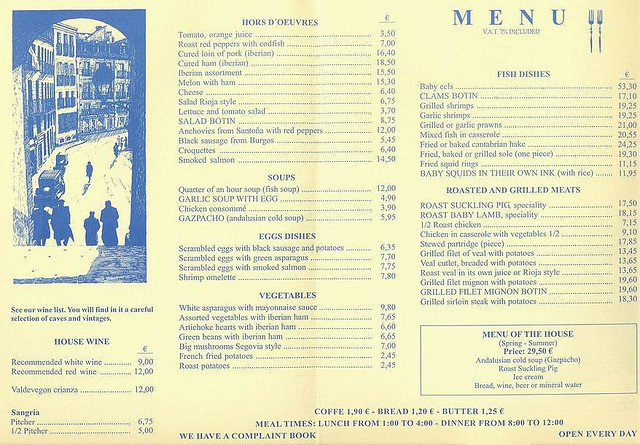 There are three dining rooms: the Castilla room, the bodega, and the Felipe IV room. Every inch of the space is covered in either intricately painted tiles, old brick, or checkered floors. Its bar is flushed in deep reds with an antique cash register, and its kitchen walls stacked with terra cotta terrines ready for cordero lechal…
The wine-stained floors have seen the likes of not only Hemingway, but a string of history's most beloved figures, from Jacqueline Kennedy Onassis to Francisco Goya — the latter of which worked as kitchen crew before becoming a world-famous painter. If you can make it down the stairs after the Paella, you may be able to sneak a peek at their 17th century wine cellar…
The Gonzalez family has been running the show for three generations now — and they don't plan to let the spot's 300-year-run halt anytime soon. Many of the employees have been working there for decades, like cook Celso Salisi, who has been a part of the crew for 25 years.
Sure, Botín is now a magnet for tourists. But it's also one of those magical anomalies that Madrid does so well: catering to the starry eyed visitors and locals with the same amount of old-world gusto. After all, Hemingway's table still sits night after night for a new stranger in its corner under the cuckoo clock…
Learn more about Botín on their website.