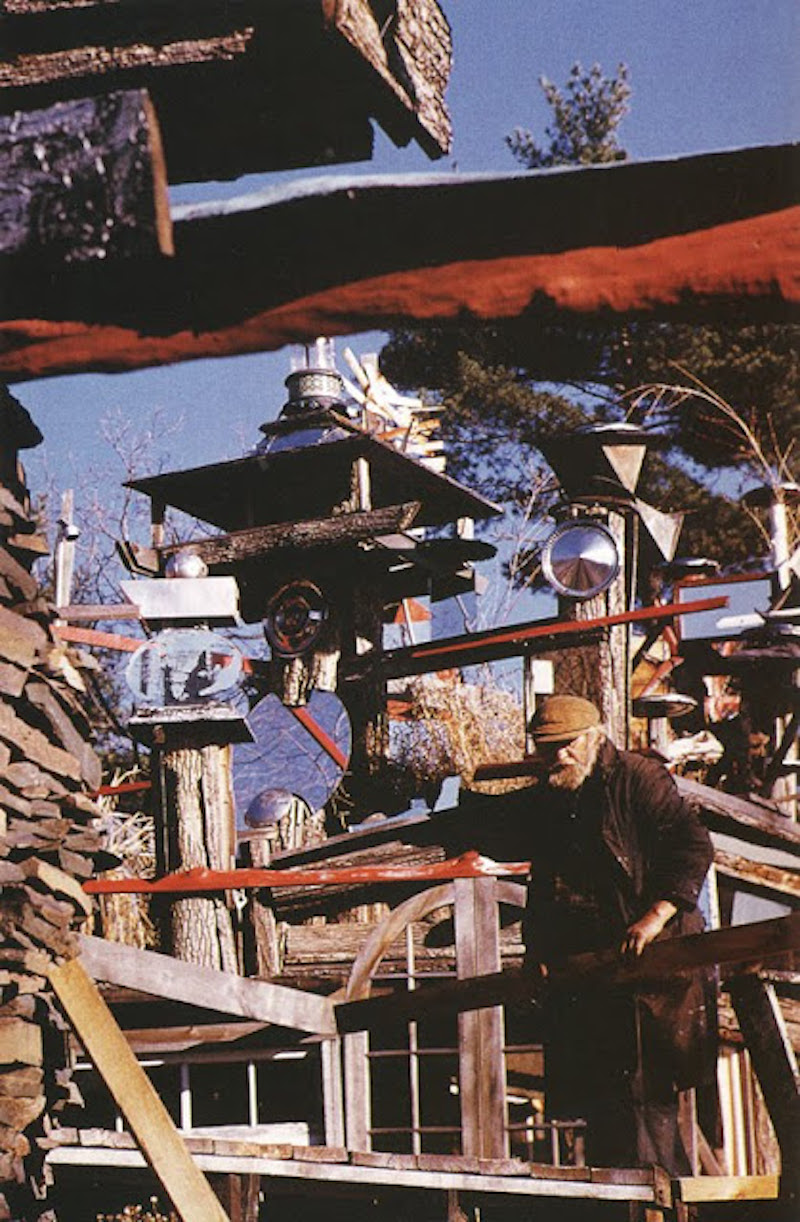 What happens when you put Rip Van Winkle, Robin Hood and Paul Bunyan in a blender? You get Clarence Schmidt, the iconic outsider artist who spent a lifetime building an eccentric folk art kingdom on a mountaintop in Woodstock…
Schmidt was originally from Queens, but he split for the country when he inherited five acres of Woodstock land in the 1920s. He put down roots on the back slope of the Ohayo mountain with his wife, Grace, and began building a home out of nothing more than railroad ties.
The house took on a life of its own, crawling up the mountainside with story after story of hubcaps, babydolls, beer cans and more, until it stretched seven levels high with 35 rooms, all connected with a multitude of galleries, porches, corridors, stairs or walkways . The interior of the house was bathed in natural light from the skylights; and inside you could hear the sound of nature, the wind, and the birds. 
Locals started to whisper about the "House of Mirrors" and the man who lived inside and piled gadgets with glares and reflections like a crow accumulating bright things in their nests. For Schmidt, who had only received training as a mason and plasterer, the construction was a fancifully romantic gesture; he gave himself the role of the resident rebel with a streak of the poet. "There's a lot of Robin Hood in me," he explained, "I became some greater part of [the] mountain…when I walked along the road, the trees bent down on my behalf."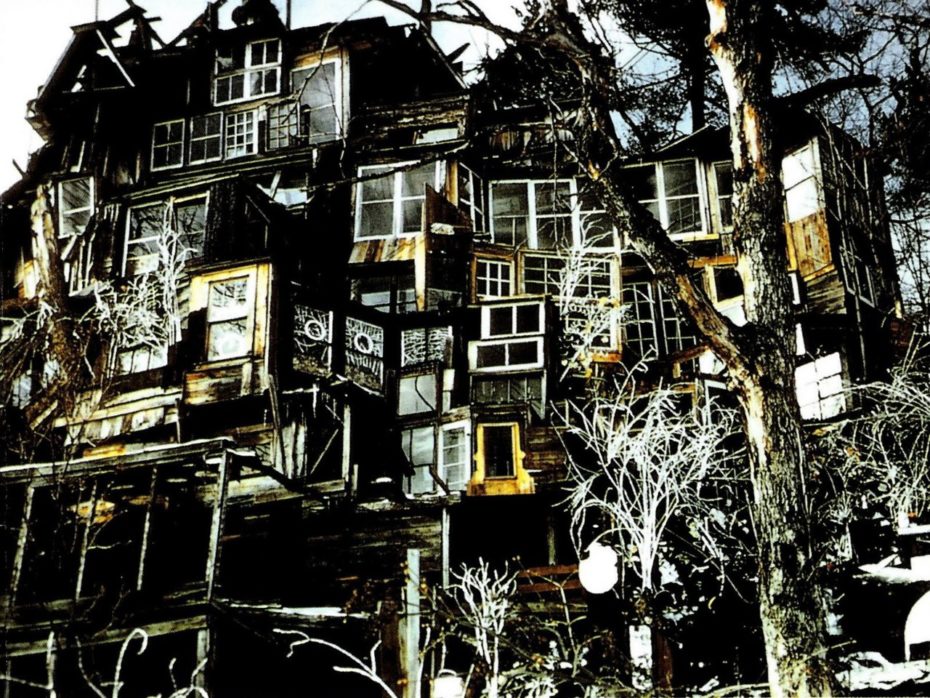 He started gaining serious local celebrity when newspapers began knocking on his mirrored doors to discover why he was so obsessed with building what they'd dubbed "the Miracle on the Mountain" and "Pop Art Disneyland". At one point, a state trooper had to camp out on his street to keep onlookers at bay.
Visitors would bring contributions of their own to the site, "Coins were most common, but shoes, lipstick — he loved mirrors," said Hudson Valley reporter Tad Wise in 2011, "Timothy Leary called Clarence, "his son, [and he even] sang with Bob Dylan and Joan Diaz."

But when your house is held together by kewpie dolls and roofing tar, it's also not long before nature wins. In 1968, the entire structure was nearly destroyed — and Schmidt, then estranged from Grace, went missing with it.
Luckily, a few days later he was found sleeping in a doorway. But he was traumatised by the loss of his home (or, as Grace called it, "Castle of Crap"). He found solace in creative writing, and his plans for rebuilding. "I've suffered Dante's Inferno and every other thing," he said "but I'll get back up there sooner than you think."
This time, he went to work on a tree house called "Mark II". But all the persistence in the world didn't change the fact that, for Schmidt, building a house was a bit like playing with Dominos. Another fire burned the structure in 1972, and he never quite rebounded from the loss. He passed away six years later, and the site fell victim to vandals.
To some, Schmidt was just a mountain hermit with a hoarding problem. But to so many others, he went down in history for his ability to transform trash into a folk artist's version of Kublai Khan. Perhaps Wise put it best when he concluded, "Clarence Schmidt suffers from an edifice complex."