Alaska is home to many wild and wonderful sights. From remote gold prospecting towns, to vast expanses of barely populated wilderness, to soaring mountains. But one of its smallest treasures is also one of its most unusual –  a town with a population of just over eight hundred, who have had a cat for their mayor for the past twenty years.
We went adventuring into the distant wilds of Alaska to the small town of Talkeetna, to go find this remarkable feline mayor, and to explore just what sort of town would elect one!
Talkeetna is located about 120 miles due north of Anchorage. By far the grandest way to get there is aboard the fairly luxurious train, the Denali Star. Departing historic Anchorage's Railroad Depot, and painted a vibrant blue and yellow, the Denali Star is one of the world's most beautiful train journeys.
The Denali Star runs along the banks of the Susitana River until it enters the majestic Denali National Park, home to the highest mountain in North America, Mount McKinley.
It may be surrounded by natural grandeur, but Talkeetna is tiny. It's population of 876 townsfolk live clustered around an historic downtown that has changed little since the early 1900s.
Disembarking the Denali Star at Talkeetna's small station, you are greeted by a hand painted wooden sign resting against an elderly wooden wheelbarrow, filled with wild flowers. Welcome to Beautiful Downtown Talkeetna' the sign says, and much of downtown Talkeetna is indeed beautiful, being largely made up of cosy looking log cabins, serving as stores, saloons and inns.
Such is Talkeetna's small town charm that it was the inspiration for the mid-nineties show Northern Exposure.
About the most modern aspect of the town is the Talkeetna Taxi Air Service aerodrome – and even that looks like something from the 1930s.
Our first port of call on walking down East Main Street is Nagley's General Store, one of the oldest in Alaska. An old red log wooden building, decorated with caribou and moose antlers, it is a post office, trading post and general meeting spot – the perfect place to find a cup of comforting coffee in the winter, when temperatures drop to -14 celsius and there's no sun for nineteen hours.
It is also home to the cat mayor of Talkeetna! Named for his stubby tail, Mayor Stubbs started life in rather less grand circumstances; he was found by the owner of Nagley's in a cardboard box left in their carpark.
In 1997, when the townsfolk of Talkeetna weren't happy with the human candidates running for mayor, they voted for Stubbs. "He's the mayor", says Ashley Kearns, a Talkeetna resident. "It's not a joke. I know its ridiculous, but the town is run really well." 
Talkeetna is an historic district rather than an incorporated city, which means that Stubbs' position as mayor maybe rather more honorary than usual, but that doesn't make him any less popular. "He doesn't raise our taxes", says one local. "We have no sales tax. He doesn't interfere with business."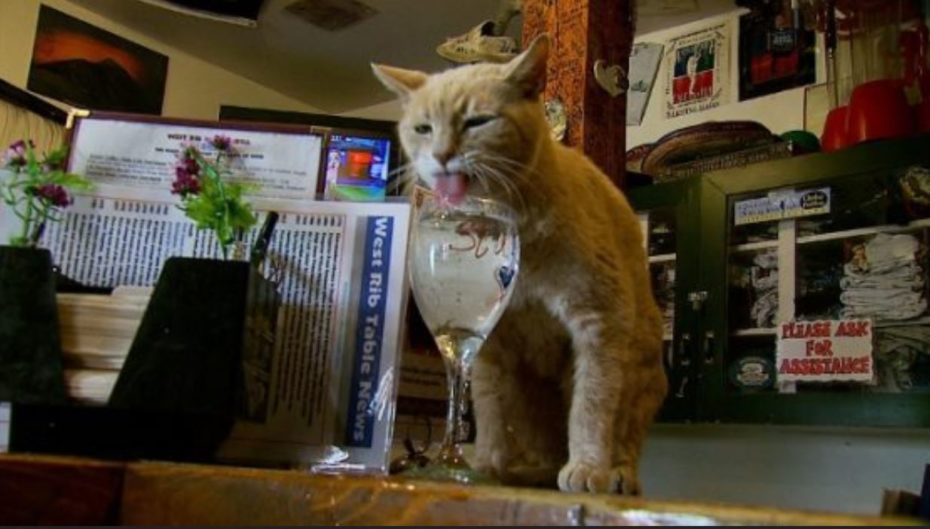 Mayor Stubbs fulfills his public duty as does any other mayor. When not relaxing at Nagley's – confusing out of town visitors who have been sent there to see the mayor, only to discover it is a cat – he can be found wandering the town. Every day he heads to one particular restaurant to sip a cocktail of catnip and water from a wine glass – a suitably distinguished past time for a town mayor.
Such is Talkeetna's love for its unusual mayor, that when Stubb's was attacked by a dog in 2013,  suffering terrible injuries, the townsfolk chipped in to raise money to pay for the medical bills from a veterinary hospital over 70 miles away. However, not long after we visited Talkeetna, Mayor Stubbs sadly passed away at the grand old cat age of twenty. 
But his mayoral duties look to be passing on to one of the new kittens who live at Nagley's, named Denali. Talkeetna is one of the most charming, friendly small towns to be found in Alaska and having a cat as its mayor is somehow perfect. Denali has big paws to fill as mayor, but according to the owners of Nagley's General Store, he was "trained by the master himself." (He also has his own instagram page if you'd like to keep up with his political career).