The most exciting, up-and-coming city in Germany probably isn't your first guess. For many years, Berlin had the reputation as the hip & happening capital of Europe. But soaring rents – as much as 70% more expensive over the past 8 years – have all but gentrified Berlin into a shadow of its former self. Instead, artists, musicians and urban thrill seekers have begun to make their new creative homes in the former decaying, East German industrial city of Leipzig.
From the abandoned factories turned contemporary design hubs to the secret passageways of the city, we explore what some people are calling the 'New Berlin',  whilst locales are taking a more sardonic view, calling their new home Hypezig!
Following the collapse of the Berlin wall, Leipzig suffered terribly. Nearly 100,000 people – about a fifth of the population – rapidly fled West, deserting one of the principal industrial jewels in the crown of the former DDR.
Factories and warehouses were left abandoned, whilst unemployment soared amongst the bleak, concrete high rises of the old Communist city.
Leipzig might be a surprising choice to go visit – travelers to Germany are naturally drawn to the vibrancy and tumultuous history of Berlin, the Reeperbahn and nightlife of Hamburg, or the picturesque mountains of Bavaria and beerhalls of Munich. Leipzig on the other hand has a recent history of grimness – at one point it was thought to have the most polluted air of any city in Europe.
We're really selling it to you aren't we?! Ok, stick with us…
Taking the high speed train from Berlin, Leipzig can be reached in just over an hour.  The first thing one notices upon arriving at the cavernous Hauptbahnhof is the sound of classical music. Played throughout the station, this perhaps shouldn't be a surprise – before the factories and DDR apartment blocks, Leipzig was the city of Mendelssohn, where Mozart played the cathedral's organ, where Martin Luther preached, and where Bach was the choir master. "I praise my Leipzig!", remarked Goethe. "It is a small Paris!"
Hints of Paris
One of the more remarkable aspects of the old part of the city is that a large part of it is hidden. Walking around, you may notice most of the locals disappearing into small alleyways, or large gated entrances…
What gives Leipzig a large part of its charm is this old network of passageways called Hofs. Some are quite beautifully tiled and decorated, some are more mysterious with plain wooden doors, well hidden, looking like unattended gates to secluded courtyards. Inside are hidden shops, cafes, or quick ways to get around the city.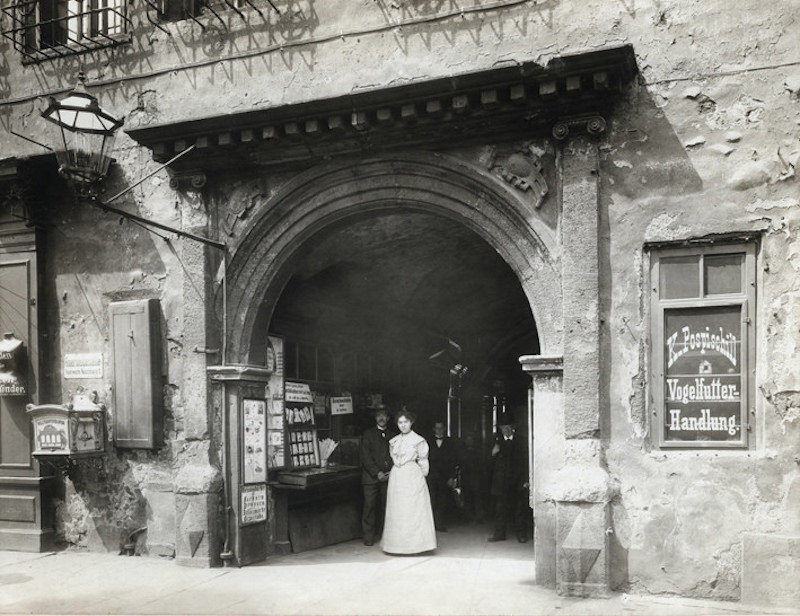 They used to connect merchant's houses, harking back to Leipzig's rich tradition as a market town, centered at the crossing of the ancient Via Regia and Via Imperii trade routes. Merchants would use these obscure passageways to swiftly navigate around their city. 
You may also notice strange curved arcs made of metal embedded into the cobbled pavements. The metal signs on the sidewalk are the clues that there is a passage next to it, and in which direction it curves.
Today, some are still as grand as the covered shopping arcades of Paris.
Sequestered away inside one of the grandest is a subterranean bar and restaurant, a favoured drinking spot for Goethe himself. In fact Goethe loved the Auerbach's Keller so much, it featured in his classic legend, Faust.
In keeping with the devilish theme, upstairs from the ancient cellars is a 1920s influenced cocktail bar, aptly named Mephisto. From time to time, as the expertly made cocktails flow, the house jazz band is interrupted by flickering lights and the cackle of the bar's namesake himself.
Abandoned Renewal
After a classic introduction to Leipzig, we head west of the city to discover its reputation as Germany's fashionable boom town, to a neighbourhood called Plagwitz. This was the red brick industrial centre of the city, with vast stretches of factories, chemical plants and textile production plants, almost all of which are closed and abandoned.
Crumbling smoke stacks, derelict warehouses and decaying buildings have become a thriving home for Leipzig's fast growing arts scene. Rents are so low as to be almost negligible, as there is so much derelict industrial space lying vacant.
Karl-Heine-Strasse runs through the heart of Plagwitz, teeming with bars, pop-up stores, temporary art galleries, theatres and concert venues. "What does a medium-sized, central-German city do if it has no mountains at its doorstep, no majestically flowing river at its heart, no surrounding forests, no nearby coast, no seat of government, no drug scene, no therapeutic hot springs and otherwise nothing in particular to offer? Naturally, it starts to dream", says one recent transplant to Plagwitz.
One of Plagwitz's resurgent success stories is the old cotton mill, Baumwollspinnerei. Once a ten acre site, mostly abandoned, the old mill is now thriving with over 120 artist's studios.
Plagwitz is also an urban explorer's paradise. For every old factory converted into an arts space, there are more just lying empty. With no security fences or patrols, urbex photographers and adventurers can simply wander in to their hearts content.
In just a few hours, you can venture into an abandoned boys school, an old DDR sports arena, a glass factory and most incredibly, an empty 18th century building where Bach once lived.
Notes of Baroque
After an afternoon's clambering through abandoned textile factories and breweries, you might be in need of some old fashioned European elegance again. A large part of what makes Leipzig fascinating is its mix of beautiful Baroque, pastel coloured architecture and its brutalist, concrete cityscape. And nothing in Leipzig is quite as sophisticated as the Café Riquet…
Leipzig shares a coffee house tradition similar to Vienna. Riquet is an Art Noveau gem, from the two copper elephant heads overlooking the entrance, to the refined, fur wearing clientele relaxing over coffee and cake. Over a hundred years old, the Turkish style coffee is as strong as the decor is elegant.
Or if you like the sound of staring up at 19th century ornate ceramics in a century-old butcher shop while enjoying coffee and cake, try the Fleischerei Bar…
Urban History
Heading east through the city, one is surrounded by the hard Communist buildings of the old DDR. High rise apartments that consisted of identically planned flats. These 'Plattenbau' apartments were pre-fabricated concreted slabbed 'new development' areas. Today Eastern Leipzig seems much as it did during the height of the Cold War. Behind the apartment blocks are more abandoned warehouses and garages, large swathes of wasteland, and old railway sidings and depots that have been left to crumble, begging to be revived.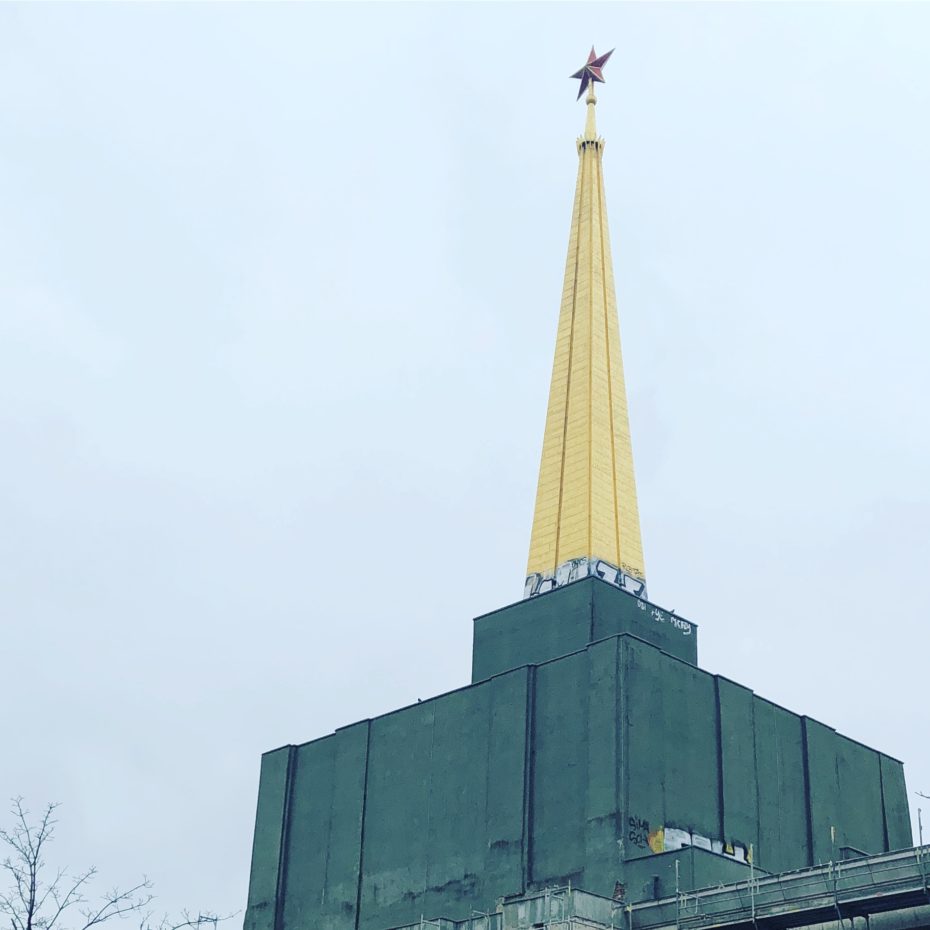 ©Luke J Spencer
In the midst of the old DDR architecture in the Leipzig Messe neighbourhood are the colossal remnants of the old Communist trade fairs. Similar to the extravagant World's Fairs that were once popular in the west, such as the New York World's Fairs of 1939 and 1964, Leipzig hosted the similarly grand trade fairs of the former Eastern Bloc. Many of the old exhibition halls are still there. The Soviet trade hall lies empty, a red star towering on a column over the city.
Located on Dittrichring, this was Leipzig's home for one of the most notorious and feared secret police organizations of the 20th century. At the former Stasi headquarters in Leipzig, you take a step back in time to 1976. Yellowed, cracked linoleum floors lead down narrow corridors to small offices painted with yellow, cracked walls.
Countless files and coffee cups are still left on the desks, where operatives carried out their shadowy clandestine surveillance under a portrait of Stasi leader Erich Miekle that still hangs on the wall. The atmosphere is so frozen it time, it seems as though the Stasi had just left the room and would walk back in at any moment, a file under their arm.
For something slightly less sinister, we point you towards the "Small Garden Museum", (Deutscher Kleingärtnermuseum). If you've ever travelled around Germany, you would have noticed on the outskirts of town, or next to train tracks, large communities of what appears to be hundreds of one or two room shacks. What are they?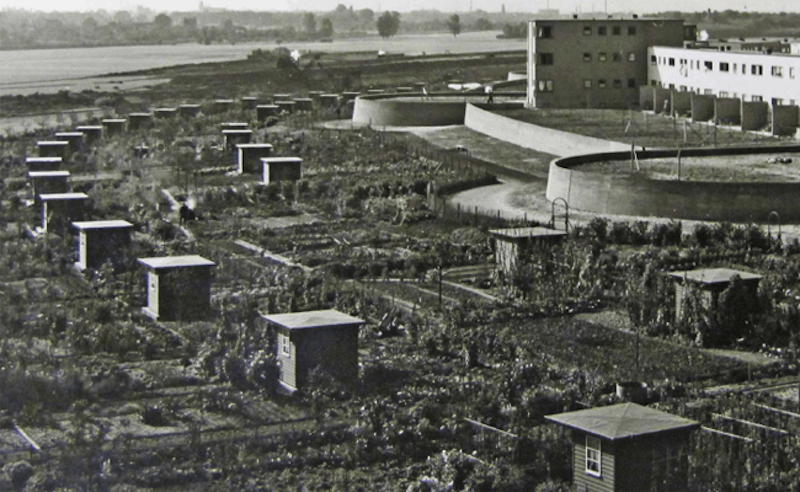 This charming little museum explains and shares the niche history of Germany's allotment gardeners. Similar to the Russian dachas, these gardens became popular in the late 19th century when people flocked into cities, and needed a place to escape at the weekend, do some gardening, have a picnic and grow their own food.
Leipzig's appeal as a thriving city is well founded. Rich in history, the old 'Paris of the East', where the protests against the former DDR began in 1989 that would lead to the fall of East Germany, is being reborn as a vibrant, youthful city. Already the population grown past the level it had when the Wall fell. Leipzig could quite well be the New Berlin. 
So what do you say? Would you give Europe's most underrated city a go?
By Luke J Spencer, our gentleman explorer.