For as long as I can remember, this strange and beautiful house above the sea has fascinated me — and this may be the last time I ever see it. Scheduled for complete demolition in a matter of months, it might not be the most ostentatious of old buildings, but it captured my childhood imagination. For anyone growing up in the Santa Barbara foothills, the 111 year-old "Franceschi House" became the stuff of legend; a mansion haunted by Italian ghosts one day, and cursed by Native American spirits the next. So today I thought I might try to tell its true story before it disappears forever…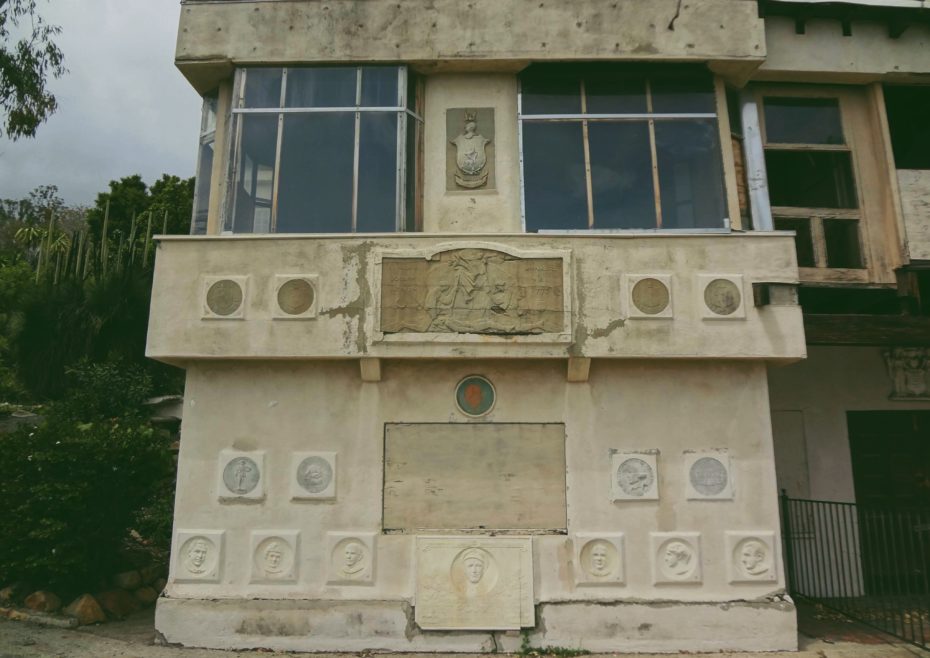 It's located at 1502 Franceschi Road, amidst dozens of acres of land overrun by the exotic plants once tamed by its master, the late botanist Dr. Francesco Franceschi.  
He was a founding member of the Italian Botanical Society in 1878, and was certainly no stranger to toying around with plants. He became an expert on succulents and palms, and is credited with introducing species such as the bamboo and eucalyptus into Italy.
After emigrating with his wife and children from Florence at the end of the 19th century, he built a house on 40 acres of virgin "Riviera" land in Santa Barbara. It was the perfect blank canvas for a botanist looking to start over. He named it, "Montarioso."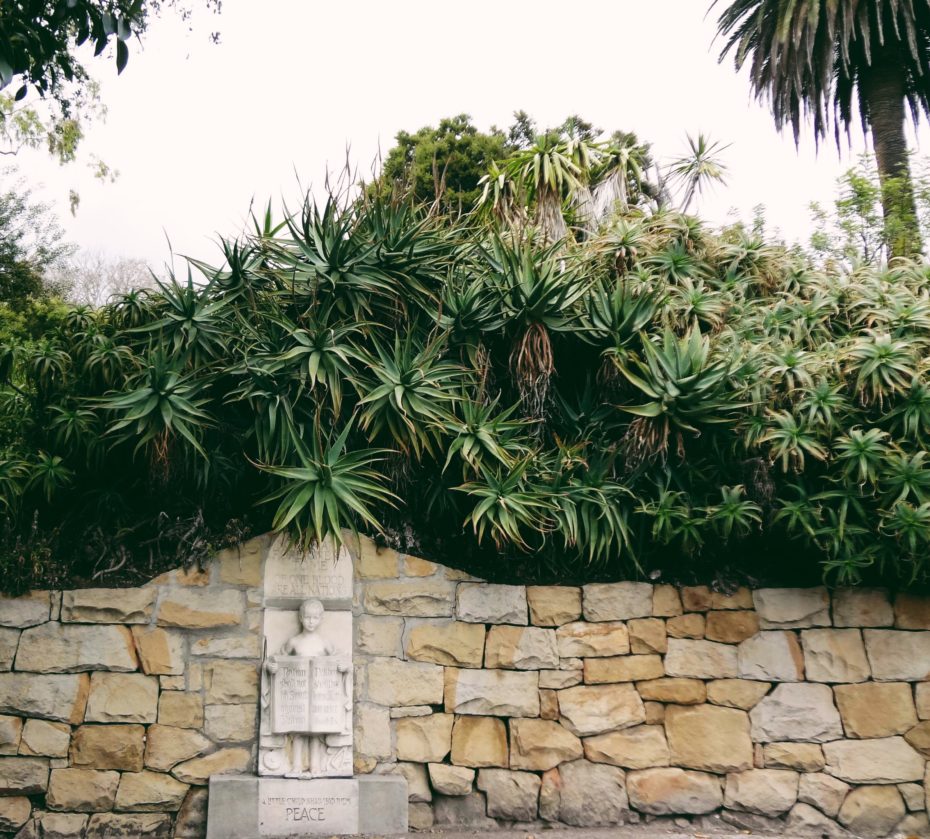 "Any garden designer in the region today owes a debt to Franceschi," says historian Susan Chamberlin, his obsession with plants brought over 200 new species — from floss silk trees, to blue trumpet vines — to the otherwise lonely hill, and changed the region's landscape for ever.
Stroll around the home today, and it's clear the plants aren't going anywhere without a fight — even if the building is crumbling.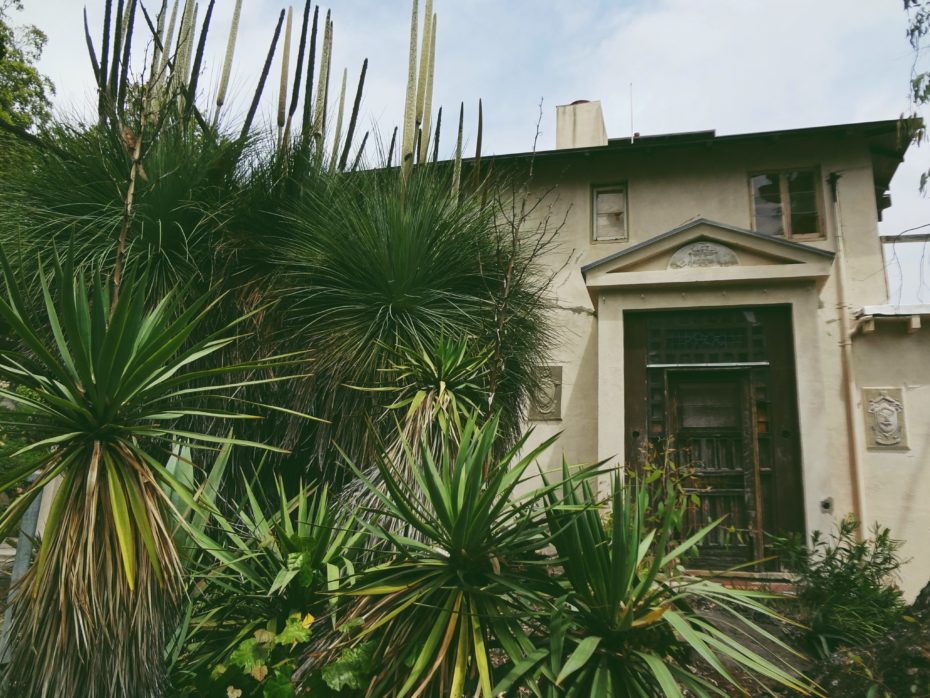 You have to watch your step as your explore the terraces, and try to imagine what it must have been like to uncork a bottle of champagne at 800 ft above sea level for your guests. Today the lookouts are collapsing, the bridges leading nowhere…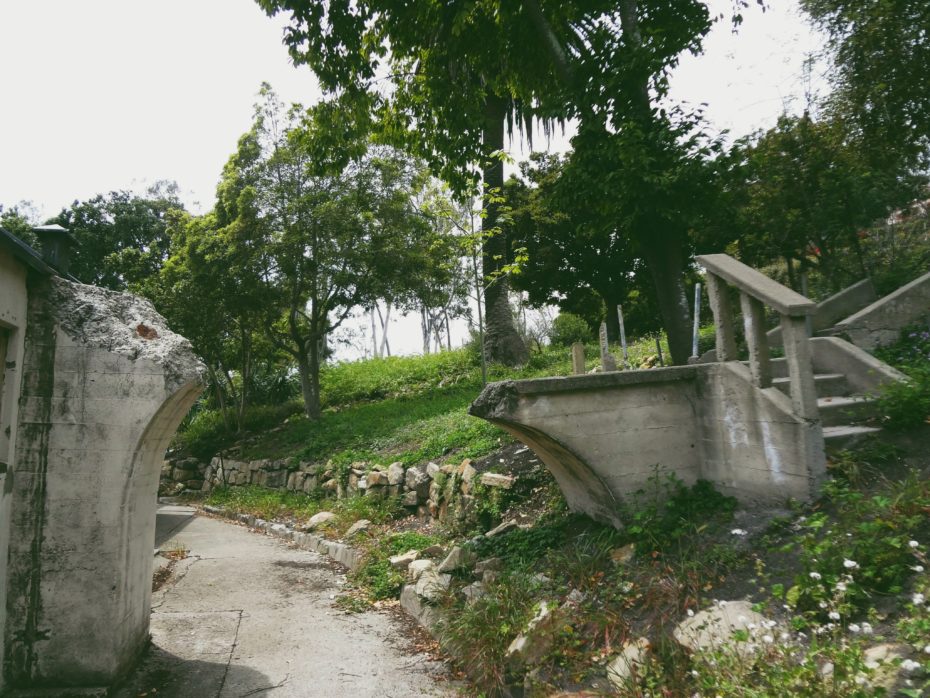 Francesci worked closely with a landscaping artist Charles Frederick Eaton, whose neighbouring estate, "Riso Rivo", became yet another botanical nursery for plant experiments. Only the surviving photos of Eaton's indoor jungle can give us an idea of the similar opulence Montarioso must've known in its heyday…
Franceschi came from a very (very) well-to-do family in Florence — hence, the ability to breathe life into his fantasy landscapes. In his youth, he transformed their Florentine summer estate into a botanical garden, and after planting his flag in California, craved another adventure. This time he left for Libya, where he planted the very first of its now iconic eucalyptus trees.
Montarioso was passed-on to an admirer of his work, a wealthy American philanthropist and social reformer named Adam Freeman.  "It is my ambition," Freeman told the Santa Barbara Morning Press in 1927, "to have this estate turned into a public pleasure resort, large enough so that the people of today may learn again the art of walking and the delight it brings." 
Here's what it looked like under his safekeeping:
And what the home looks like today: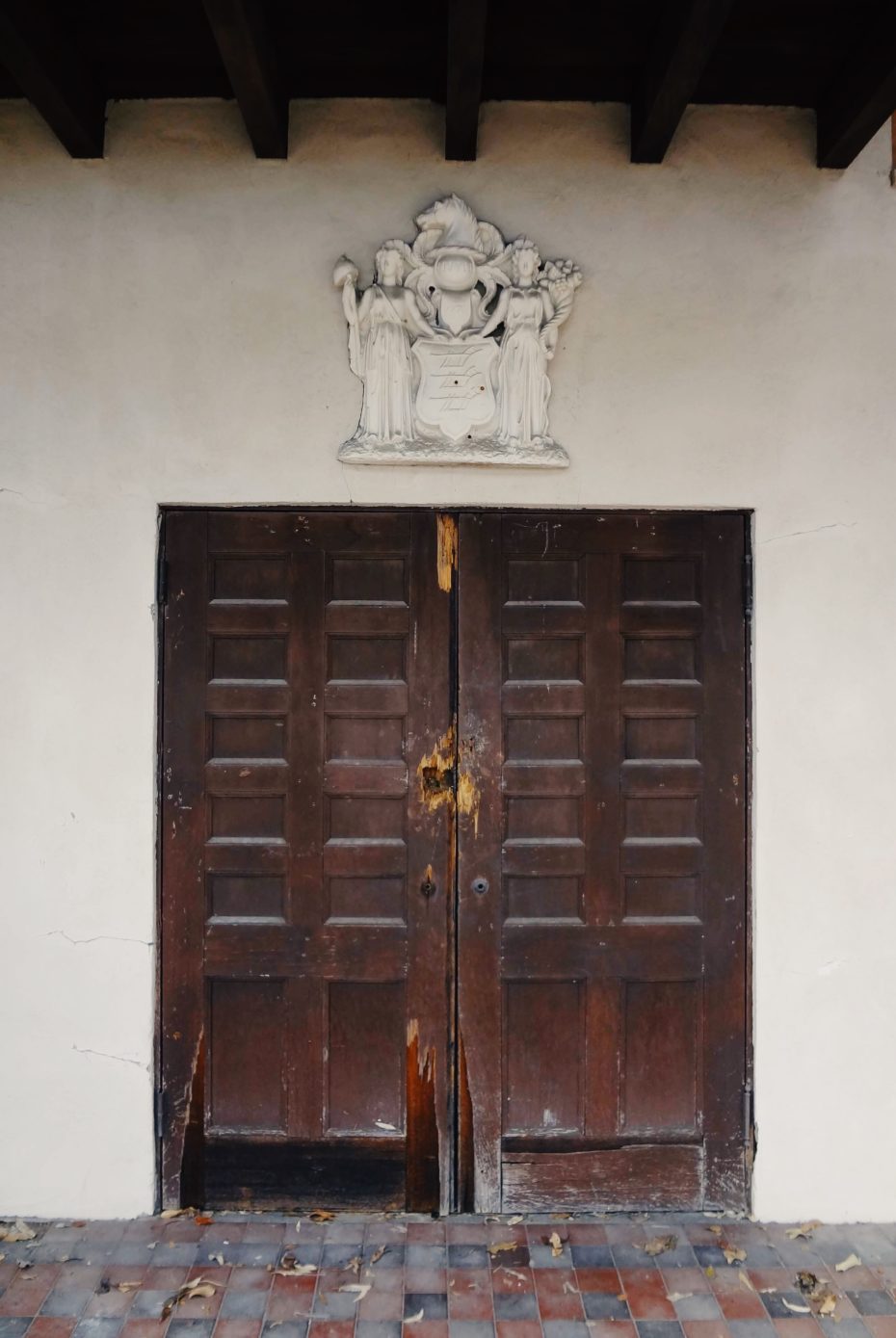 Stepping inside the house now is not encouraged (or permitted), but a local historical society slipped in a while ago to capture what's left of the interiors…
It's no wonder the neighbourhood's kids were always so afraid of the place — every inch is covered with dark wood paneling and creaky banisters. There's even an abandoned pump reed organ, which looks like it was custom made to match the rest of the house.
If you do reach the highest level without getting spooked, you're rewarded with this view:
But the weirdest thing about the decor is inarguably the giant medallions on the outside, which Freeman embellished almost obsessively to commemorate, well, whatever he saw fit. That meant everything from wild horses, to Tolstoy, to a female prisoner reformer…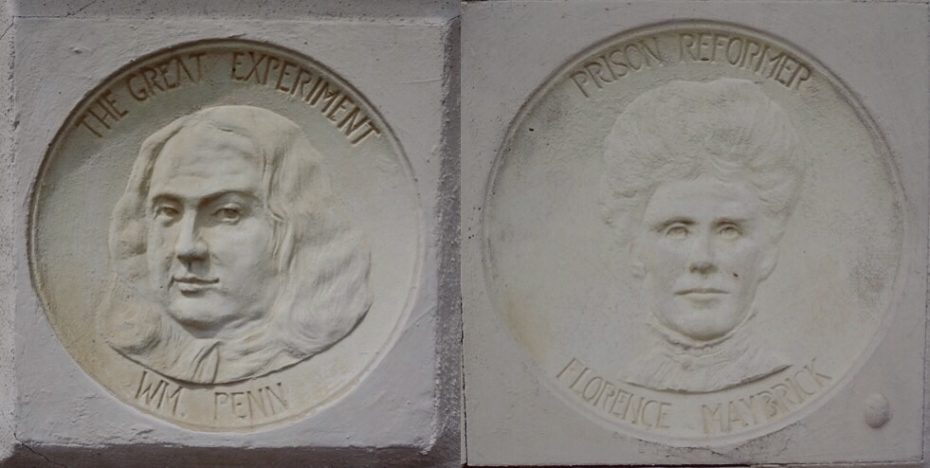 His cursive handwriting and love for Montarioso has been immortalised on the site, whose driveway reads, El temblor me dio estas piedros, "The earthquake gave me this rock."
It's a nod to the city's Spanish heritage, and to the house's survival of the 1925 earthquake that crushed the city's historic centre.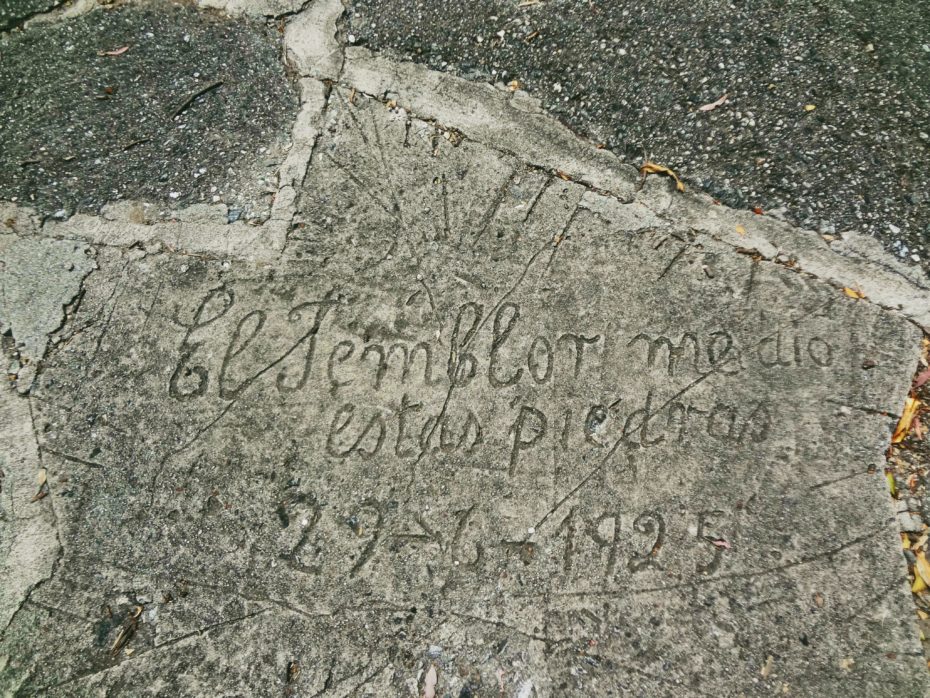 In 1931, Freeman donated the estate to Santa Barbara with the highest of hopes — but tricky city politics found a way to put the project on the back burner…for 37 years. Its  bulldozing was announced in February of 2017, along with potential plans to replace the house with a $3 million dollar "interpretive pavilion".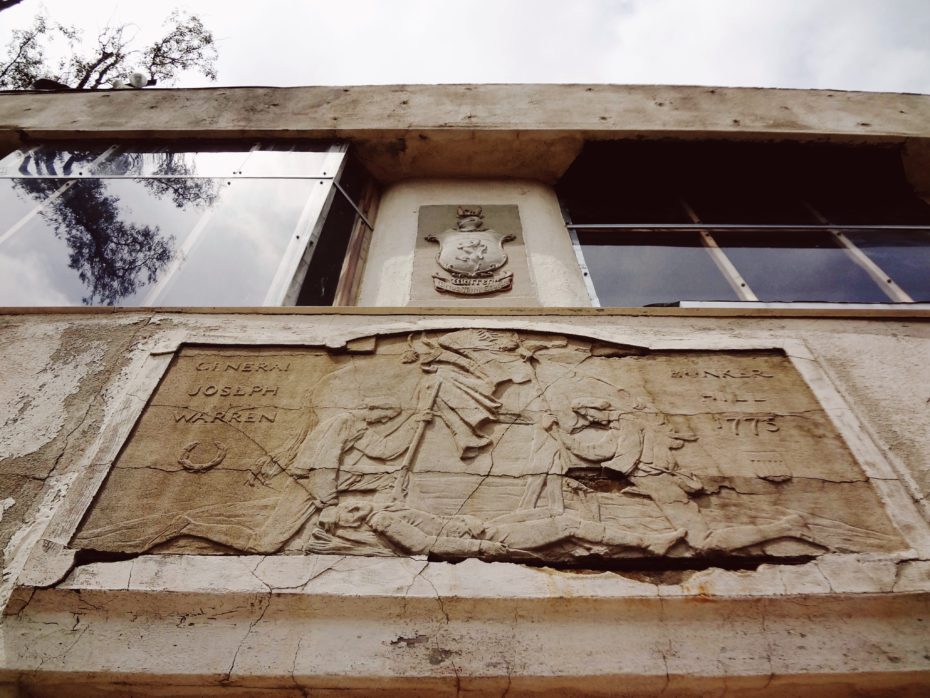 "So much effort went into planning to restore it," the city's Associate Planner, Nicole Hernandez, told me, "it just never actually happened." Hernandez worked tirelessly to save it, but the cost was estimated at $6 million.
"I wonder if this isn't a move on someone's part to get a serious backer's attention," said one city employee who wishes to remain anonymous; "when you 'confirm' you're going to 'destroy' something…well, it might finally get the right person's attention."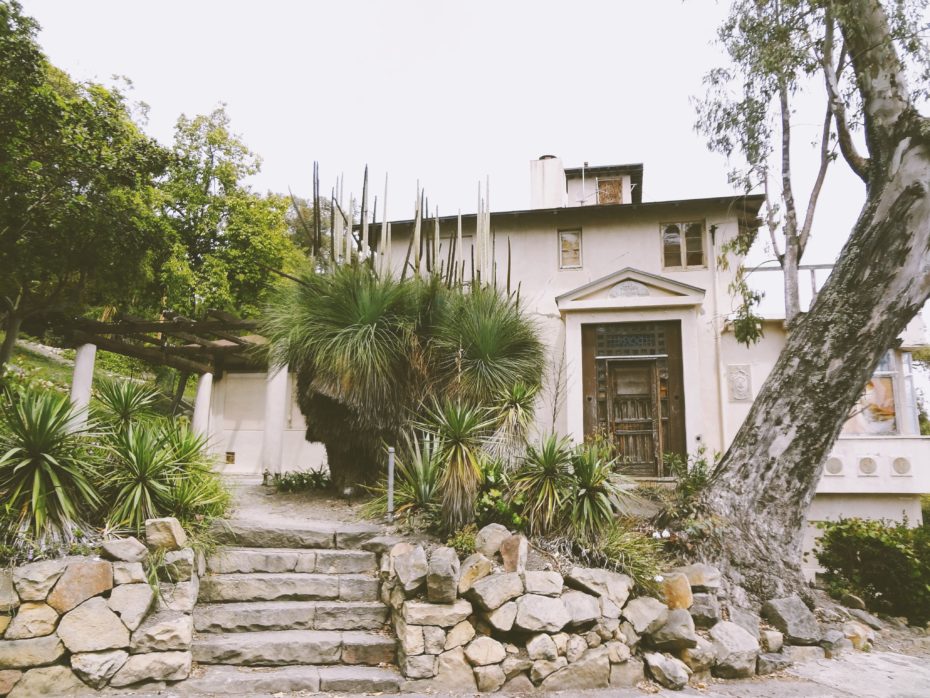 At present, Franceschi House remains in-limbo, straddling a 113-year-old legacy with one hand, and waving what feels like a perpetual goodbye with the other.
You can learn more about the site on the Pearl Chase Society website