You could say she was the female Indiana Jones, except of course, Indie was a fictional character, and Aloha Wanderwell was very much the real deal. After landing a seaplane on an unexplored stretch of the Amazonian River, she captured the first-known visual recordings of Stone Age peoples while living amongst the Bororo tribe, and when fuel ran out on the uncharted roads of Africa, she resorted to filling her Model T Ford with crushed bananas and animal fat to keep going. When she was just sixteen years old, this statuesque young Canadian explorer set off on an outlandish journey in 1922 to become the first woman to drive around the world, collecting enough material and film footage to make the greatest Hollywood epic that never was. With film star looks, and sporting tomboyish glamour almost a decade before Amelia Earhart was on the scene, Aloha Wanderwell was once hailed as "the World's Most Travelled Girl", but in the end, she would die in relative obscurity. Nearly 100 years after she began her adventurous career, we'd like to change that, and help bring this fabulously-named, vintage muse onto your radar.
"Brains, Beauty & Breeches – World Tour Offer For Lucky Young Woman… Wanted to join an expedition… Asia, Africa…"
It was those words, found in the back pages of a newspaper, that inspired a young teenage girl to embark on an incredible destiny. Born "Idris Hall' in Canada, 1906, raised in Europe at the start of the Great War, her father had died bravely in battle and she was promptly enrolled by her widowed mother into a convent to tame her tomboyish ways. Less interested in becoming a "proper lady" and thirsty for adventure, she made a break for Paris, clutching an advertisement placed in the Paris Herald by a certain Captain Wanderwell…
He was a controversial but fascinating former seafarer who'd been briefly jailed in America as a suspected German spy during the World War I. It didn't take long for Idris to convince the overgrown boy scout to give her the job as his expedition's translator, driver and secretary– she already spoke four languages after all and would pick up Russian, Chinese and Japanese during their travels to come. He nicknamed the ambitious and intelligent six-foot blonde recruit "Aloha", and the two set off on the Wanderwell Expedition (leaving the captain's then-wife behind for good).
Partially sponsored by the Ford Motor Company, the round-the-world tour would include 43 countries over the course of a decade. They each drove their own separate Model Ts, operated the camera equipment as well as appearing on film, and hustled wherever they went to help fund the expedition.
Along the Great Wall of China, they were taken hostage by bandits, and according to Aloha's memoirs, she charmed their way out of captivity by teaching them how to construct a machine-gun nest and properly work a belt-fed automatic weapon.
It's a rumour that she joined the French Foreign Legion at some point disguised as a young boy, and fought in desert warfare in the Middle East. It's fact that she was made an honorary Colonel in the Siberian Army. 
She was there in the background when King Tutankhamen's tomb was opened, and no doubt participated in countless other historic moments, only to be left in the shadows of history.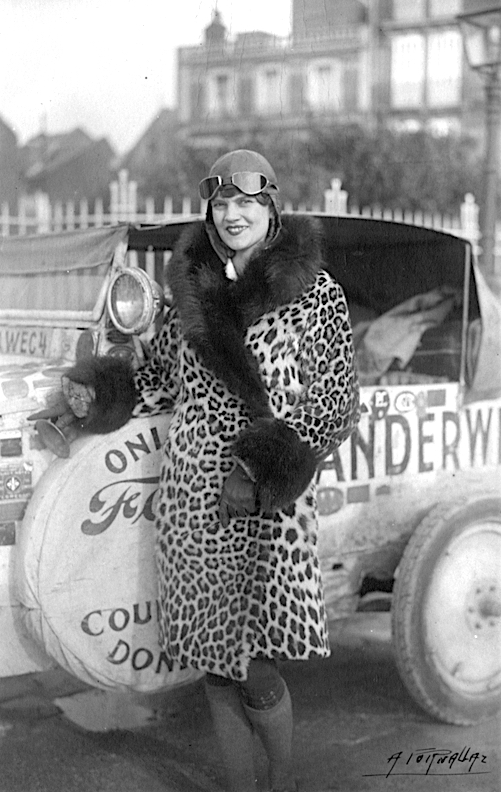 In 1932, she was pitching a film to Hollywood when her husband and the father of their two children was mysteriously shot dead aboard their yacht in Long Beach, California. The murder of Walter Wanderwell was never solved and even Aloha herself was a brief suspect despite a solid alibi.
Even after her husband's sudden death, Aloha still couldn't stay in one place. A year later, she was married again, to one of the expedition's cameramen, Walter Baker, and the two continued travelling around the world, making films, giving lectures and documenting their adventures in New Zealand, Australia, Hawaii, India, Cambodia and Indochina.
She eventually settled with Baker in Cincinatti and became a journalist, at which point her adventure seems to have come to an end. When she died at the age of 90, her unforgettable name and story, had been long forgotten by the public. 
Her incredible film collection was divided up, eventually acquired and preserved by various archives, but to this day, her life's work has never been given the true recognition it deserves.
Her own grandson however has collected her archives and made them available online where you can find a number of her films, including rare footage, technicolor movies, her only sound film and some colour home movies featuring Humphrey Bogart. You can find her book, "Call to Adventure", first published in 1930 and later re-published in 2012 on Amazon. Her grandson also gave her a Twitter account.
But someone might want to think about giving Hollywood a (wake-up) call.