Mad Men may have departed our screens a few years ago now, but it remains beloved in the hearts of those who love all things vintage and Manhattan, but perhaps most of all, by those who love vintage Manhattan bars! For seven seasons the employees of Sterling Cooper spent a large part of their time knocking back cocktails all over the city. Despite most of the show being filmed in Los Angeles, a large part of Mad Men's charm was its authentic portrayal of 1960's Manhattan, especially its endless watering holes. Some have sadly left us – the Stork Club, the Pen & Pencil, and the iconic Gaslight Cafe– a fair few remain.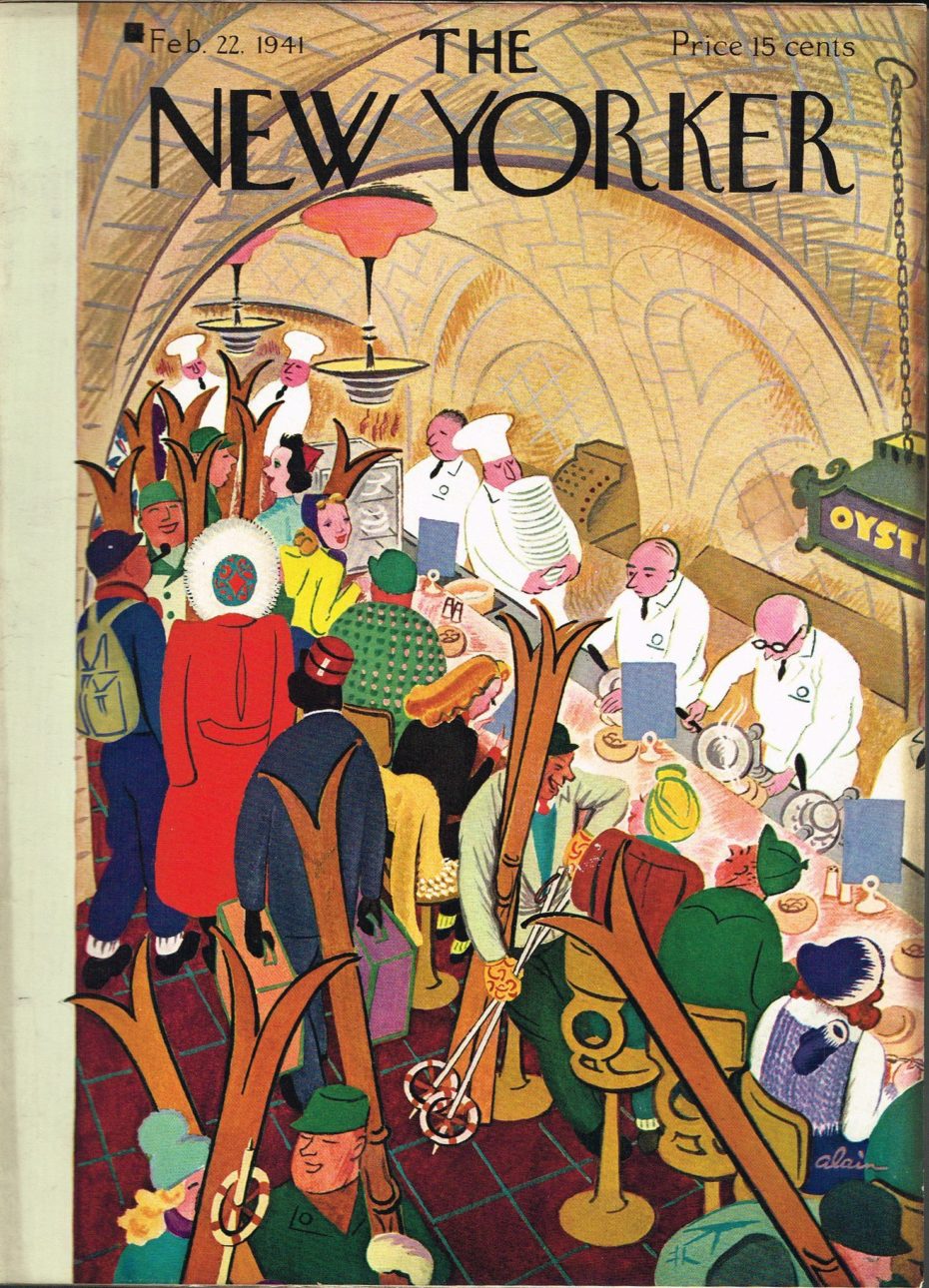 And whilst three martinis at lunch, and three packs of Old Gold a day have fallen out of favour, it is still possible to drop in many of the favoured spots of the Madison Avenue ad man, that are as popular today as they were fifty years ago.
The Oyster Bar at Grand Central Terminal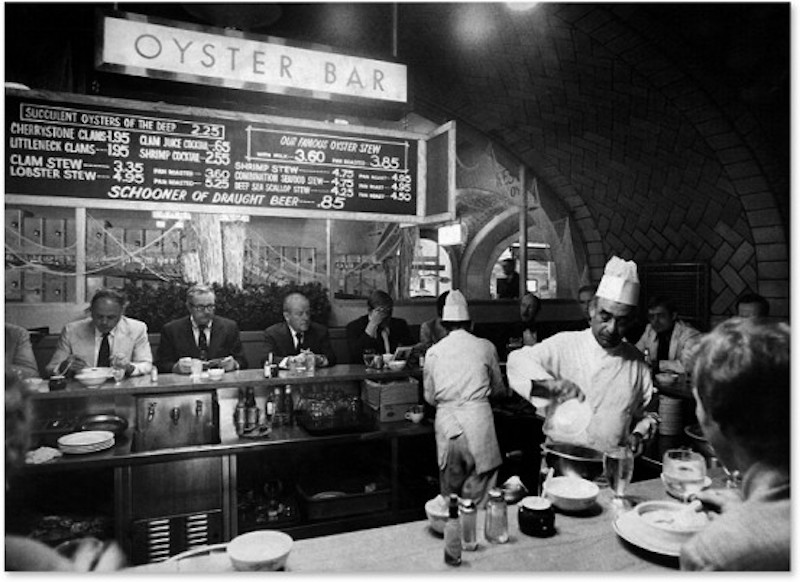 Grand Central Terminal is simply, one of the world's most beautiful working train terminals – just don't call it a station! Evoking the timeless romance of train travel, not much seems to have changed at Grand Central since it was rebuilt in 1913. This is particularly the case if you venture downstairs to the lower track level, where you will find the sumptuous Oyster Bar, which opened its illustrious doors back when the Terminal did in 1913. Vaulted, beautifully tiled ceilings provided the perfect old New York setting for oysters and cocktails.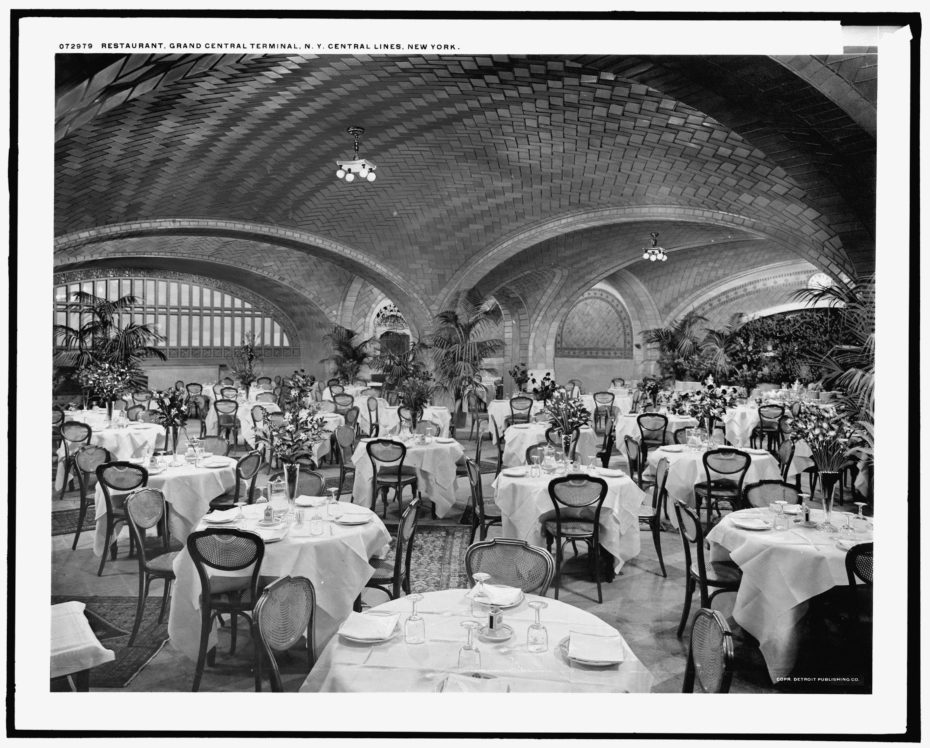 Mad Men Credentials
The Oyster Bar is particularly useful if you need to exact revenge on your boss after discovering he's been flirting with your wife. In season one of Mad Men, Don Draper does just that, taking Roger Sterling for an epic feast of oysters, cocktails, more oysters, cheesecake and cocktails, but not before first bribing the elevator attendant back at the office to keep the elevators out of order, leaving the two ad men with a mountainous climb back to work, and Roger reliving his lunch on the office floor.
What You're Ordering
A dozen Blue Points and a Gibson or two. The Gibson cocktail is thought to date to The Player's Club one evening in 1908, when Charles Dana Gibson, the artist responsible for the iconic Gibson Girl, asked the barman at The Player's to see if he couldn't improve on a regular martini. Swapping out olives for silver skin onions, the Gibson was born!
PJ Clarke's
At the corner of Third Avenue is one of New York's gems; PJ Clarke's. This venerable, red brick saloon is truly a taste of old New York. PJ Clarke's was already seventy six years old by the era depicted in the first series of Mad Men. PJ Clarke's is an old time New York saloon, with a small dining room at the back. "We've been serving up the same things since 1884….fresh food, frosty drinks and good, old-fashioned conversation", says one of the great hold outs surrounded by gleaming skyscrapers.
Mad Men Credentials
A regular drinking spot for the more rank and file employees of Sterling Cooper, PJ Clarke's was first port of call when Peggy Olson wanted to celebrate her first success as a copy writer in season one. Belle Jolie lipstick might have been impressed, but less so was Pete Campbell as he watched Peggy dancing to the Twist on the jukebox.
What You're Ordering
The bacon cheeseburger hamburger! So good that Nat King Cole christened it the 'Cadillac of hamburgers' with good reason. Washed down with a cold beer; the Brooklyn lager, though not from the 1960s, is highly recommended.
Barbetta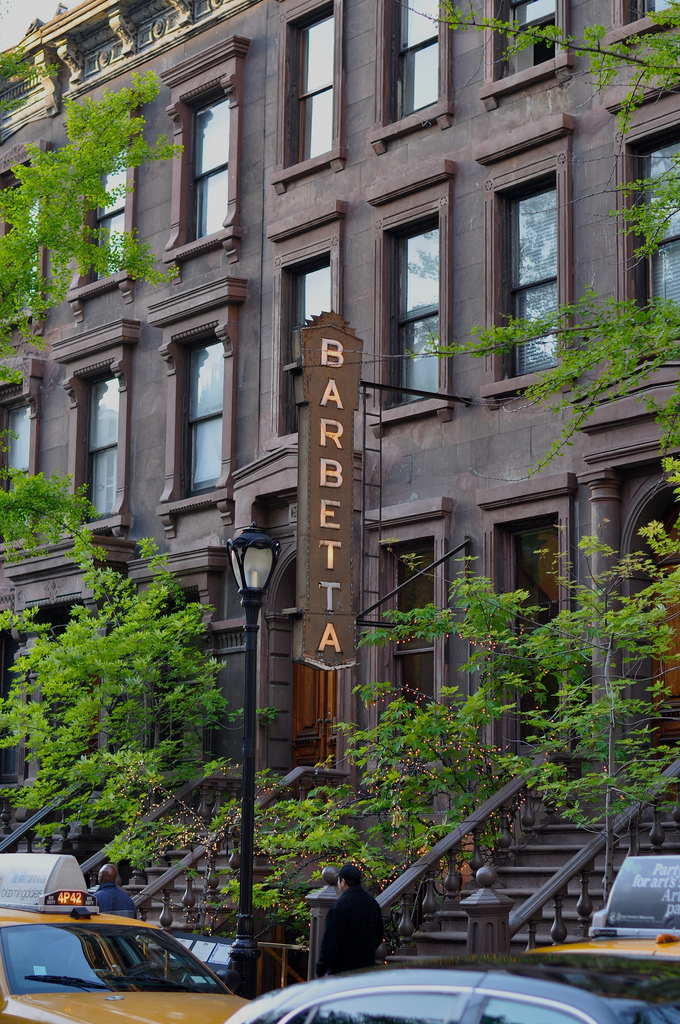 One for the ladies of Mad Men, in Manhattan's Theatre district, Barbetta is one of New York City's oldest family-owned Italian restaurants, which took up residence in a brownstone townhouse 112 years ago. It's a classic romance kind-of-place, where women of the 1950s expected to be taken for a fancy dinner date. The charmingly over-the-top Baroque interiors have remained the same over the decades and the back garden with its century-old trees and wisteria feels more like a grand country estate than a city garden.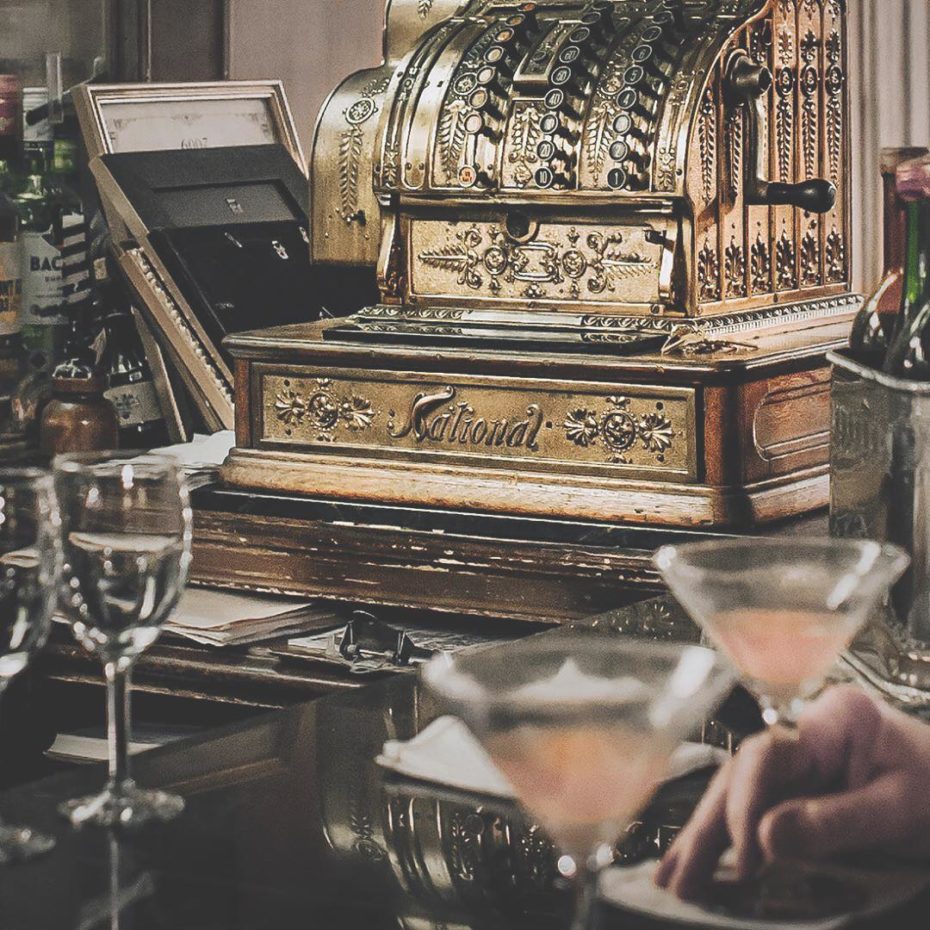 © Instagram/ @dina_itovsky
Mad Men Credentials
In "The Summer Man," episode, Donald Draper takes society girl Bethany out on a date to Barbetta. Then his ex-wife Betty walks in. She glares at Don and Bethany before excusing herself to the ladies room where she sits on the toilet lid and smokes a cigarette as she tries to get her bearings.
What You're Ordering
Barbetta happens to own their own truffle hounds that search the Piemonte countryside in Italy during truffle season– so anything with truffles on it is a good choice. The restaurant claims to be the first restaurant in New York to serve white truffles. In fact, they keep an entire list of Barbetta firsts on their website including, first to serve risotto, sun-dried tomatoes and Tuscan Extra-Virgin Olive Oil, first to have a pre-opera menu and the first restaurant with a garden (outside Central Park).
Sardi's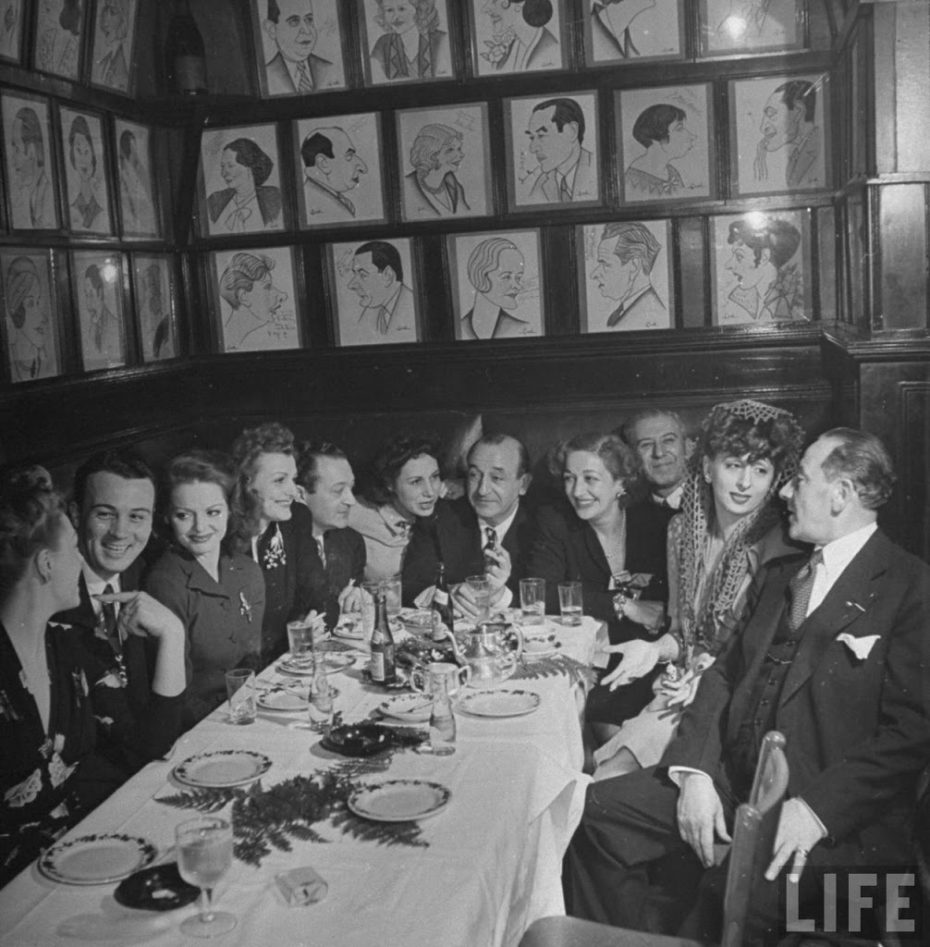 Not for nothing is Sardi's restaurant known as the toast of Broadway – almost every famous actor who ever starred on Broadway is immortalized in the distinctive caricatures that grace the crimson walls of this iconic New York night spot. A staple of the pre- and post-theatre dining circle since 1927, this restaurant is one of the quintessential New York delights!
Mad Men Credentials
Early in season two, Don Draper is knee deep in nefarious activities; out on the town at Sardi's with one mistress, Bobbi Barrett, he bumps into a former mistress from season one, swanky department store heiress Rachel Menken.
What You're Ordering
A few pit stops in and the first Old Fashioned is long over due – the cocktail perhaps most synonymous with the show and the mystery man at its centre, Don Draper. The Old Fashioned is thought to date back to the 1880s, and is one of the six classic cocktails delineated in David Embury's influential 1948 book, the Fine Art of Mixing Drinks. (The others Embury states as being the Martini, Daiquiri, Manhattan, Sidecar and Jack Rose). The Old Fashioned at Sardi's is one of the best in the city, asking for rye whiskey is recommended over bourbon.
Minetta Tavern
After swanning around midtown, we're heading down to Greenwich Village at the delightful Minetta Tavern. Today the Minetta Tavern is a somewhat swanky affair, thanks in part to its Michelin star. But when it opened in 1937, it was more New York saloon than high end Parisian bistro. Favoured amongst such hard drinking writers as Hemingway, Eugene O'Neill and Dylan Thomas, Minetta Tavern has been revamped, but still retains much of its period charm, and a suitable last stop on our Mad Men tour.
Mad Men Credentials
In season five, high flying Peggy Olson thinks that her somewhat dead beat boyfriend Abe has taken her to the Minetta to propose! Propose Abe does, but just that they move in together.
What You're Ordering
Brandy Alexander, Peggy's go to cocktail. More popular nearly century ago than today, the heady mix of cognac, creme de cacao and cream was thought to have been created by a bartender at Rector's old restaurant on Broadway.
By Luke J Spencer, our gentleman explorer (and major Mad Men fan) in New York.