You're probably familiar with the favourite Roman past time of nude public bathing, but did you know that it's an even bigger phenomenon in Japan? Getting hot and steamy is deeply rooted in the Japanese culture, and public baths are still as popular as ever. The archipelago, which consists of over 6, 800 islands, is home to over 30, 000 baths, so wherever you go you'll be sure to find one. You can usually spot whether there's a bath nearby by looking for the ♨ symbol…
Let's start with the basics. Japanese baths are called "onsens". Although you can find them indoors, most of them are outdoors where you can be at one with nature. The water is geo-thermally heated, so it's no surprise that the name onsen literally translate to "warm spring." Just like they were with the Roman baths, Onsens are hot spots for socialising with friends. The different natural minerals in the water mean that they have healing properties too – they can be good for your skin, heart, immune system and more. Intrigued?
The abundance of onsens is directly related to the geography of Japan, because it's one of the most volcanically active countries in the world– which means it has a lot of natural hot springs. It's home to about 10% of the world's active volcanos and not far from the largest volcano on the planet, which lies in the Pacific Ocean.
From the onsen culture also emerged the sentō, which aren't hot springs because the water is heated as you would heat your bath at home, but they're pretty much the deal otherwise. All public baths have specific rules that you have follow, some of which may surprise you. And to make life easier, we've put together a short guide so that you can steam up in peace.
1. No Clothes Allowed
Nobody is allowed to wear clothes in the Japanese baths– not even an itsy bitsy bikini. It may take a little bit of time to get used to, but we speak from personal experience when we say, it's a highly liberating exercise. Everybody is in the same boat so there's nothing to be embarrassed about. Embrace it! And in case you were wondering (as we were) Japanese women like to keep their downstairs au natural as well.
2. Cleanliness is next to Godliness
Japan is well known for its attention to cleanliness and the baths are no exception. Anyone else been given a copy of Marie Kondo's The Life-Changing Magic of Tidying Up? This devotion to cleanliness has been attributed to high population density, historical outbreaks of illness, and even the country's predominant religion, Shinto, where purity is at the heart of defining what's good and evil.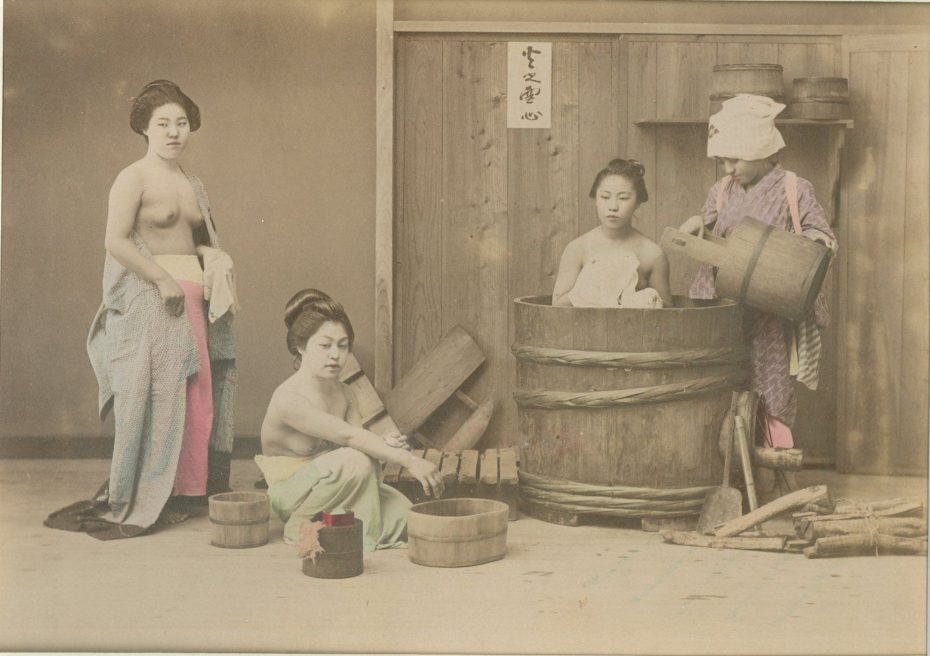 Actually, the reason why clothing isn't allowed in the onsens is because it isn't considered to be very hygienic to go into the water with them. Before you enter, you have to make sure to shower thoroughly, and that you aren't sick or have any open wounds. It's also a big no no to put your towel in the water, so take note!
3. No tattoos
Tattoos are pretty cool, but not so much in Japan, where they're associated with criminals – especially gangs (pictured above is a Yakuza bath house in 1946, specially reserved for the tattooed mafia). They were only legalised in 1948 and were used to brand outlaws as punishment. Because of this history and association, a lot of baths do not allow you to enter if you have a tattoo. A word of caution: people with tattoos may also find it hard getting a gym membership, or even some jobs in Japan, as there are companies that ban their staff from having tattoos. Body art is becoming more accepted however, and the number of establishment that do allow tattoos is slowly increasing.
4. No Mixing
Sometimes it's tricky to organise single sex bathing when there's only one bath, so many establishments have women-only and men-only hours. It's worth checking. In Tokyo, mixed baths are even illegal now, so it may be unexpected that Japanese baths were historically mixed. These divisions were introduced as a result of the influence from other countries and cultures over the years.
5. No photos
I think this explains itself…keep your phone in your bag and locked away. Nobody wants a sneaky photoshoot in the nude.
So, now that you are ready to go, here are some places to start…
The Arty Bathhouse: Naoshima Bath (I♥︎湯)
Located in the Seto inland sea, Naoshima is an island dedicated entirely to art. It's famous for it's spiritual architecture and rich artworks. Here you can find Yayoi Kusama's famous spotty pumpkin, Monet's Water Lilies, and a recreation of his garden. Why go to Giverny when you can go to Japan?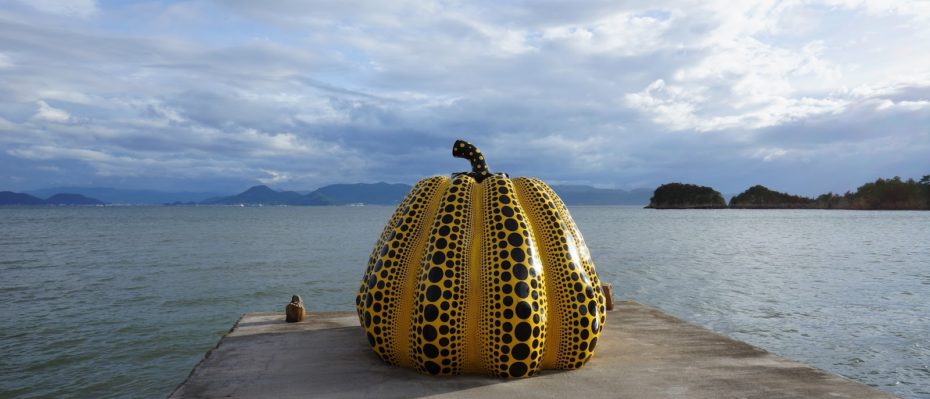 At the heart of its community lies a Naoshima bath house designed by Japanese artist, Shinro Ohtake. Even from the outside you can see that it stands out, with the brightly coloured tiles and columns, palm trees, and neon lights. There is even a globe sticking out at the top like an antenna. Inside, there's a retro collage on the bottom of the bath, which you can get lost in, there's a giant elephant on top of the showers and even the toilet seats are art pieces…
The onsen at the world's oldest hotel: Nishiyama Onsen Keiunkan
Nishiyama Onsen Keiunkan owns the monumental title of world's oldest hotel– it holds the Guinness World Record. You can find it in a secluded valley at the bottom of the South Japanese Alps, not far from Mount Fuji. It was established in 705AD and has been passed down 52 generations and its antiquity has resulted in rumours that it's haunted.
In the traditional Japanese inn, or roykan, you'll find woven-straw flooring, futon beds, and decadent meals. It might be old, but that doesn't mean that it's lost its touch. Here, you can choose from 6 different onsens with some pretty wonderful views of the mountains– 4 outside and 2 inside. The hotel website notes that their springs specifically help gastrointestinal disorders, muscle pain, constipation, and fair skin?!
PS. You might want to book the karaoke room for once you have finished in the onsen.