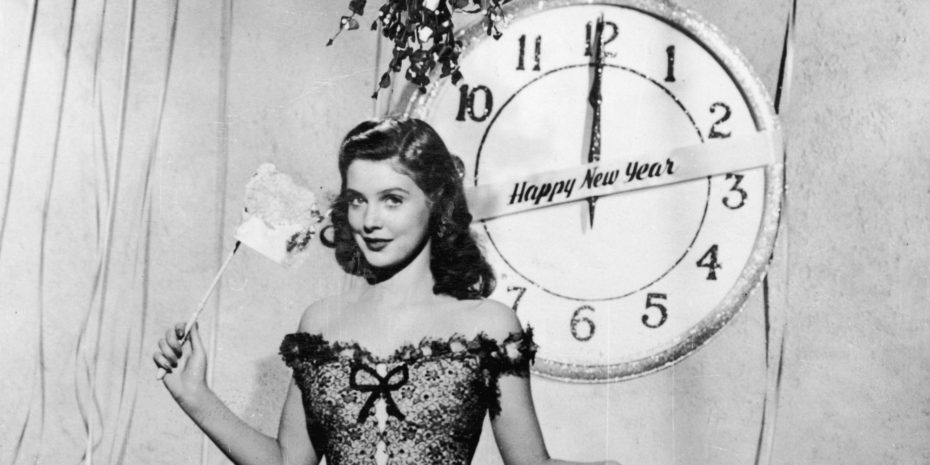 For most of 2018, it's been all about New York City at Messy Nessy Chic, as we gear up for the release of our second book in 2019, Don't be a Tourist in New York. So when it comes to making plans for New Year's Eve in the Big Apple– we got this! Using our top secret compendium of NYC addresses from the upcoming book, we picked out 12 of places we'd most like to be when the clock strikes twelve and wrapped them in a beautiful mini e-book for you. From Anti-New Years" low-key local bars and romantic dinner dates to "Purple rain" dance parties and secret Gatsby singalongs– feel free to re-use as an epic weekend guide to New York City. Advanced planning and reservations are heartily recommended on Dec 31!
1. Purple Rain Dance Party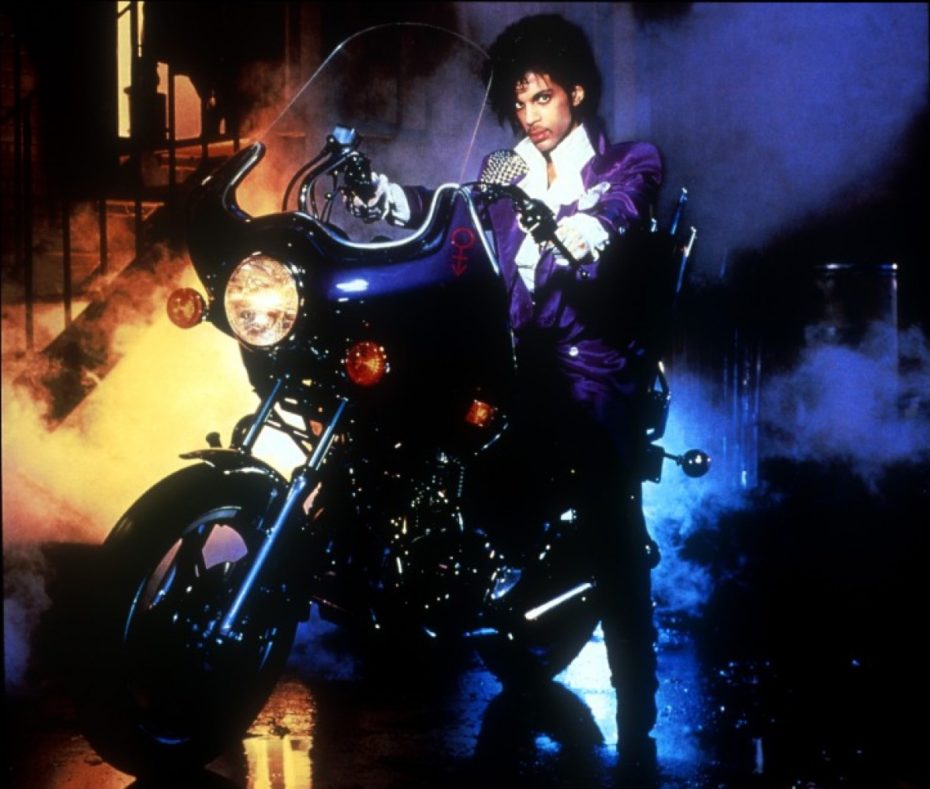 Syndicated is one of Brooklyn's raddest dine-in cinemas with a constant stream of films projected above the bar out front, and a nostalgic 60-seat dine-in theatre with a Wes Anderson colour palette in the back. On NYE, this revamped warehouse space pays homage to Prince's epic "Purple Rain" era. They promise "a Prince-heavy dance music rotation beneath psychedelic, wall-sized, crowd-interactive visual projections that integrate the man's 1984 classic film." Come dressed to impress with in your finest silks & frills for some Prince-inspired thrills and party like it's 1999 (or 2019).
All the information is here.
2. Romantic Dinner & Chill  
In the heart of a 400-yr-old cobblestone village by Brooklyn's Navy Yard, bound together by a tight-knit community whose homes look like they've been teleported-in from old Europe, you'll find Vinegar Hill House. Bring anyone from your mother to your lover to their restaurant for a New Years Eve and feast in relaxed, antique setting.
The menu will be French and Vietnamese-inspired, with the first seating taking place from 6pm – 9:30pm with a three course, $95/person chef's tasting menu, and the second slot from 10pm – midnight with a four course, $120/person chef's tasting menu, plus a toast of midnight bubbly.
All your information is here.
In the mood to spend New Year's in a French bistrot lost in time? Maison Premiere has the air of a 19th century courting hotspot– globe lights beckon from the lush garden hiding out back, while the dining room nods to French colonial decor. The old world ceiling fans hypnotically spin over a horseshoe-shaped bar where exquisite absinthe cocktails are served from a fountain topped with a miniature Napoleon. If that doesn't set the mood, the finest oysters in Brooklyn are on the menu for their New Years Eve menu. There's no cover charge and walk-ins are welcome at the bar all night, but try to make it for the 6pm or 9pm prix fixe menu seating to dine one a three-course meal of Poached Oysters, Lobster, and more.
All the information is here.
Pre-Civil War Brooklyn is wonderfully captured at Henry Public in historic Cobble Hill. It might be a relatively new addition, but this feels like stepping back in time, to a friendly saloon where the young Walt Whitman himself could have unwounnd after a hard day at the printing press. The special a la carte feast includes oysters, as well as braised lamb, lobster pie and dry aged ribeye steak.
All the information is here.  
3. Wes Anderson Style
Grand Prospect Hall is the fabulously kitsch, American take on Versailles where Gene Hackman and Gwyneth Paltrow dined on ice cream in Wes Anderson's The Royal Tenenbaums. This four-story wonderland is the last outpost of Victorian grandeur in New York, with its kitsch-tastic ballroom, crystal chandeliers, ornate marble lobby, Al Capone-haunted speakeasy and more. It's the perfect place to ring in 2019 with a shed-your-past, "New New Years Eve" theme.
The dress code is simply everything glamorous, with white and gold encouraged. The night promises a non-stop flow of ceremonies & spectacles, projection art and illuminated installations; "luxury cuddle puddles and a healing lounge; divine dances, tea & tantra"– and most importantly, an open champagne bar from 9-10pm.
All your information is here.
At Chelsea's The Jane Hotel (New York City's answer to Wes Anderson's Grand Budapest Hotel) the lavish and bohemian ballroom is hosting a dance party to really dress to the nines for. There's a 4 hour open-bar from 9pm-1am and DJ until 4am. Dance floor tickets are $60, high rollers can splash out on fireside tables and VIP access. Music is Top 40 Hits and Hip Hop classics. All your information is here.
4. Live Swing Nights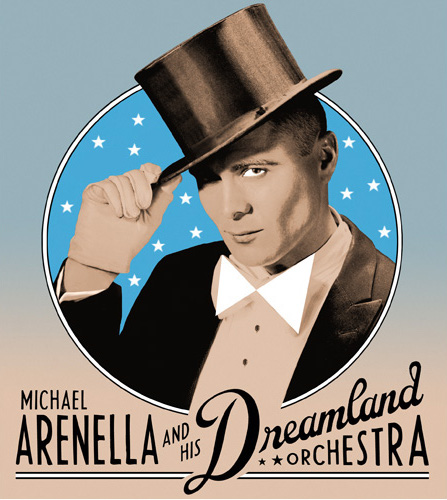 Michael Arenella is the man behind the summer's swinging Jazz Age Lawn Parties, and a friend of Messy Nessy Chic, and once again, he'll be bringing jazz age music to one of Brooklyn's most exquisite cocktail bars, the Clover Club in Carroll Gardens. The Clover Club is in equal parts a cosy, neighbourhood bar, whilst retaining that swish, vintage cocktail bar elegance. If you like your New Year's Eve toast with a perfectly made mint julep in hand, accompanied by New York's premiere crooner, the Clover Club is the place to be.
All the information is here.
Sip absinthe with a kindred romantic soul at St. Mazie Bar & Supper Club of Williamsburg, whose antique charm feels like it fell out of some nondescript, Latin-tinged European village. This year, the Baby Soda Jazz Band will deliver some sweet New Orleans jazz, 1930s swing, Southern Gospel, and more. General admission for live music at the bar is $25 per person at the door. Or you can opt for a 3 course prix fixe menu in front of the stage or in the cavernous secret cellar supper club ($80 per person).
All the information is here.
5. Na zdoróvye! (that's "cheers" in Russian)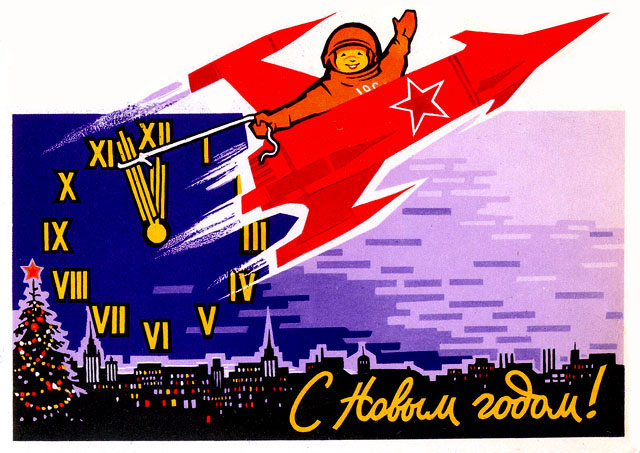 There's a certain point on the boardwalk of Coney Island where you stop hearing English and start hearing Russian. That's when you know you've entered Little Russia of Brighton Beach. Looking out onto the ocean is Tatiana, the last great Russian supper club of NYC. It's got all the best things about Russia: good vodka, kitsch decor to the max and crazy Russians that know how to party. Watch out for Jacob, the owner that looks like a moody mob boss but turns out to be a teddy bear who loves dancing and showering you with his favourite vodka We also learned that live Russian music is really, really fun to dance to. This New Year's Eve, Tatiana is hosting a banquet dinner extravaganza with a special show, live entertainment and an unlimited open bar. Full disclosure: we've been here on a normal Thursday night for the live singing dinners with locals– and had a blast. New Year's is likely to take things up a notch and it could be hilariously awful, but we're betting it will be completely memorable.
All the information is here.
On your way home, make a pit-stop to soak up the vodka at the 24 hour time machine that is the Floridian Diner, dripping in uber '80s chrome fittings, mirrors, and turquoise blue bar-stools. Grab a booth with a retro tech jukebox, pick your favourite track from the '80s and dance until sun up with pie and soda.
2301 Flatbush Ave, Brooklyn, NY 11234, USA, open 24 Hours. 
6. Secret & Surreal Balls
The whimsical brains behind Shanghai Mermaid, Juliette Campbell's past soirees have had such swish themes as a Victorian Seance, Mermaid Fairytale Balls, and Jazz Age casinos. This year, she's throwing an avant-garde, champagne infused, Fellini-inspired House Party in an uninhabited 3 story brownstone in Park Slope, Brooklyn. The secret location of the soiree will be revealed the friday before the soirée. General admission tickets ($110) include a glass of bubbly. There will be avant-garde performance and music throughout the house, as well as quiet nooks, lounge seating and very limited reserved tables will be available for purchase ($75 for a table for 2). there will also be a garden with a fire pit. Come dressed as you might appear in a fellini film . . . as your most wildly extravagant and avant garde self, or in your usual new year's high glamour. Just be Italian!
 All the information you need is here.
Alternatively, dress up for "The King's Winter Masquerade" at Sleep No More. The mysterious McKittrick Hotel is home to one of the city's most magical evenings out: the highly immersive and engaging event, which is part play, part self guided exploration through a haunted, ruined hotel, the night is played out to the spooky accompaniment of Bernard Hermann's Hitchcock scores. The hotel is also home to the peculiar Gallow Green bar and restaurant, which one enters via a full-sized, 1930s train station platform. Your New Year's evening will begin with Sleep No More followed by making an entrance to the masquerade ball, with live performances and an open bar all night long.
All the information you need is here.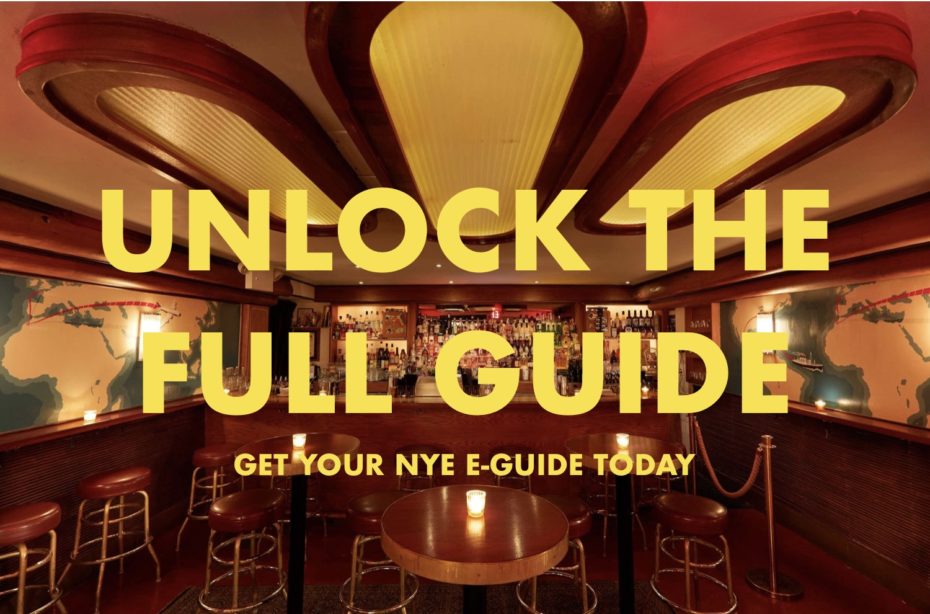 We've got the "Anti-New Years" low-key locals (a list of neighbourhood bars we checked in with), shuffleboard dance parties, a feast with George Washington, a Gatsby speakeasy singalong and more! 
Just enter your email below and we'll deliver a beautiful e-Guide we've made for the occasion, straight to your inbox faster than you can say Happy New Year!