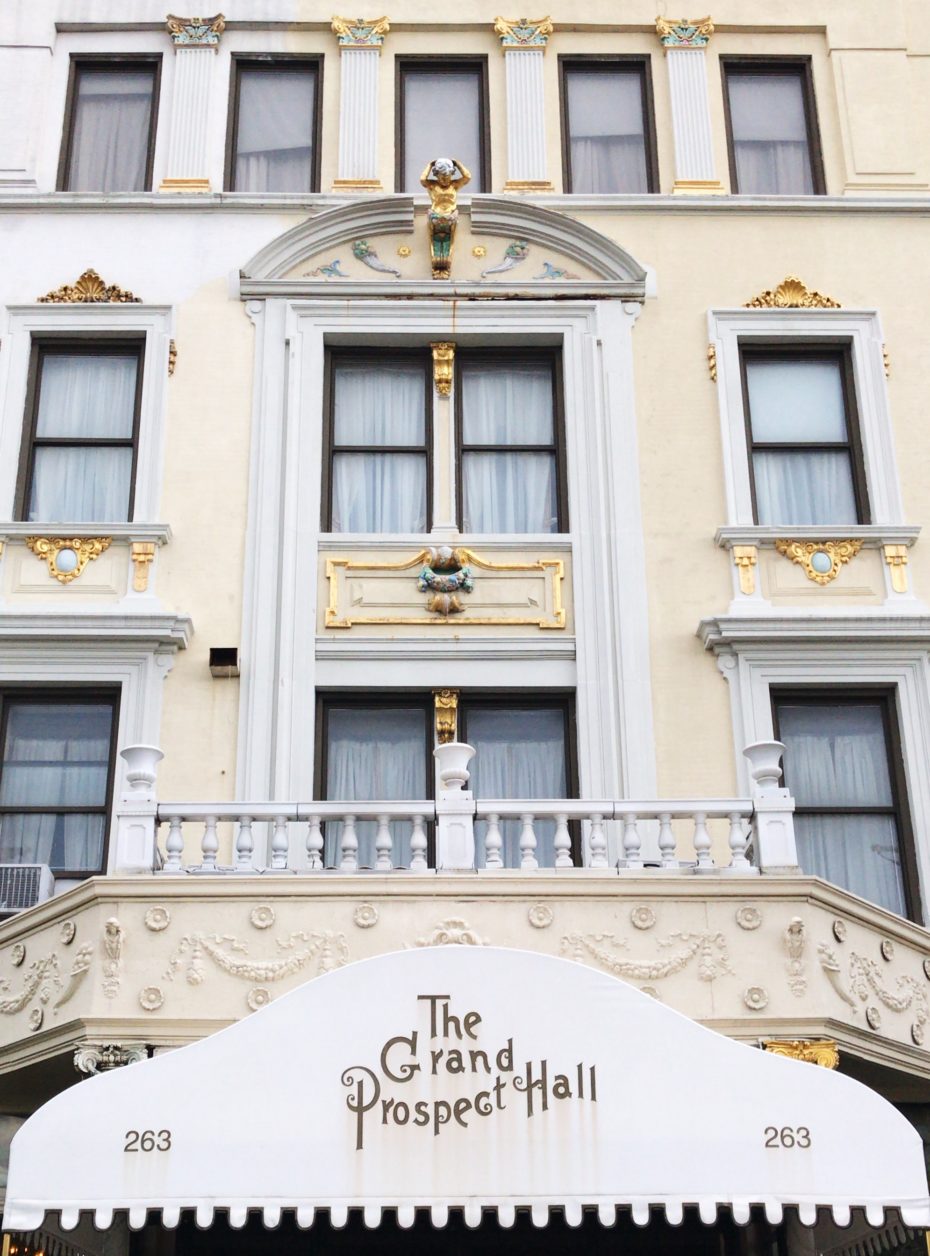 You know that great aunt who arrives early, and overdressed, to parties? The one who smells like powdered Shalimar, and guards every single family secret under layers of costume jewellery with her life? That's Grand Prospect Hall personified. The four-story banquet hall is the last outpost of Victorian grandeur in New York, and for nearly half a century, it's been fastidiously tended to by a man who tells us, "Just call me Mr. H."
Everyone else knows him as one-half of a legendary local duo, Mr. & Mrs. Halkias. They bought the sleeping beauty in 1971, saved her from impending ruin, and have been running the show ever since with their children, their children's children, and an eccentric staff worthy of a Wes Anderson film (Gene Hackman and Gwyneth Paltrow dined together on ice cream in The Royal Tenenbaums). It's not always easy to get a few minutes of Mr. H's time, but we were lucky enough to get a personal tour of Brooklyn's biggest little palace…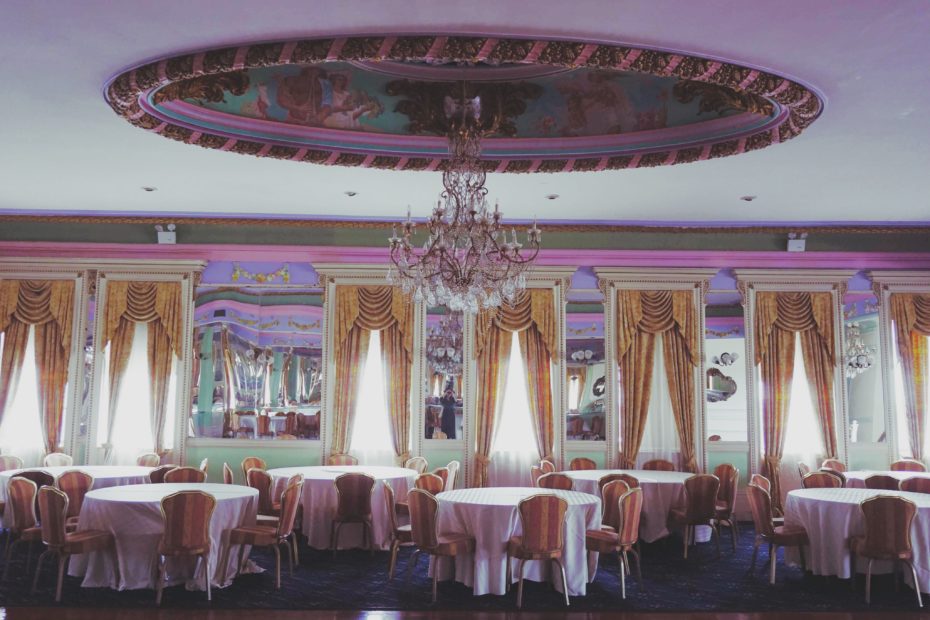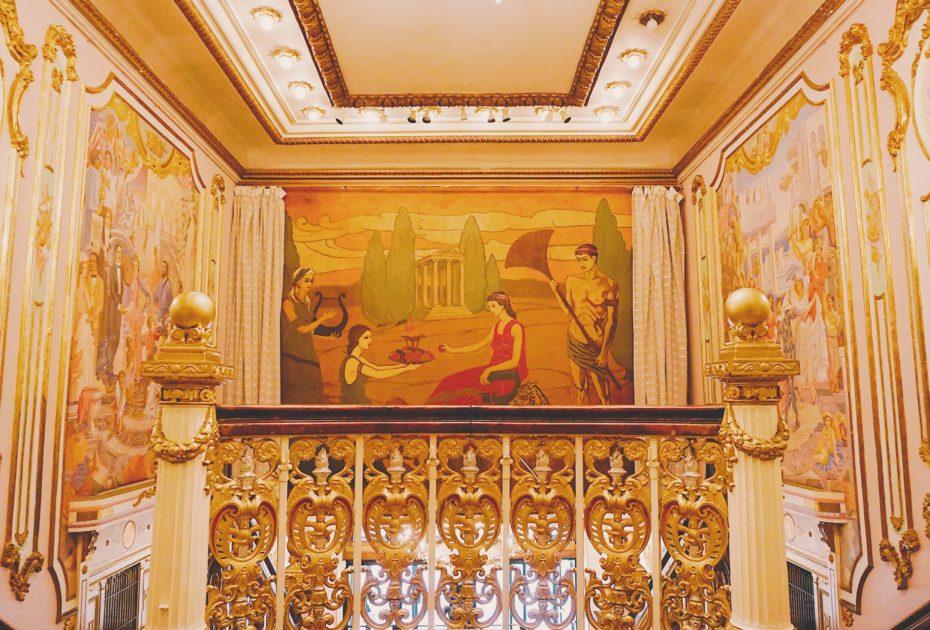 Actually, we're lucky enough to get two whirlwind tours: one from Mr. H, and another from his son, who's a little more loose-lipped when it comes to telling stories of Grand Prospect's past. The space was originally a kind of masonic temple, says his son, and you can still see traces of its odd architecture.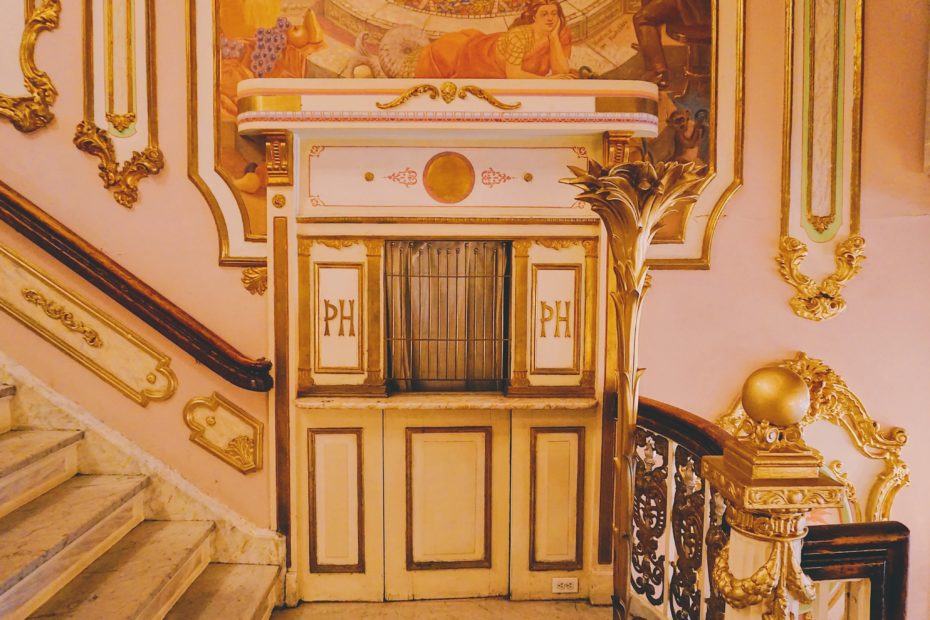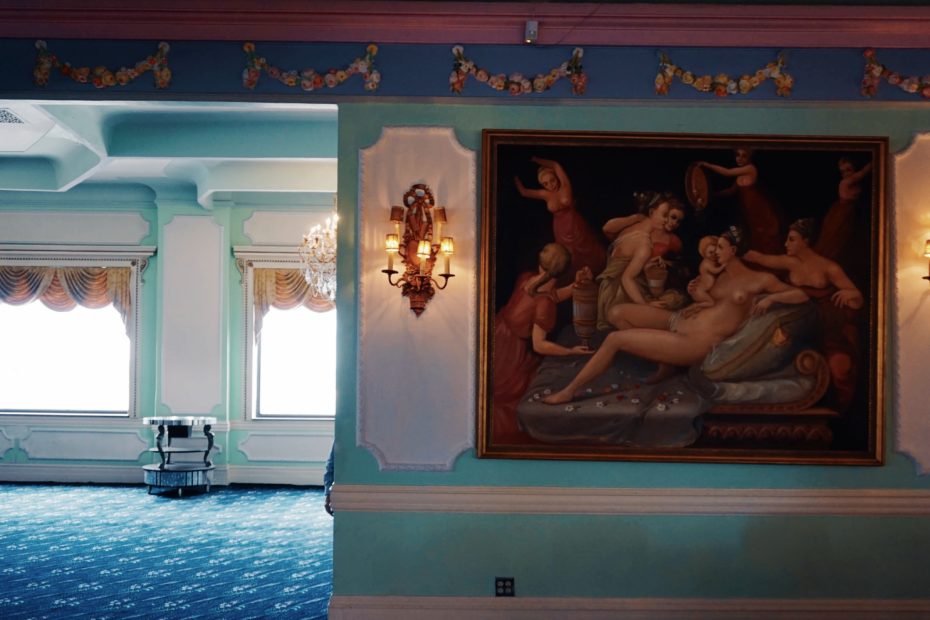 "There was that weird masonic logic", he explains as we look out at the view of Manhattan. It turns out the very ground the building sits on is super-charged with esoteric history. Masons realized one could draw a perfectly straight line from two of their sacred sites, the Statue of Liberty on the right and a statue of Athena in a nearby cemetery to the left. Prospect lies smack in the middle.

Local entrepreneur John Kolle, a mason man himself, built this ornate palace in 1892. During the height of the Gilded Age, its sprawling indoor and outdoor spaces were a "temple of music and amusement". It was a playground for the rich, "a social, cultural, and political mecca for Brooklyn," says Mr. H.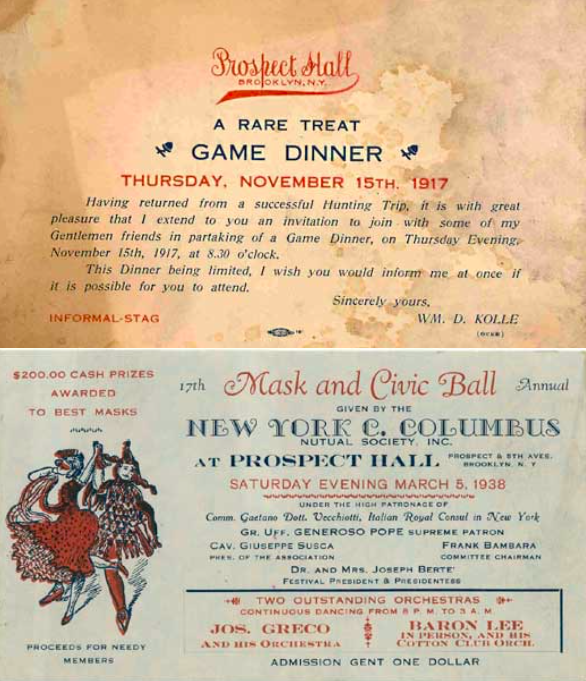 The men arrived in top hats and the women stepped out of their carriages in the latest Parisian gowns. They came for the opera, the masquerade balls, high-class vaudeville and motion pictures screened in the Venetian gardens.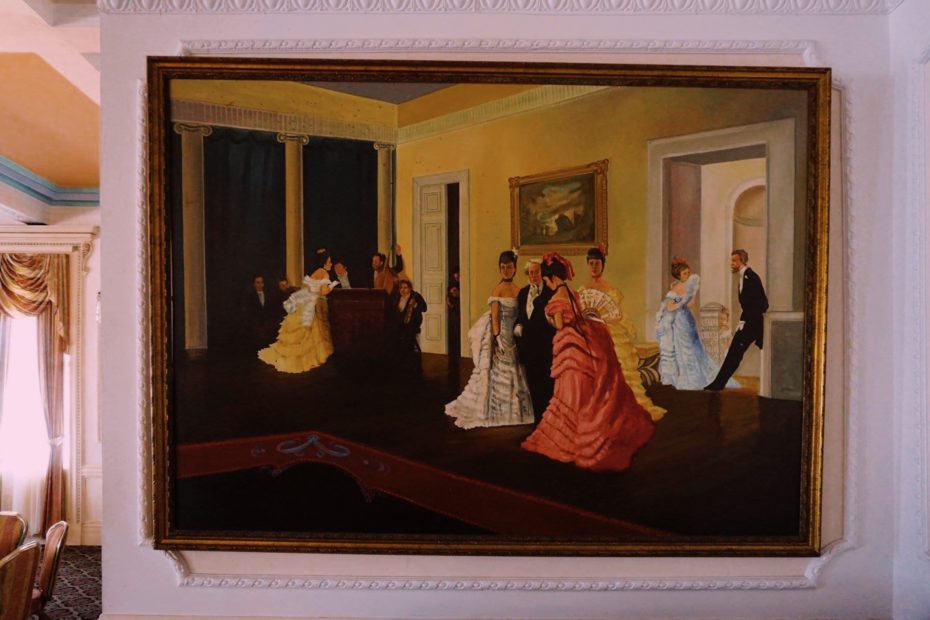 "Money was no object for Kolle. He wished to create a palatial French Renaissance hall echoing the lavish embellishments of Versailles–all 140,000 square feet [of it]."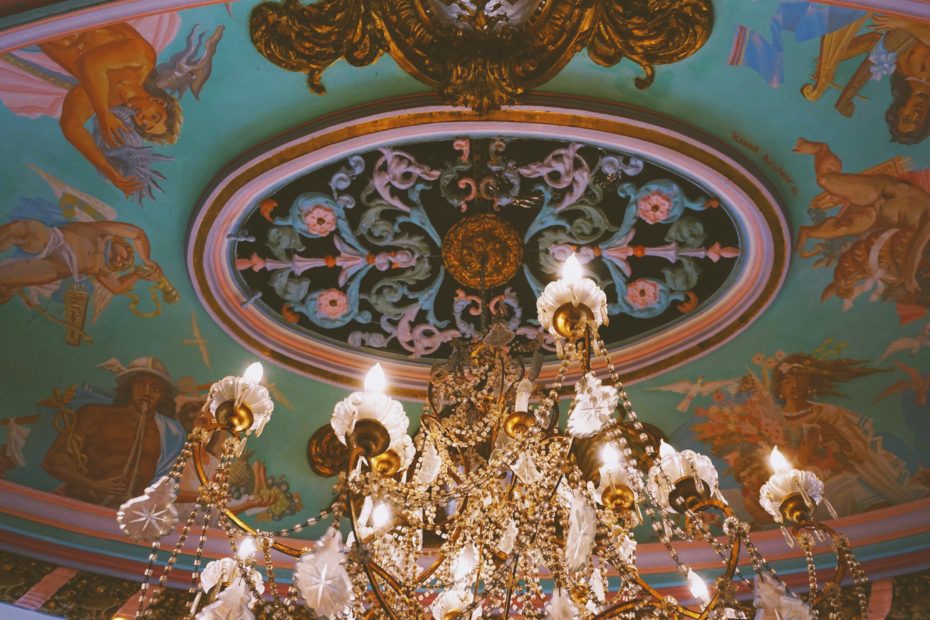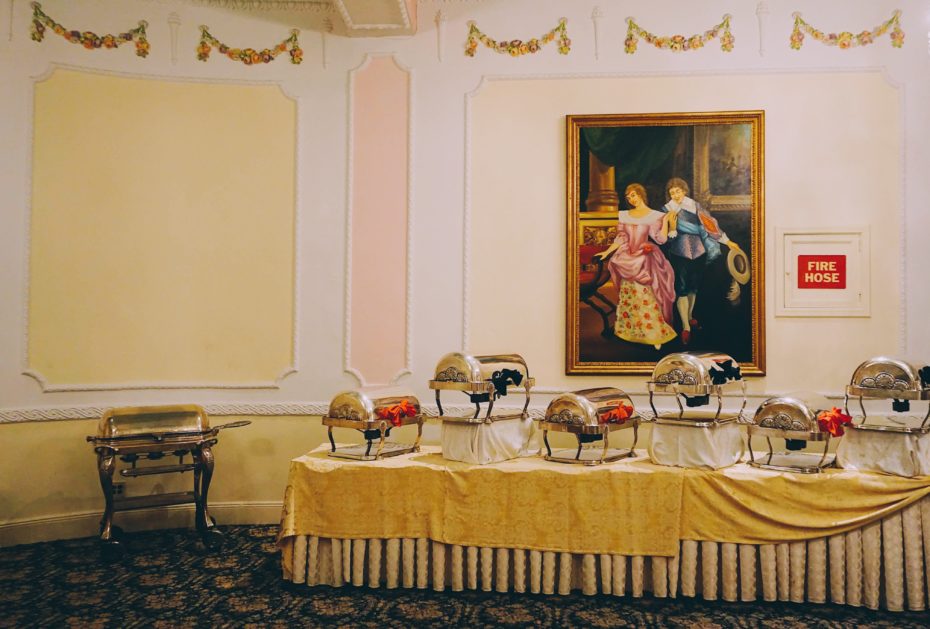 The result is a wonderfully kitsch, American take on Versailles. "The ornate marble and granite lobby; the rich oak and mahogany paneling; the stained glass artistry; the dazzling mammoth crystal chandeliers," says Mr. H, "and the massive ballroom and opera house–these were only the obvious King Midas touches. Grand Prospect Hall also boasted the first "French birdcage" elevator, the highest roof garden, and was the first electrified commercial building in Brooklyn."
Everywhere you turn, someone seems to be busy doing something — laying new tile, preparing for a wedding, tending to a lost guest — and Mr. H moves through the grounds with unflinching ease, giving us bits of history between a sharp yell of, "Carmello! Where are my lights? Where are we on music?", bussing any stray dishes, and making sure every corner looks prim and posh.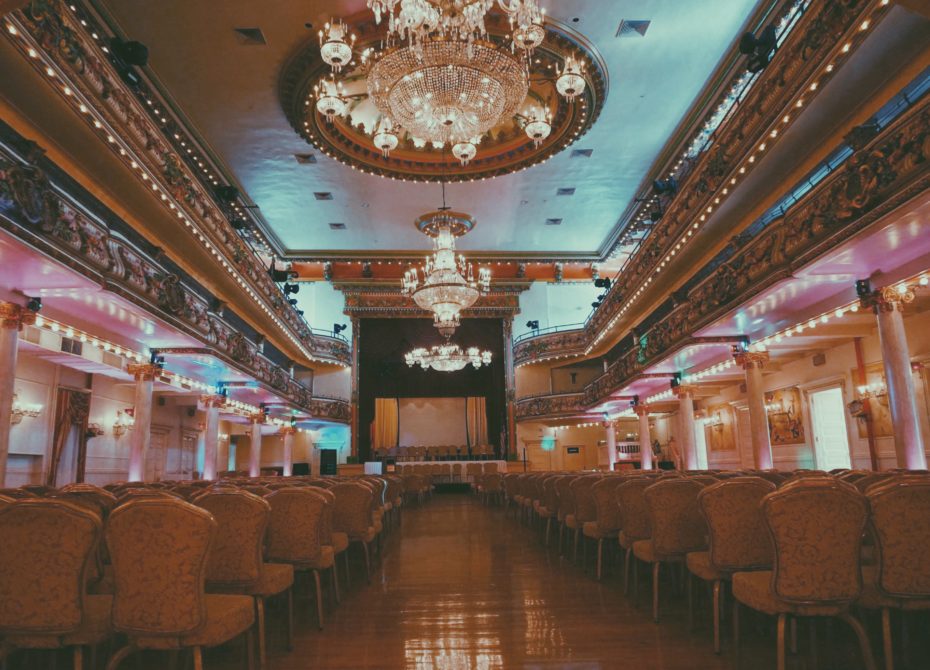 There's a lot of movie magic that has — and hasn't — escaped the walls of Grand Prospect Hall. "Christopher Walken was here doing a movie once," his son tells us, "but it never came out. I woulda loved for people to see him dancing round in here." Across from the toilettes are passages to an old-school bowling alley. "A man came in here once who used to be a pin boy," he says, "and just over there was the spot from The Royal Tenenbaums," pointing to the doors in the Great Ballroom.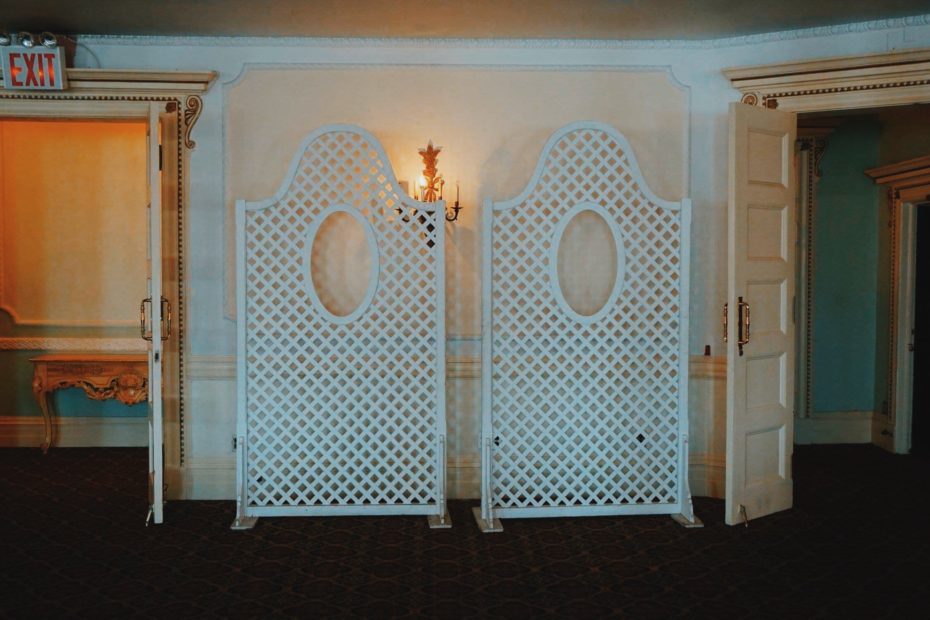 There's a veritable Germanic-style hall inside with a very 1970s ceiling…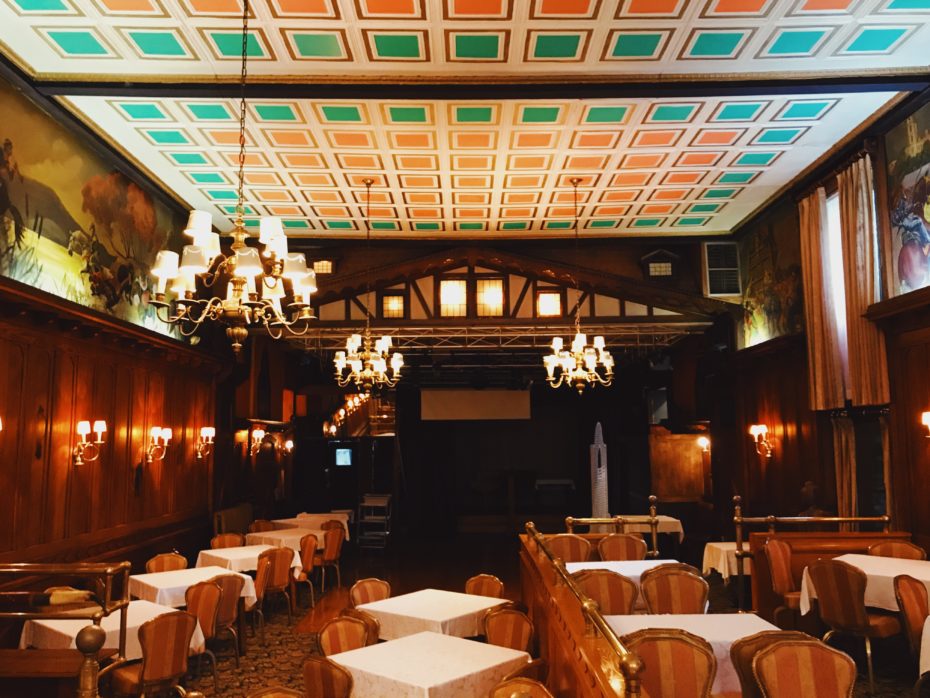 Round the back of Prospect Hall today, you'll find a biergarten, where you're greeted by a talking horse at the entrance. (We're visiting out of hours, so the horse is silent and beers are not yet flowing).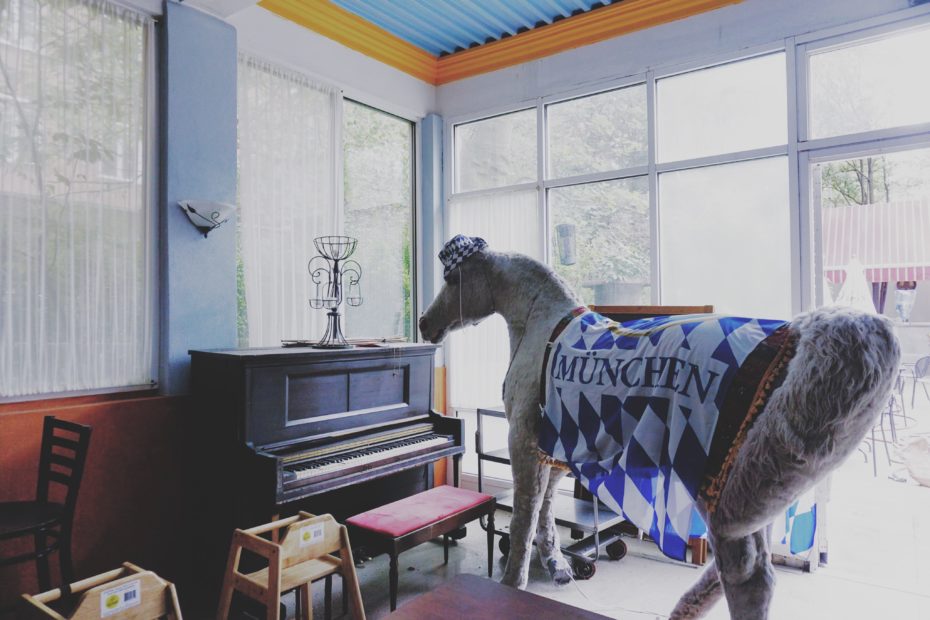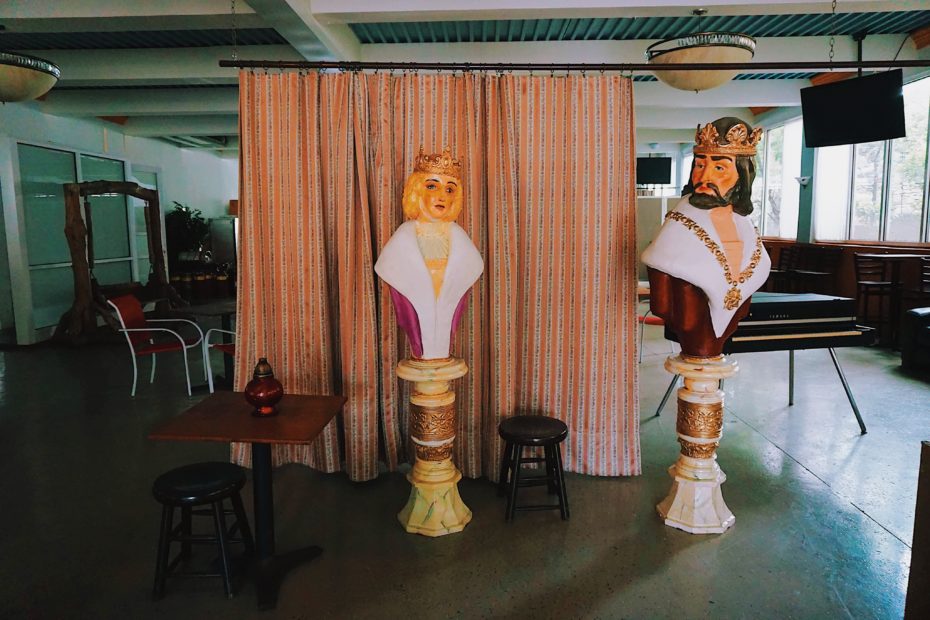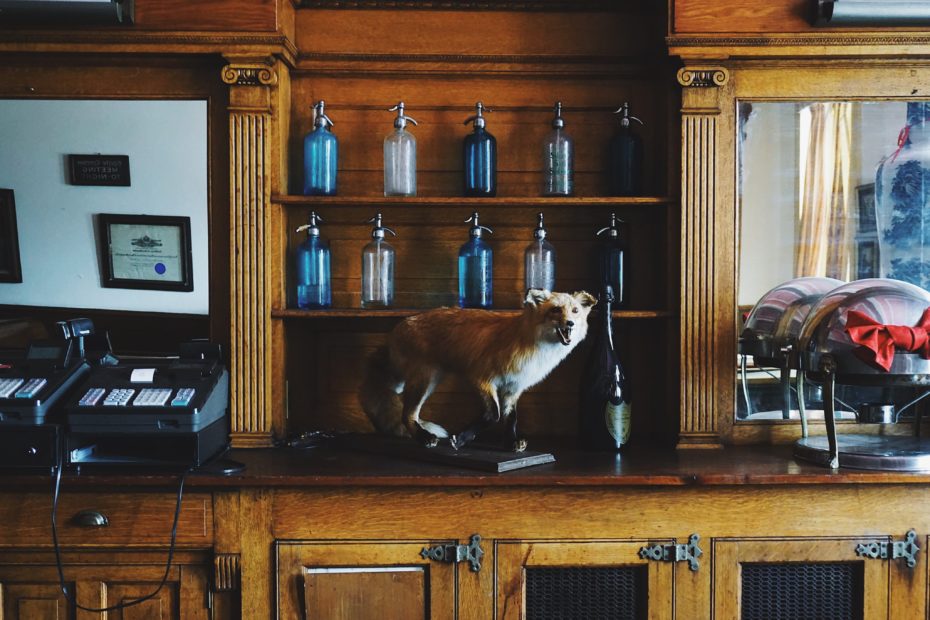 When asked the inevitable, "but is it haunted?"– Mr. H prefers not to say. His son opens up a tad more, telling us about former employees who claimed to see ghosts from the ballroom's balcony, and the night he was followed by a ghost in to the kitchen…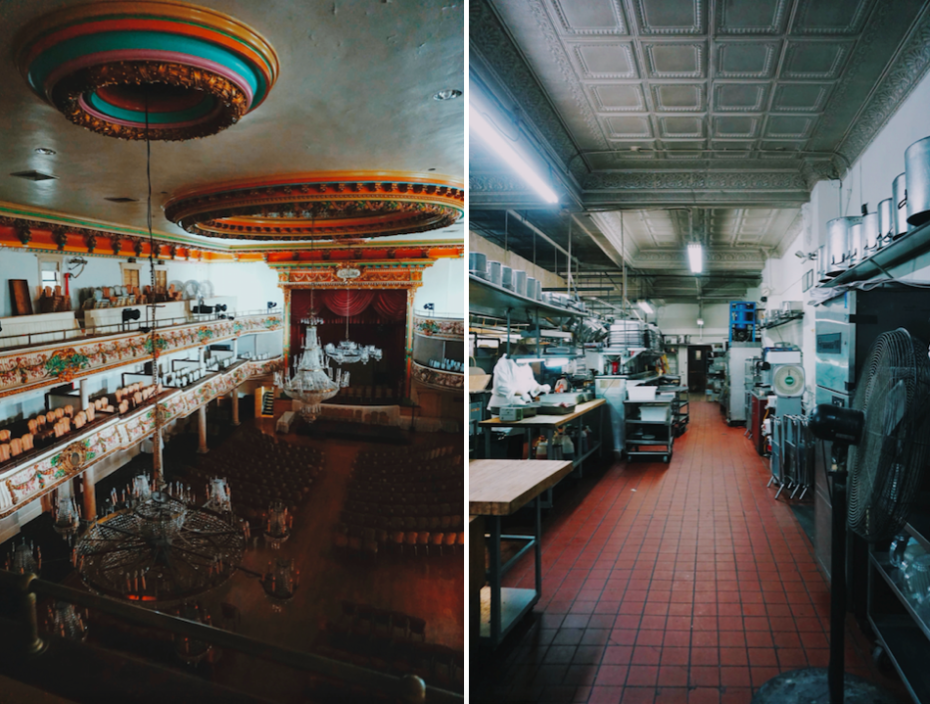 "It happened when I was trying to avoid the Al Capone room," he tells us. It's a dark wooden space that's hosted the likes of Fred Astaire and yes, many a gangster, and notably Mr. Capone who "was a big opera guy." The room is said to be where he got his infamous scar:
When it comes to the future of Grand Prospect, leaving the 'palace' just isn't an option. "I ain't going anywhere," says Mr. H, as he takes us up in the birdcage elevator one last time, "where else would you go?"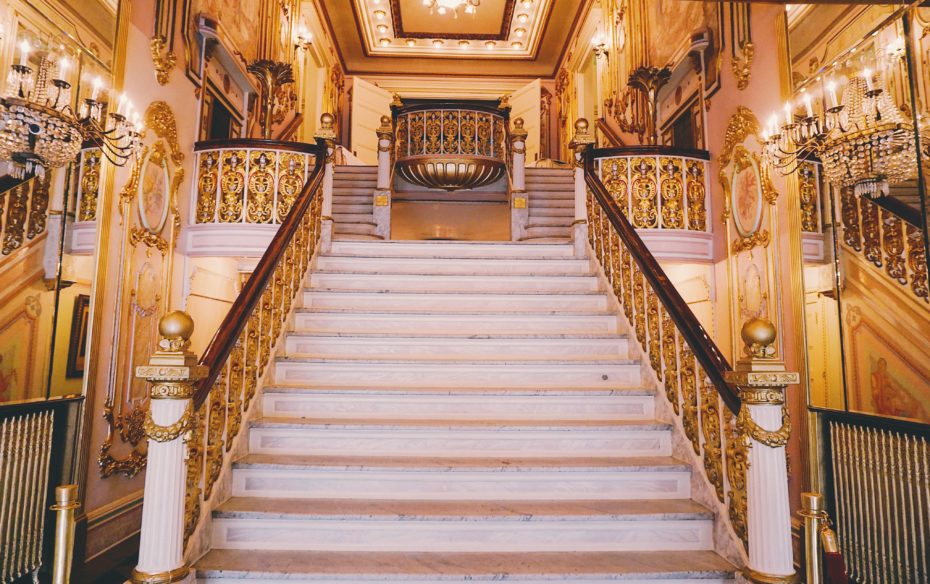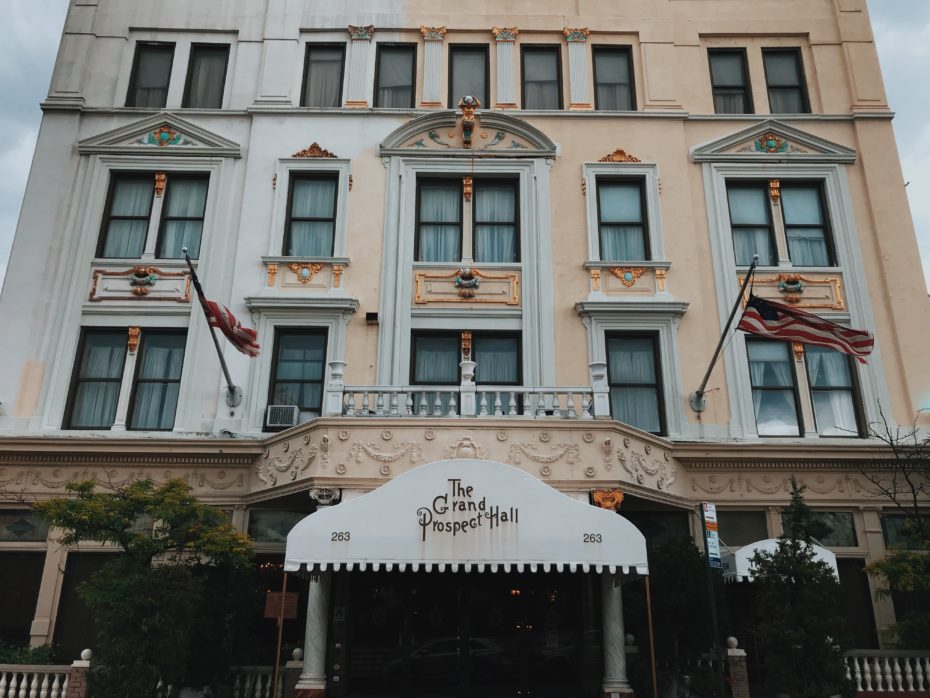 The Grand Prospect Hall's biergarten is open Wed-Sunday from 4pm to 11pm during the week and 12pm-1:00 am on Saturday. It's located at 265 Prospect Ave, Brooklyn, NY 11215. The venue is also available for events. Discover the space here.
PS. Join us on Instagram stories for a behind-the-scenes tour.