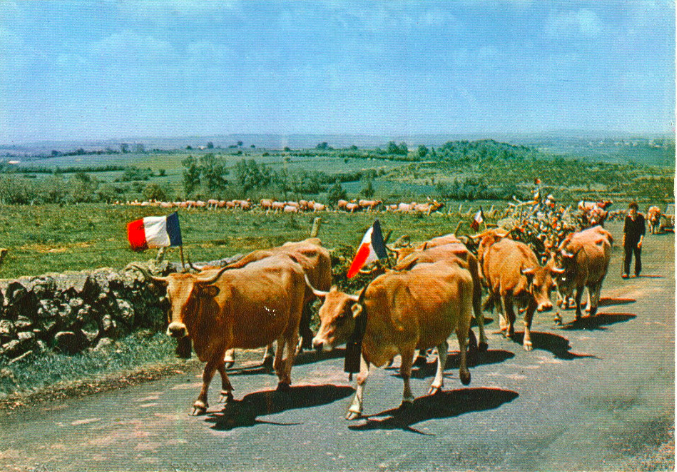 It's easy to forget in the ever buzzing Paris, but France is, at its core, a country of farmers. They have more cheese varieties than they can keep track of, possess one-third of all agricultural land in the EU, and have a reality TV show called L'Amour est dans le pré – literally, Love Is in the Field – wherein rural farmers find love in a The Bachelor-esque scenario. But why live voyeuristically through the farmers of our favourite French delicacies, when we can join them? Unbeknownst to many, there's a network of farms around France that welcome visitors to stay and enjoy the fruits (or foie gras) of their labour for a true farm-to-table…to-bed experience! From Normandy to the Côte d'Azur, we've compiled a short list of our favourite country bumpkin getaways…

An Abandoned Hamlet Revived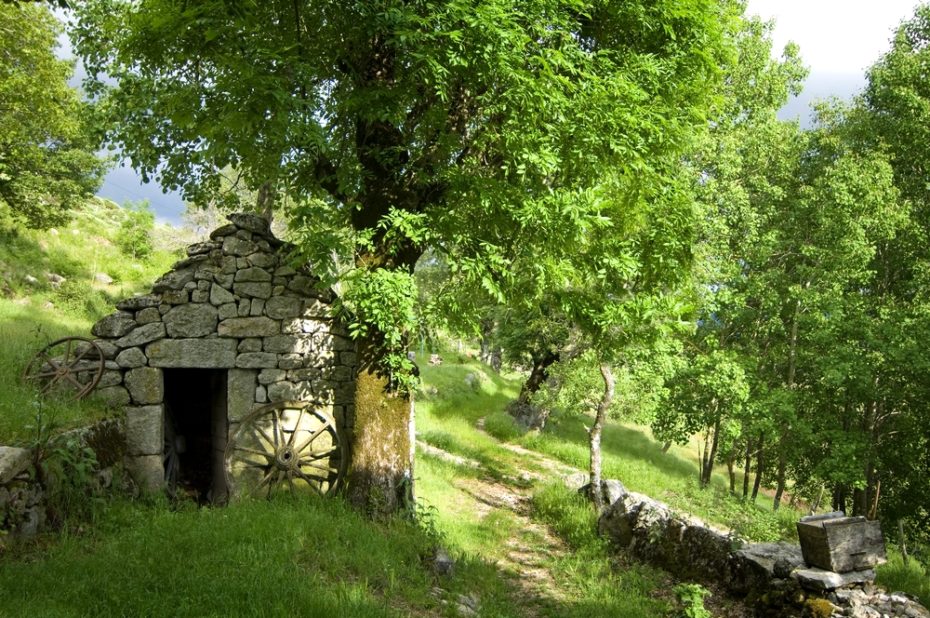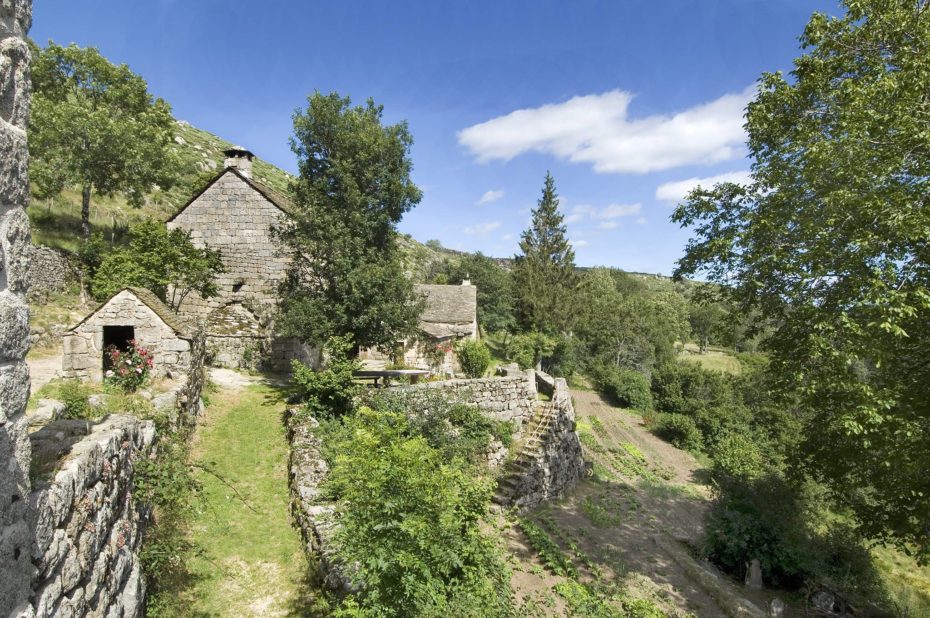 Philippe was trekking through the beautiful Cevennes mountains in 1979 when he came across a 16th century hamlet, overtaken by nature. He spent the next few years restoring the houses and today runs his farm and a B&B in the heart of the national park. Philippe and his son will welcome you with a big table of Merlot and delicious homemade meals. You're welcome to learn about and pitch in on daily farm life, which includes tending to the orchard and vegetable garden, sheep farming, beekeeping – all of which contribute the production of their own honeys, jams, fruit juices, syrups, cold meats and more.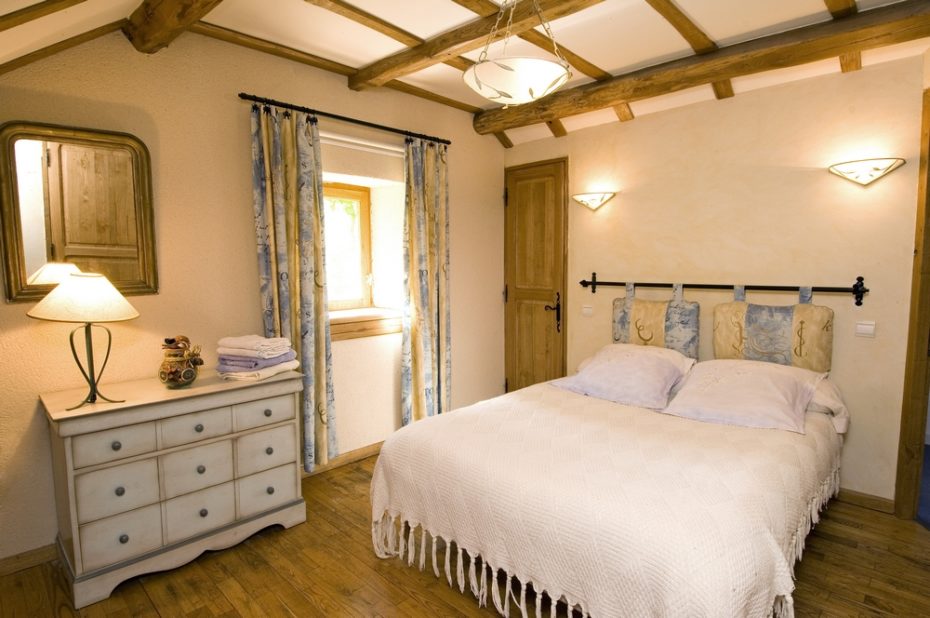 There are six bedrooms at the main farmhouse and four separate cottages for rent nearby. More information here.

The Olive Tree Farm
At the heart of a working olive grove estate – 170 hectares, to be exact – is the Château Mentone, a little hideaway in Provence that makes its own organic olive oil and wine. "It's all been about a viticultural experience," says their representative, who only uses local produce from neighbouring farms to pair with their meals, "It's inventive provençale cuisine". Also at your disposal? A tennis court, bikes, a pool, and a 100m² spa. Not shabby.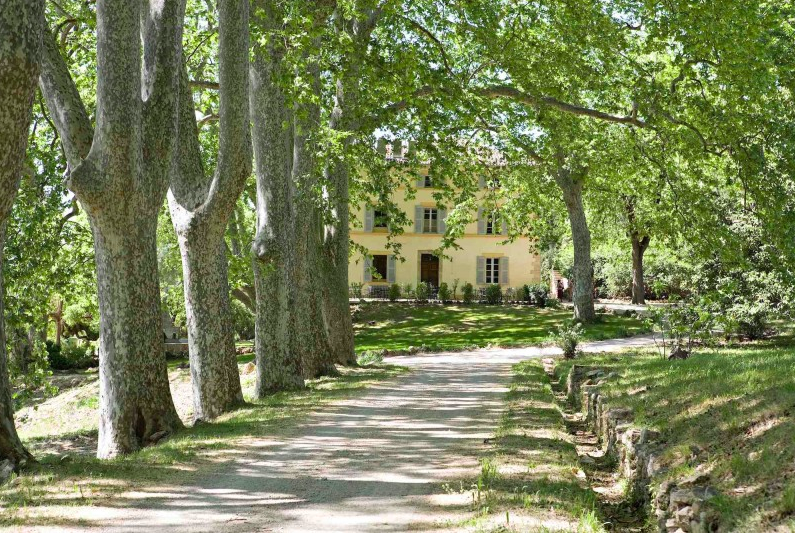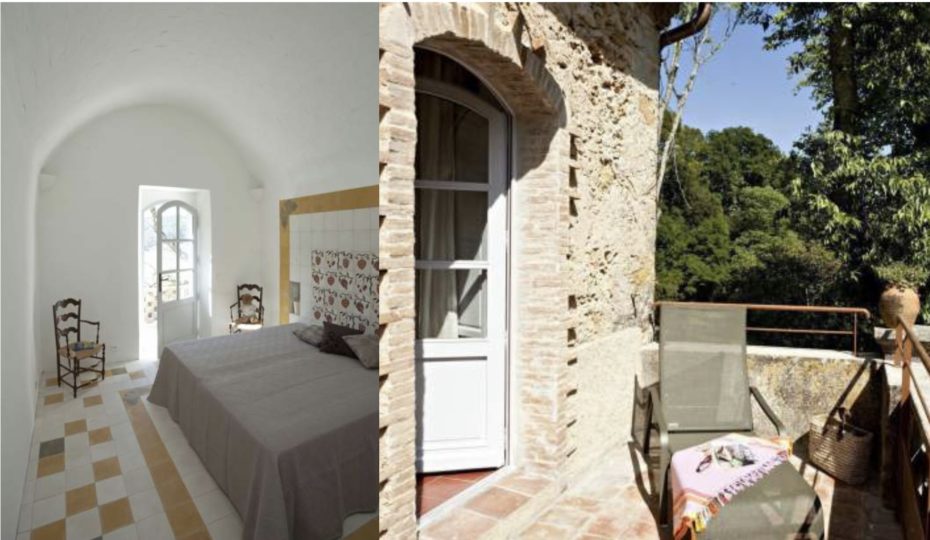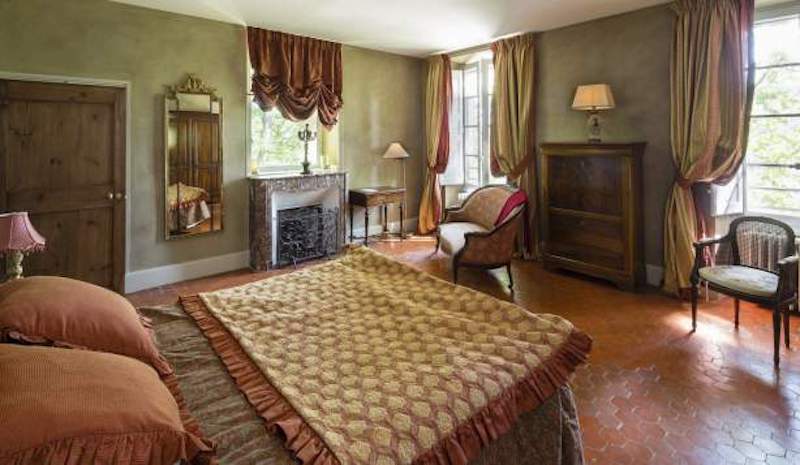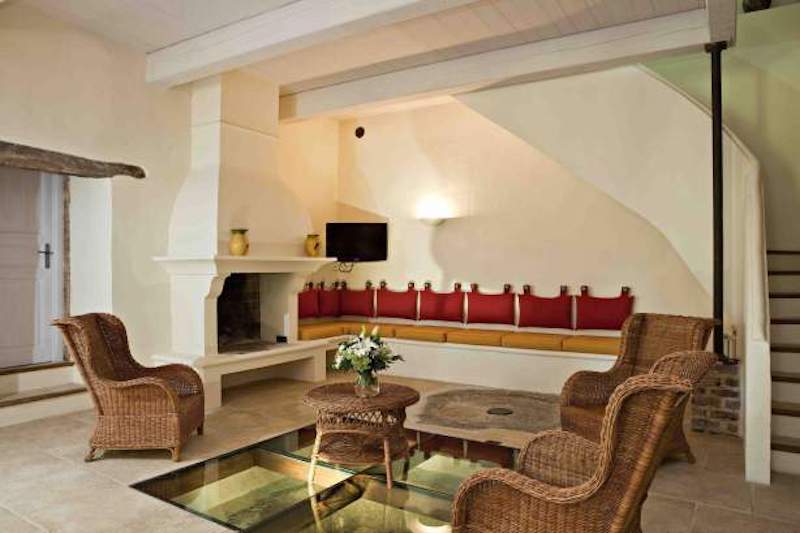 Book your stay here.
.

A Tiny Cottage Surrounded by France's Most Beautiful Cows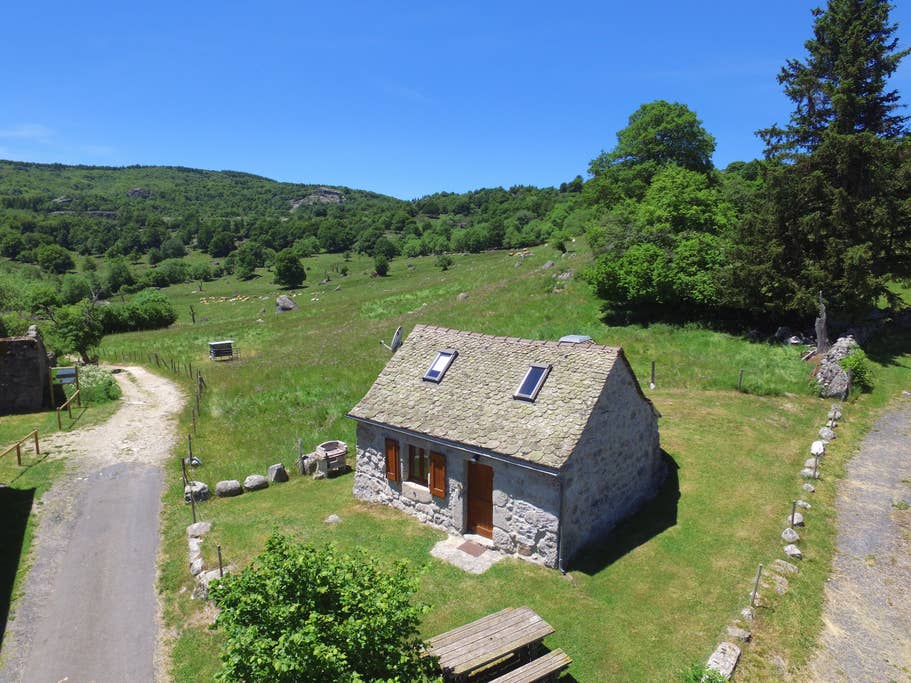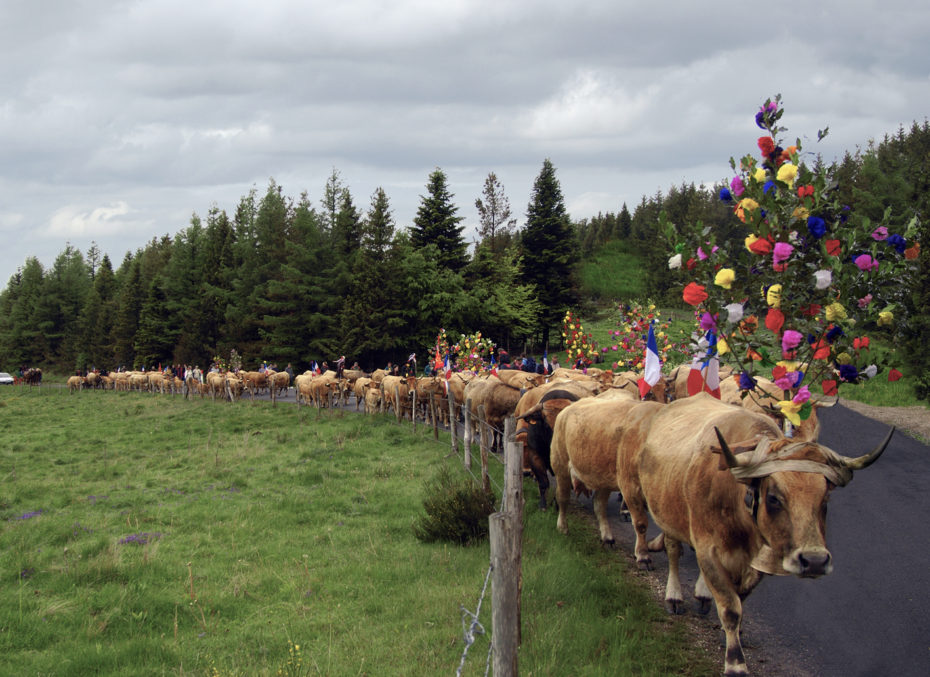 Aubrac is one of the country's most overlooked gems, even amongst the French. Tucked in the Massif Central region, this village's charm lies in the residents' twangy accents, their elastic, cheesy potato delicacy, and the cows' unparalleled beauty. Seriously. In bovine circles, the Aubrac breed is bar none for beauty thanks to its Cleopatra-lined eyes. Even closed, they boast the perfect smoky eye: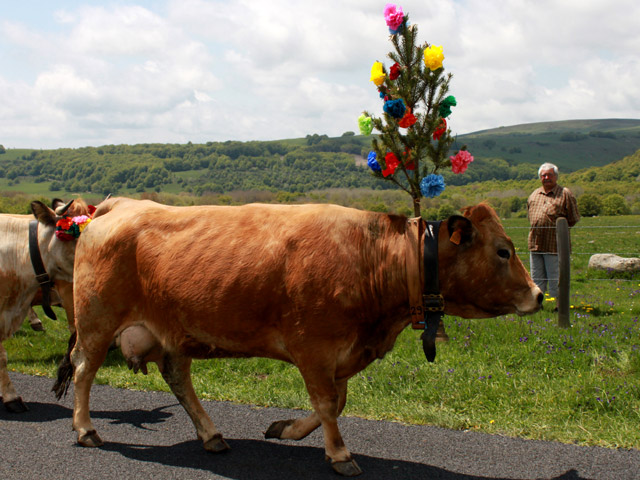 At the end of May, the cows parade around the village with elaborate flower crowns on their heads for the annual Transhumance (grazing) Parade. It's kind of like a little ribbon cutting for summer, and a way for locals to show their pride. We found the perfect cottage for you to hole-up as a local for that week, with a guaranteed view of the bovine beauties. "This recently renovated 'tiny house,'" writes its host Pauline, "is plopped right in the middle of nature, in a calm and natural area."
The cutest thing about the cottage? Its main source of heat is an ancient bread oven….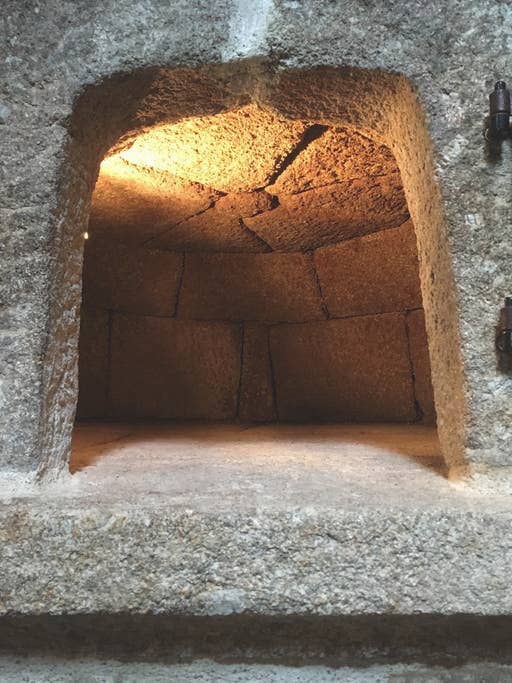 Learn more about Aubrac and the parade here, and visit AirBnB to book Pauline's cottage.
.

A Normandy Castle's Treehouse Farm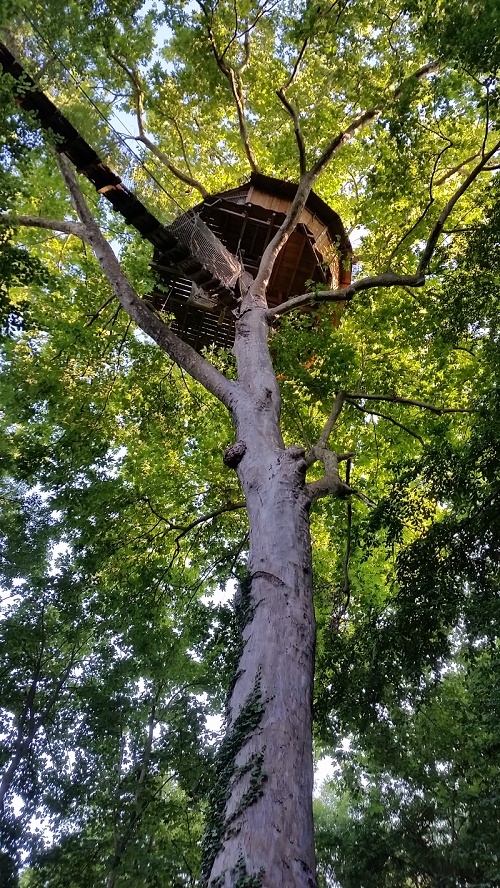 Not only is this treehouse (and several others) located on the grounds of Normandy's beautiful Château de Canon, but it's the highest treehouse in Europe at 22 metres (about 72 feet) tall. They call it, "The Eagle's Nest" and it's a stone's throw from 50 hectares of organic farmland with chickens, sheep and even highland cows.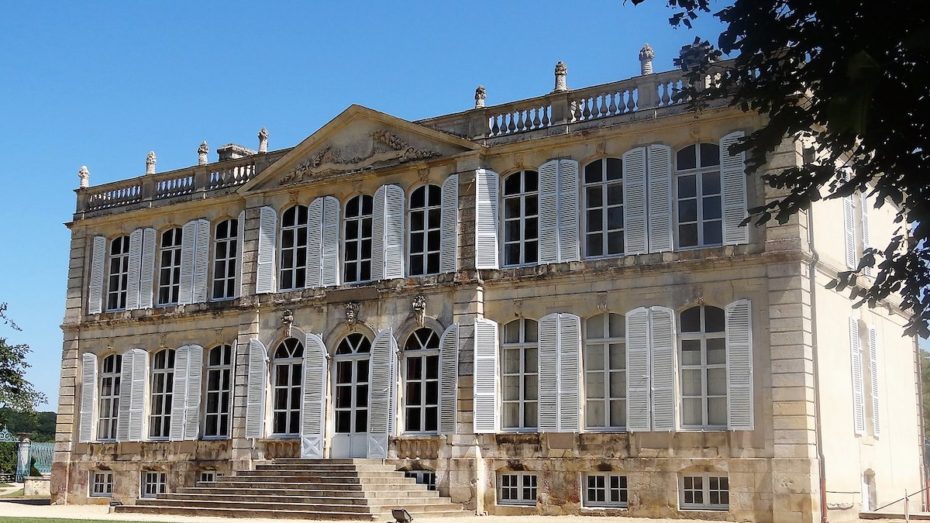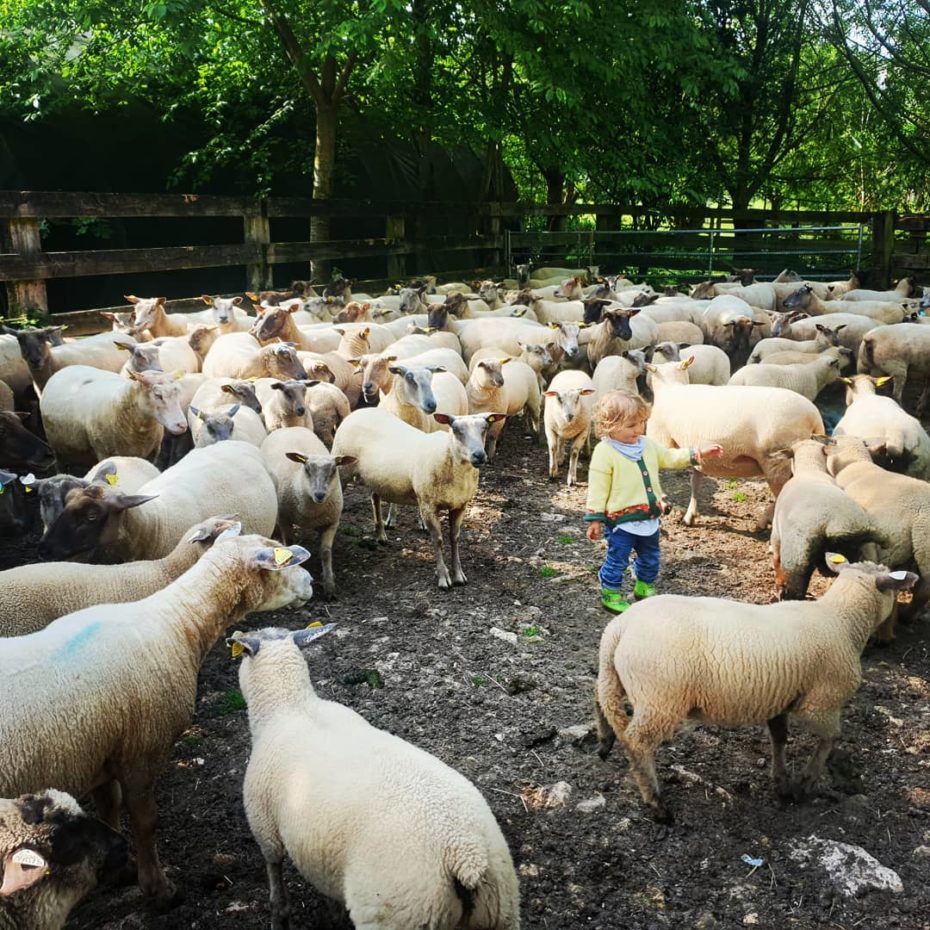 "The big difference between us and a zoo is the contact you get with our animals," says your host Fabian, "You're not outside of some enclosure…you're in it! All of our visitors are surprised by that, and our animals are happy to make new friends who'll scratch them behind the ears." As for the orchards? They help in the fabrication of organic Calvados, apple juice, apple cider vinegar, and more.
Naturally, you can arrange for a bottle of champagne to be delivered to your two-person sky cabana. Those with a fear of heights need not apply!
Visiting the farm is only €5, and you can learn more about booking the treehouse here.
.

The Bohemian Goat Herder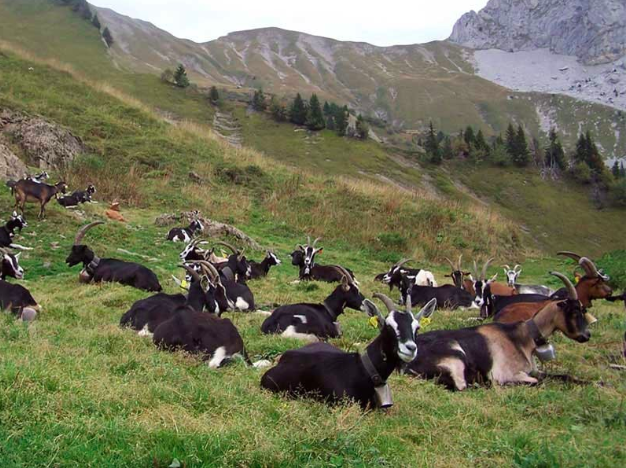 Stay on a goat farm that's been going strong since the 17th century, inside a little bohemian caravan. "We've got 40 or so goats," says host Stéphane Vivet, who lives a little north of Grenoble in a town called Trévignin. "You're welcome to help out with them while you're here, whether it's milking them, bottle feeding them, or just petting them." Either way you get to taste the fruits of Stéphane's labours, with a selection of chocolate and vanilla yogurts waiting for you in the morning.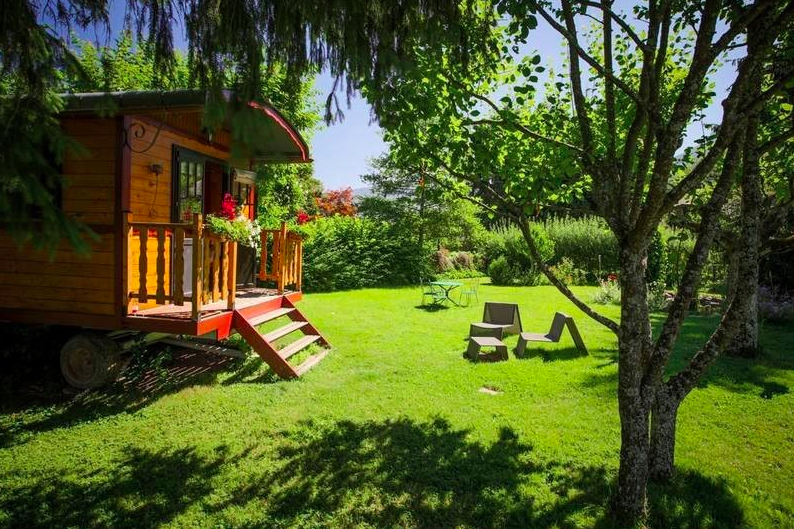 Book your stay here.
.

For the Horse Lovers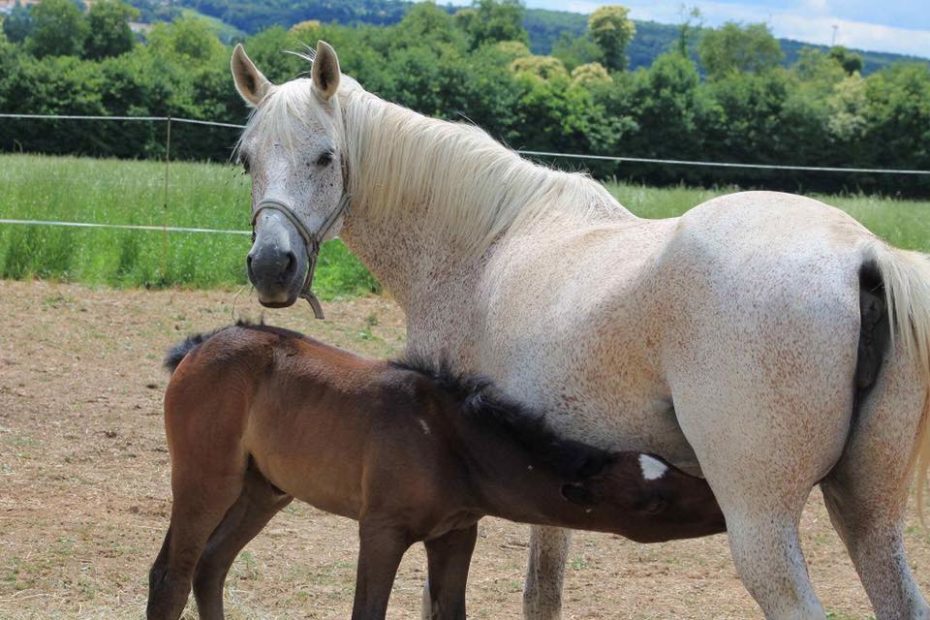 About two-and-a-half hours south of Paris is Orne, where you'll find horse-breeder François and his three breeds of French horses. The cottage can host 4-7 people and, in addition to long strolls in the fresh air, guests are invited to dine with the hosts in the evening, "to enjoy the local bounty in a hearty stew". The best part? "You can also come with your own horse, whose dietary needs will all be happily met".
Book your stay here.
.

The Chestnut Farm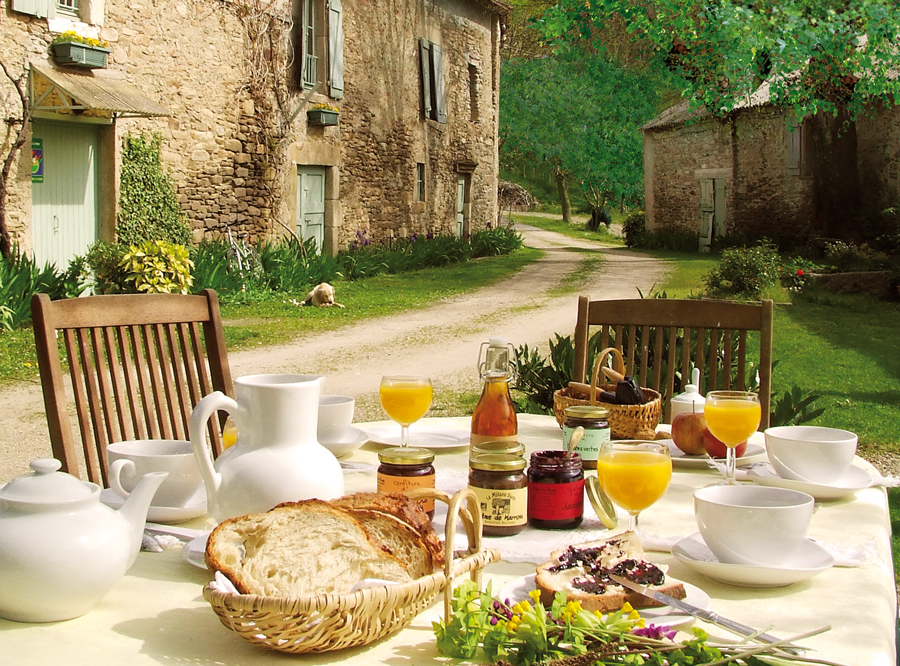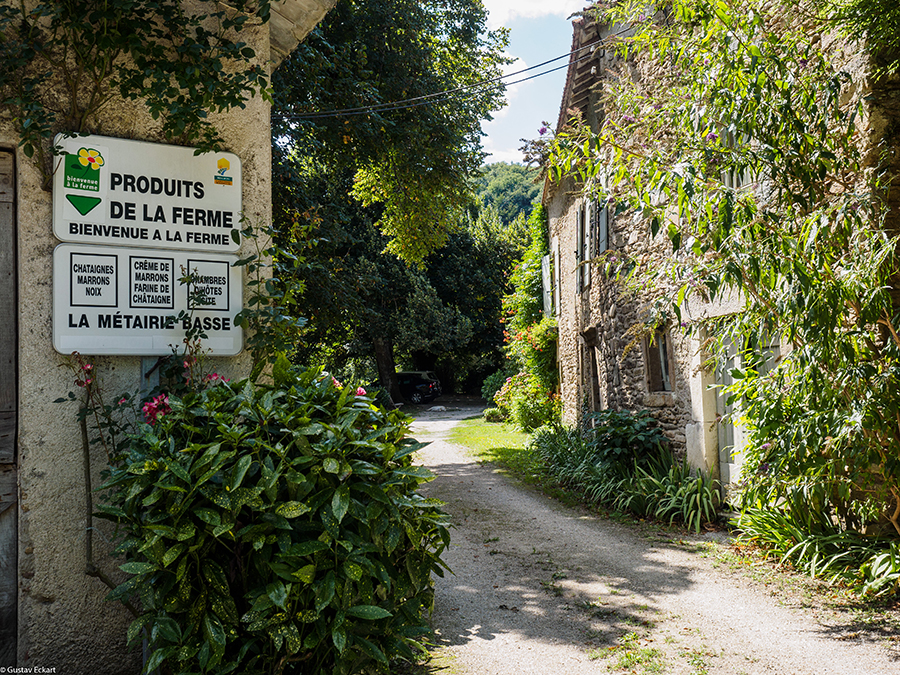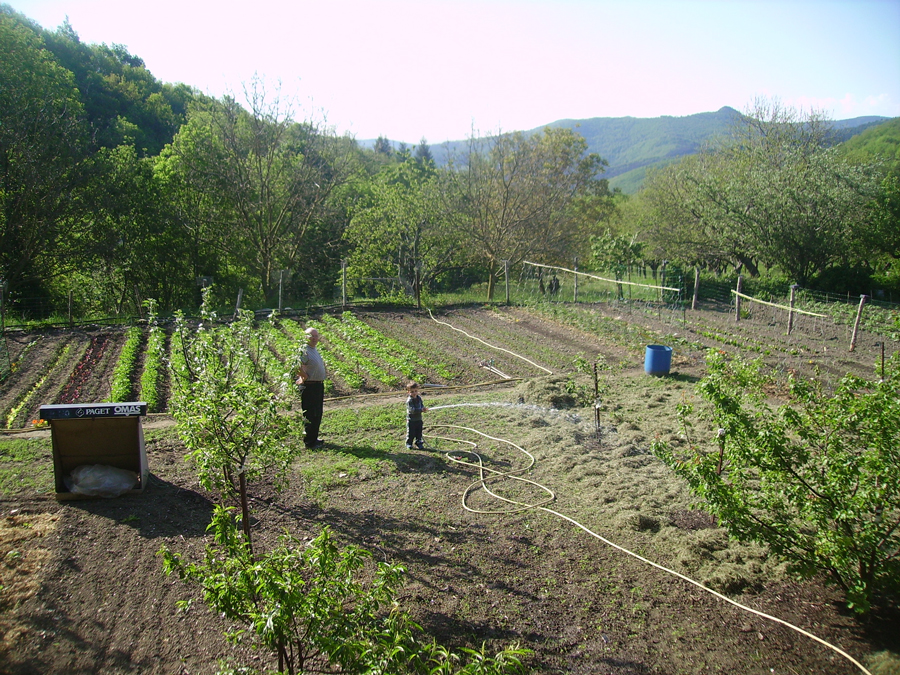 For a weekend (or two) of tranquility, nestled on the slopes of the Somail Massif, is a quaint chestnut tree farm run by husband and wife Eliane and Jean-Louis Lunes. The farm has two cottages and is surrounded by medieval villages, weekend markets, prehistoric caves and stunning scenery.
More information here.
.

Lemon Farming on the Côte d'Azur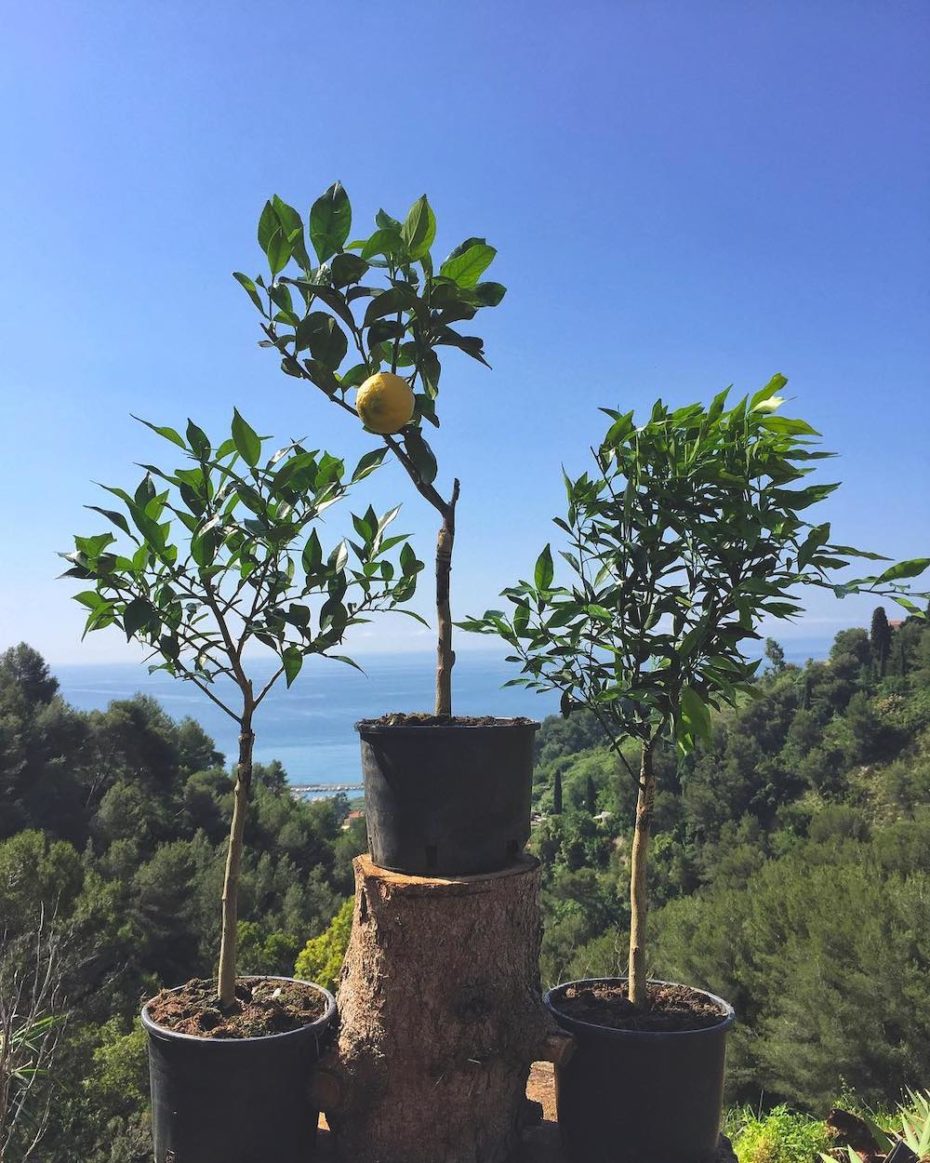 La Maison du citron (the Lemon House) isn't growing your granny's citrus. Unless she lives in Menton, overlooking the crystalline waters of the Côte d'Azur. "We've been growing Menton lemons since the 15th century," says the Maison's site, "They're sweeter than most lemons. In the 1800s, they saved quite a few sailors from scurvy". There's even a 124-yr-old local lemon festival (in March, so mark your calendars for next year!) called La Fête du Citron. You have to admit, it gives the Rose Bowl a run for its money: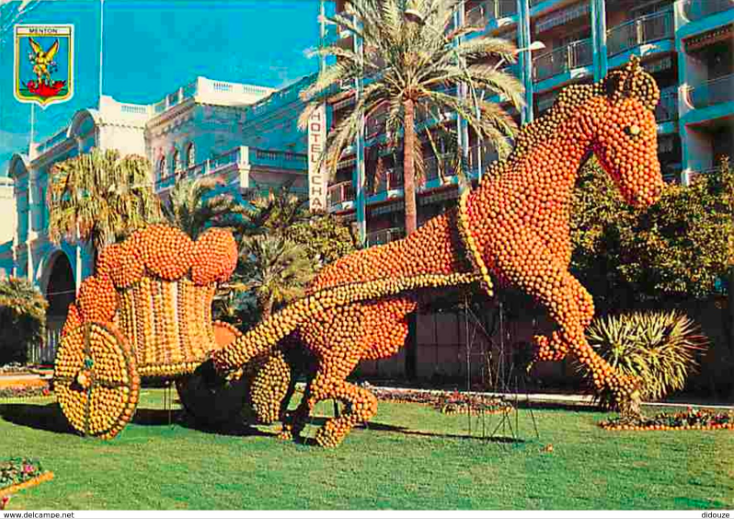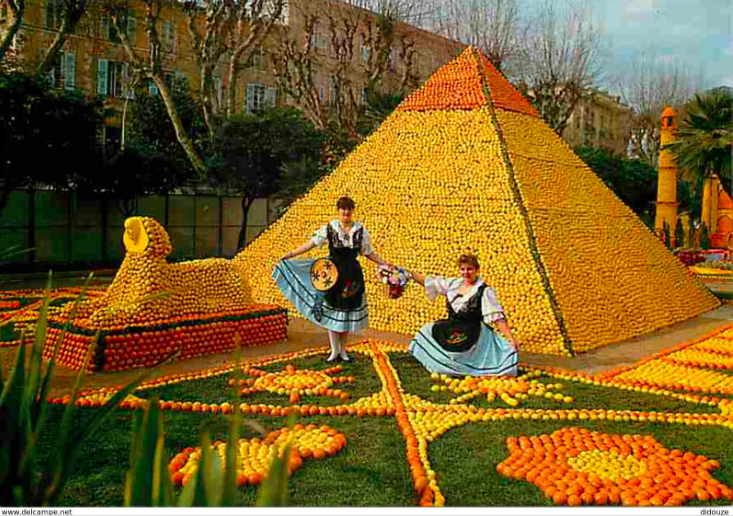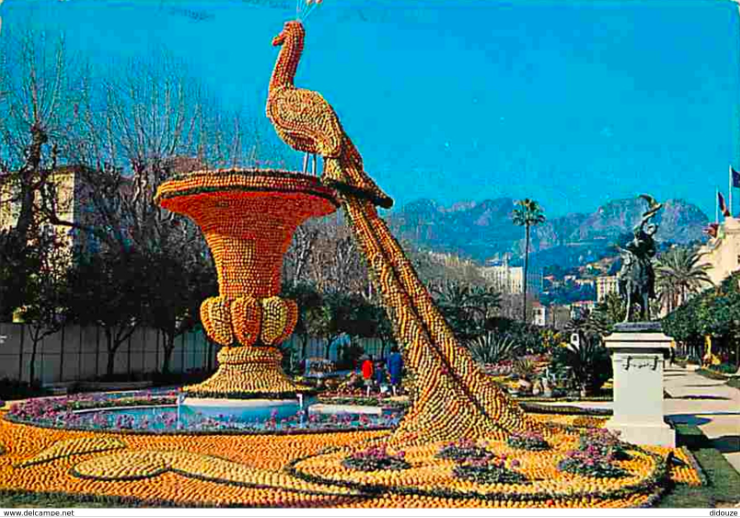 In fact, they've become something of a local and European treasure. Since 2015, Menton lemons have been protected by the EU as an official Protected Geographical Indication (PGI) product, so they can continue to be cultivated in undisturbed peace on the hills of the Mediterranean. I mean, that view….
These lemons have been on the tourist radar since the 1950s, but the Maison just opened up a little cabana in the heart of their lemon orchards a few months ago. What does that mean for you? Touring the pristine hills while sampling the lemons (and mandarines and other specialities) that grow, as well as the syrups and confections in the little cabana.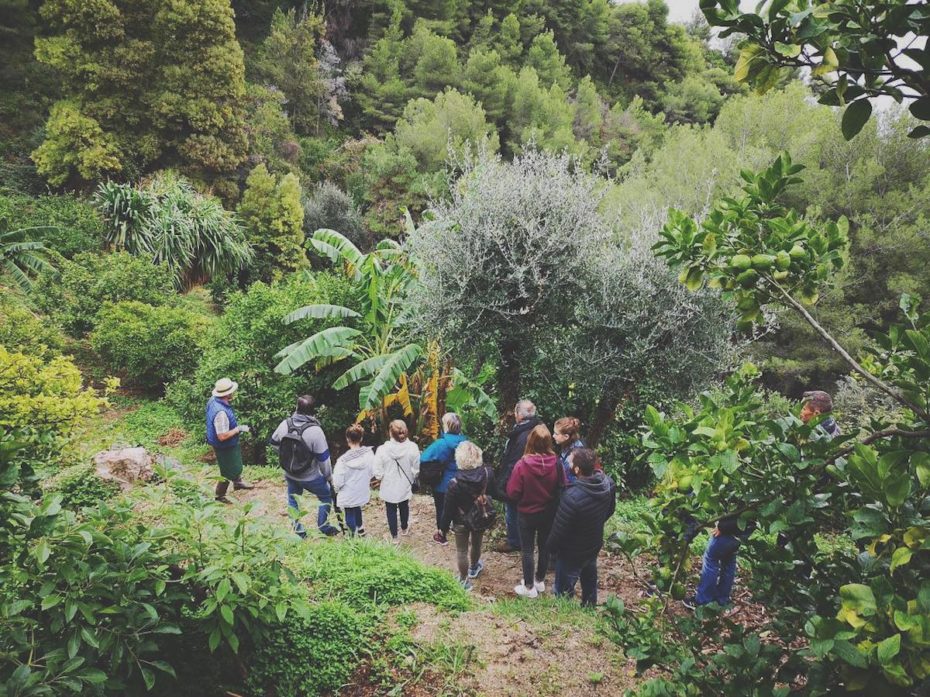 Learn more about visiting the lemon farm on their website, and check out the Lemon Festival info here.