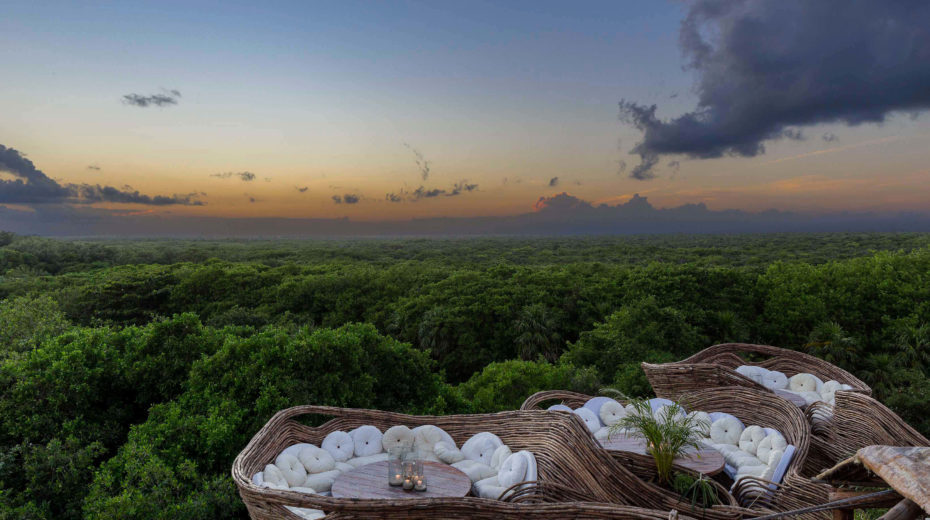 It's the crown jewel of any kid's backyard, park, and middle school daydreams: Treehouses. For being something so utterly simple – it's just a house with legs, amiright? – never cease to spark a sense of wonder in us, and luckily, we're not alone. From the far reaches of a tribe in Indonesia, to a nearly 400-yr-old treehouse in the English countryside, these sky grazing gems continue to fascinate. So without further ado, let's climb inside a few of our favourites, from the totally remote to the newly rentable…
Overlooking the Mayan Jungle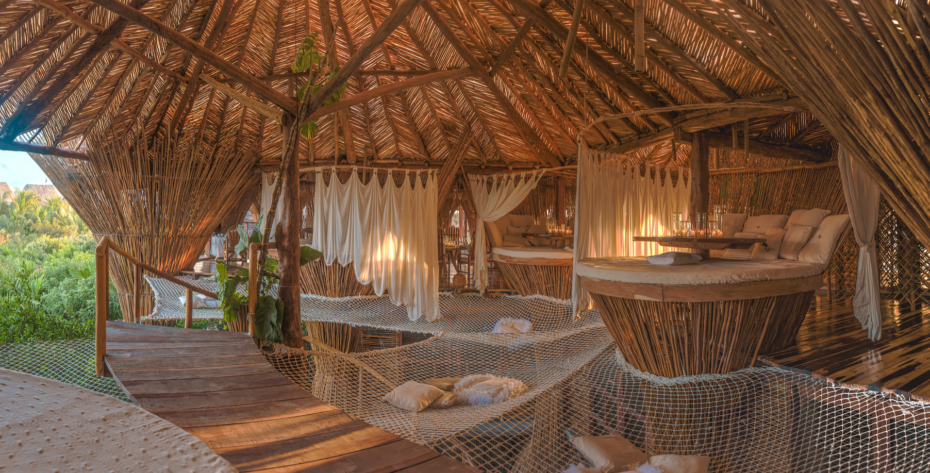 In the lush treetops of Tulum, Mexico, hides a veritable village of luxurious treehouses known as "Azulik". The location alone makes the resort a bucket-list vacation spot, but add in the fact that these little cabanas hover several meters above the area's own wetland, and it becomes the stuff of fairytales. They even have access to a "cenote" (those amazing underground water holes) that "provides sacred water to all villas, which is used tp take slow and relaxing baths in [their] hand-crafted Mayan tubs" while watching the sunset. Not too shabby.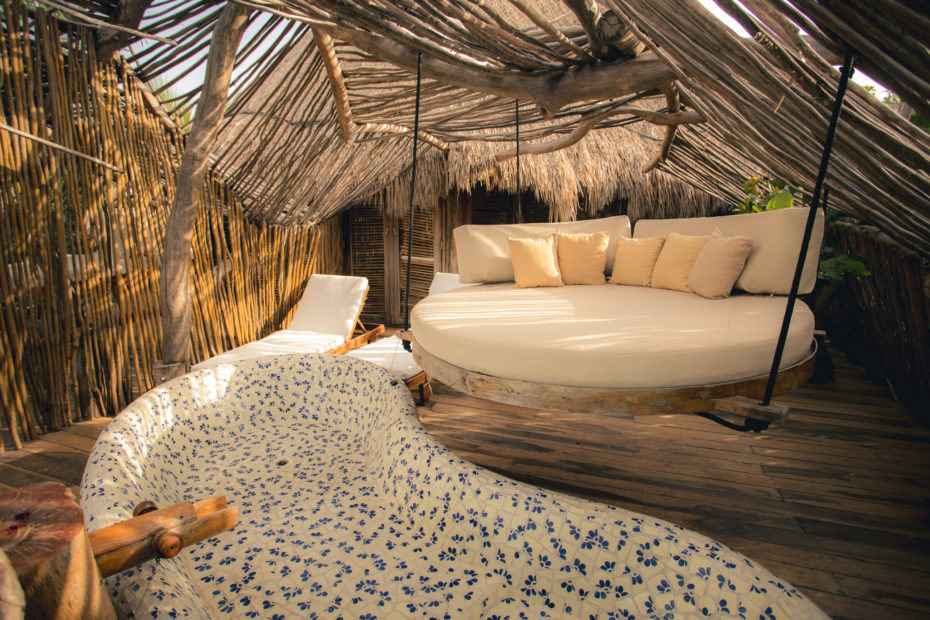 The little villas are about $1,000/night, but you can always head up to their treehouse restaurant for a meal or aperitif. Find it here.

.

The Swiss Family Robinson Treehouse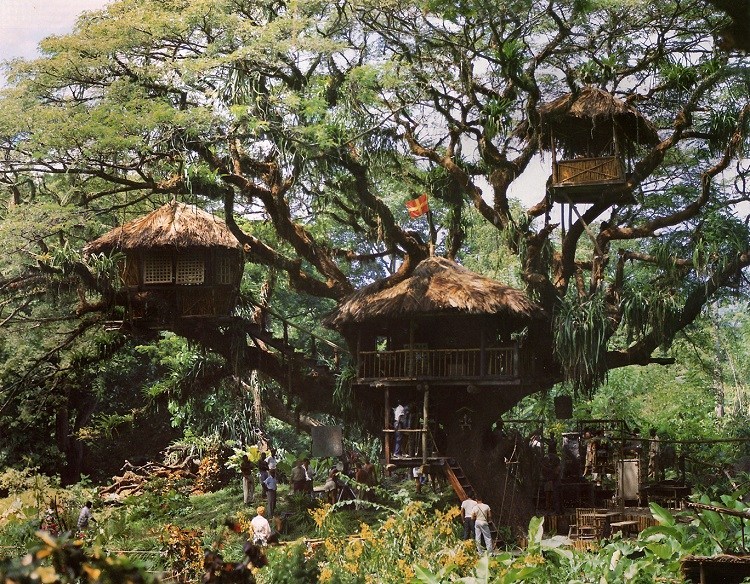 In 1960, Disney came out with a movie based on the 1812 german adventure novel, Der Schweizerische Robinson, aka The Swiss Family Robinson by Johann David Wyss.
Disney spared no expense with filming and went to a small island in the Caribbean called Tobago, and started building in a 60 meter (200 ft) tall monkey pod tree that could fit up to 20 crew members. Amazingly, it wasn't knocked down when filming wrapped in 1960, but immediately emptied and put up for sale for the contemporary equivalent of roughly $75k. Unfortunately, it was ravaged by a hurricane in 1963, but the tree still lives on today, "tucked away on the property of an auto repair shop", reports the Treeographer.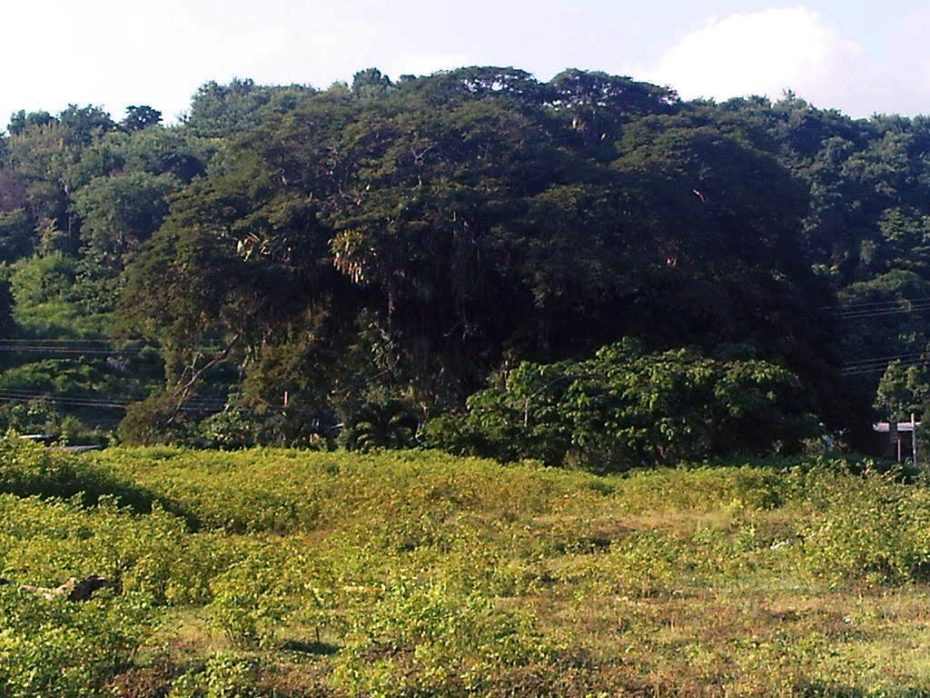 "The tree has fallen into obscurity; only a few of the older people knew of its significance," local Tobago resident told the Treeographer. "As a matter of fact, not many people know of the film Swiss Family Robinson much less that it was filmed here in Tobago."

.

Oh, Just Next Door to a Volcano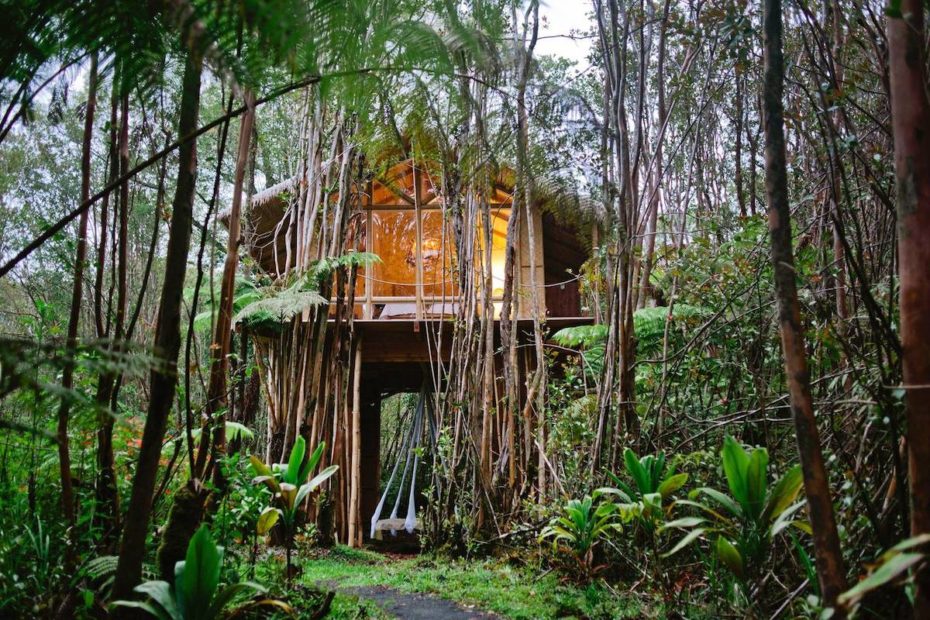 Honestly, we can't think of a better way to immerse yourself in the beauty of Hawaii. This tree-top cabin on the Big Island is surrounded by cinder trees and, get this, neighbours with a national volcanic park. With few railings and lots of glass, this isn't a place to bring the kids. But the 1 bed, 1 bath pad is an excellent place to bring a lover for an explosive (sorry, not sorry) weekend.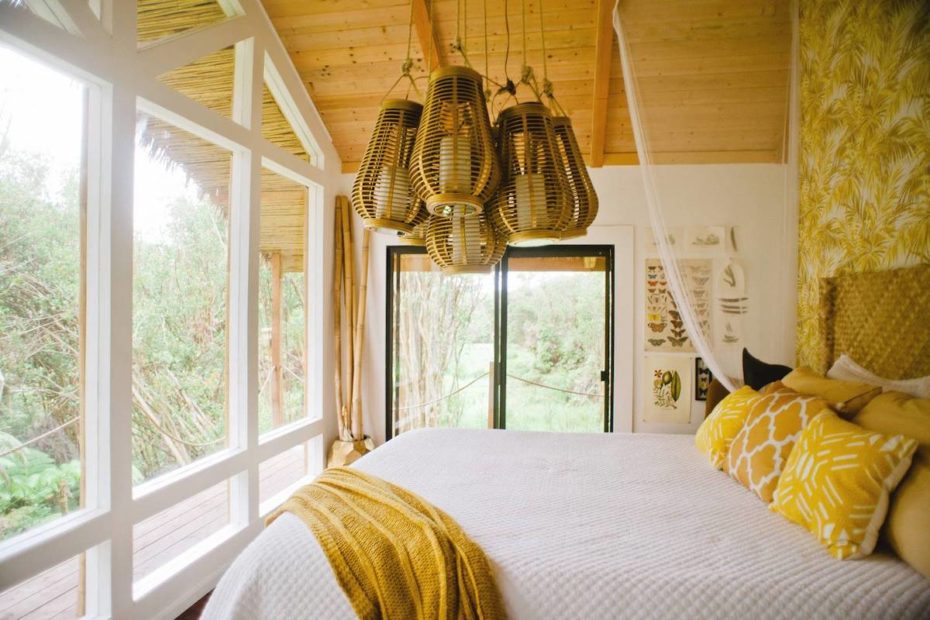 "Upon entering, you will notice that the generous windows and doors allow for natural sunlight to flood into the house," writes the host, Kayte, "Bamboo fixtures and vintage 1970s wallpaper that backs the bed…The beauty of this high flying haven is in the details. I spent the better part of three months personally constructing the building as well as the accessories inside."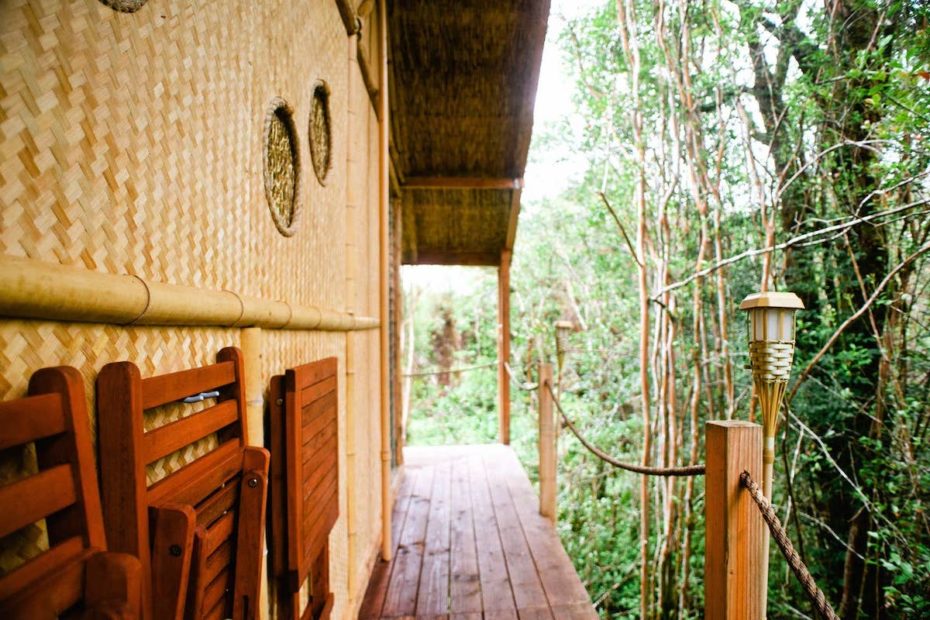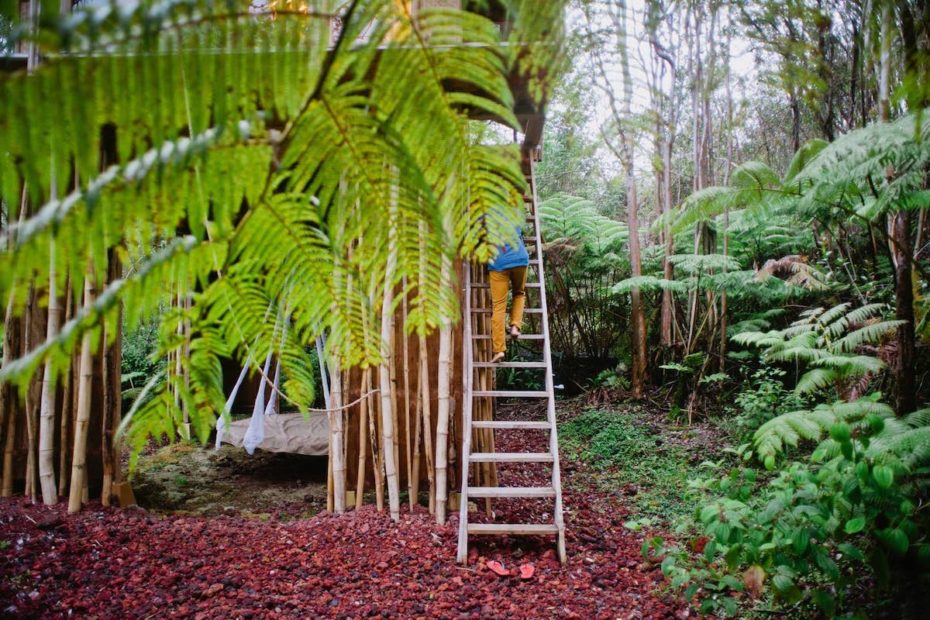 Book your stay here.
.

Paris' Lost Summer Treehouses
Ah, to turn back the clock to a balmy summer night in Paris, circa 1848. Imagine you're a local shopkeeper, perhaps the attendant of a local Haussmanien kiosk, who spends their day dreaming of treetop adventures far from the concrete jungle. Well, turns out you could just pop over the the little hamlet of St. Eloi, where a man inspired by Robinson Crusoe (what is it with this guy and treehouses?) created a restaurant perched in an old chestnut tree called, "Le Grand Robinson". It was so popular, that it inspired a number of other taverns and treehouses along the Rue Malabry, which essentially became more impressive than the next to one-up each other. Hey, Parisians weren't complaining.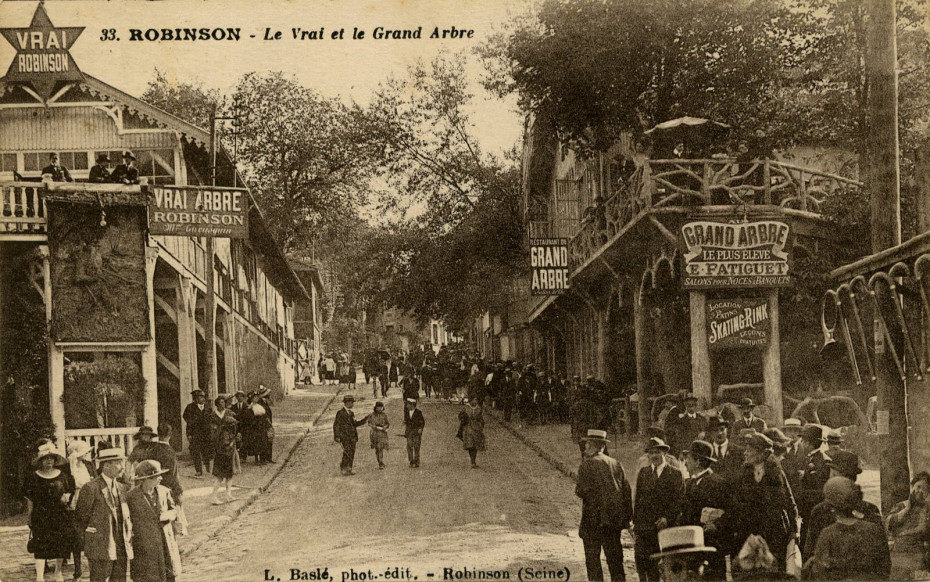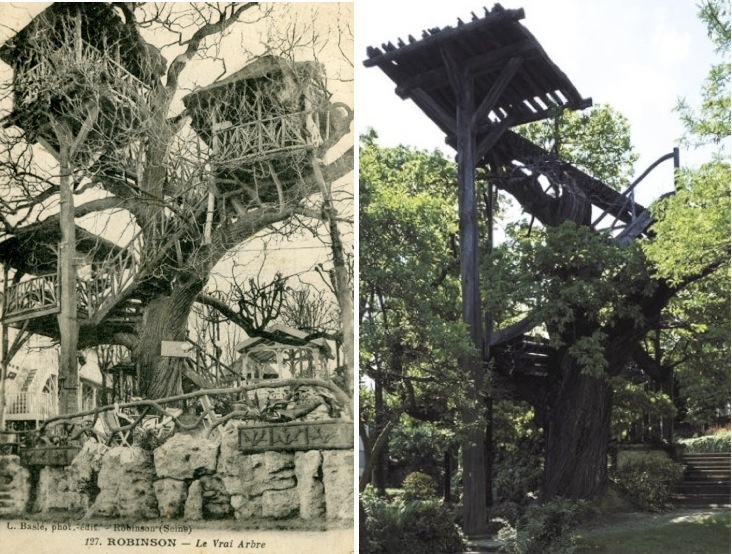 These days, you can still see the traces of the grand treehouses and the whimsical commerces they inspired. Their wood is cracking and their lustre long gone, but we like to imagine the ghosts of those Belle Epoque days sipping a crisp glass of rosé under the moonlight. You can read more in our full article about the Parisian treehouses right here.
.

The World's Biggest Treehouse
Down the dusty stretch of Beehive Lane in Crossville, Tennessee, far past the No Trespassing signs, you'll find it: the makeshift palace of the minister Horace Burgess, towering at almost 100 feet and five stories high. It was built with no plan, said Horace, and blueprinted only by the whim and "Word of God".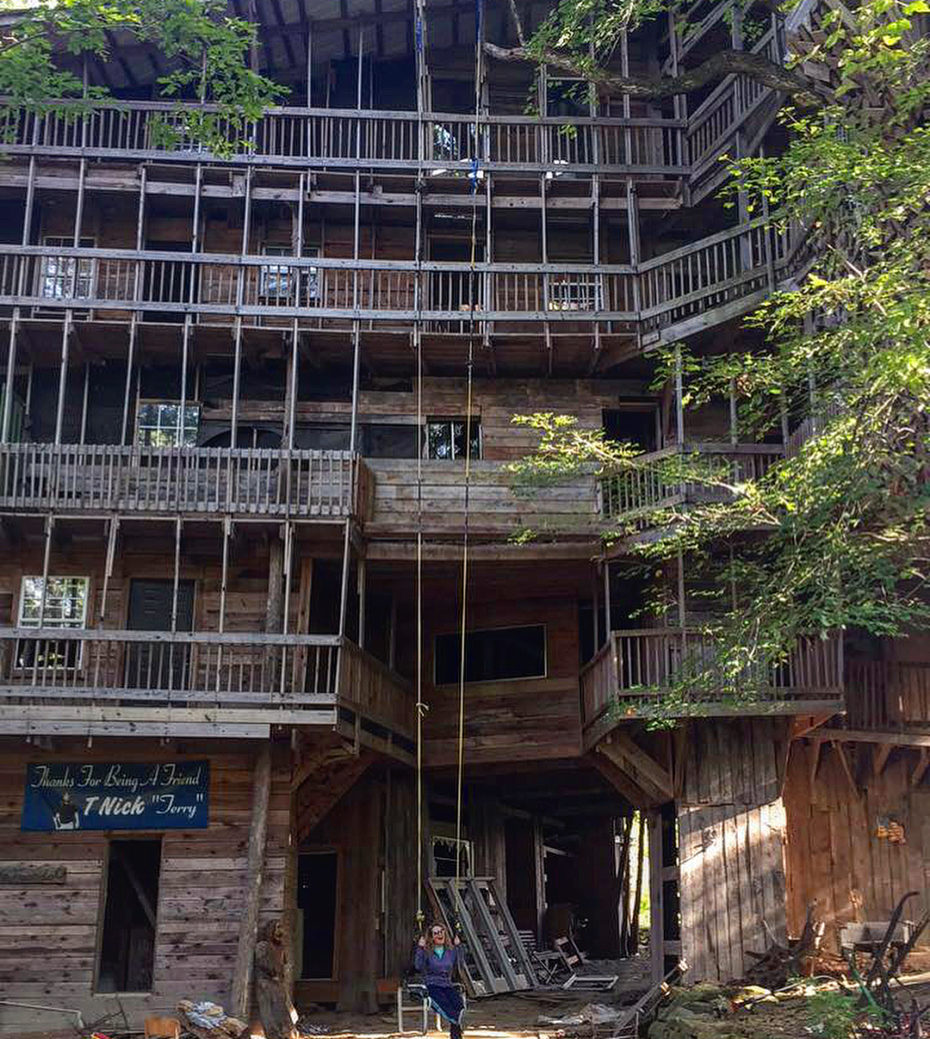 This treehouse is so massive, it's actually supported by six oak trees. Horace, who comes from a landscaping background, started building it in the 1990s after he says God came to him during prayer with very specific instructions: ""If you build a tree house, I'll see that you never run out of material." The treehouse, which was under active construction into the early 2000s, has over 80 rooms, wrap around porches, a little chapel, and a bell tower. Carved worshippers fills its rooms, but sadly, so does graffiti ever since the Tennessee Fire Marshall closed down the treehouse due to safety concerns. Still, Horace's hideaway remains a folk art temple of sorts – and the largest treehouse on our planet.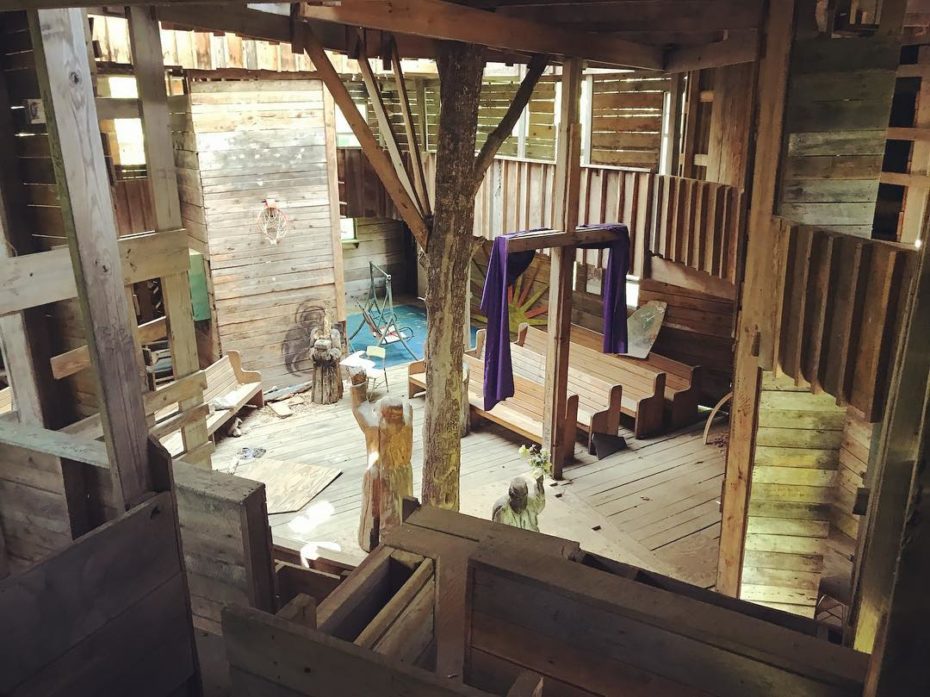 .

Europes's Tallest Treehouse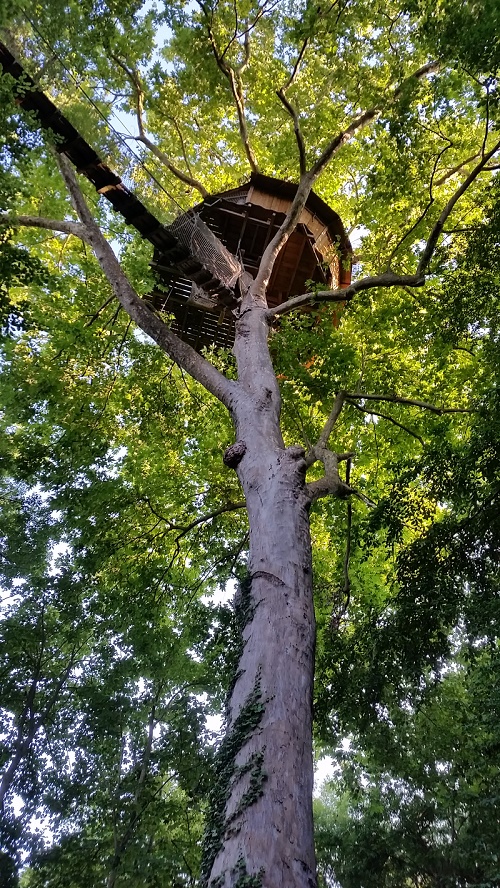 If you're traveling around Normandy and need a place to stay, climb across the Indiana Jones-worthy bridge and into the 22 metre (72 ft) tall treehouse overlooking Canon Park. Known as the Nid d'Aigle cabana, it can comfortably house two and is in the backyard of the Chateau de Canon. Truly roughing-it French style.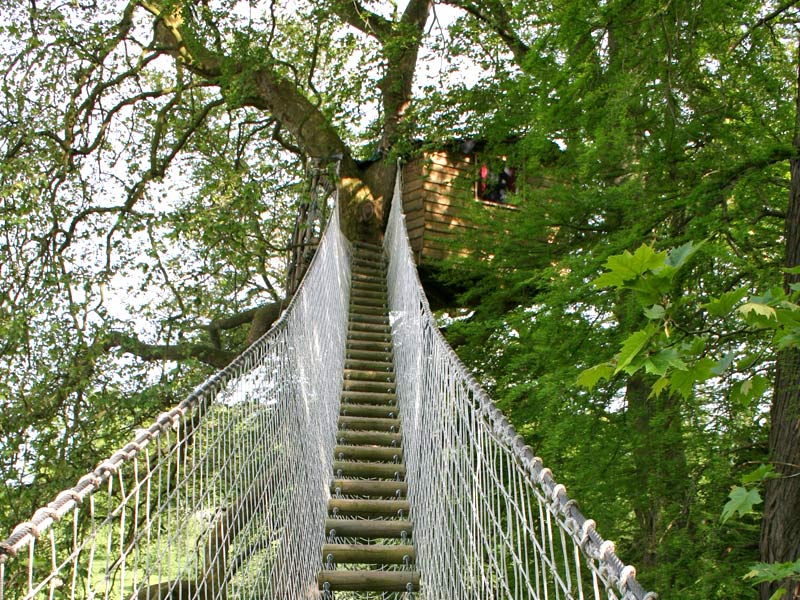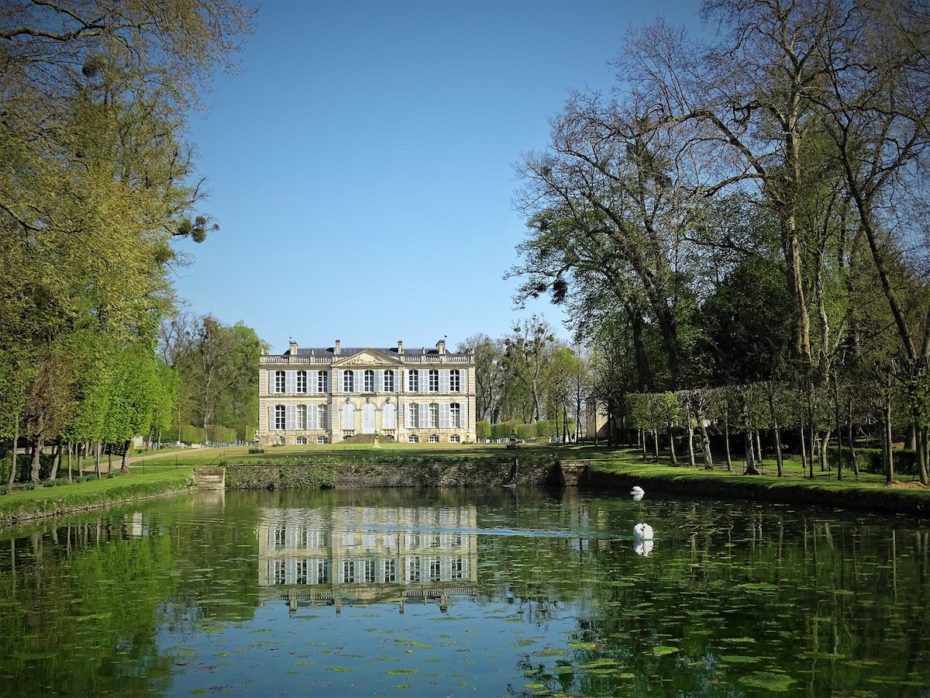 Reserve it here.
.

The World's Oldest Treehouse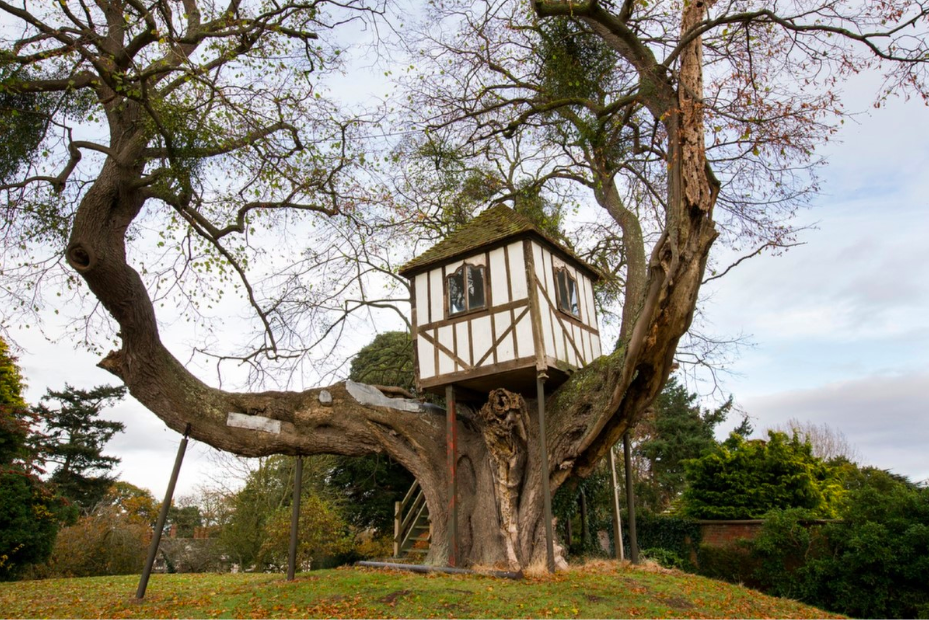 When she was just a princess, Queen Victoria wrote in her diary about a day spent spying on foxhounds inside a magical treehouse on an estate in the little village of Pitchford, England. That the treehouse is still around today in impressive enough; that it's been around since 1692 makes it a truly remarkable artefact of human whimsy.
There's been a Manor House on the grounds since 1284, but Pitchford Hall itself was built c.1560. It's well worth the visit, as it's now a Bed & Breakfast! You can frolic amongst its 1,000 acres of greenery, soak in the Hansel and Gretel-worthy main house, and of course, play make believe like a princess in the treehouse (which is in an old lime tree, funnily enough). A carved cornice ceiling, oak floors, and gothic windows make it a pretty cosy spot – not unlike the perfect home for a professional, human garden gnome (yup, a thing).
Learn more about visiting the treehouse here.
.

The Teahouse in the Sky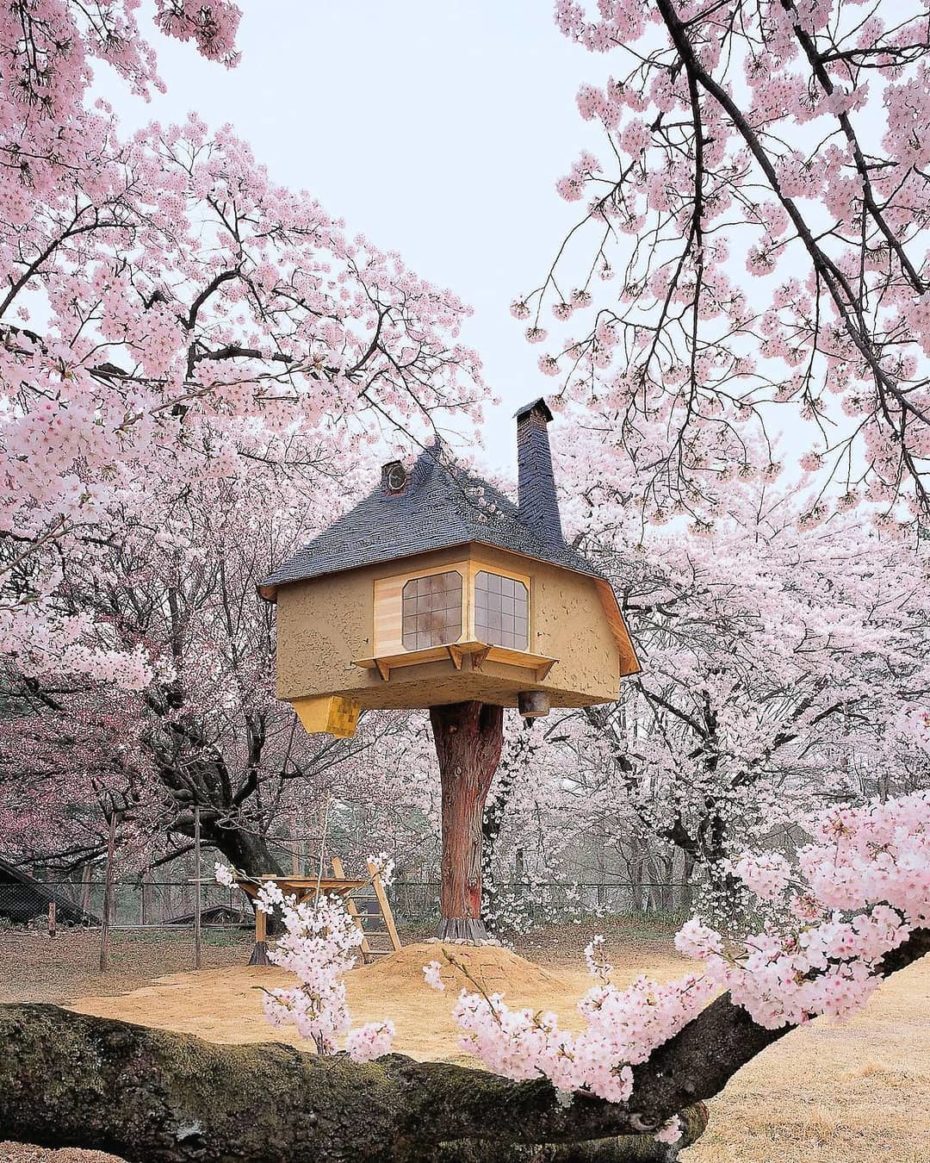 Out of the pink cherry trees in Hokuto, Japan, pokes a tiny chimney. A closer look reveals a storybook tea house built on a nearly 100-yr-old cypress tree. Known as the Tetsu Tea House, it's one of many follies in a seriously cool art village called Kiyoharu, which is dotted with little museums and galleries founded in 1983 by a group of Japanese intellectuals called "the Shirakaba-ha".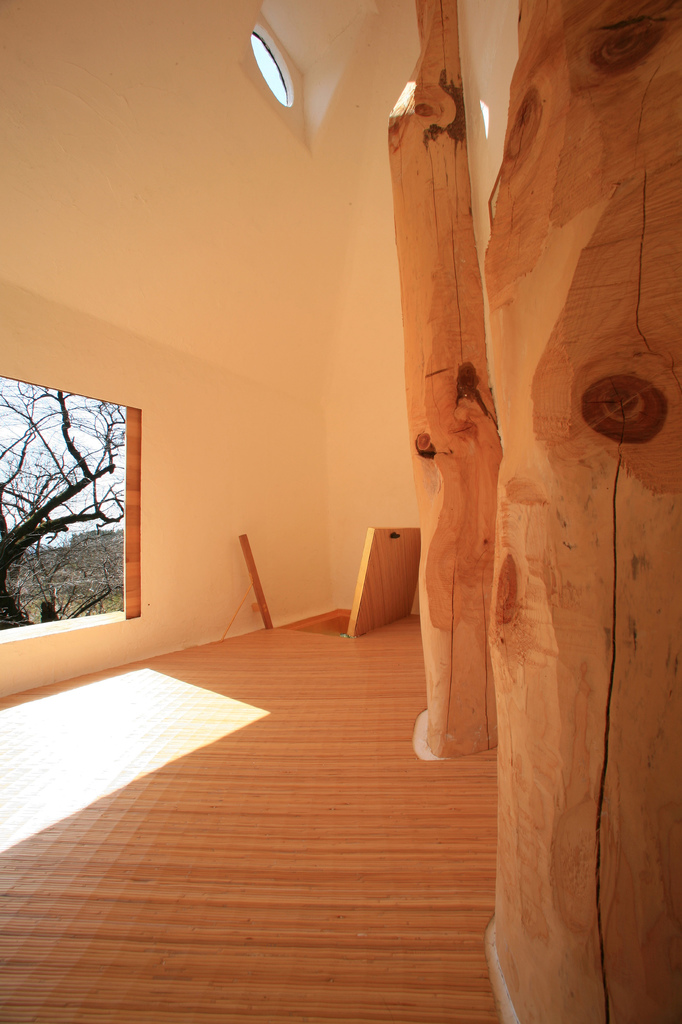 At 4 metres (roughly 13ft) tall, it's not the biggest treehouse of the bunch, but it's certainly one of the most charming. It was built by architect Terunobu Fujimori in 2006, who's no novice to the treehouse-teahouse game; in 2004 he dreamt up another in Chino, in the Nagano Prefecture, called "Takasugi-an" – literally, "the too tall treehouse" due to its sky-high, wobbly legs.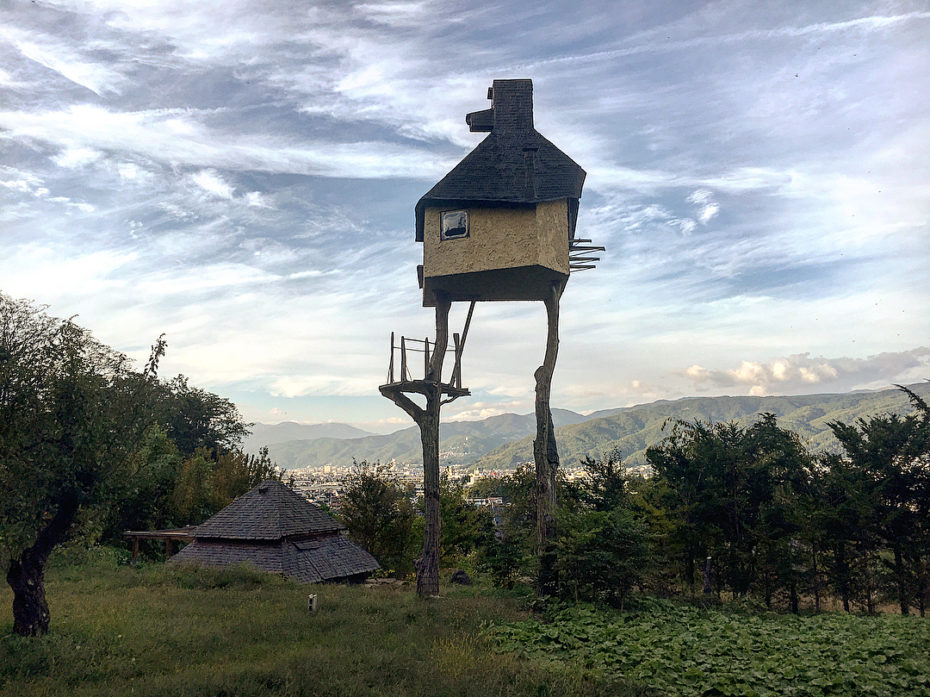 When it came time to do the Testu Tea House, he clearly decided to bring things to a more bite-sized scale. Learn more about visiting it here.
.

Peter Pan's Airbnb Treehouse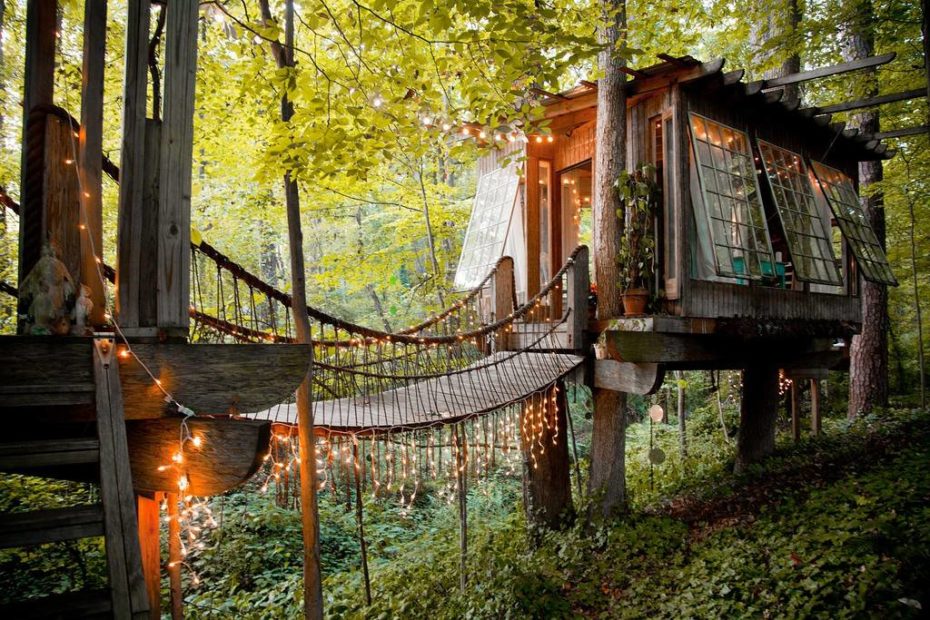 As much as we'd like to escape to Indonesia or the English countryside for a spill, sometimes you need something a little closer to home (although, congrats if your home's across the street from a Japanese treehouse-teahouse). If you happen to be looking for a memorable getaway this summer in the States, for example, here are a few listings to check out on AirBnB…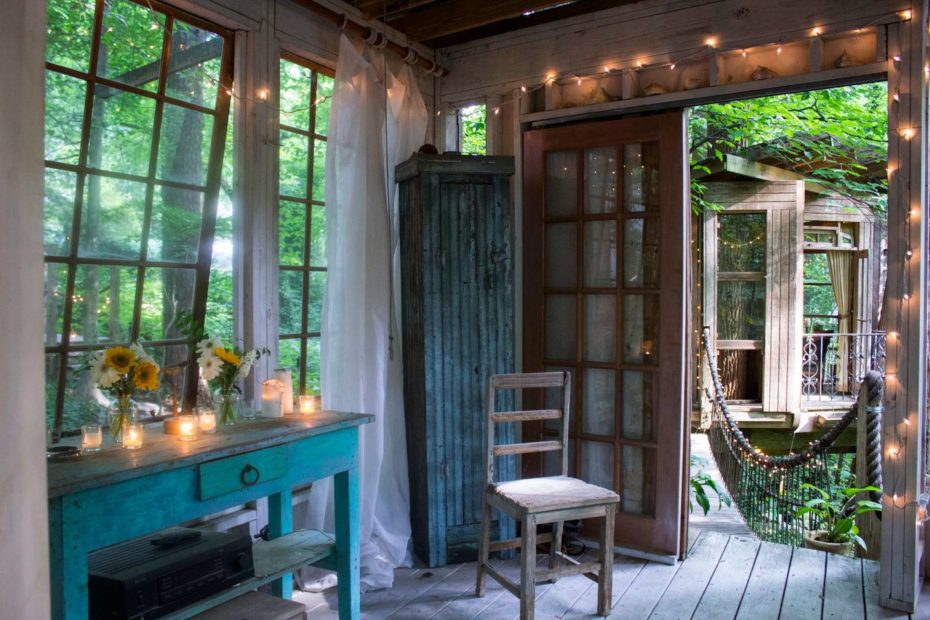 Who knew Neverland relocated to Atlanta, Georgia? We've got even more details in a past article on this gem, which is now rated as one of AirBnB's top "wish-list" destinations. "What could be better than falling asleep in the trees and waking up to birds singing around you," write the owners, "all within the city limits?" Not much. Prices start at €336 per night. Learn more here.
.


The Korowai Tree Houses
Deep in the Indonesian rainforest, right on the border of Papua New Guinea, you'll find the surviving Korowai people high in the treetops. Really high. Until the 1970s, no one knew they even existed, and today their numbers are at about 3,000, but their towering homes have been some of the most remarkable structures on our planet…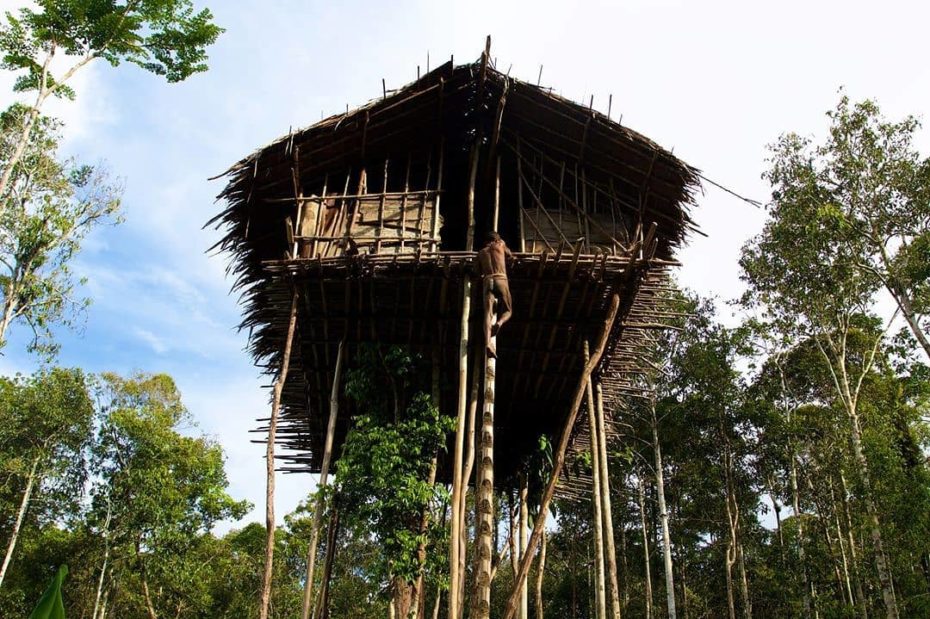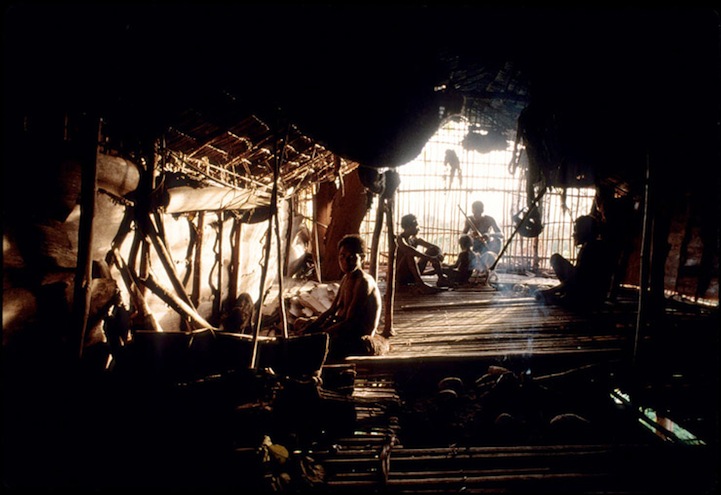 Aside from looking amazing, building 35 metres (roughly 114 ft) up in the sky is helpful in avoiding flooding, dangerous animals and potentially disease-ridden mosquitos. A tribe will start with a sturdy but supple base of the Banyan or Wanbom tree variety. Not all homes are as sky-high (some are about 10 meters (32ft) tall, but pretty much always fit about a dozen family members.
The media stories surrounding the tribes often pander to harmful myth that the Korowai are active cannibals. Even Smithsonian published an article in 2006 titled, "Sleeping with Cannibals", which paints a rather eerie vision of their research through a rather colonialist lens: "[There were] spidery lines marking lowland rivers and thousands of square miles of green jungle," writes the reporter, "Dutch missionaries who came to convert the Korowai in the late 1970s called it 'the hell in the south.'" In a 2006 BBC doc, however, it's clear to see that with Korowai are a warm and helpful people who haven't practised cannibalism for decades. In fact, most of their behaviours and norms and non-binary, which is pretty cool (the only evidence of shifty practices I can see is that breast flattening might be a tradition amongst the women).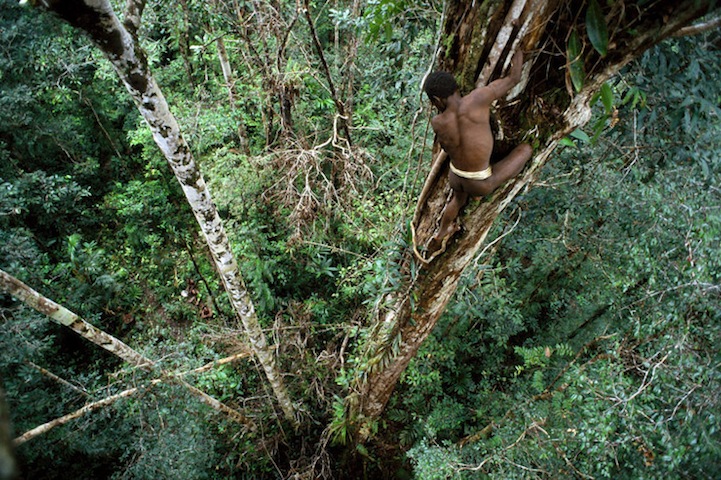 Read more about the Korowai in our past article on the treehouses.
.

The Bolt Farm Treehouse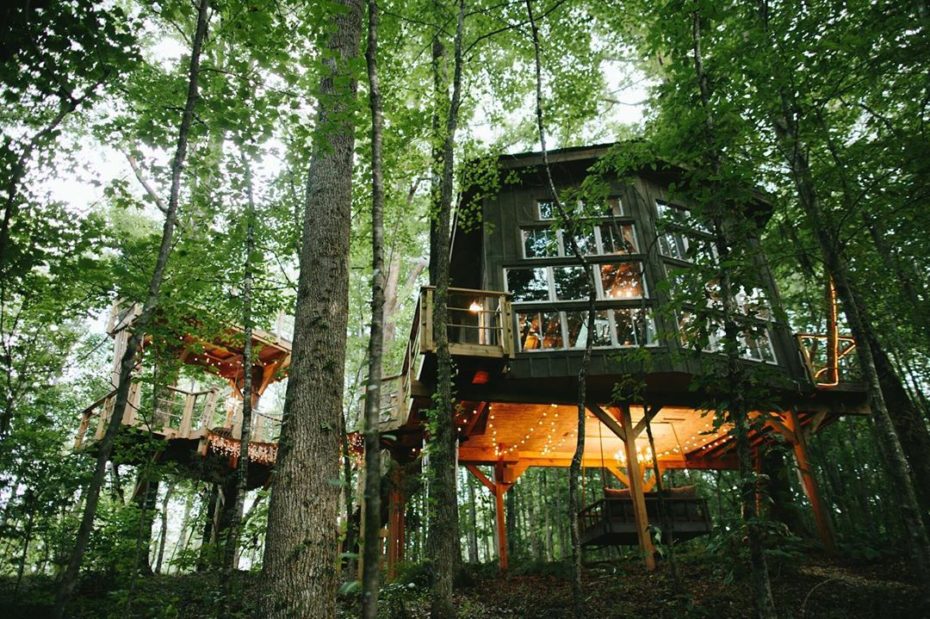 Last but not least, the Southern Belles of the lot, that look like they fell out of an Anthropologie catalogue, and right into a forest in Charleston, South Carolina. Bolt Farm Treehouse has four nesting options to choose from and there's usually a waiting list, but it's worth it. Where else can you sleep on a swing bed, and shower under the stars? Play checkers on a tree-stump, and survey your personal kingdom of Lowcountry land?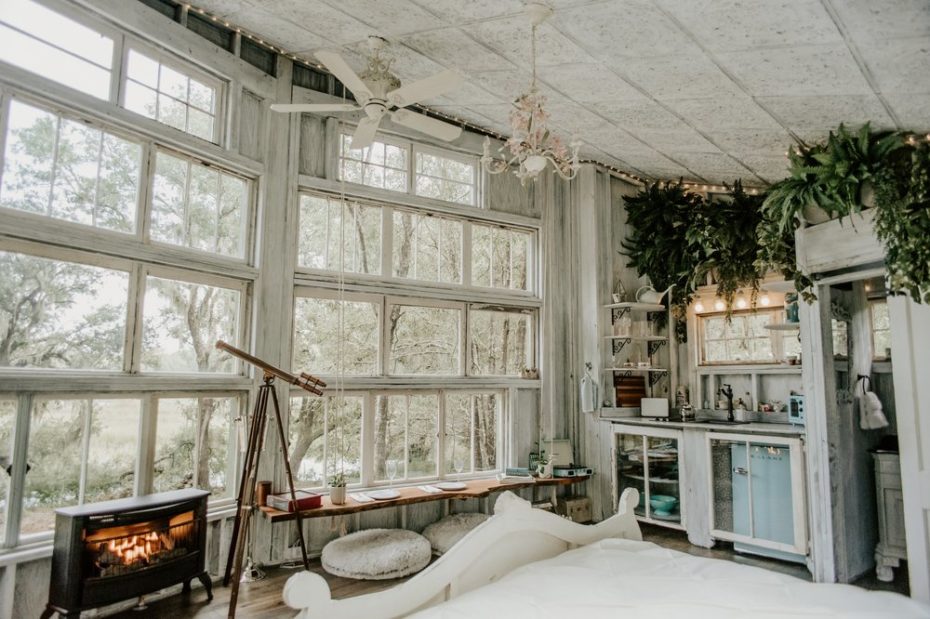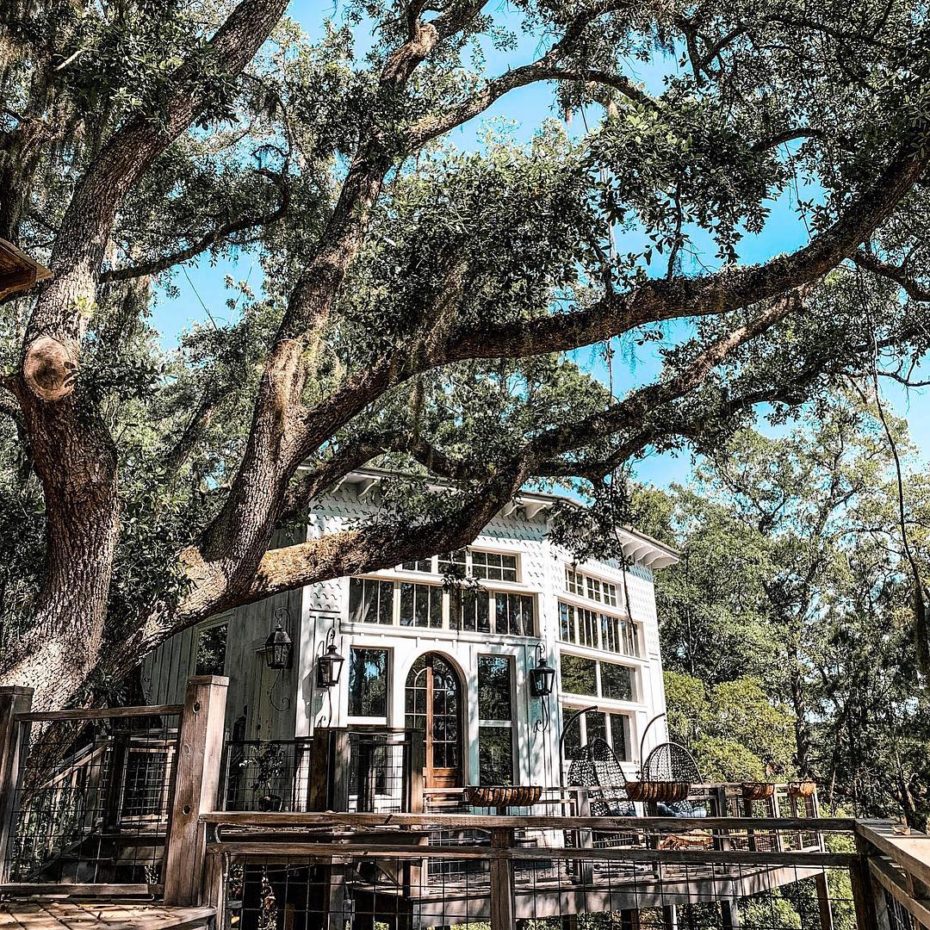 The designer of the first treehouse, Seth Bolt, originally intended for them to be a personal hideaway. "When we realized how magical the experience is and how good it is for the soul, we decided to open it to the public," he says on their site, "in hopes that other busy people would welcome the invitation to turn their cell phones off & clear their schedule". You have to book about 6 months in advance, because Seth and his partner, Tori, make sure the hideaways are meticulously prepared. So get on the wait list already!