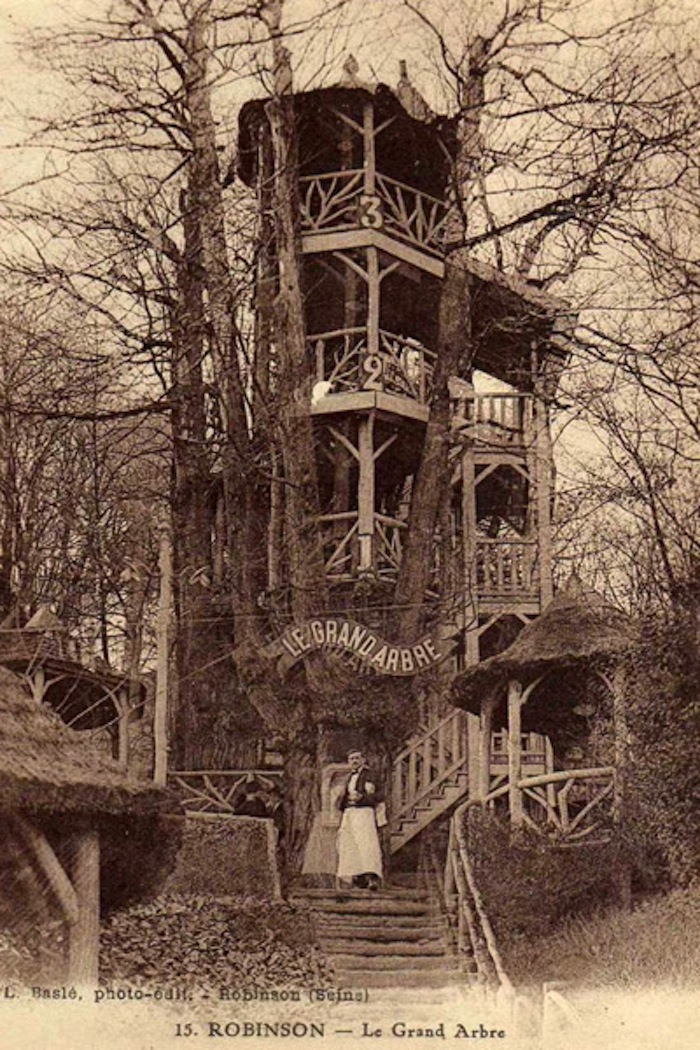 There was once a place that drew crowds of Parisians away from their grand boulevards and sidewalk cafés to rediscover their inner child, wine & dine in chestnut tree houses and celebrate summer like Robinson Crusoe.
Perhaps you've heard of a "guingette", a sort of French equivalent to a summer hoedown, traditionally located next to the river and particularly popular in the the 19th and early 20th century, serving food and ample drinks, accompanied by lively music and dancing. Monet and Renoir immortalised such vibrant scenes in their paintings but it seems the most enchanting of these summer establishments has been long forgotten by Parisians…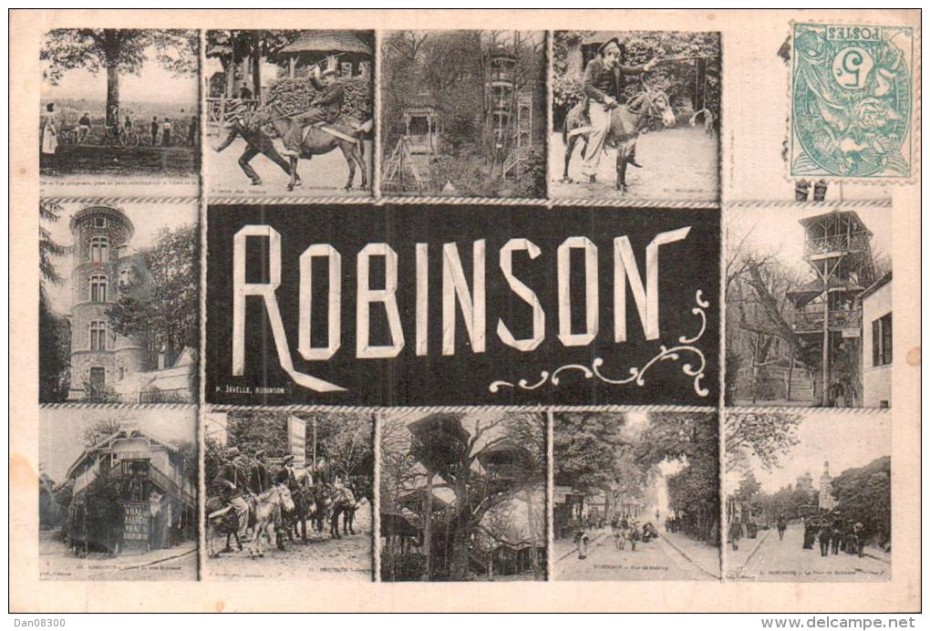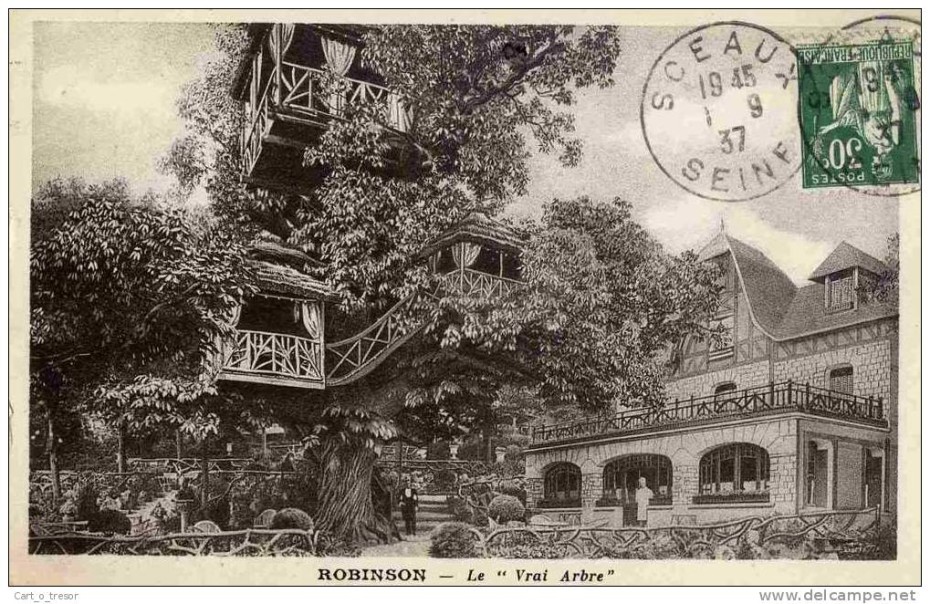 Les Guinguettes de Robinson was the place to be in the summer of the 1850s. Parisians descended to the small district south of the city en masse to relax high up in the branches of chestnut trees and dance in the forest. It all began in 1848 in the hamlet of St. Eloi when an inkeeper was inspired by the popular myth of Robinson Crusoe.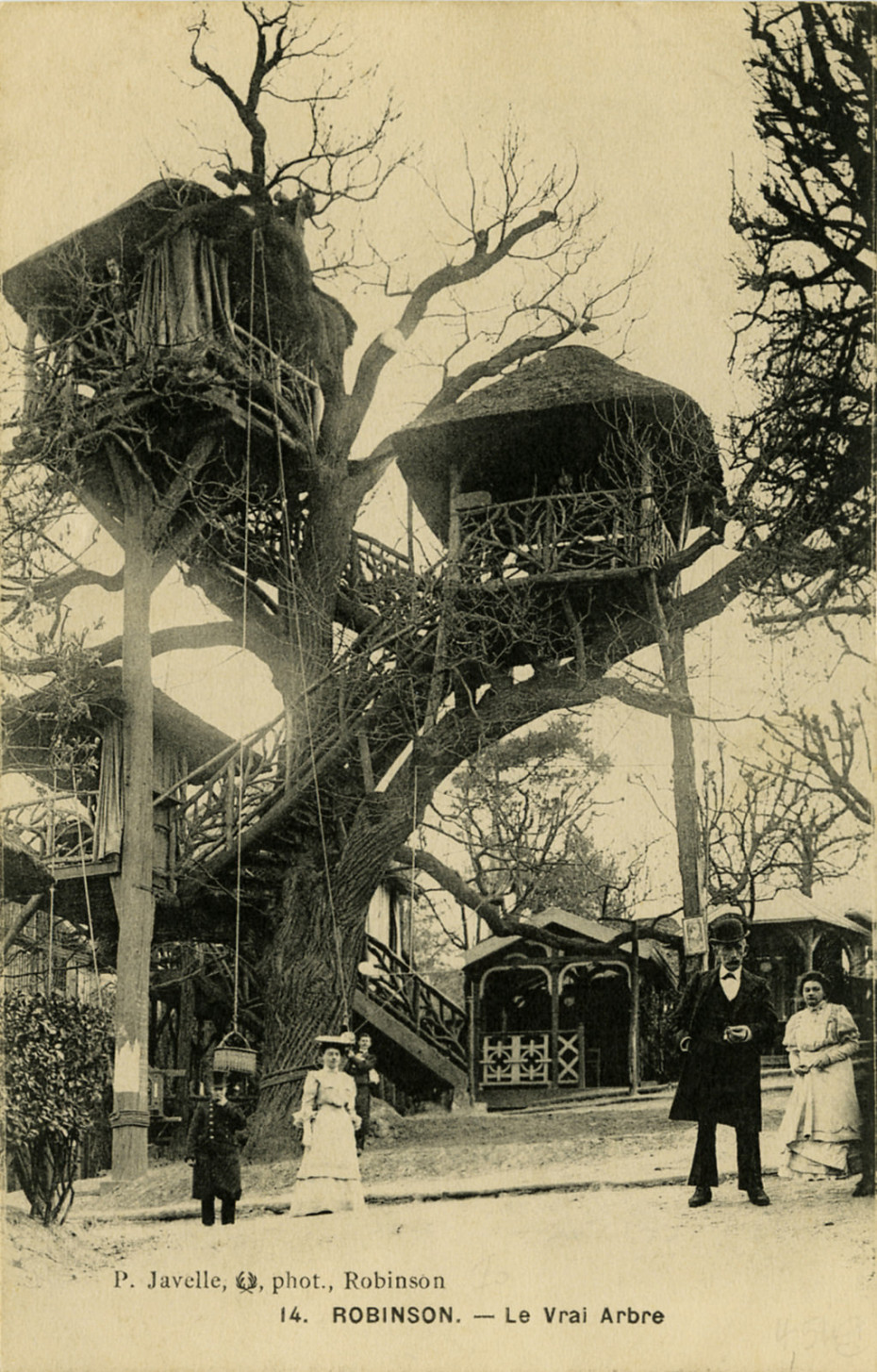 He created a restaurant perched in an old Chestnut tree he called the Grand Robinson. It was an instant success and competing taverns and restaurants multiplied quickly, adopting the same Crusoe theme along the Rue Malabry. In 1888, "Le Grand Robinson", not to be confused with "the Grand Arbre", which set up shop just opposite, had to change its name to "Le Vrai Arbre de Robinson" (the Real Tree Robinson"), in order to set itself apart from the competition.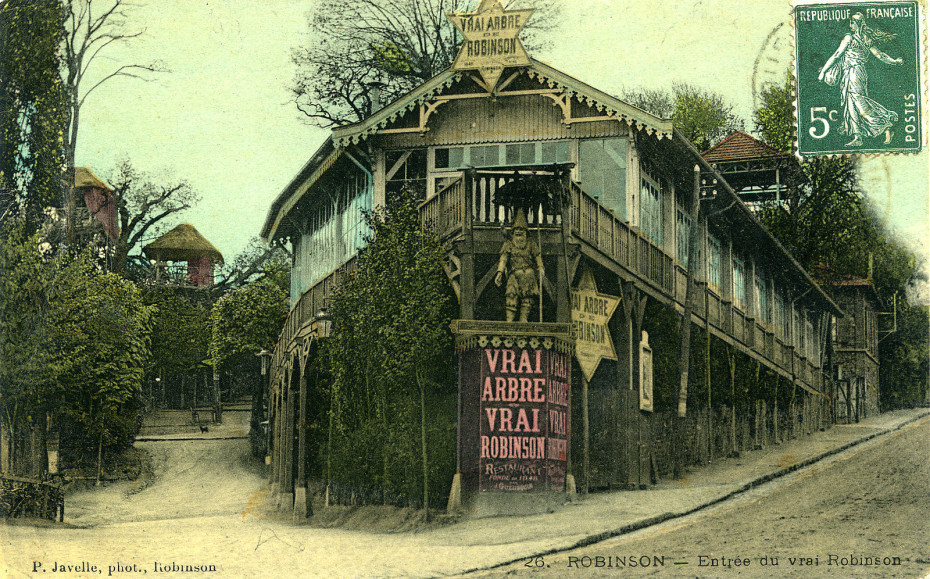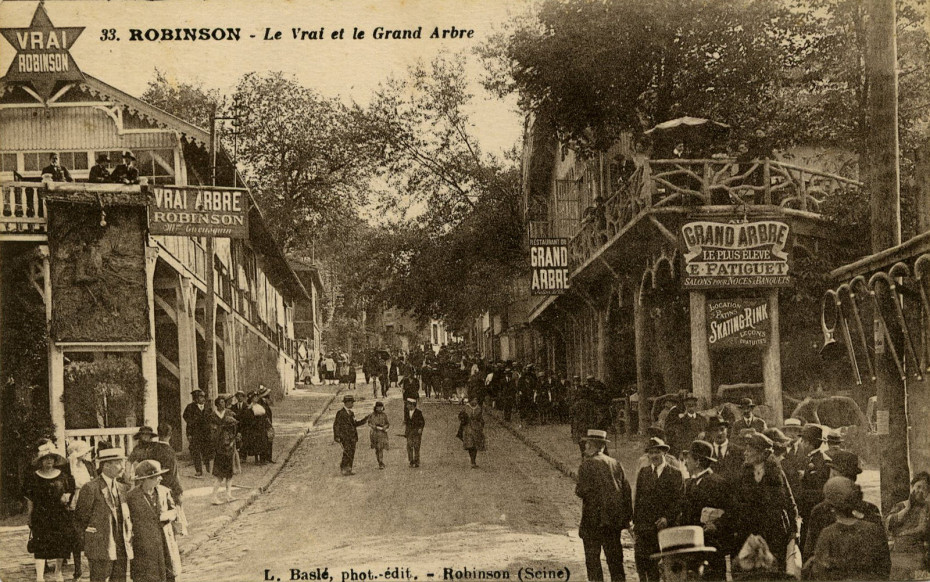 In this unusual forest setting, dance halls and bars entertained Parisians in exotic island huts, adults and children alike amused themselves on rides, swings and various attractions and participated in donkey races (after a little too much wine).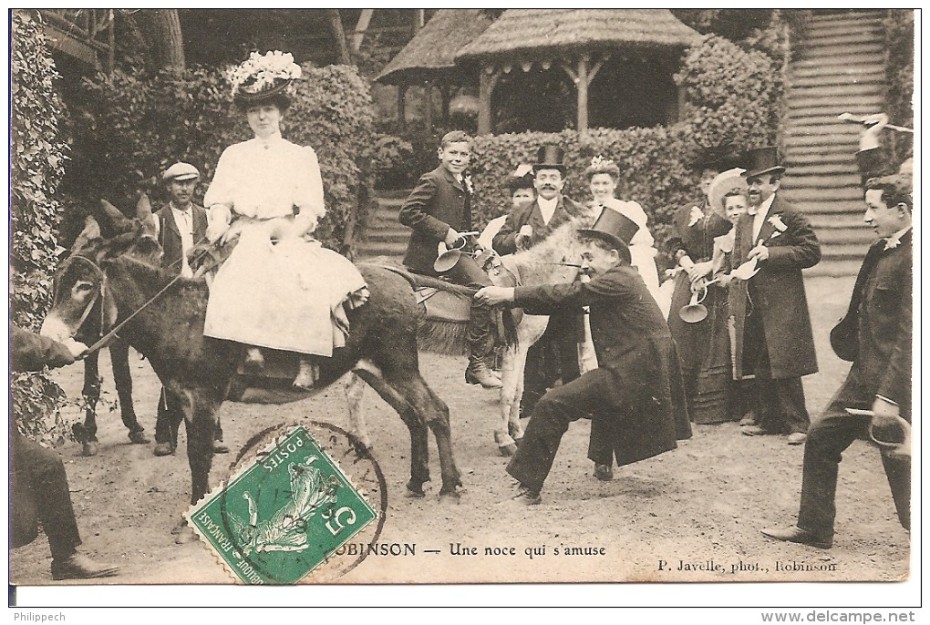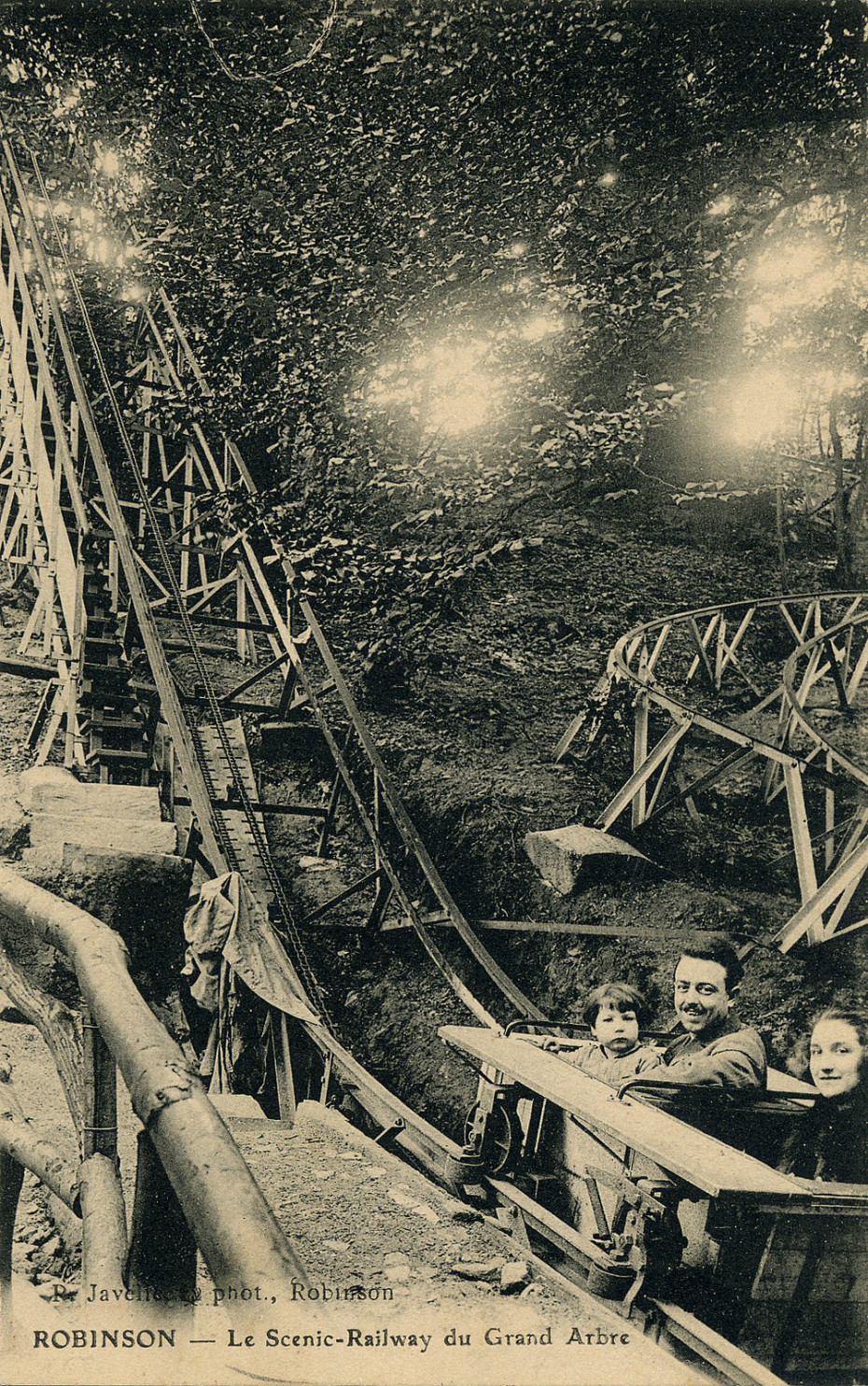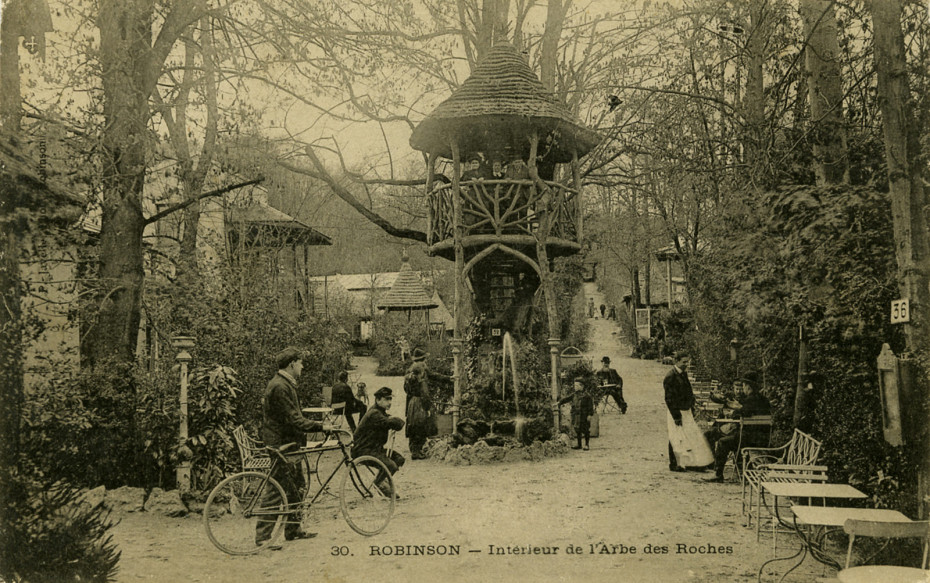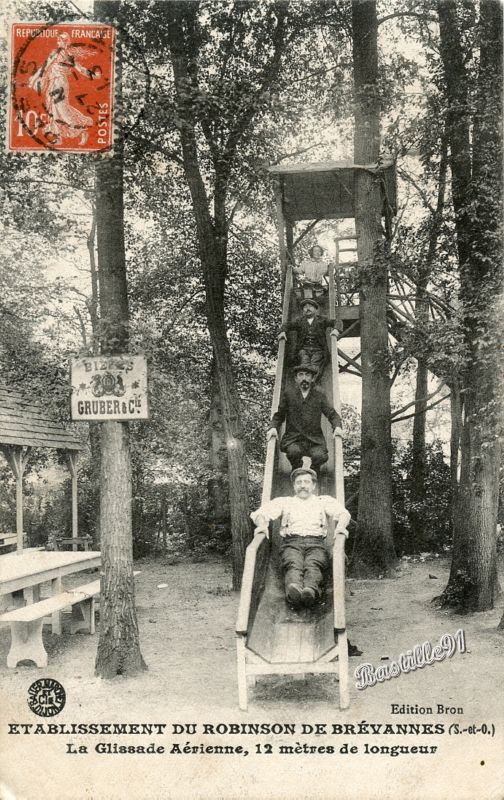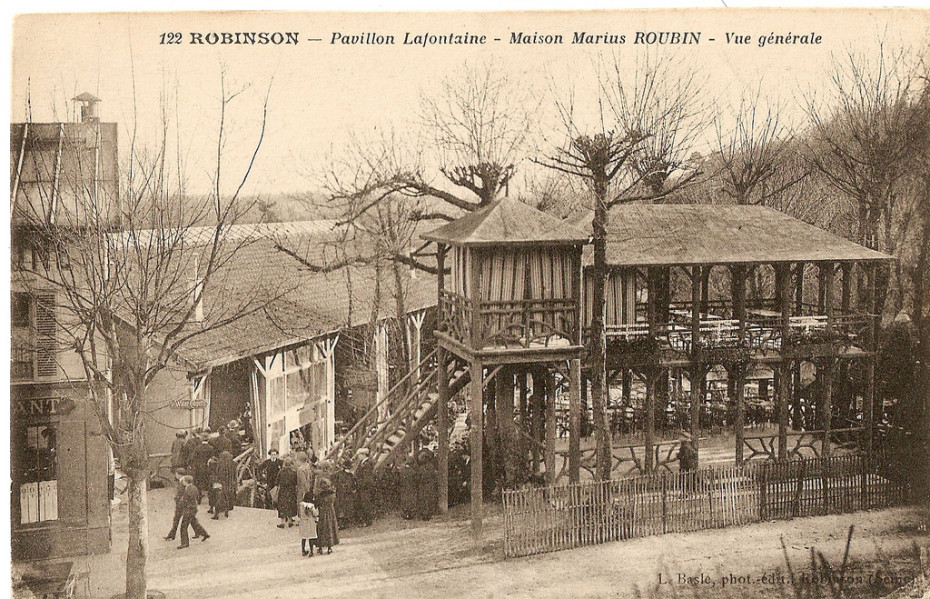 Customers in chestnut treehouses were served lunch of roast chicken and champagne, their meals hoisted up to them in baskets via rope pulley systems. In 1855, a food critic wrote that 'lavish tables were set and lovebirds without feathers but forks in hand exchanged happy kisses in the breeze, witnessed only by the foliage'.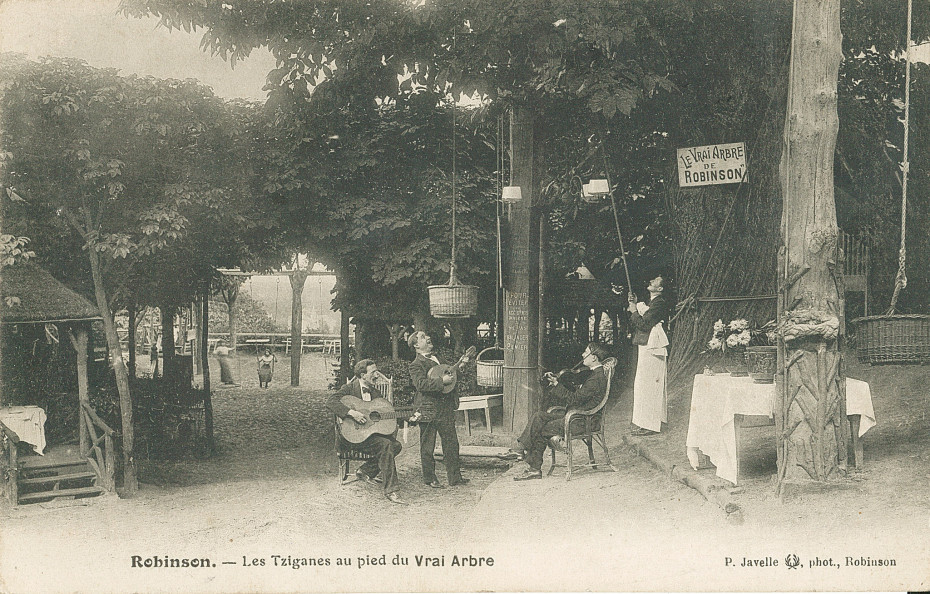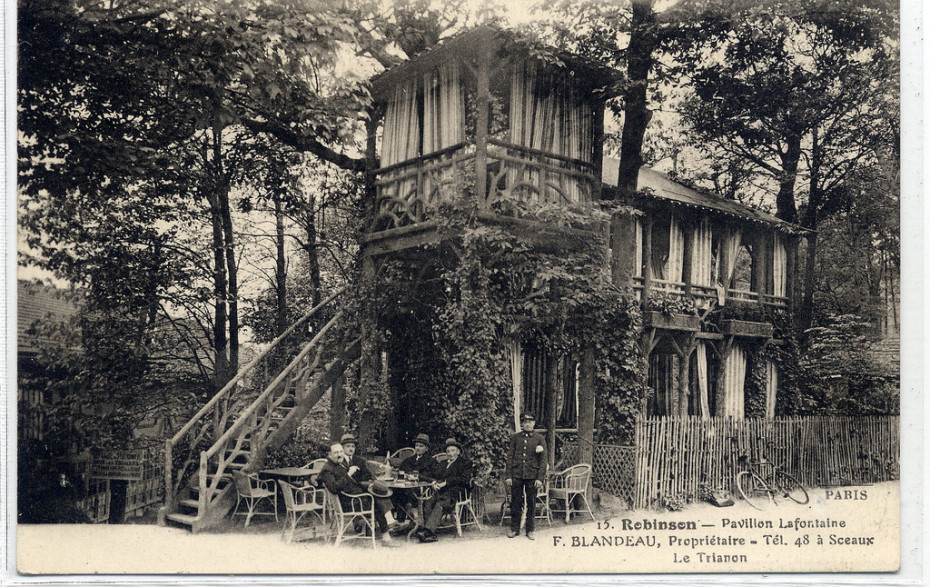 For Parisians who couldn't flock to the seaside during the summer months (but could now escape the city thanks to the expansion of the "suburban" railway lines around Paris in the late 1850s), Les Guingettes de Robinson provided a uniquely enchanting and exotic summer adventure. For over a century, this Robinson Crusoe Village was a Parisian paradise.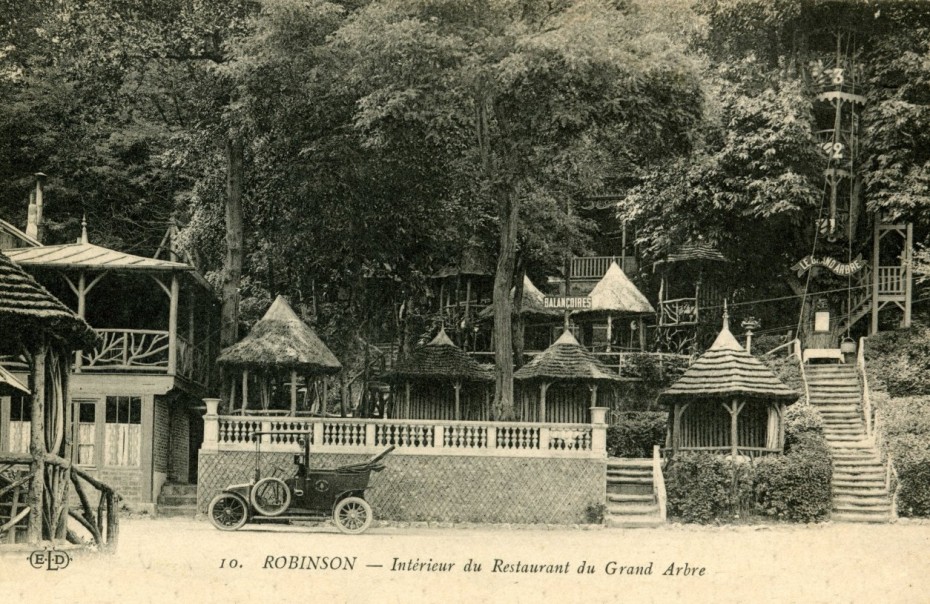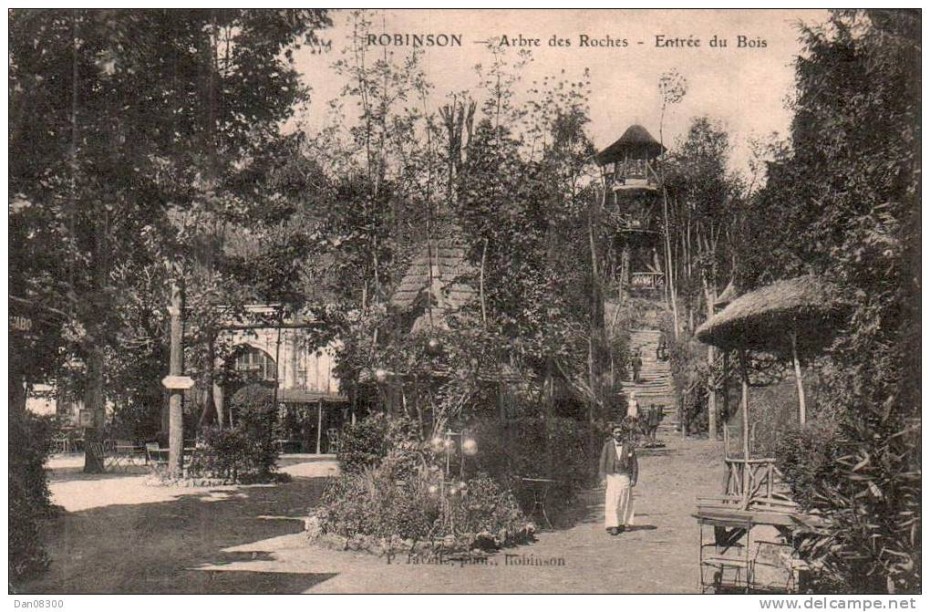 During the Second World War however, the spirit of the guingette fell out of fashion and after the war the Robinson dance halls and taverns began closing one after the other. In the 1950s, one of the popular dance hall pavillions was sold to a Renault factory, before giving way to private homes.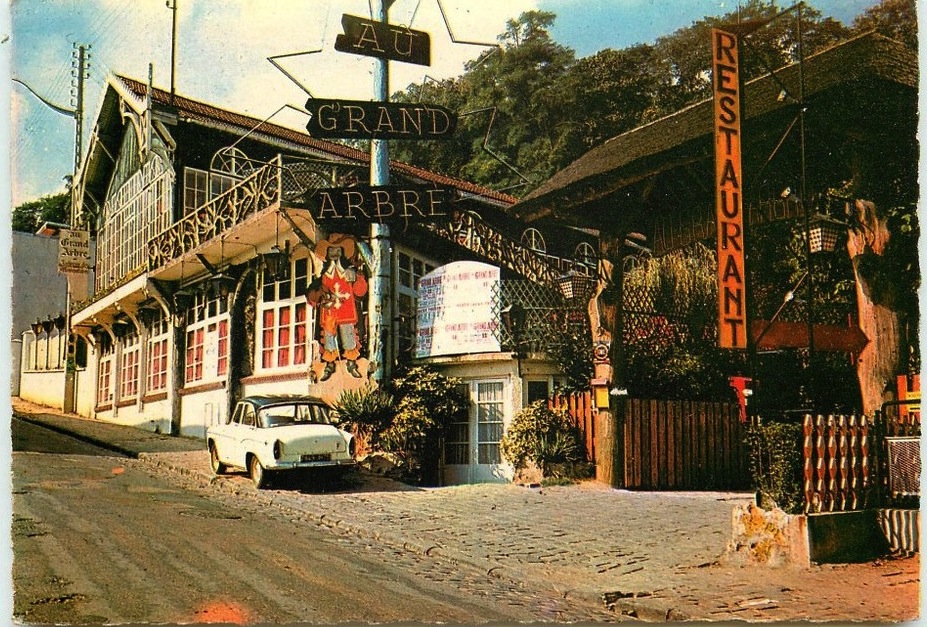 In an attempt to revive the original "Vrai Arbre de Robinson" in the 1970s, notable backers, including French singer Johnny Hallyday invested in the Robinson Village, but to no avail. The last true tavern, Le Grand Arbre closed in 1976. The spirit of Robinson Crusoe was then replaced by an American Far West saloon universe, Indian village, western show and disco, only to close a few years later.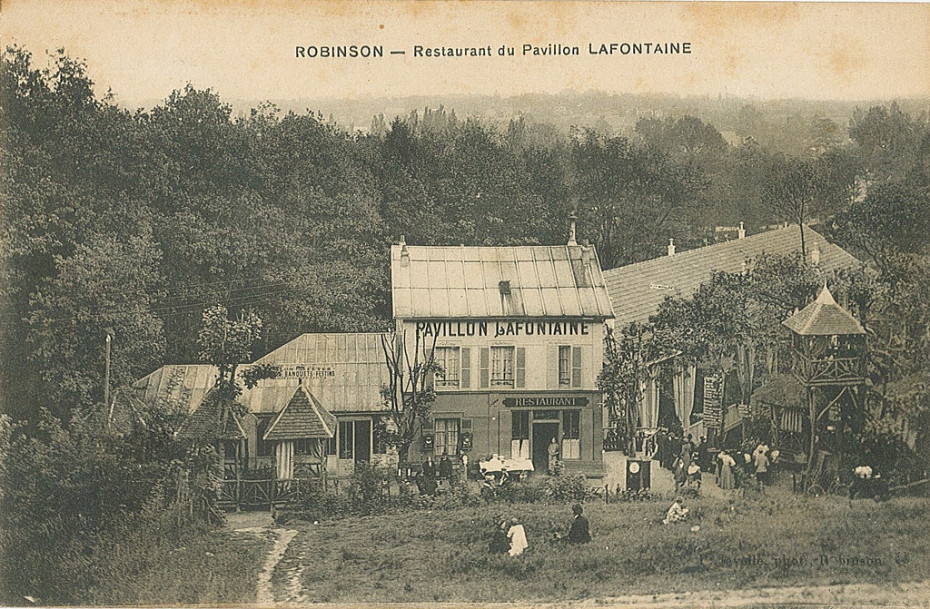 Today, only small clues remain of this Belle Epoque wonderland. The area where the Robinson village first sprouted is now an affluent suburban area of Paris called Le Plessis-Robinson, named in honour of its vibrant history as a guingette playtown. The guingette's first establishment, "Vraie Arbre de Robinson" at 32 Rue Malabry is a sad-looking skeleton of the elaborate treehouse that once wrapped around the chestnut tree, only consisting of some wooden railings, bare platforms and a crumbling staircase to nowhere.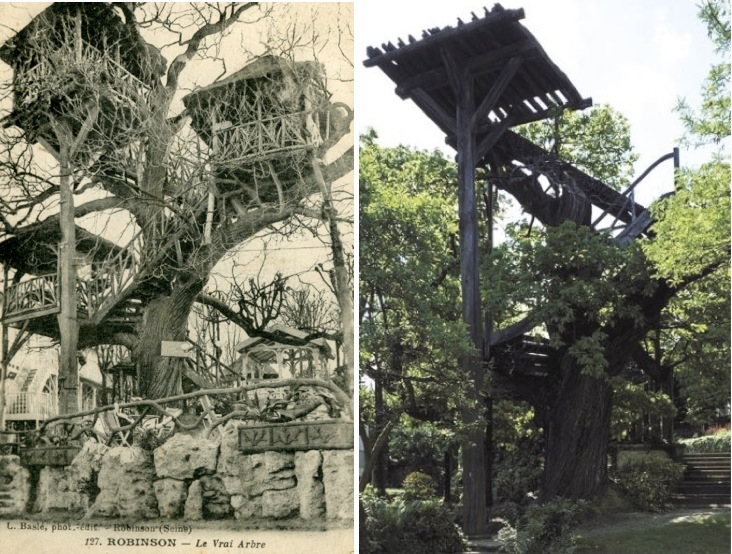 Pictured above, before & after at 32 Rue de Malabry, hidden behind a disused building, no one passing by would give it a second look today. One of the original Robinson Crusoe statues that once stood outside to attract customers still exists however, currently standing in a nearby public garden.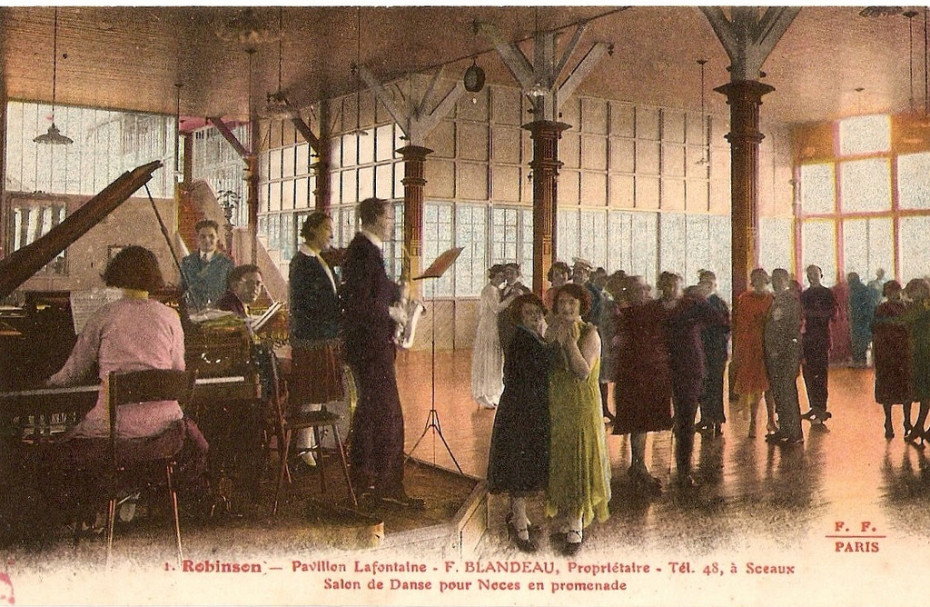 Of the dance hall taverns where the sound of music, laughter and tapping feet once echoed out onto the leafy streets, only a handful of structures remain in tact, such as the Pavillon Lafontaine, saved from decay in the 1990s but never revived for its original purpose, looking out of place and from another time in this affluent suburban neighbourhood.
I found it on Google street view here.
If you use Street view to navigate the peaceful rue Lafontaine, running parallel to Rue de Malabry, you'll quickly realise that the heyday of the Robinson guinguette is well and truly over and its vibrant party spirit has vanished long ago.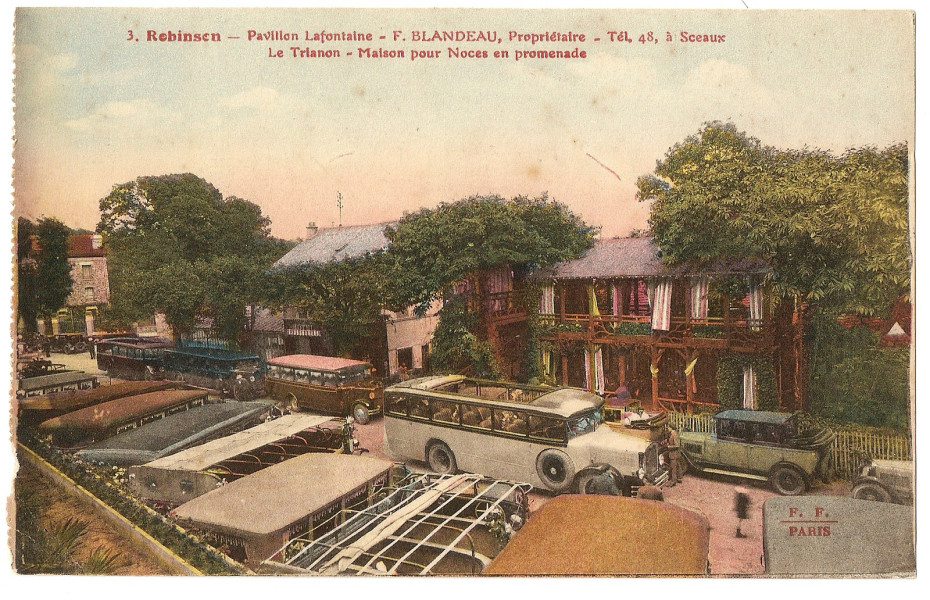 The village of Le Plessis-Robinson does of course however still hold guingette festivals every summer and I'd certainly recommend a day trip down there to go on a treasure hunt for the remains of Crusoe's Belle Epoque playtown.
If you're looking to recapture the spirit of the Parisian guinguette this spring and summer, try some of these addresses (unfortunately however, you won't find any tree houses)…
Image sources: Del Campe
Did you know? Messy Nessy's vault of local Parisian secrets, insider advice and little-known urban anecdotes are finally unlocked and in print. Pre-Order your copy of "Don't be a Tourist in Paris" now!