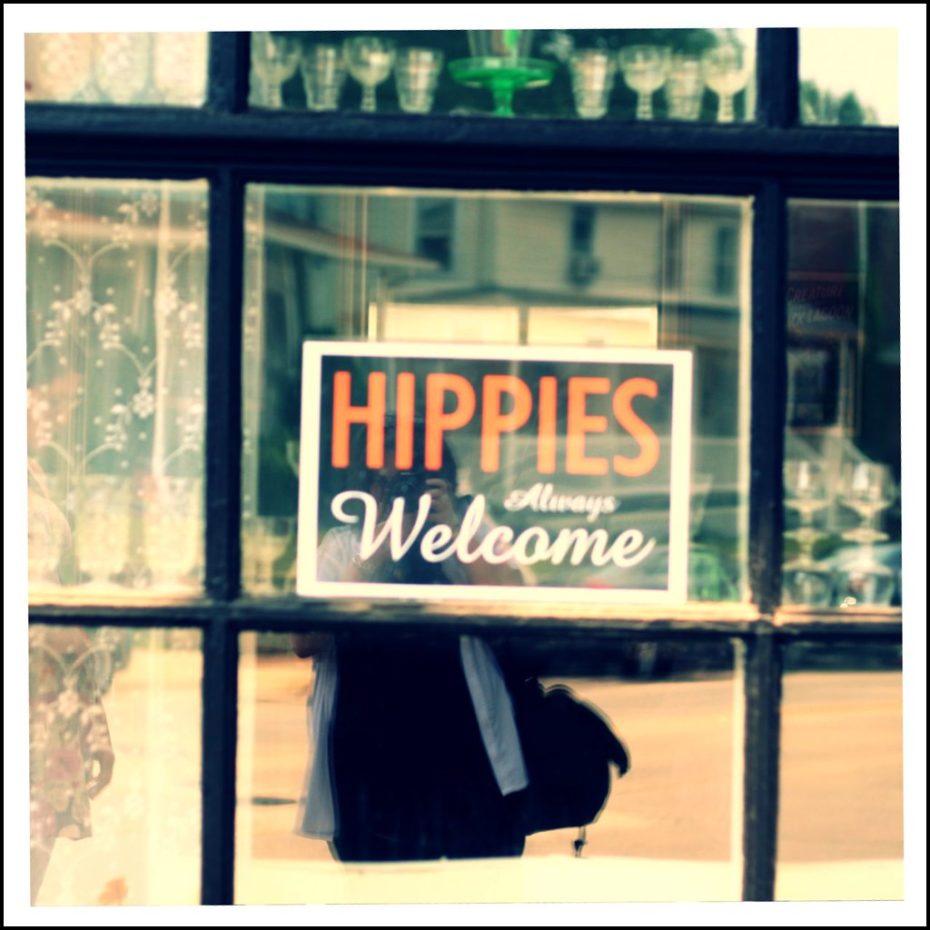 We do love a good plunge into worlds apart – filled with utopian goat herding, secret society conspiracies and hippies living off-grid on the fringes of society. Of course, the line between commune and cult is famously slippery and plagued with crackpot messiah tendencies. The more modern and optimistic term for the idea of a utopian colony or commune, is an "intentional community", which are in fact monitored by a US foundation that as recently as January 2020, reported their count has nearly doubled in recent years, as more millennials opt out of contemporary society. (They estimate roughly 1,200 communities currently in the USA with up to 100,000 individuals residing in them). This New York Times article points out that America has long "been a laboratory for experiments in alternative living since its founding. The English Puritans and Pilgrims who, wishing to escape the oppression and persecution of the Church of England, fled to America in the early 17th century to create smaller societies where they could live according to their faith were followed". And here at MNC, we still hold out hope for anyone who would like to try and live a little differently, so if you're craving a little "what if we just…" daydream today, follow us to 12 curious listings that would be perfect for that "all American commune" or your very own socially-distanced utopia in 2020. They're historic, and full of soul. They're fixer-uppers and lush artists colonies. They're ready for you to have a crack at creating the Land of Milk and Honey…
This Whole Island (Lighthouse Included)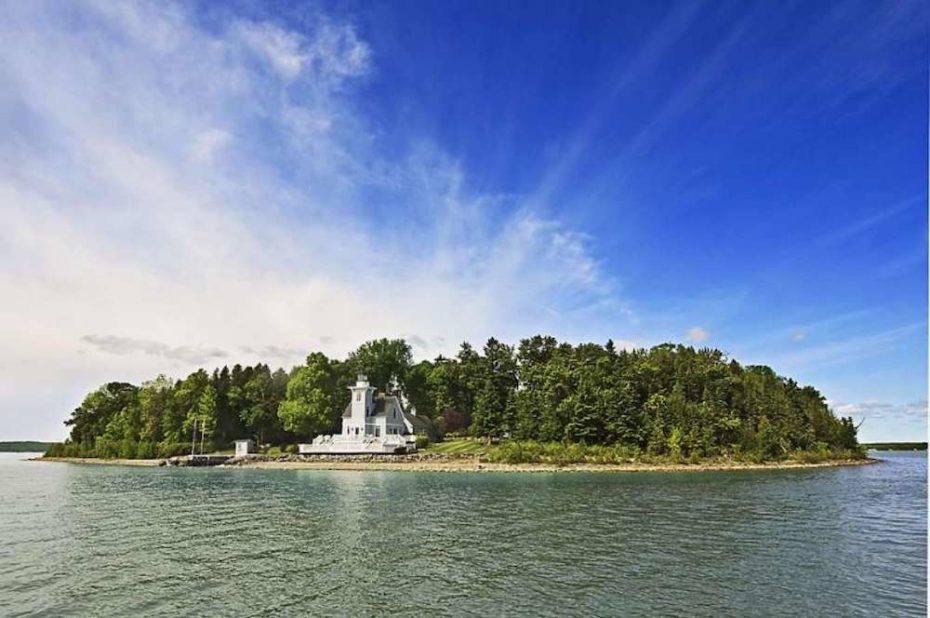 We love a good lighthouse. We love a good island. (We go window shopping for both, frequently.) Round Island Lighthouse in Goetzville, Michigan, is a dreamy blend of antique history and seven-acres of privacy that make it a prime place for anyone looking to live off-the-grid for $1,995,000.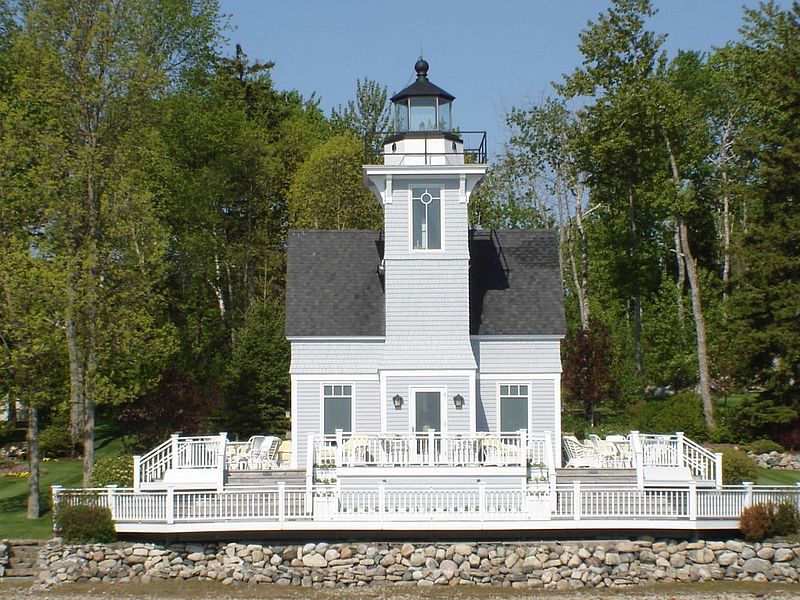 There's something heartwarming about the fact that Round Island has only ever had three owners in its 128-yr history. "The current owners tried to maintain the original exterior and interior features," writes the agent, "The original ash hardwood floors were saved. The square wooden stairs to the second floor and tower have been restored as well in the [3 bedroom] 2,000 square- foot home." It probably goes without saying, but you get a private dock as well for staring wistfully into the sea.
More here.
A Beach Boy's California Compound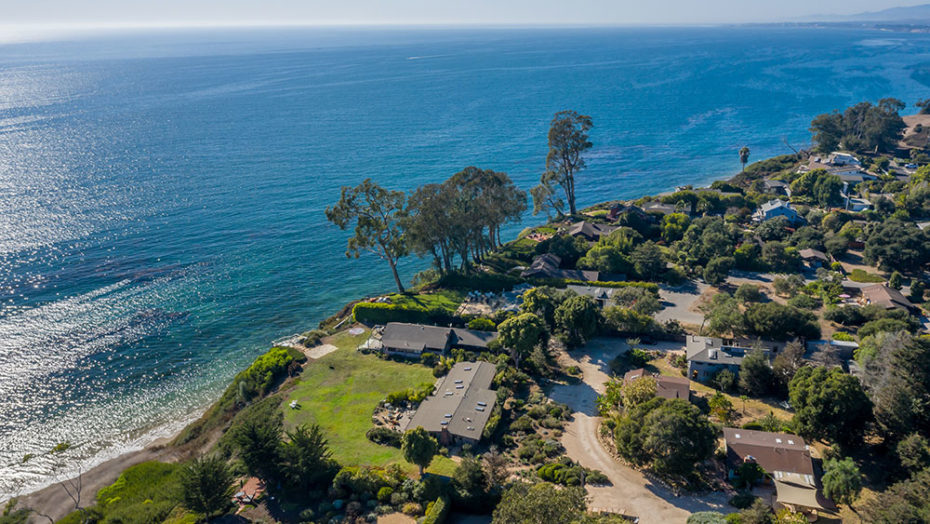 Welcome to "The Love Compound," eponymously named after its former owner Mike Love of The Beach Boys. Perched on the beachside cliffs of Santa Barbara, California, this is one of those old school SoCal properties that just don't exist anymore; there are two-and-a-half acres of land with Channel Island views, and five nostalgic little bungalows. Story goes, they were once part of a 1920s Girl Scout Camp.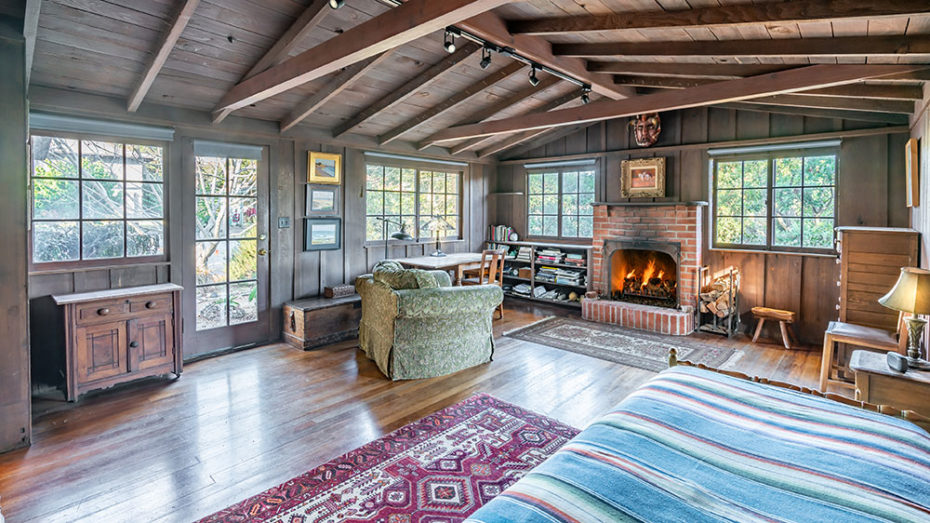 Love repurposed its grounds into his own groovy compound, nicknaming the houses Bliss Cottage, Tranquility Cottage, Love Cottage, Serenity Cottage, and Joy Cottage – the latter of which was his recording space.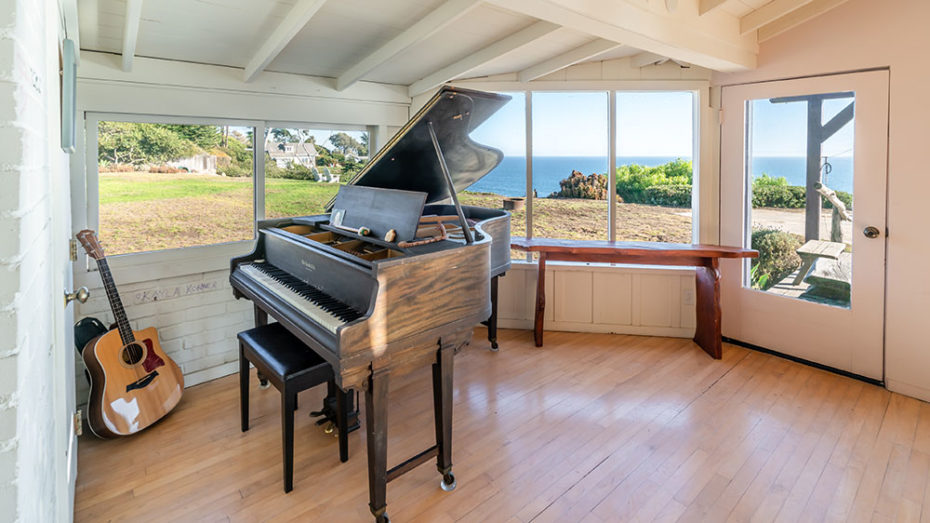 At $15 million it's a big chunk of change, but consider that you and your comrades will inherit 15 bedrooms, beach access, and the liveable next chapter of California music history.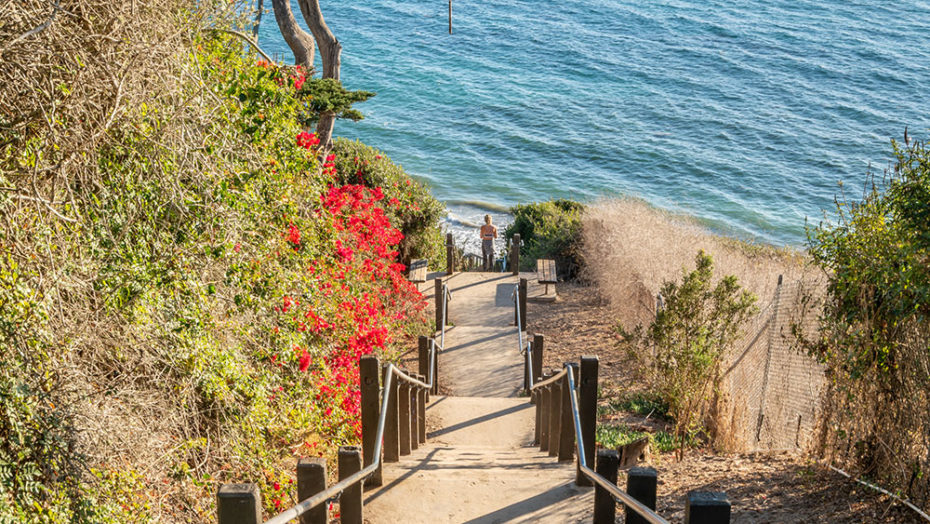 More here.
The Floating Chapel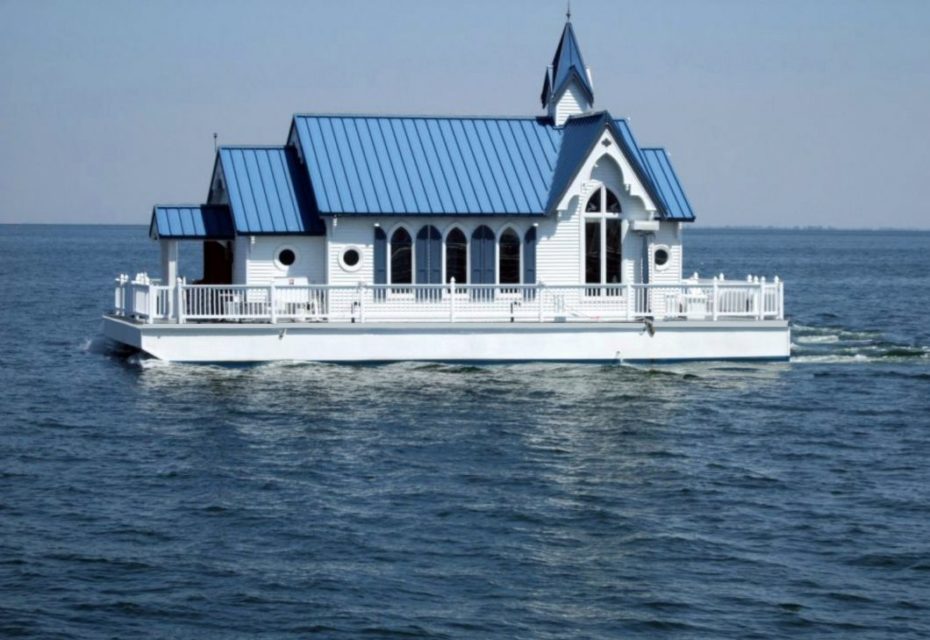 There's an incredible, true story about a commune of scientists and hippies who built an experimental Bioshpere in the 1980s (full story right this way). Before they lived in their "Spaceship Earth," they built a massive boat and set sail wherever the wind took them. Hence, what attracted us to this baby in sunny Palmetto, Florida. It's a floating home and chapel (one of only two known in the world).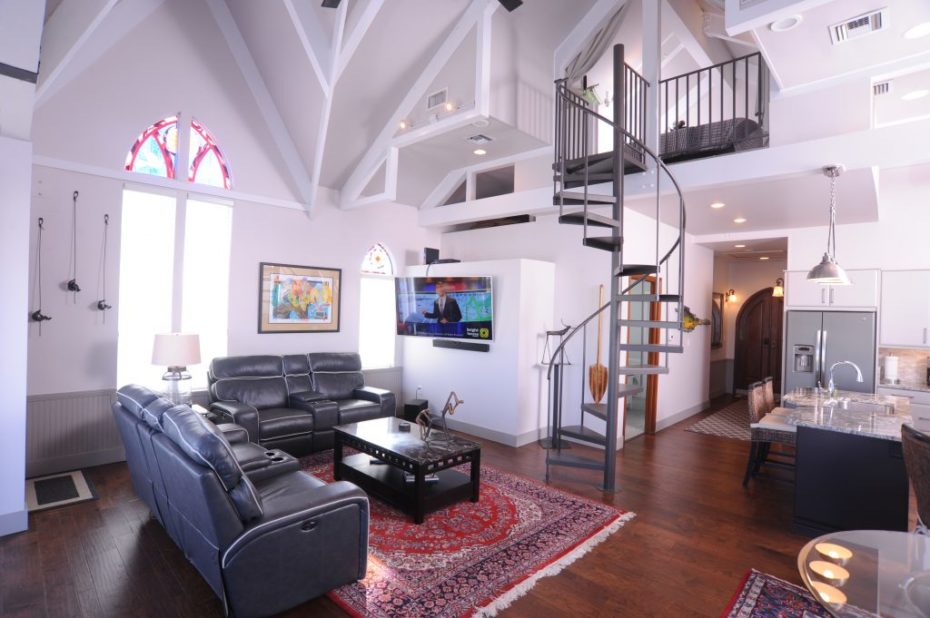 This would be an ideal hub for a smaller commune (think five-eight persons) with a total of 1800 square feet. But at $399,000 it's a real steal, and comes fully furnished.
More here
One of the Last Brooklyn Mansions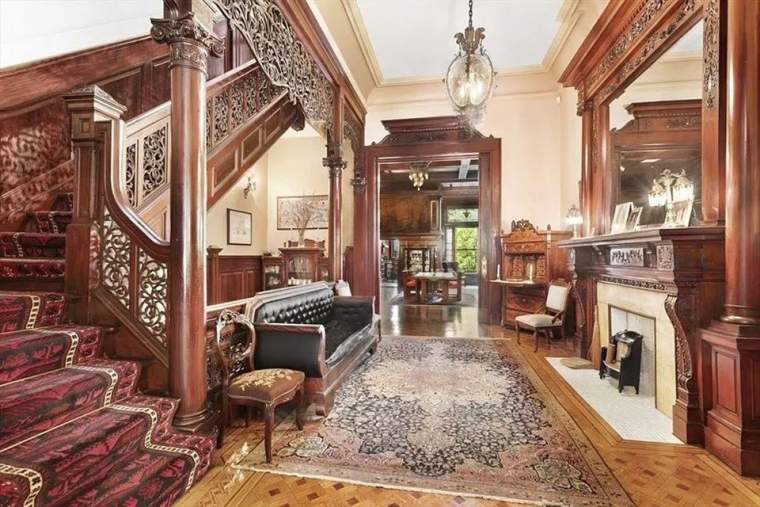 Why not bring communes to urban spaces? Not all alternative living communities require far-flung goat milking, sheep shearing and basket weaving. Nothing wrong with that, of course – but homes like this 120-year-old Brooklyn mansion are begging for new life, and one that turns its Downton Abbey energy on its head in a new way.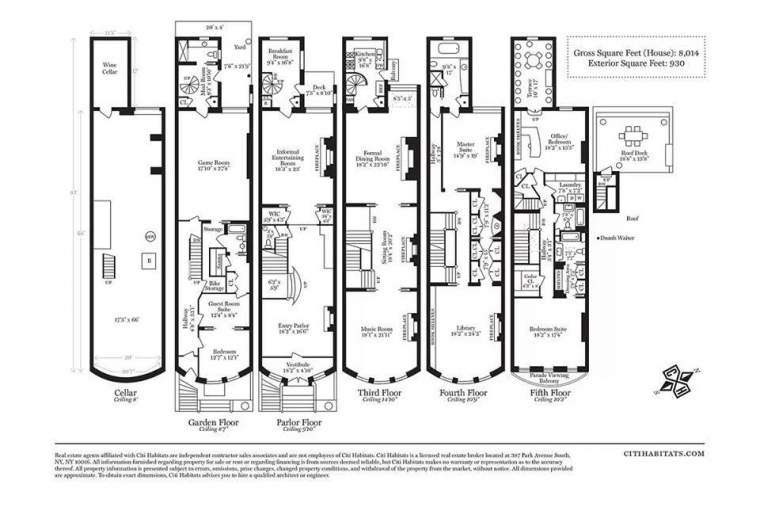 $7,310,808 gets you 8,000 square feet of historic space, including five bedrooms, 5.5. baths, a yard, and three outdoor terraces in Park Slope, Brooklyn, just a few blocks away from the sprawling nature of Prospect Park.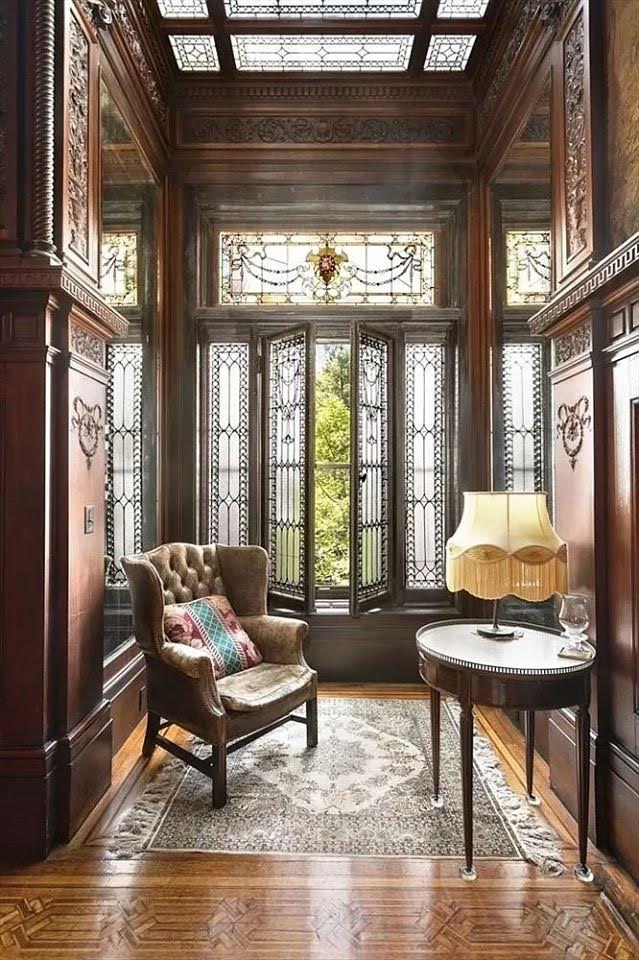 Space look familiar? You might've seen it on TV shows like Boardwalk Empire or Martin Scorcese's Age of Innocence. In addition to its Hollywood street cred, it also boasts rich antique interiors and custom stained glass windows from the studios of Frank Lloyd Wright.
More here
This Historic B&B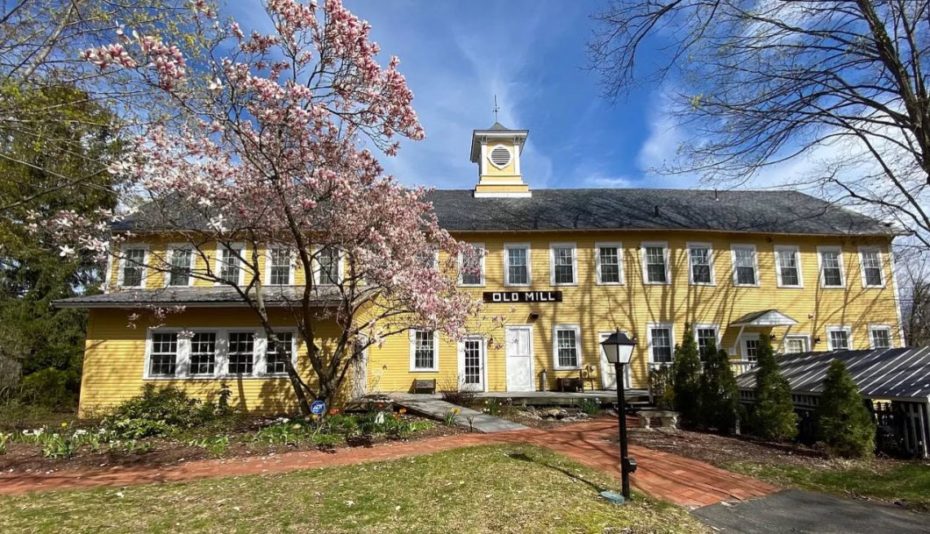 If there's one thing we learned from fine silver makers of the commune-turned-real-life-handmaid's-tale-cult of Oneida, it's that every alternative community needs a source of collective income – hence, the propensity for farming and artisanal craft. So why not consider running a B&B on the side? This buttery shingled building is the Old Mill Inn of Hatfield, Massachusetts, and it's looking for a new life.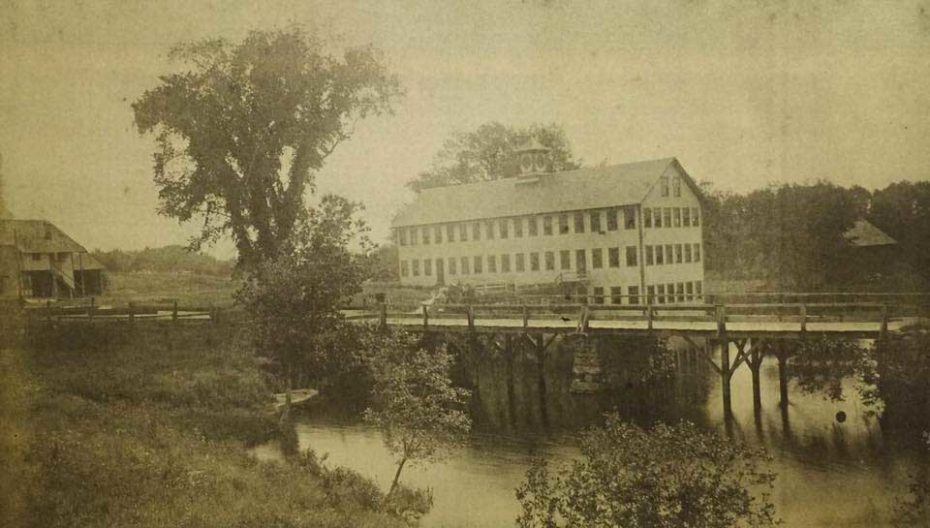 The structure was built in 1880, and hugs the river on almost an acre of land. $1,150,000 gets you 13 bedrooms, 14 bathrooms, and 9,000 square feet of historic space to continue the B&B or whatever else your heart desires. The present owners seem open minded!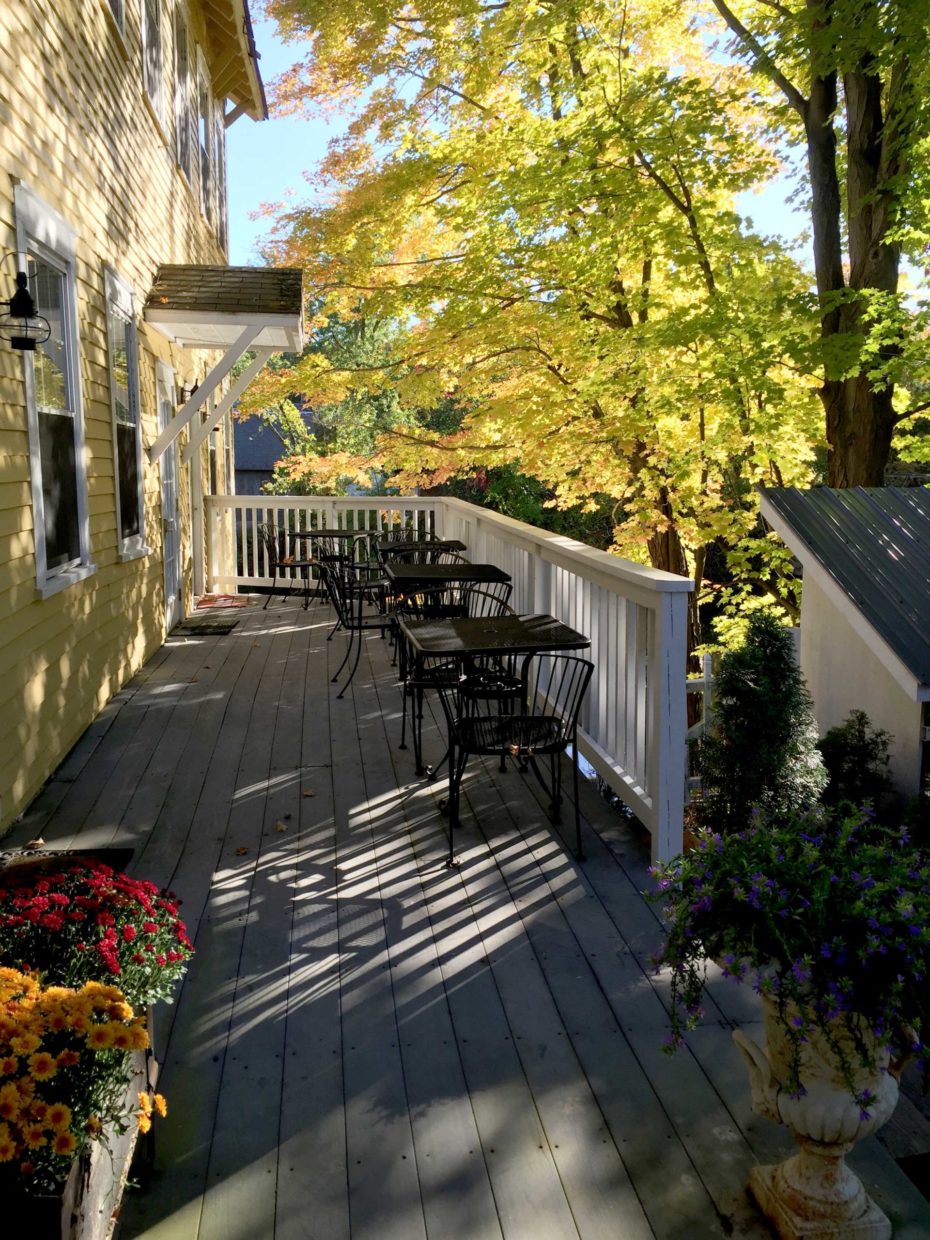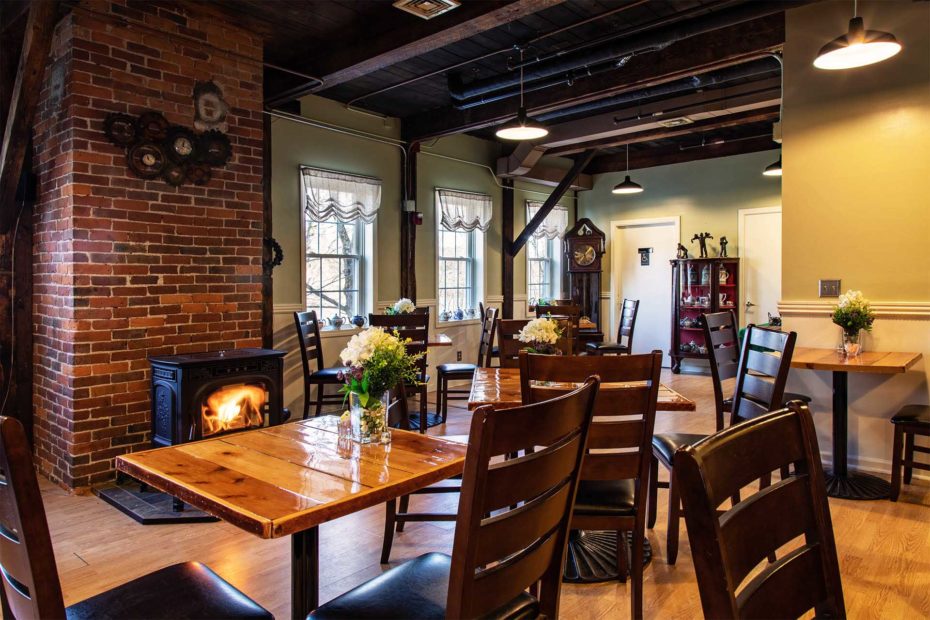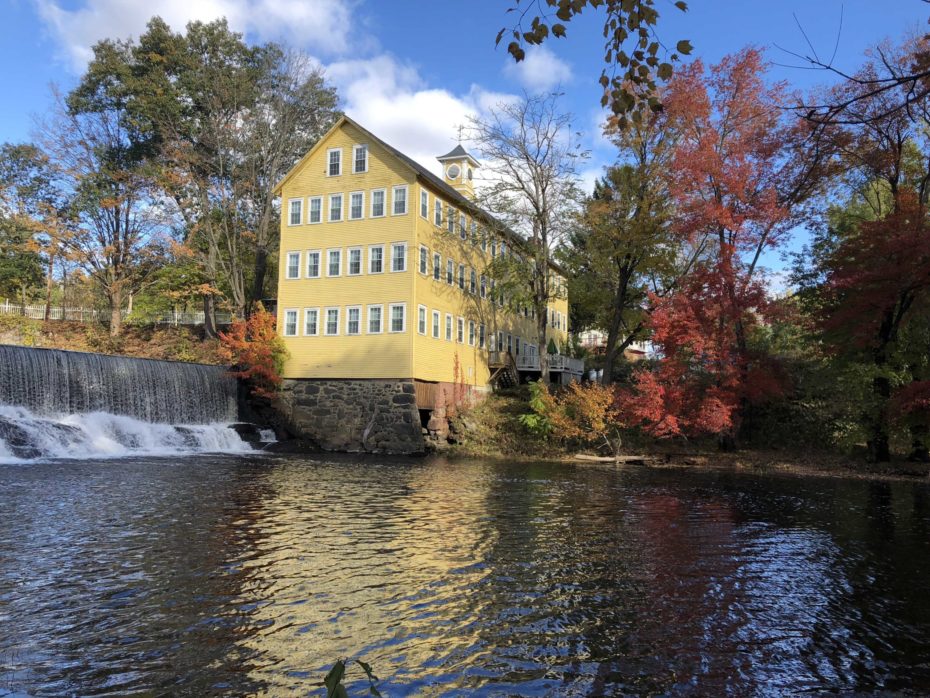 More here.
Pre-Civil War Cabin
Meanwhile in Lawrenceburg, Tennessee, there's a 70-acre plot of land with rolling hills, hayfields, and pre-Civil War structures up for $975,000. The main barn is two stories, and comes equipped with a restaurant space ready to serve some 200 people.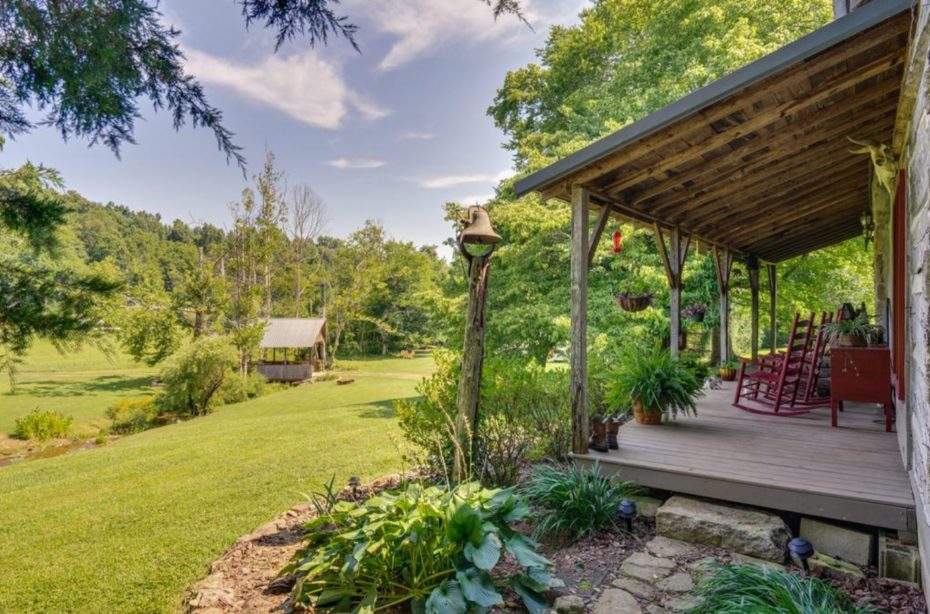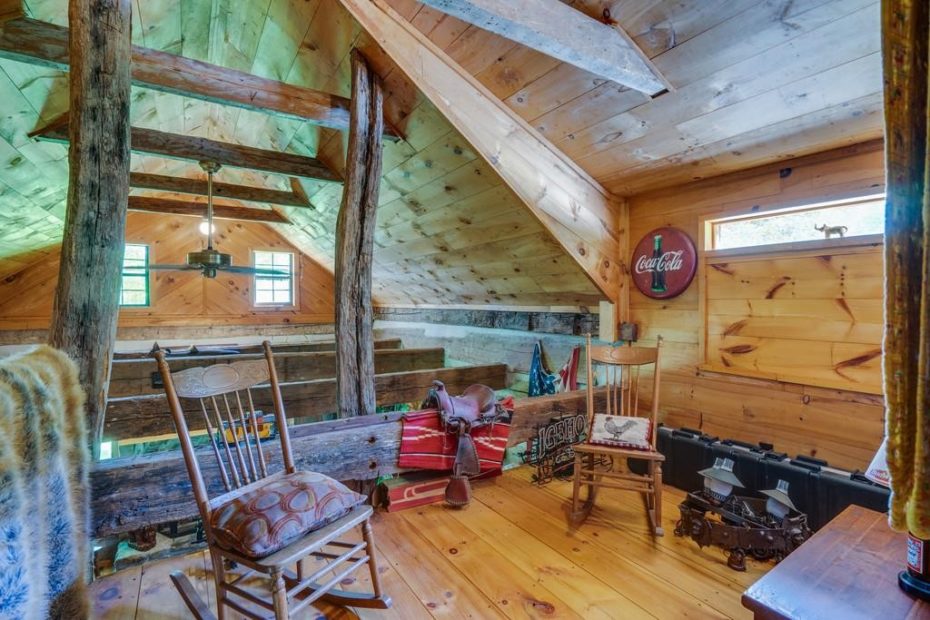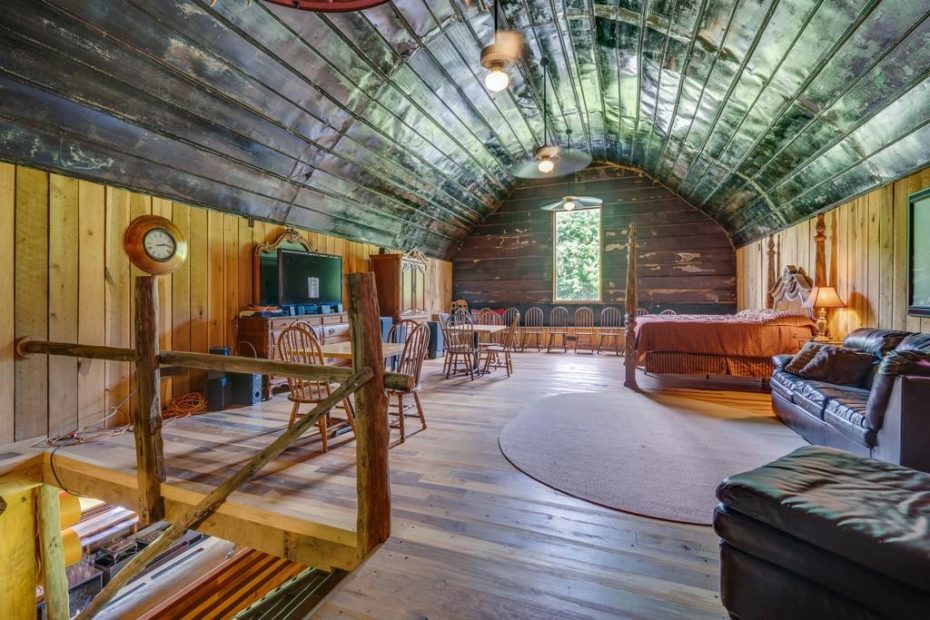 More here.
The One We're Pretty Sure Was Already a Commune?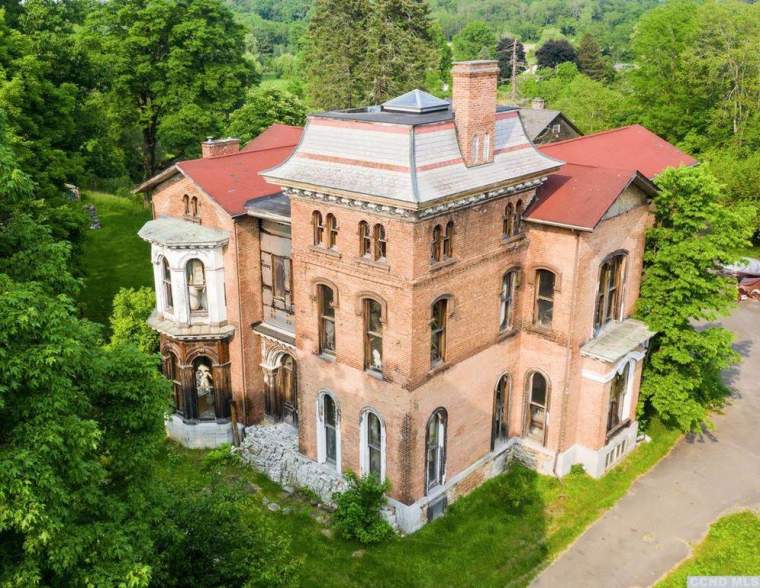 Where do we begin. The artistic history? The pond? The strange sculptures, dotted around the landscape in almost ritualistic fashion? This Claverack, New York mansion was built in 1869 and requires the loving eye of someone looking to take on a massive renovation with a lot of soul.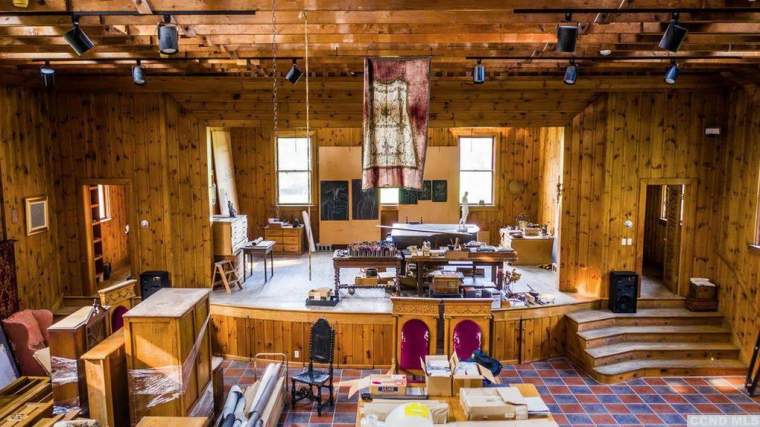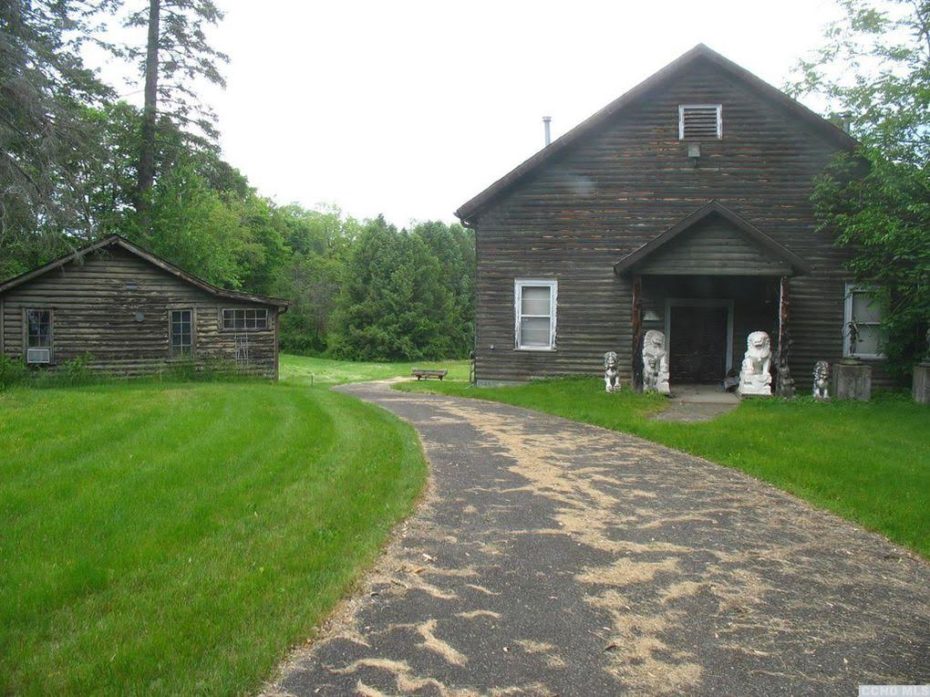 At $1,700,000, you'll get not only the mansion but nearly 12-acres of land that once belonged to the eccentric Russian artist, Mihail Chemiakin. At its inception the mansion was a boys boarding school, and in the 1980s Chemiakin took over the space with his whimsical sculptures.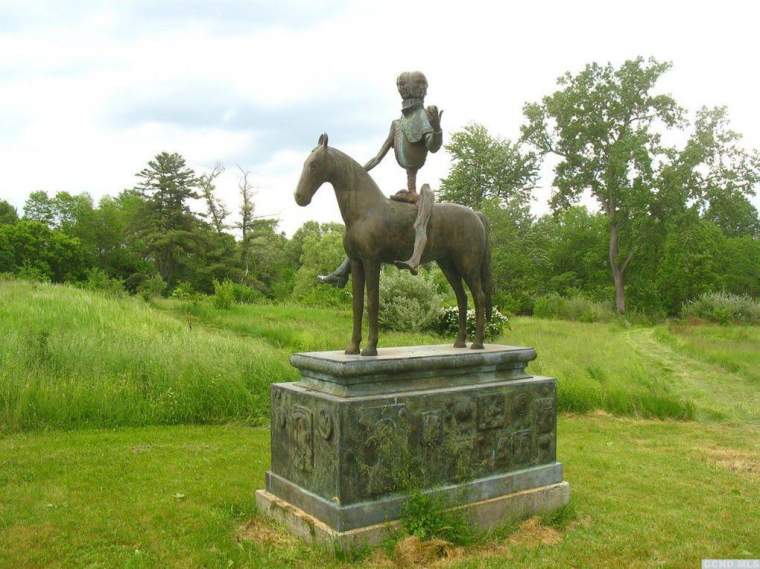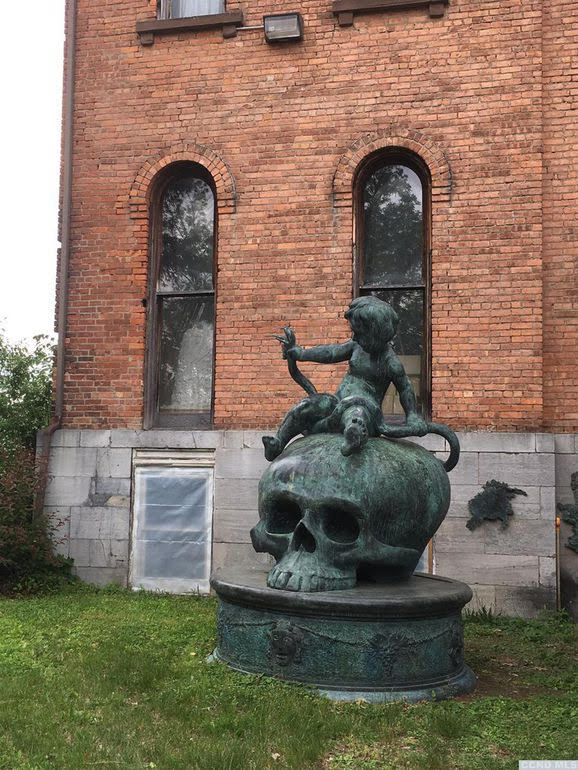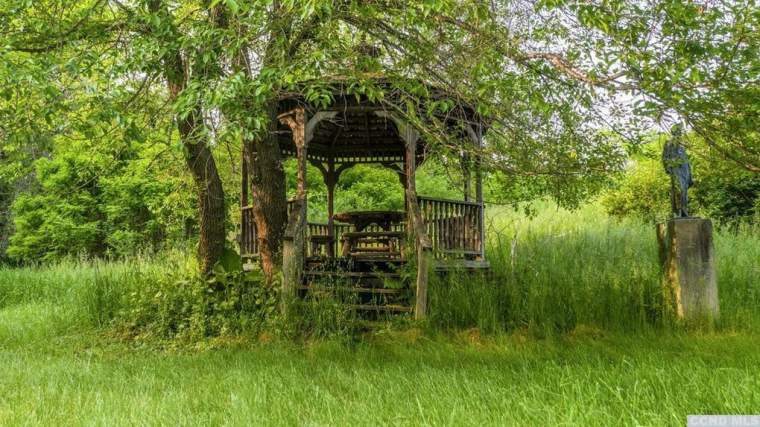 It's only a two hour drive from Manhattan, and at over 7,000 square feet, if you're good with a paintbrush and a hammer, this might be the perfect place for you!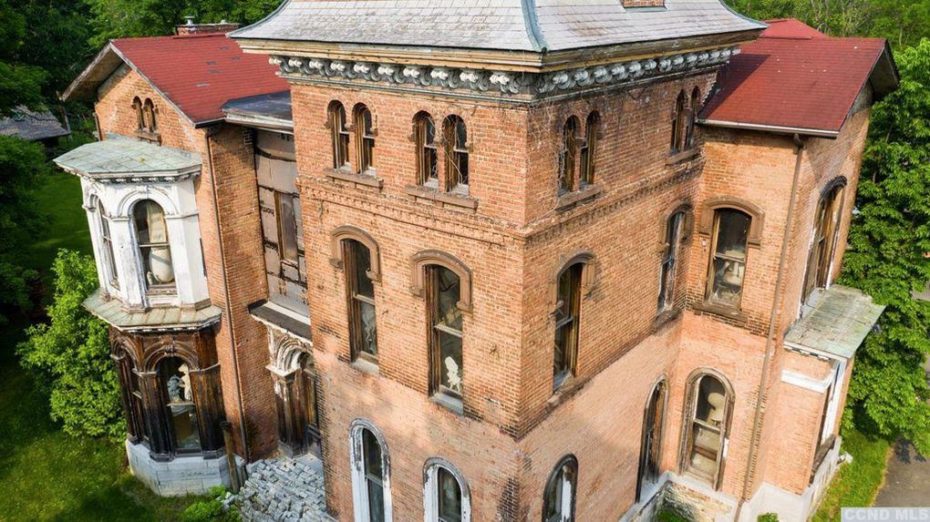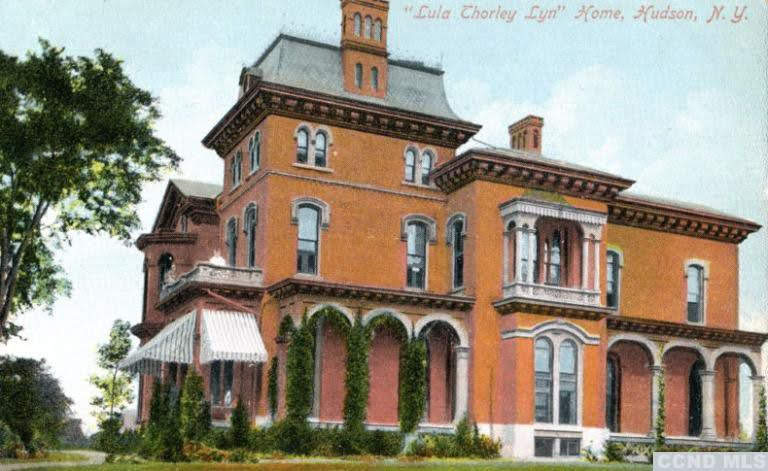 More here.
The One with a Moat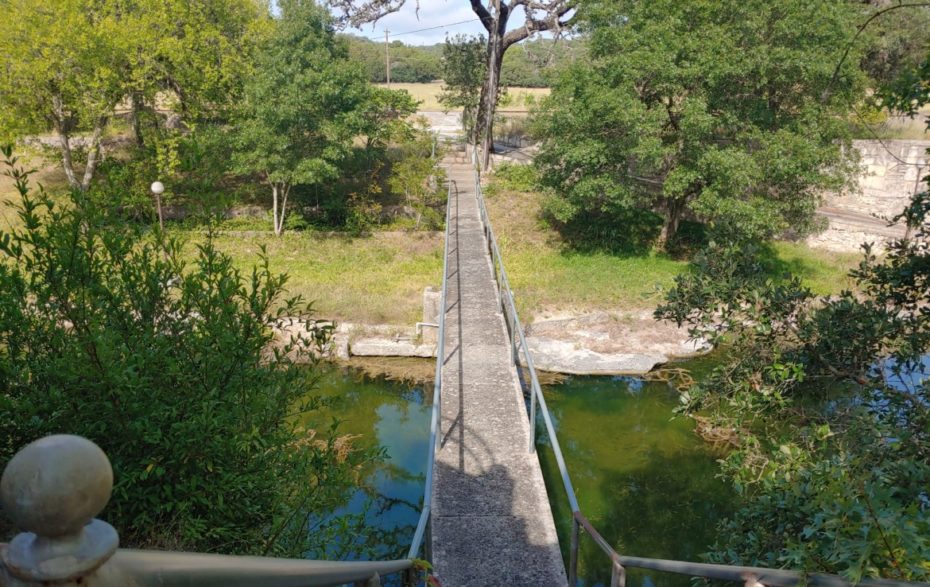 It's in Texas. It has a mote. It's pretty damn grungy looking. Need we say more? Perhaps not the most romantic looking of all the compound sites, but the right imagination could transform what has become known as the 1920s "castle" in its small town of Helotes into something revolutionary. $899,000 gets you eight acres of land, a three-bedroom estate, and access to a freshwater spring.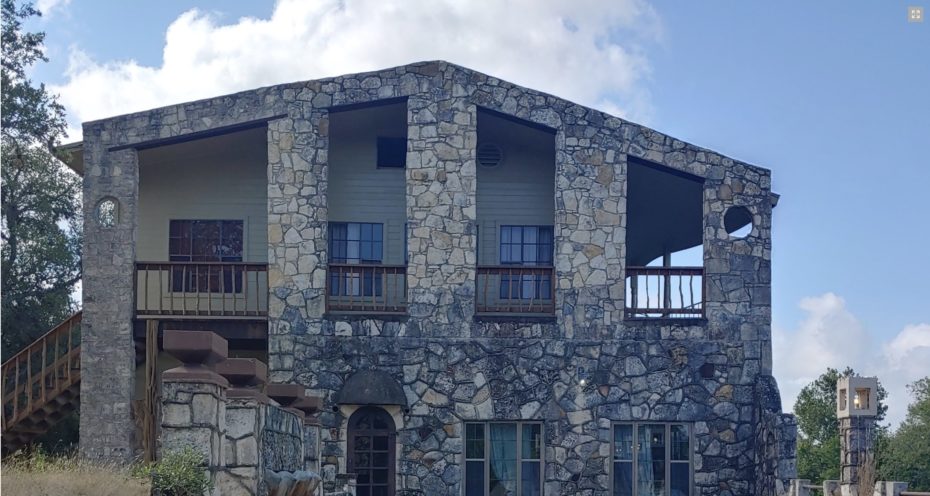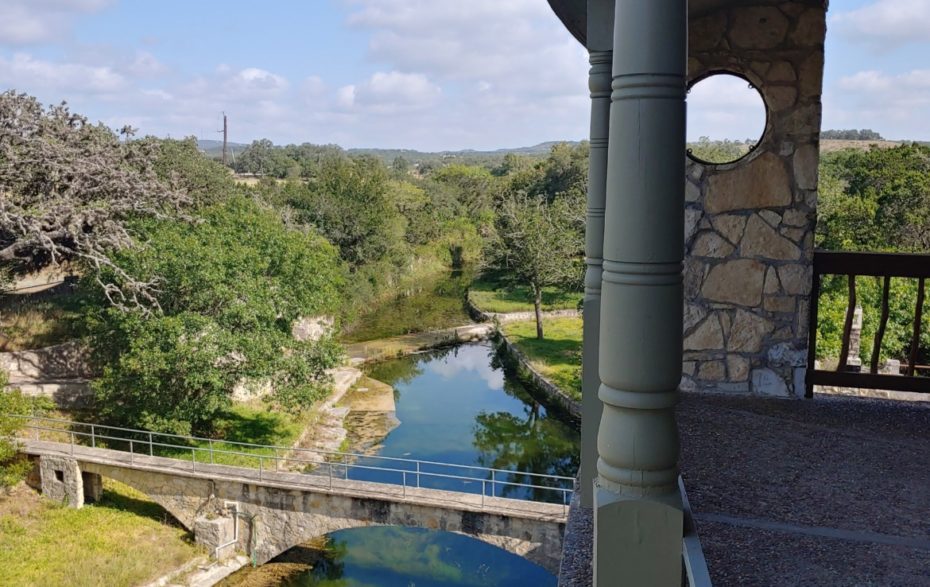 More here
The Big Yellow Barn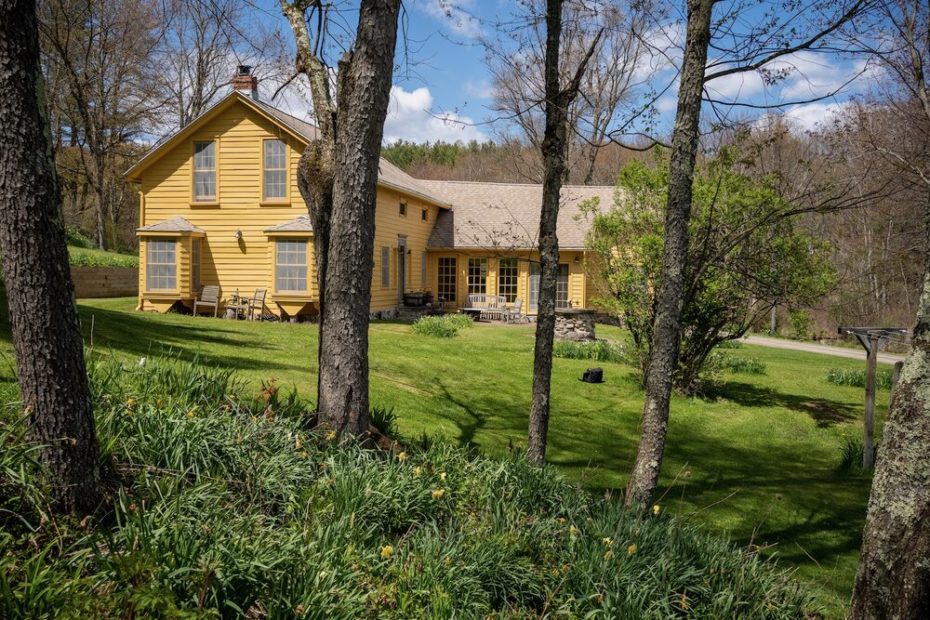 Another New York gem. This big yellow barn was built in 1792 in Poestenkill, about two-and-a-half hours from the big city, on 100 acres of land.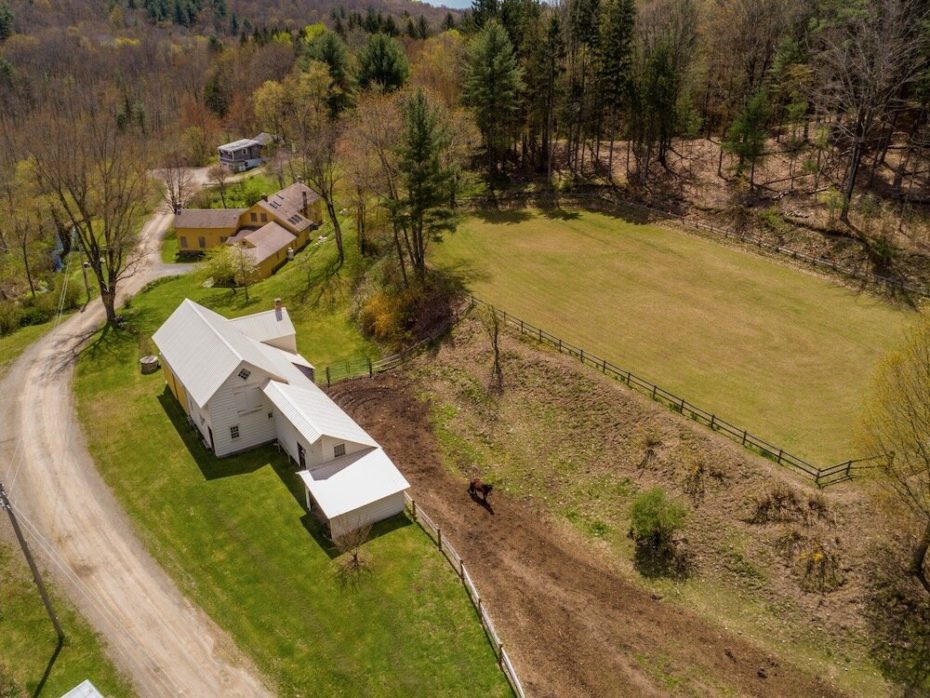 "Amongst the oak-pine forest that makes up the property," says the listing, "there are two miles of trails, 5 acres of pasture, and wetlands & tributaries of the Newfoundland Creek headwaters."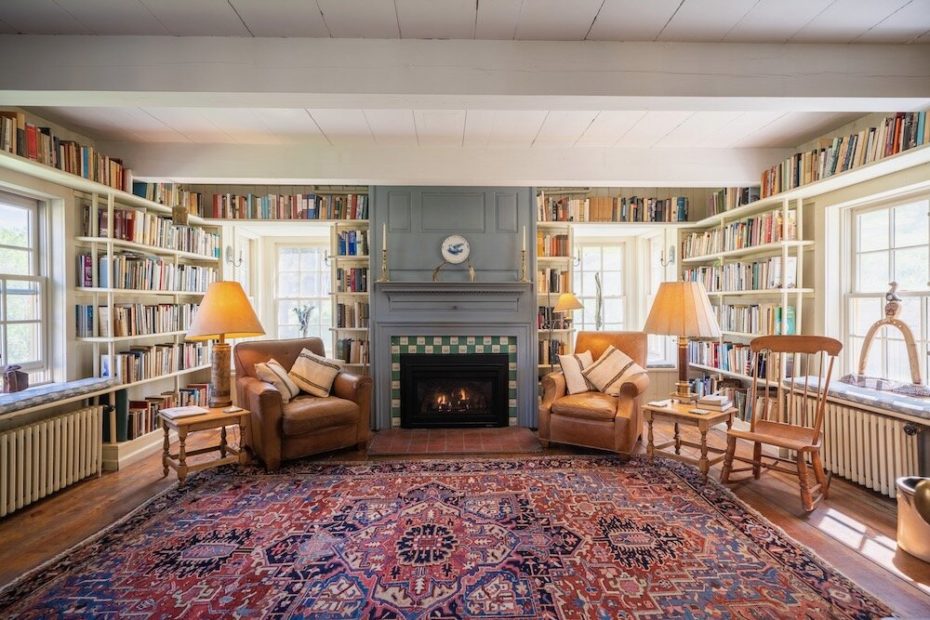 The main house and surrounding structures feel stuck in time. Old beams hang overhead, and Mexican tiles line the floors; French doors open into the four-bedroom main cabin while three fireplaces will keep you and yours warm in winter. There's even a pottery studio! It's such a historic house, it's being listed by Sotheby's at $860,000.
More here.
The Mountain House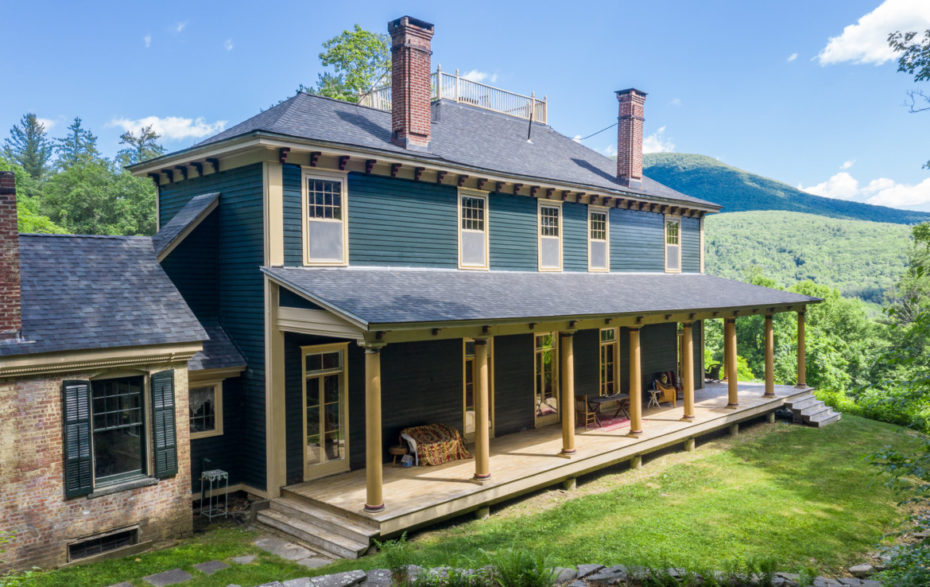 The "Mountain House" is a stone's throw from scenic Phoenicia, New York, which is one of many rustic East Coast towns with which we've fallen in love. Sited on 26 "uber-private" (to use the agent's words) land, home has sweeping views of Cold Spring Brook and 120 foot tall columned porches and historic interiors.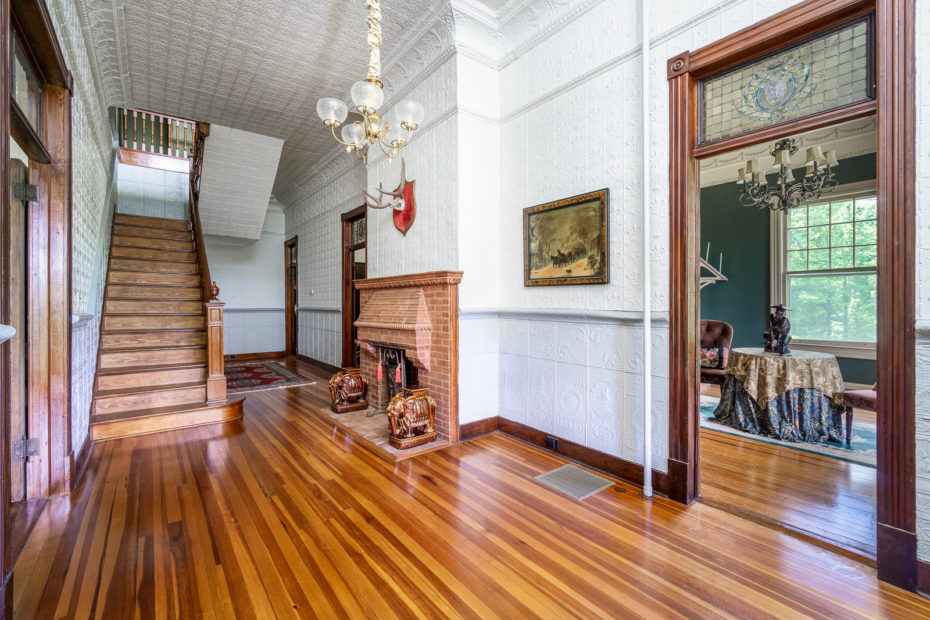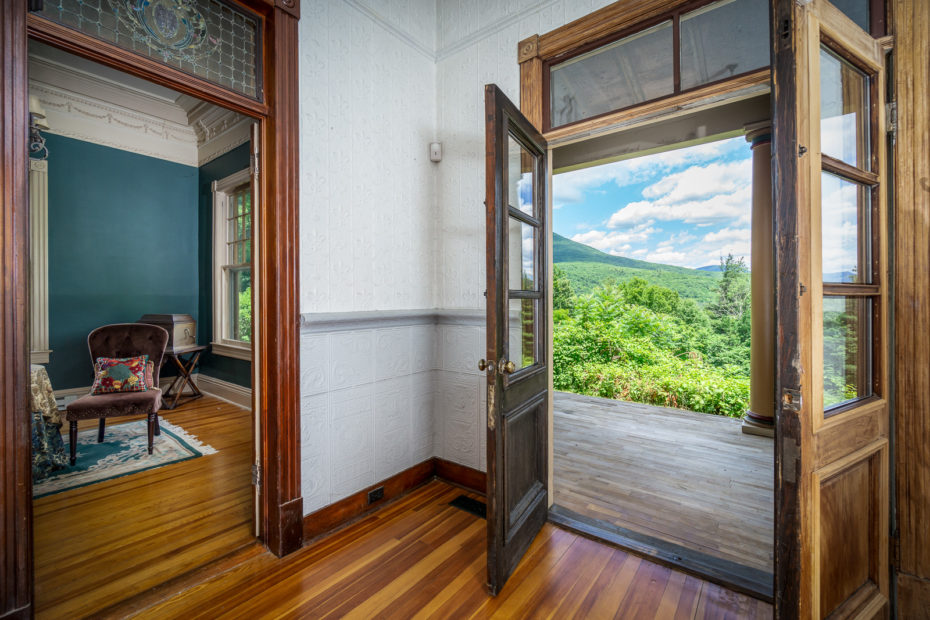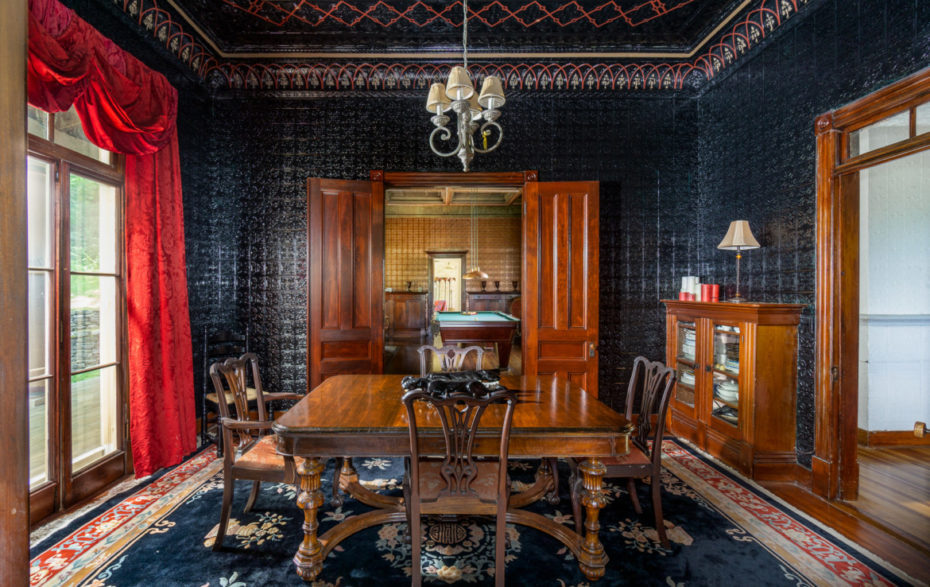 "There are multiple places to both gather and seek solitude," writes the agent, "[including] a morning room, living room, billiard room, casual and formal dining rooms, the rooftop widow's watch, as well as plenty of spots on the rambling property that beckon."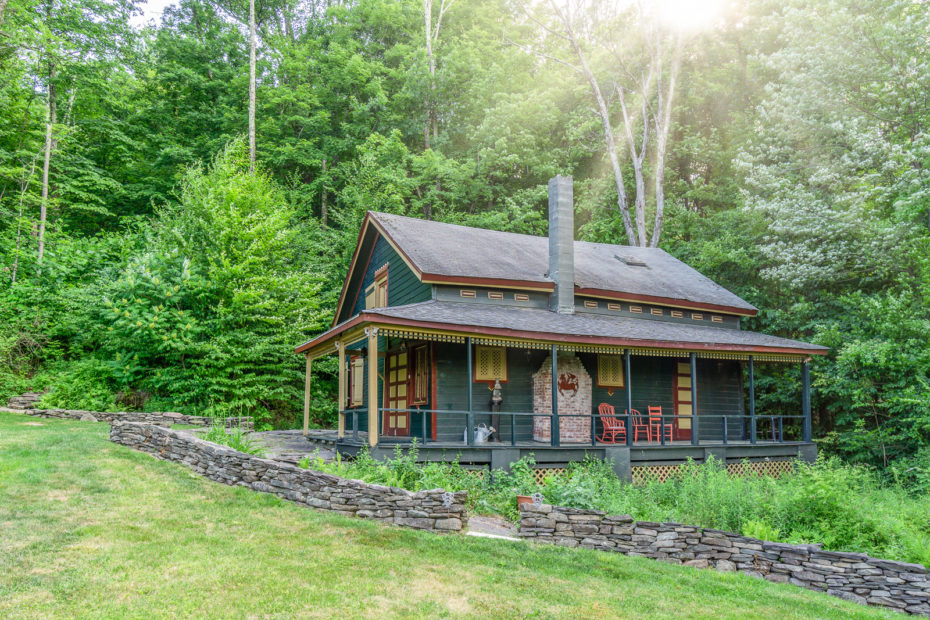 There's a main house (five bedrooms) and a separate studio/guest cottage that sits across the lawn, and a hell of a lot of room for more if you can shell out the $1,750,000.
More here.
The Artists Colony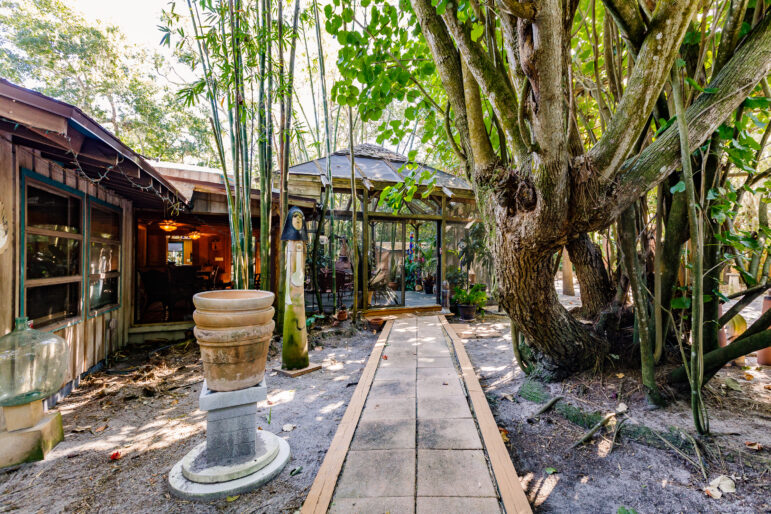 Inherit the legacy of the Sarasota Art Colony in Sarasota, Florida. The house itself was built in 1939 for and by a pair of celebrated painters, Dorothy and Hilton Leech, out of local cypress trees and meant to become an escape from the hustle and bustle of big city life.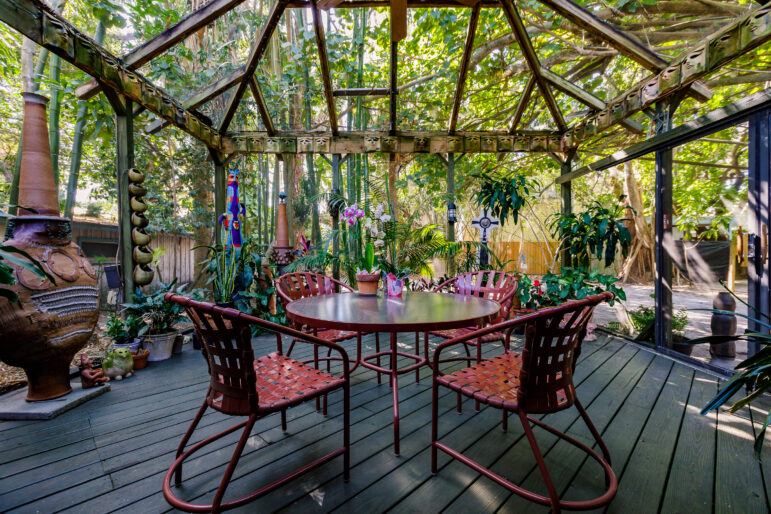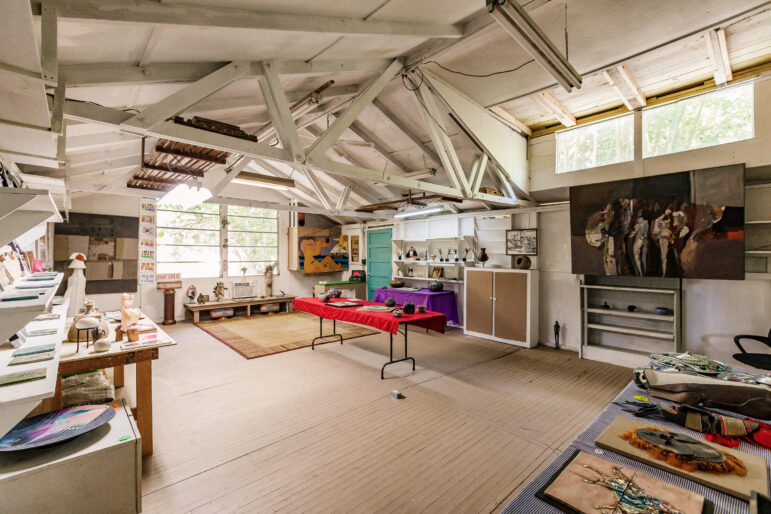 It has since seen an impressive parade of artists in its halls ever since, including internationally acclaimed ceramicist Frank Colson, and partially served as army barracks during WWII. You're getting a lot of history with this space, which spans over 2,000 square feet (seven bedrooms) across a (no-flood zone) on almost an acre of land. It's listed at $1,100,000.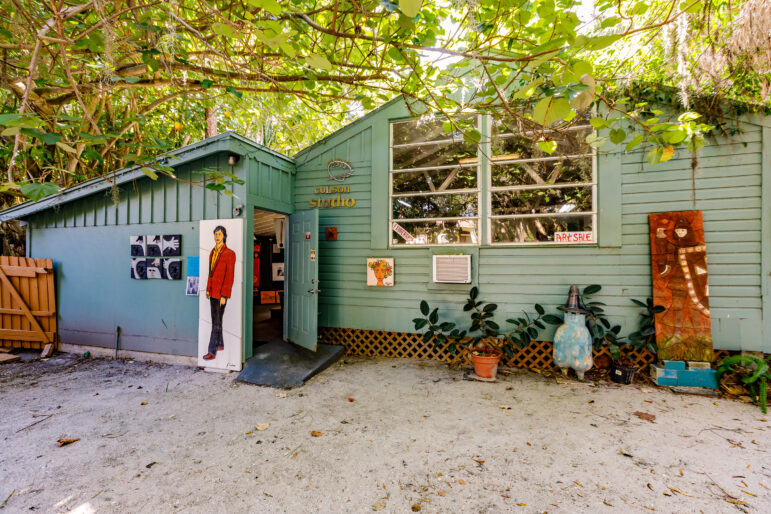 More here.
The Entire Town of Toomsboro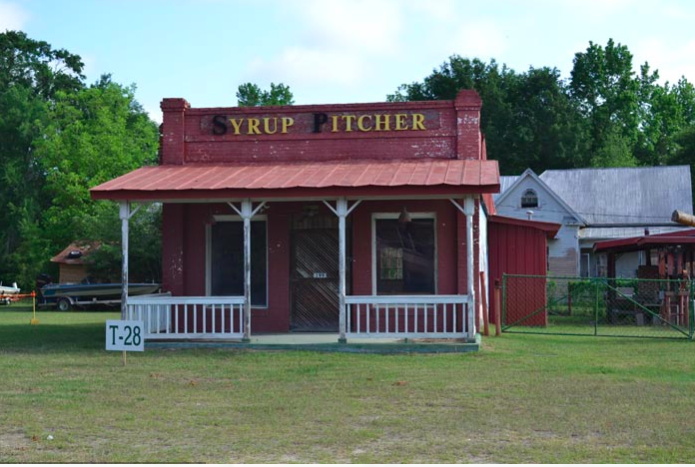 Can you imagine telling your comrade, "Meet me by the syrup mill!" Is there a more idyllic existence? Almost the entire town of historic Toomsboro, Georgia, is up for sale at $1.7 million. We repeat, an entire town…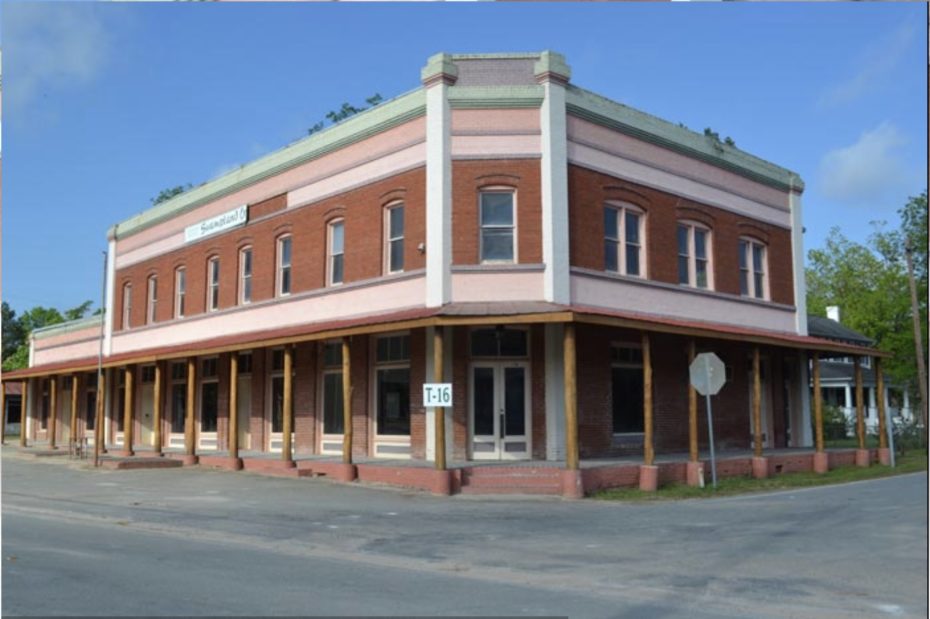 A small town of 700 residents, "Toomsboro is very unique," reads the town's website, "It is one of the few places where you can buy a whole town with every kind of building including a historic inn, a syrup mill, an opera house, a school house, a railroad depot, a cotton warehouse, a restaurant, a barbershop, a water wheel, a grist mill, a work shop, a filling station, and several houses."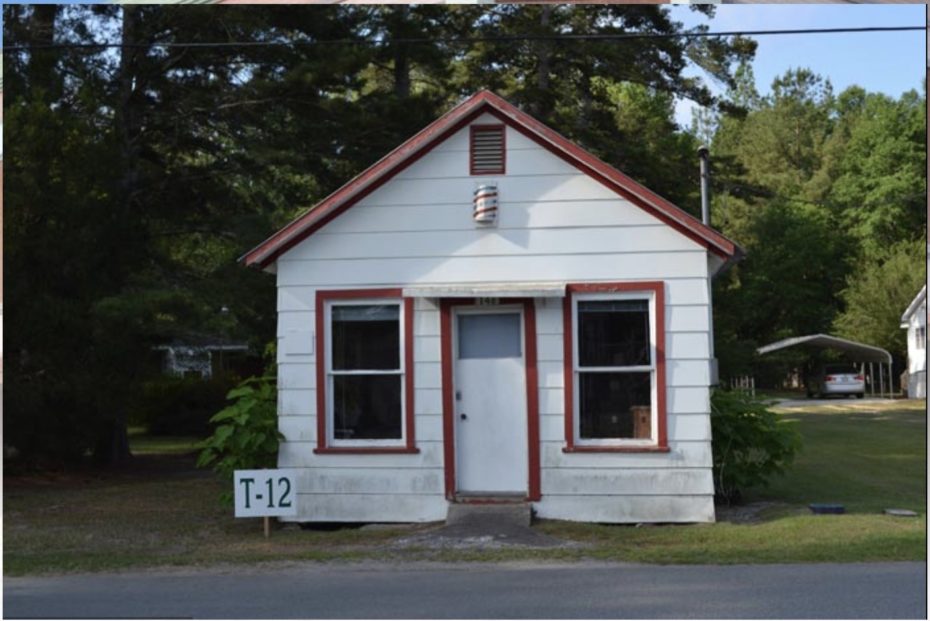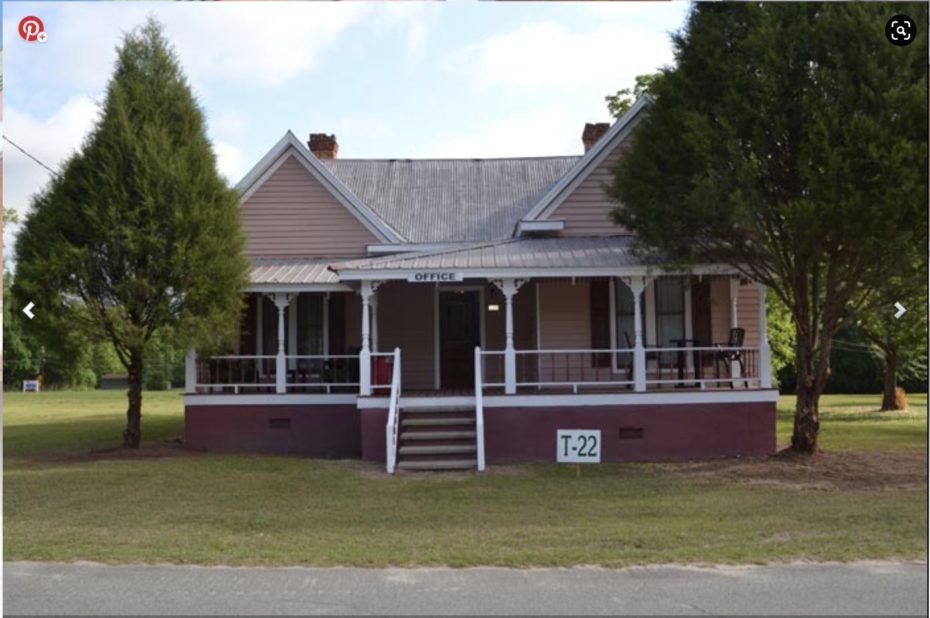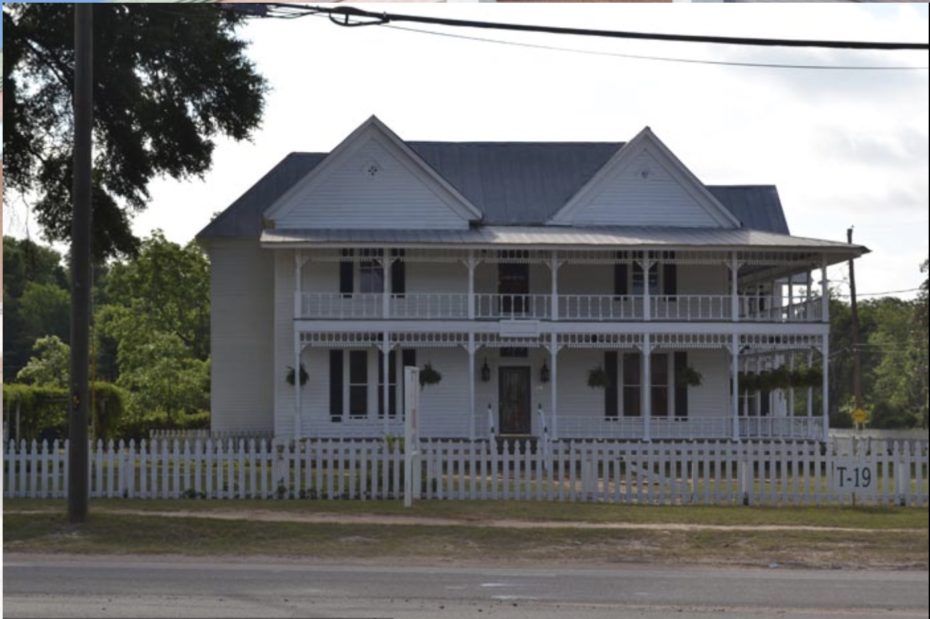 According to Wikipedia: "Many properties in Toomsboro are owned by David Bumgardner, a developer who bought some properties at auction and others from preservationist Bill Lucado circa 2002. Bumgardner intended to turn Toomsboro into a quaint tourist destination. In April 2012, Bumgardner and Lucado announced they were seeking a buyer for the properties, suggesting a movie production company might be interested in using Toomsboro as a film set. In September 2018, 36 pieces of property over 40 acres went up for sale for an asking price of $1.7 million, with an eye toward a preservation-minded buyer who appreciates its history".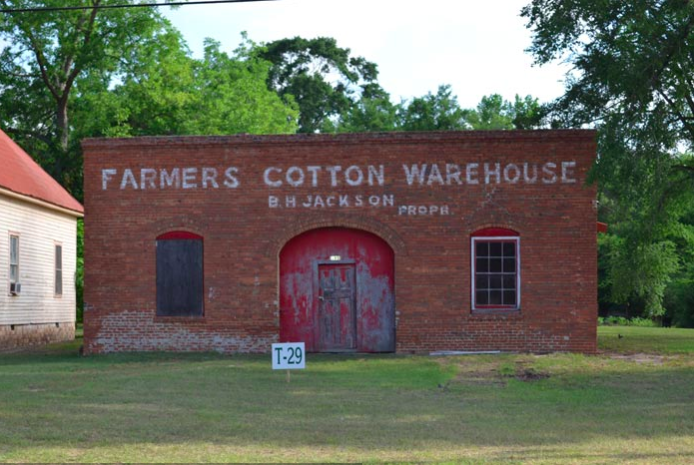 So if it's been on the market for 2 years, we're guessing there might be some room for negotiating. But of course, can you really put a price on utopia?
More here.