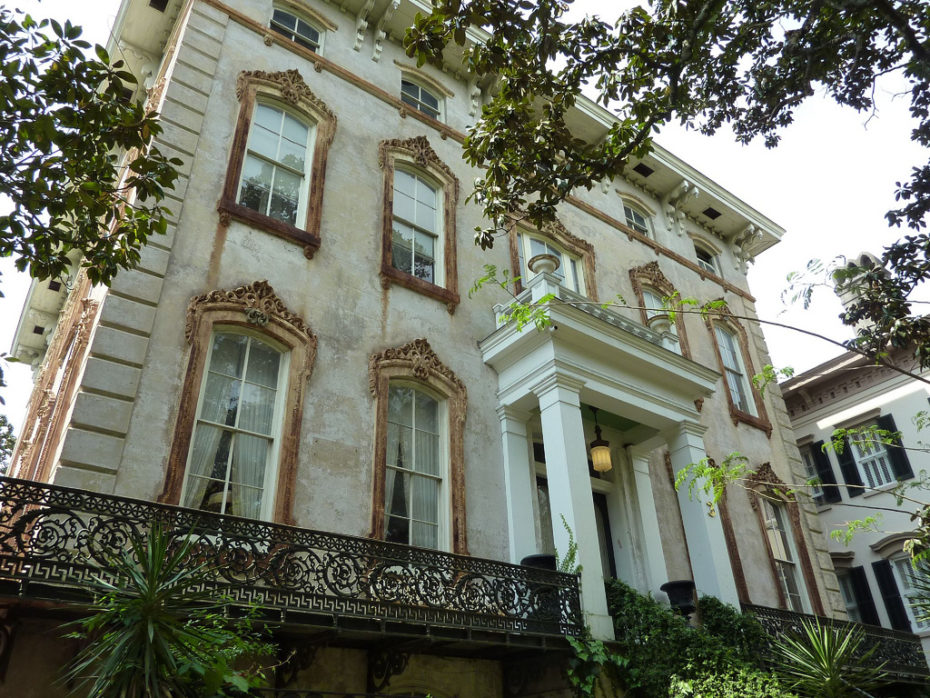 As 2020 comes to a close, it would appear that Georgia really is 'on our minds' as the southern state is set to determine which party will control the American Senate on January 5th of early next year. But how about we remove politics from the conversation and turn our attention to one of the most beautiful cities in America; Georgia's seaport of Savannah, deemed the "hostess city". With Spanish moss dripping from centuries-old live oaks, Savannah beckons you with her historic charm and quirky superstitions. Her local apparitions may welcome you first – keep in mind, Savannah is also known as the city built on her dead. Most of the porches in this town have their ceilings painted "Haint Blue" to ward off evil spirits and ghosts. So don't forget to pack a Sage Bundle and Palo Santo to ward off the "spirits".
Soaking up Savannah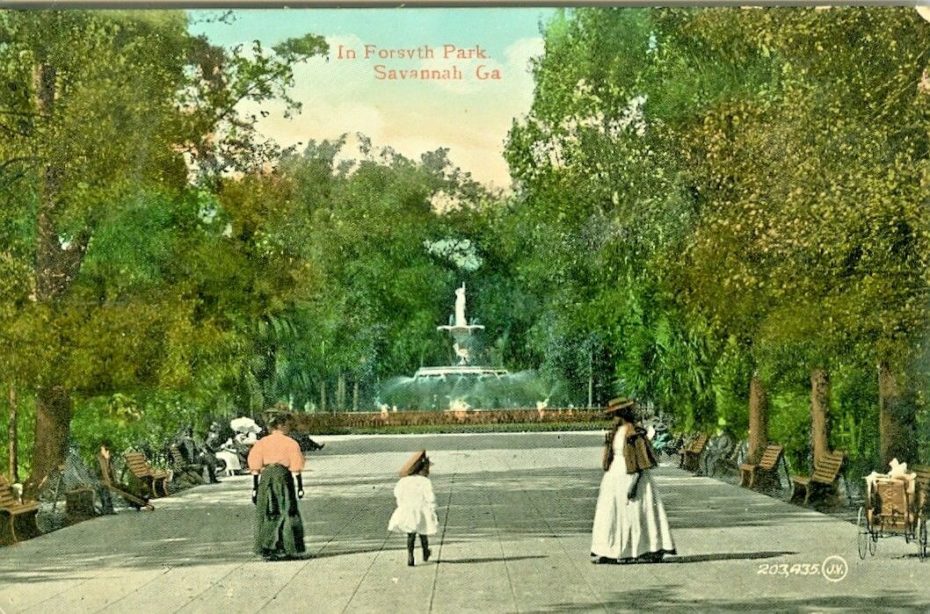 You'll find the best people-watching in Savannah at the 10 acres Forsyth Park with its splendid fountain. Created in the mid 18th century, the park is strewn with Live Oaks dripping with Spanish Moss. You may witness a marriage proposal or even a wedding.  Savannah is a very pet-friendly city and at 5:30 in the evening every day, a group of locals meet at the fountain with their dogs for lively conversations before heading home to dinner. (Forsyth Park, Gaston St., Savannah, GA 31401, USA)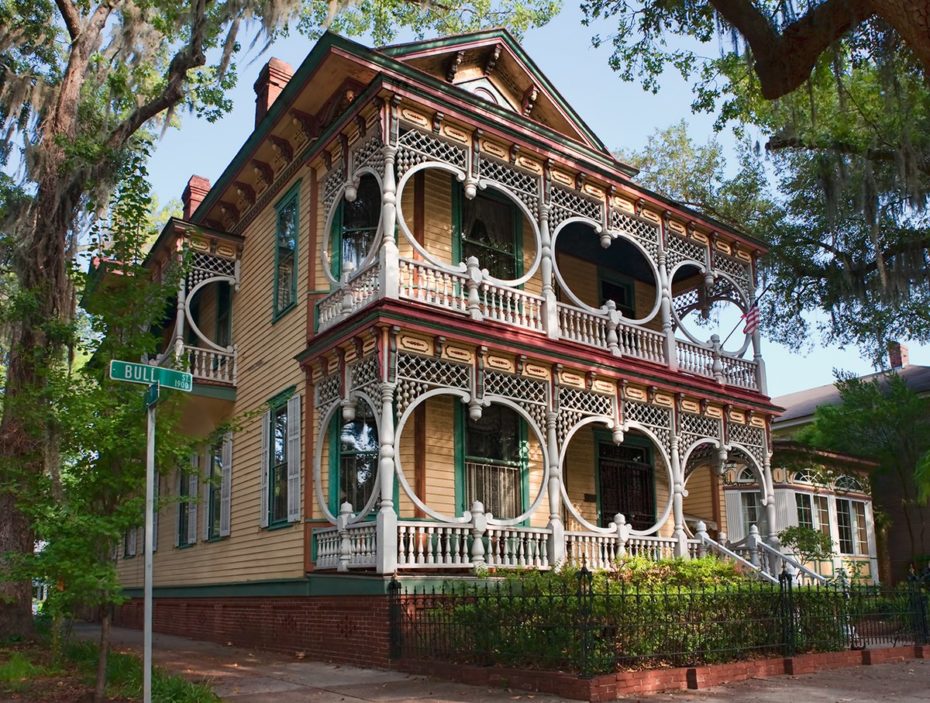 Along the Whitaker Street side of Forsyth Park, you'll find the 50 block open-air museum that is the Victorian District, chock-full of Queen Anne and late Victorian homes dating to the 1800s. Take a sunset stroll in awe of the stunning turrets, towers, bay windows, decorative trim and whimsical colours. If you fancy staying in any of these houses, local rental company, Lucky Savannah has quite a few of them on their books.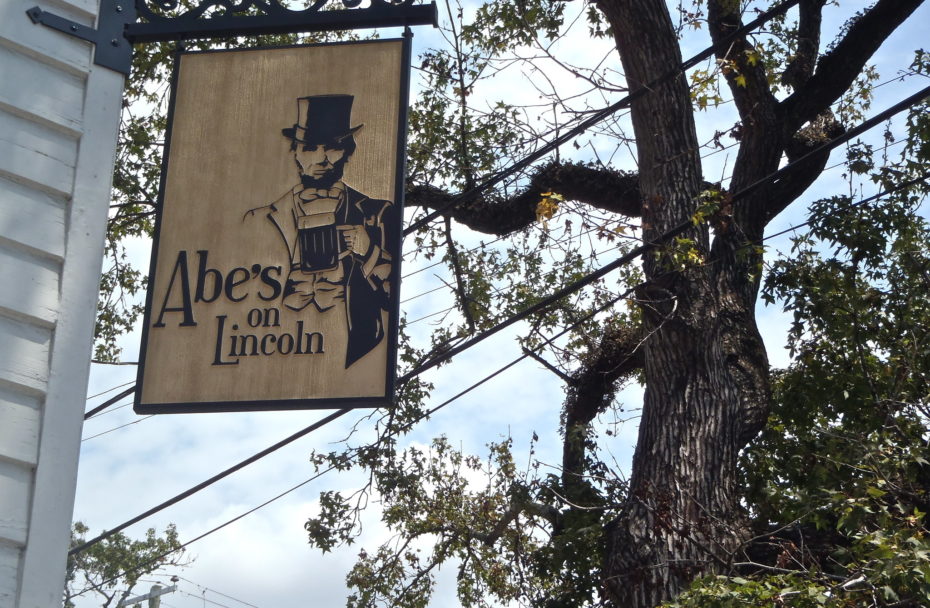 Savannah never shies from a good time and historically, was at the heart of moonshine production during the prohibition (so it should come as no surprise that the city is home to America's only Prohibition museum). Dive bars are typically among our first stops in any city for a knees-up with the locals, so head to Abe's on Lincoln, one of Savannah's oldest watering holes where remnants from past patrons and napkins with sketches of Abraham Lincoln's face cover the walls. Fun fact: Savannah was gifted to President Abraham Lincoln for Christmas during the Civil War. Located in the historic district, this tiny dive with a quaint courtyard has an open mic night on Mondays and trivia night on Thursdays, but you can overhear some local stories at the bar any night of the week. (17 Lincoln St, Savannah, open until 3am)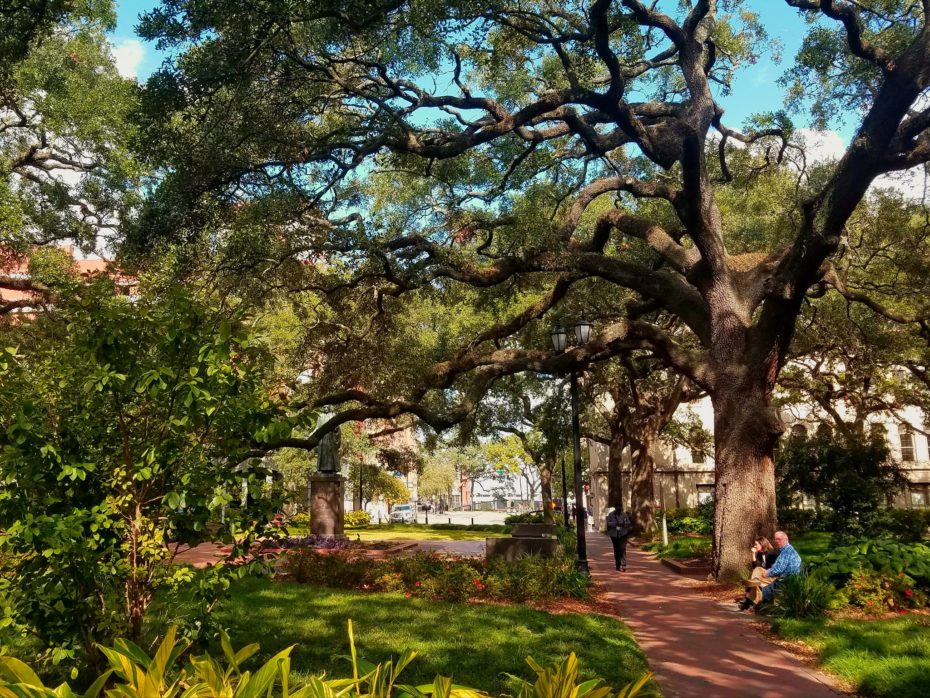 The open container policy is a unique characteristic of the city, meaning it is 100% legal and 100% part of the Savannah experience to sip and savour while wandering the streets of the Historic District (provided you're drinking from disposable cups). Throughout the historic district, there are hundreds of centuries-old live oak trees which are the true jewels of the city. Visiting in the mid to late fall is quite lovely with cooler temperatures and less humidity. It's said that Savannah was spared from the destruction of the Civil War because of her beauty. There are numerous secret gardens to discover and wandering the many squares (all 22 of them) can fill an entire day – don't miss the picturesque Wright Square one of the original four, where the city's first burial ground lies beneath your feet. Aside from the dead, here you'll also find a local's favourite, Wright Square Café and Chocolatier, serving the best coffee and tea in town and to-die-for sandwiches (we highly recommend the Veggie Focaccia). Treat yourself but save some room for dessert with offerings of French truffles, decadent Gooey Butter Bars and whiskey – local of course. (Wright Square Café and Chocolatier, 21 West York St., Savannah, GA 31401, USA)
Antiques Hunting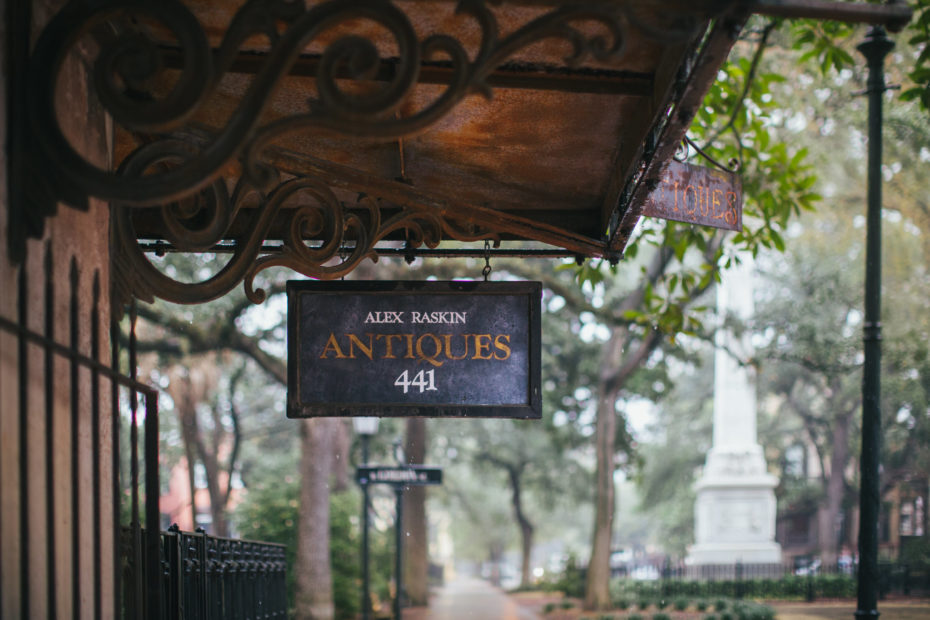 Located on the southern fringes of Savannah's historic district at 3 West Gordon Street, is "the last unrestored grand mansion in Savannah". This sprawling pre-Civil War home with peeling paint, missing plaster on the walls but not without chandeliers is best of all, filled to the brim with antique treasures. The inconspicuous entrance to the antique store, Alex Raskin Antiques, is located on the side of the house on the corner of 441 Bull Street, but it's wise to call the owner ahead for an appointment (912 659 4343). Unrestored but timeless, still sitting more or less in its original state, the 19th-century house became one of the city's most sophisticated mansions in the 1870s, playing host to the likes of President Chester A. Arthur. In 1995, it was used in the movie Something to Talk About, starring Julia Roberts, who used the mansion as a meeting place to ask the local women to tell her who her husband was sleeping with.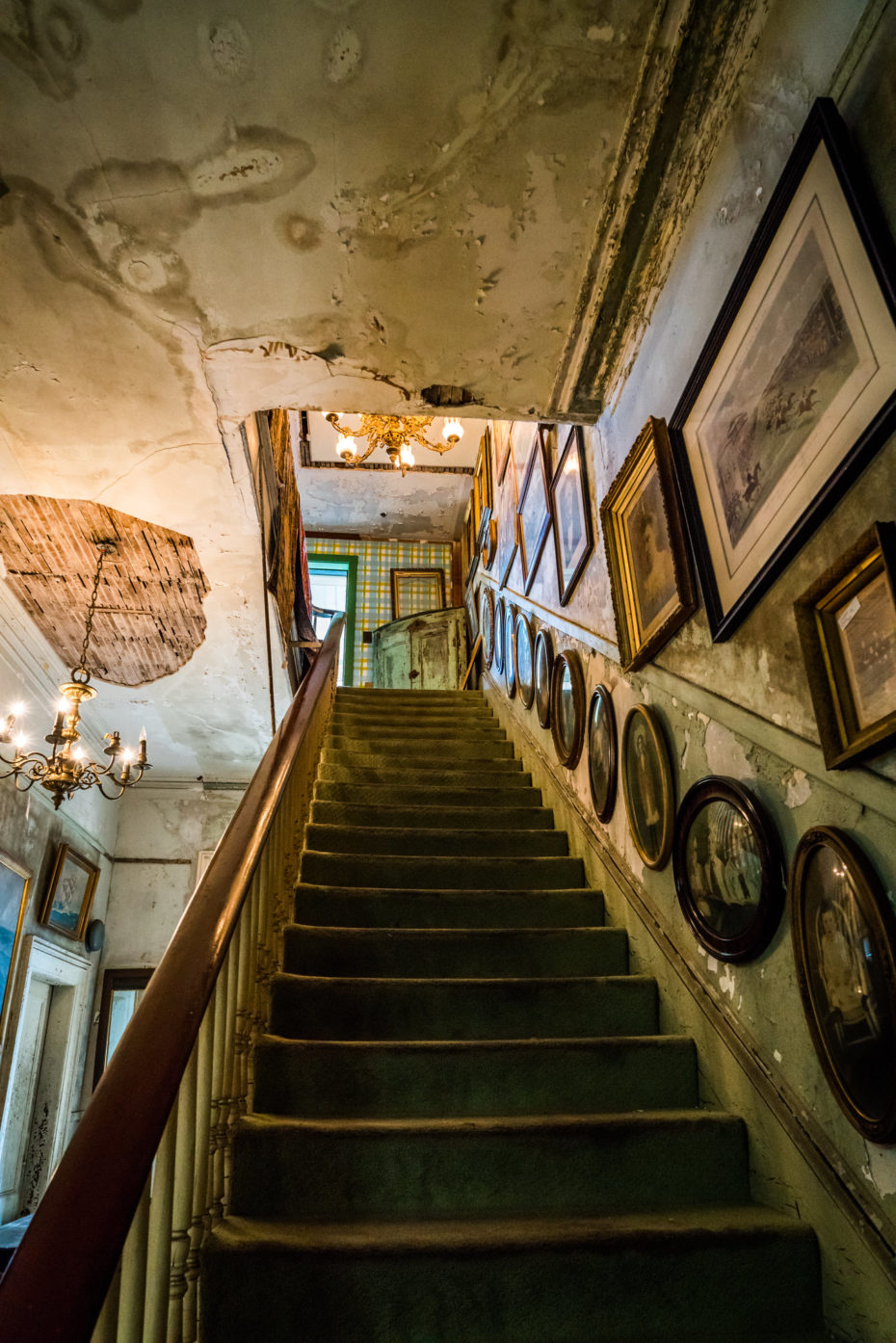 The colour of stucco has changed from grey to pink over the years, windows are broken, the floors creak worryingly, and while some visitors to Alex Ruskin Antiques are shocked to see the historic home in its tired and run-down state, there's no arguing the authentic faded grandeur adds to the mystique and charm. Raskin, the current owner of the home, who has spent more than 25 years filling the mansion with finds from auctions around the world, says he has not restored the structure because he wants to save the fun of restoration for whoever buys the home– that is if anyone is willing to make a serious offer. See pieces from the 1700 and 1800s that you can touch and open – pieces that seem like they should be in museums. (Alex Raskin Antiques, 441 Bull St., Savannah, GA 31401, USA)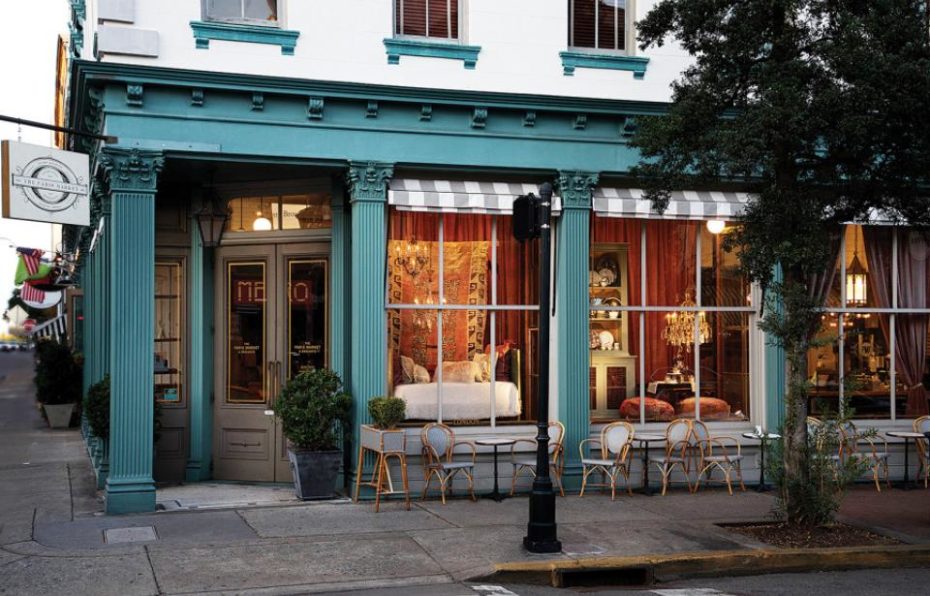 On Broughton Street, look for the grey and white awnings at the corner, the quintessentially French Blue exterior millwork with bistro tables and chairs outside – that's The Paris Market, a two-story emporium of bits and baubles, antiques and oddities. (125 Bull St., Savannah, GA 31401, USA).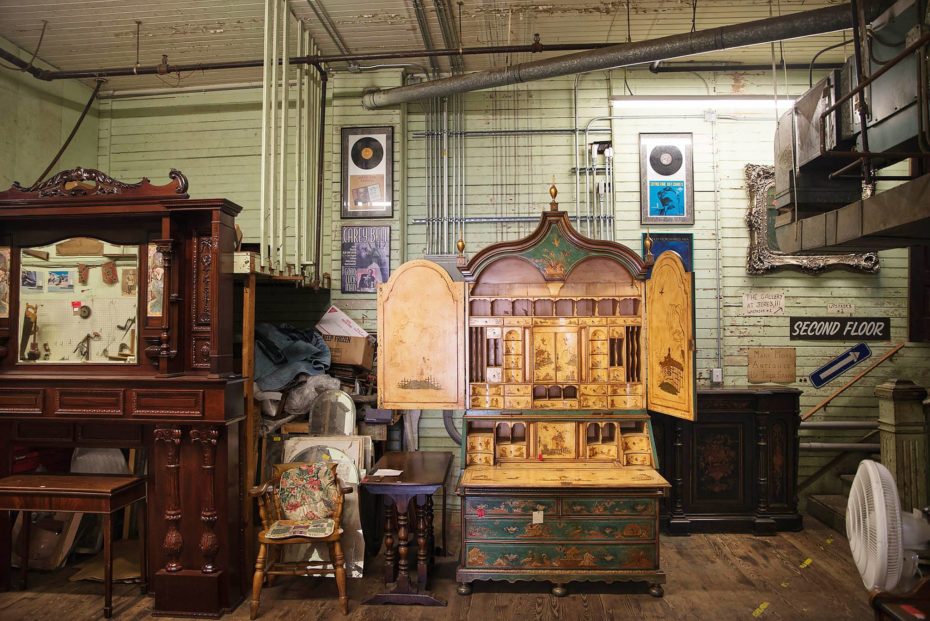 In an old cotton warehouse that takes up an entire city block (the structure in itself is great and still has the old freight elevator), prepare to be wowed by Jeres Antiques. The owner, Jeres, is a true southern gent and let's you wander freely without disturbance, but when you've got a question, he's friendly and very knowledgable about his inventory, which mostly comes from Europe; new shipments arrive every 4-6 weeks. There are no nick-nacks, jewelry or crafty items here, just furniture, including entire wooden and stain glass bars rescued from old pubs in England, Ireland, Belgium, etc. Not to be missed for a walk through. (9 N Jefferson St, Savannah)
This is either a really long walk or a very short car ride from the centre of town to Picker Joe's Antique and Vintage Market. Established in 2013, Picker Joe's is a haven for diehard thrifters, collectors and anyone who appreciates oddities and the unusual. With over 10,000 square feet filled with some 25,000+ items, it does not disappoint. If you are in the market for 1960's Delta Airlines seats, they've got you covered. The backroom is filled with salvaged gates, windows, mantels, sinks, antique clay markers (many who could not afford gravestones would use these).  Browse to your heart's content while listening to vintage music. Bonus: sample their custom blend coffee beans which they will grind for you on-site. (Picker Joe's Antique and Vintage Market, 217 East 41 St., Savannah, GA 31401, USA)

Paranormal Hospitality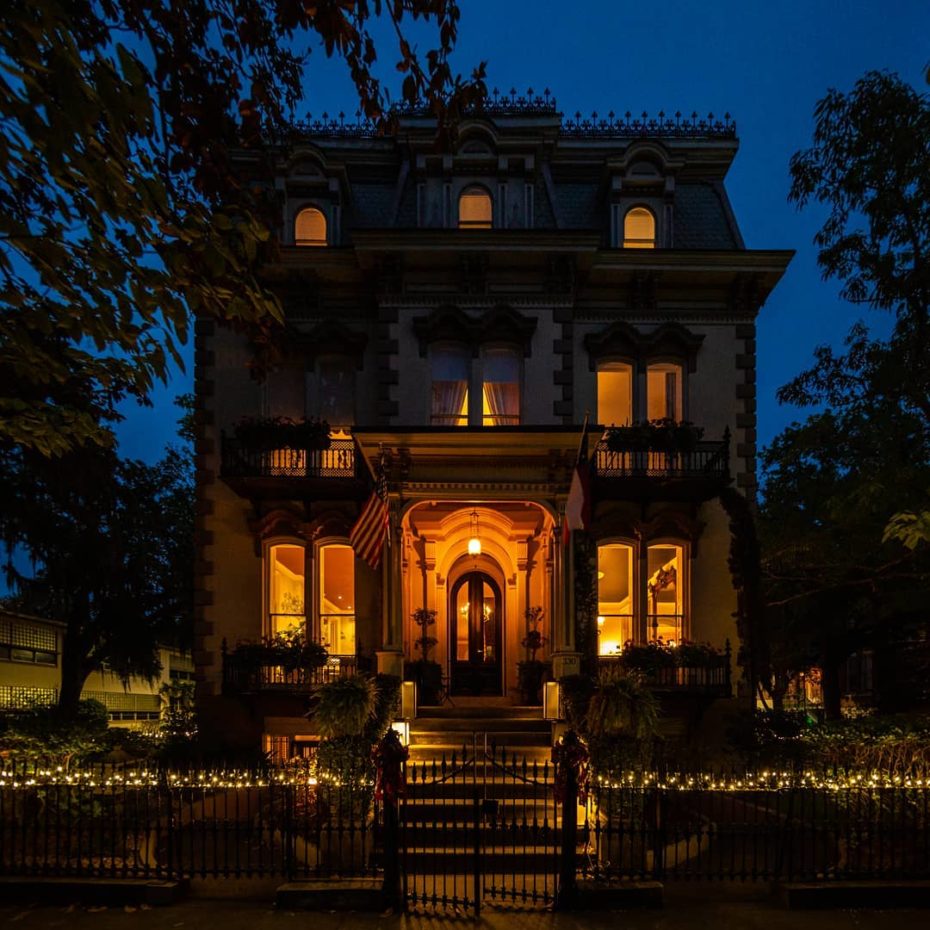 Drop your bags at the Hamilton Turner Inn, our pick for a bed for the night. This stunning mansion located on Lafayette Square was built in 1873 by Samuel Pugh Hamilton, known as the Lord of Lafayette square for his lavish soirees. A later resident, Dr. Francis Turner, was believed to have performed autopsies in the courtyard level of his home. Again, we strongly encourage you to pack a Sage Bundle before you arrive! Many guests have claimed to hear billiard balls tumbling down the stairs, please feel free to ask the concierge why. The exquisite hand painted mural in the Grand Salon will be a welcome distraction. The Cathedral of St. John the Baptist is located a few doors down should you feel the need to go say prayers of protection. (Hamilton Turner Inn, 330 Abercorn St., Savannah, GA 31401, USA)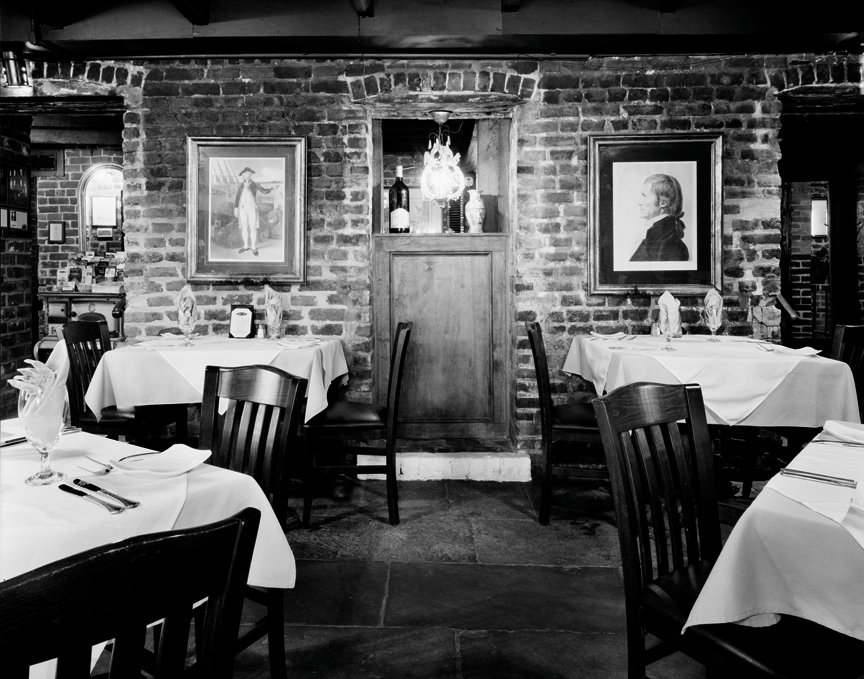 The 17Hundred90 Restaurant and Inn is one of Savannah's oldest restaurants and guesthouses, where you might expect to meet "Thaddeus" the resident ghost. Thaddeus has worked at 17Hundred90 for hundreds of years and is said to have a habit of leaving a shiny penny on the table or at the bar. The restaurant is named to honour the first free election of a mayor. If you are fond of seafood may we recommend The Neptune or the Shrimp and Scallops Scampi – Savannah is home to some of the finest Seafood on the east coast don't ya know. For dessert, a local's favorite, the Chocolate Bomb is a flourless chocolate torte, with homemade whipped cream and drizzled with chocolate and raspberry sauce. (17Hundred90 Restaurant and Inn, 307 East President St., Savannah, GA 31401, USA)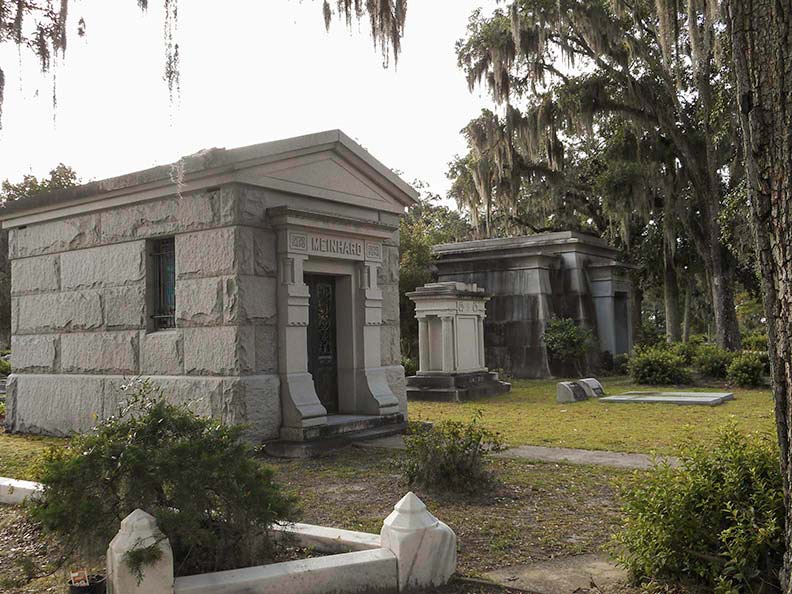 Pick up a picnic lunch and head to the cemetery! Finches Sandwiches & Sundries set up shop in an old garage and they will prepare Savannah's best Grilled Cheese and lend you a vintage quilt and picnic basket filled with snacks to take to Bonaventure Cemetery. There was of course a time when Americans dined (and dated) in cemeteries. Not so long ago, parks were still a privilege for the upper-class in America, if they even existed at all. So folks flocked to the next best thing: the cemetery.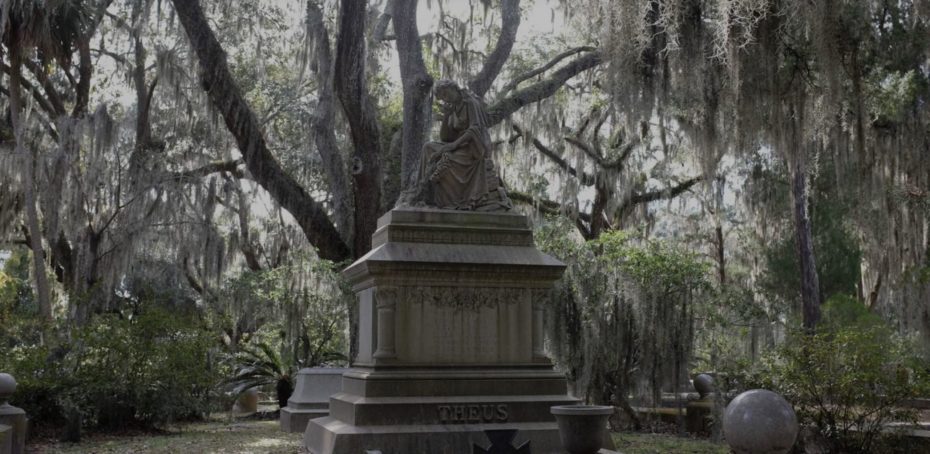 Bonaventure truly is one of the most beautiful sites in Savannah. Before you visit though, remember to pick up a Sercy. Sercy is a southern term for an unexpected gift. You will be looking for a small present for a six-year-old girl. No need to spend more than a few dollars but please wrap it and put a beautiful bow on it. You will be bringing the gift to Lot 98 Section E and leaving it for our dearly departed "Orphan of Savannah" Gracie. A hauntingly beautiful monument that marks Gracie's grave, but her parents were so distraught, they moved a thousand miles from their beloved daughter to New England. at the time many locals felt the family had abandoned Gracie, who died of pneumonia at the age of 6. They began to bring small Sercy's to her grave so she would have something to play with. That tradition is still kept to this day. After visiting Gracie, either walk about or drive through the cemetery to experience the beauty of the many elaborate gravestones and mausoleums – they are works of art (Bonaventure Cemetery, 330 Bonaventure Rd, Savannah, GA 31401, USA).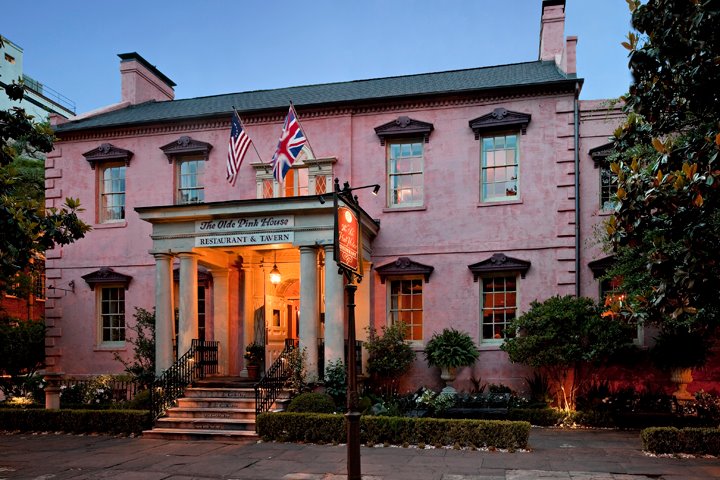 If you're looking for a romantic meal, The Olde Pink House (circa 1789) is a good bet, but the popular restaurant is also believed to be haunted by the apparition of its creator, James Habersham Jr., who has been said to appear frequently, and has even been seen wearing his Colonial garb while drinking ale. His ghost has been blamed for the mysterious lighting of candles that are placed on the tables around the restaurant. Talking to the staff at the Pink House will yield some interesting accounts of ghostly hauntings over the years. Apparently, another spirit in the Pink House enjoys playing pranks on some of the diners of the restaurant.  These strange supernatural occurrences at the Olde Pink House only adds to the charm of the restaurant, which serves Southern-influenced cuisine. We recommend the Fried Green Tomato 'BLT'. (23 Abercorn Street, +1 912-232-4286; theoldepinkhouserestaurant.com)
Treat Yourself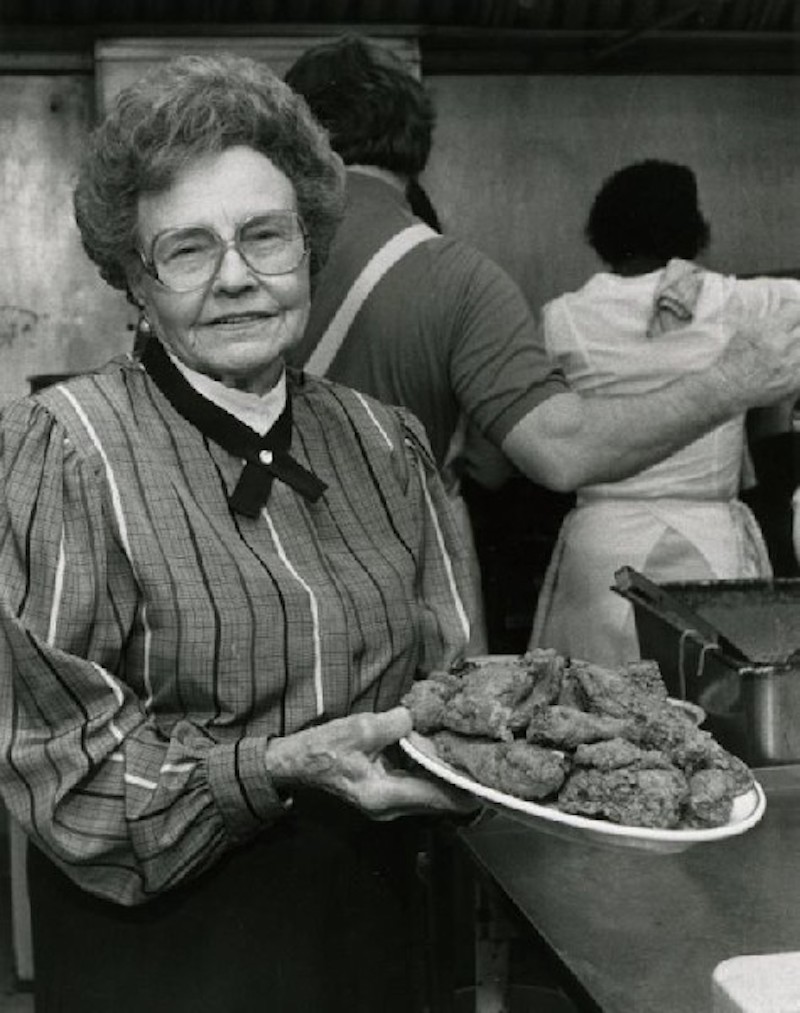 Hands down (and greasy fingers) the best Fried Chicken on the planet. Mrs. Wilkes Dining Room is a unique southern culinary experience inside a historic building that was originally used as a boarding house for railroad workers. Family style, you will be passing around 26 sides and 4 main dishes to your new best friends. We recommend getting there around 10:00am (open 11-2pm Monday – Friday) and wearing elastic waist bands only, trust us on this. Mrs. Wilkes also offers some lovely accommodation; the apartments are large by Savannah Historic District standards, offering close to 1500 square feet of space. (Mrs. Wilkes Dining Room, 107 West Jones St., Savannah, GA 31401, USA)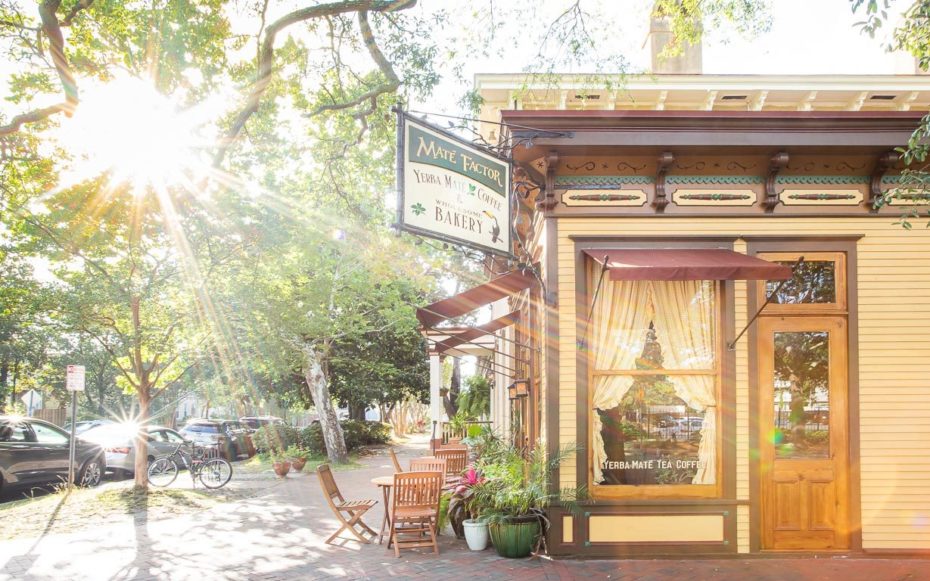 Stop for Sunday breakfast at the magical Maté Factor, a hidden neighbourhood gem. Looking like something out Tolkein, this bakery makes matcha bars you won't forget, an excellently executed breakfast of egg and cheese on the softest, freshest roll and Maple pecan scones to write home about. (401 E Hall St, Savannah, closed Saturdays)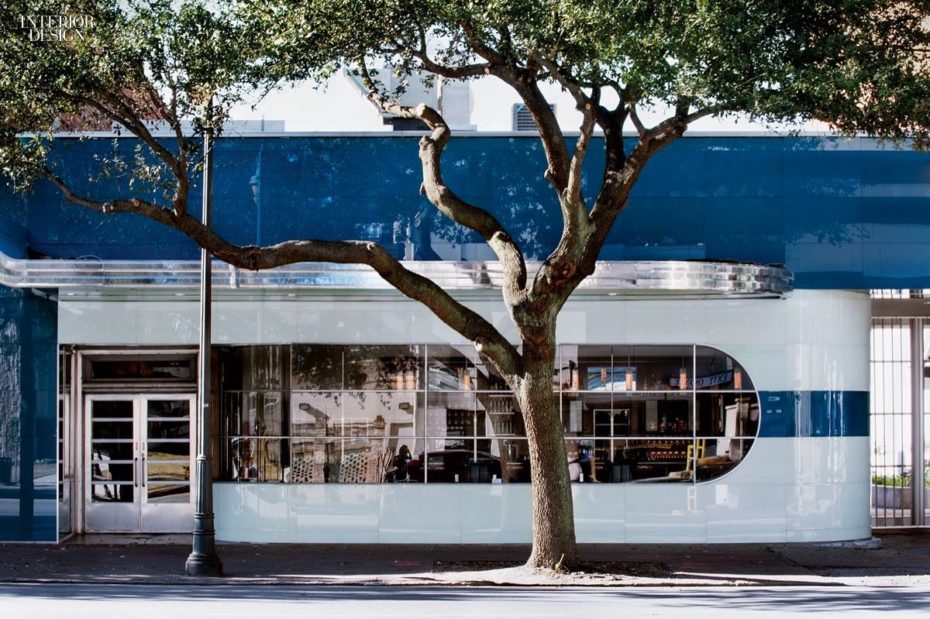 Converted and refurbished from an Art Deco Greyhound bus terminal – this alone for us is reason enough to visit, but the food at The Grey is luckily, also exceptional – seafood being their strong point. You can splurge on an eight course tasting menu or go for the daily catch. Vegans are also well-accommodated here. Make a booking ahead of time. (109 Martin Luther King Jr Blvd, +1 912-662-5999)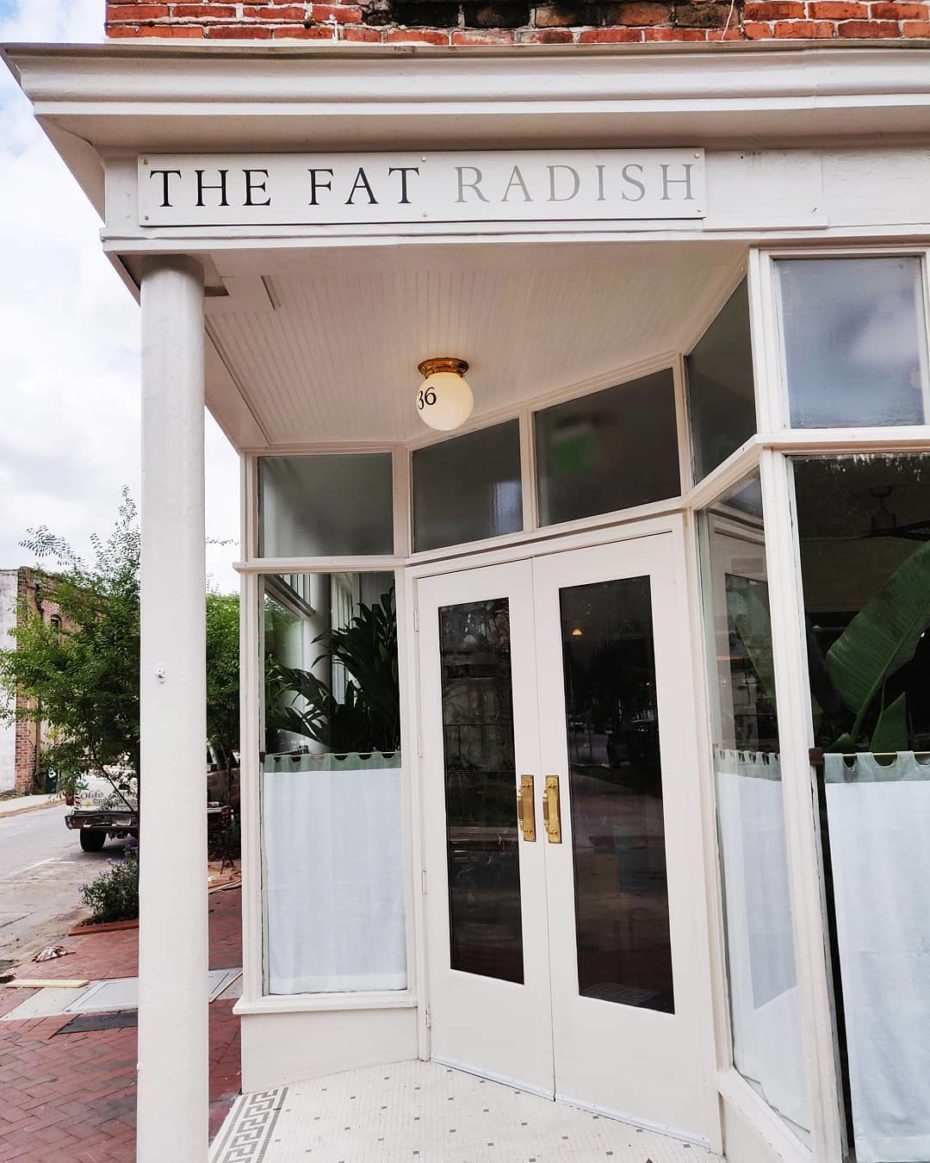 Another gorgeous restaurant further up the street, this time inside an old pharmacy, is newcomer The Fat Radish, offering simple dishes created with seasonal & local ingredients in a stylish, light-filled space with Brooklyn vibes. It's all highly-instagrammable and don't miss their French fries fried in duck fat! (36 Martin Luther King Jr Blvd, +1 912-298-0499)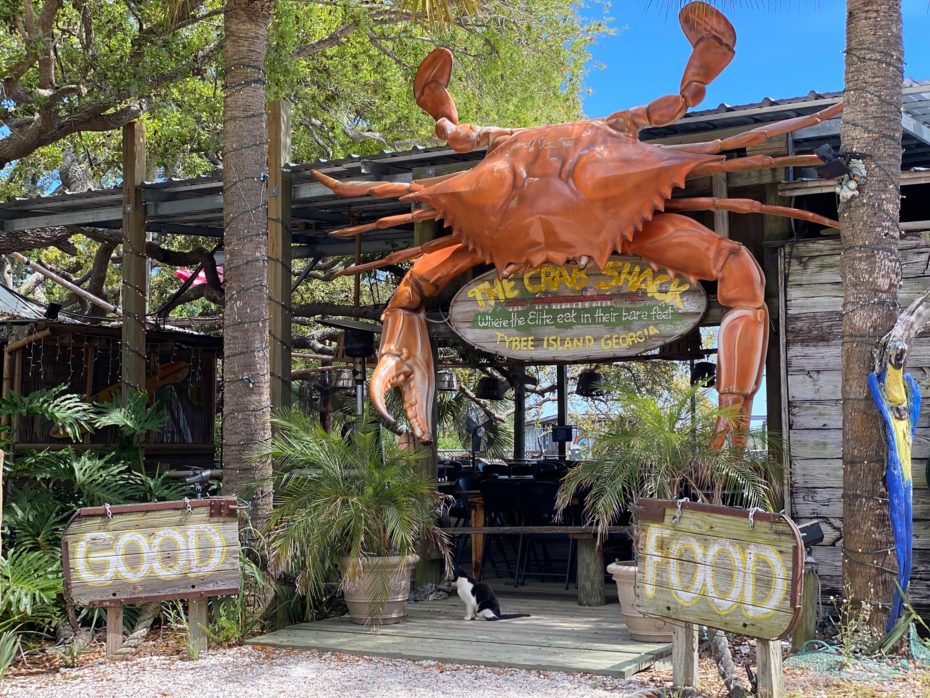 For some low-key fun in Low Country, go for ultimate kitsch at The Original Crab Shack on Tybee Island, about a 30 minute drive from the city. Prepare to get your hands dirty with a giant steaming platter of crab legs, crawfish, and shrimp and enjoy the laid-back atmosphere amongst families at this sprawling beach hut surrounded by a swamp-like lagoon filled with baby alligators. (40 Estill Hammock Rd, Tybee Island, 912 786-9857)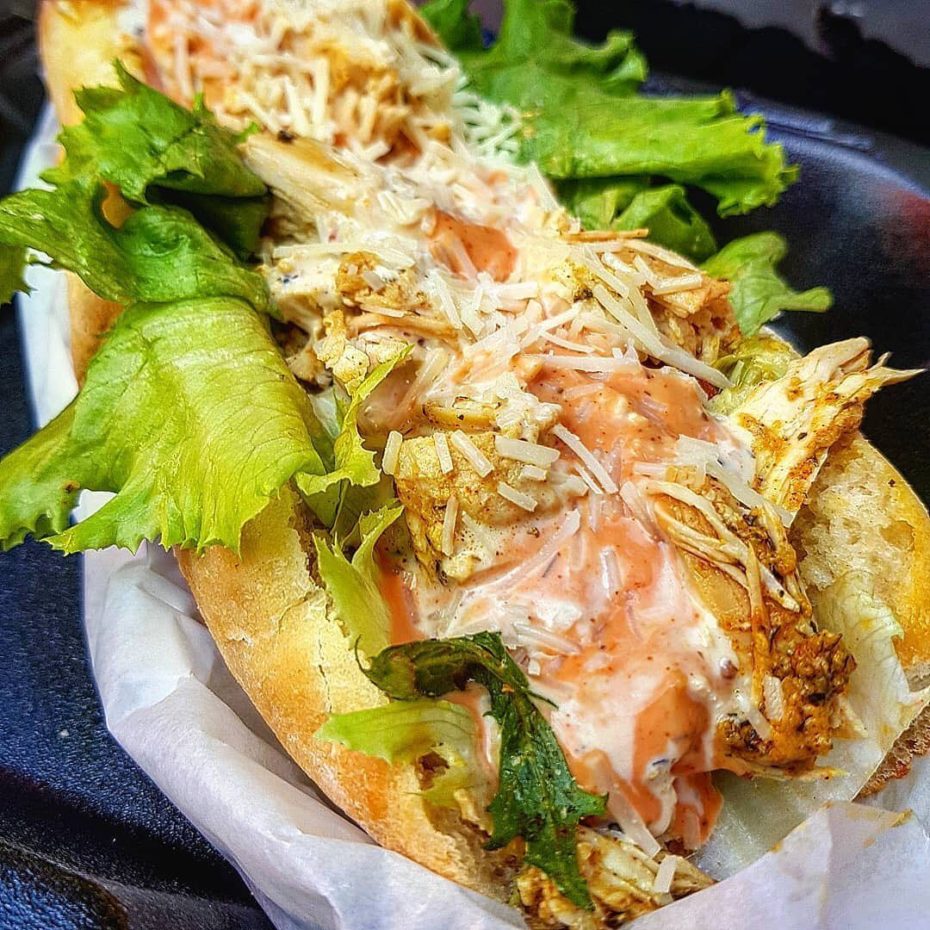 Don't leave town without picking up one of the epic sandwich offerings at Zunzi's. Proprietors Johnny and Gabriella source the freshest and finest ingredients, blending Swiss, Italian, South African and Dutch cuisine. We pretty much are insisting that you order #2 the Godfather. You will dream of these sandwiches the rest of your life. (Zunzi's, 108 East York St., Savannah, GA 31401, USA)
For people-watching paired with a rooftop sunset, head to the Perry Lane Hotel bar The Peregrine. Take the elevator to the rooftop to see the most stunning panoramic view of Savannah and enjoy one of their incredible handcrafted cocktails along with the Chef's Board, a delicious array of charcuterie, seasonal fruits and artisanal cheeses. Perfect for recapping a fantastic day in Savannah. (Perry Lane Hotel & The Peregrine, 256 East Perry St, Savannah, GA 31401, USA)
Stories from Old Savannah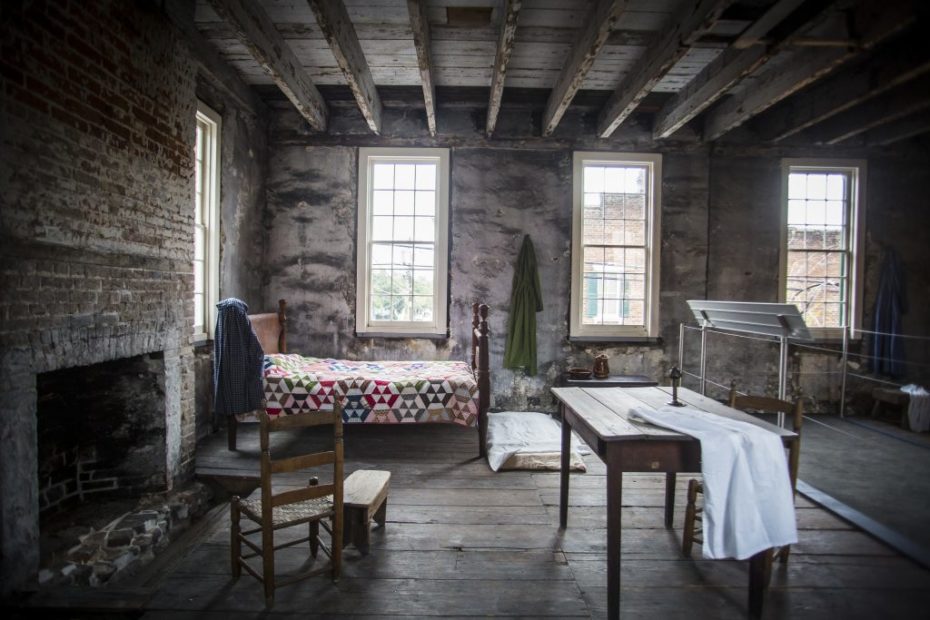 Mr. Owens kept 9 to 15 enslaved individuals on his property which is located on Oglethorpe Square. He also had several Plantations where he had over 400 enslaved men, women and children. The Owen-Thomas House, a stately Regency Style Mansion built in 1819, remained in the Owens family until 1951 when Margaret Gray Thomas passed away and bequeathed the home to the Telfair Academy of Arts and Sciences. The Slave Quarters are a time capsule that accurately and powerfully depict the living situation of enslaved people and serve as an important part of Savannah's history.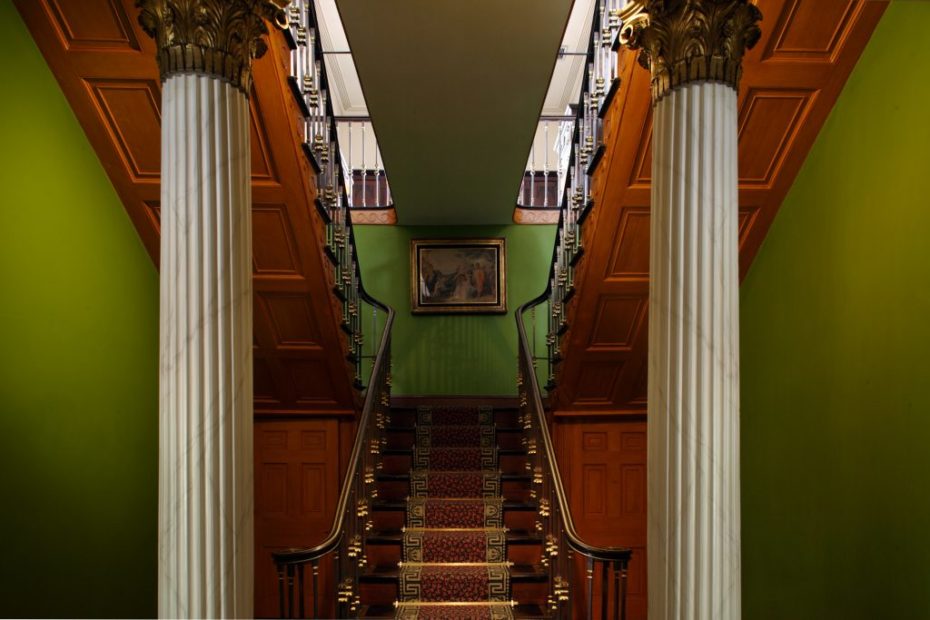 The architecture of the main house also features elaborate mouldings, finishes and the finest American and European Antiquities, emphasizing the vastly different lifestyles led by its inhabitants depending on the hand they were dealt in life. (The Owen-Thomas House, 124 Abercorn St., Savannah, GA 31401, USA).
On a much smaller scale, tucked away in the Victorian District is the King Tisdell Cottage, an African-American heritage museum once home to Sara King and Robert Tisdell, members of Savannah's vibrant African-American entrepreneurial class at the turn of the century. Today, their story is vividly told by the museum's vibrant host and walking history book, Ms. Imani, while the restored cottage is devoted to aspects of Savannah's African-American history and culture. It makes a great stop for taking notes before embarking on a self-guided walking tour of the houses in the Victorian district (514 E Huntingdon St). A few blocks north is the Beach Institute, which was founded in 1865 as a school for newly freed slaves. Georgia's oldest still-standing school for Black children closed in the early 1900s and now stands as a museum, home to Savannah's African American Arts Center (502 E Harris Street).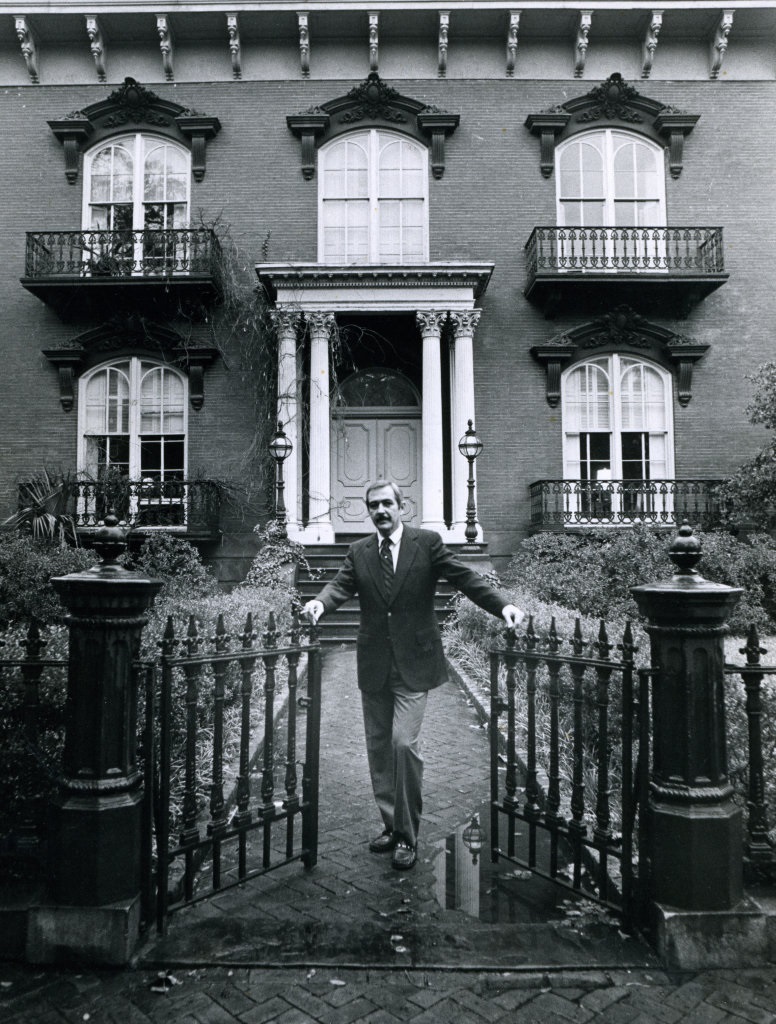 If you can't get enough of house museums, Savannah has several more, including the Davenport House, one of the oldest brick structures in the city demonstrating typical housing of yesteryear, and the Mercer Williams House, the scene of a famous murder documented in the New York Times best-selling book, Midnight in the Garden of Good and Evil. Jim Williams was an antiques dealer and historic preservationist who owned the house and allegedly shot his lover in the study in 1981. The house is now lived in by his sister and open as a museum on the 1st floor.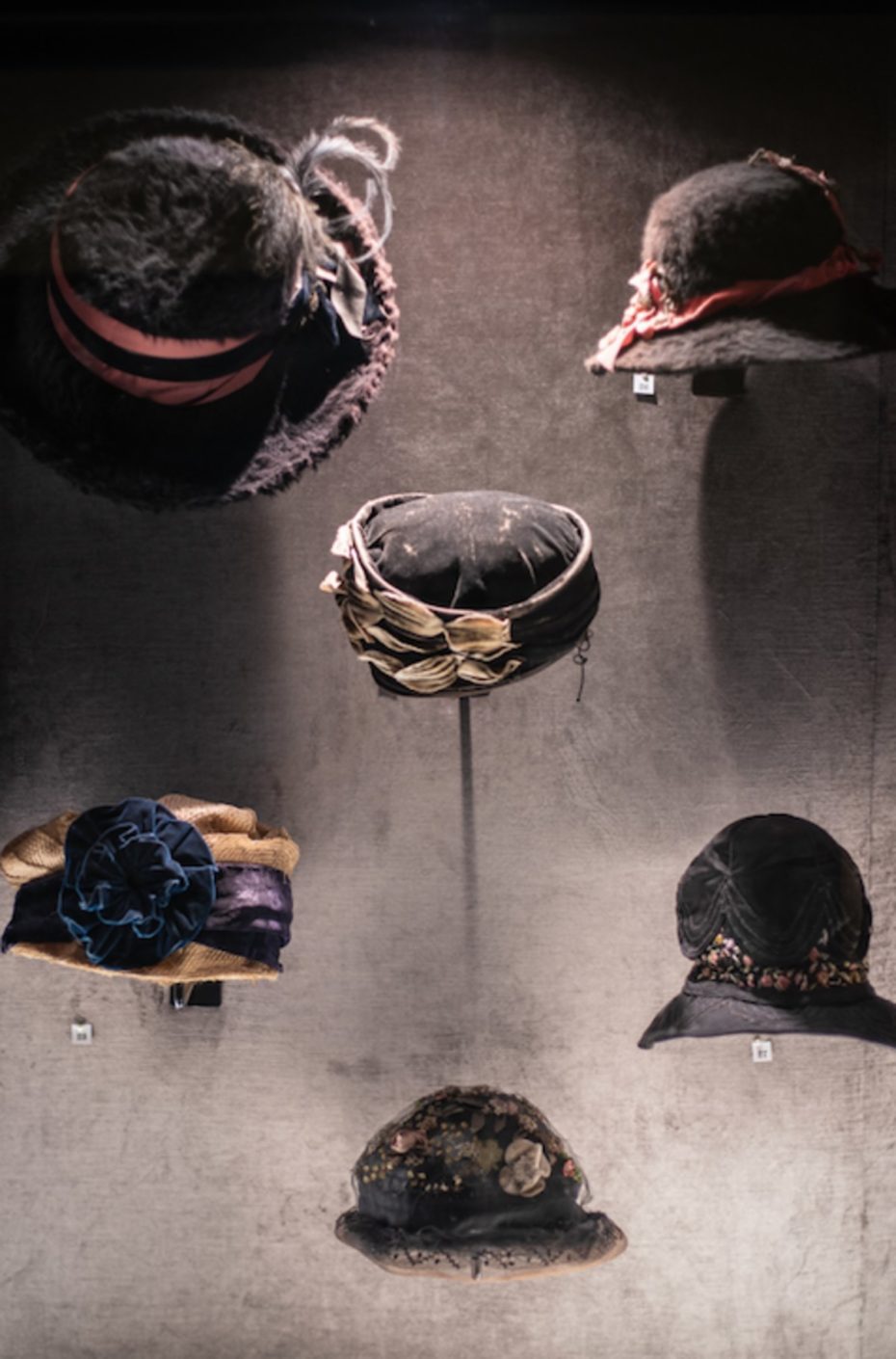 Adjacent to Forsyth park is The Mansion, formerly a 19th century private residence, later a funeral home and since 2005, a luxury boutique hotel, meticulously restored by the current owner, Richard Kessler. Pay a visit to the beautiful art gallery which houses collections of paintings, sculptures and jewelry, many of which are created by local artists. Then ask the concierge in the gorgeous lobby to direct you to the Century of Hats Exhibit. Mr. Kessler has curated a curious hat collection that spans a century beginning with 1860 and going through 1960 with a hat represented for each year. Many guests position themselves in the reflected glass to "try on" the antique accessories. (The Mansion, 700 Drayton St., Savannah, GA 31401, USA)

Discover the fascinating history of the Gullah/ Geechee people who still reside in Savannah and the low country at Pin Point Heritage Museum, nestled along the banks of the Moon River. The famous song was written by Henry Mancini and Johnny Mercer, who based the lyrics off of his childhood growing up on an island in Savannah. The undeniable treasure of a museum is housed in the former A.S. Varn & Son Oyster and Crab Factory but was founded by freed members of the Gullah/Geechee community in 1896 after the Civil War. It has absolutely stunning water vistas and is a chance to understand and experience the Creole culture first hand. (Pin Point Heritage Museum, 9924 PinPoint Ave, Savannah, GA 31406, USA)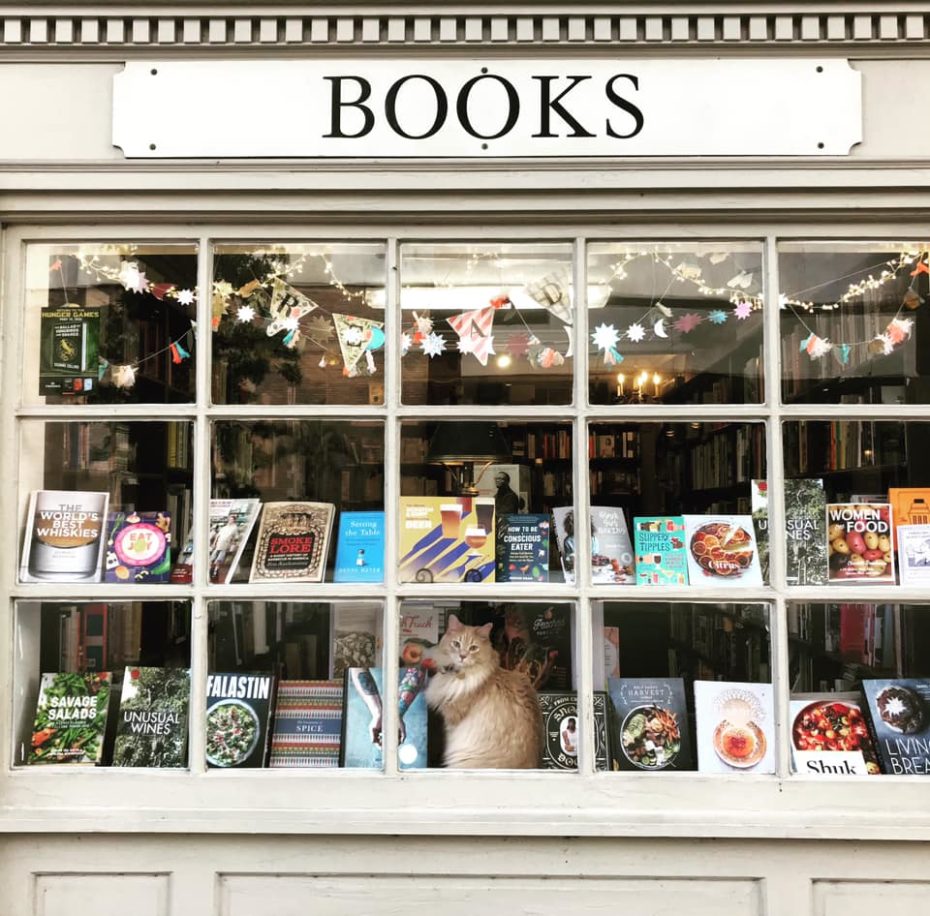 The picturesque Bull Street is a dreamy locally owned old-fashioned book shop named E SHAVER, bookseller. Unheard of at the time, the structure was built in 1842 by a woman named Eliza Jewett for her personal residence. Many years later it was an Antique Shop and then eventually E SHAVER, the bookseller. Be on the lookout for the three shop cats Bartleby, Mr. Elliot and Skimbleshanks who linger among their eclectic collection of books. Located inside the bookshop is the very charming Savannah Tea Shop and they are very passionate about tea. We recommend their Emperor's Bride Blend. (E Shaver, 326 Bull St., Savannah, GA 31401, USA)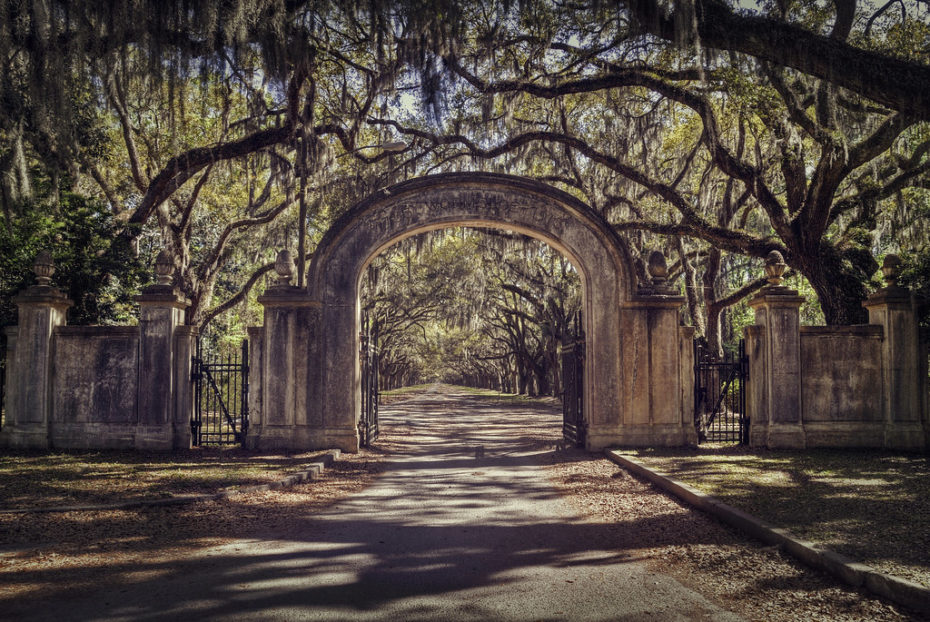 Take a short drive from the city center to Wormsloe Historic Site, where upon arrival you will see a breathtaking stone entry and iron gates that invite you through the allee of Live Oaks. This is a State Park, and you'll need to purchase a ticket to experience the magnificence of this property. The tabby ruins of Noble Jones' home are the oldest standing structure in Savannah. Noble Jones arrived in Savannah in 1733 and the name Wormsloe comes from Jones' township in England, Wormsloe. Tabby is built of burnt oyster shells that create lime and then is mixed with sand, ash and broken oyster shells to form this still-used material. Probably best not to plan your trip in the heat of the summer. (Wormsloe Historic Site, 7601 Skidaway Rd, Savannah, GA 31406, USA)
Looking for more travel tips? Become a MessyNessy Keyholder to gain access to our Travel eBook library and a direct line to our Keyholder Travel Concierge to plan your perfect trip. Need help planning a weekend getaway? Restaurant recommendations for a remote village in the North Pole? We're here to help.
About the Contributor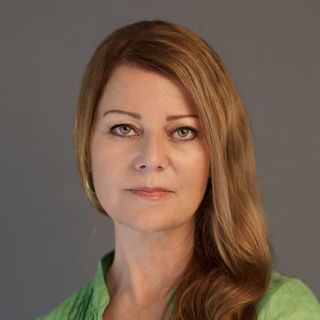 Heather Bender is a professional wanderer and dreamer who resides in the fabulously quirky Savannah, Georgia.