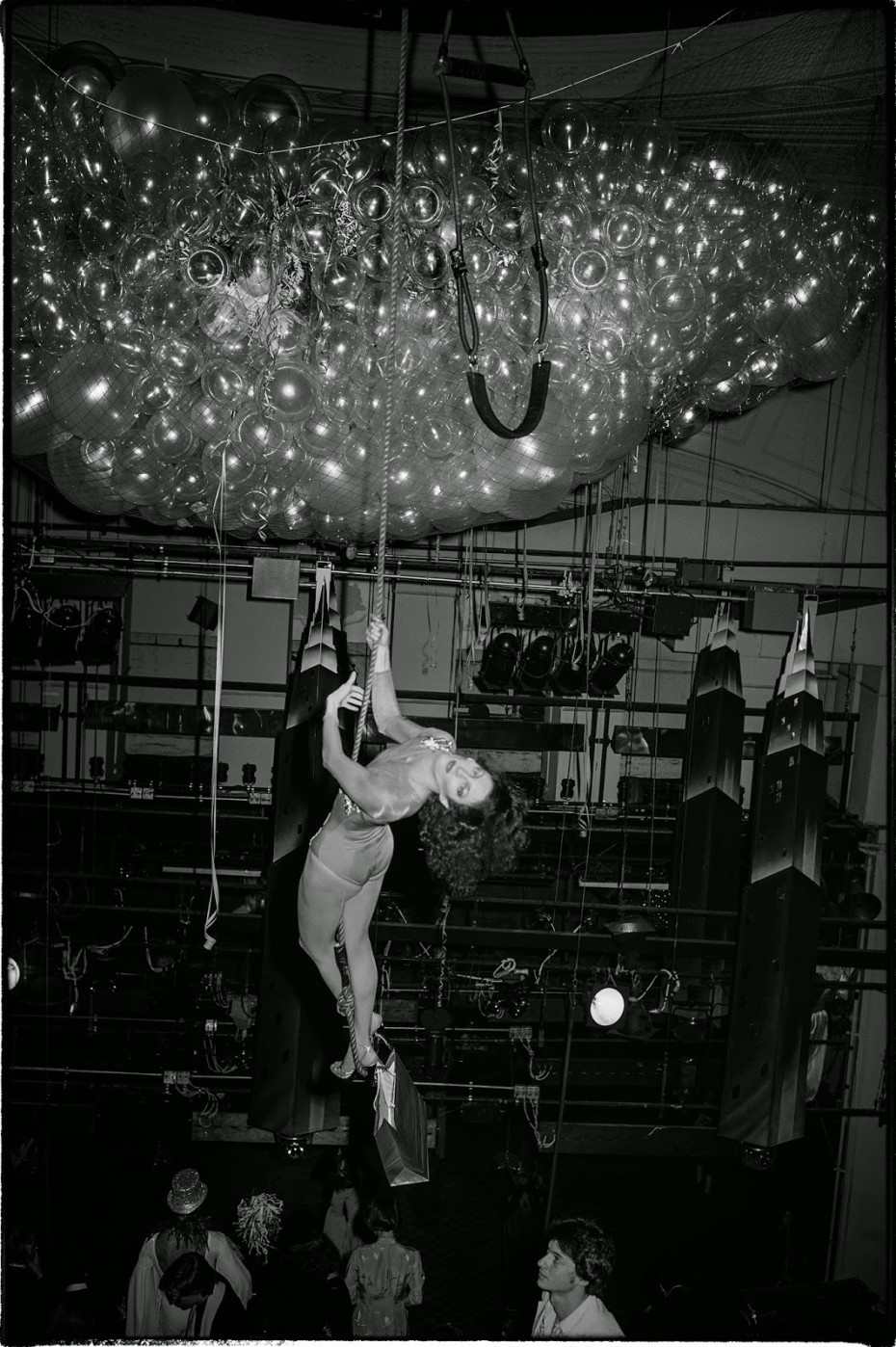 Did Covid really kill the disco? Or was it just the nail in the nightclub's coffin? Some would argue the clubbing era officially died near the end of the 00's, and that it was the age of social media that pulled the trigger. It's a nostalgia-driven debate that can be found thriving in the comments section under a Youtube upload we found of some original footage from Studio 54. The 15-minute short film called "Decadance" takes a look inside the infamous club as seen through its patrons in 1978. So before we get into the debate, take a moment to time travel through the doors of the most legendary nightclub of all time…
"Our generation LIVED life. This younger generation documents it", wrote one baby boomer in the comments. "Nobody dresses up anymore either. That or everyone has their heads buried in their phones […] treating potential friends as forever strangers."
A few commenters even suggested banning smartphones at clubs and bars to bring the club dance scene back to life again…
"The nightclub era died with the creation of selfies. Nowadays you go to a rooftop in New York City and everyones just taking selfies and it's not even fun it disgusts me".
Some blamed the smoking ban: "Actually it really died in late 90s when cigarettes were banned from most bars. The sleaze factor was yuppified out, and all the fun went right along with it. Even non smokers agree."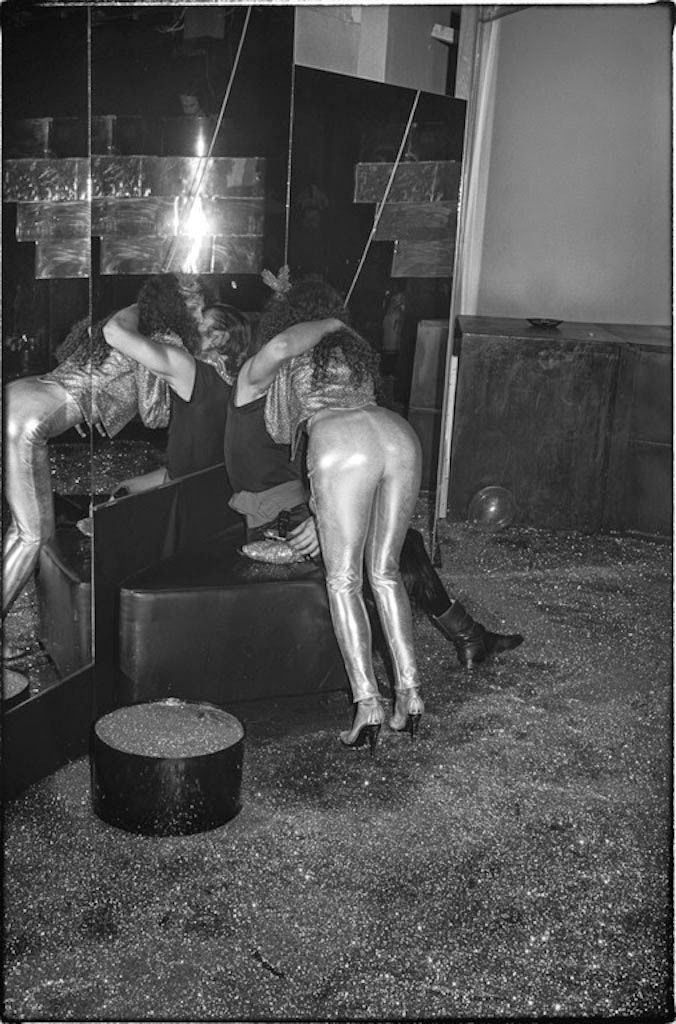 Another guy singled out dating apps in particular: "We not only went out to dance and enjoy the music, but let's face it, to meet broads and to possibly have sex in the early hours of the morning. Nowadays you've got all sorts of dating sites, so why go nightclubbing?". (One can only hope to never cross paths on said dating apps with the man who still calls women "broads", but we digress).
Millennials also chimed in: "Nightlife isn't over it just evolved into 'Daylife'. We hipsters discuss The Hobbit and "green space" over espresso and stroke our gender-expansive facial hair all day long."
On behalf of millennials who may not identify as Hobbit fans, permission to add that it was perhaps our own priorities that changed and not much else – while we might have been lined up for nightclubs 10 years ago, we're now busy worrying about mortgages or toddlers. But whether social media really killed the clubs or we just lost touch with nightlife, is now sadly no longer worth debating. For even if Covid cases plunge imminently or vaccines do the trick, the stigma associated with packed indoor spaces will linger for years to come. The disco, at least for today's party generation, has very likely, well and truly died this time. So what can we expect in its place?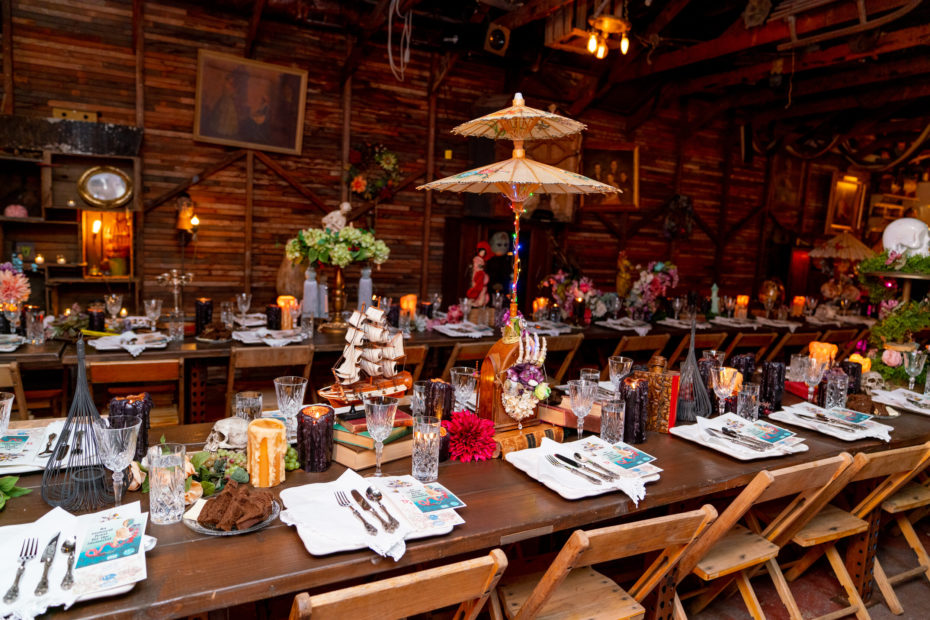 The future certainly looks a little cosier; more intimate and organised. We might expect events like supper clubs might to gain more of a mainstream following and nightlife venues could be wise to diversify in that direction.
Companies like the Disco Dining Club look well placed for the nightlife comeback. With our post-pandemic nights out perhaps limited to "special occasions", highly curated thematic food & drink events like DDC's will likely pull out all the stops to bring memorable nights to a smaller number of guests.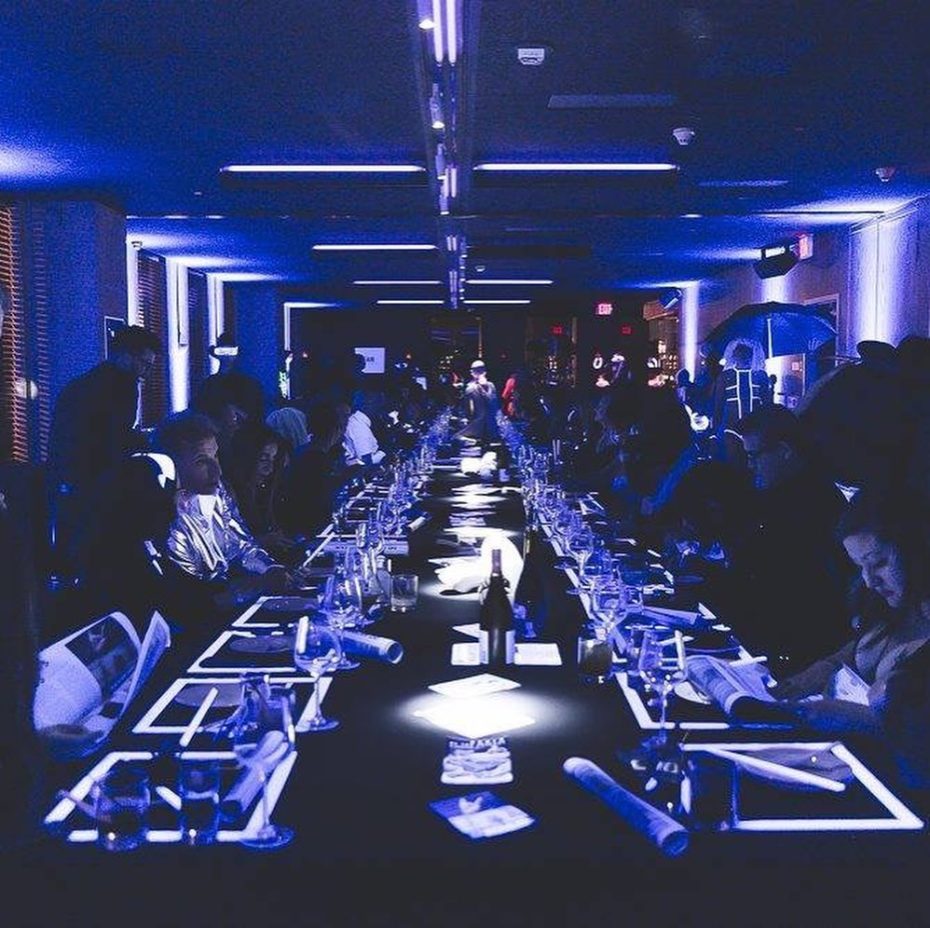 The novel concept of being able to converse and hear each other in a nightclub sure does sound ideal, but a word to the wise – significantly bigger tickets per guest vs the average club entry fee may also render the nightlife industry inaccessible to many.
Meanwhile, nightclubs with open air facilities located in warmer climates could prompt and greatly benefit from a rise in "destination clubbing". We know what you're thinking. Two words: Fyre festival…
Moving onto the nostalgic magic of music festivals, which being outdoors, should hopefully return in due course, while music concerts are still in an uncertain limbo of experimentation. Most recently, psych-rock band The Flaming Lips staged a unique pair of gigs in Oklahoma, using 100 inflatable bubbles holding up to three people each, with the band inside their own capsules…
But if that doesn't quite float your boat bubble, perhaps we might be ripe for a house party renaissance. And we're not just talking last minute wine nights, pre-games, or apéros like in the good old days B.C. (before Covid). We're talking about turning it up a notch, and learning how to throw a retro party with all the pomp of tooth-picked canapés, paisley napkins, and long-winded party games. As countries and states start testing the waters of "social bubble" expansion, we're getting the sense that the house party is likely to be a strong candidate in this brave new world of nocturnal entertainment…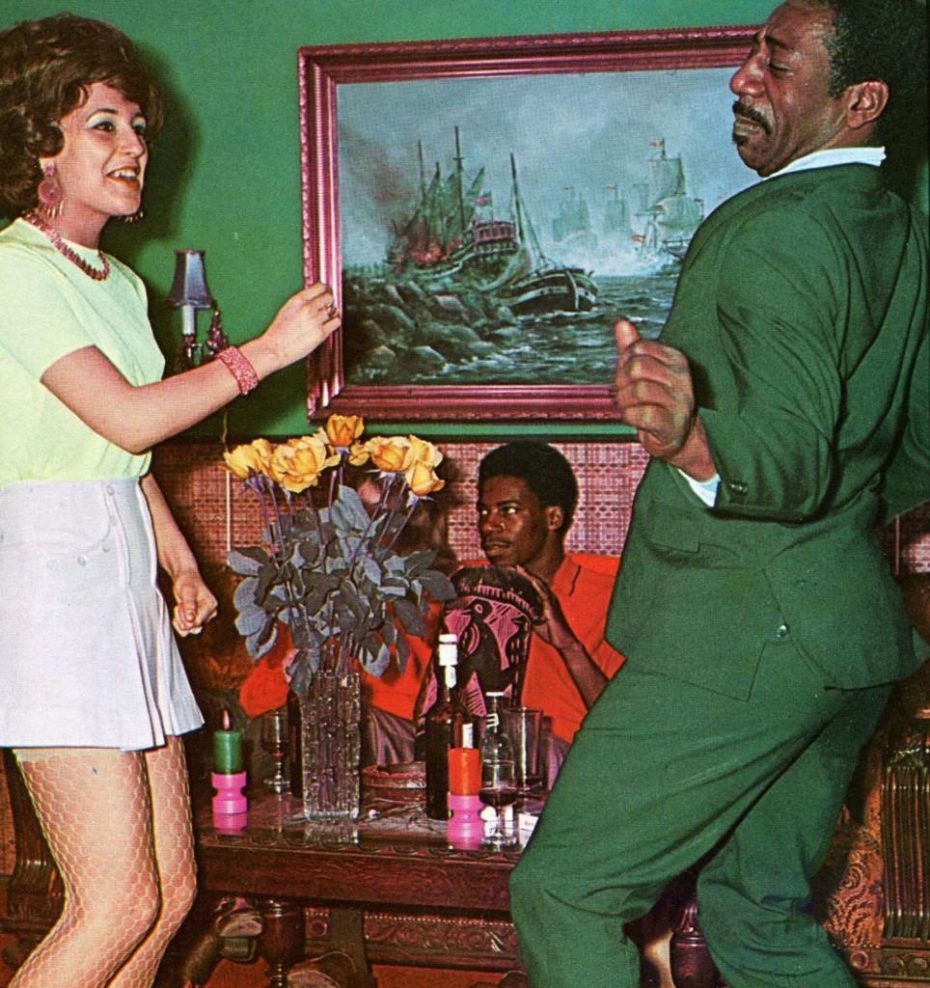 Not to play favourites, but we'd argue that the late 1960s-1970s hit the house party sweet spot. It was a period bookended by the more buttoned-ups social etiquette of the Mad Men years, and the cocaine-fuelled synth bonanza of the 1980s.
A generalisation, of course, the looser social and lifestyle conventions of "hippie values" were well in the mainstream by the 1970s. Consider the rise of the groovy conversation pit – a great example of how those values changed both the social and physical landscape of home entertaining.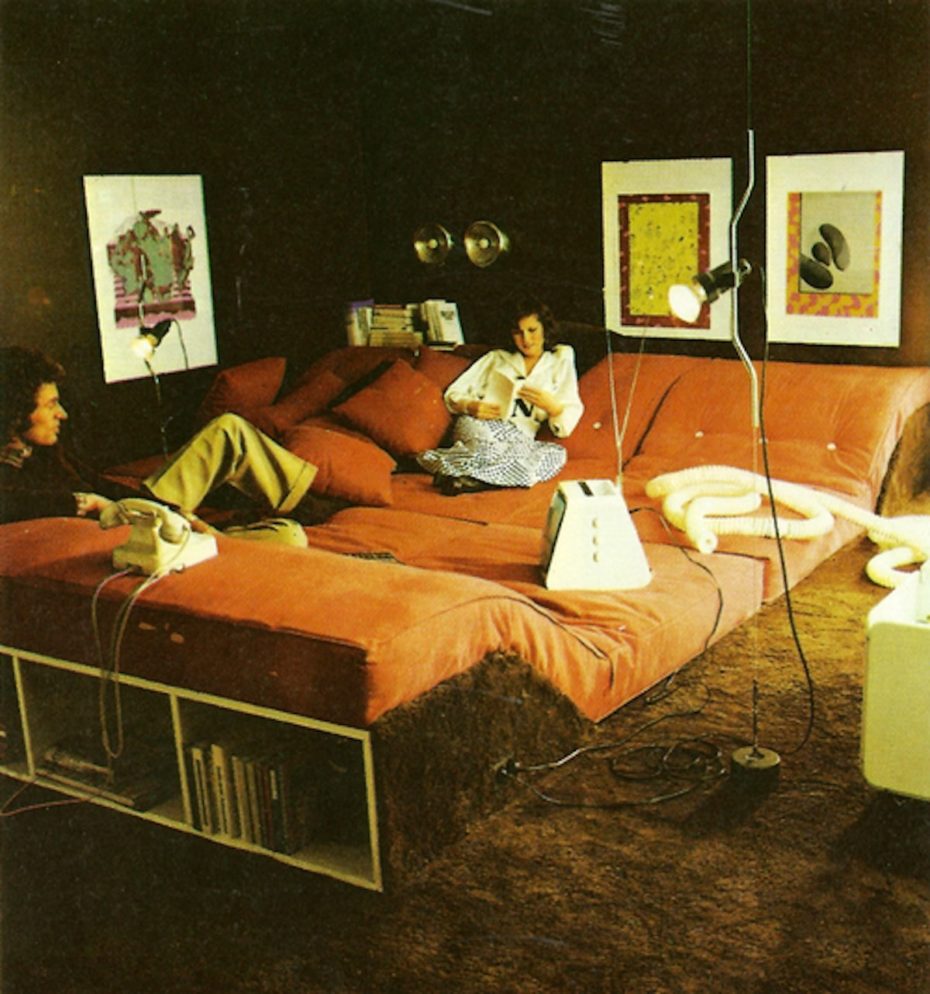 So if you're looking to host a house party à la 1976, consider throwing together your own conversation pit, invest in a few ridiculous board games and activities to take people off their phones. Like Party Putt Putt: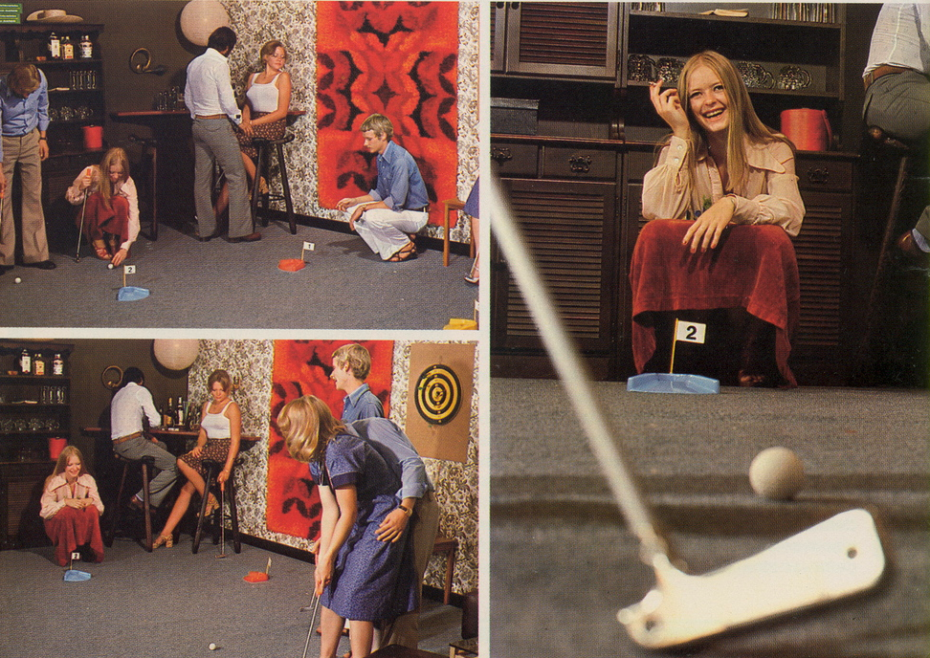 Personally, we'd like to make a case for the revival of George and Martha Washington's beloved party game, "Colonial Mitten," which was popular into the 1930s and sounds especially Covid-friendly; the game requires guests to put on thick mittens as soon as they enter, and with only their thumbs free, they must complete a series of weird tasks like picking up rice grains and buttoning jackets. Sounds awful. We love it!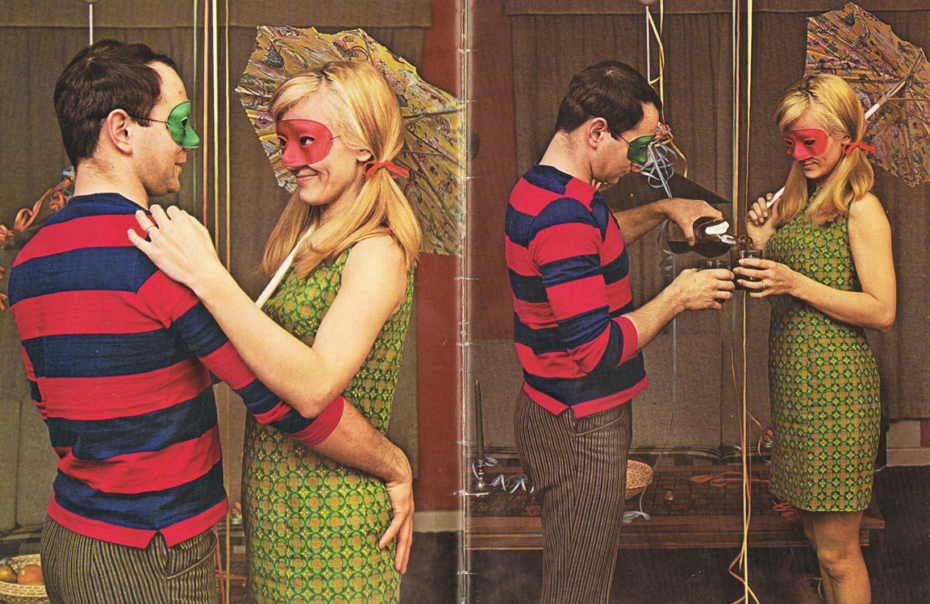 As cheesy as they are, house party games are an infallible ice breaker. Try scoping second-hand sites like Etsy and ebay for some retro finds.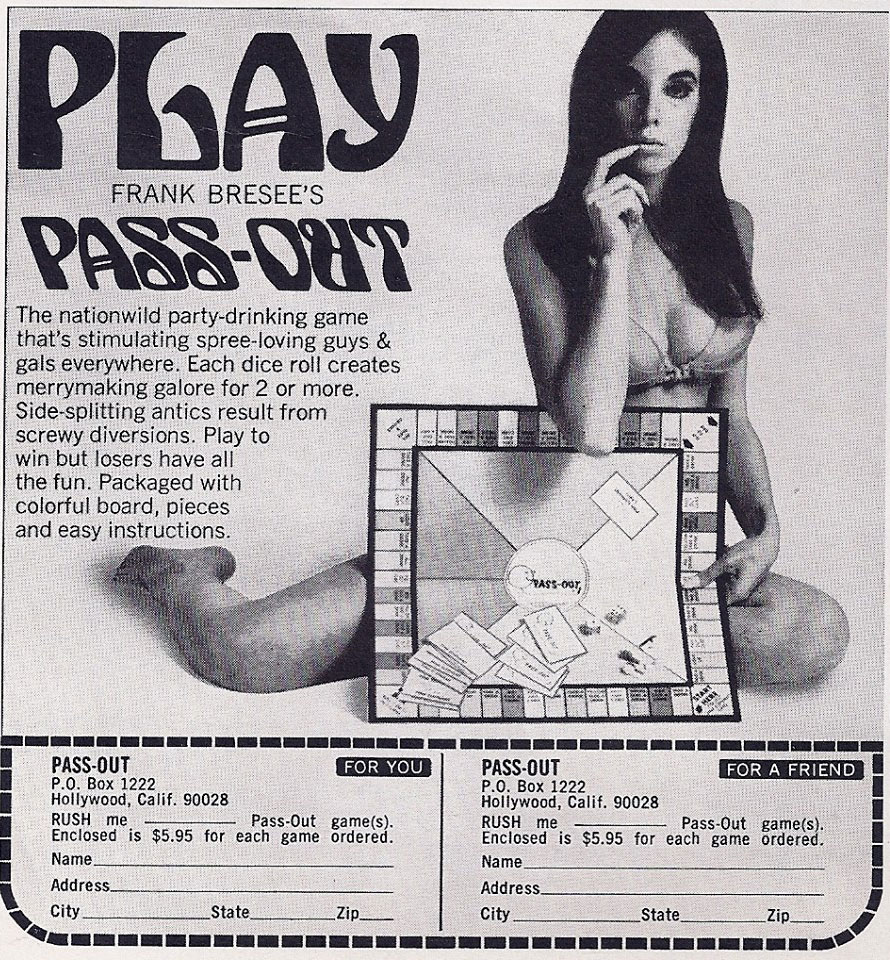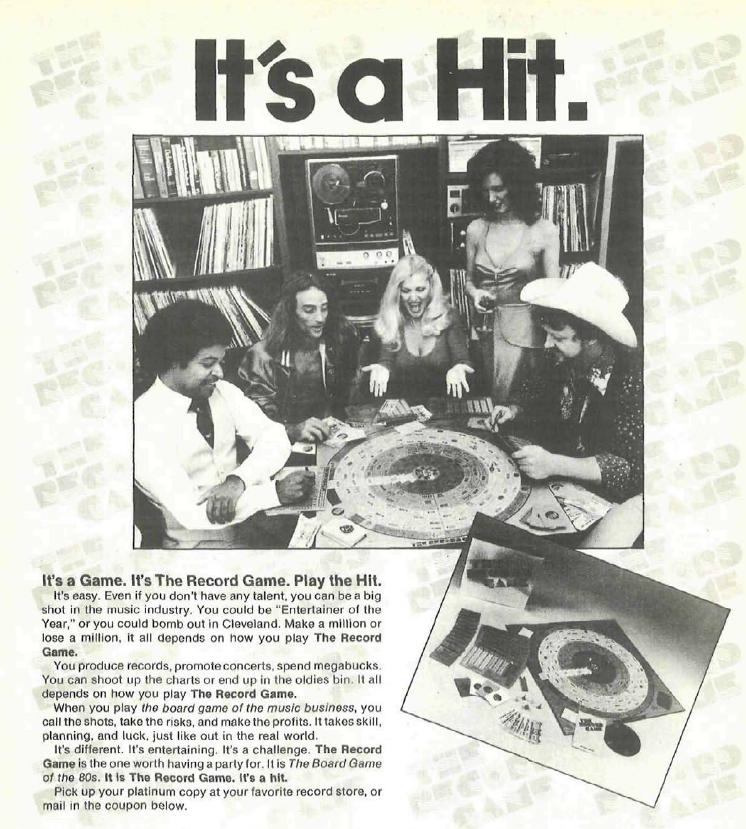 Now, for cocktail concerns. If you haven't invested in a solid bar cart yet, now is a wonderful time to do so – and try buying drink mixes from independent internet mixologists like Ashleigh Evans of "InBooze," giving you easy prep with no "funky chemicals and ingredients," as she says – all the sachets for Moscow Mules, spicy margaritas, lavender infused drinks and more in her Etsy shop are made from her hand-dried fruits and herbs.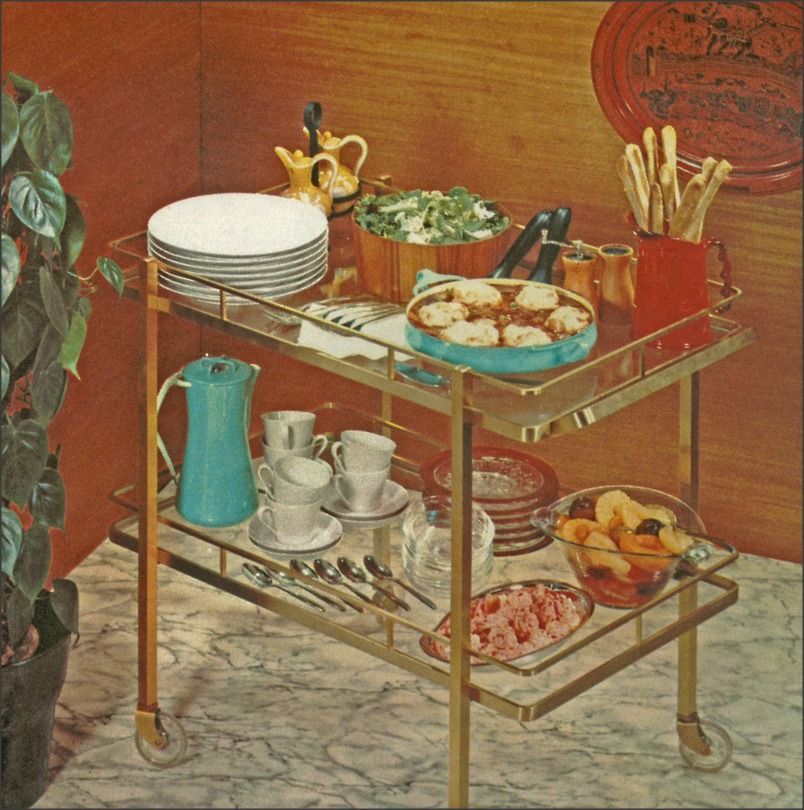 Which brings us to hors d'oeuvres. We highly suggest checking out Anna Pallai's book, 70s Dinner Party: The Good, the Bad and the Downright Ugly of Retro Food (2016) to get a comprehensive look back on the so-bad-it's-good grub of yesteryear…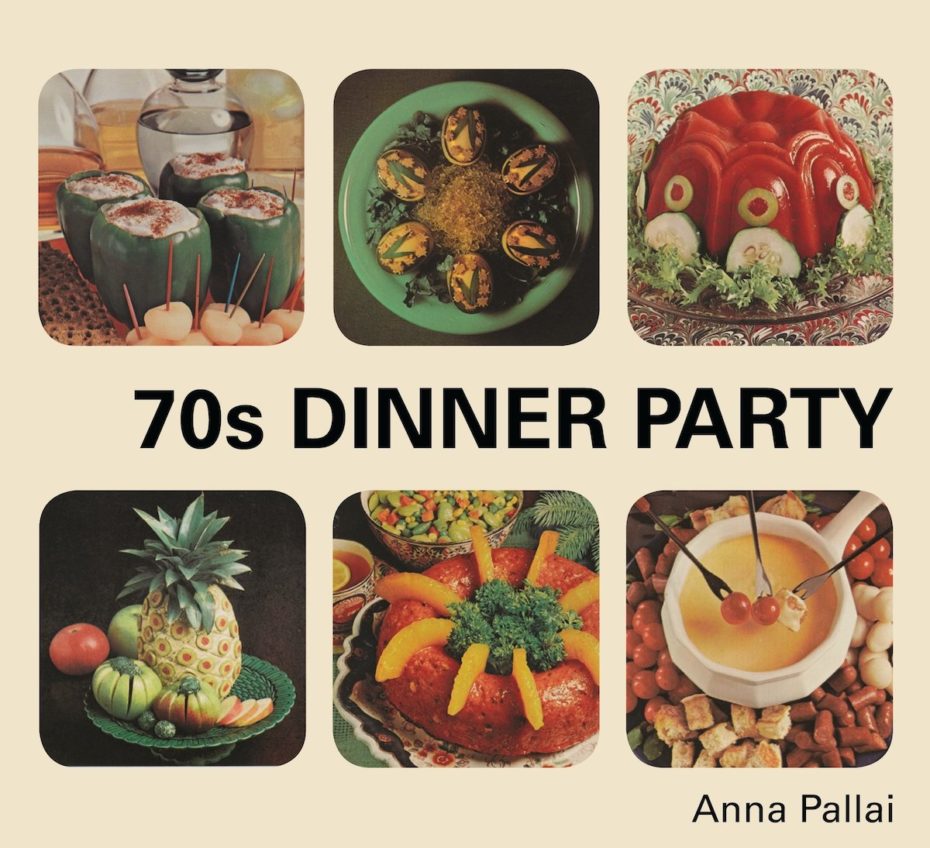 While it feels a little counterintuitive to suggest communal fondue pot dipping during a pandemic, perhaps you can find a way to seek inspiration from the midcentury party classic by scooping up a few pots for each guest online: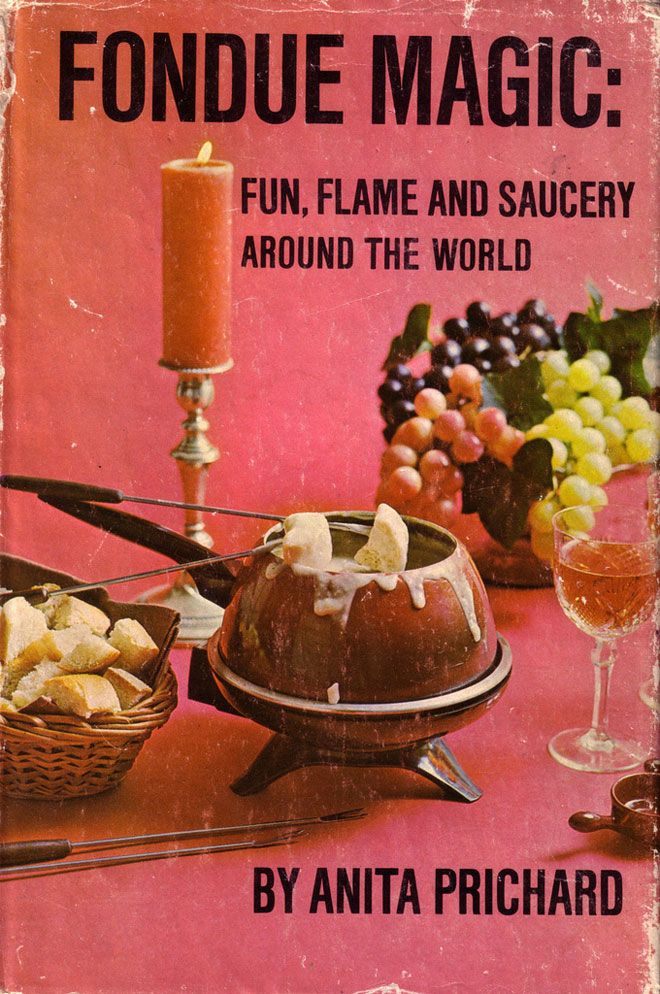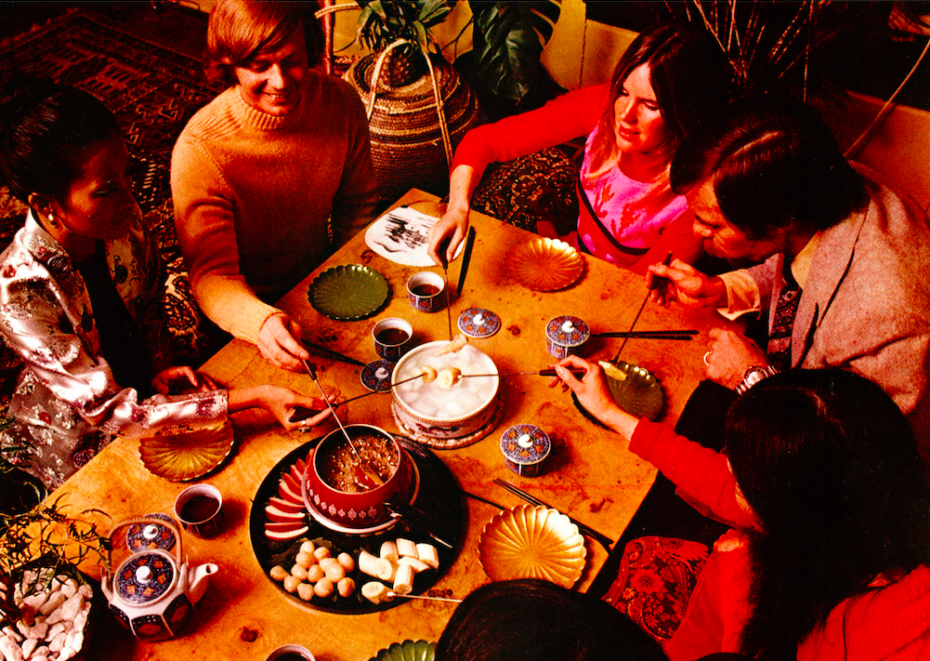 Another excellent option: the kebab!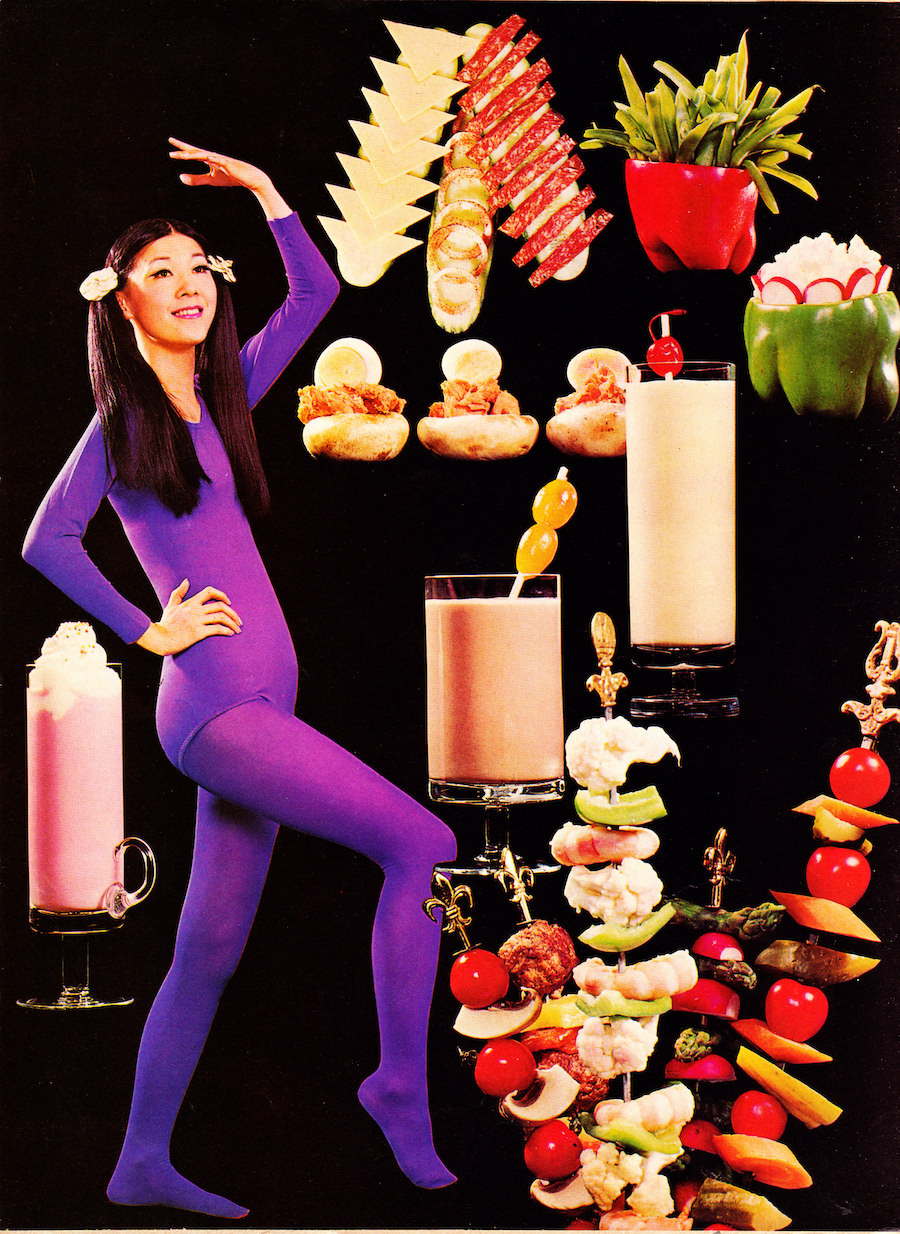 Don't forget your centrepieces, of course. Some food creations will be fanciful enough to steal the spotlight, but consider brushing up on your flower arranging and ice carving. Obviously.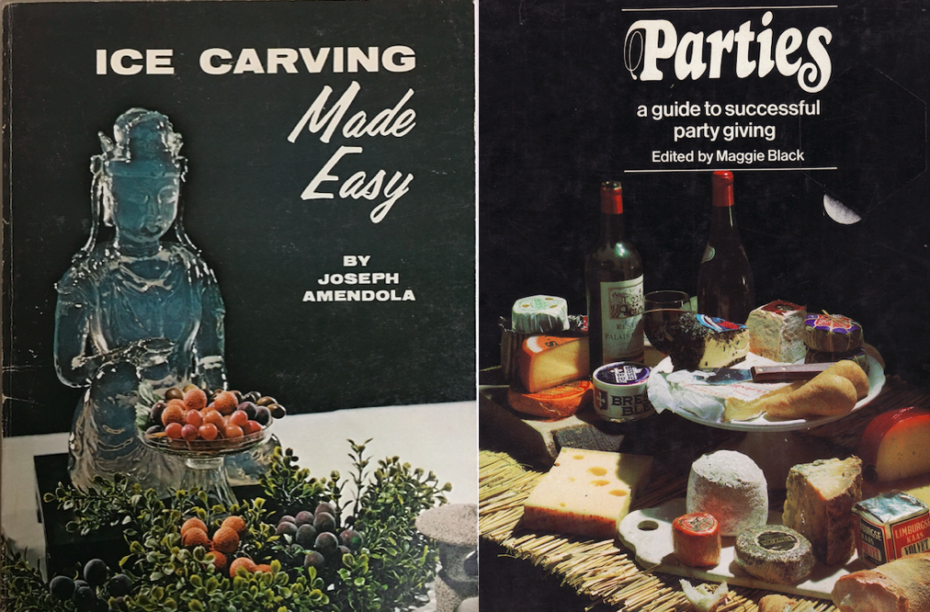 Let's take a moment to appreciate some house party-ready interiors – many of which have a few fun DIY projects, from hanging love seats to record player-accented walls…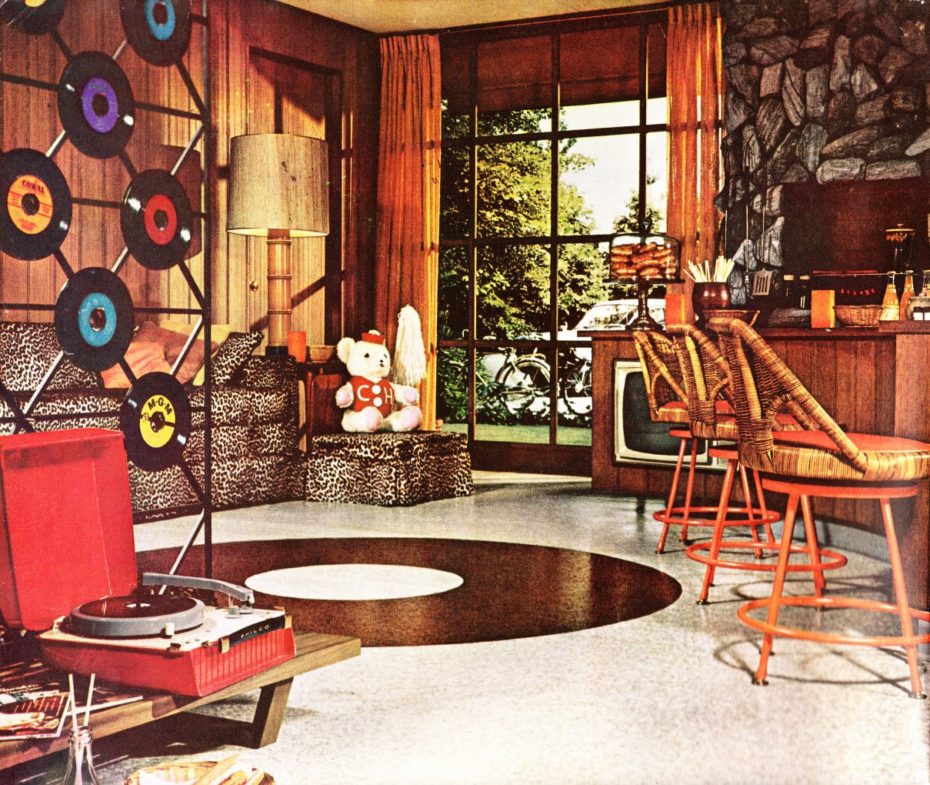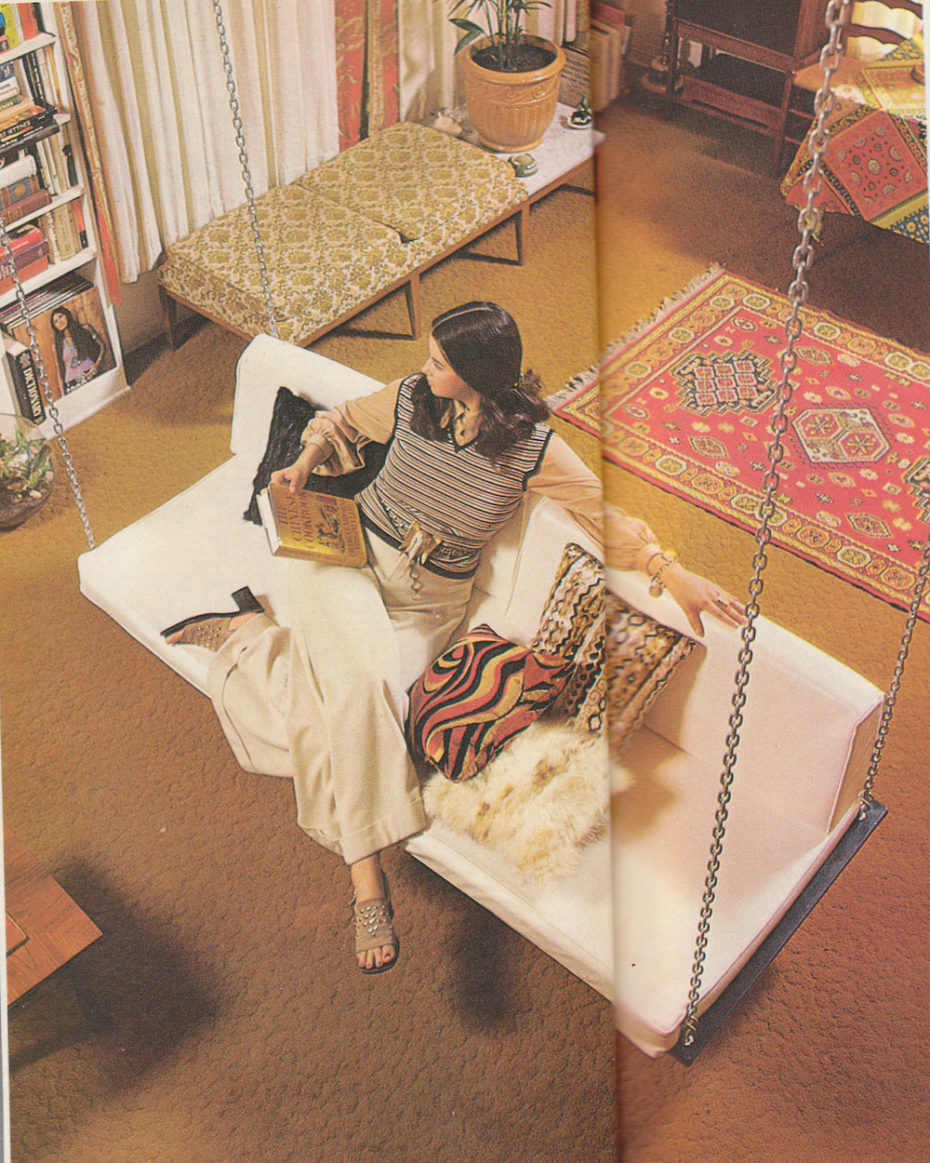 A staple home bar set-up? The neon beer or dangling lamp, of course…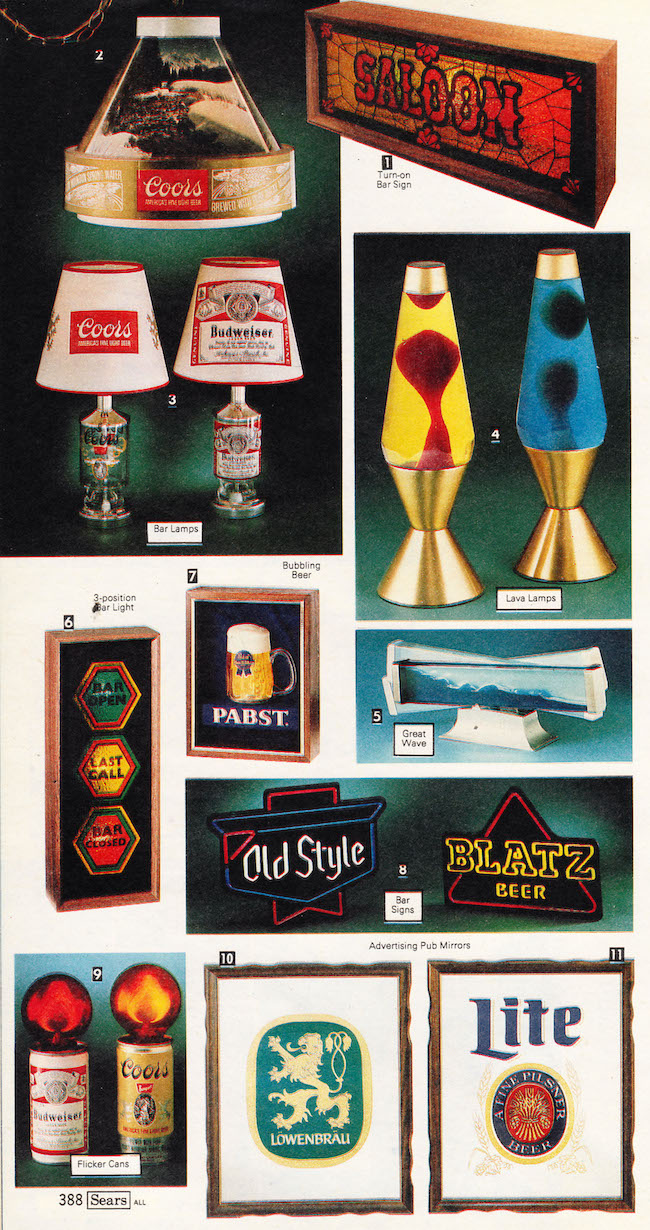 You finds loads of new and vintage lights online. Consider investing in a projector to get down like the Velvet Underground. Plus, mini-pool tables to recreate nights at your favourite dive bars…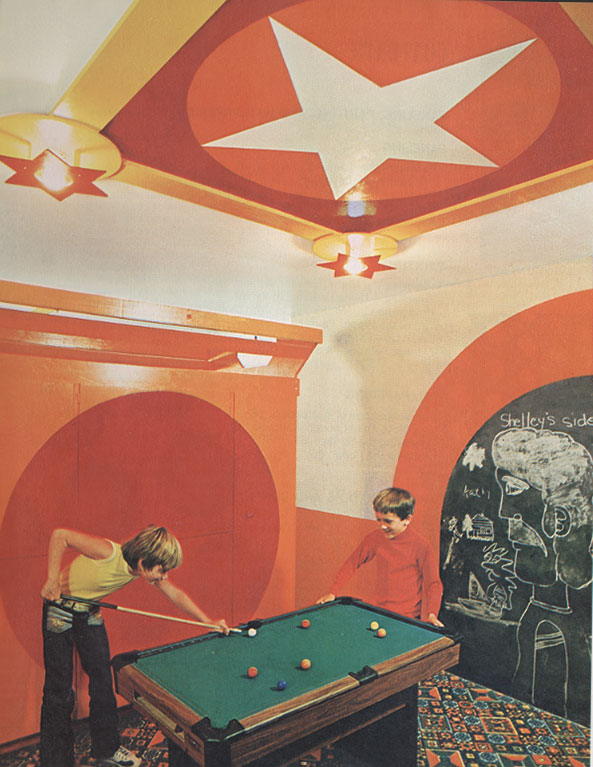 We've also got your playlist sorted here. And if you need any final tips, try this post-war instructional film on What Makes a Good Party? Desperate times call for desperate measures…