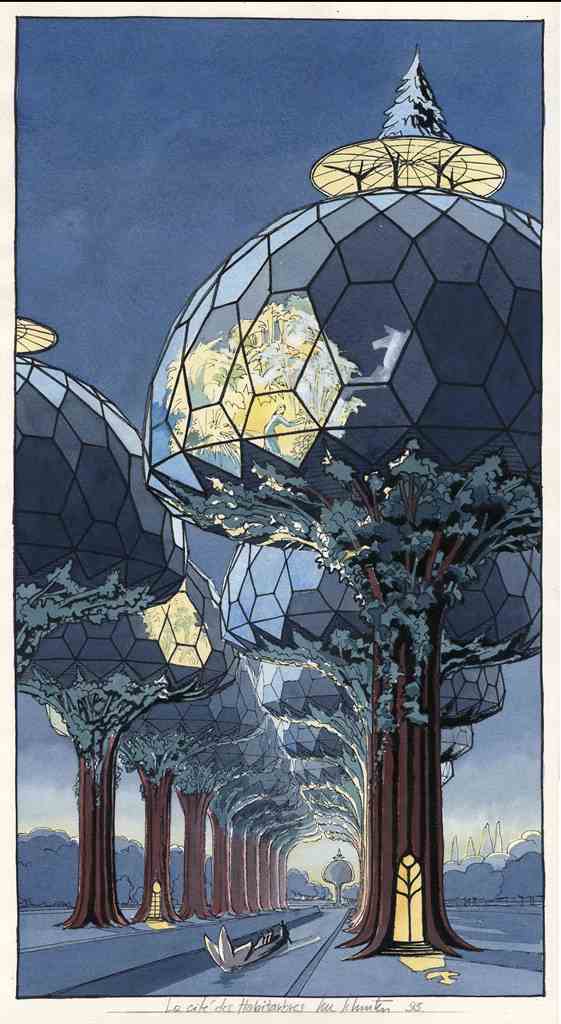 Imagine a world in which nature is intertwined with the industrial: giant lotus flowers replace concrete skyscrapers; an urban forest forms a city constantly in shift through a tree's life cycle. This is the imaginarium of Belgian architect Luc Schuiten. To discover his work is to fall under the spell of a colourful cosmos, where architectural blueprints are swapped for visionary storyboards that invite the viewer to dive into his utopian dreamscape.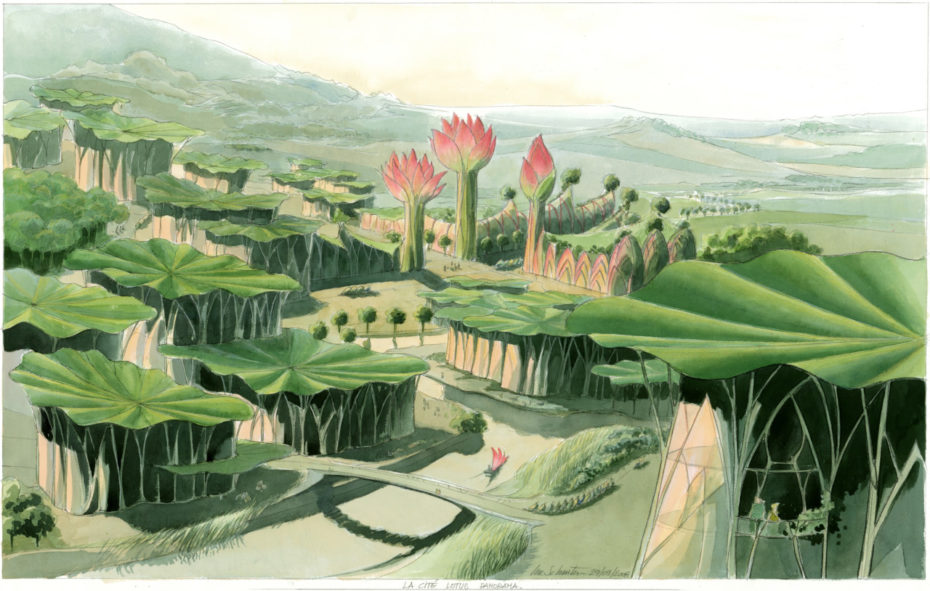 We like to think of Luc Schuiten as the godfather of solarpunk, a derivative of the more familiar 1980s science fiction genres known as cyberpunk and steampunk. While steampunk imagines a retro future with steam as the main energy source and cyberpunk imagines a techno future (and how things can go wrong), solarpunk on the other hand, is an art movement that imagines how things can get better. And in Luc's world, the future is bright, renewable, and oh so green…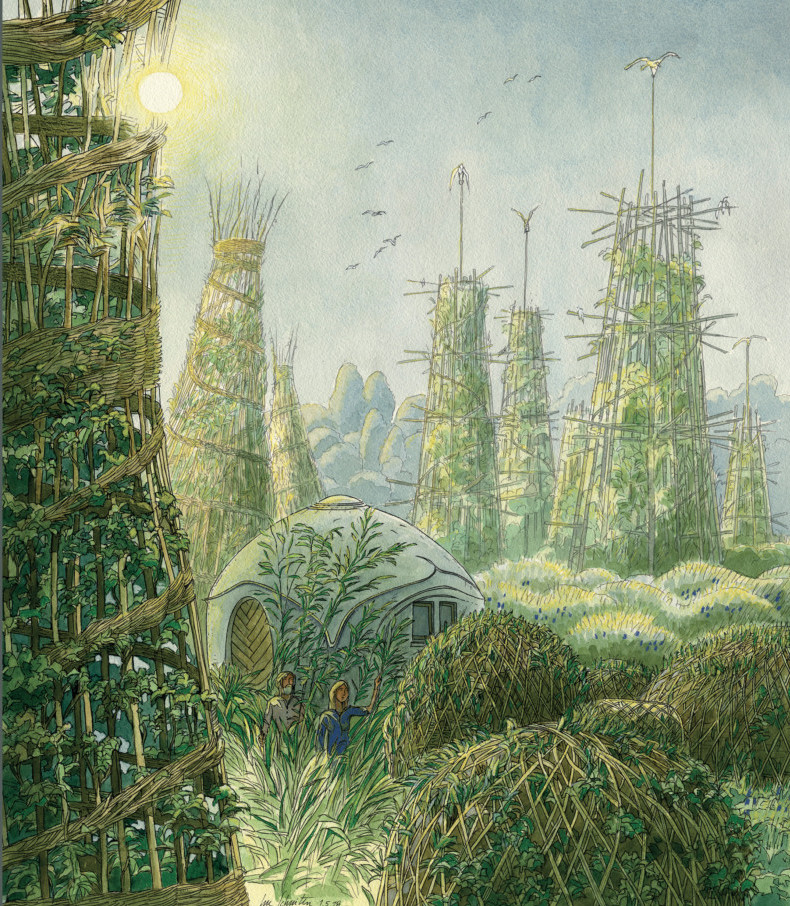 The Solarpunk ideology found its roots on the internet in around 2008, envisioning how our world could look if humanity succeeded in solving major modern contemporary challenges such as climate change and pollution. But since the 1950s, Luc (now 77 years old) has been designing for the future urban landscape based on his concept of "archiborescence," blending organic and manufactured elements for homes, commercial buildings and even entire cities of tomorrow. Whether or not it was his intention, Schuiten's work, and particularly his illustrative style, has influenced an entirely new art and media movement that encourages sci-fi culture to redirect its energy towards manifesting a more utopian vs dystopian planet. The solarpunk aesthetic is all about embracing renewable energies with visuals that include environmental elements such as wind turbines, vertical gardens, waterfalls and psychedelic nature-inspired forms. Luc Schuiten has been painting that picture for decades in the hopes of one day making it our reality.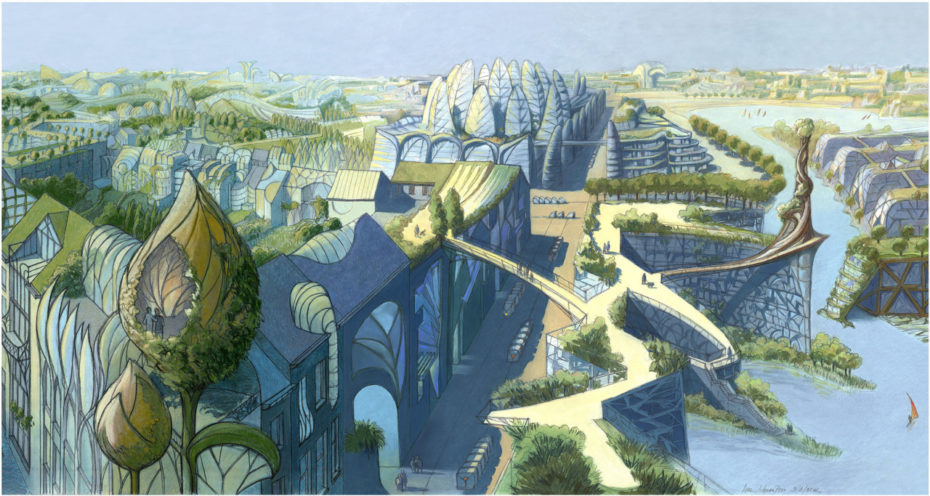 Perhaps you might have also picked up on one of the more discreet but omnipresent characteristics of Schuiten's work (and thus the Solarpunk aesthetic), which is his undeniable appreciation for Art Nouveau. It's a perfect match if you think about it. "Art Nouveau is all about incorporating organic designs," says Rosie Albrecht, editor of the solarpunk zine Optopia. "There's nothing artificial about it. It's a colorful aesthetic ripe with flowers, vines, branches, reeds, and so on," she told Enchanted Living Magazine. "Even its abstract forms tend to have soft, curving lines. It's an aesthetic that strays away from sharp corners and straight edges, which is a clear marker of human artificiality."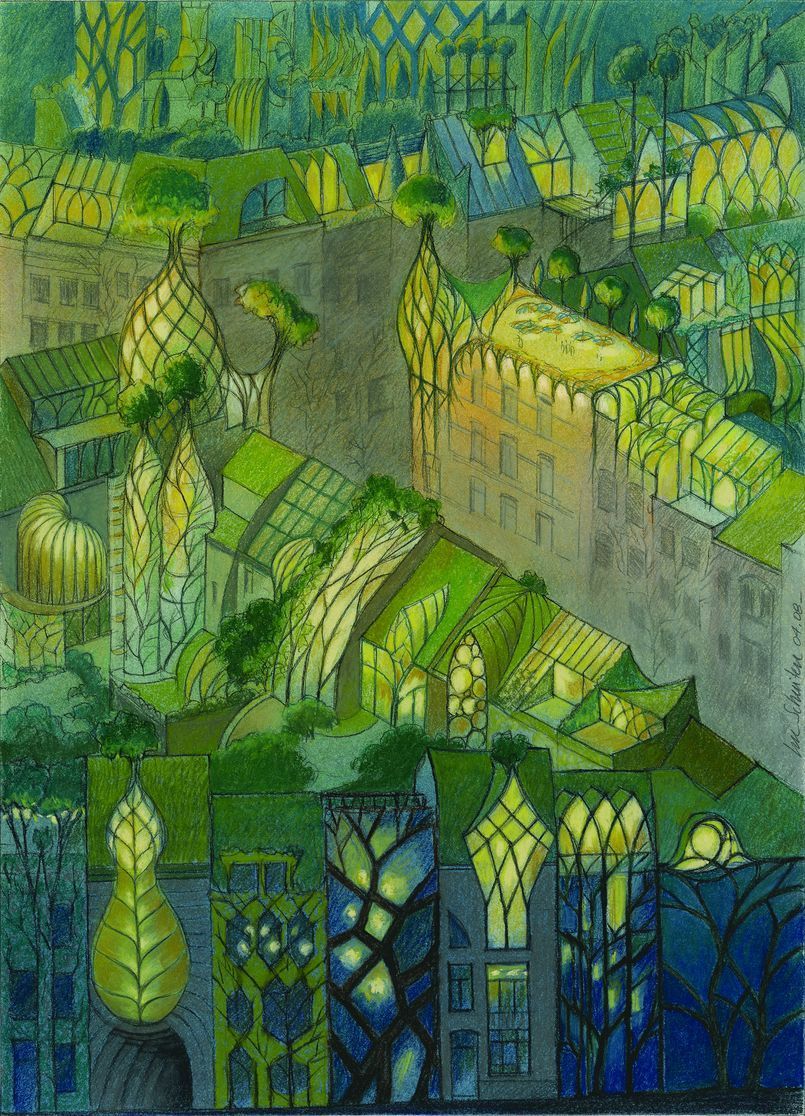 Schuiten imagines himself as a "gardener architect." His career has been defined by combining this ancestral knowledge with cutting-edge technology and modern principles, like biomimicry, which explores how the form and functions of organic elements can inspire innovation and engineering.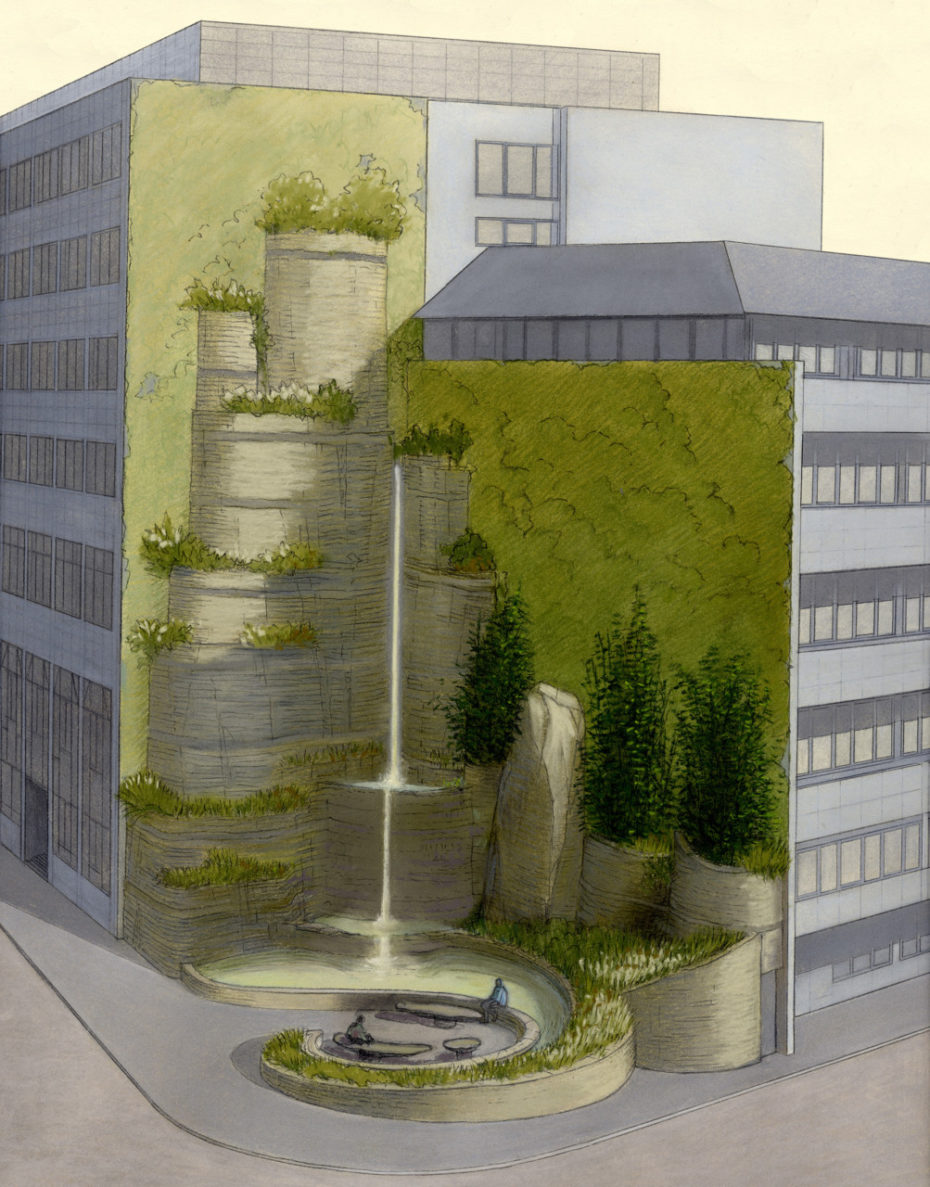 The son of an architect father and a photographer mother, Schuiten grew up immersed in the arts and as it turns out, his brother is the François Schuiten – the very same artist who you might recall had us asking: Where Has This Amazing Comic Book Art Been All Our Life? Although François's work tends to lean more into the sphere of steampunk, the similarities between the siblings' style is unmistakable – both are keeping the Art Nouveau and Arts and Crafts movements alive with their beguiling illustrations that let the imagination run wild.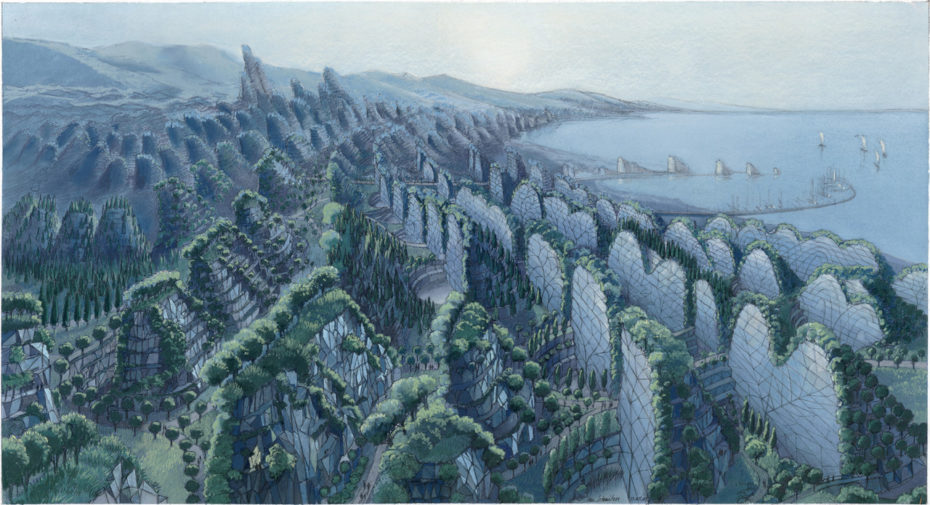 Luc was trained at the Royal Academy of Fine Arts in Brussels and developed a passion for exploring social issues in his work. In 1970 he became part of Mass Moving, an artistic street movement inspired by France's radical student activism during the uprising of May 1968.
While his work evokes a whimsical aesthetic, Schuiten has dedicated his career to addressing not only pressing global issues like climate change, but also societal problems such as homelessness.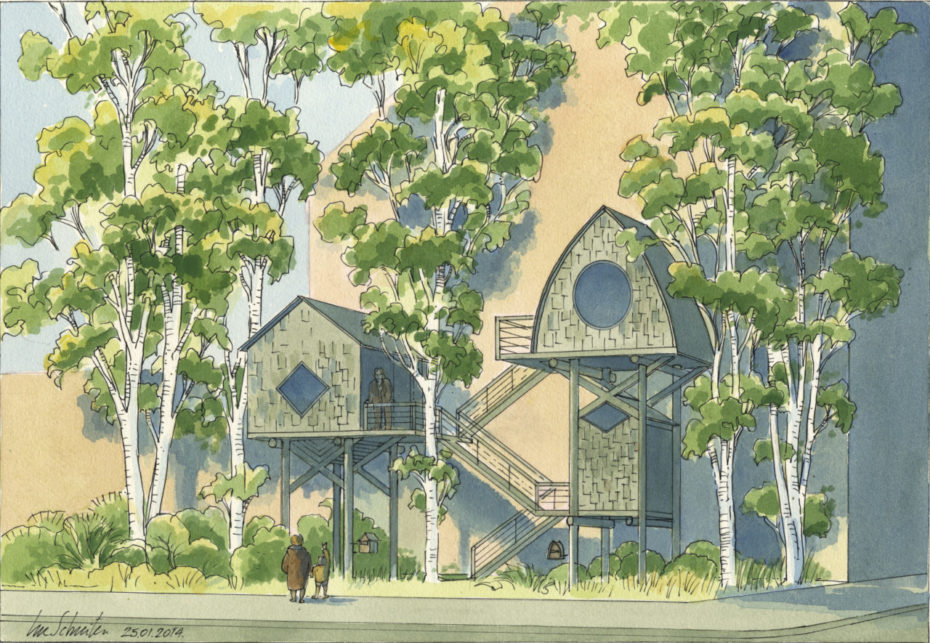 He explores solutions to the challenge of homelessness with the projects like "Diogen Refuge" and "Archi Human", proposing to build urban eco-shelters in our cities' unusable residual spaces, or what he calls "cold architecture", and make the most of vacant corners or blind facades that have fallen into neglect.
On the climate front, his biometric model shows the ever-changing metropolis of Shanghai becoming less and less polluted each year thanks to biotechnology. In Schuiten's home city of Brussels, he promotes a return to the past, where concrete fades to streams and cobblestones to valleys.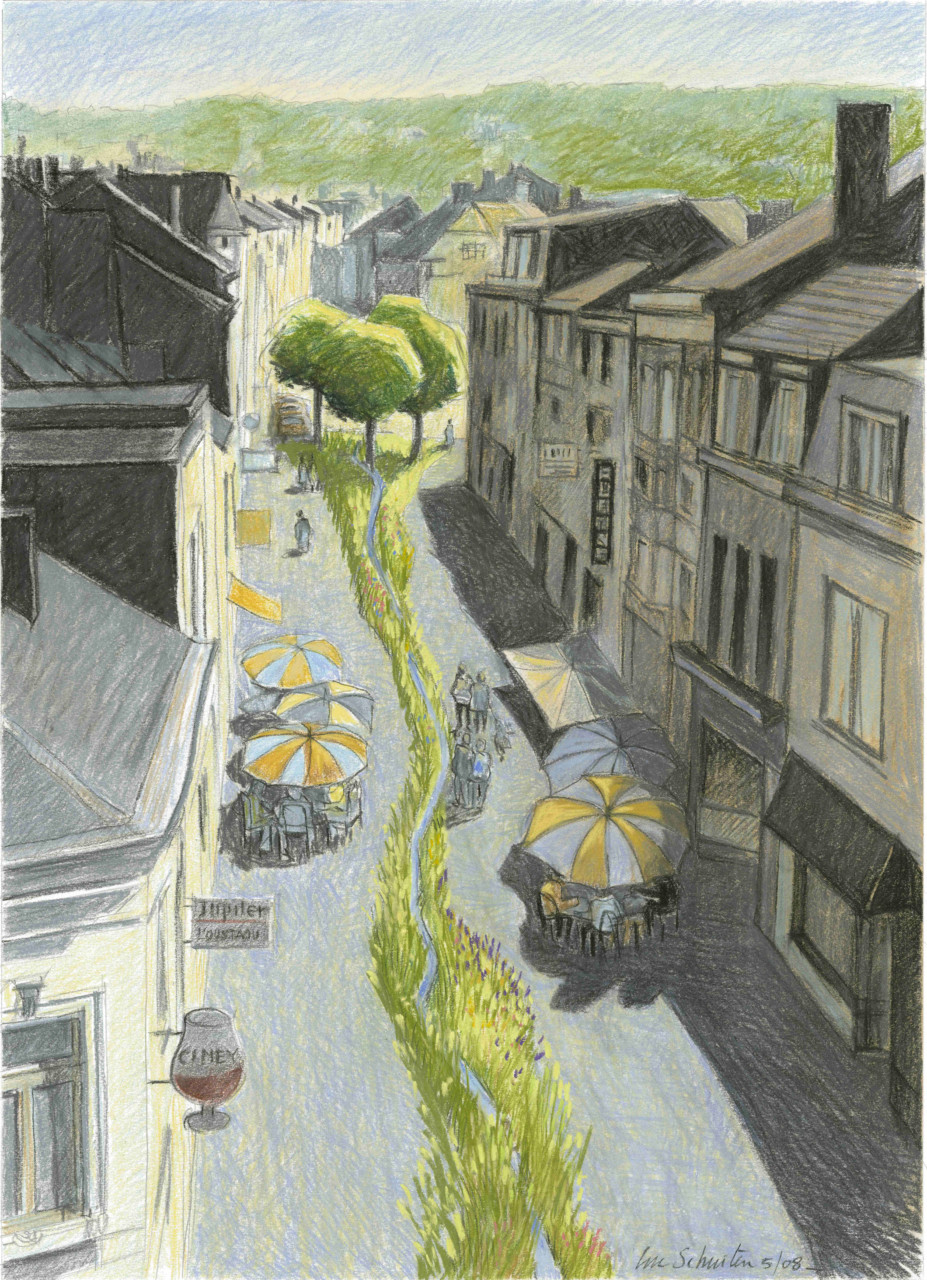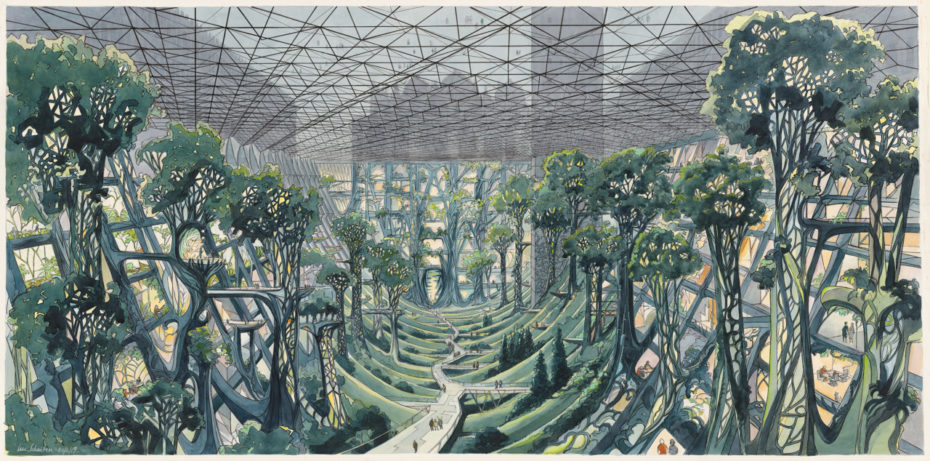 Luc has envisioned his "Cities of Tomorrow" based on urban centres around the world. In Venice, a city existentially threatened by climate change and rising water levels, he designed a bioluminescent geography that extends below the canals. A glass slab allows visitors to view the historic buildings above, but in a controlled ecosystem.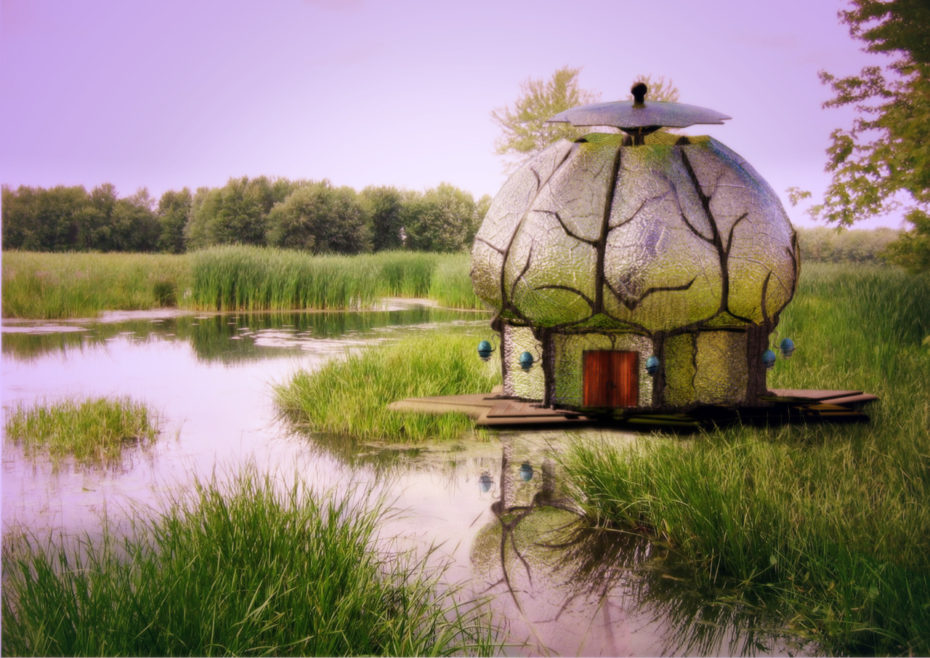 Schuiten's work often envisions grand cityscapes, but he also give as much dedication to individual structures; the 1977 "Maison des Cerisiers" ("Cherry Tree House") was his first concept for a building constructed with living organisms.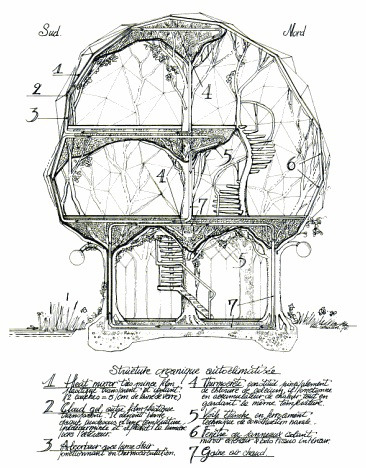 Fascinated by a heptagram (seven-pointed star) he created a design with nine cherry trees, but you must wait patiently for them to grow and form the pavilion. As he wrote in La Libre, "With this project, I explored new creative spaces, freed from the constraints of production; the dream alone mattered to me and was worth the trouble of daring."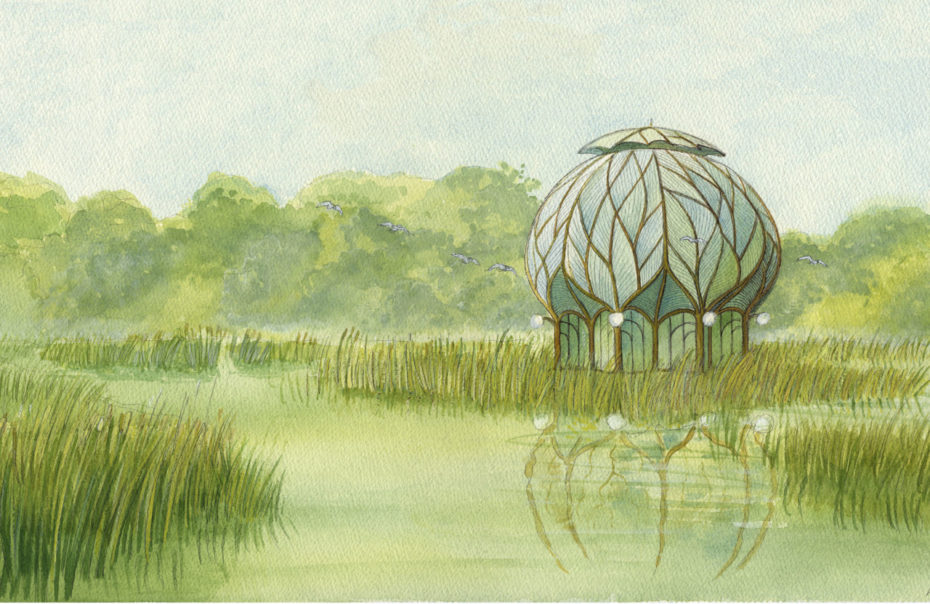 One of his other early projects, "Oerjona," is an A-shaped home in the woods that he made for himself as one of Europe's first green homes, decked out with solar collectors, a water tank and a glass roof. Living in "Oerjona" for 10 years, he said the goal for the "architect, builder and owner" was to live closer to nature.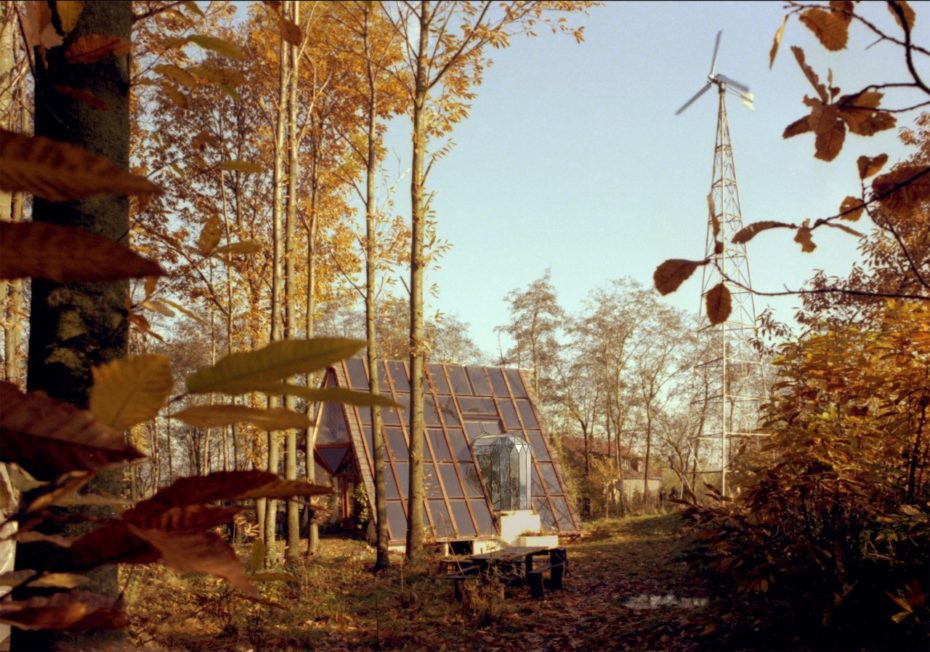 During the 1980s, Schuiten collaborated with his brother François on Les Terres Creuses (Hollow Lands), a comic book series using science fiction to explore the city of tomorrow. Carapaces, the first volume, took inspiration from the Pueblo houses of Native Americans in New Mexico.
He has continued to explore these imagined communities through the "Archiborescent Cities" series. Schuiten's vision for the French city of Tours is inspired by termite mounds that have stable interior temperatures throughout the year thanks to ventilation ducts. The trunks of giant sequoias provide the base for towers that line the city, serving as apartment buildings. Convoys transport goods and people, and are powered by methane from planktonic algae cultures.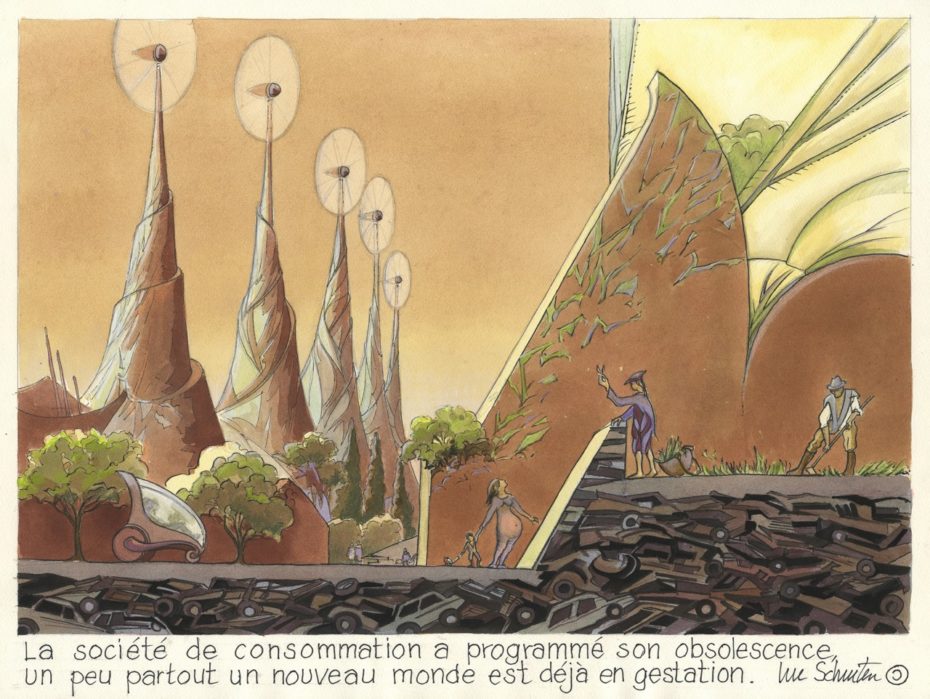 As Schuiten told Liberation, "Today, building is first of all to destroy: felled trees, terracotta, cut stones, melted ores. The archiborescent city is alive. It regenerates from its own waste. It is conceived as a coral reef, where all the systems feed on each other."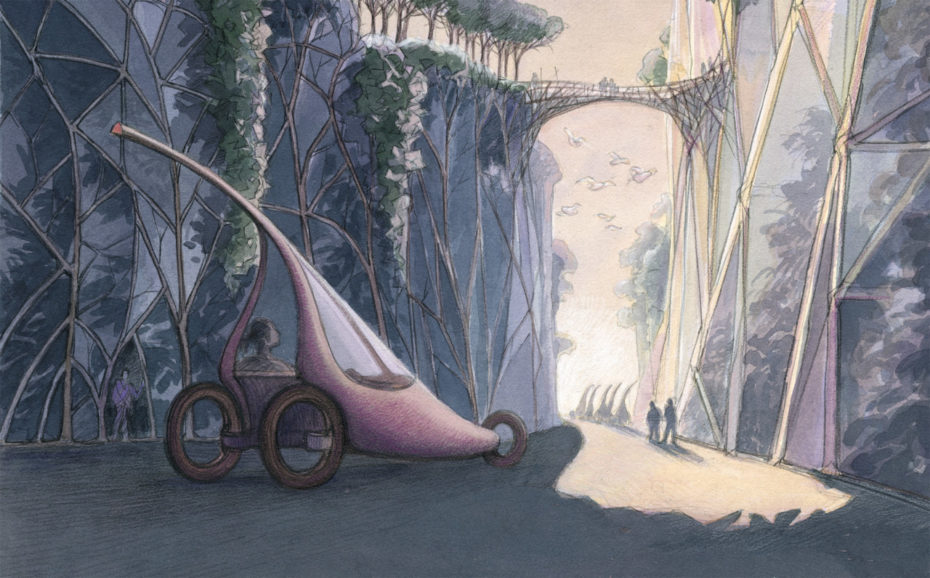 Outside of architecture, Schuiten continues to experiment with sustainable design and mobility. The "Velusome," is his two-seater concept vehicle that's shaped like a tree leaf and bird's egret, influenced by the recumbent bike. It moves silently through the streets, "like a leaf fallen in the river." Schuiten's creations have even extended to the skies: his "Ornithoplane" is a biometic solar-powered airship and the "Flying Ray," is inflated with helium and moves in three dimensions like a fish in water.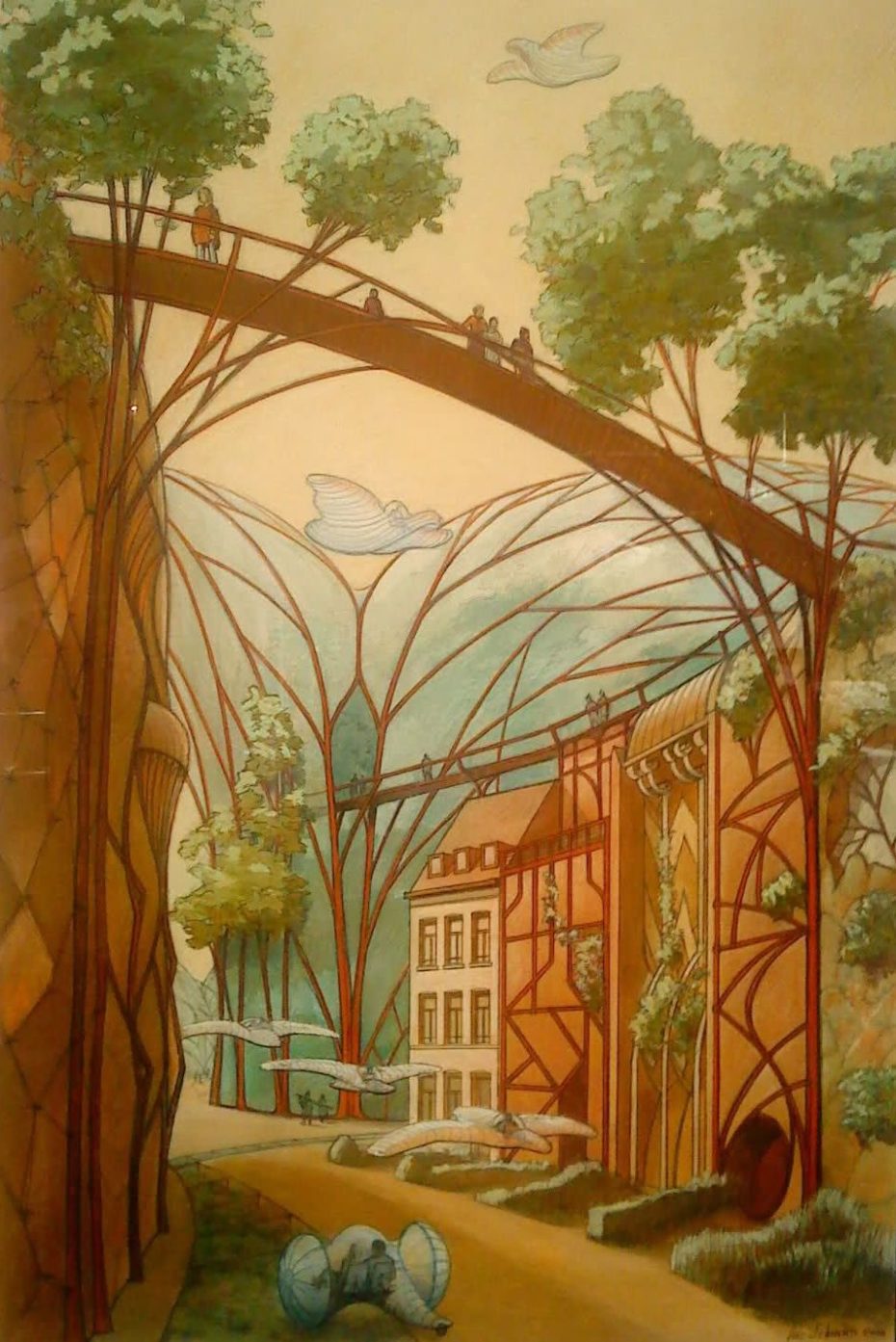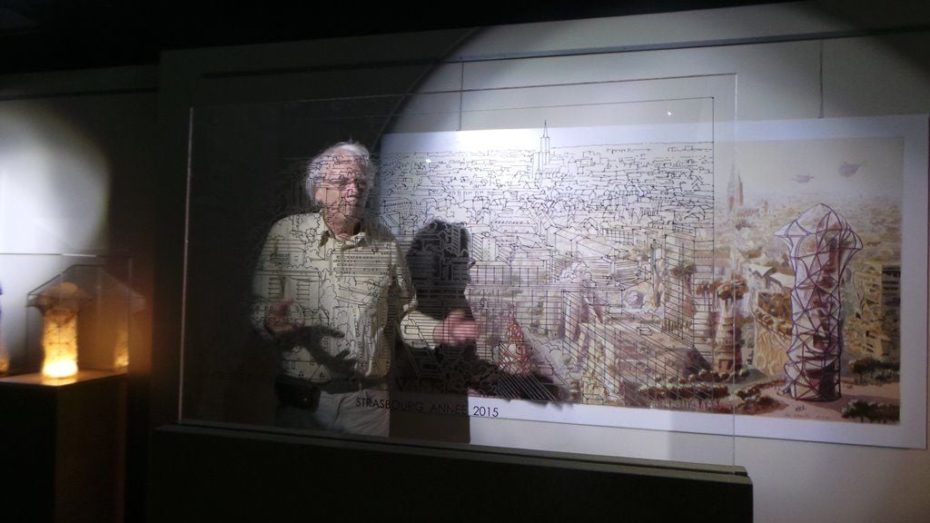 At the age of 77, Schuiten doesn't show any signs of slowing down. He recently designed a green futuristic forest for what will soon be Europe's tallest fresco, a 54-meter façade that will revitalise an urban district in Southeastern France. Aspiring urban planners and young architects are also invited to be a part of his Archi Human homelessness project on a voluntary basis.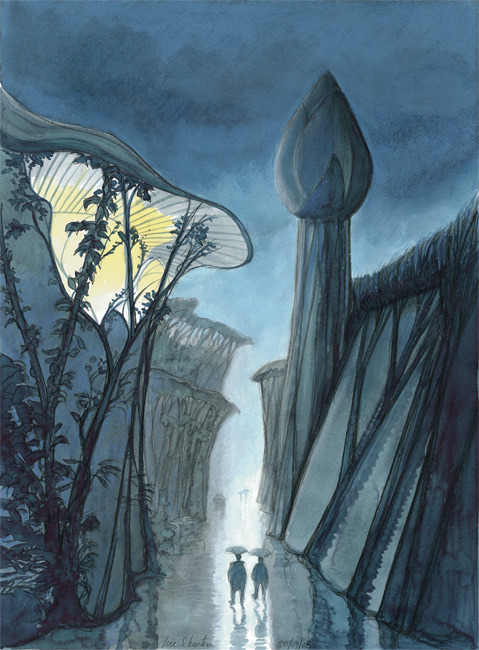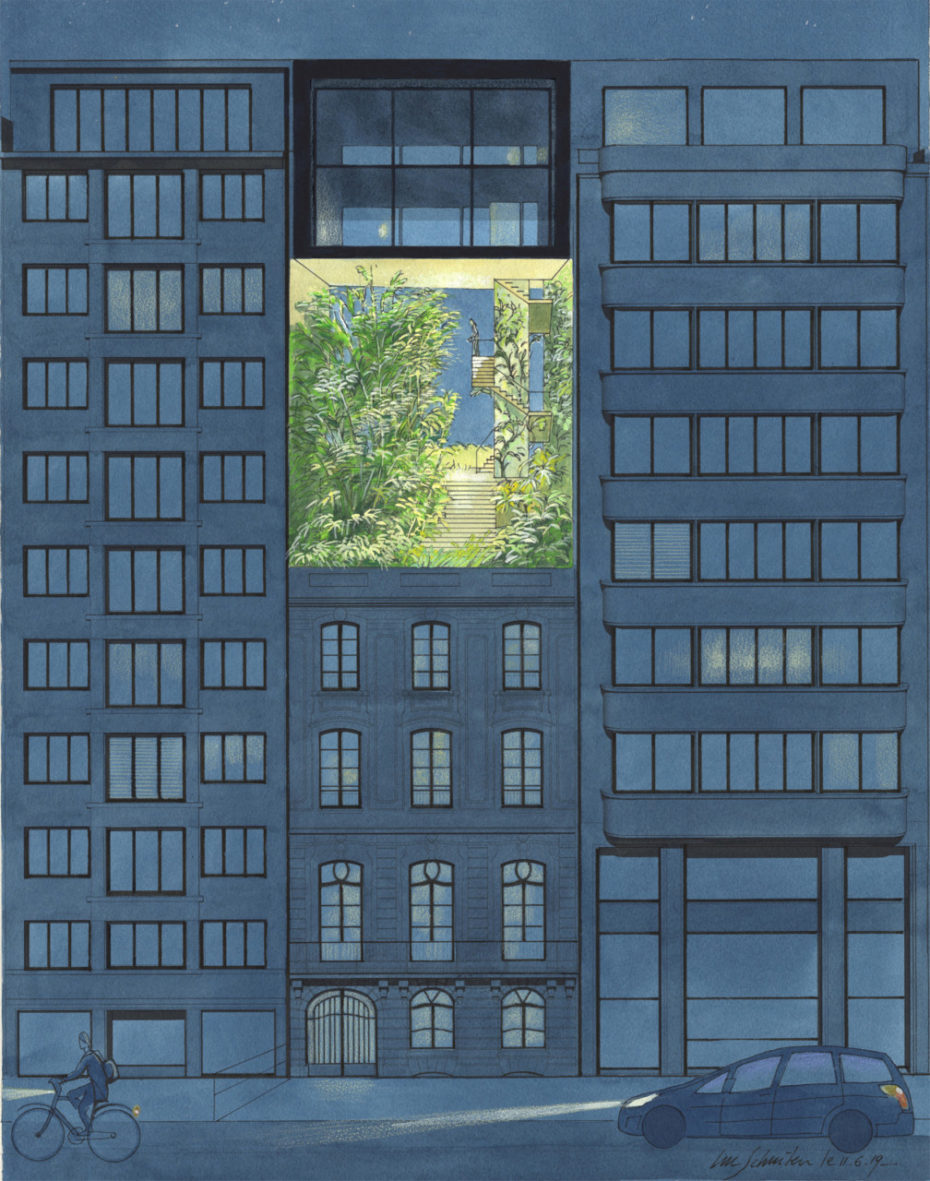 If nature has a chance at winning back some territory in our cities for a more sustainable future, Schuiten's life's work and the solarpunk movement he anticipated may just be our shining light. Perhaps these are the kind of ideas we should be elevating rather than merely dismissing as conceptual art. Impossible utopian dream? We'd rather file Luc Schuiten's imaginarium under "somewhere we'd like to live one day".
All images courtesy of the Luc Schuiten website.
If you happen to be in Paris between June and October, Schuiten is exhibiting some of his outstanding architecture drawings at Galerie Perspective from the 17th of June till the 16th of October 2021.