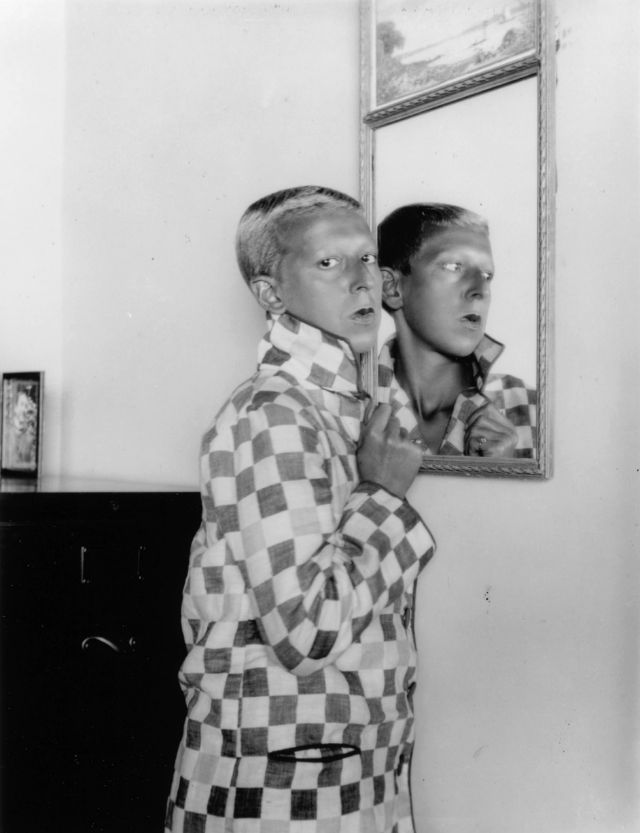 Who was Claude Cahun? As ambiguous as an empty page, a radical and an indefinable surrealist who traversed social construct; artist, performer, photographer, sculptor, writer, WWII resistance fighter, female, male, other; Claude Cahun was all of these things, or none of these things. As a largely unknown early pioneer of queer culture, Claude found later notoriety with Dior and David Bowie, who cited them as an influence. The uncelebrated outsider who never sought fame and is only now gaining a cult following, led a life filled with contradictions…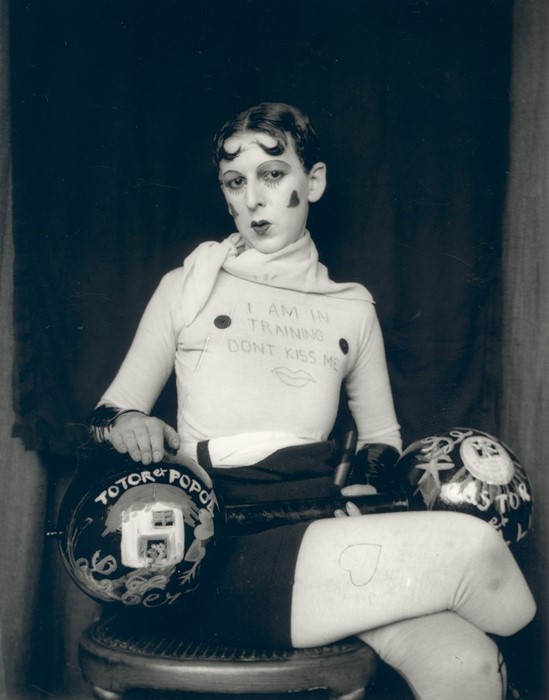 "You could call her transgressive or you could call her a cross-dressing Man Ray with surrealist tendencies. I find this work really quite mad, in the nicest way. Outside of France and now the UK she has not had the kind of recognition that, as a founding follower, friend and worker of the original Surrealist movement, she surely deserves."
– David Bowie on Claude Cahun
Cahun was born Lucy Renée Mathilde Schwobin in France, in 1894 to a prosperous and influential family, a Jewish father who owned a local newspaper, and two uncles who were prominent writers. Cahun's early life was marred by the institutionalisation of their mentally ill mother and the ever-increasing anti-Semitism of the time.  Following the departure of their mother, Cahun was sent to live with a paternal Grandmother, who would diverge from the usual instruction befitting a girl at the time of needlework and embroidery. They read theology and philosophy, and explored antiquity and mythology; their intellectualism and curiosity blossomed. After an Anti-Semitic attack at school, Cahun was shipped off to study in England, returning two years later to meet the person who would have the greatest impact on Cahun's life, and to talk about one you must also talk about the other. Suzanne Alberte Malherbe later to change their name to Marcel Moore, would become a friend, then a stepsister, a confidant, and artistic collaborator. Partners in love and war, inseparable elements intertwined through creativity and individualism that dared to be different. Together they would defy the social constructs of gender, the constraints of perceived beauty, and the Third Reich.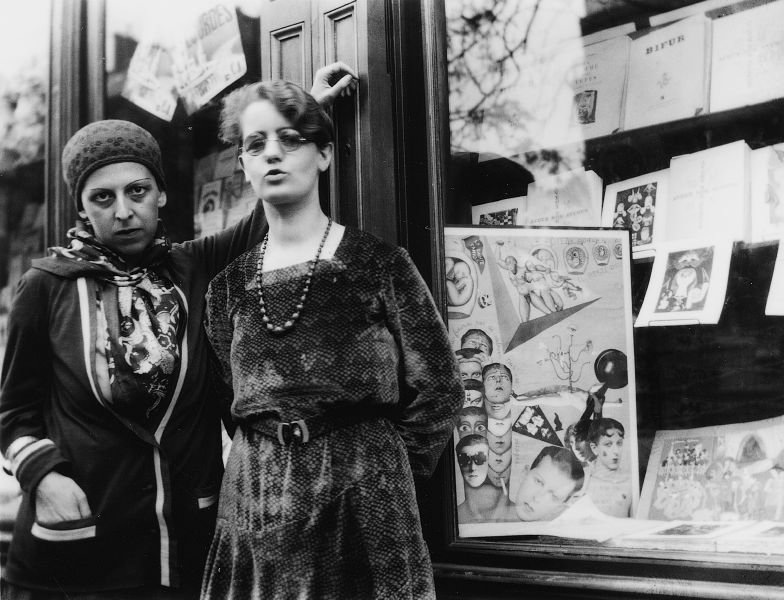 Cahun had met Moore in 1909 through family friends when they were teenagers, and it seemed the catalyst they needed to begin the exploration of creative non-conformity had arrived. After an initial ban of their burgeoning relationship by Cahun's father, prompting Cahun to go on a hunger strike and an Ether binge (a prelude maybe to the rebellious activities that were to come), he reluctantly accepted the union. Cahun had begun writing poetry and exploring identity through dress and makeup. Questioning the cultural status quo of the conservative times, becoming involved in Avant-Garde theatre and performance, Cahun shaved their head, began to dress as a man, began to dress as a man dressed as a woman, crossed and blurred lines, and took on the French genderless first name of Claude.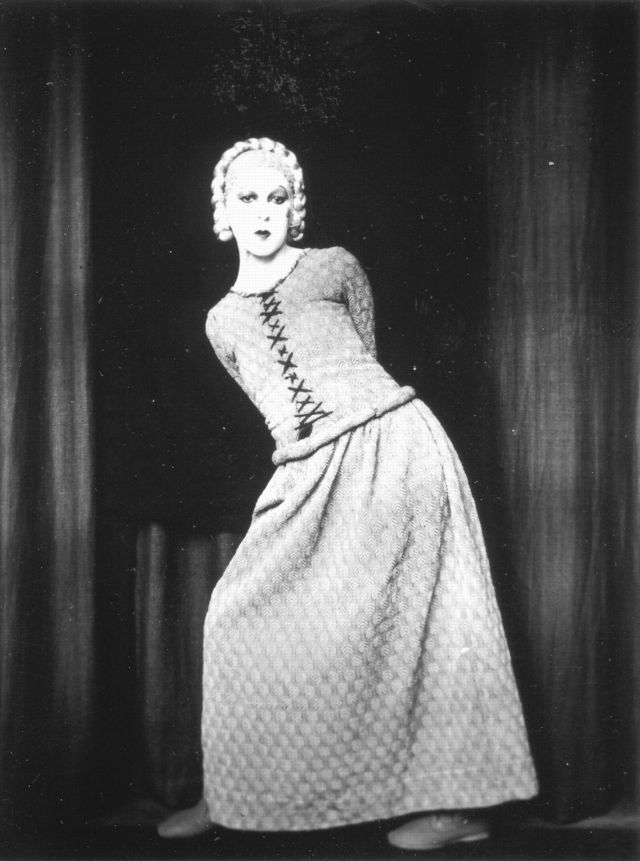 In the 1920s, Cahun began to experiment with the photographic image, an exploration of what we perceive in the representation suggested to us. How we look suggests what we are; what we wear shows others where they should place us in established gender identities. The images are of a cast of characters all portrayed by Cahun, to the observer they could seem to be self-portraits but the 'self' is absent, instead, we are asked to examine our own pre-conceived ideas of, who we are. In their memoir 'Disavowals' Cahun wrote:
"Under this mask, another mask. I will never be finished removing all these faces."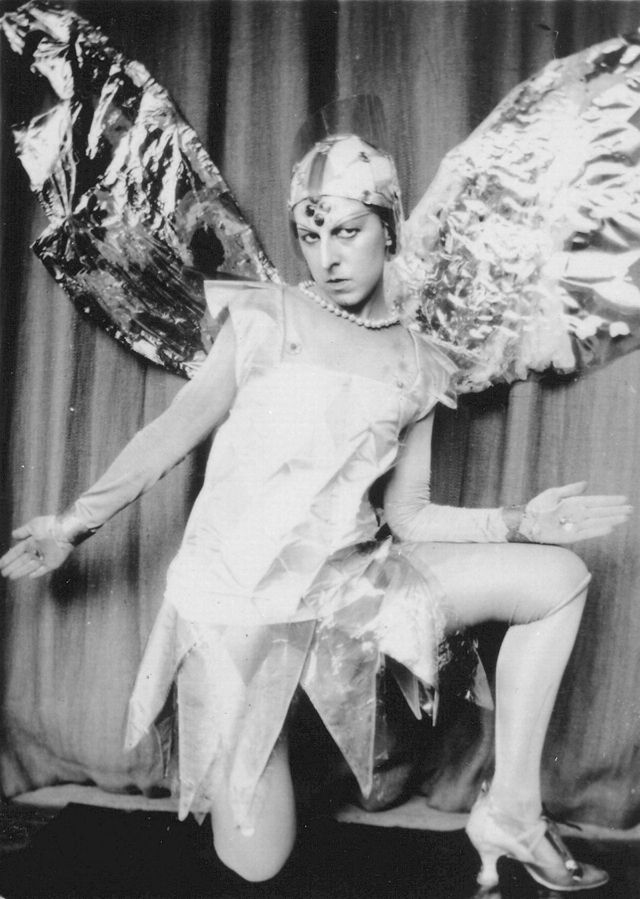 Moore, who had become a graphic designer and illustrator for fashion magazines, would seem to be behind the camera for these, a collaboration that wouldn't become evident until later. They became involved in the Surrealist movement And joined the Association des Écrivains et Artistes Révolutionnaires, they exhibited and wrote, but received little recognition at the time. Their radical, genderless exploration of the absurdity of self-classification seemed to be too much even for bohemian Paris of the 1920s. Cahun's 'performances' wouldn't be just for the camera lens, they would morph into various personas while simply walking around Paris; dressed as a sailor, a vampire, mannequin or an angel.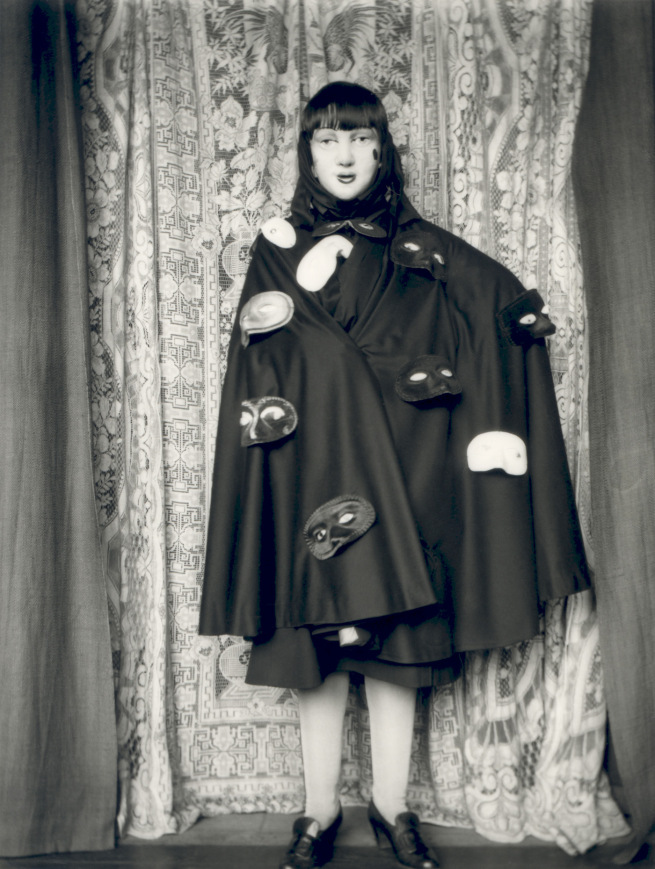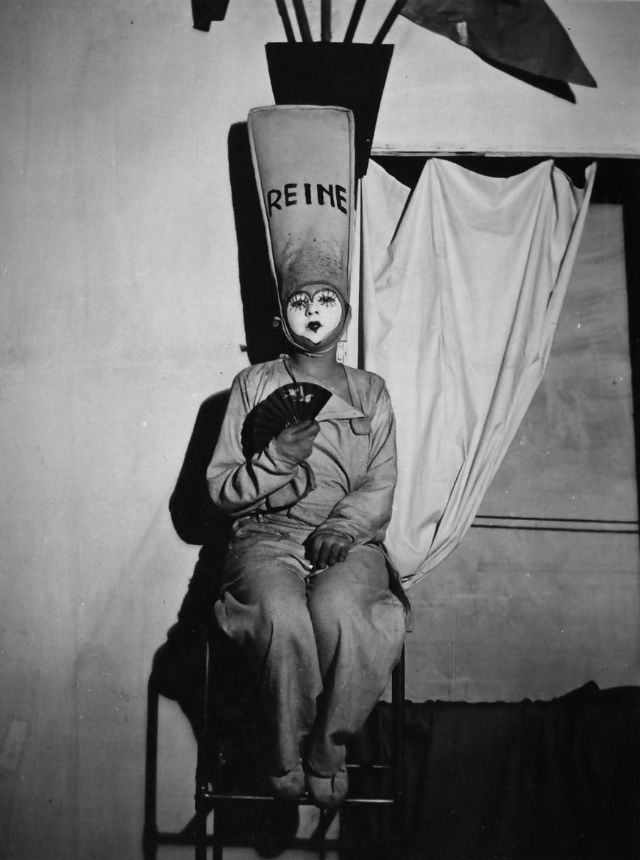 In 1930 autobiographical 'Disavowals' or 'Cancelled Confessions' was published and if anyone was looking for any insight into the character of the artist, they were left drifting in the surrealist anti-biography of someone that couldn't or wouldn't be defined so easily. Better to keep your audience guessing.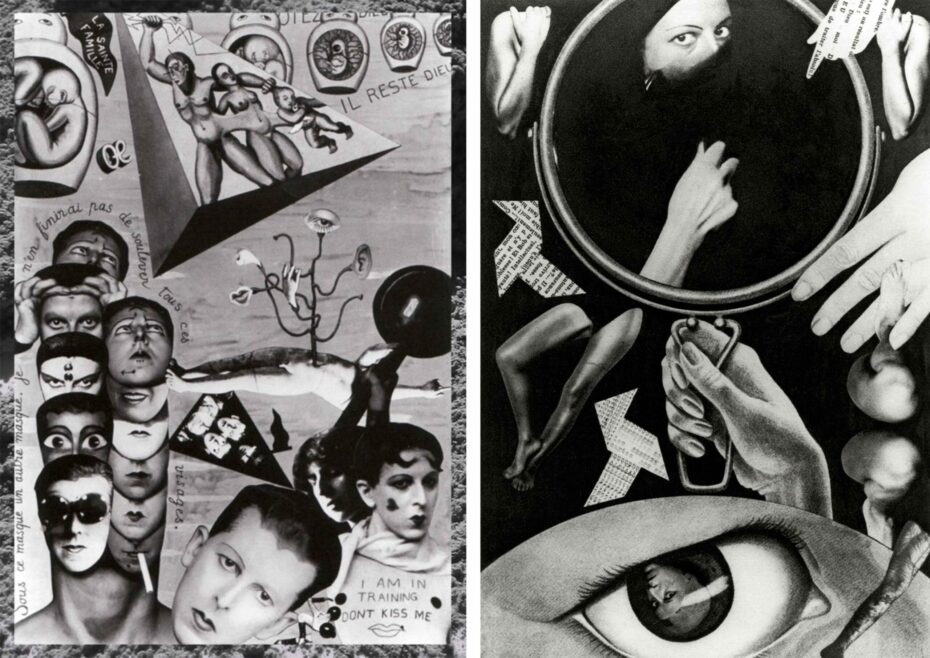 Dadaist Photomontages still explore the idea of self but are cast as an object through the scrutiny of assigned roles in a patriarchal society. Elusive as ever, Cahun gives nothing away, and leaves to change into their next persona.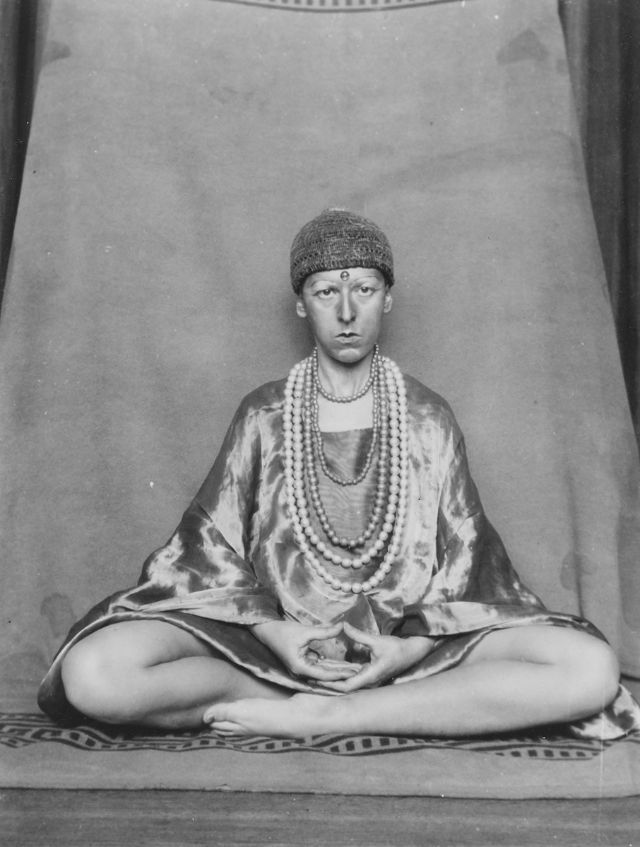 By 1937, Fascism and the Nazi party were on the rise and when war looked inevitable, Cahun and Moore decided to depart to somewhere out of reach of the Third Reich, or so they thought. They had holidayed in Jersey, one of the British Channel Islands previously, and sort out its seclusion and a chance at anonymity among its hills and beaches. They reverted to their given names, took their cats for walks on leashes, sunbathed naked, and were known as 'the sisters'. Their creative tranquillity was to be broken though with the invasion of the island by the Nazis in 1940 and thus began only what can be described as a Surrealist campaign of resistance. The couple would produce hundreds of what they would later describe as 'Paper Bullets', illustrated pamphlets spreading information to the German troops. They were dotted around the island placed on café tables and inside magazine racks and even placed in coat pockets of the Invading force and they were all signed 'The Soldier Without a Name'. For four long years they managed to keep up their resistance until they were finally caught in 1944. On capture, they attempted suicide with a bottle of barbiturates they had procured, but both slipped into comas. On their recovery they were, tried, convicted, and sentenced to death. Claude was 54. The Gestapo could not believe it was just these two women involved in a campaign of defiance, and questioned them relentlessly to find their male director. Cahun, in a last act of love, admitted to being from a Jewish family to steer all the blame away from Moore.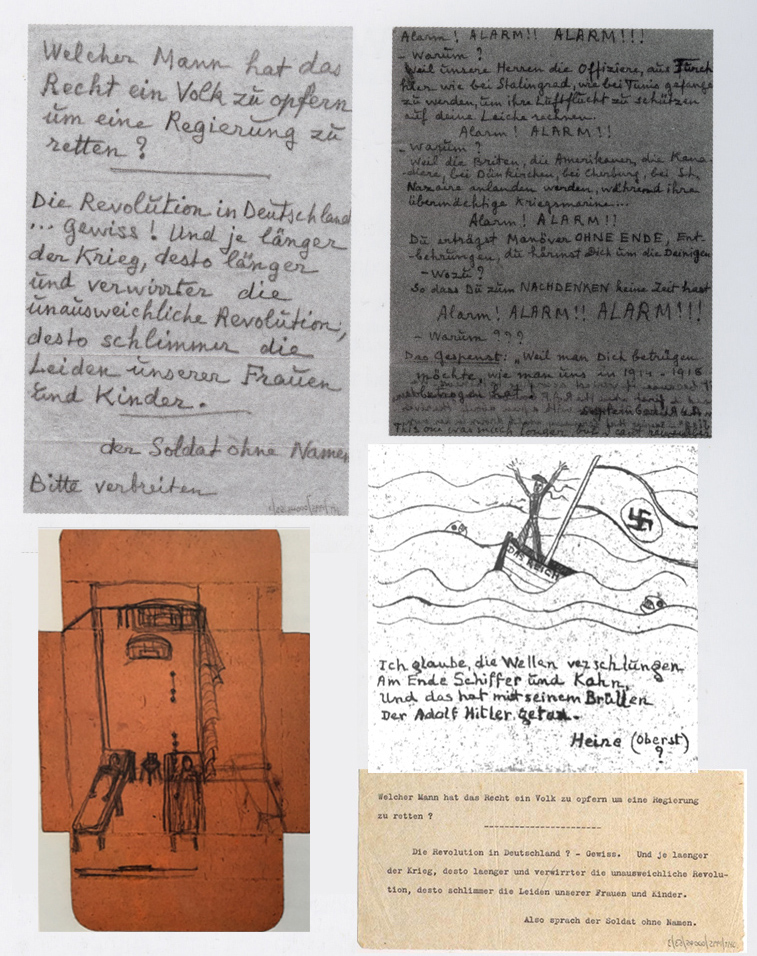 The Nazis were unrelenting and while the couple awaited execution they wrote and illustrated pictures, defiant until the end. Before the sentence could be carried out, the Island was liberated, as were Cahun and Moore. They lived out the rest of their lives in Jersey, still collaborating together in creativity. Cahun passed In 1954, having never quite recovered from her detention by the Nazis. Moore died in 1972 after taking their own life.
Claude Cahun's legacy would lay undiscovered and mostly forgotten until the publication in the 1990s of the biography Claude Cahun: Mask and Metamorphoses by François Leperlier. And with the rise of awareness for LGBTQ rights, Cahun has found a wider audience.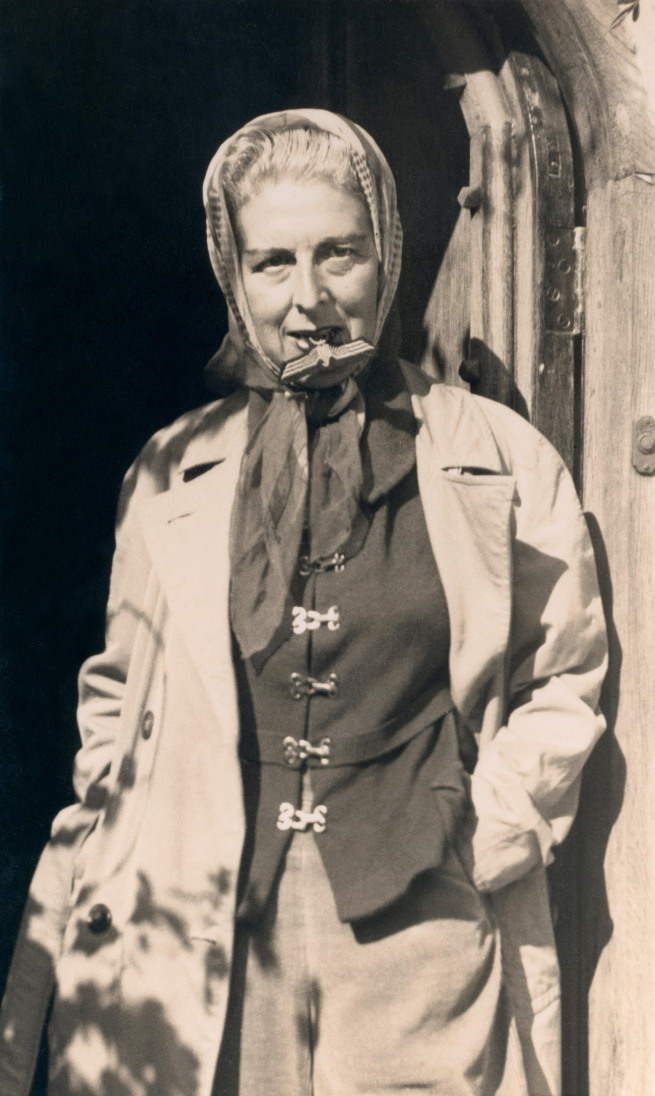 ''I am ambiguous to you. Neuter. You can neither make head nor tails of me.  I provoke your Metaxyphobia. Your, fear of the in-between. I challenge you to a duel gazes, who looks away first loses''
– Claude Cahun