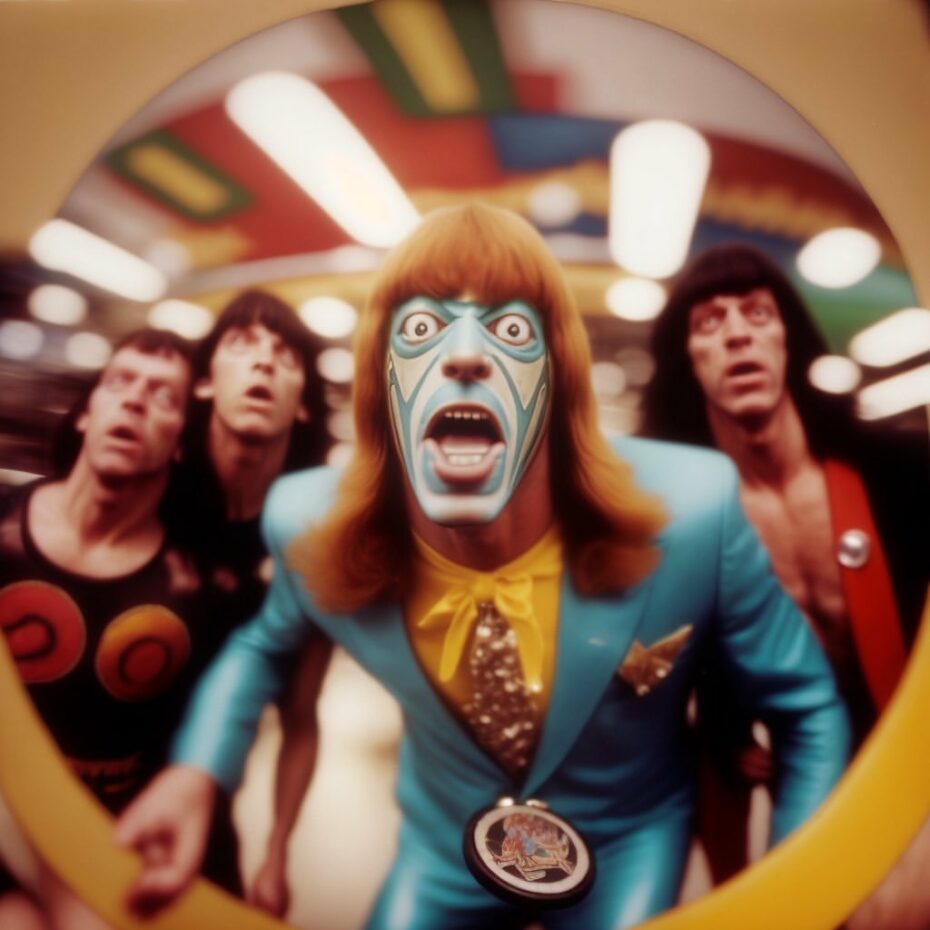 Artificial intelligence is well and truly here. In the past few months, we've seen the release of revolutionary software that puts the technology in the hands of the general public as a creative tool, both for generating art and written content. Whether your experience with AI-powered art is limited to seeing it pop up in your Instagram feed, or spending a few hours of messing around on Mid Journey (one of the AI-powered platforms available), like us you probably still have a lot of questions. There is a new niche of talented artists who have found the key to working with AI-powered text to image software, unlocking its potential to produce truly beautiful and unique work. And Wen Wormhole is one of them. He defines it as a "Glam Rock Sci–Fi Universe" powered by AI, but at first, it's hard to tell if you're not in fact looking at a real photograph taken on tour with a 1980s rock band or on a 1960s sci-fi film set, or even backstage in the glamorous underworld of vintage wrestling. It's even harder to imagine these vivid images and the characters in them are created purely by written prompts typed into machine. So who better than the AI-artist themselves to help us get our head around this ground-breaking new art form…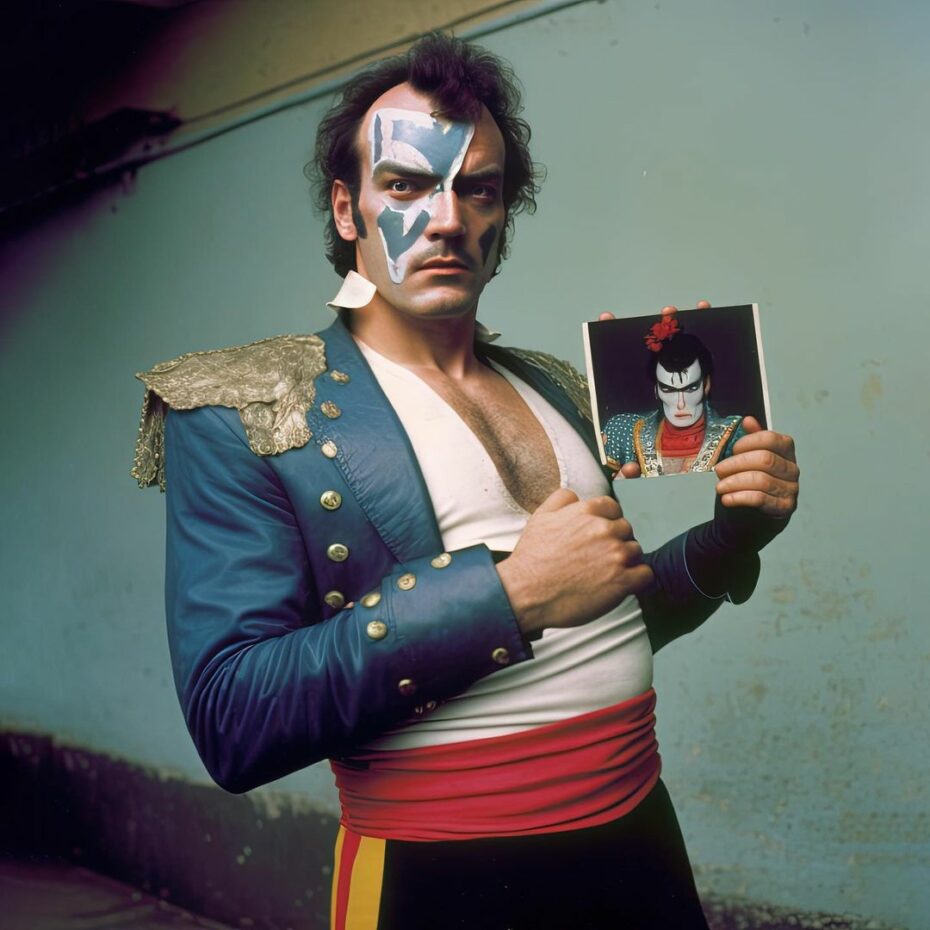 How did you get into AI generated art? And what kind of art were you doing before?
Last year I started reading about DALL-E and saw for the first time how text could be transformed into images. It was something I was very excited about, as I always loved producing imagery given my background in photography. In the photographic industry, I worked through different stages from starting out assisting a local car photographer at 16 years old, to moving into bigger cities in Germany to be able to learn more until I eventually ended up in London. Throughout my twenties, I had then worked as a lighting director, digital tech and photographer and got very familiar with how fashion images are being produced. However, when I got my hands on AI image-generating software, I realised how I can use my learnings from that field and build a visual world which I couldn't really do in the same way with photography as a medium.
Your work shows just how much the artist's imagination and curation plays such an important role in the process. What else does it take to create good art with robots?!
I think a background in any visual creative domain is very important, firstly to be able to work with references, build stories and ideas from that and abstract the world around yourself. On the other hand, being able to curate a selection of images that lead to an identity that makes sense and is cohesive is just as important I think. The ease of generating images using AI can be a trap as it is very easy to switch styles, topics and copy ideas, therefore making it more likely to end up with a mashup of styles that will water down any sense of visual identity. Hence I believe that it is paramount to cultivate scepticism towards anything that comes out of it and question how that fits into the grand scheme of work one has already produced, one wants to produce and has been produced by others.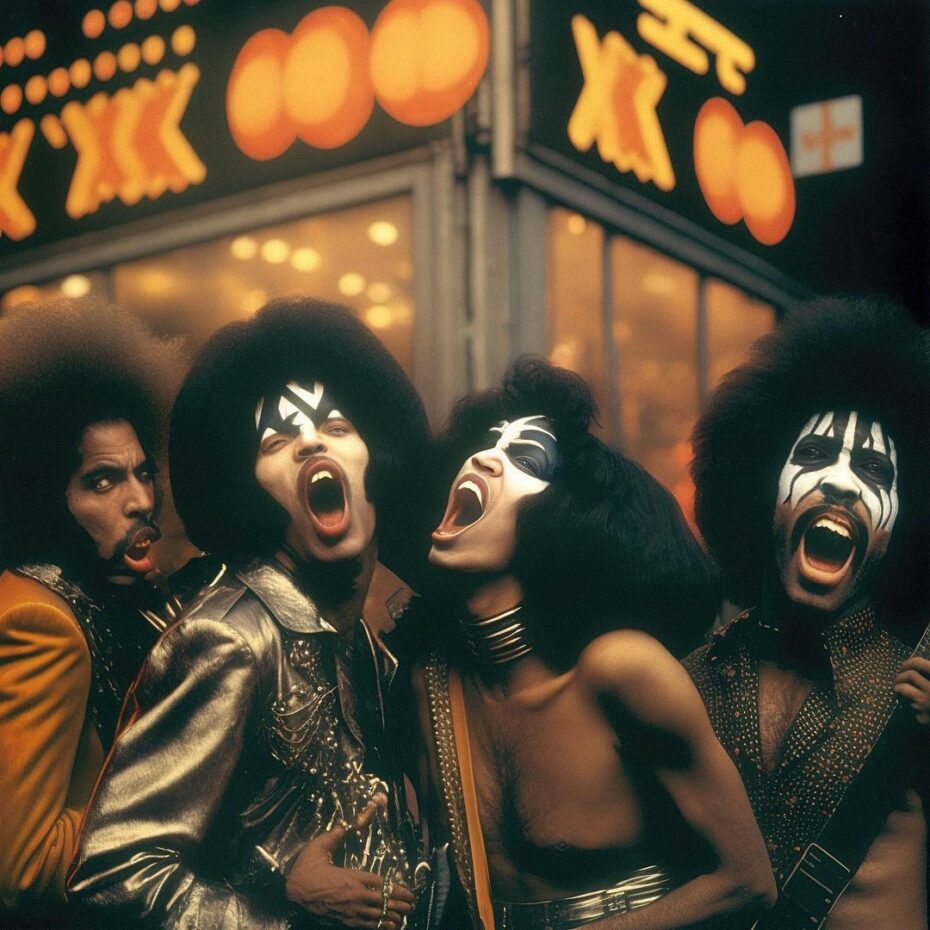 Turning words into art with AI – your commands must be incredibly detailed and descriptive to create the images you do! It's a little mind-boggling to be honest. Can you explain a little bit how that part of the process works for you?
I basically tend to work with old glam rock references, certain science fiction elements, crazy looking synthesisers or machines and sometimes architecture from different eras. I'm always descriptive about the lighting, facial expressions, the environment, certain props, the fashion, hair and other things depending on what I work on.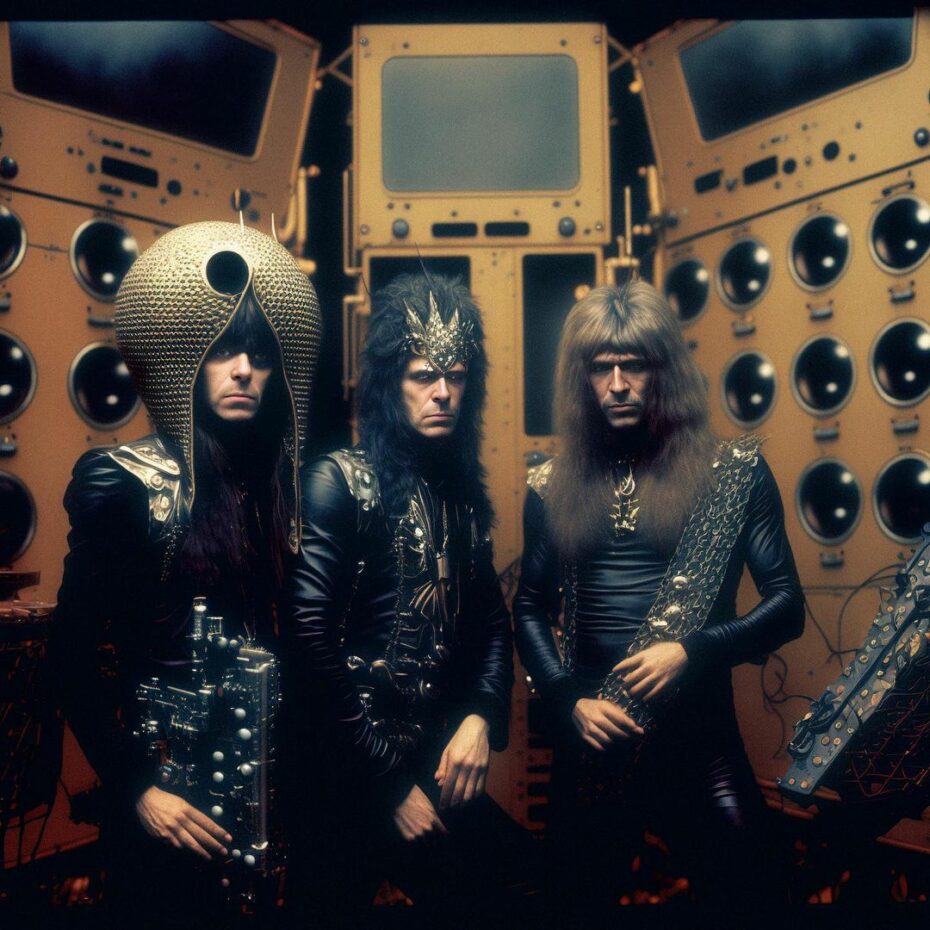 How long does an average work take you to complete?
It can vary a lot, anywhere from 30mins to 3 hours for one image.
Do you consider yourself the sole creator of your works or do you consider it a collaborative process with AI?
To me, it resembles a very similar process and method to producing images as an art director. They typically don't execute the technical aspects but decide and inform a team about the required aesthetic of several aspects. The same relationship can be created with an AI. Deciding on the general concept, casting, location, hair and makeup, lighting, colour grading, the fashion and having to put it into context with other images. The AI is basically the team that returns an image based on all these aspects. Hence I find it collaborative in a certain weird way, however, I found the social aspect of collaboration always very important and working alone with software is devoid of any of that.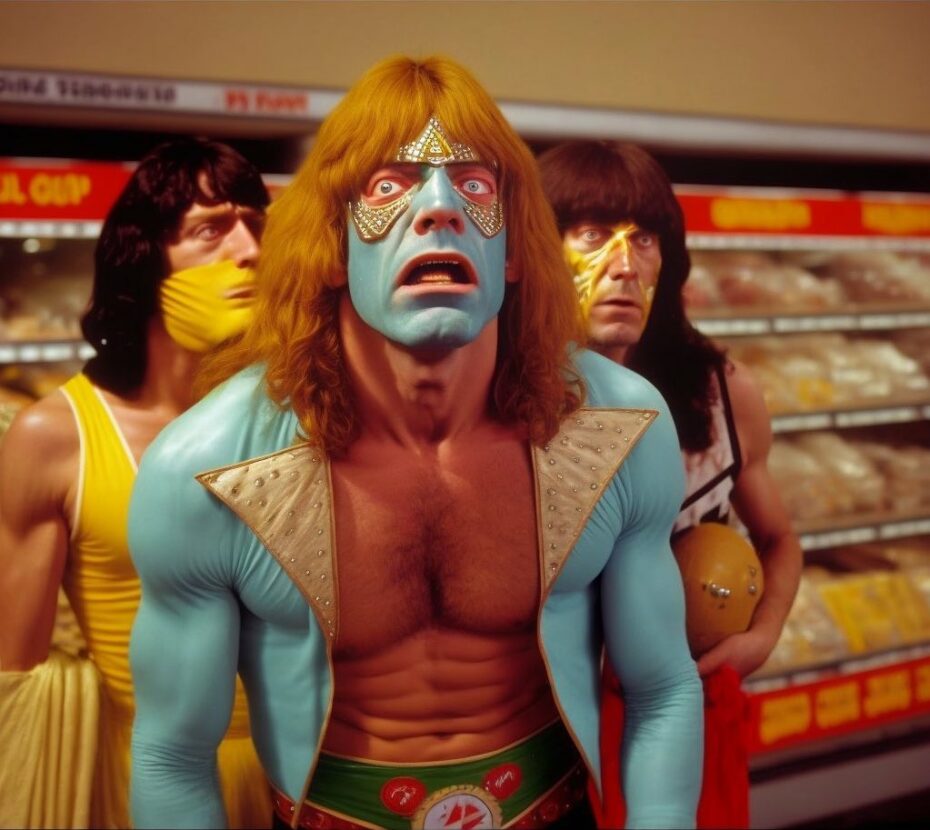 Where does your interest in the vintage glam rock wrestling aesthetic come from? (we're fans too!)
I love that glam wrestling actually has been a thing. I started out generating images of glam rock engineers working on machines that could be a part of a spaceship. The fact that I could soften up the analytical nature of an engineer by portraying them in fancy glittery clothes was just something that provided the necessary contrasting ingredient for it to make sense in the context of its medium. After some time I wanted to add new elements to the characters and found it in the fashion of Mexican wrestlers which led to the mixture of both.
Have any fashion or commercial brands contacted you to create AI powered works for them?
Yes, I'm currently working with clients from the fashion and music industries.
What about gallery representation?
I haven't received any requests from gallerists at this point.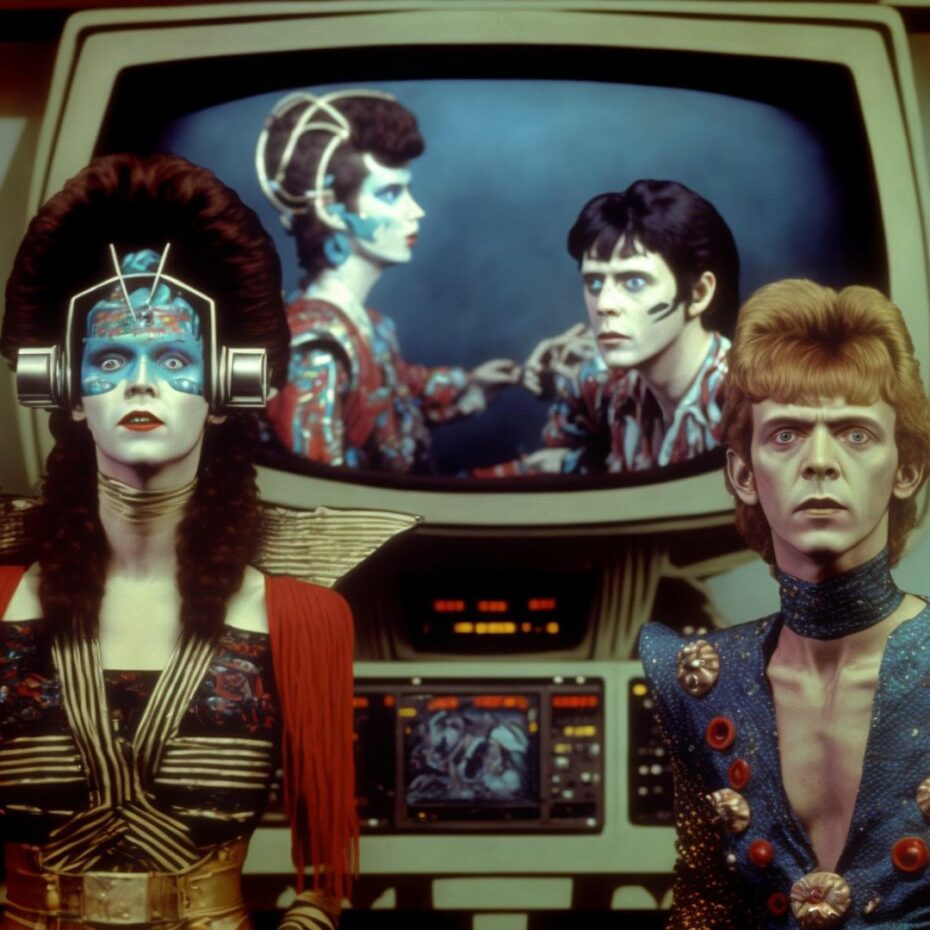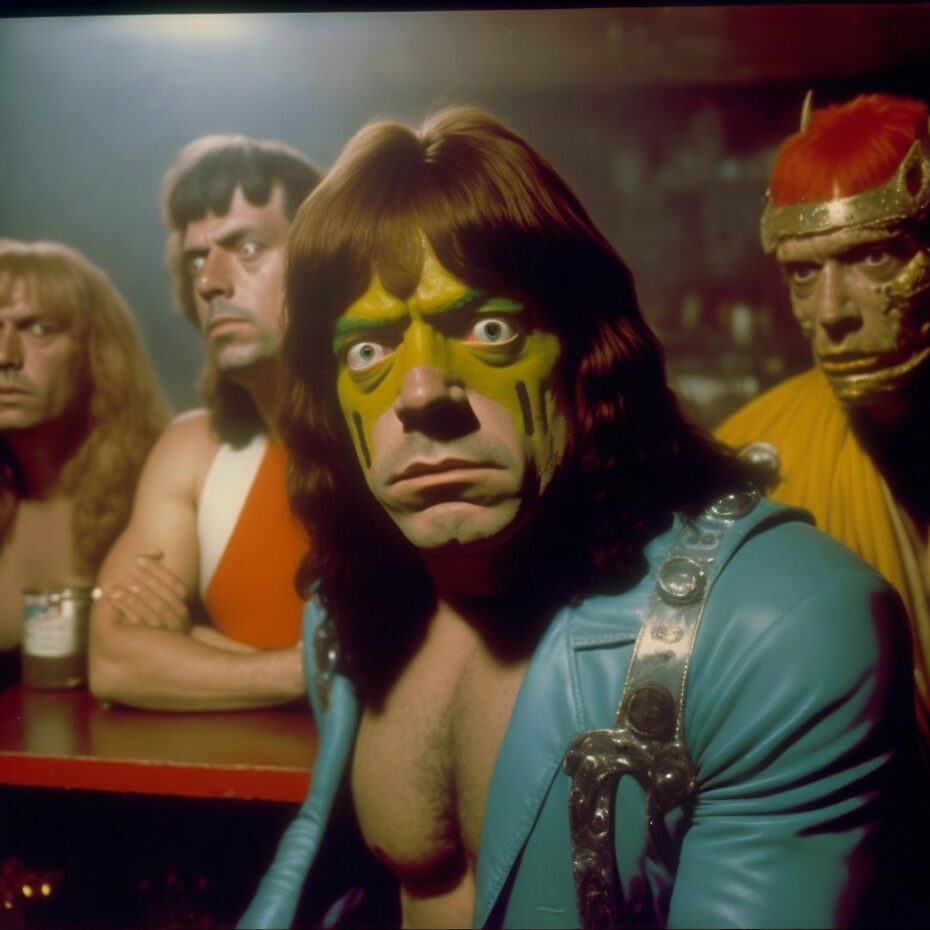 Is there a point in the process before the final draft where you take over from AI software and continue creating with a different (non AI) medium to create the finished work?
I use Photoshop to colour grade and correct certain flaws. Often images turnout with some imperfections I can't live with, then it's a process of creating variations of that same image and leveraging other AI technologies to improve certain details such as facial features. Eventually, I combine the strengths of several images in Photoshop.
Are you able to share what AI platforms you find the best to work with?
I work with Midjourney, a few different resampling algorithms and GFPGAN.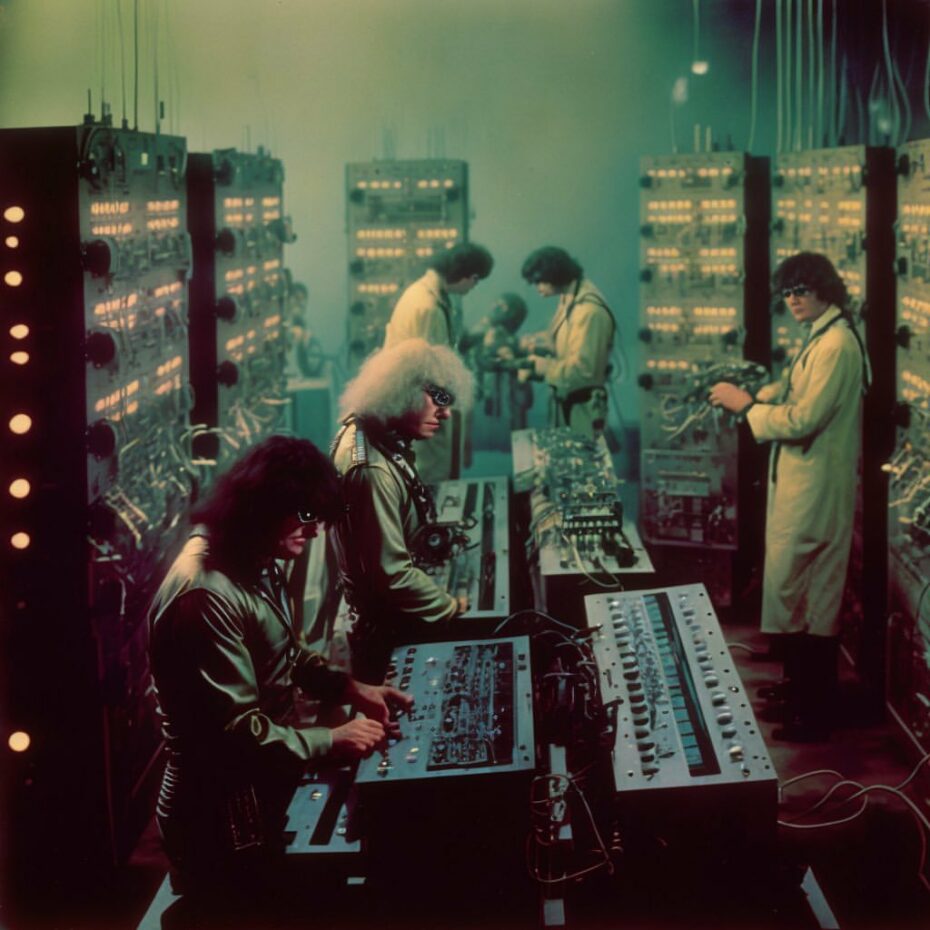 I thought it only appropriate to ask an AI chatbot generate a few questions for you! Here they are (powered by ChatGPT)
In what ways do you think AI has made your work easier or more efficient?
Coming from a photographic background AI image generation enables me to try out many different ideas and create a visual world without all the logistics and team requirements to produce something that is photo-like and potentially very hard to create given certain fashion elements I like to incorporate.
2. Have you experienced any limitations or drawbacks when working with AI?
There are still limitations in terms of aspect ratios, resolution and getting certain human features right can be difficult depending on what one requires. Especially hands can turn out crazy and male body hair can become abstractly shaped. But there are some things about that, that I tend to embrace and I don't mind if a person turns out to have two belly buttons, 14 fingers and blue dyed hexagonally shaped chest hair.
3. How do you think AI will continue to impact the field of art in the future?
On the consumer and individual artist side, I believe it will lead to a new appreciation of traditional hand-crafted art. Similar to what we see happening after the technological advancements in photography. Where hobbyists now appreciate film photography again, to the point where many professional photographers shoot commercial work on film. Another example would be the appreciation for vinyl after digital file formats and streaming in music took over.
On the other hand, there are the creative design teams. I believe there will be changes in their workflows. Creatives and artists will be able to pinpoint and bounce ideas off each other in new ways. Creating moodboards and storyboards not only based on images that already exist but involve visual ideas that are already a step further abstracted or completely new.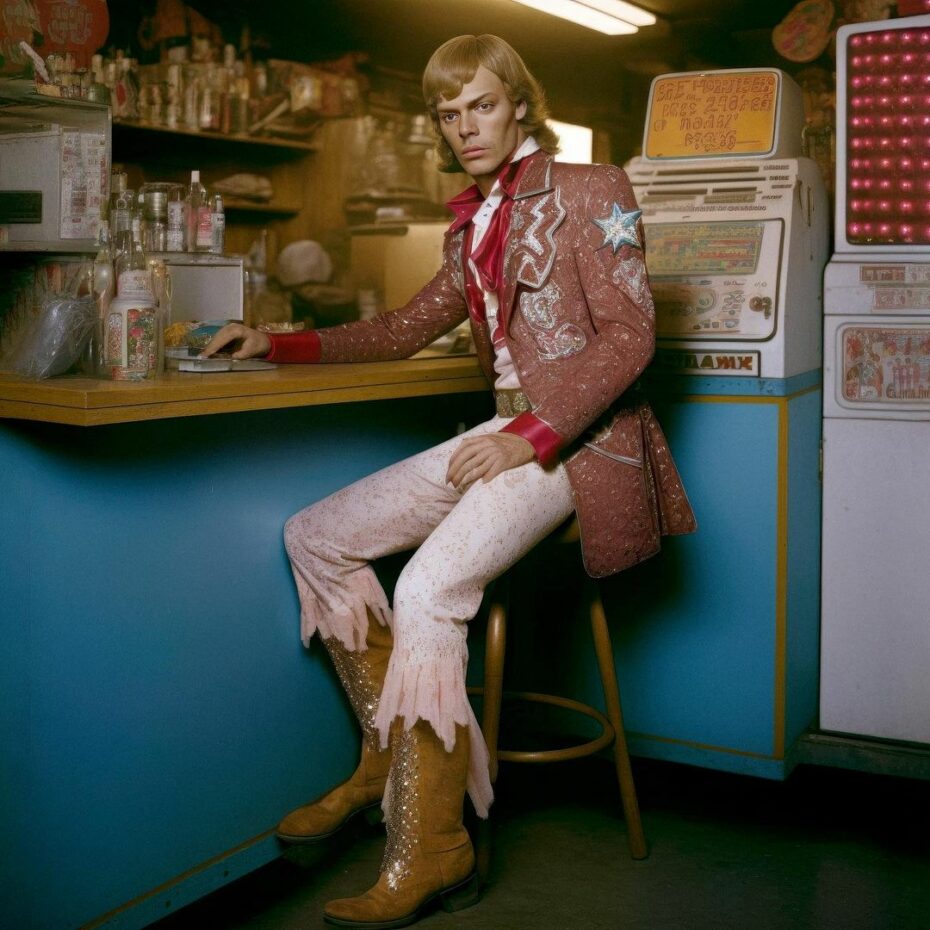 Discover the Glam Rock Sci–Fi Universe of Wen Wormhole.