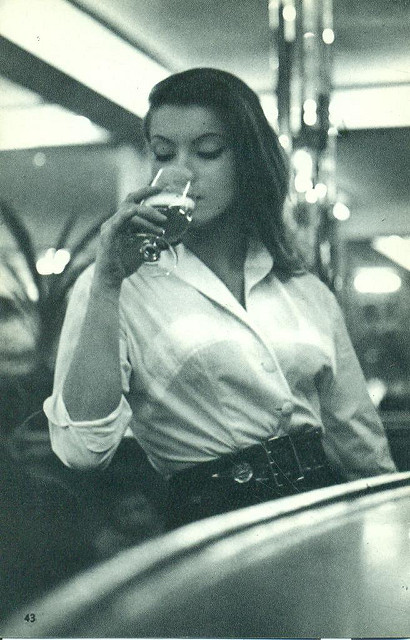 Let's catapult straight into the centre of Paris' exotic dancing universe, the Crazy Horse Saloon, temple of burlesque. This glamorous establishment has had the pleasure of seeing a stellar selection of glamorous women strut and strip their stuff over the decades since opening in 1951 on the Avenue George-V: Dita Von Teese, Pamela Anderson and Kelly Brooke have all been disrobed there, but the golden period of The Crazy Horse's existence has got to be between the 1950s and 1960s when the cabaret boasted a trio of femme fatales of unrivalled calibre: Dodo the blonde bombshell from Hamburg, Lili Niagara, the spellbindingly voluptuous brunette with her black and red harnesses, and finally the Crazy Horse's ultimate trump card and top treasure, the amber gemstone in the crown of this legendary cabaret, the flame-haired stripper Rita Renoir.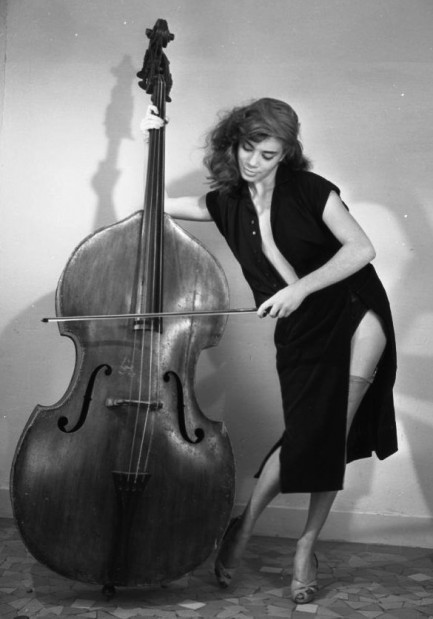 The redhead was only nineteen when she first stepped into the limelight of the Crazy Horse, using the name Rita Mayfern. She soon dumped 'Mayfair' for 'Renoir' in a nod to the master painter and his fleshy ladies. The Crazy Horse, which was known for its extravagant and erotic shows, was a hot spot for celebrities and high society figures. Renoir's performances, which often featured nudity and risqué choreography, were a hit with audiences and she quickly became one of the club's most sought-after performers. During Rita's reign at the Crazy Horse, it became a place where dancers could push the boundaries of what was considered acceptable in terms of nudity and eroticism. The performances were seen as a form of artistic expression, and The Crazy Horse started to play a role in shaping the image of Paris as a city of artistic and creative expression. But stripping was just one of the many talents of the inimitable Rita Renoir. The celebrated dancer also had a career as a surrealist actress.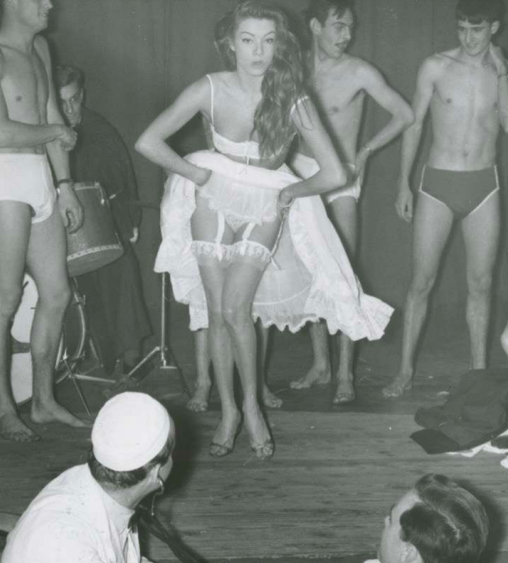 Rita's burlesque act was – unlike the fashionable American striptease pin-up acts of the period – something far more profound than merely the predictable and formularised shedding of clothes: Rita Renoir, nicknamed at the time the 'tragedienne of strippers' engaged her public in what was for all practical purposes, real theatre, authentic dance and performance art. She exerted a certain sexual power that was carnal and ritual – mystical, magical and some say bordering on voodoo in nature. In post-war Paris, Rita Renoir's performances were reactionary and assertive: she – and not an army – was in charge and now dictated the show.
Over the decades, intellectuals and journalists have been waxing lyrical about her extraordinary presence and personality, her spirituality and her power. Journalist Marc Lemonier claims that for Rita Renoir "undressing in front of men is not an act of submission. Quite the contrary, getting naked becomes an instrument of conquest and the exercise of power." When a certain Dr Archibald Percy, chair of Applied Sexuality at Boston University tested the effect of Ms Renoir as part of a rather dubious scientific experiment in 1956, the result was off the scales: the subject's blood pressure rose to forty.
So confident was Rita about her 'supernatural' powers over the audience that she said, "The strip is a dramatic act. You can do it, she says, in a hat, dress and shoes. Without removing them."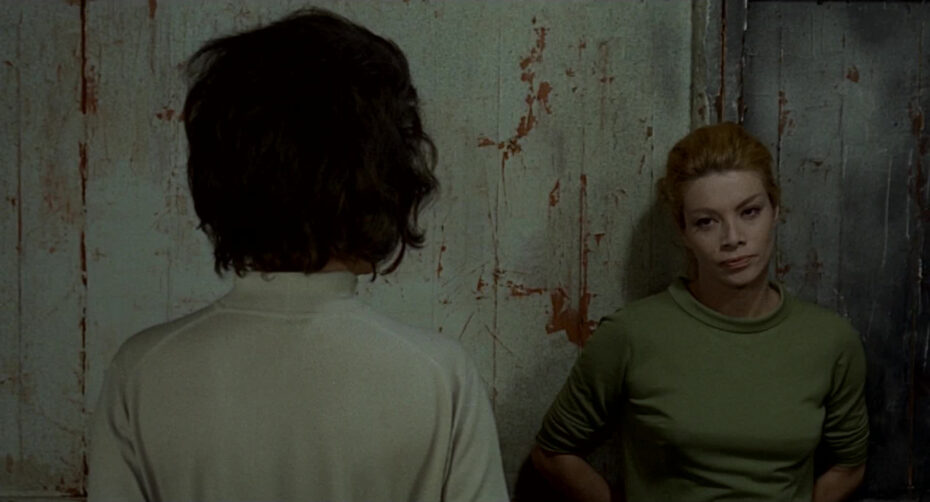 Her acting career began in the late 1950s, when she began to branch out from her work as a burlesque dancer. She appeared in a number of French films and stage productions, many of which were associated with the Surrealist movement. Her very early work includes acting in Les Compagnes de la nuit (1953), as La femme de Bonbon in Le Sicilien (1958), as striptease dancer in Ecco (1963) and as L'ethnologue in Sweet and Sour (1963). Her first serious work was with the "Happenings", a term coined in the 1950s to describe performance art or art related events. She recreated one of her legendary strip-tease acts for Mondo di Notte n.3 (1963), the third in a series of sensationalist Italian cinema documentary films featuring some of the most peculiar and grotesque examples of human behaviour of the day, each film being a magazine of the odd, awful and bizarre – ranging from a man sticking long needles through his body to footage of lesbians and strippers. To see the master of the art of titillating, of creating rapport and suspense in action, check out this clip in which Rita Renoir is expertly recreating one of her signature strip tease acts for Mondo di Notte n.3. She also appeared in several films by the French filmmaker Roger Vadim, who was known for his Surrealist and erotic films. Her performances were seen as a reflection of the Surrealist movement's emphasis on the irrational, the dreamlike, and the subconscious.
Her first critical success came with Les Immortelles in 1967, around the same time her racy performance in the French debut of Picasso's absurd and surrealist play Desire Caught by the Tail caused a public scandal. In 1970, she acted in Pierre Koralnik's crime film Cannabis alongside one of the most famous couples of the day, Serge Gainsbourg and Jane Birkin. Despite her success as a surrealist actress, Renoir's film career was relatively short-lived, and she returned to her work as a burlesque dancer and stripper.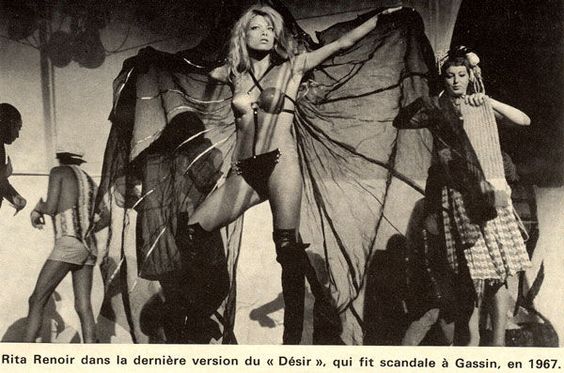 There's no doubt that Rita Renoir's legacy in the world of the pleasures and delights of the flesh is unlikely to ever fade, and perhaps she's become that coquettish icon – all strawberry-blonde cascading mane, lithe body and over-generous lips – that will forever be the generic picture in the mind's eye of the idolised stripper. Following her death in 2016, academic Pierre Philippe-Medan and Bertrand Guyard of Le Figaro described her la tragedienne du 'strip-tease', but that doesn't do justice to a woman who was so, so much more: unconventional feminist, untameable tigress, eccentric rule-changer and gorgeous high priestess of the game of dominatrix.