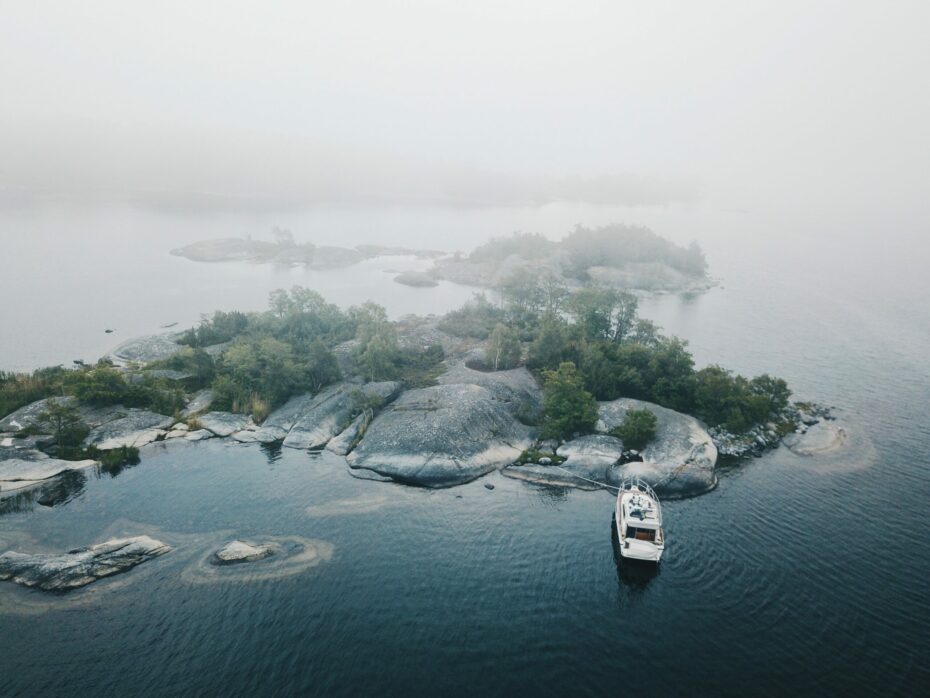 Let's pack our bags and plan a summer holiday on some beautiful island. But forget the palm trees; we're heading up north to the land of Vikings and the country with the most islands in the world. That's right, Sweden has more than 220,000 islands. Okay, so that number might be up for debate as that all depends on what you define as an island. Some count rocky outcrops as islands, while others prefer to only consider something with a bit more landmass like an islet, which is why you'll find this number tends to fluctuate between 220,000 and 267,570 islands.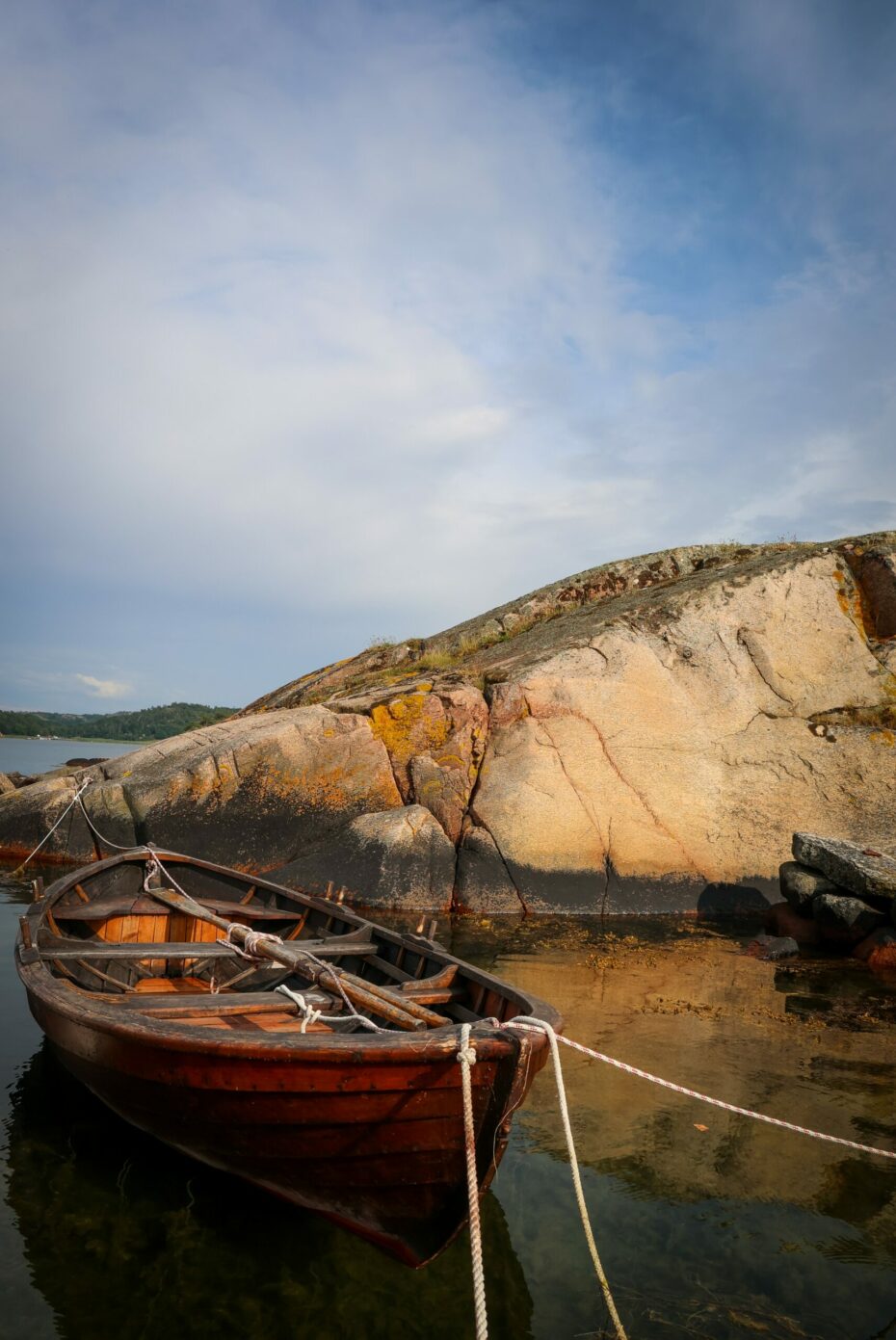 So, why does Sweden have so many islands? Well, a long, long, long time ago, Sweden was once located around the equator. Some geologists even believe it once had a coral reef, but as the land drifted north thanks to continental drift, the carbonate sheets and sponges eventually formed the building blocks for Sweden's future islands and islets. Throw in an ice age and some geological activity that caused (and still causes) the land around Sweden to rise. Unlike other parts of the world worried about rising sea levels, here up north, it's the land rising (about 2 to 4 millimetres per year). That means islands are getting bigger, and more islands are popping up around the Swedish shores.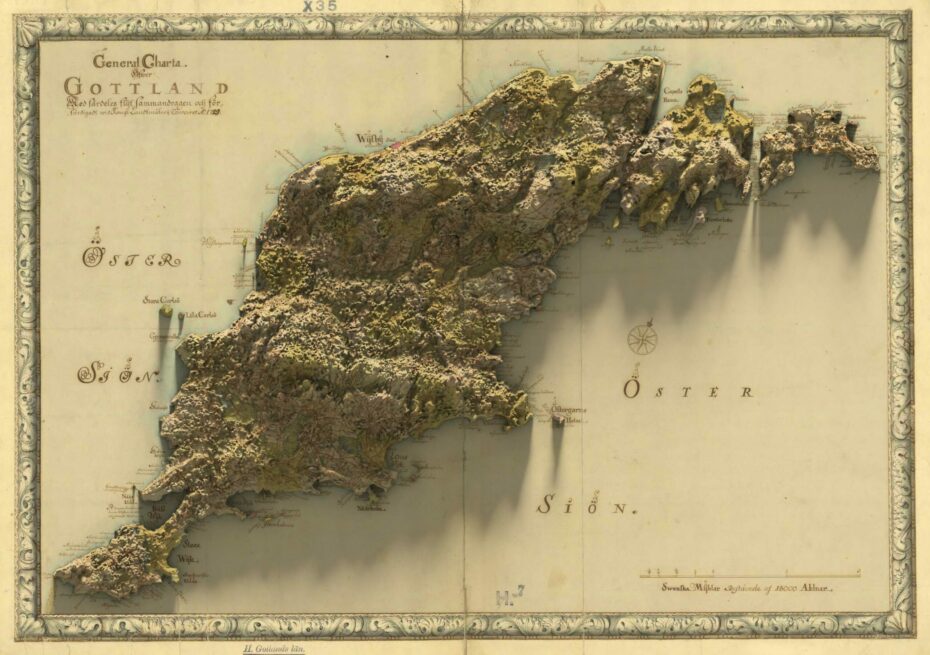 Anyway, the point is Sweden has a lot of islands. So, let's try to narrow down which ones are worth the visit. Only around 1,000 of them are permanently inhabited (approximately 0.4%), so that helps weed out a large portion of them. In fact, even Stockholm alone is made up of 14 connected islands. That's still a lot of islands to choose from. If we go with the European definition of an island being a minimum of a square kilometre in size, must be one kilometre from the shore, not connected to the mainland, has more than 49 inhabitants, and does not contain a capital of the European Union (sorry Stockholm, guess you're out), then there are only 24 islands. 
Need to narrow it down more? Don't worry; we've done the hard part and narrowed it down to FIVE (well, kinda).
Gotland and Fårö: The Isles of Vikings, Pippi Longstocking, and Ingmar Bergman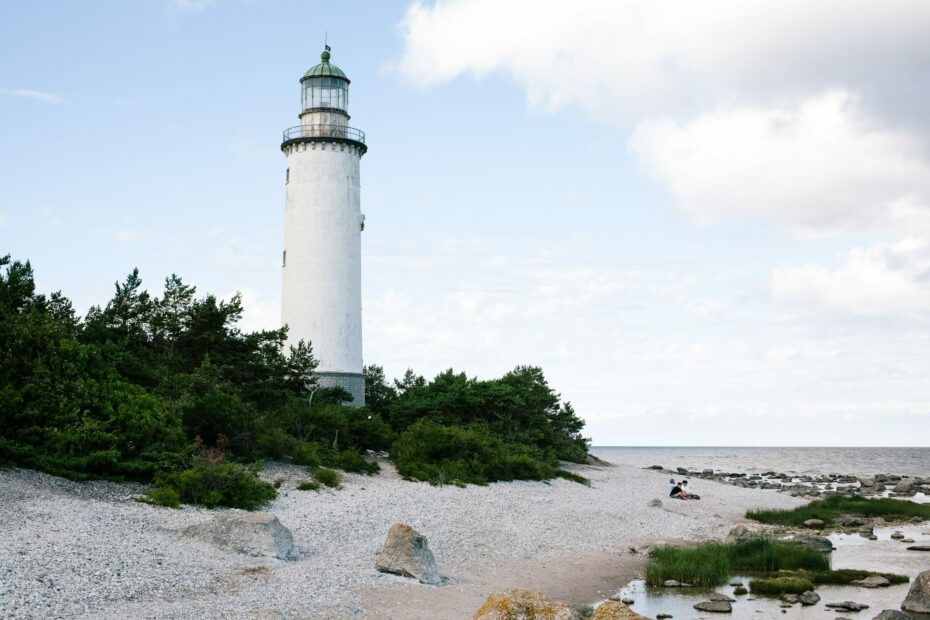 Let's start with a two-in-one special: Sweden's largest–and perhaps most Swedish–island, Gotland and its little companion, Fårö. You'll find Gotland in the southeastern part of Sweden, and if you count Fårö, then the whole coastline stretches some 800 kilometres. It's not only its haunting scenery boasting more than 100 nature reserves, strewn with ivy forests, sand-clad beaches, or ethereal stack fields that make Gotland and Fårö worth visiting, but Gotland also has a history that goes back some 8000 years.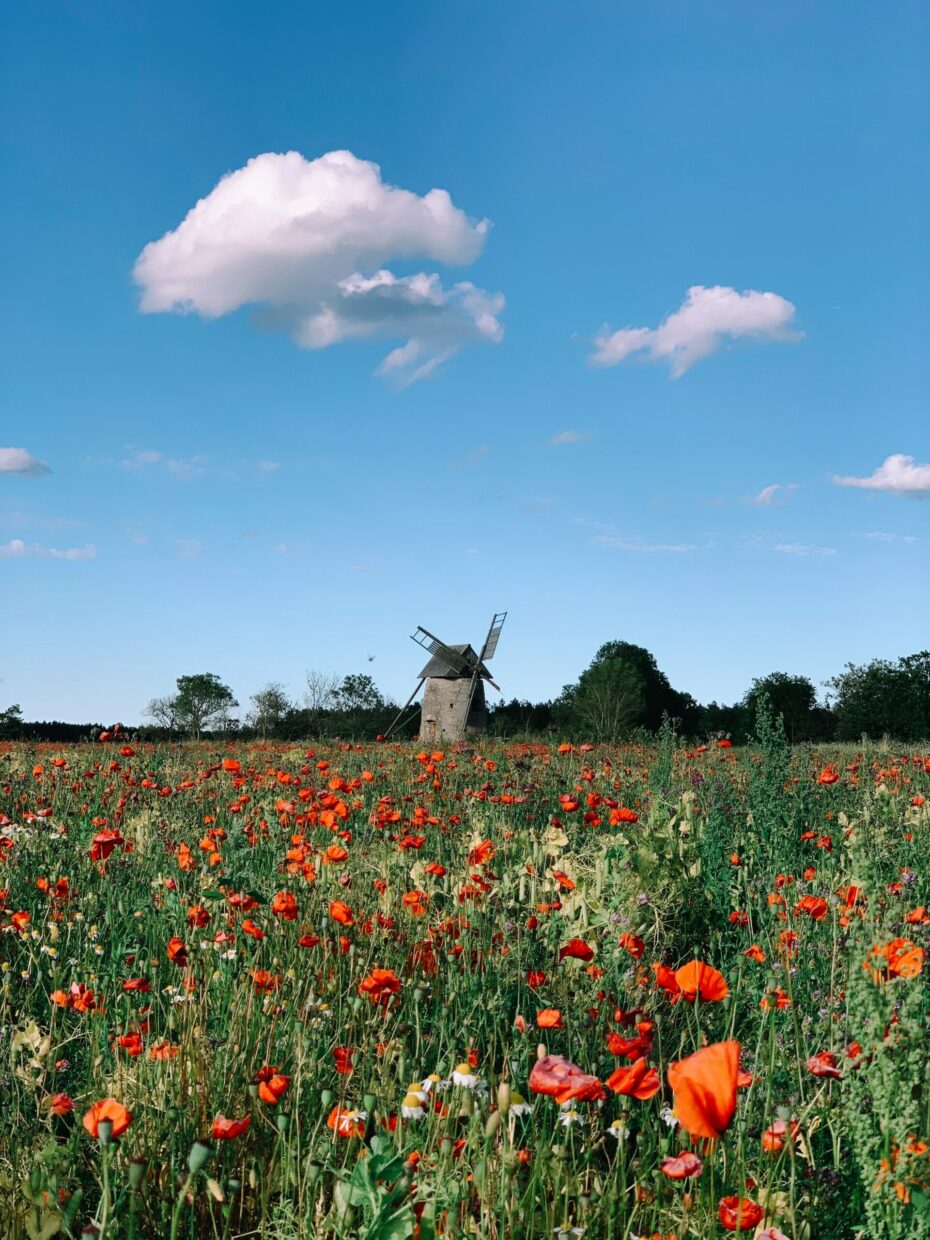 If you're here for Vikings, you can explore some Viking burial grounds scattered across the island, like Stenkyrka, where you'll find some 1000 graves, And don't miss out on the Spillings Hoard at the Gotland Museum, the largest Viking treasure trove ever discovered. About 67 kg of silver and 20 kg of bronze made up an impressive collection of 14,295 coins, ingots, rings, bangles, and necklaces dug up on a field buried beneath a ninth-century outhouse. Among this unique collection, you'll find 14,200 Islamic dirhams and a few Byzantine and Persian coins. Perhaps the most unusual piece among the buried treasure includes the "Moses Coin" from the Khazar Kingdom dating back to 800. It just shows those Vikings got around. For more Viking action, you can also play Viking for a day at the reconstructed village of Stavgard Vikingagård.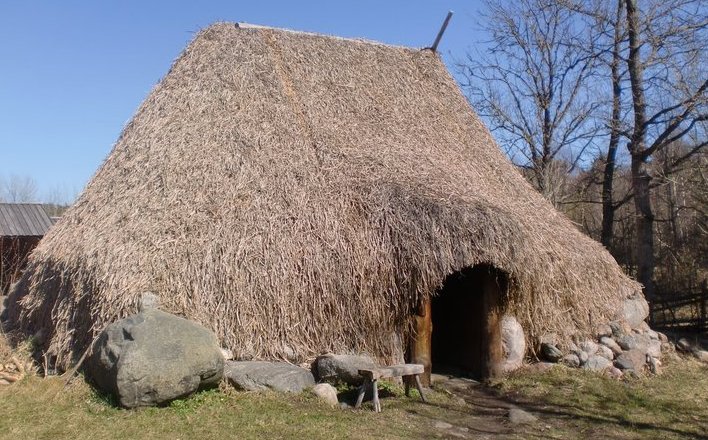 For some weird tourism, head to a small hill just outside Visby to the Galgberget Gallows, perhaps the only restored mediaeval execution site. It dates back to the 13th century, but local legend says they were used until the mid-19th century. Archaeologists uncovered 30 bodies here, so if you believe in ghosts and want to avoid them, you'll want to be sure you're out of here after dark. Another local site with a strange story is Trojaborg, a circular maze, which according to local legend, was built by the daughter of a wealthy captain who got rich from doing business with pirates. The father was arrested along with the daughter. Still, instead of imprisonment, she was given the punishment of laying down a rock formation so unique people would come far and wide to see it and would only be pardoned once she finished.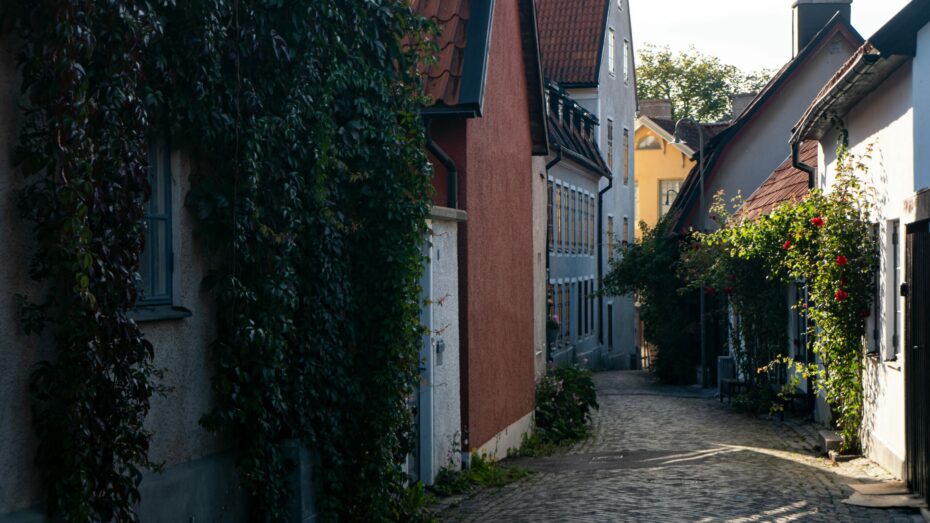 Of course, while in the main city of Visby, check out its mediaeval wall–perhaps the best preserved in Sweden. Civil war once raged here, and a curious memento is left behind–a stone shot by one of the peasants lodged into one of the arrow slits. Another tower in the wall, knowns as Jungfrutornet, or Maiden's Tower, has a sad story as it was used to punish the daughter of Nils Guldmed's daughter who was walled inside the tower, left to starve to death after she fell in love with the disguised King Valdemar IV of Denmark who came to spy on the city's defences.
Need something for a happier mood? Then you'll be pleased to know that the TV series Pippi Longstocking was filmed in Visby and Gotland. You can even visit the colourfully painted house used in the series as Pippi's beloved home.
Now, nature lovers, we haven't forgotten about you! If you are into geology, you'll love the sites in and around Gotland. Head up to Lummelunda Cave, one of Sweden's longest caverns. Make sure you visit the Bergakungens Sal–the Hall of the Mountain King–or if you're feeling adventurous, you can also take a boat ride deep into the cave system.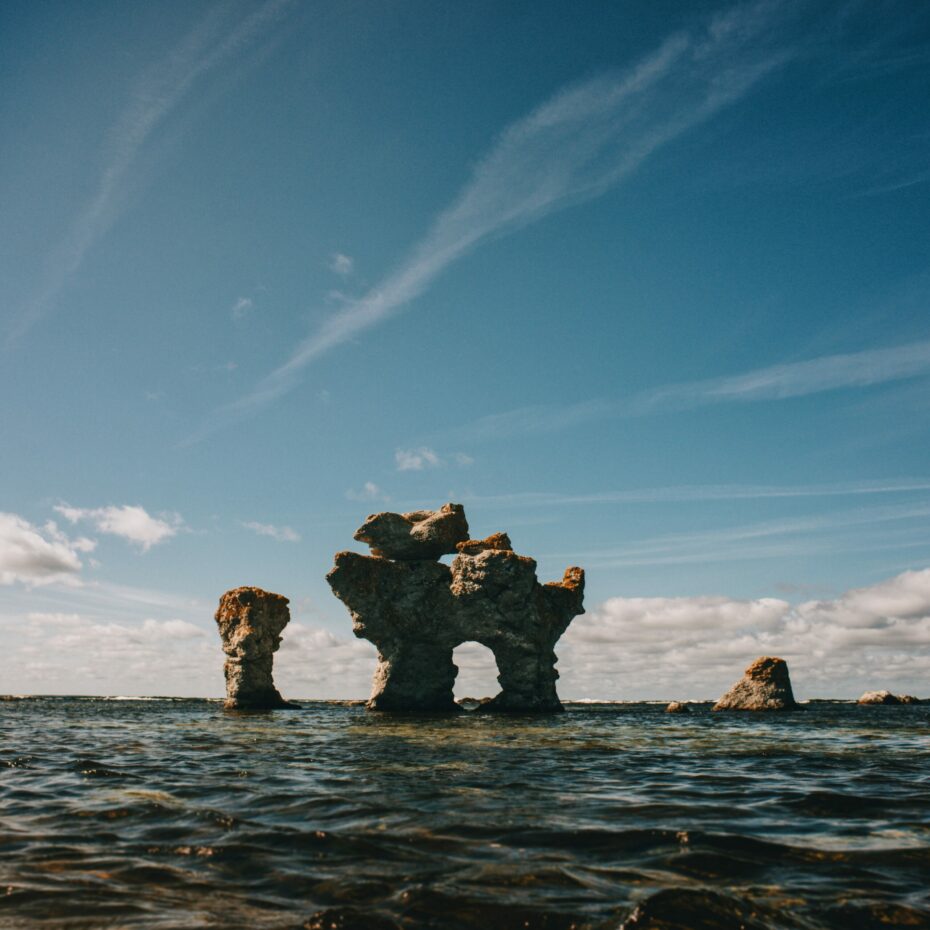 For even more exciting rock formations, it's time to go island hopping out to Fårö, where you'll find the surreal rock structures of the famous sea stacks. If this landscape looks familiar, that's because Fårö was a favourite of filmmaker Ingmar Bergman, who lived and died on the island and filmed several films here. You can visit the Bergman Center (open April to October), and even join a "big Bergman safari" if you're a fan of the iconic Swedish director.
Now, let's talk about food. For a traditional Swedish fika–basically a Swedish snack and coffee–you'll want to head 20 minutes north of Visby to an old sailor's hut to Själsӧ Bageri for some cinnamon and cardamom buns made in their stone-oven bakery. Or you can go to Lilla Bjers, a farm-to-table restaurant in a greenhouse, where you'll be served dishes made with their own organically grown ingredients.
If you need somewhere to stay, where better than a former stronghold? Fårösund Fortress at Bungenäs offers vaulted rooms with plenty of character. Or if you prefer to stay in a converted cell in an old prison, then Fängelse Visby has got you covered. 
Öland: The choice for Swedish Royalty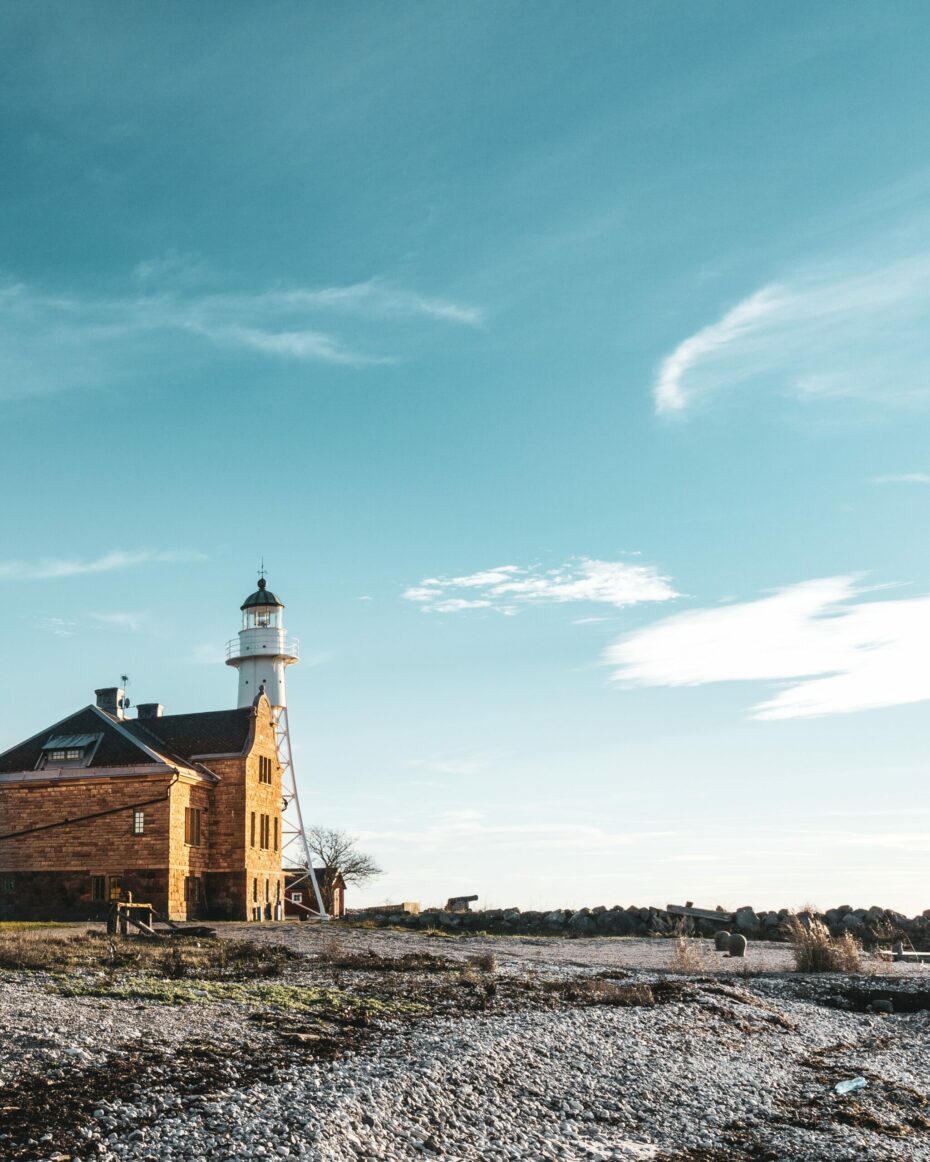 If it's good enough for the Swedish royals, it's good enough for us. Öland has been the summer bolthole for Swedish royalty for over a century, and with its unique landscape that's a tapestry of dramatic cliffs, stone coast, sandy beaches, twisted and tangled forests, and limestone heathland, you can see why. The island has more than 8000 years of human history, 500 kilometres of coastline, 350 disused windmills, and 75 nature reserves, so there is something for everyone.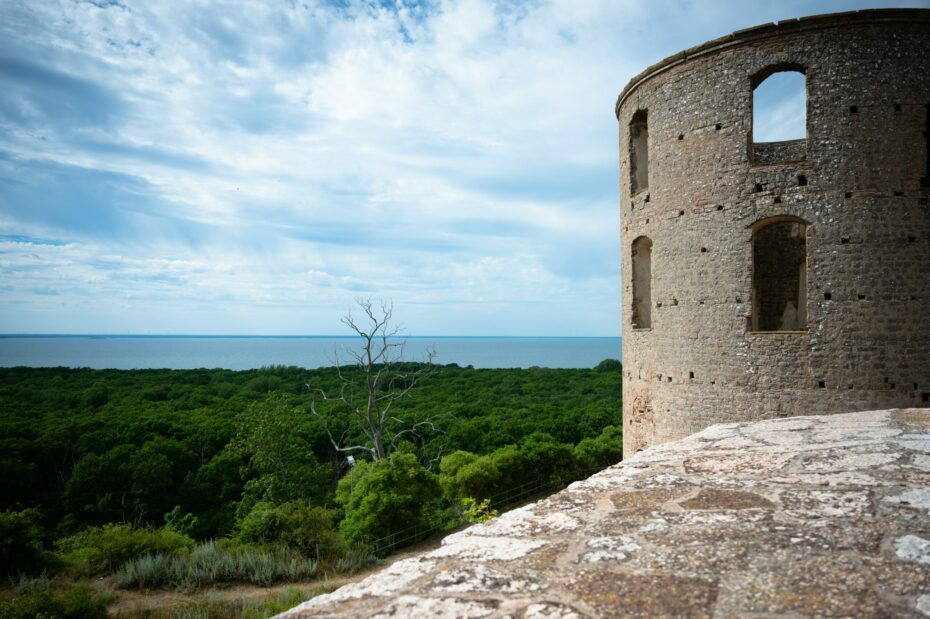 Iron age burial sites and rune stones will appeal to history buffs, like Sandby Borg, an iron age ring fort that was the site of a gruesome massacre some 1500 years ago. You also don't want to miss Borgholms Slott – an impressive fortress with 800 years of history said to be Scandinavia's most beautiful ruined castle. For something more opulent, head to the royal residence of Solliden Palace, the summer palace for the Swedish royals, which can be visited from May to September (gardens only).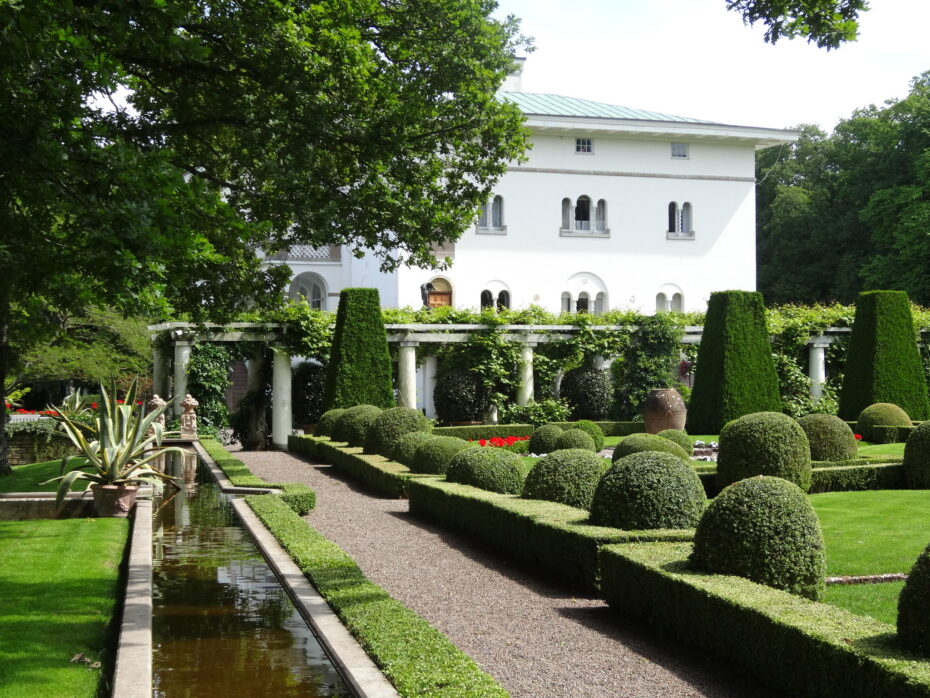 Nature lovers looking for something quirky will want to walk in the 200-year-old Trollskogen–"Troll Forest"–for its bewitched-looking oak and pine trees, covered with lichen and crawling ivy, have been warped and twisted by the Baltic winds on the northern tip of the island. The eerie-looking wood is also littered with stone circles and ancient burial cairns, not to mention you can also see the ruins of a 1920s shipwreck on the shore nearby the forest. 
Another curiosity on the island is the Neptuni Åkrar, Neptune's Fields, a shingled beach dotted with curious limestone rock formations, where you'll also find a sprawling Viking burial ground to the south. Come in the summer when the entire beach is painted a shade of blue by wildflowers like blueweed. The beach here is also famous for its fossils, so maybe you'll find something curious here as a natural souvenir.
When you're done exploring and need some refreshment, head over to Carla's Cafe in an old barn in Nasby, on the island's southeastern part. Try some local (or international) craft beers from microbreweries in the summer and grab one of their many sofas in the garden to enjoy the views over the sea and fields. They also have an art gallery in an old pigsty worth checking out, a store selling crafts and jewellery in the old horsebox, and live music in the summer evenings.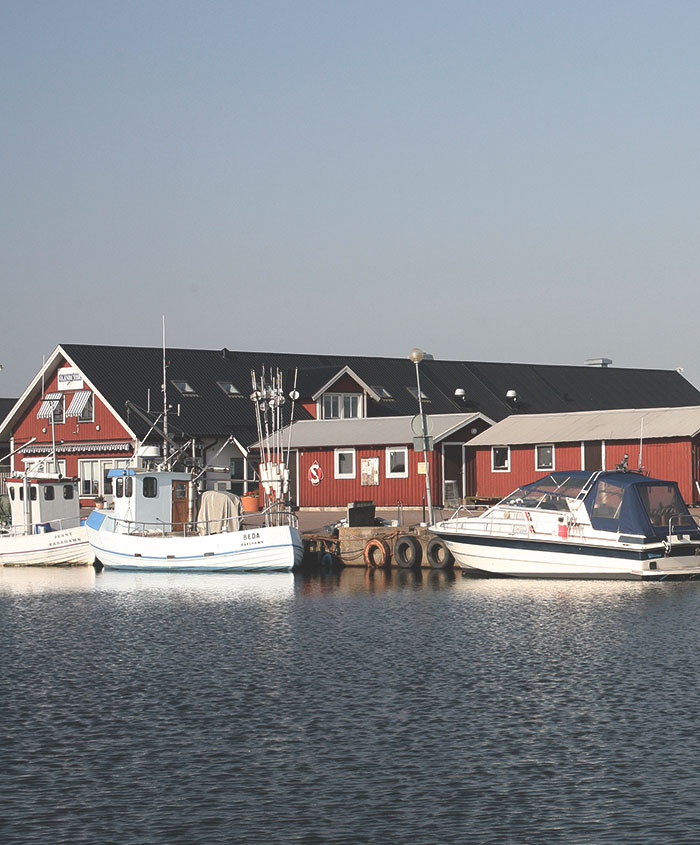 For something fishy, head up to the northeast to the village of Kårehamn to Kårehamns fisk & havskök. Numerous ice boxes filled with a cornucopia of freshly caught fish and seafood inside the shop tempt you from dinner. You can order from their menu, or for something different, pick out a piece of fish from the counter and borrow a grill and take it out to the pier and cook it yourself.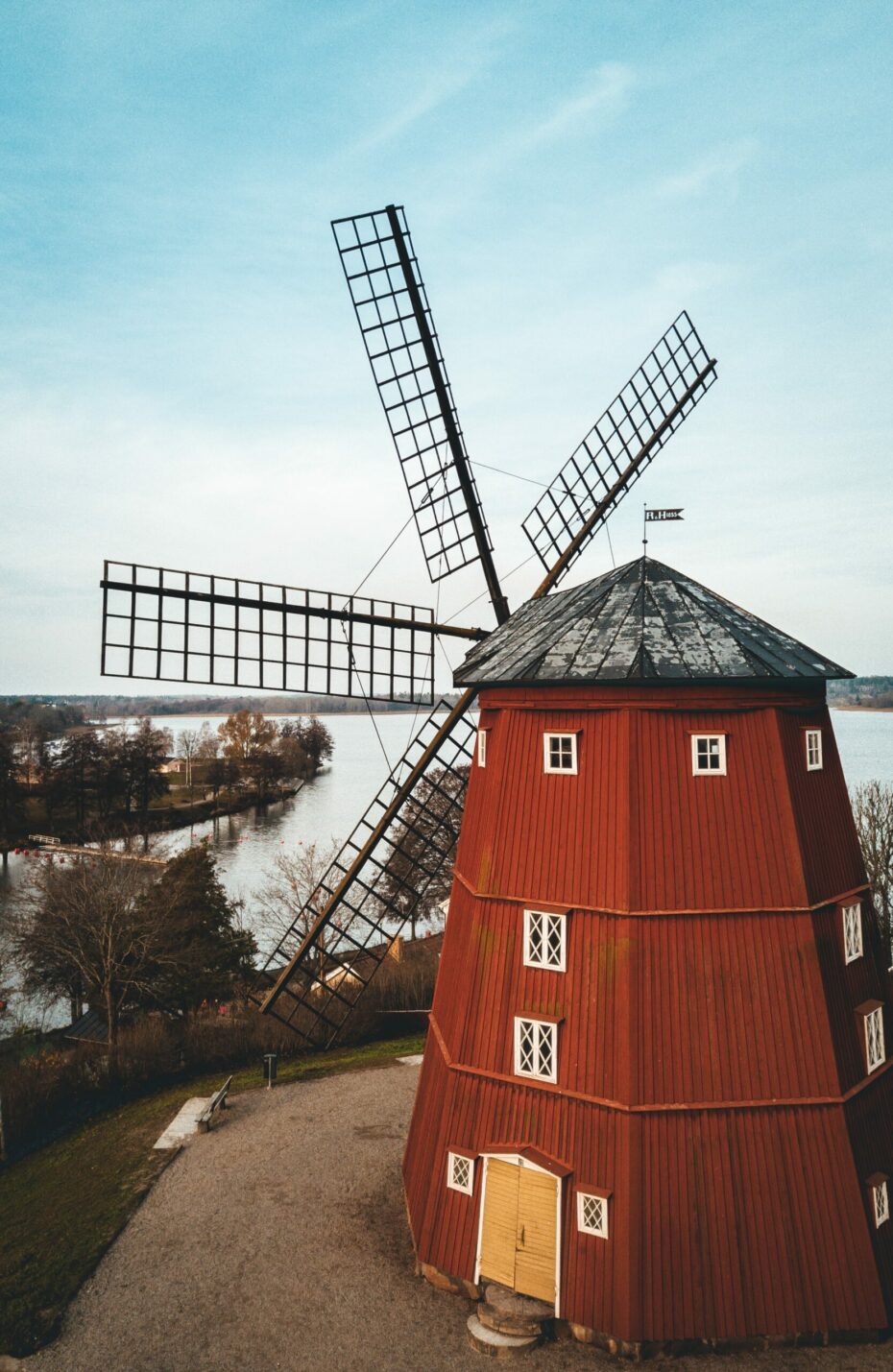 Or you could get lunch or a snack at one of the biggest windmills in the world. The Sandviks Kvarn is about 30 km north of the main town of Borgholm. The windmill is a tourist attraction in its own right, with a museum on four floors, but it also has a restaurant on the ground floor. If you still want more windmills on your trip, you can always rent one for your accommodation on AirBnB. 
Väderöarna: Lobster safaris in the "Weather Islands"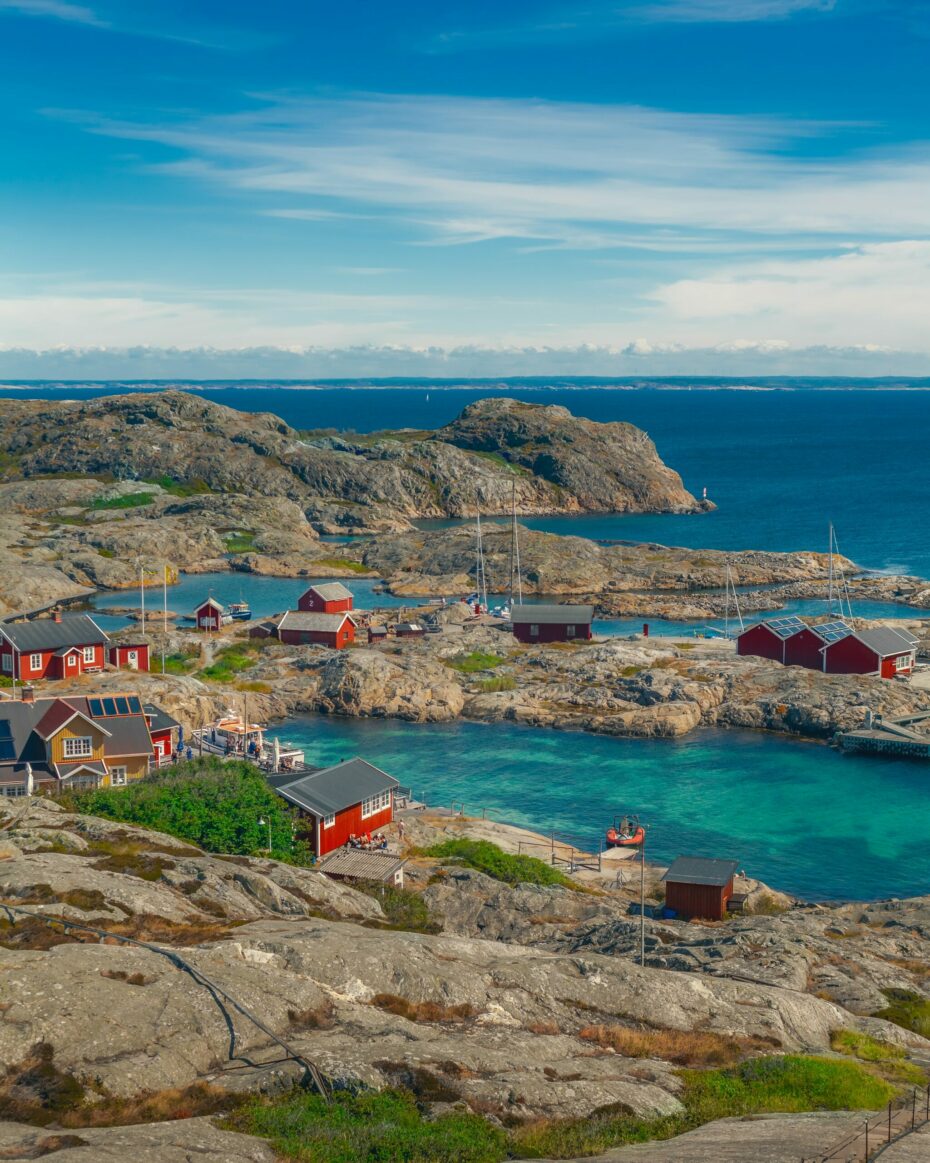 Just off the west coast of Sweden, north of Gothenburg, you'll find Väderöarna, "The Weather Islands," a collection of rocky islands and islets separated from the mainland by the Väderö fjord. Although they look pretty north on the map, you'd be surprised to find they are home to Sweden's warmest (albeit windiest) climate. This is the place to come if you're into getting close to nature, as it's home to one of the region's largest seal colonies, and the mix of the barren and lush green landscape makes it home to many nature reserves. People come far and wide to birdwatch, fish (including lobster fishing), dive, and kayak. Although there are hundreds of islands, only one is inhabited, and even there, today's population is limited to the Väderöarna Inn and its employees. As you approach the main rocky island, you'll spot signs of life in the yellow and red wooden houses dotting the grey rocks surrounded by the wine-dark sea. Make sure you walk up to the pilot lookout for a magical view over this curious archipelago.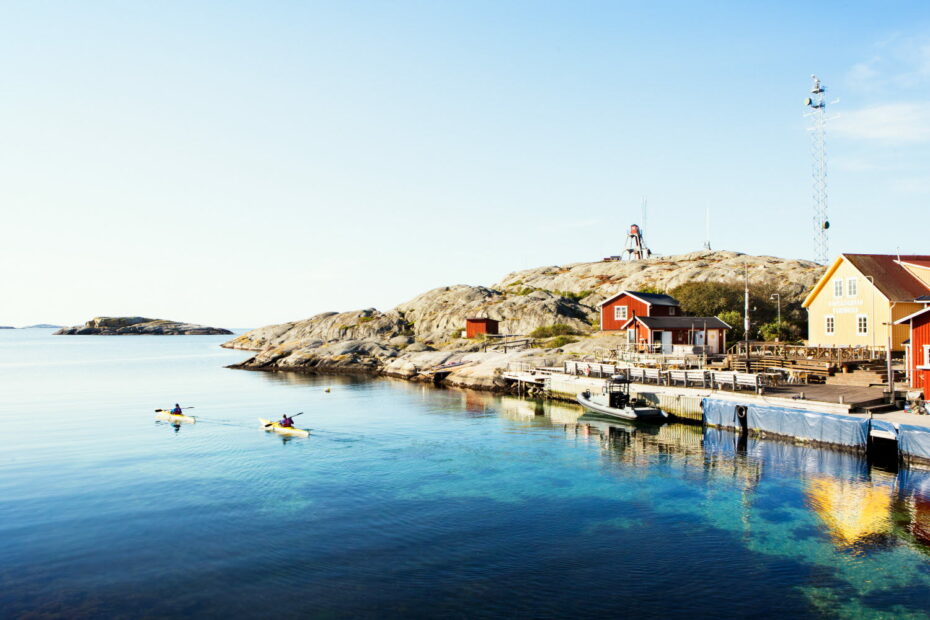 These islands were considered impossible to occupy for a long time due to the harsh winds and barren environment. Still, seafarers have been using the natural harbours since the 1400s–and you can even find several carvings on the islands. In the 1700s, the coast pilot operations began, and pilot families–five families comprising 12 adults, 17 children, a teacher and three maids–even moved to the island, calling it home until 1966. The island's northern part is used for a network of weather stations observing coastal activities, which once measured the largest wave along the Swedish coast to be 10.2 metres in 2007.
So, these remote islands will certainly be more isolated than places like Gotland, with much less to do here–and that's the beauty. Even a placard on the island just tells you to "inhale, exhale, enjoy." These islands are for you if you've ever needed some recovery time from burnout. However, there are still a few little adventures you can join. If you come at the end of September, you can hop onto a lobster safari. You'll don your overalls and jump into a boat with local fishermen who'll take you to the buoys marking the lobster traps. You can even pull up the lobster traps yourself to get a feel of life as a lobster sailor (not to mention you also get to eat your catch later). You can also walk along the rocky island to discover the intricate nooks and crannies hidden around the main island or rent a kayak to explore the archipelago even further.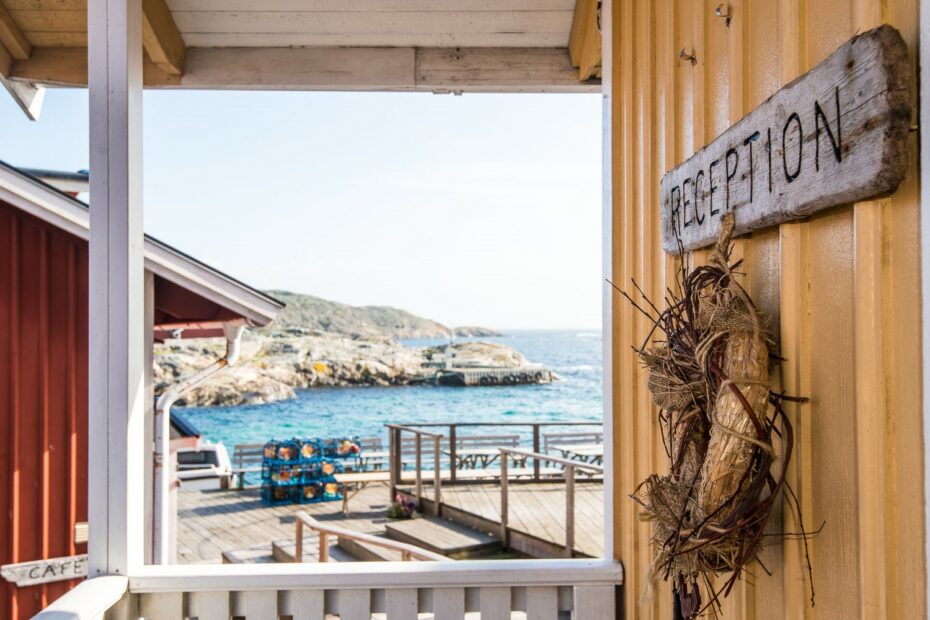 And if you suffer from decision fatigue, you literally only have one place to stay, the Väderöarna Inn, which has 30 rooms, a restaurant, and conference facilities. They are open all year round and will even send a boat to pick you up from the mainland (the price is included in the overnight packages). There is also a sauna and hot tub overlooking the sea (available in the summer). Before the Inn opened in 2005, the buildings here belonged to the pilots and their families.  
Tjörn: The island of art and nature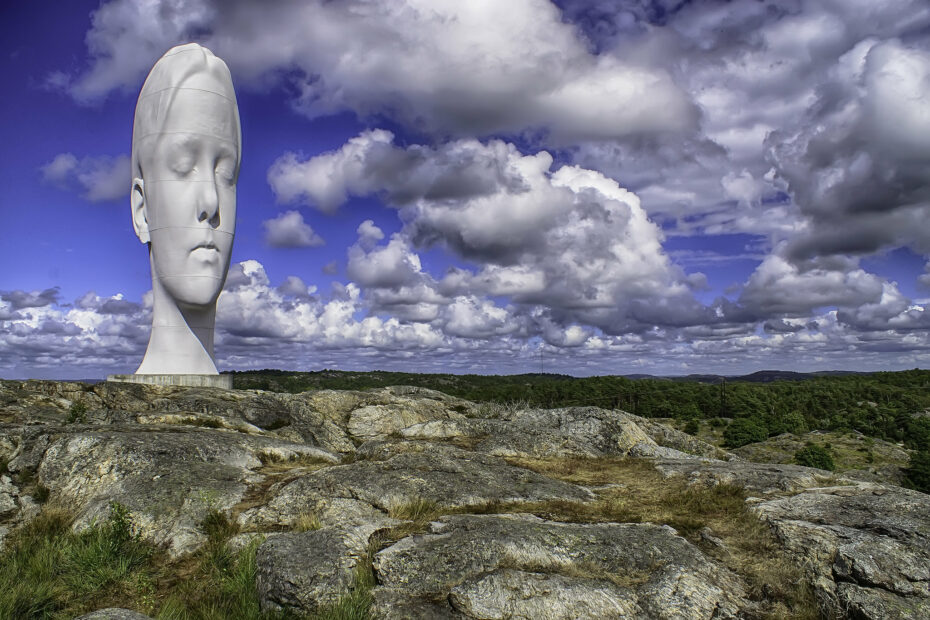 If you want to create or look at art with some stunning nature included, come to this island on Sweden's west coast. This is Sweden's sixth largest island and one where you'll find plenty of quirky things to see and do, whether you're looking for art, cliffs, sea, or even to get stranded in a design lighthouse for the night.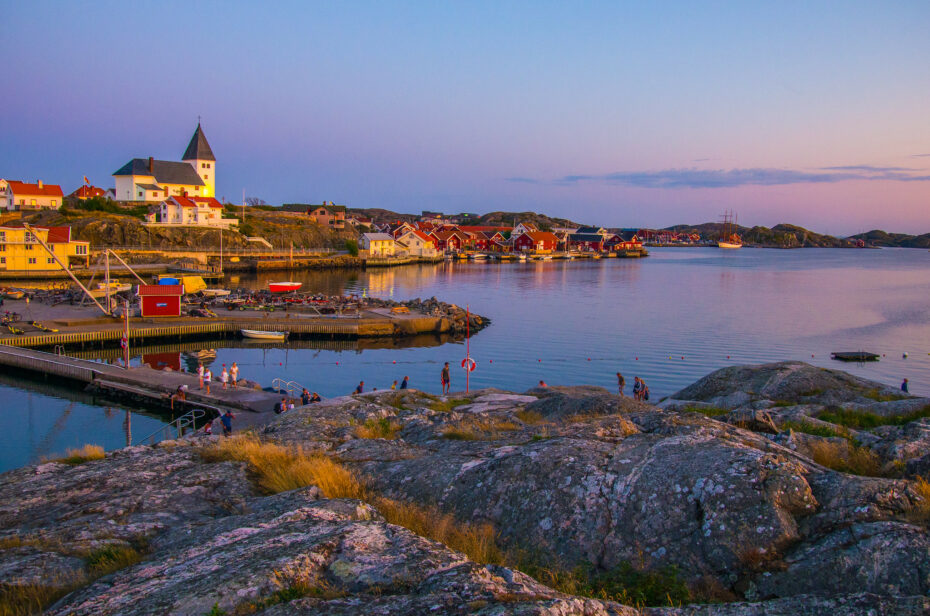 Your first port of call is , the largest town on the island and the municipal capital, where you'll be met with the adorable smiling church (named for literally having a smile on the clocktower). Skärhamn is also home to the Nordic Watercolor Museum, set on a magical location right by the sea and has been a base for world-class exhibitions featuring Swedish artists like Elsa Beskow and Anders Zorn, but also international artists such as Salvador Dalí! The museum offers an immersive experience covering contemporary art and watercolour history. You can even take a workshop at the museum in watercolour painting, and the museum can help provide all the materials you need. And if you're done with art or need a break, you can swim in the sea next to the museum. For a creative and immersive art stay on the island, you can rent one of the five guest studios right next to the museum in the wooden cabins hanging over the water. The studios are designed for artistic development work, research and study, so they are only rented out for a maximum of two nights to other guests.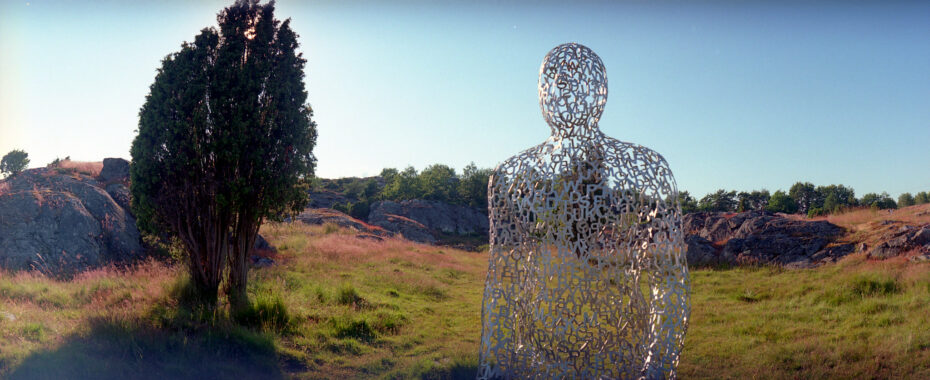 For more art, head a little north from Skärhamn to Pilane, a unique part of the island where stone age remains, grazing sheep and an outdoor exhibition from world-class artists jostle side-by-side. The exhibition changes each summer, but one permanent resident you'll meet is ANNA, a 14-metre-high statue of a woman's head by Spanish artist Jaume Plense that dominates the landscape.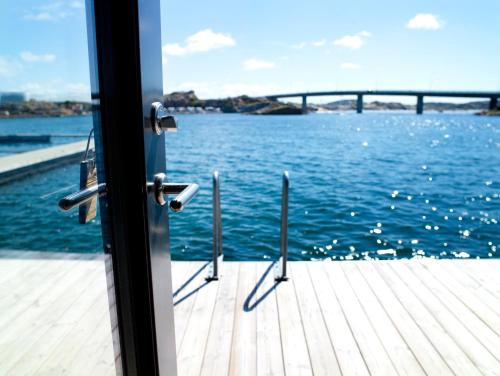 Of course, you can also spend some time getting close to nature on Tjörn, so head down south and rent a kayak in Bleket, paddle up north, and you'll pass salt-rimmed boat houses, skerries, cobs, and other islands and islets (depending on the weather). Spend the night nearby at the Salt & Sill – Sweden's first floating hotel – which offers bathing steps so you can go for your morning plunge in the sea or relax in the bath and sauna boat. It's also worth coming to Salt & Sill for the food alone. It is famous for its local and seasonal produce mixed up with innovative fine dining, with the speciality being Sillplankan–a herring plate with several types of herring. In the summer, you can also sit out on the pier.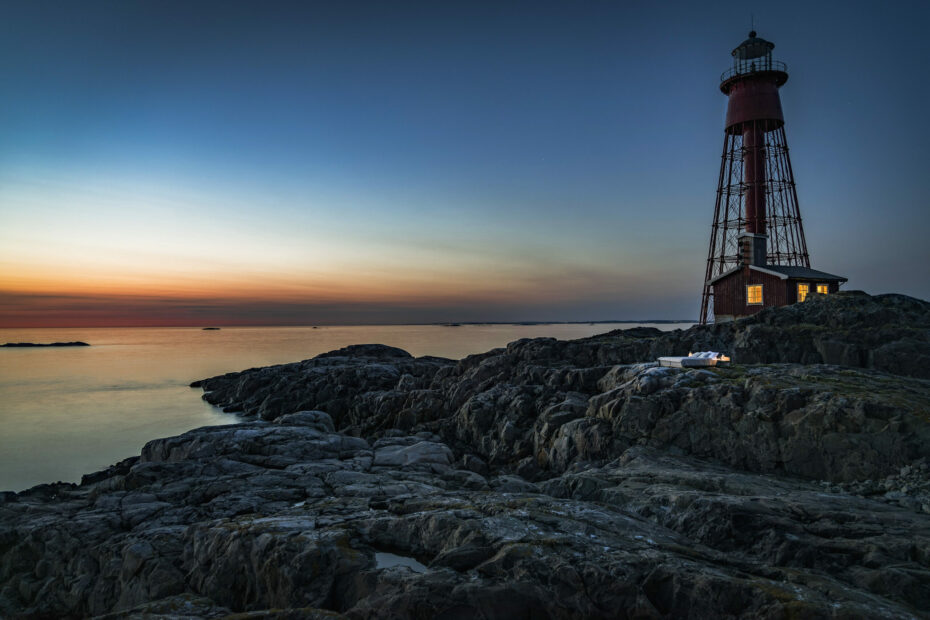 Now, if you want a unique overnight experience, get yourself to Rönnäng and the ferry across to Pater Noster. This tiny island is home to a unique design hotel set in an old lighthouse. You'll be isolated here, but don't worry. You won't get the Willem Dafoe and Robert Pattinson experience from The Lighthouse, but rather a luxury experience with fine dining and elegant design in a romantic setting. And, if you want some extra romance in the summer, book the DUX bed on top of a cliff overlooking Denmark to sleep under the stars in style!