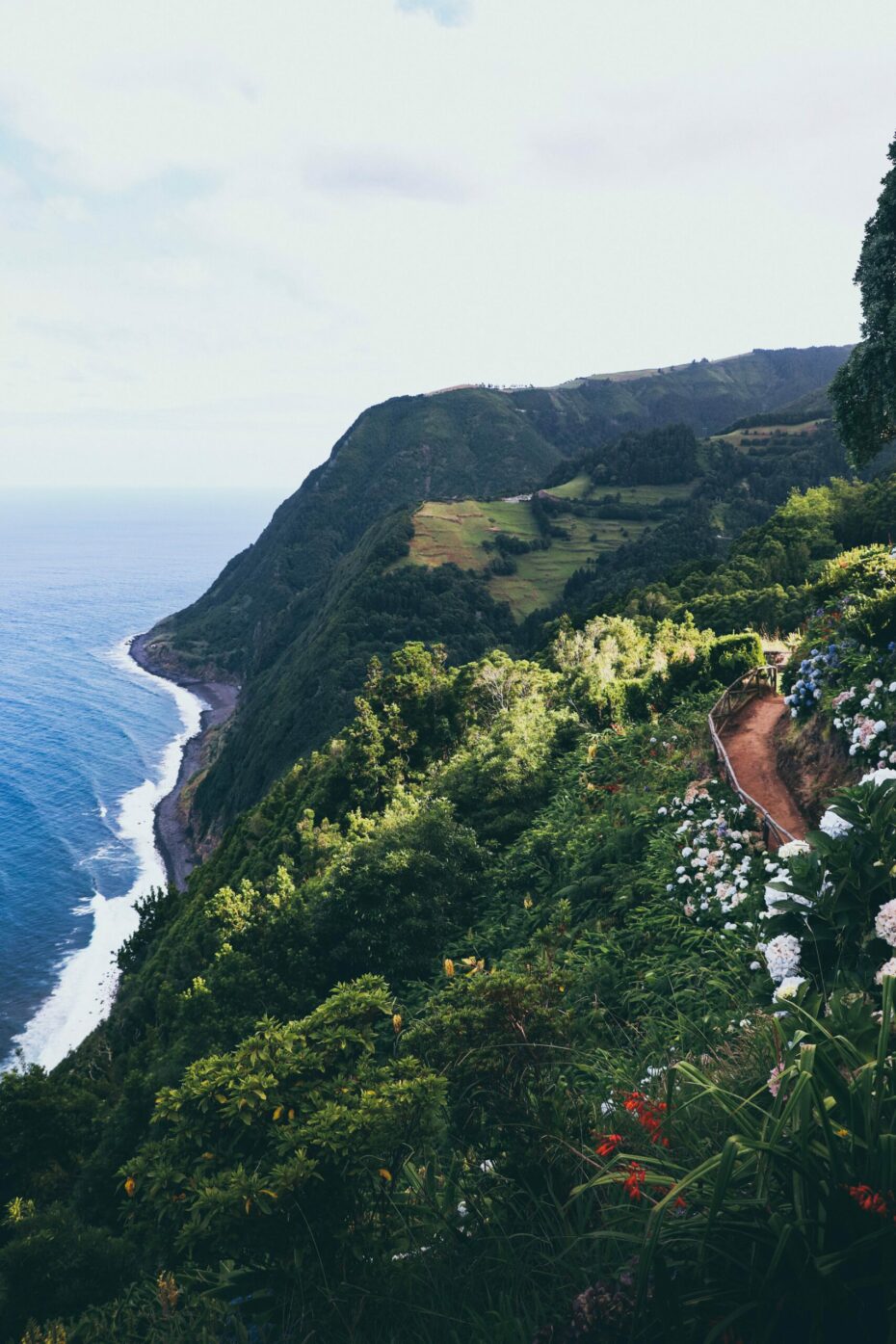 Lost in the Atlantic Ocean, nine islands thrust out of the depth of the sea in a fiery birth created by seismic activity. The archipelago of the Azores, said by some to have even been the fragments left behind from the lost continent of Atlantis – the sunken land said by Plato to have been situated just beyond the "Pillars of Hercules" (today's Gibraltar) – is not really Europe anymore, but not America either. Although the Azores belong to Portugal today, the islands lie some 1500km from Lisbon and more than 1900km from Newfoundland. Their complex geological history is written into a landscape of volcanic peaks, collapsed calderas, sulphurous fumes, and basalt towers carved by fire and sea. Let's plan an expedition to explore these ancient islands, where Flemish and Portuguese settlers made their homes, where women once wore strange hooded cloaks that resemble something out of the Handmaid's Tale, and where rainforests grow inside of extinct volcanoes.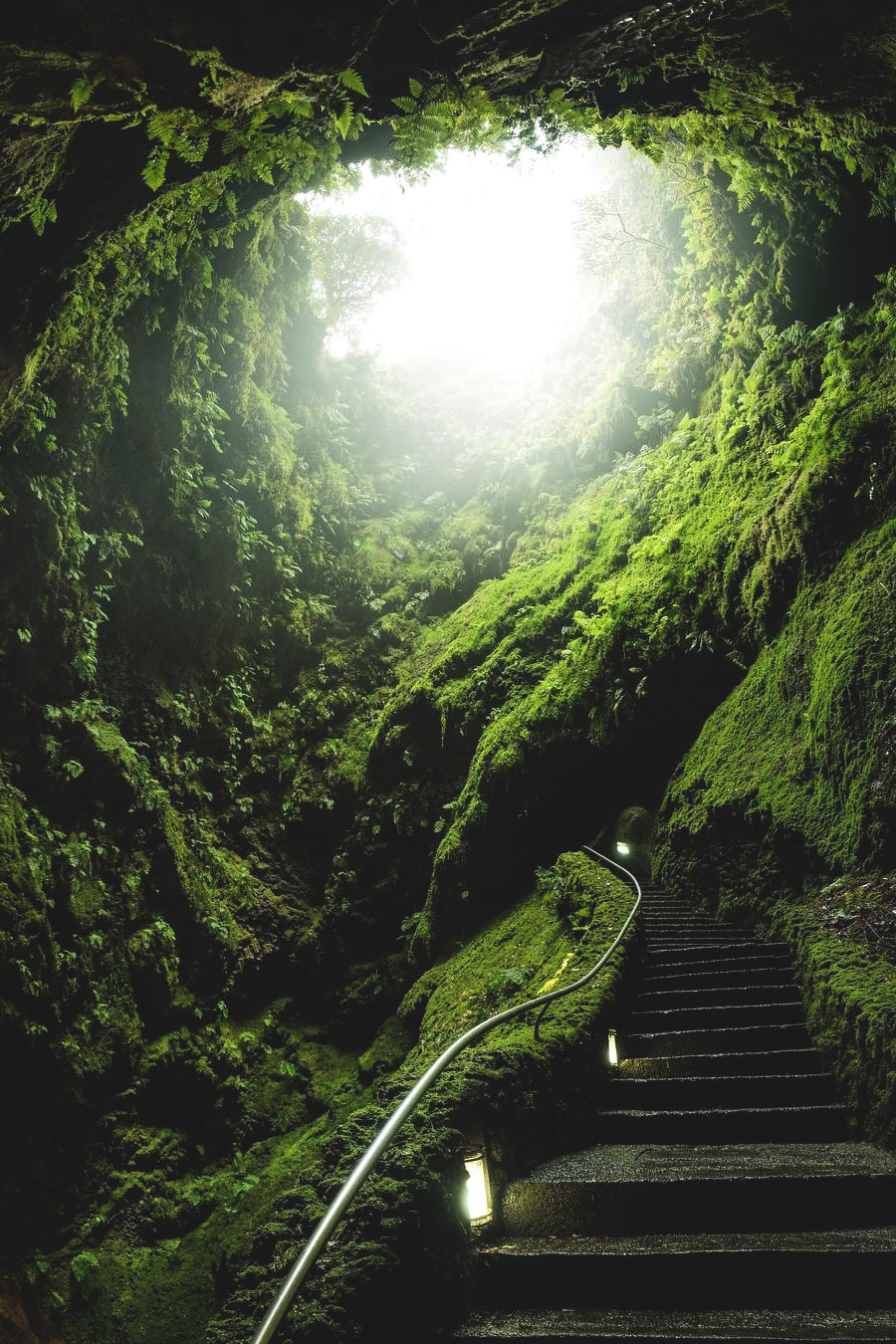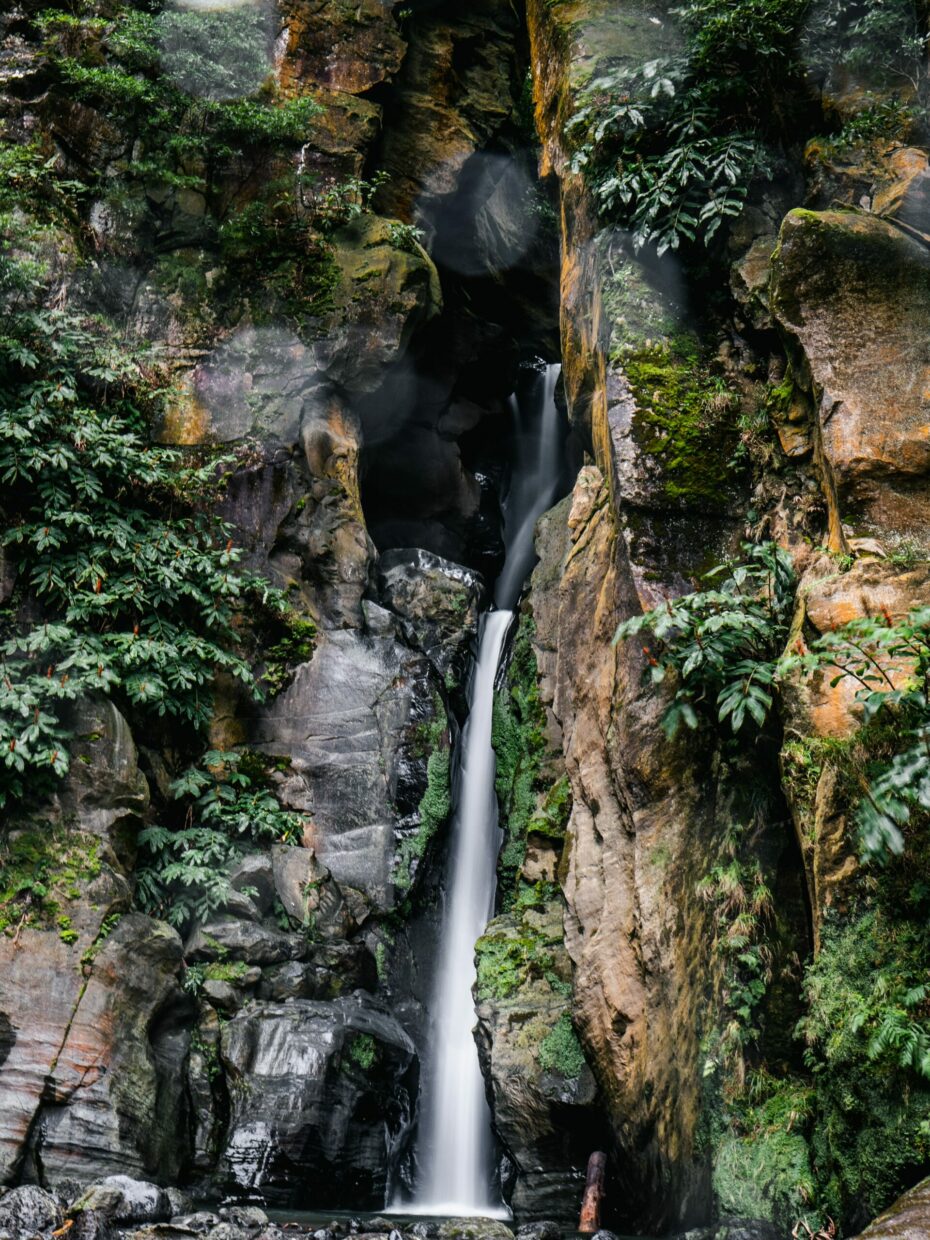 São Miguel: A Lost Geothermal Paradise
With a toast, let's start our Azorean adventure on the largest island of the nine, São Miguel. The Solar Branco mansion, an estate built in 1885, in the hills just northwest of its historic capital, Ponta Delgada, is home to an impressive gin library – Europe's largest collection with some 580 types of gin on offer. It also doubles as a sleek boutique hotel.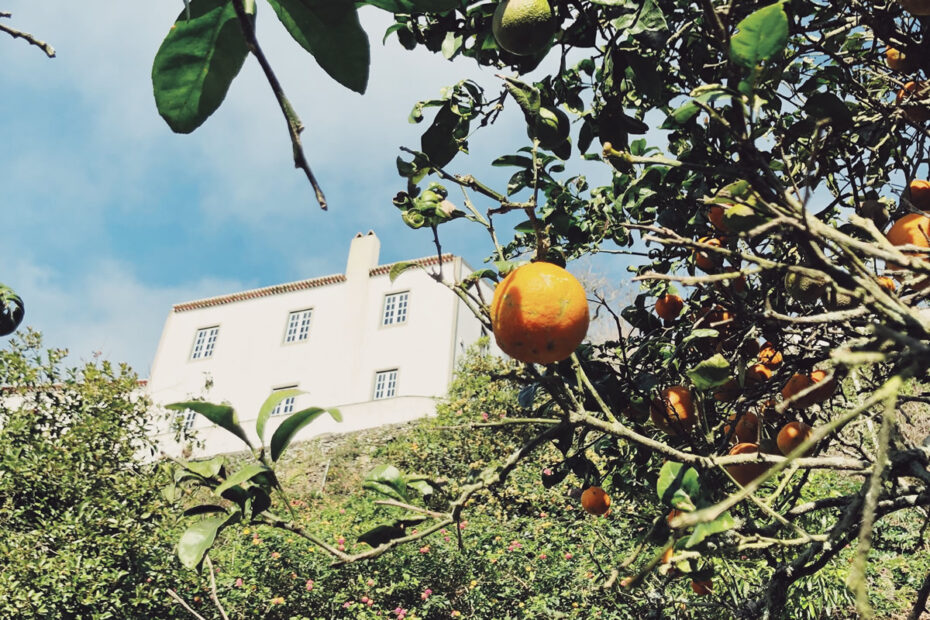 São Miguel's landscape is inscribed with volcanic lakes clasped by rugged craters like the Boca do Inferno on the western part of the island. Just to the west of the lake with the infernal name, we find the famous Sete Cidades, a lake partitioned by a bridge cutting through a volcanic caldera where the water appears green to the south and blue to the north due to the difference in the surrounding vegetation. Head west to the coast to bathe in hot ocean water pools, where hot thermal springs heat the sea in a natural cove.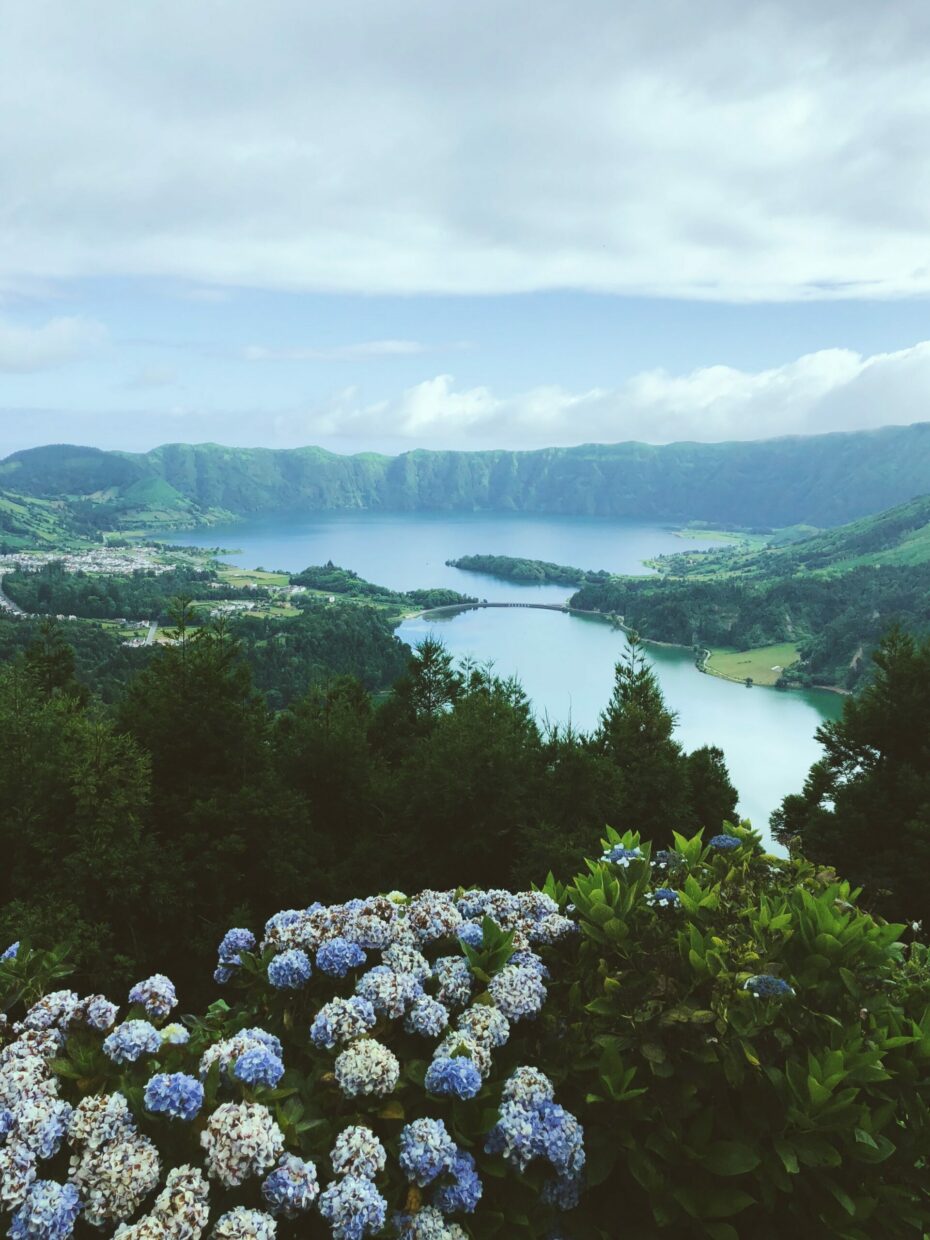 Next, it's time to go to one of the most active thermal locations on earth, the town of Furnas. It's also the centre of geothermal gastronomy. That's right, try the cozido das Furnas, a hearty dish made up of a selection of meats and vegetables slowly cooked for five hours by a volcano! We can sample these delicacies at Restaurante Tonys and also try the unique tea made with thermal water that turns violet at Chalet da Tia Mercȇs – we need to make sure we book both far in advance.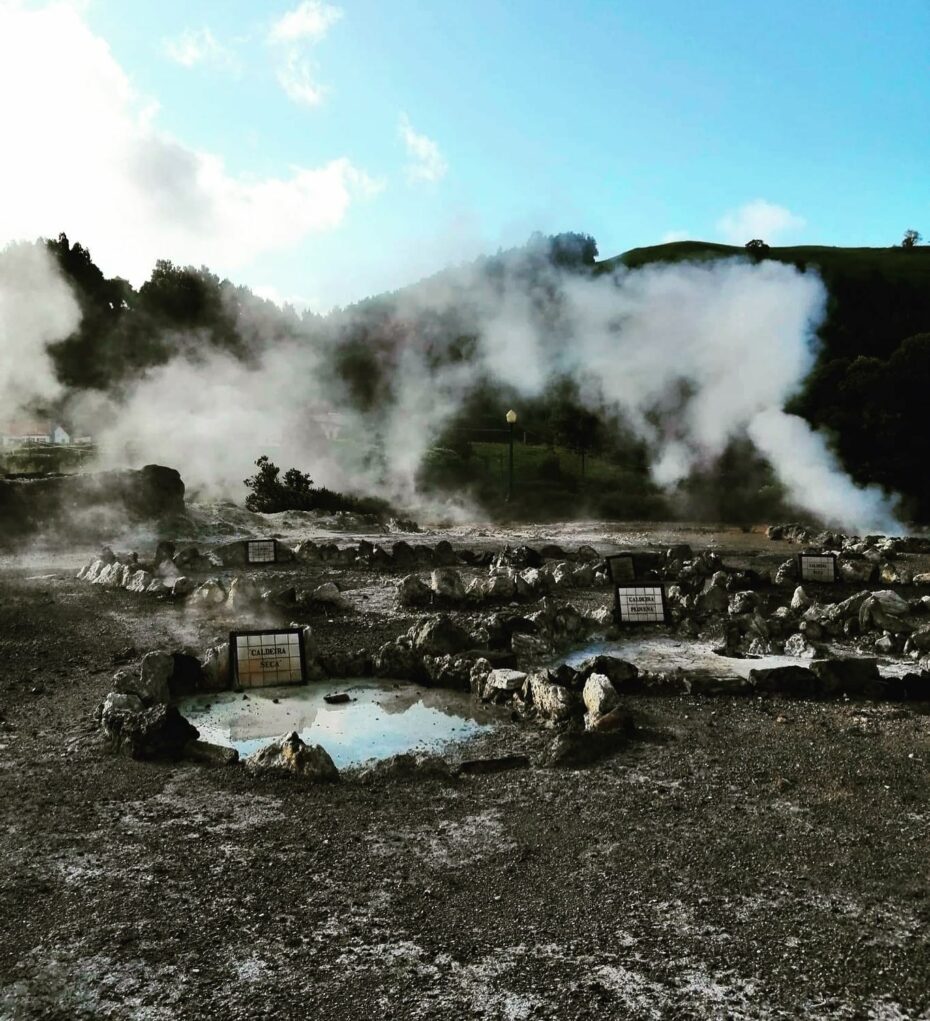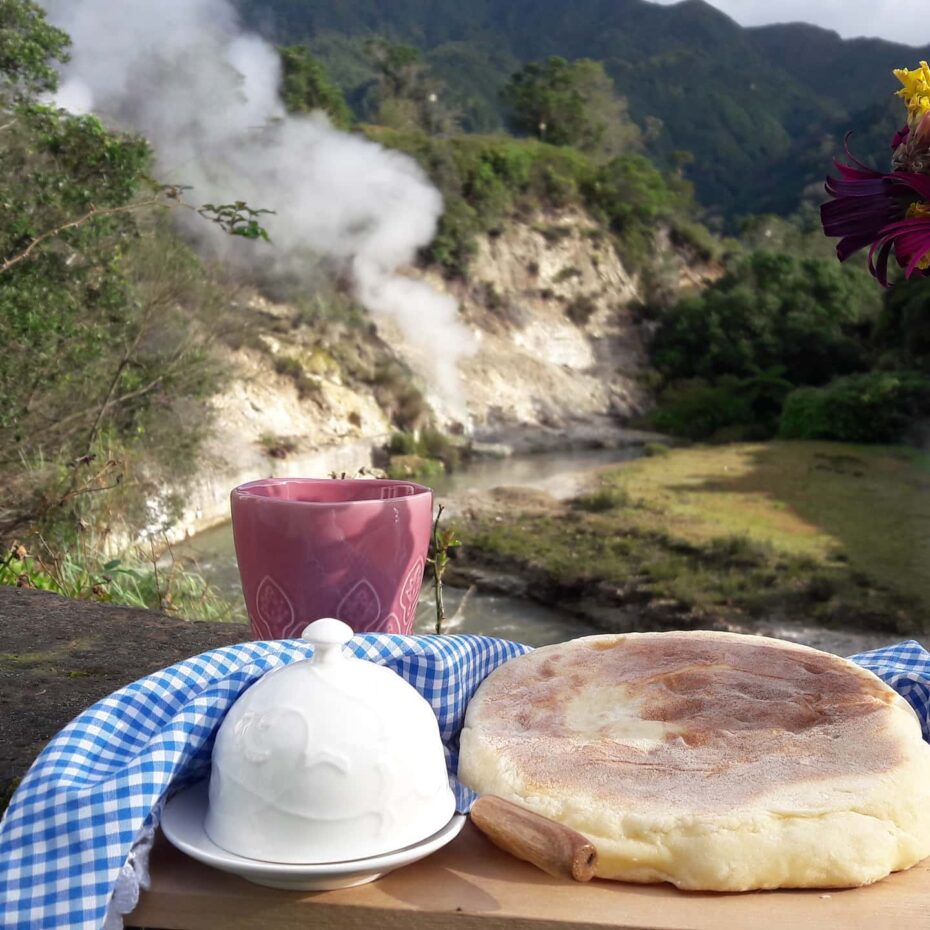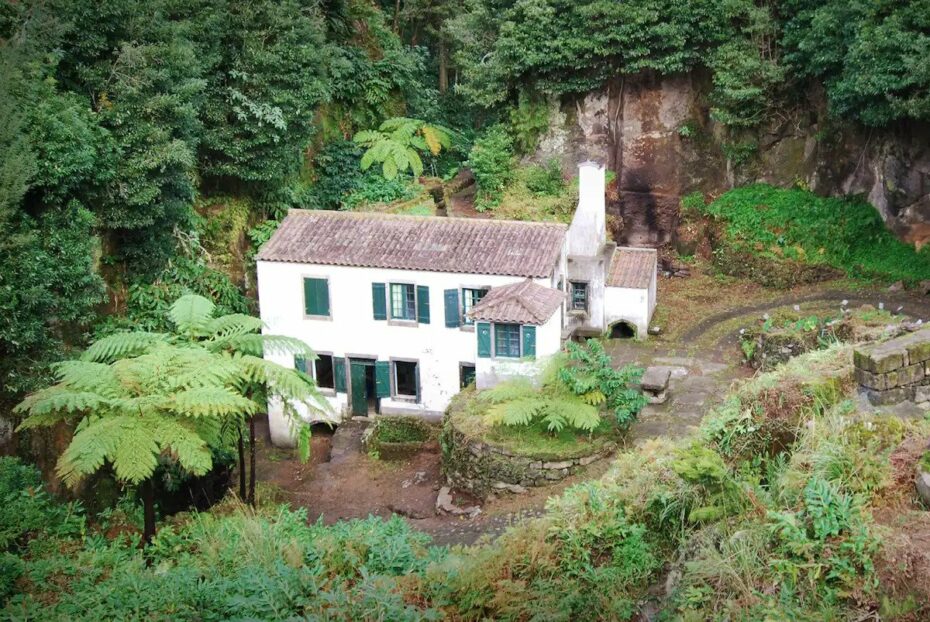 We've found some perfect accommodation too! A Wes Anderson-esque windmill in Ponta Delgada or in a secluded paradise surrounded by waterfalls? Take your pick!
Santa Maria: The Oldest Island in the Azores
We'll head south to Santa Maria, the oldest and sunniest island in the archipelago. It's not just the oldest geologically but was the first island discovered by Portuguese explorers and the first settled. History is scattered throughout the island, primarily in its ecclesiastical sites. Church of Nossa Senhora da Assunção in the capital Vila do Porto is one of the oldest churches in the Azores, and the chapel at the Hermitage of Nossa Senhora dos Anjos in the north was once visited by Christopher Columbus on his return journey from the Americas.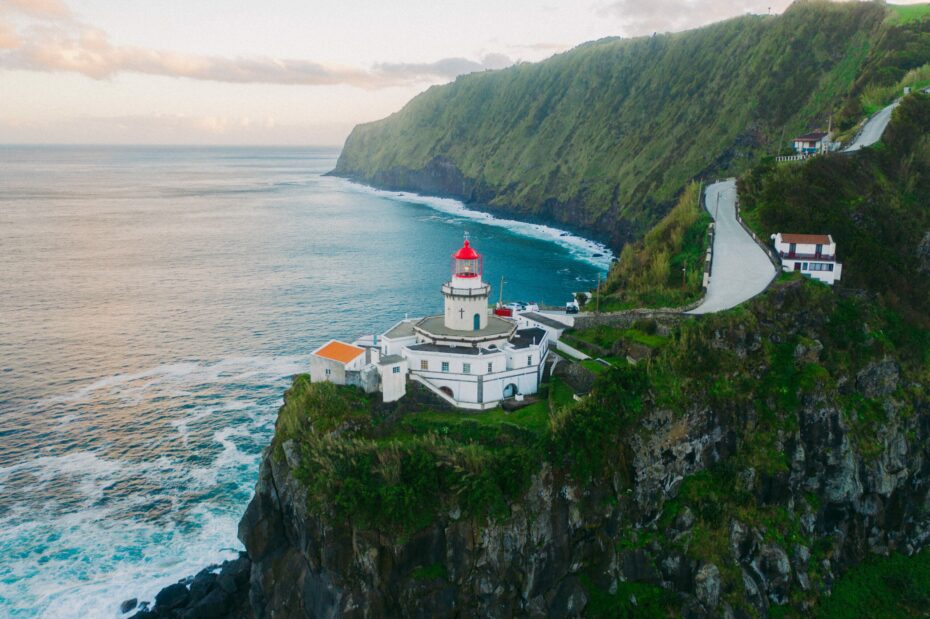 For some natural history, we'll return to Vila do Porto to the Casa dos Fósseis and Centro de Interpretação Ambiental Dalberto Pombo. This eclectic collection of taxidermy, fossils, and butterflies once belonged to Portuguese naturalist Dalberto Pombo, who studied the island's flora and fauna extensively.
However, Santa Maria is not without its natural wonders. So we have a few options. We can pack a picnic basket and hike up to the Poço da Pedreira, a former quarry with red, cathedral-like rocks towering over a peaceful lake. Pay a visit to Ribeira do Maloás, basalt chimneys echoing the Giant's Causeway, or Barreiro da Faneca, a rusty red desert to the island's north.
And with Santa Maria's warm climate, it's time to get in the water. We can either bathe in one of the crystalline coves tucked away along its jagged coastline, the natural pools in Maia and Anjos, or relax on the only white sandy beach in the archipelago, Praia Formosa.
Graciosa: A Protected Biosphere Reserve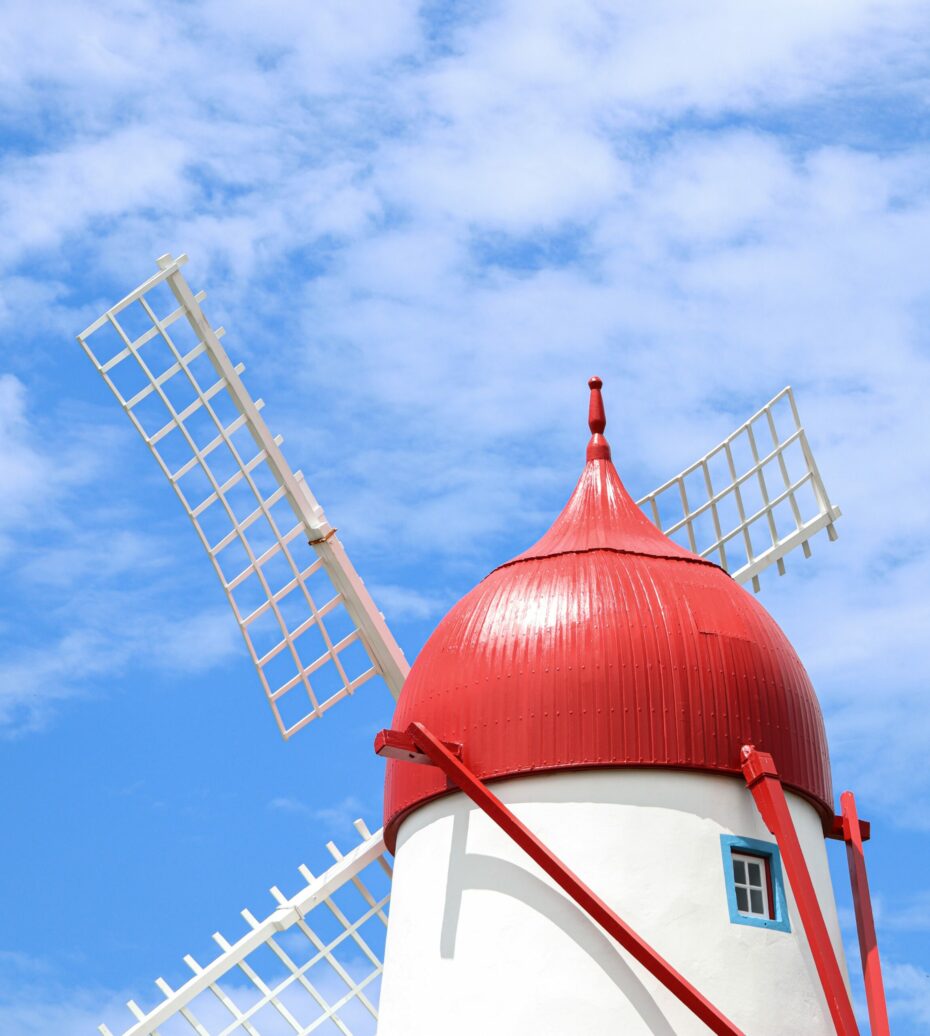 It's time for us to go over to the middle part of the Azores archipelago. Four islands cluster in this part of the Azores, with Graciosa sitting to the north. It gets the nickname "The White Island" due to its interesting geomorphological characteristics thanks to the abundance of white volcanic rock called trachyte and place names evoking the colour like Pedras Brancas (White Stones), Barro Branco (White Clay), and Serra Branca (White Hills). However, we'll find plenty of colours here, like the natural pool created by black lava at Piscina Natural do Boqueirão and the red beach of Barro Vermelho. When exploring the island, keep an eye out for its red-turreted windmills dotting the rolling green landscape and the famed Azorean dwarf donkeys–an endemic species to Graciosa on the verge of extinction. The island itself is also a UNESCO Biosphere reserve, surrounded by jagged coastlines and cliffs, and of course, boasts an abundance of volcanic curiosities.
The Caldeira de Graciosa is the most emblematic site on the island, a forest-covered crater of a dormant volcano. Let's go on an adventure and explore some of them! We can descend into former lava tunnels, and mysterious caves, like the Furna do Abel (Abel's Cave), the Furna da Maria Encantada (Cave of Enchanted Mary) and Furna do Enxofre (Sulphur Cave). The latter is a complex lava cave with vaulted columns of volcanic prisms, accessible by an 80-year-old spiral staircase with some 183 steps that lead you to an underground sulphur lake.
Terceira: Where Rainforests Grow in Volcanoes
Our next destination is Terceira, which means "third." It was the third island populated during Portugal's "Age of Discovery" and the third largest in the archipelago. Terceira is an island where history dances with nature, as it's not only the home to the oldest city in the Azores–Angra do Heroísmo–but an island rich in geological and natural history, with juniper and laurel forests and even more stunning volcanic structures.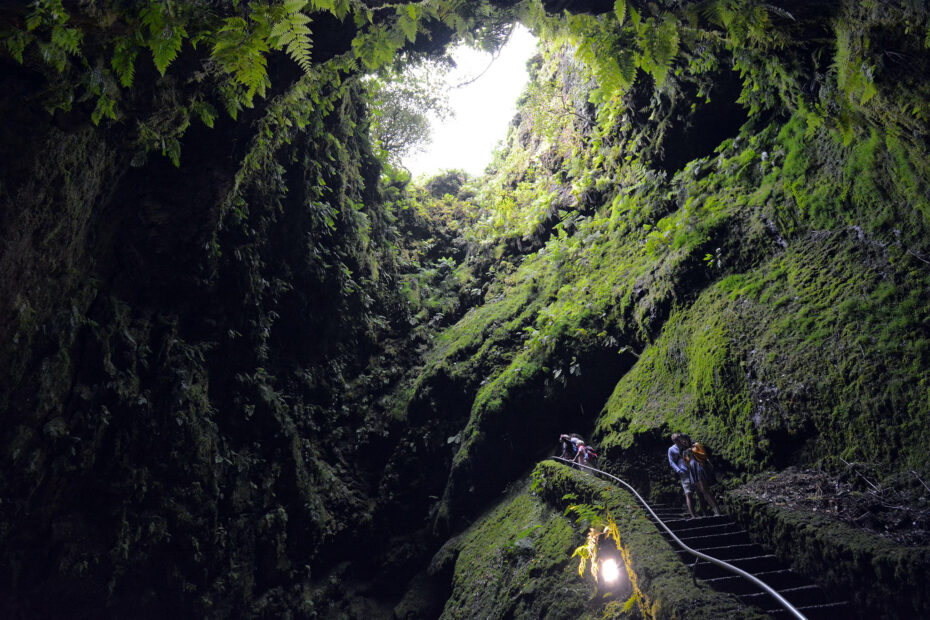 One of the island's highlights is Algar do Carvão, a 3000-year-old volcanic chimney with a lake at the bottom that a network of tunnels and stairs can access. It is unique in that you'll find a tapestry of lush vegetation growing inside the mouth of the cone structure, resembling a rainforest. It's only a short 6km hike from the cave to the Furnas do Enxofre, a fumarolic field where streams of sulphurous gas escape from the earth. We can head another 4km west to the Gruba do Natal, a stalactite and stalagmite-clad cave where the locals have celebrated Christmas since 1969!
But Terceira's human historical monuments are just as charming as its natural wonders. We'll wander the UNESCO-protected Angra do Heroísmo–where members of Portuguese nobility were once exiled–passing the macaron-pastel houses before paying a visit to the Sé Cathedral, rebuilt after being destroyed by an earthquake and a fire in the 1980s. If we're feeling fancy, we could even stay in the Forte de São Sebastião, a 16th-century fortress built to protect the city from pirate attacks that is now a 4-star hotel.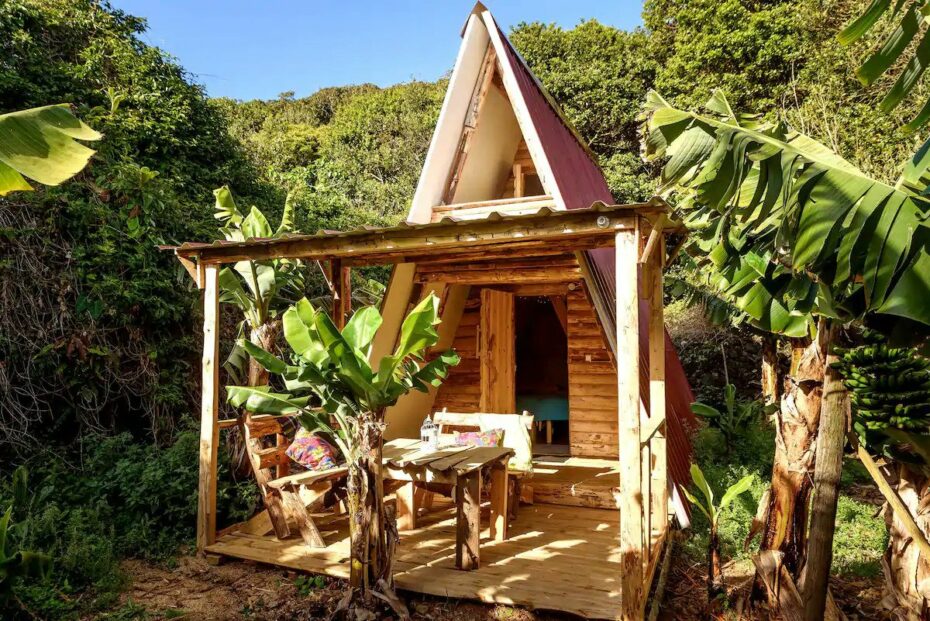 However, we could also get close to nature on the island by staying in a banana camp (yes, they grow bananas in Terceira), in a wooden cabin just outside the city, where fresh sweet bananas can be picked off the tree.
São Jorge: The Island of Fajãs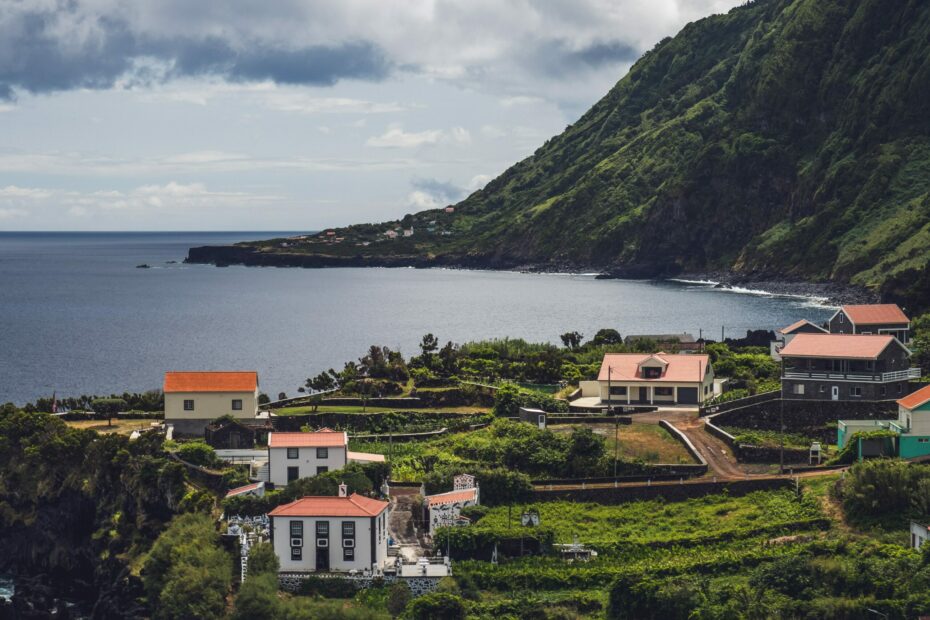 São Jorge grew out of the sea by a linear volcanic fissure, a tectonic plate boundary that runs 200km eastwards to São Miguel. Like its brothers and sisters, São Jorge's volcanic heritage dominates the landscapes, but we're visiting this central island for its fajãs, coastal plateaus created from ancient lava flows.
There are more than 40 fajãs on the island, and some even have microclimates that allow them to grow exotic produce like bananas, guavas, and coffee. Fajã dos Vimes is home to one of Europe's only coffee plantations, and we can try some locally grown coffee right here on an Azorean Fajã at Cafe Nunes. This family-owned coffee house not only gets its organic coffee from the coffee plantation next door and manually roasts it, but has done so for generations. If you want to wake up to the smell of local coffee, then let's stay in a traditional stone house on the fajã.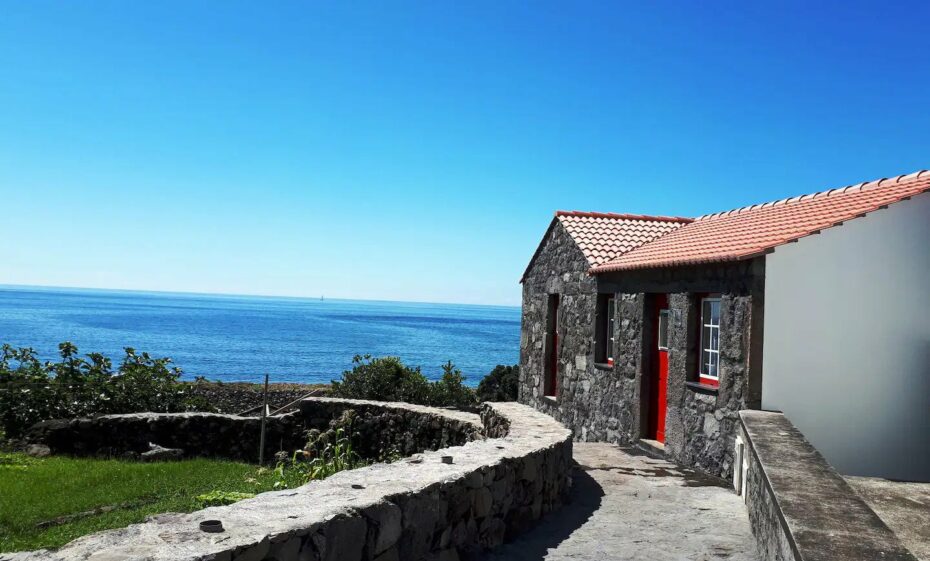 Each fajã comes with its character and quirks. Fajã da Caldeira do Santo Cristo has an underground cave, while Fajã do Ouvidor is home to Poça Simão Dias, a stunning natural swimming pools with crystal clear water protected by lava rocks we can bathe in.
Of course, we cannot leave this island before trying the local cheese, Queijo São Jorge, a semi-hard cheese made from unpasteurised cow's milk from a 16th-century recipe. Velas, the largest town on the island, is the cheese capital in the Azores–home to delicious local cheeses like Queijo São Jorge. So, we'll Head north of the town to the Uniao de Cooperativas Agricolas de Lacticinios de Sao Jorge, a cheese factory, to learn more about Azorean cheese and taste a few.
Pico: Volcanos, Wine, and Whales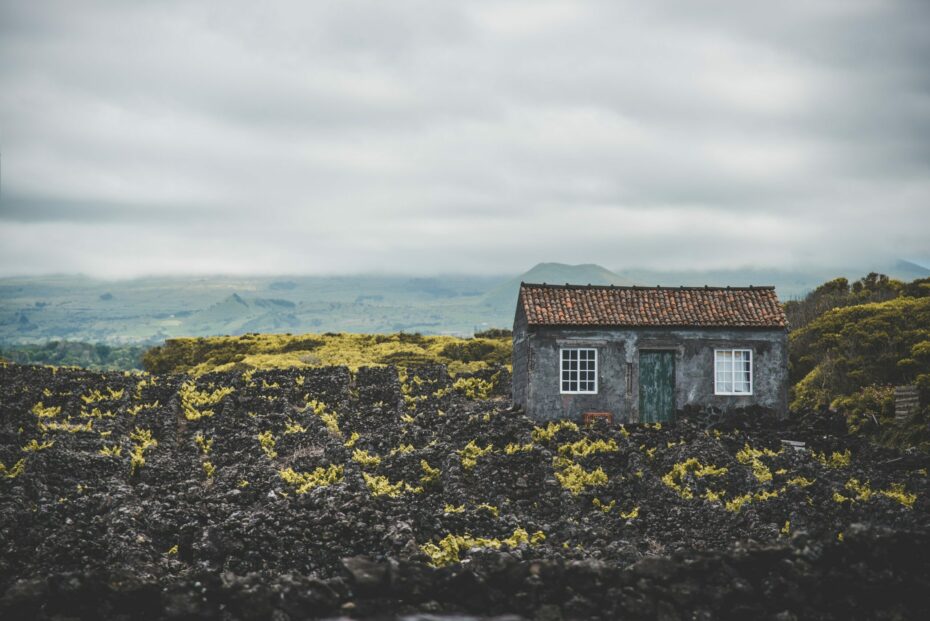 It's time to sail to Pico, an island that first appeared on the maps in the 14th century Medici Atlas as Li Columbi, meaning the "Island of Pigeons". Today, it gets the name, Pico, meaning "Peak" in Portuguese, thanks to its famous volcano, Mount Pico, which towers some 2300m above sea level. It's not just the highest mountain in the Azores, but in all of Portugal.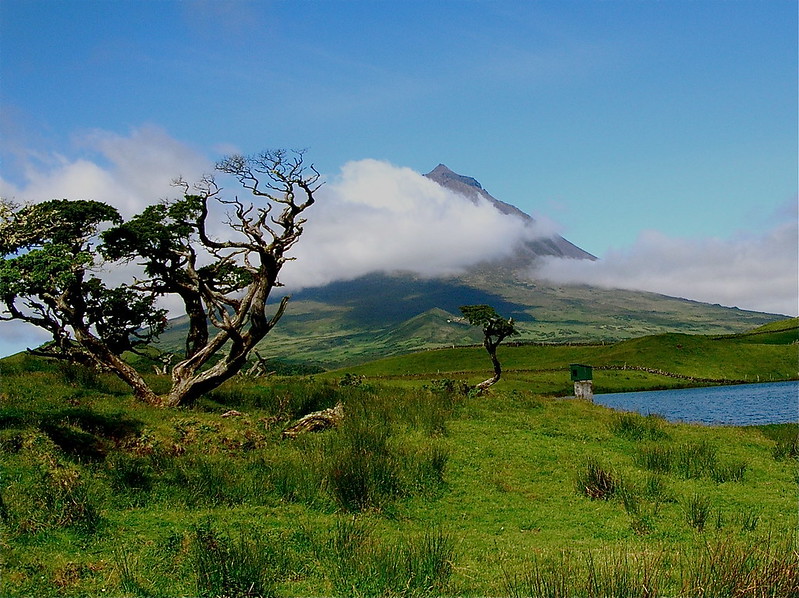 Wine and brandy from Pico, mostly the Verdelho variety, have reached international fame. This unique island, with its mineral-rich lava soil and mosaic of black stone, has made Pico a great place to grow grape vines. But don't expect rows of elegant vines like you usually would. In Pico, locals use basalt to create dry stone-walled plots called "currais" that let the sunlight reach the vines but protect them from the wind. We can learn a bit about the wine in the Museu do Vinho. It's set in a former summer mansion of Carmelite friars under Mount Pico's shadow and has an 800-year-old dragon tree. We can also learn more with a winery tour with Picowines in Madalena, where we get to try a few glasses with some local cheese.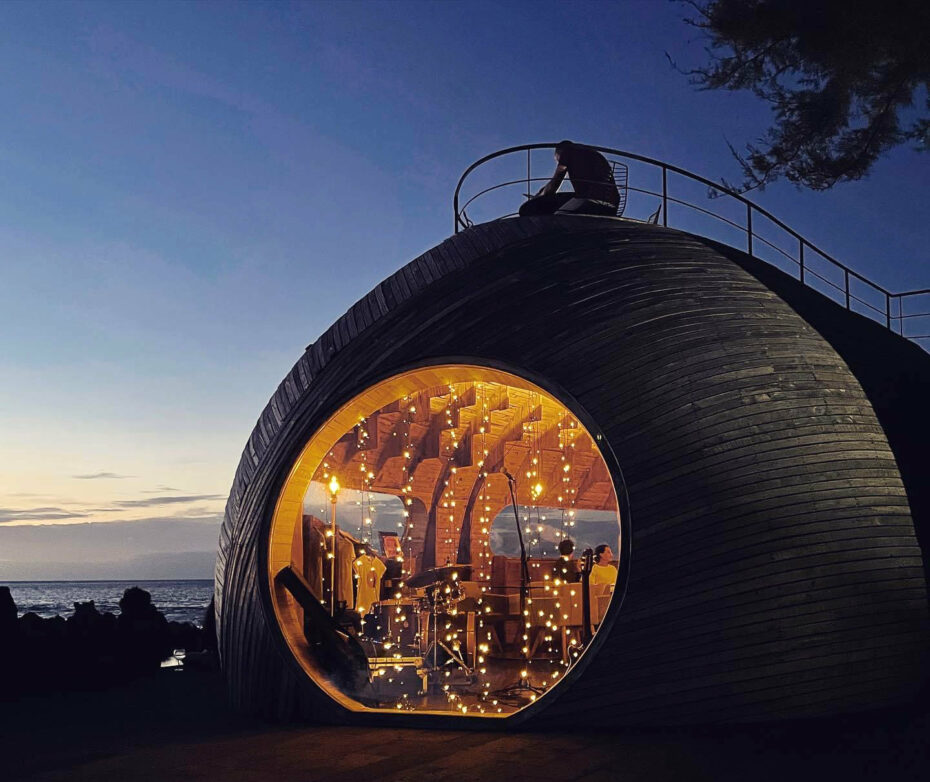 Another evening we can grab dinner at Cella Bar, an award-winning restaurant for its architecture set in a repurposed wine cellar serving Azorean specials. Apparently it feels like dining inside a giant, futuristic wine barrel.
Pico also has a long history of whaling, so let's channel our inner Herman Melville and visit the Museu dos Baleeiros (Whaling Museum) in Lajes do Pico, which charters the history of whale hunting on the island. The Museu da Indústria Baleeira (Whaling Industry Museum), found in an old factory building in the port of São Roque do Pico, is also a curiosity worth investigating. It shows us why whaling was a lucrative industry, as we'll see all the equipment once used to transform parts of the sperm whale into oil, flour, and even vitamins! Fortunately, whaling is no more, but we can still get the Moby Dick experience in the wild up close on one of the whale-watching tours (if we're lucky, we might even see a sperm whale live in its natural habitat).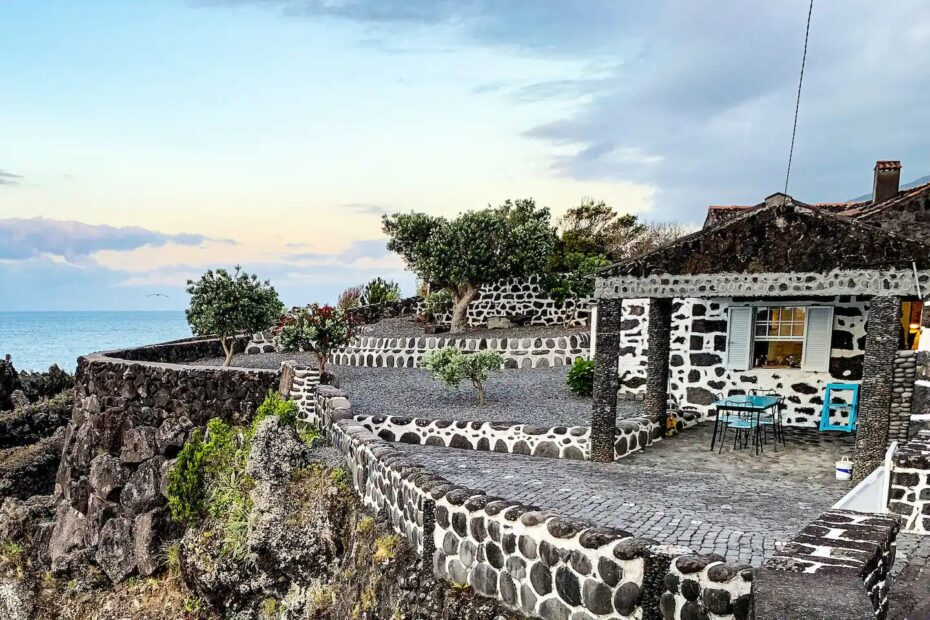 For the perfect place to channel our inner sailor, we can stay in a former boathouse right by the ocean in São Roque do Pico.
Faial: A Botanical Wonder with Maritime History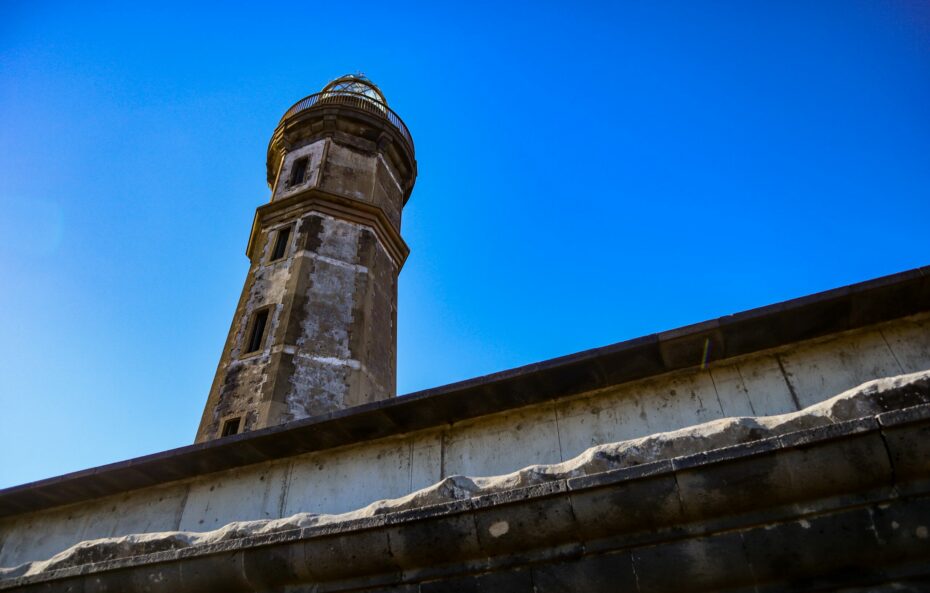 Faial lies just to the west of Pico, and while it's a small island, it has a colourful maritime history. It was once a crucial resupply point for Portuguese ships trading Brazilian gold in the 16th and 17th centuries. Faial was also a 19th-century hub for telegraph cables connecting America with Europe, a haven for seaplanes crossing the Atlantic in the 1930s, and even a communications base used for connecting the USA to the D-Day landing beaches in Normandy.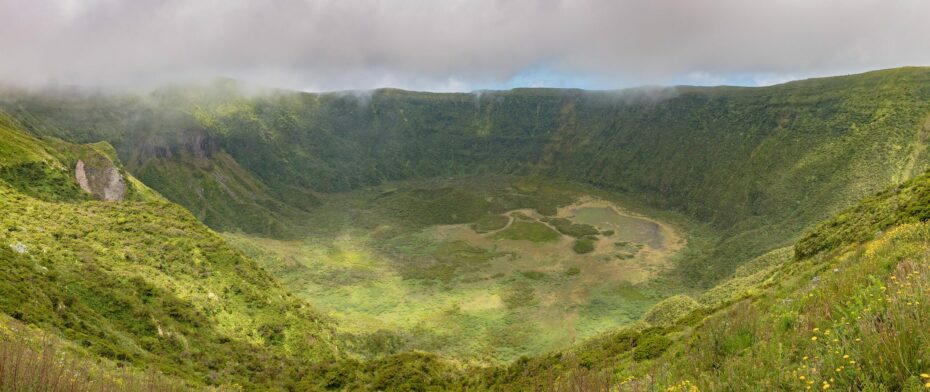 But we want to visit this small island for its arresting landscapes, like the Capelinhos on the western peninsula, where a subterranean eruption created more than 2 kilometres of land in the 1950s. Like many of the surrounding islands, at its heart, we'll find the Caldeira Grande, a lush volcanic crater covered in laurel bushes and fields of violet and baby blue hydrangeas. We can grab some local specials like Fofa – a local bread made with fennel, lemon zest, and egg yolk cream–along with other goodies, and go for the hike! How often can you say you've picnicked inside a volcano? Faial also has an enigmatic botanical garden in the suburbs of its capital, Horta, home to various endemic species, including an orchidarium with some 30 species of the seductive plant.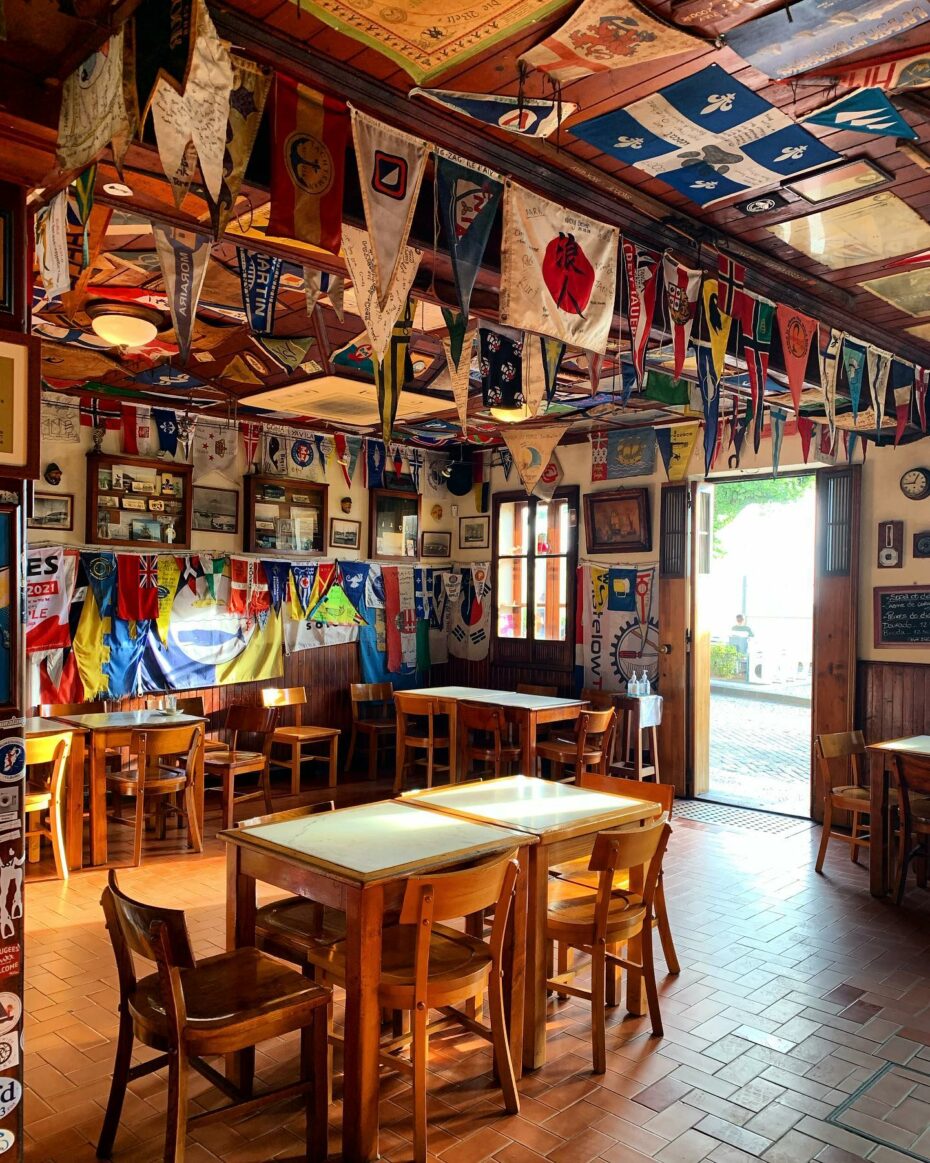 Horta has been a hub for sailors for centuries, and there's no better place to capture that old spirit than in Peter Cafe Sport, a bar and cafe that's been around for more than 100 years and a popular hangout for sailors crossing the Atlantic. They even make their own tipple: Peter's Gin. It's said to have been the favourite drink for those working at the submarine cable companies in 1918. And for a slice of history with some gin, we can pop upstairs to Peter's Scrimshaw Museum, a cabinet of curiosities of carved and engraved whale teeth and bones, an archaic art form from the island's whaling days.
Flores: Home to Europe's Westernmost Village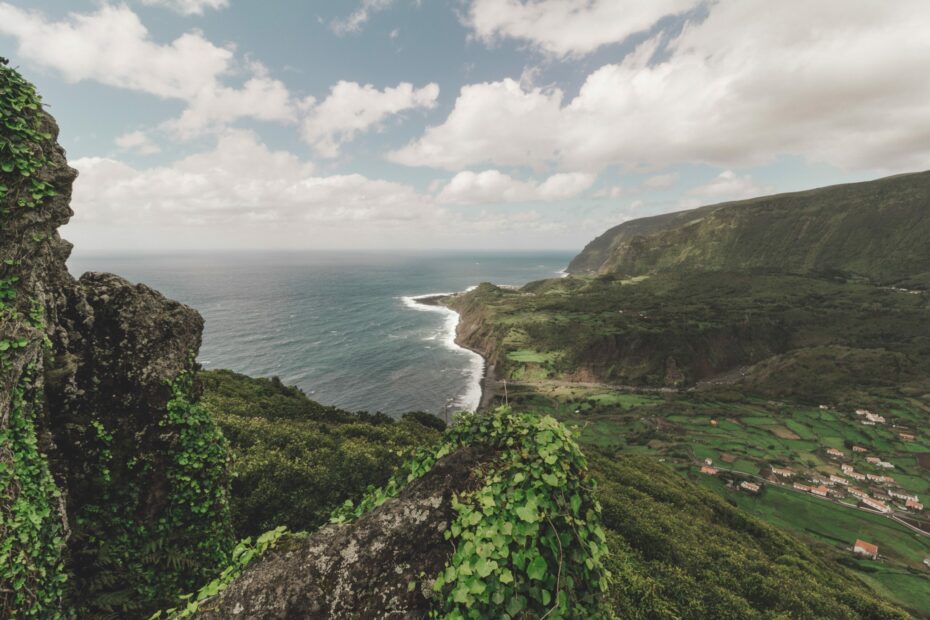 Flores lies on the western edge of the Azores. Some say it is the most beautiful of the islands with its monolithic cliffs, crater lakes, and verdant green landscapes dotted with isolated whitewashed villages. Flores and its neighbour Corvo differ slightly in their geology from the rest of the islands. For starters, they are set on a different tectonic plate and are drifting away from the other rest of the Azores. These two islands have shifted 15 metres away since the Azores were settled. Another curiosity is that they have seen no recorded volcanic eruptions or activity in their calderas in recent history, leading geologists to consider them extinct.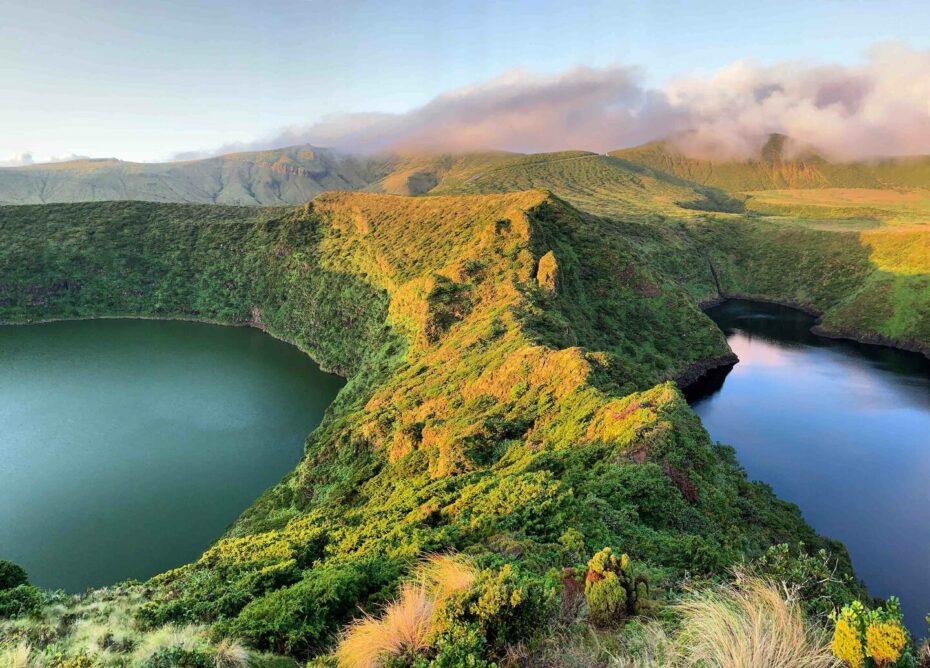 Our destination here is Fajã Grande, a cosy hamlet of 200 people on the coast considered the most westerly village in Europe. We can stay at the Argonauta guesthouse –set in a rustic 300-year-old building that once featured the first bathroom in the town and the only piano on the island – to escape the 21st century and enjoy a simpler world. Or on the other side of the island, we also like this traditional stone house with a view. Flores is an island for the active adventurer, where you can go canyoning and marvel at waterfalls plunging from the top of steep cliffs from the plateau-like island some 500 metres into the Atlantic Ocean.
Corvo: A Stopover for Migrating Exotic Birds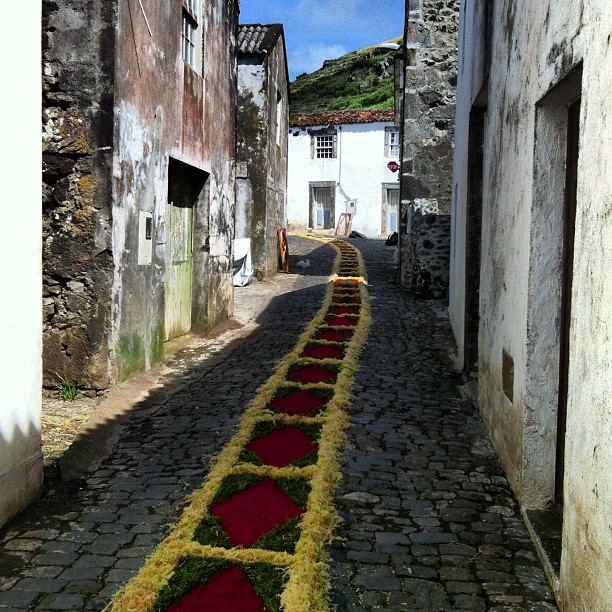 Corvo is our final stop, and is perhaps home to more birds than people, with only 450 residents living on the island. Portuguese writer Raul Brandão described it as "a convent erected in the middle of the sea." However, the island's lush volcanic landscape surrounding a collapsed 430,000-year-old caldera–which fell from being 1km high into the island – and its lack of population, the island has become a popular spot for migrating birds from the Americas to make a stop over. However, we'll need to book far in advance, especially in the autumn as we may need to jostle with all the enthusiastic bird watchers who come here on a pilgrimage. Once we've seen the local flora, fauna, and migrating birds, it's time for us to migrate home and say adeus to the Azores!
Need a guide to Portugal? We've got one right here.