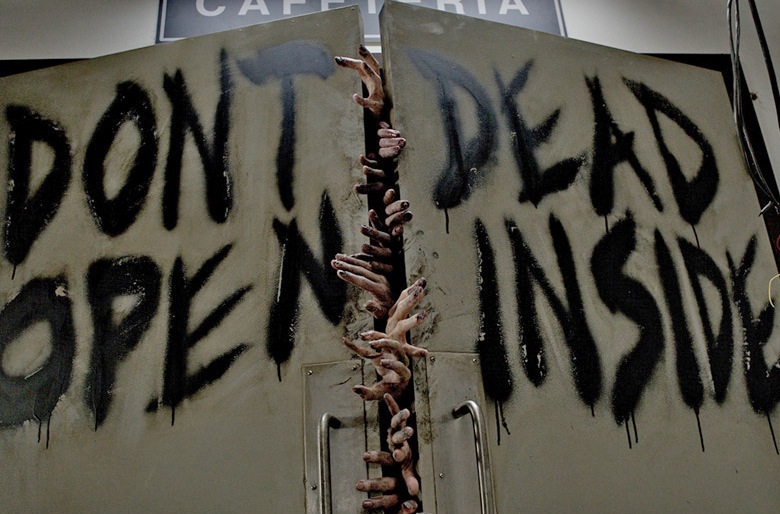 I often wonder how it's possible to be both obsessed with things like puppies, french cheese, floral print vintage dresses AND zombies. (Still working on an explanation).
So anyway, deep down, we all really want a zombie apocalypse to happen. Just for a day or something. You know, to put our zombie survival skills to the test.
Well fellow zombie enthusiasts, someone has finally come up with a way to make that happen– with the Zombie Shopping Mall Experience!
[youtube http://www.youtube.com/watch?v=g92gPYYYOCQ&feature=player_embedded#!]
An abandoned shopping mall in the U.K. has been converted into the life-like setting of a zombie apocalypse. For £119, you can spend three hours armed with airsoft weapons, running for your life from some very convincing flesh eating 'walkers'.
I remember when I was about nine or ten years old I invited my all-girls class to a similar experience for my birthday party except with aliens à la Sigourney Weaver. There probably should have been an age restriction and it didn't make my mother popular with the other parents but it's a birthday I'll never forget! I really hope I can try this one out on my next trip to the UK.
Here's a more in depth video of the actual experience at the Zombie Mall. Looks pretty intense!
[youtube http://www.youtube.com/watch?v=6tytVeyKOG0]
The Zombie Mall Experience is open for a limited time but fear not because it's been a huge success already and will most likely prompt more Zombie experiences to pop up all over the world.
God I sound like such a nerd.