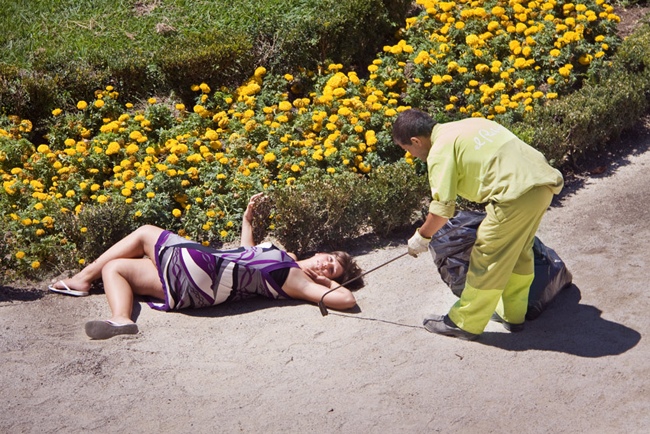 "Poses" is the project of spanish artist, Yolanda Dominguez, whose work I've been keeping in my vault of goodies for quite a while.
In an unapologetic criticism of the absurdity of the fashion industry, Yiolanda uses a group of real women in real life settings to imitate several photographs found in fashion magazine editorials. In doing so, the artist highlights quite a few ugly truths…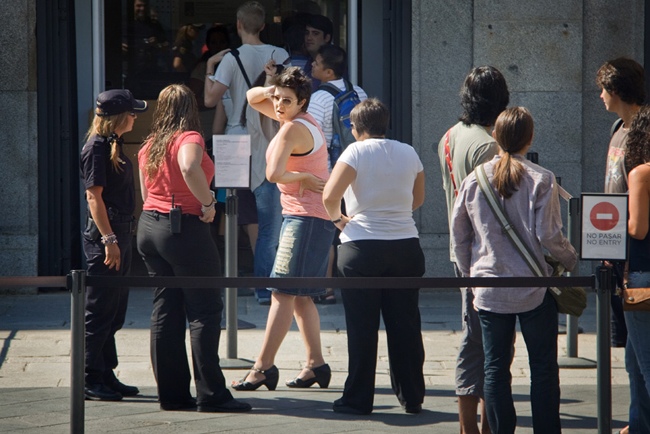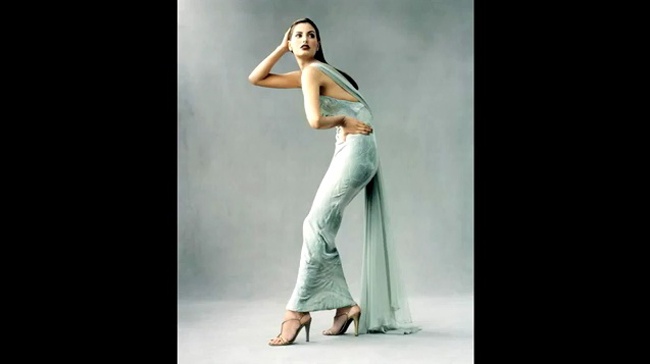 Although the poses in the examples Yiolanda has chosen are all technically different from each other, you might also notice a similarity, in that all the woman are posing in a manner to suggest they might be weak, slightly insane and even deranged. Twisted bodies, inverted hands on hips, nonsensical actions– Yiolanda believes this is a pattern that constantly repeats itself in the fashion world.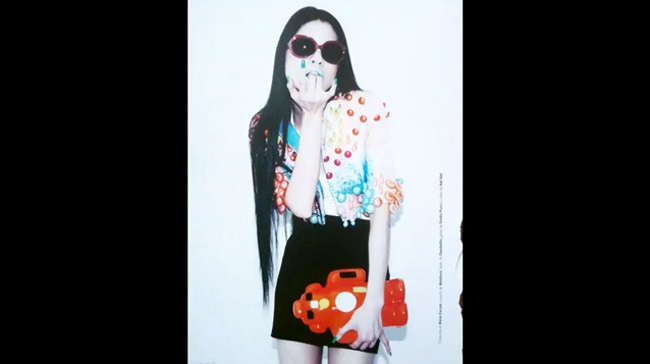 Yiolanda's aim is not just to show how "silly" fashion modelling can look out of context, but also to show how harmful it can be to be influenced by the images imposed and imprinted on us daily.
"…photographers and fashion editorials throw women on the floor, put them into ridiculous positions; submissive, dead, diseased … I do not identify with these women and almost no woman does identify with them. However, all strive to be like them because we have no other reference. This leads to many disorders and diseases. It seems that women cannot have a wrinkle, or cannot weigh more than 50 kilos, or cannot be older than 25 years. That is not healthy or sane. The men never go out in these poses and situations."
From an interview with Le Projet d'Amour, 2011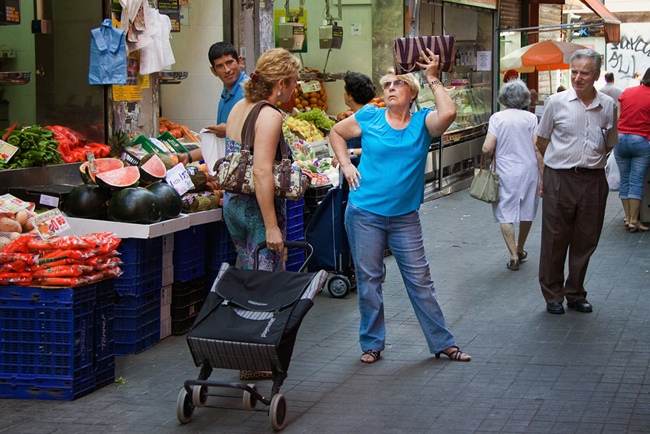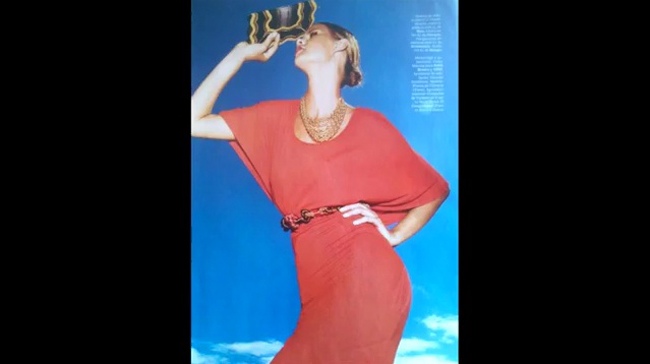 It's interesting that she points out that men are rarely seen posing like this in magazines. They always look strong, healthy and more importantly– sane.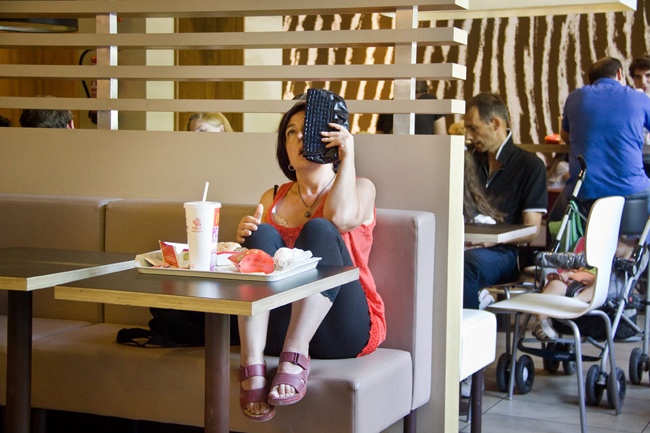 Yiolanda does in fact hint that a male influence in fashion may have something to do with this distorted image of women. In looking for its origins, she tells us that all this is nothing new. The same has been done for many centuries since the very first paintings by the masters who were ofcourse, all men.
Art, much like fashion today, relies on a separation from the "real" and the "imagined". The problem is that fashion is less easy to separate from the imaginary because it's actually used to sell products that are real, and in our media saturated world today– this imaginary woman it portrays is all around us, all the time.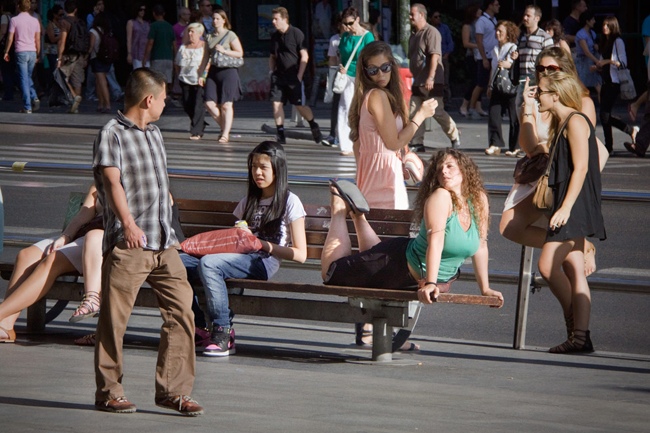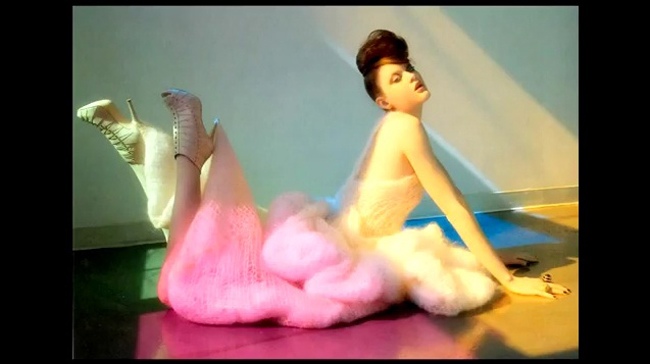 Yolanda also filmed the project which makes for amusingly awkward viewing, but more importantly, by capturing the reaction of the pedestrians, she ingeniously highlights even further just how little we, in the real world, can relate to women posing like this.
[youtube http://www.youtube.com/watch?v=GPEcdcmnAA0]
Next time you pick up a magazine, pay attention to how many of the female models are posing in a manner that portrays either weakness or some sort of mild insanity. Let me know how many you find…
If you like Yiolanda's work, I posted another project of hers this morning called "Begging for Chanel". Check it out here.