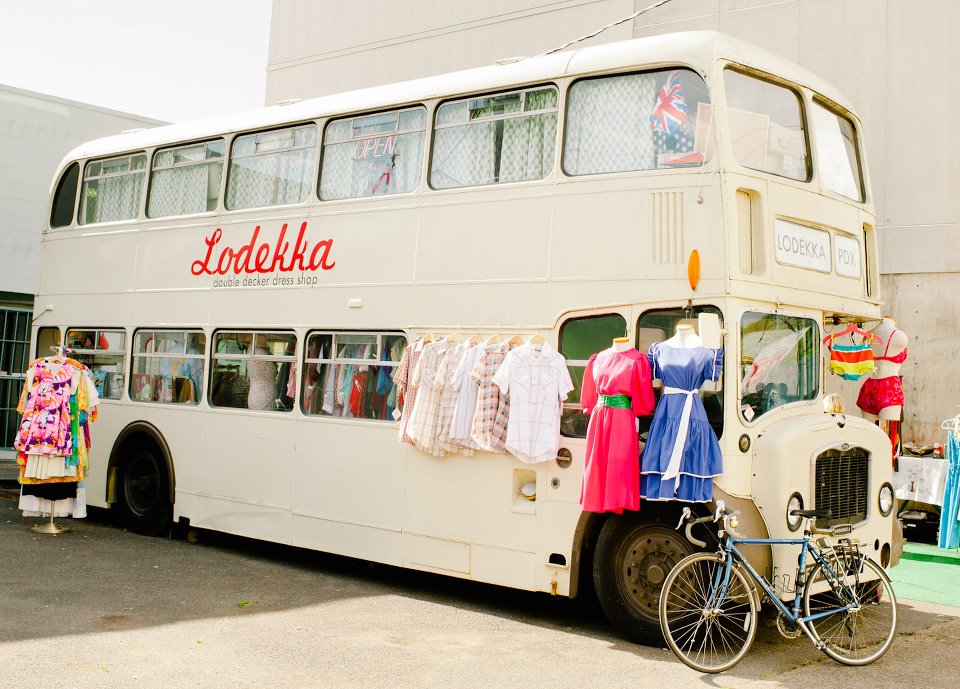 Lodekka Before: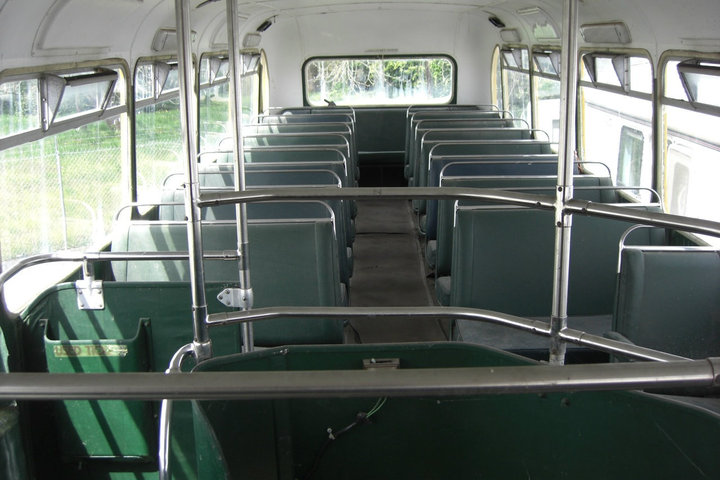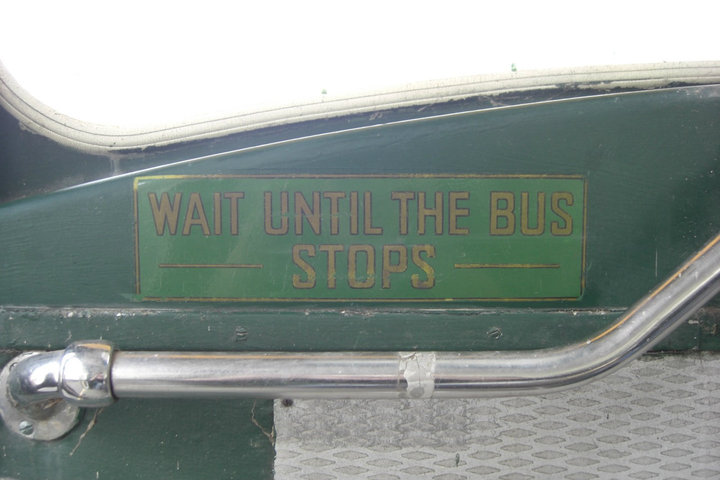 Since April 2010, when she's not on tour with her band, The Stolen Sweets, Erin parks her 1965 British double-decker bus in Portland, Oregon (strategically well-placed in front of the city's most popular brunch destination TastyNSons) and hawks women's vintage clothing and novelties. Her four-wheeled fashion boutique is appropriately named, Lodekka.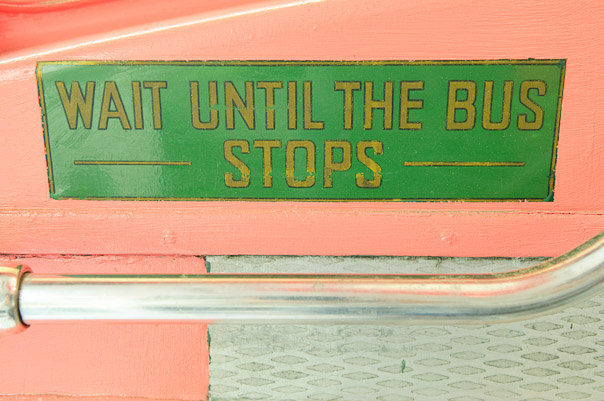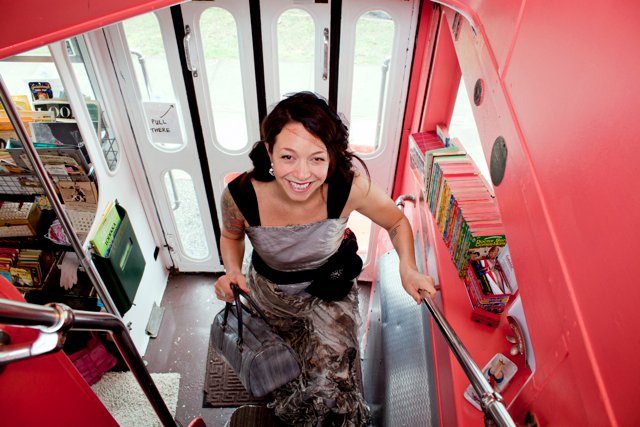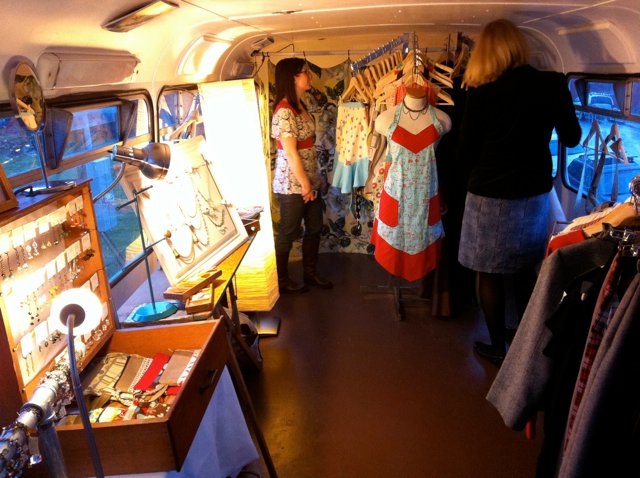 "The bus can run, but currently doesn't. All of its parts are in working order, but yours truly evidenced a lack of mechanical prowess by cutting a few important wires during the conversion process. If anyone knows of a good British mechanic looking to do pro bono work, please send them my way," says Erin.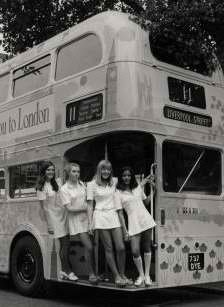 The kitschy white bus whose spiral staircase is now adorned with vintage lace and knickknacks once provided public transportation to the citizens of Liverpool from 1965 to 1982. The bus ended up in the USA after it was purchased by Decathlon Athletic Club in Burnsville, Minnesota.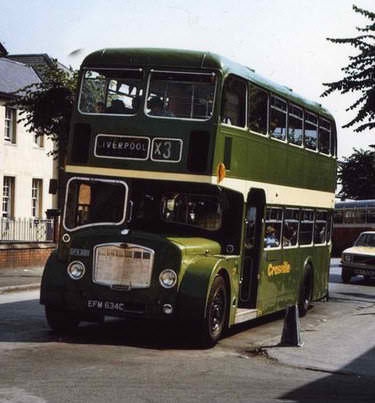 "I found out recently that Decathlon was not a typical athletic club: it was a gathering place for hockey players. I bet those hockey players had no idea they were riding in a future dress shop."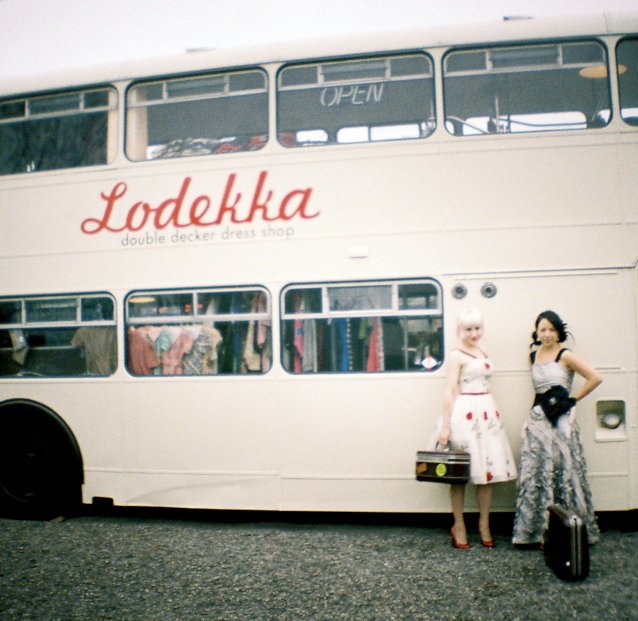 Lodekka's website
Wanderlust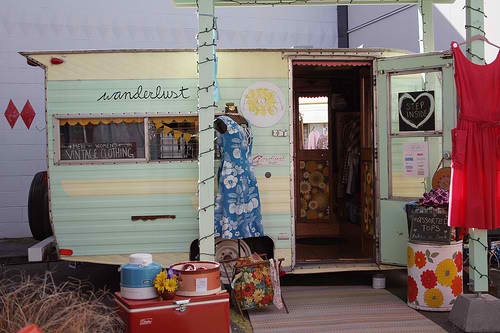 But Lodekka is not the only four-wheeled business with a flair for fashion in town. Wanderlust is a 1969 Cardinal Deluxe travel trailer specializing in vintage goods and handmade fashion and home accessories.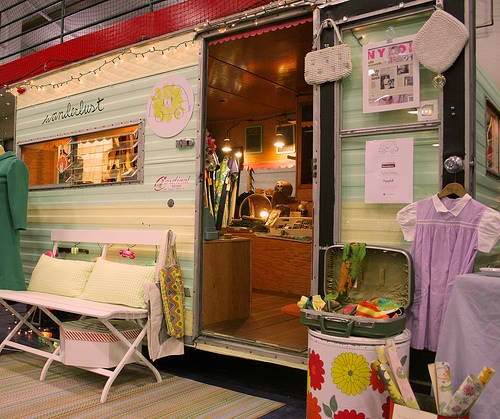 You can sometimes find them parked alongside its "fashion cart soulmate", Lodekka or in front of their new storefront for special events on Ankeny Street in Portland. Husband and wife Dan and Vanessa Lurie also found their mobile dream shop on Craigslist and spent several months gutting, re-paneling and adding clothing racks and space for merchandise.
Wanderlust website
KJOSK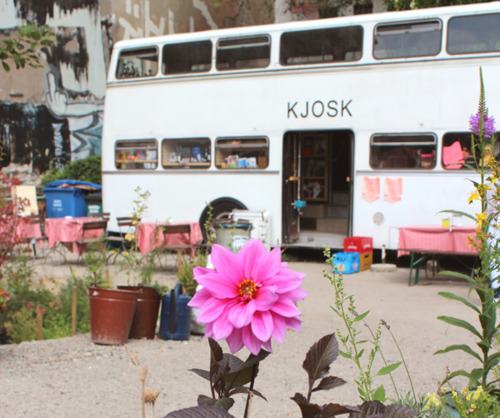 Here we have a 197-s BVG Doppeldecker bus parked in a former garbage dump in Berlin, Germany that has been transformed as an urban oasis. Surrounded by beautiful greenery, picnic tables, parasols and even a ping pong table, Kjosk is the kind of place where you wouldn't mind spending your entire Sunday.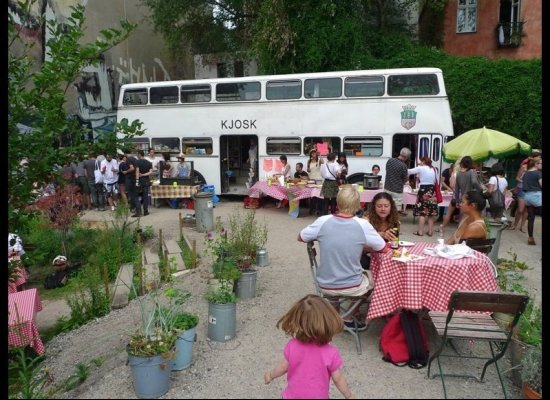 "It's a meeting point for everyone, for the neighbors who want to buy their eggs, the kids who want to buy their sweets, the local alkies who want to buy their beer, and the hip kids who can buy their fashion mags. It's not exclusive, and it's not a hip place to be. It's an oasis for the neighborhood, " says owner Rosmarie Köckenberger.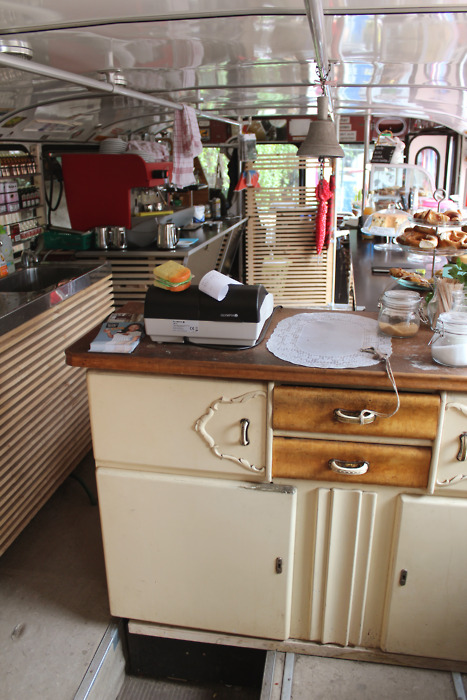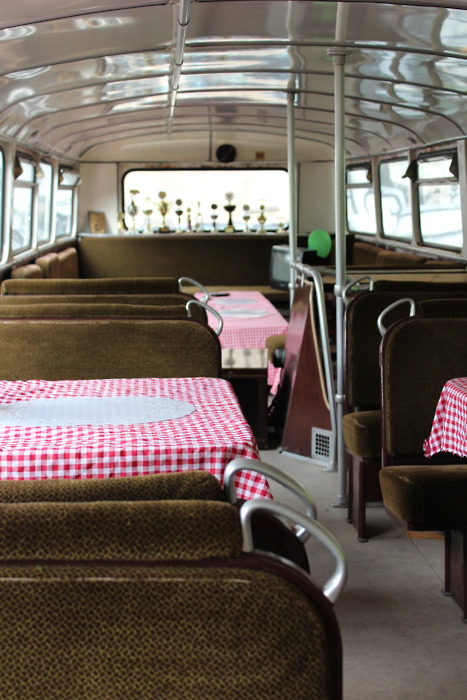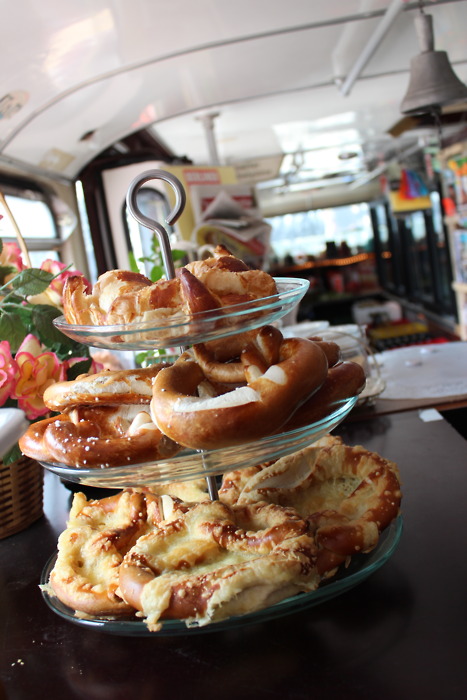 At the Kjosk you can find pretty much anything from cold drinks, pretzels, homemade cakes and jams to tobacco, licorice, underwear, nail polish, dog food, table-tennis rackets or international fashion magazines.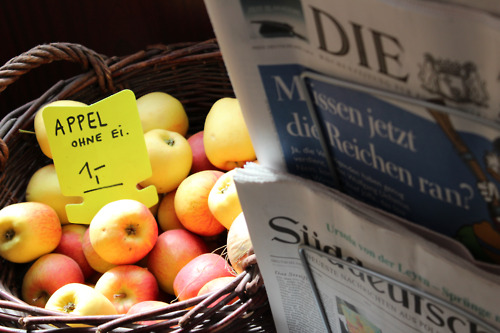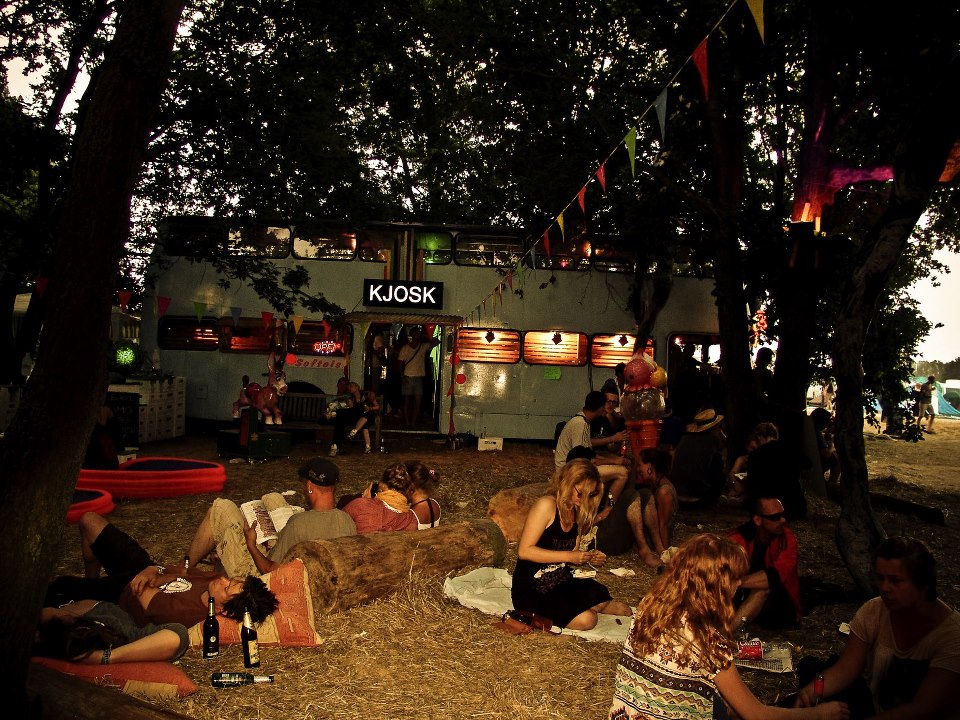 Aetherstream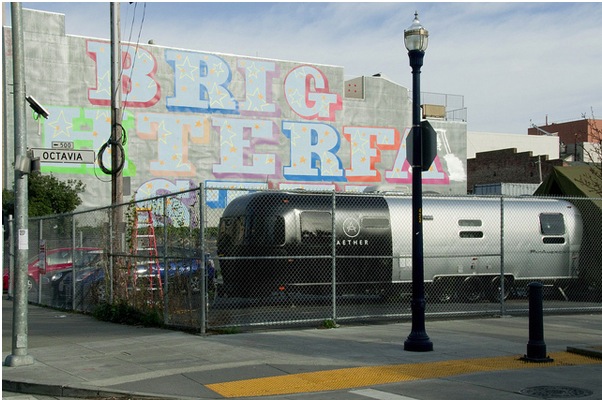 Behold, a PanAmerican Airstream trailer, gutted and modernized into a stunning men's apparel mobile store kitted out with reclaimed wood, vintage camping gear and Parisian flea-market finds.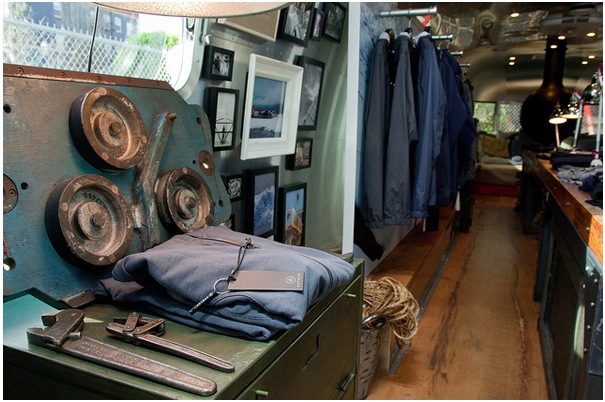 Aetherstream is a pop-up shop owned by a pretty cool gang made up of San Francisco-based film producers and a designer/ former colleague of Phillip Starck from Paris– all turned mobile boutique owners! The pop-up shop travels all over the states and is currently parked up in Boston, MA until the 15th October. Keep track of their location HERE to find their Facebook and Twitter links.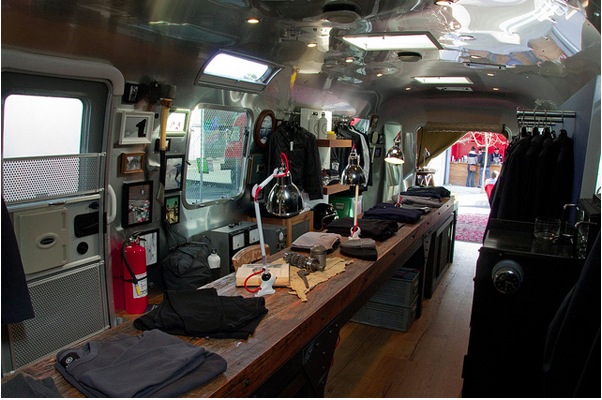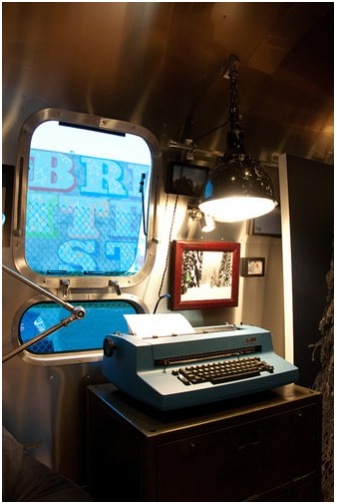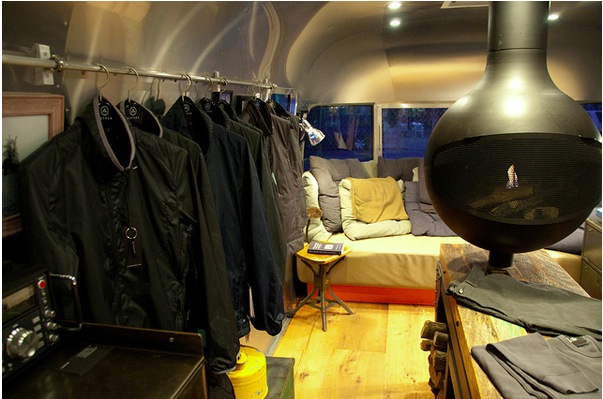 Complete with outdoor "chill area"!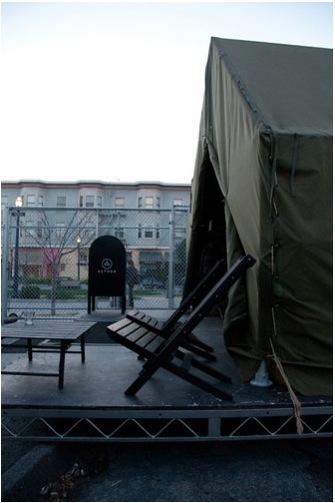 Images via here
AetherStream website
Travelling Wares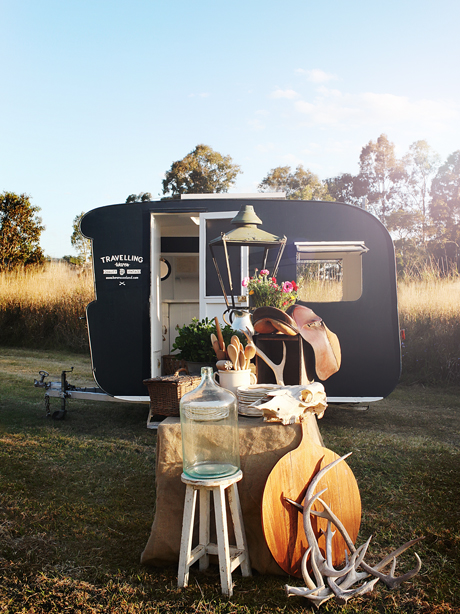 Based in Brisbane Australia, Travelling Wares is a tiny, lovingly restored 1956 Franklin Caravan that owner Kara Rosenlund sets up in the city's local farmers markets. Kara fills her little mobile shop to the brim with beautiful and practical vintage wares for the home she sources herself– a passion that never died ever since the first time she went digging through a European flea market. Kara's next market is Saturday the 13th of October 2012 at the Jan Power Farmers Markets at New Farm's Powerhouse in Brisbane. 6am til 1pm.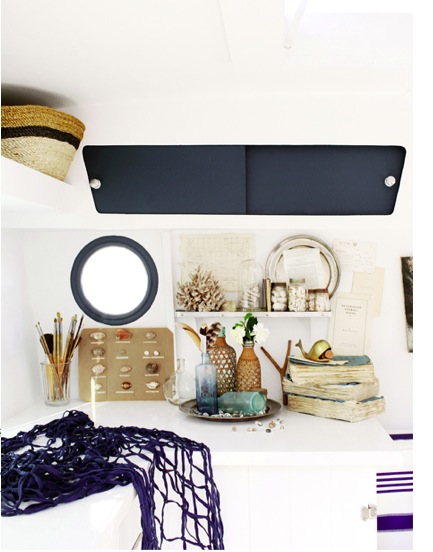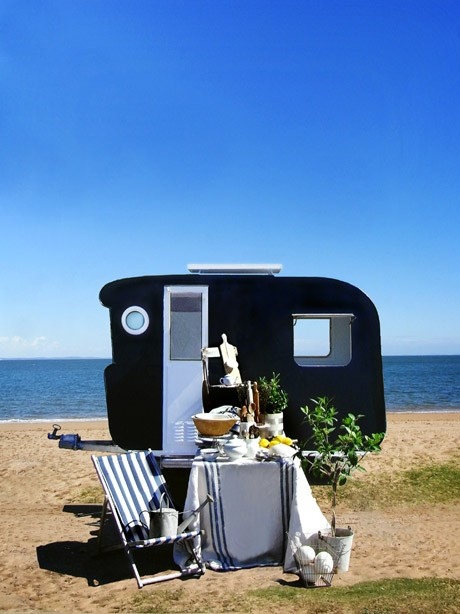 Keep track of Travelling Wares HERE.