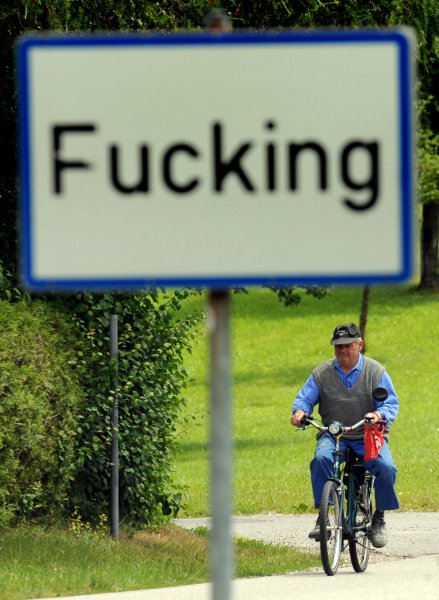 I've heard Fucking is fabulous in the Spring.
Too old for schoolyard humor? Never!
It has a population of just 104 and lies 4 kilometres from the German border in west Austria. And it's name really is Fucking.
The unfortunately-named village (pronounced fooking) is a peaceful place. The only crime ever reported here was for the theft of the town's infamous road signs. Commonly stolen by tourists as souvenirs, Fucking's road sign thefts became such a menace to the village that in 2004, a vote was held on changing the village's name.
On one occasion, all four of the village signs were stolen during the same night, costing 300 euros each to replace; costs which were reflected in local residents' tax bills. Alas, the town held their ground and voted against changing their name and mayor Siegfried Höppl stated "everyone here knows what it means in English, but for us Fucking is Fucking — and it's going to stay Fucking."
But the residents of Fucking didn't always know what it meant in English.
After World War II, a group of American soldiers based in Salzburg, 30km north, came upon the village with the naughty name and word quickly spread. More stationed soldiers began traveling to the tiny community to have their pictures taken beside the village signs. The Fuckingers, as local residents are called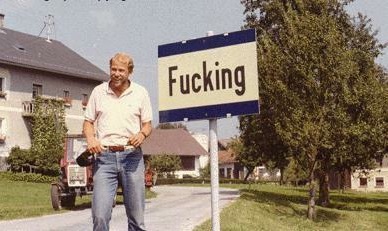 , were baffled by the sudden interest in their village, having not previously been aware of the meaning in English. Ever since, Fucking has seen a steady stream of visitors and the occasional tour bus eager to get a cheeky photo.
The village dates back to the 6th century when it was founded by a Bavarian nobleman, Focko. The spelling of the name has evolved over the years and its -ing ending is an old Germanic suffix which indicates the people belonging to the root word, thus Fucking means "(place of) Focko's people."
One local resident, Josef Winkler tried to cash in on the village's famous name with an online t-shirt business (www.fucking.at) selling shirts featuring the road signs or slogans such as "I like Fucking in Austria." His venture was short-lived however after traditional Fuckingers  disapproved. Winkler said, "It was a bit of fun that didn't hurt anyone, but I found out that in this region you just can't do something like that. The whole thing became a real trial for me and I had to stop."
Nevertheless in November 2009, the village hosted the Festival of the F**k Bands music festival, featuring several bands, F**ked Up, Holy F**k, F**k and F**k Buttons.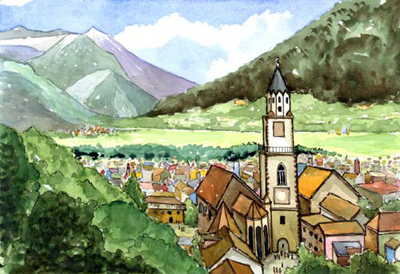 Despite the area having some beautiful lakes and forests, it seems people are more interested in Fucking. The village tends to attract largely British tourists and as a local tour guide points out, "The Germans all want to see Mozart's house in Salzburg; the Americans want to see where The Sound of Music was filmed; the Japanese want Hitler's birthplace in Braunau; but for the British, it's all about Fucking."
The town's new mayor Franz Meindl however, doesn't think its very funny and wishes tourists would stop coming (this article is like a minefield of unintended puns).  "We don't find it funny. We just want to be left alone. We don't harm anyone and just want to live in peace." In July 2009, it was announced that the village would be installing CCTV cameras to prevent summertime tourists from fornicating in front of Fucking's signs.
At nearby Wank mountain (seriously), a more open-minded guest house manager thinks the residents of Fucking should be benefitting from their name and make more effort to cater to tourists. But for now, Fucking residents are keen to keep their village to themselves.
Augustina Lindlbauer, the manager of a local Fucking guesthouse recalled how she had to explain to a British female tourist "that there were no Fucking postcards."
Question: Is there a Fucking hotel?
Ah, that was fun.