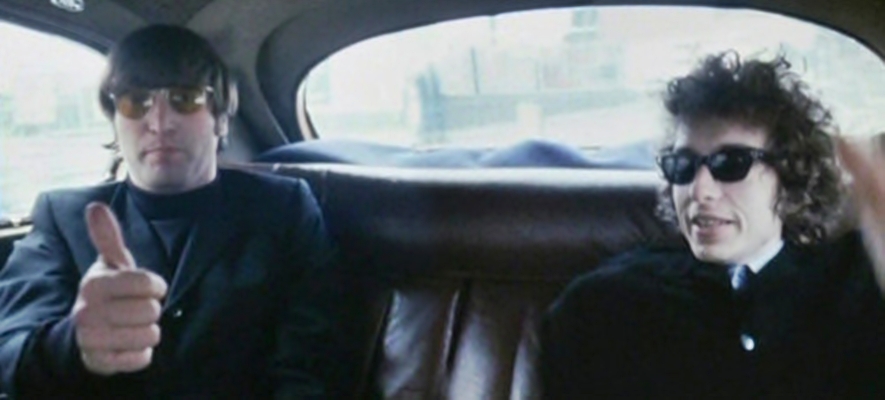 John Lennon would later tell a journalist for Rolling Stone magazine that he and Dylan had done heroin that day, recalling they were "both in shades, and both on f**king junk, and all these freaks around us […] But it was his scene, that was the problem for me. It was his movie. I was on his territory, that's why I was so nervous."
Captured in the documentary Eat the Document, is a rare scene shared by two of the greatest musical icons of the twentieth century, having a pretty confusing and surreal conversation in the back of a chauffeured car. The chaotic 1966 footage was supposed to be a sequel to the popular documentary that followed Dylan during his prime called Dont Look Back, by D.A. Pennebaker, which later became a pop-culture classic. Eat the Document, however, gives us a gritty glimpse into a darker period of Dylan's career. Dependent on amphetamines according to biographer Daniel Mark Epstein, Dylan was suffering from exhaustion upon his return to the UK after a non-stop tour. Their bizarre conversation includes Dylan claiming the river Thames was the reason Hitler couldn't invade Britain and talking about other artists of the era such as Johnny Cash and The Mamas & the Papas. For the most part, Lennon looks awkward and urges Dylan to get a grip: "Do you suffer from sore eyes, groovy forehead, or curly hair?" he says, Take Zimdawn!…Come, come, boy, it's only a film. Pull yourself together."
Bob Dylan edited all the footage himself, and the whole documentary (all 52 minutes) can be viewed here. He pitched it to the mainstream network, ABC, who said 'no thanks'. The documentary ended up being passed around as a bootleg.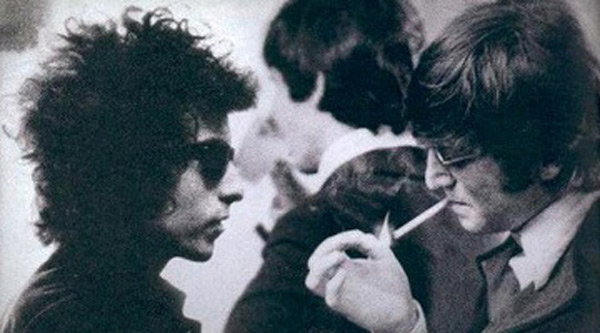 In Lennon's extensive interview with Rolling Stone, Jann S. Wenner asks about the nature of his relationship with Dylan:
It's sort of an acquaintance, because we were so nervous whenever we used to meet. It was always under the most nervewracking circumstances, and I know I was always uptight and I know Bobby was. We were together and we spent some time, but I would always be too paranoid or I would be aggressive or vice versa and we didn't really speak. But we spent a lot of time together.
When asked if he thought Dylan was great he replied:
No, I see him as another poet, or as competition. You read my books that were written before I heard of Dylan or read Dylan or anybody, it's the same. I didn't come after Elvis and Dylan, I've been around always. But if I see or meet a great artist, I love 'em. I go fanatical about them for a short period, and then I get over it. If they wear green socks I'm liable to wear green socks for a period too.
via Open Culture