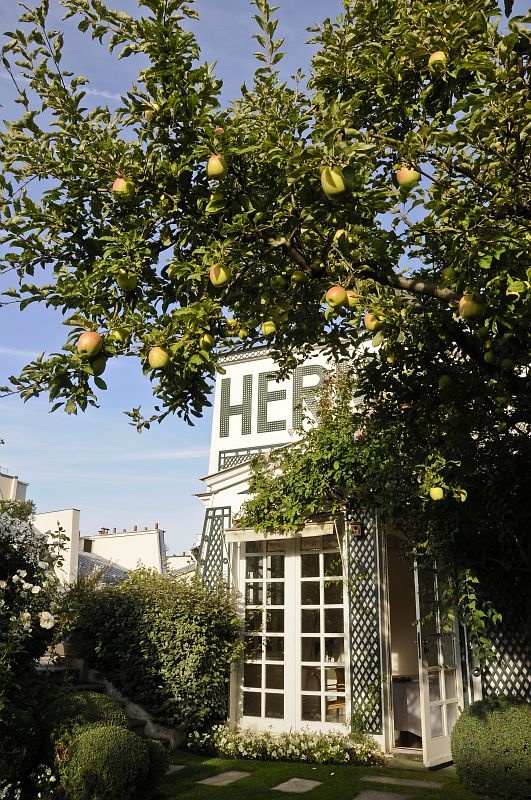 High above the grand boutique windows of number 24 rue Faubourg Saint-Honoré, where Charles-Émile Hermès relocated his father's harness workshop in 1880 and first began to retail saddlery, there is an exquisite little-known paradise that overlooks the rooftops of Paris.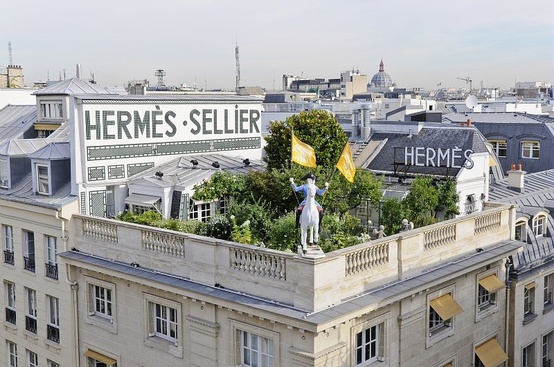 I stumbled upon some insider photographs by Quentin Bertoux of this secret little Parisian terrace, so let's take a sneak tour…
In its storybook setting, an oasis of greenery flourishes against the urban backdrop of the Eiffel Tower and charcoal blueish roofs. The noise of Paris below can no longer be heard, replaced by a family of songbirds that take up residence in the garden's apple tree during the summer months.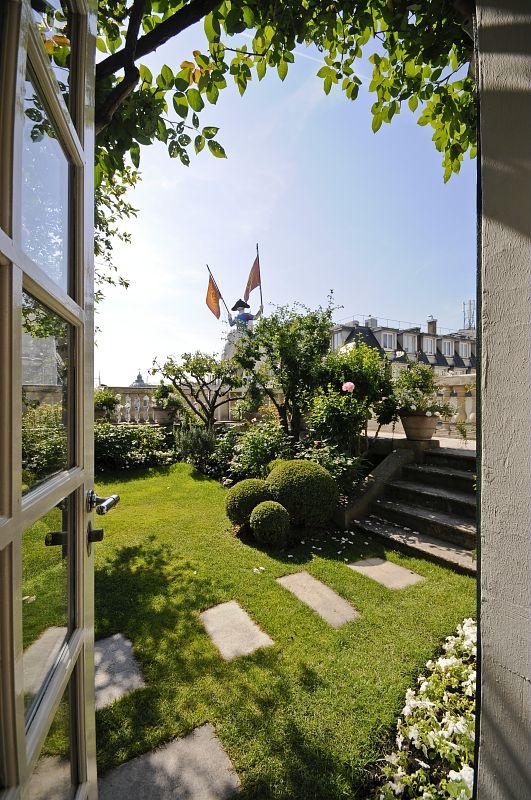 The "jardin sur le toit' (simply, garden on the roof), is the exquisite private eden of the Hermès family and the creative talent that orchestrates the company from the old ateliers just below.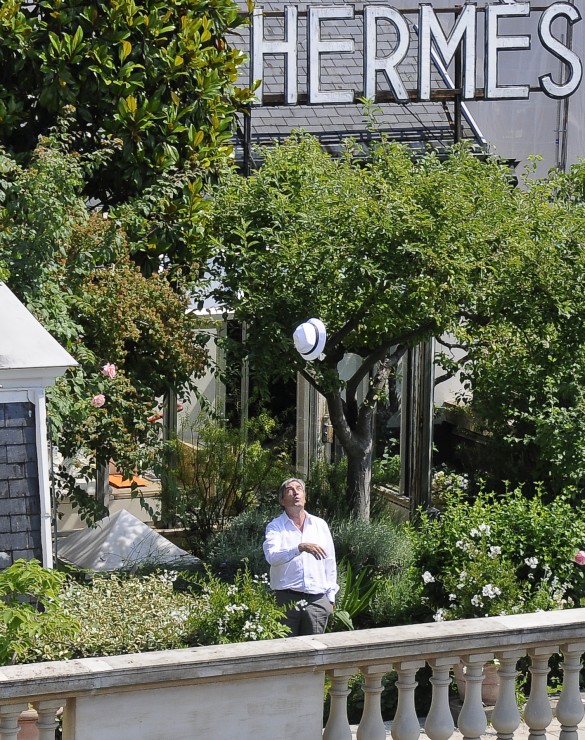 "The garden, which is just above my office, is where I go to read or take breaks during the summertime… for me this garden is a place where I can find myself again," says Jean Claude Ellena (pictured above), the exclusive in-house perfumer or "nose" at Hèrmes.
And certainly, there is plenty to delight the 'nose' in the jardin sur le toit, with its pastel pink and white roses, sage, rosemary, hibiscus, balsam, hawthorn, magnolias, lillies and don't forget the apple tree, all lovingly cultivated by Yasmine, the Hèrmes gardener. "This garden is my life," says Yasmine, who just might have landed luckiest job in Paris when she arrived at the company over 20 years ago, "it's my calling".
The garden itself has been around longer than Yasmine nevertheless, and was created for slightly more humble purposes than the leisurely lunchbreaks of head employees. Like most French families in World War II, the Hèrmes family began relying on self-sufficient farming to produce scarce staple foods such as potatoes during the endemic food shortages of the four-year German occupation, when French farm production all but collapsed and much of what was left was seized by the occupying army. After the liberation of France, the rooftop garden gradually evolved into the leisurely fruit-bearing hideaway it is today.
The jardin sur le toit is so dear to the Hèrmes household that in 2011, they even created a special perfume dedicated to their unique Paris haven. Appropriately named, "Un Jardin sur le Toit", the eau de parfum recreates not just the scent of rose buds, green apple,  mossy wet soil and magnolia, but the joyful atmosphere of a garden party. And ofcourse, the nose behind the fragrance, Mr Jean Claude Ellena couldn't resist sharing his leafy muse when he threw a Spring rooftop party for the fragrance launch.
Alas it's just a day dream for now and only a select few will ever have the chance to see this magical place first-hand–unless you happen to have a pair of feathery wings. But one can always hope and certainly be inspired …
Before you go, meet Jean Claude Ellena and resident gardener, Yasmine in this video interview from French magazine Le Point back in 2011, and discover even more of the garden…
(sorry no subtitles, enjoy the view!)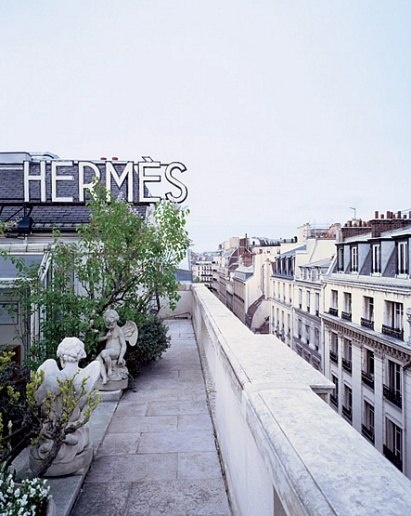 Images via Hèrmes official Pinterest and Please