He was selling custom-made clothing to Hip Hop's finest for thousands of dollars a piece, fashioned from rolls of fake Louis Vuitton, Gucci and Fendi prints out of his Harlem boutique during the 1980s. His name is Dapper Dan and before the likes of Kanye West and Rihanna were doing it, this guy was the first to bring designer fashion into the context of street culture. Dubbed "Hip Hop's fashion godfather" who "planted the seed for fashion" in the music genre, Dapper Dan's client list included everyone from Harlem hustlers to the likes of Run DMC, Mike Tyson, Salt and Pepa, LL Cool J and Bobby Brown, who would spend hours at his store on 125th street which stayed open all night and day for 8 years.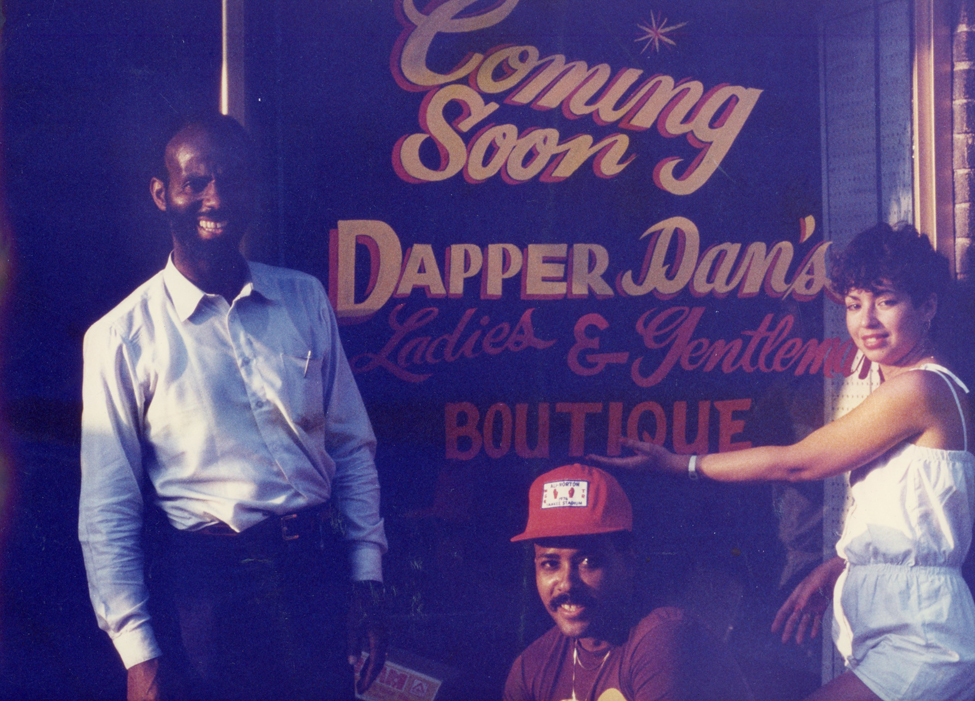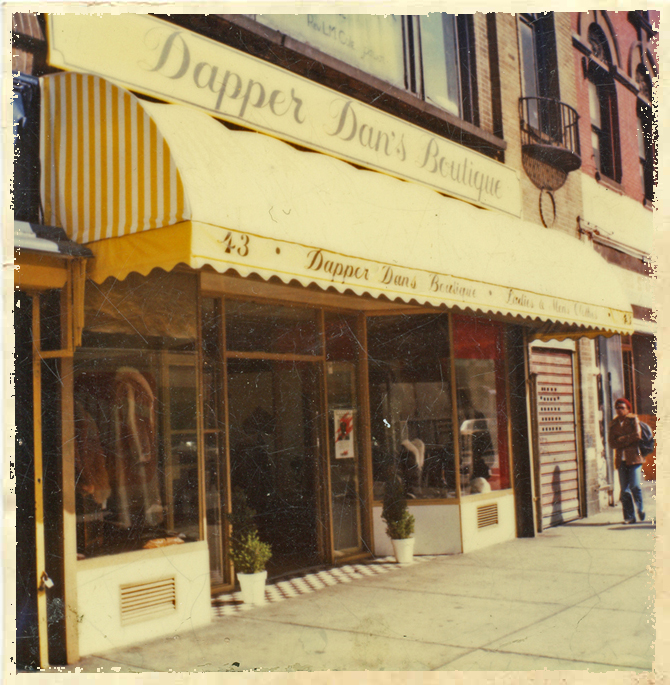 "Dap", born Daniel Day, was originally a furrier but was looking for a way to keep his sales strong through summer. He recognized there was a demand in the market for tailoring designer prints in a way that the high-fashion brands were not.
In the beginning, he bought real designer bags right from the stores, cut them up and outfitted them back together to create custom streetwear with the high-fashion logos. It would take luxury fashion years to catch up and recognize the value of streetwear and underground urban culture. Without access to the fabrics, Dan started a clandestine DIY operation out of an apartment in Harlem, screen-printing designer fabrics from machines using highly toxic chemicals. In 1988, two of Dapper Dan's clients, boxers Mike Tyson and Mitch Green, crossed paths at his Harlem boutique in the early hours of the morning. The encounter resulted in an almighty scuffle that hit headlines everywhere, thrusting Dan's operation into the spotlight. As a result, of the exposure, Louis Vuitton, Gucci and Fendi all sued him.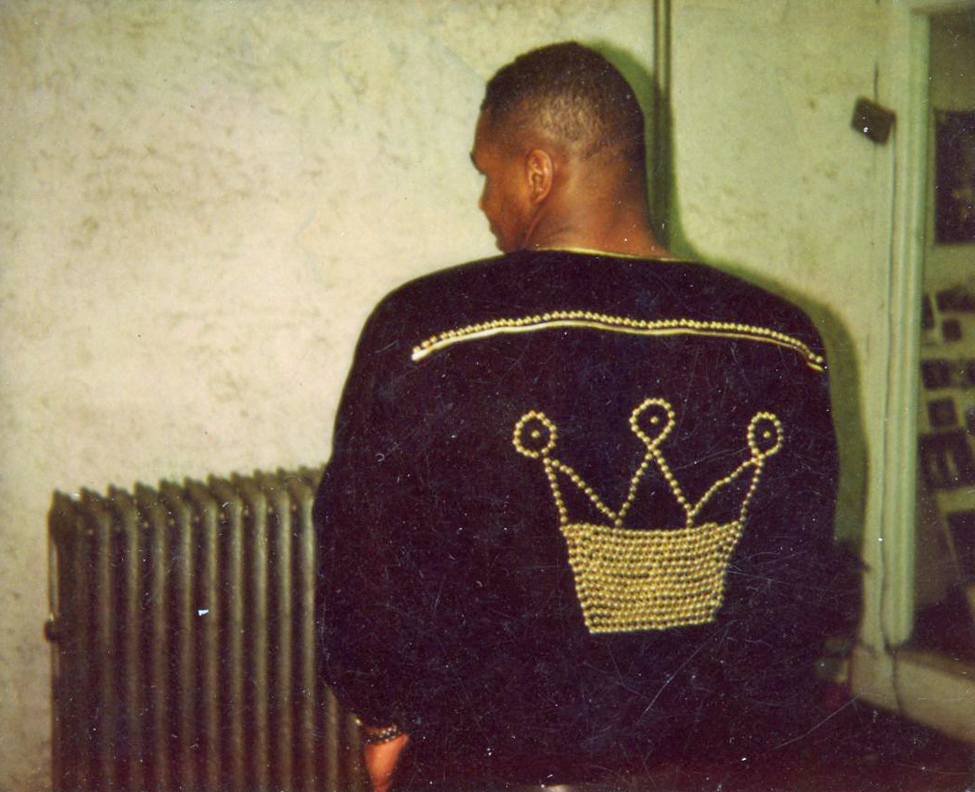 A special creation for Mike Tyson back in 1986.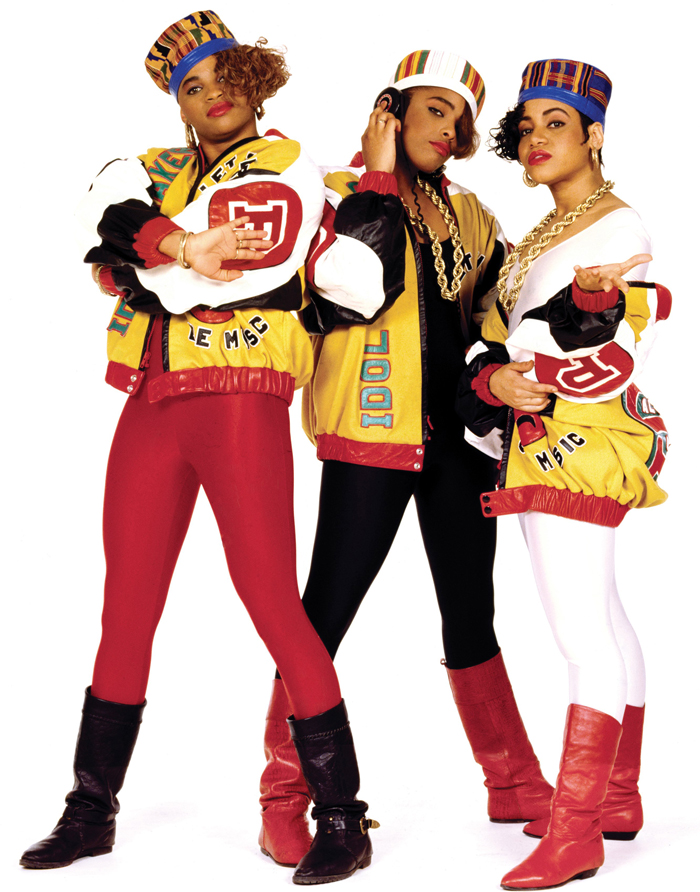 Salt-N-Pepa album cover in 1988, featuring Dapper Dan creations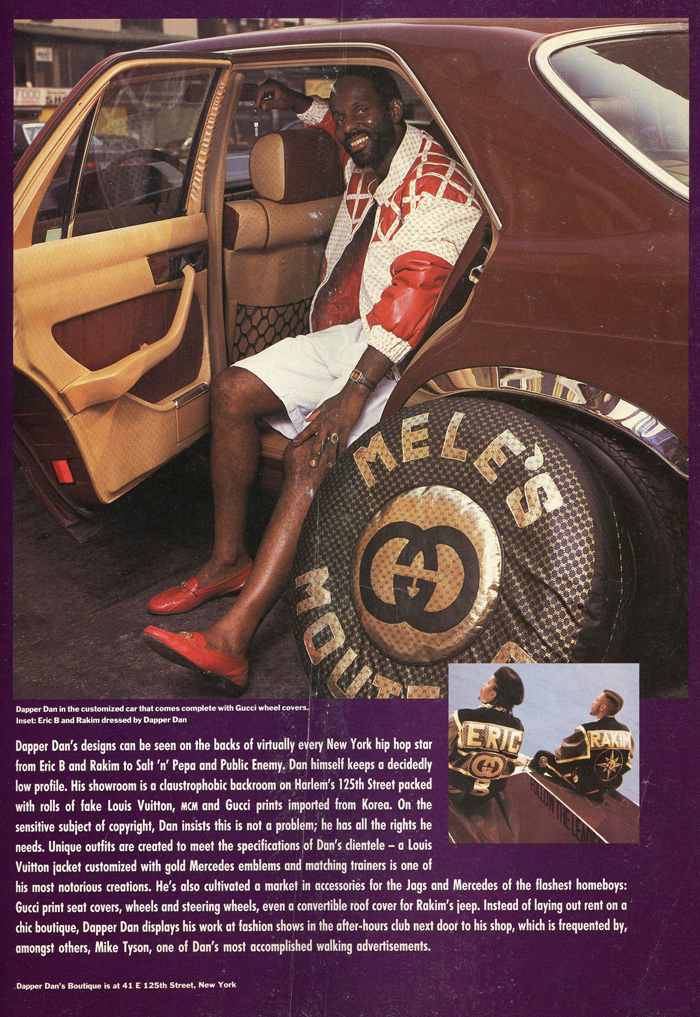 While it's no surprise that the designer brands objected to the unofficial use of their logos, what Dapper Dan created was a totally original re-imagination of style. It wasn't available to him or his community, so they made it their own. Love it or hate it, it's well-worth a look for anybody interested in a crossroads of aesthetics, class and culture.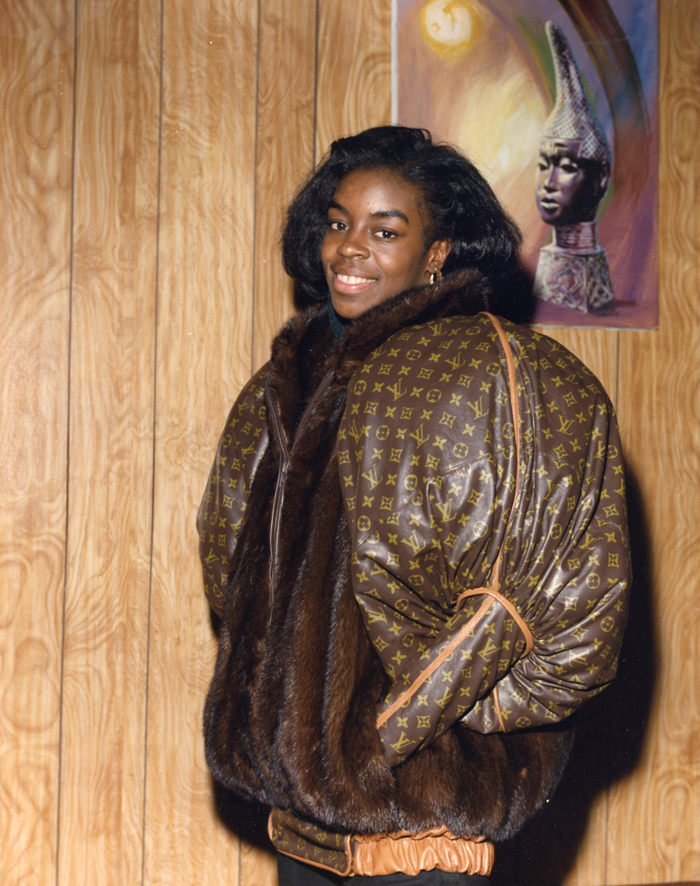 Above: Olympic gold and silver medalist, Diane Dixon. Below: A pair of Dapper Dan sneakers that recently sold at auction. 
In the nineties, he laid low; his fashions disappeared from the MTV videos, and his business went dormant. The brands had taken everything from him and he found himself sewing in a basement, rarely visited by his former clients, many of who had found fame and fortune. For many years, he was a forgotten Harlem tailor who had dressed music's biggest names for free when they couldn't afford his custom clothing for their first videos and photo shoots.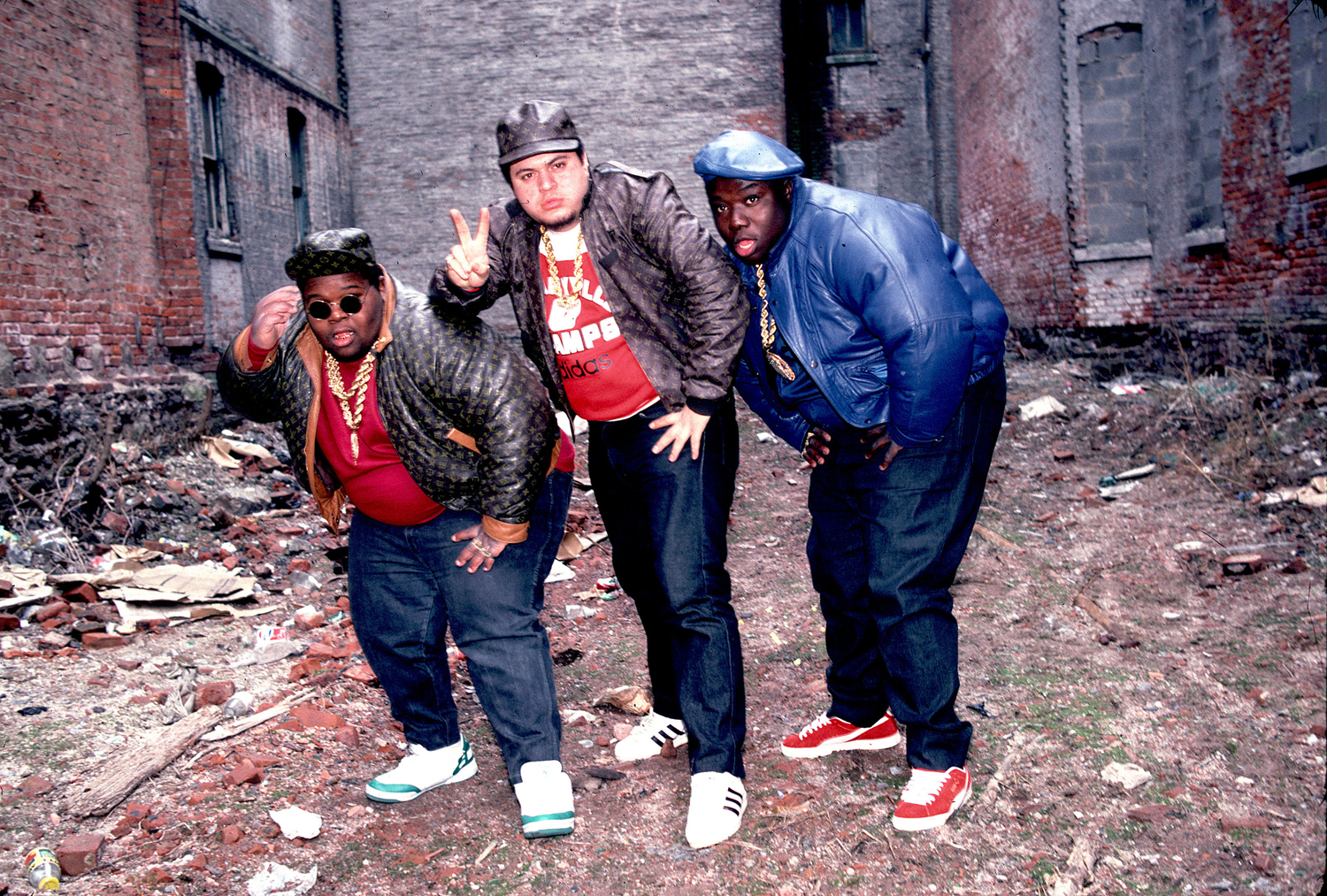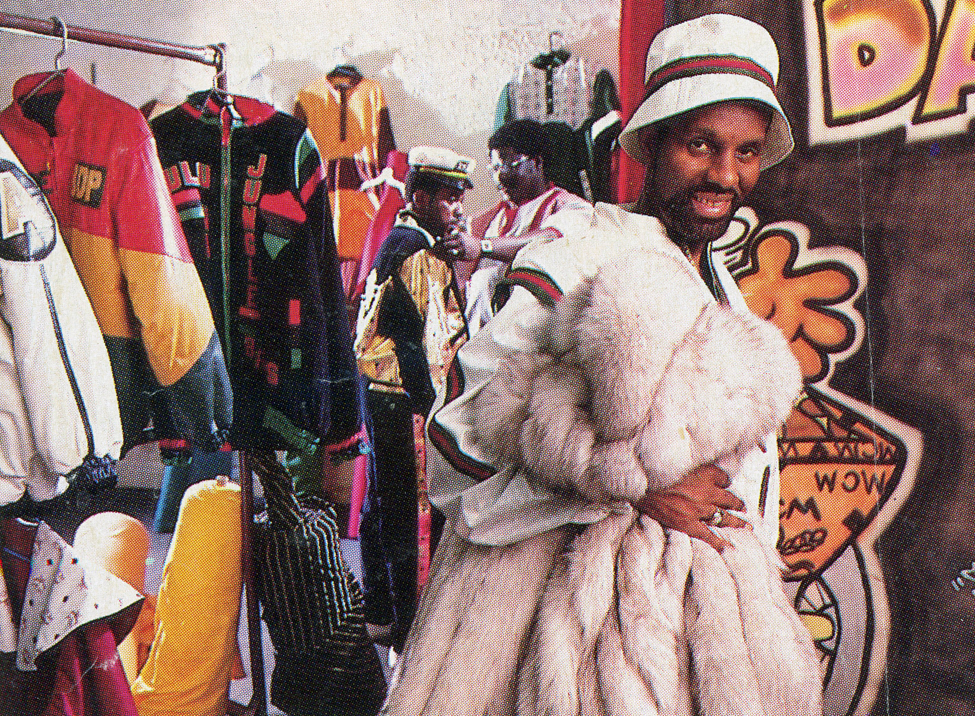 But with the arrival of a new generation, Dapper Dan began to find his way back via the internet in the 2000s. He began sharing some striking pictures of his designs worn by famous clientele back in the day. You can also now find him on Instagram.
AND THEN, FOUR YEARS AFTER THIS ARTICLE WAS PUBLISHED, THIS HAPPENED: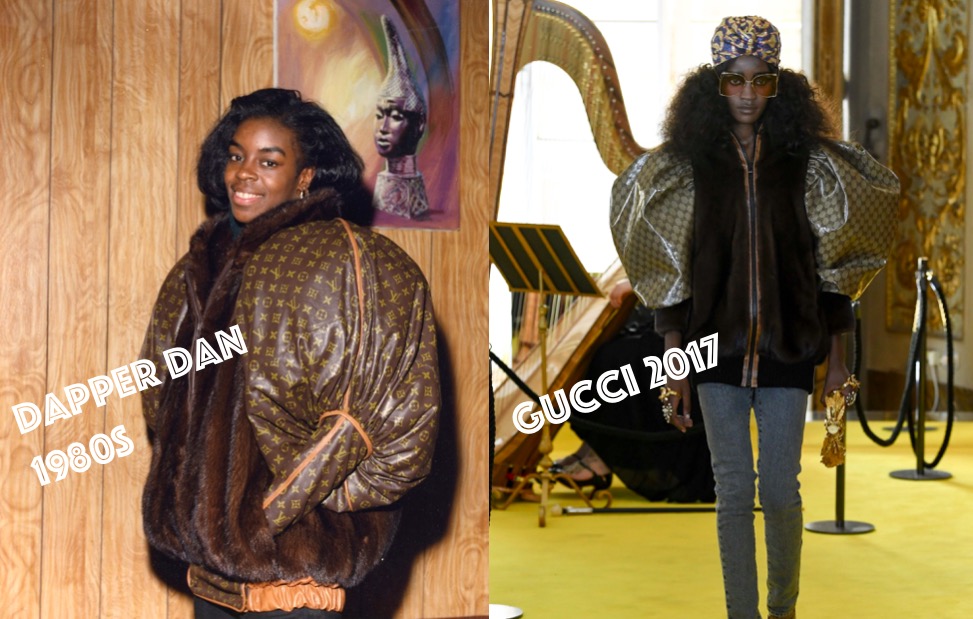 In 2017, under the creative direction of Alessandro Michele, Gucci sent a near-exact replica of a Dapper Dan coat circa 1980s down the runway for their Resort 2017 collection. (Yup, the same guy everybody was suing two decades prior. What do they say again? Something about "good artists copy, great artists steal"?
In the blink of an eye, the internet was up in arms about Gucci's use of Dan's design, with many calling out the dangers of cultural appropriation and the lack of diversity in the fashion industry. But Gucci responded in the best possible way, announcing a long term official collaboration with Dapper Dan.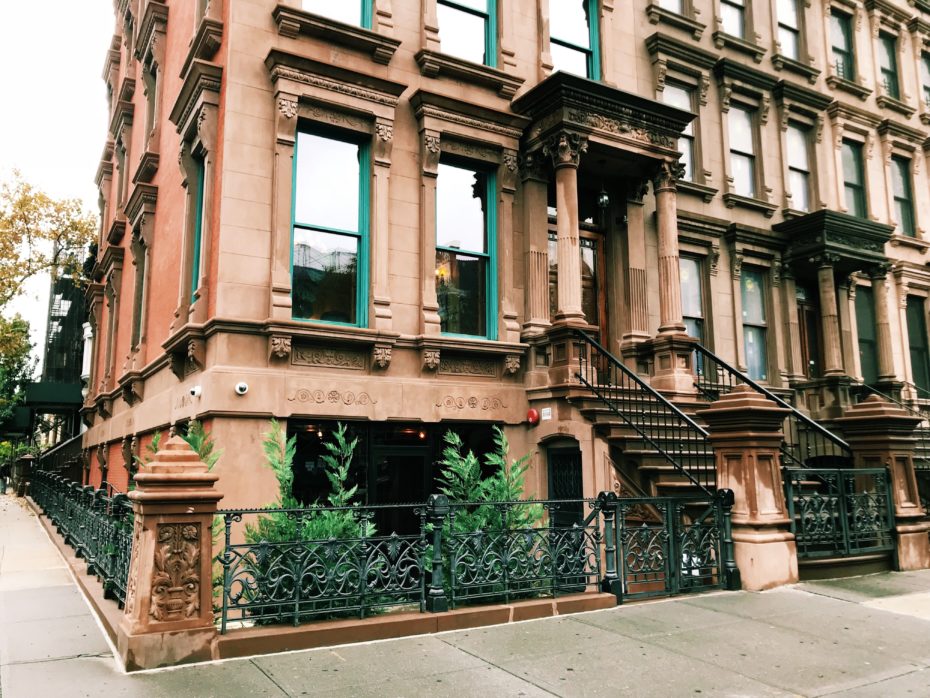 Finally, he would have all the designer fabrics a tailor could dream of inside a beautifully-restored Harlem brownstone dripping in red velvet and Italian furnishings. We visited his new Harlem set-up for ourselves in 2018, to see what's been cooking behind the the appointment-only, velvet curtains of a fresh atelier…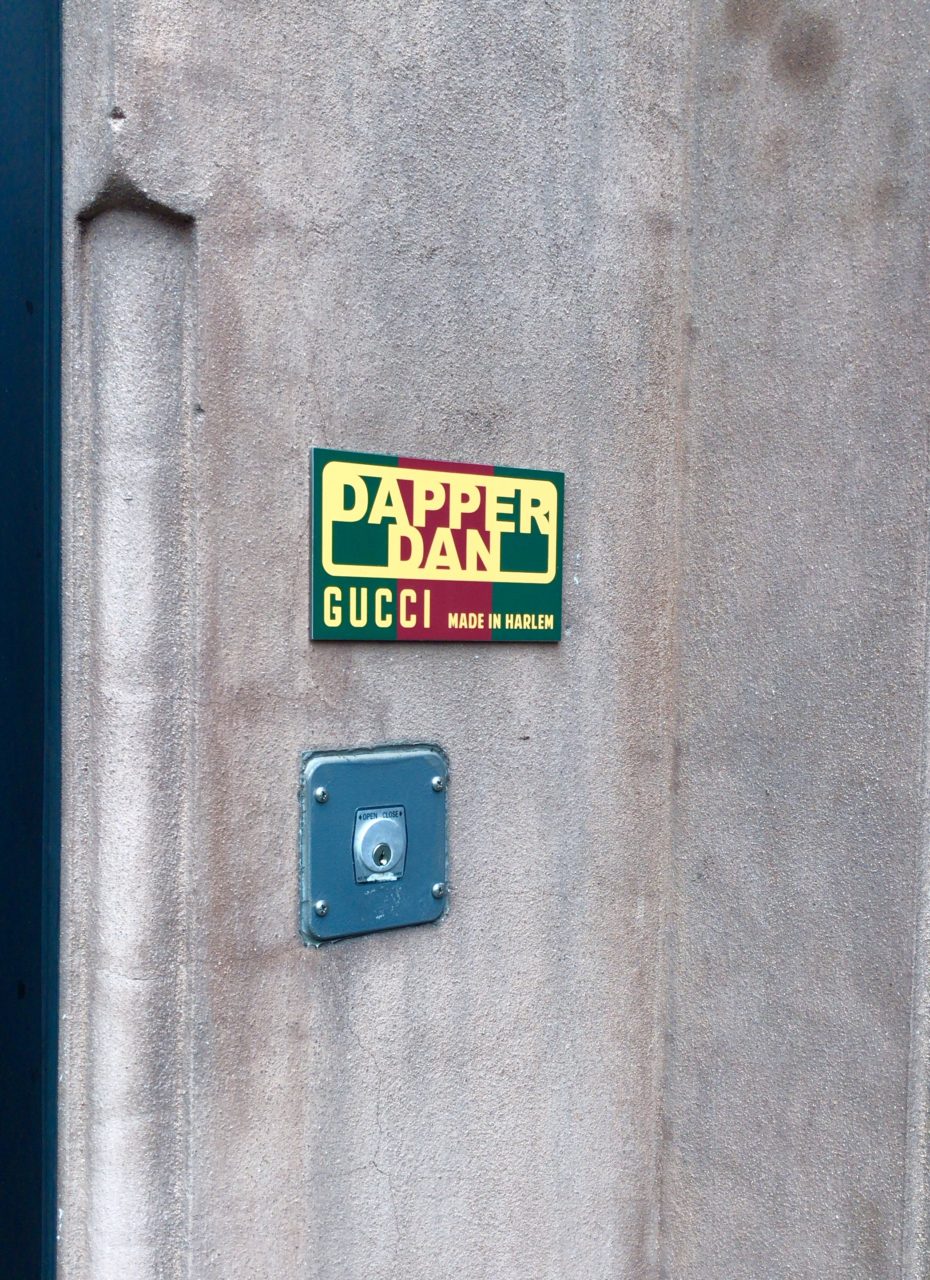 Gucci supplied endless rolls of the most luxurious fabrics from Italy and once again, the household names are knocking at his door. While the new space certainly represents how far he's come from his old clandestine workshops, the appointment-only atelier is also designed to reflect Dap's African-American roots and achievements at the intersection of fashion and culture.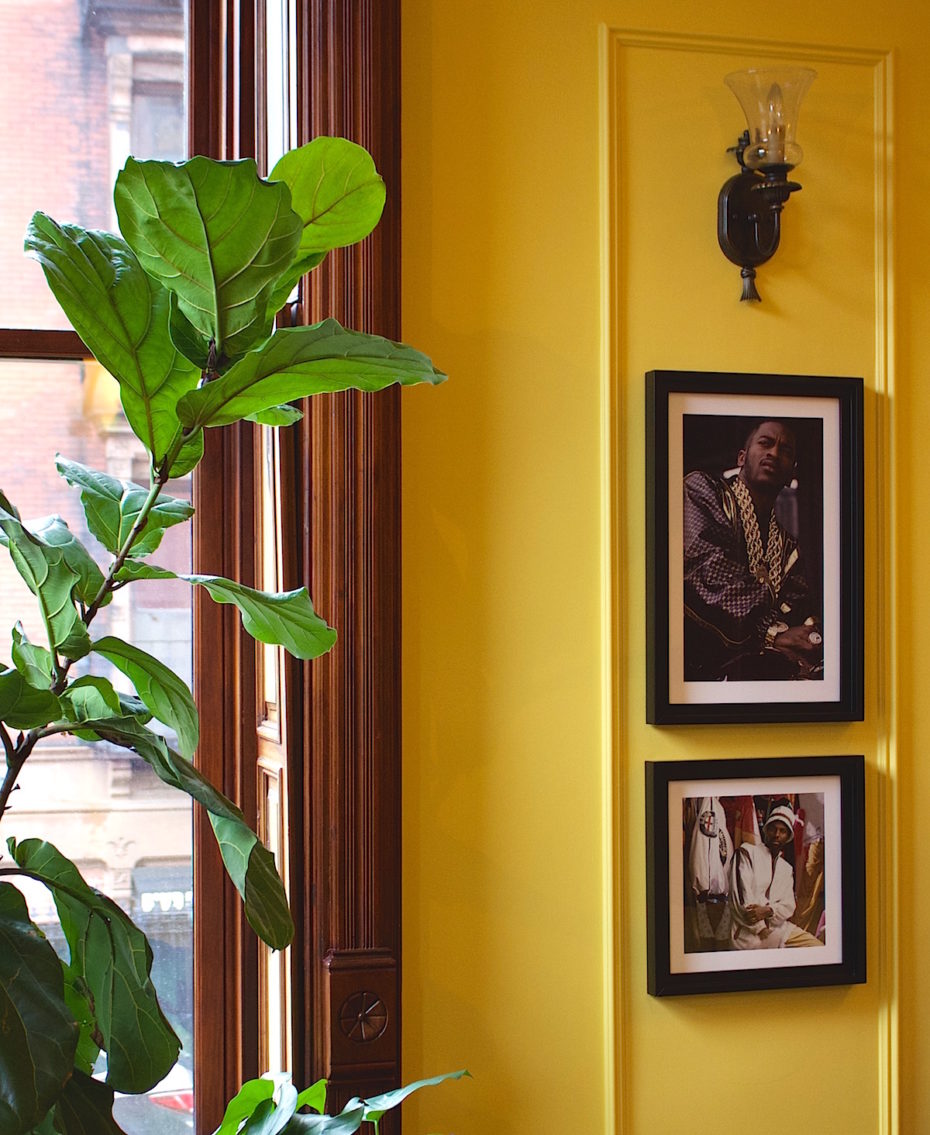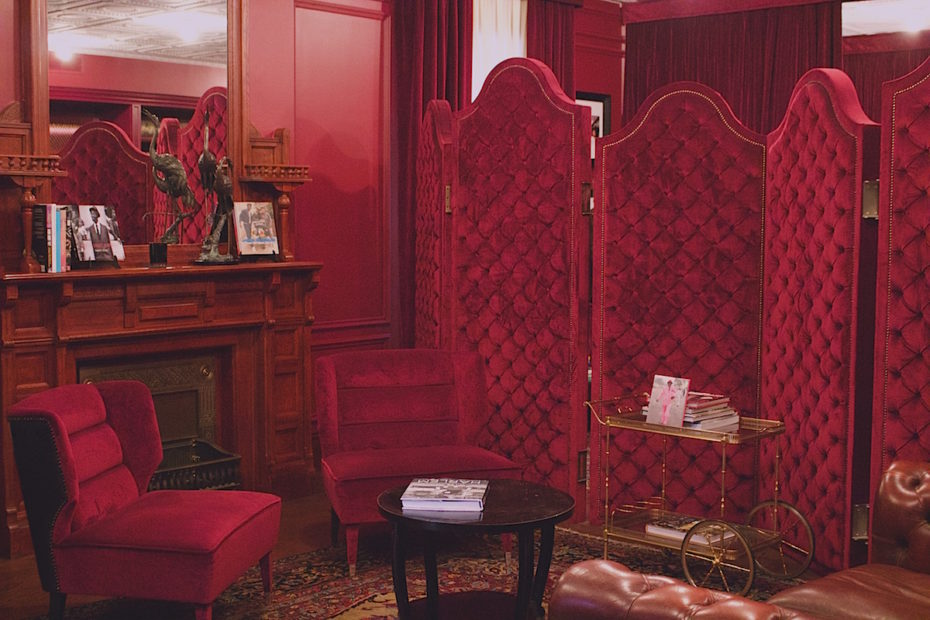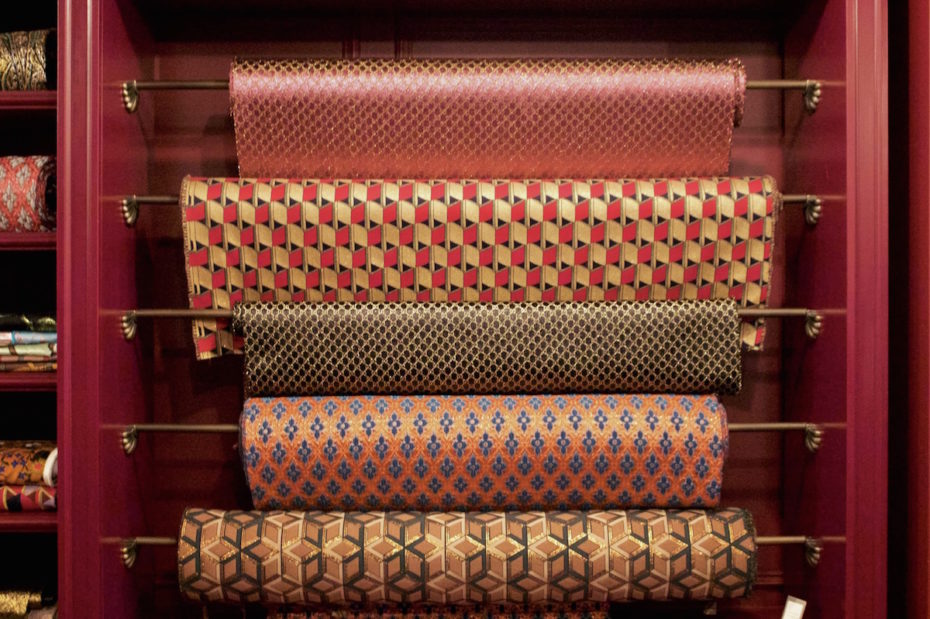 And this was kind of a big moment for us in coming full circle in the timeline of MessyNessyChic content. "Over the years, that article has made a big impact" Dapper Dan's son and business partner, Jelani Day tells us today in reference to our 2013 article that was met with widespread circulation online.
Almost every table and wall, you'll also find a token of the people who've inspired Dan, from hip hop royalty to the sapeurs of the Congo.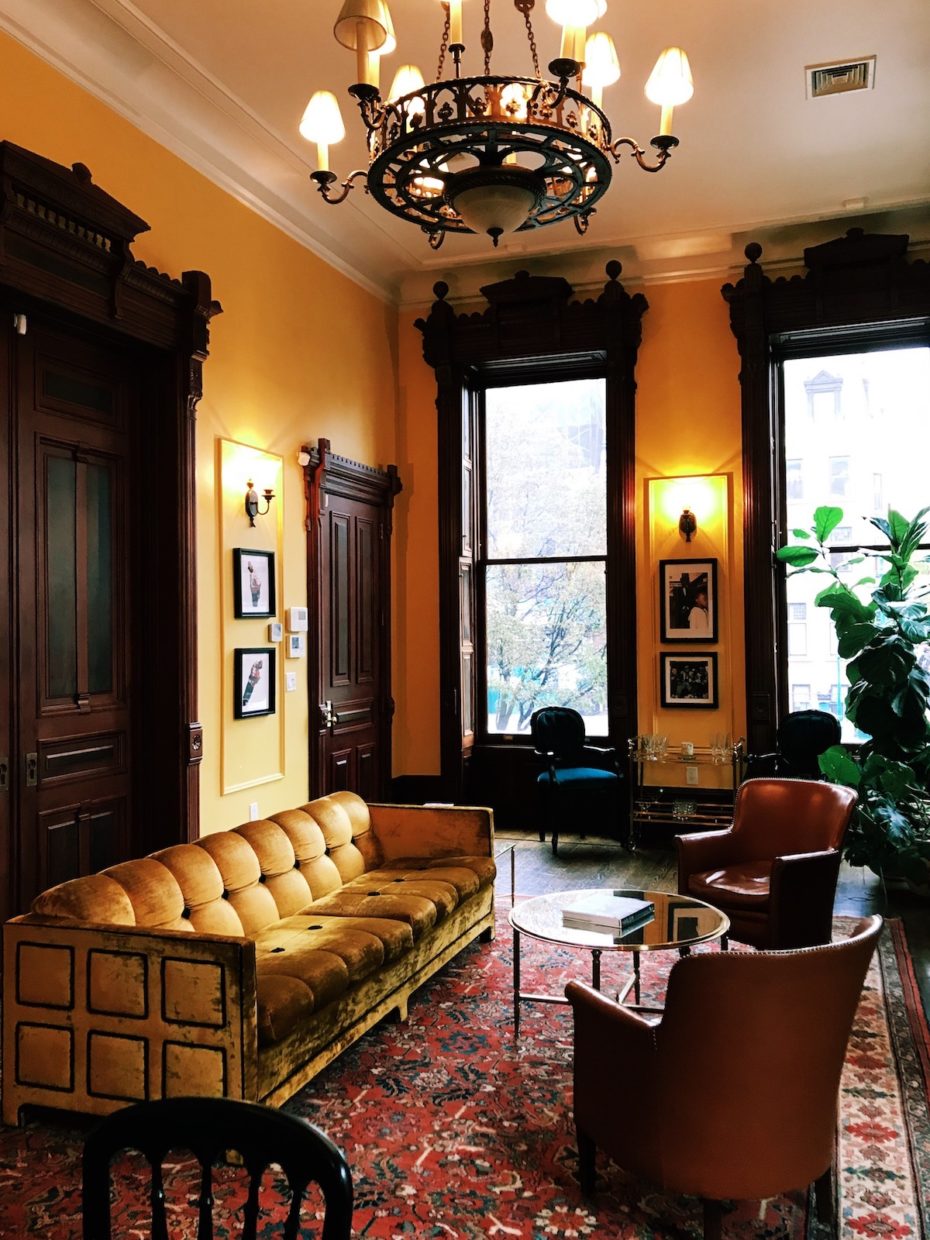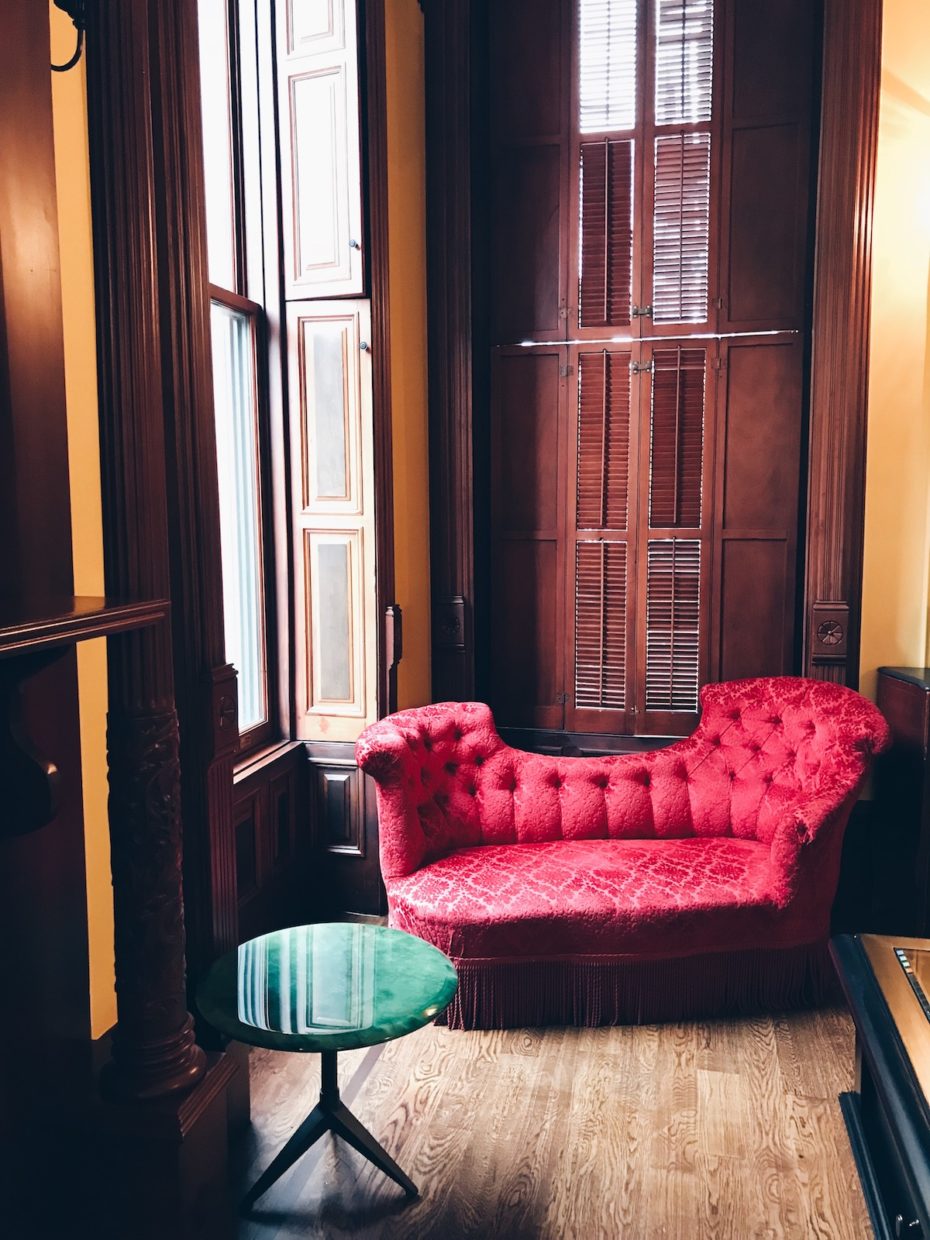 "You know people always said, 'Oh, this guy he was doing knock-offs. But Dan never saw it that way," says Harlem-raised Robert Carter, who came from the Gucci menswear team to work with the atelier. "He was never copying these big designers, he was making things that were completely unique that they hadn't even thought of. They were 'knock-ups' as he said."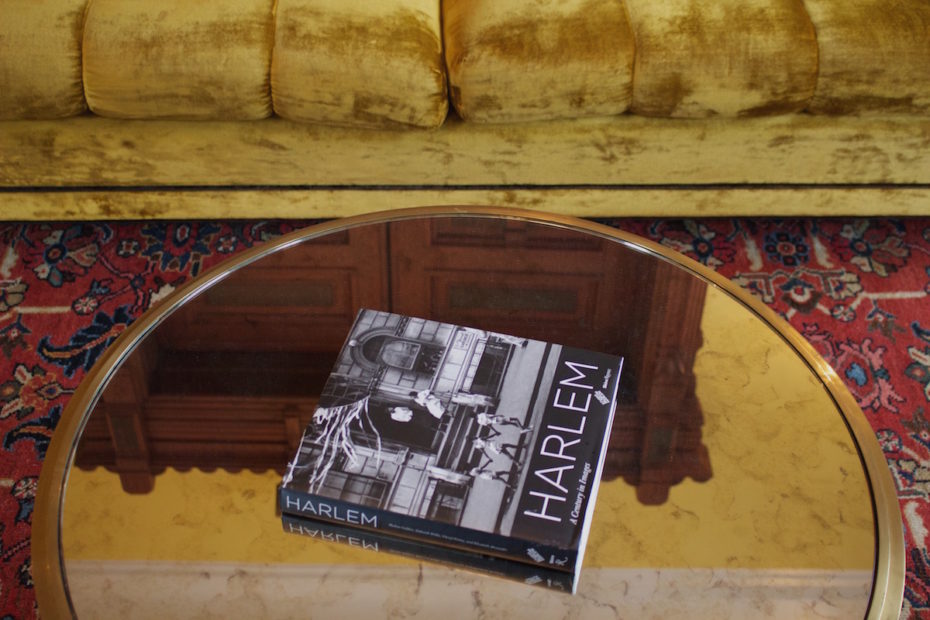 Despite his success and worldwide media interest, the tailor has chosen to remain in Harlem, walking the same streets to work everyday, frequenting the same neighbourhood haunts. From underground tailor to American high-fashion designer, as Dap's legacy continues to evolve and flourish in Harlem, his story has come to embody a new kind of American dream in a fascinating rags to riches tale. "To see that happening for a black man who stayed in Harlem? That's powerful", says Carter. And it only goes to prove– this city is tailor-made for the underdog.