When you were young, what did you want to be? An astronaut, a princess, maybe a superhero or president of the world. Mike Stevens dreamt of being a soul super star, he wanted to tour the world, to write and produce award-winning albums and run his own record label. He would star in, write and direct his own films. People would flock to see this titan of soul, fans adored him, people wanted to be him. Think James Brown meets Quincy Jones. And between 1968 and 1977 Mike would achieve all of this, only he'd do it all with his own wondrous imagination.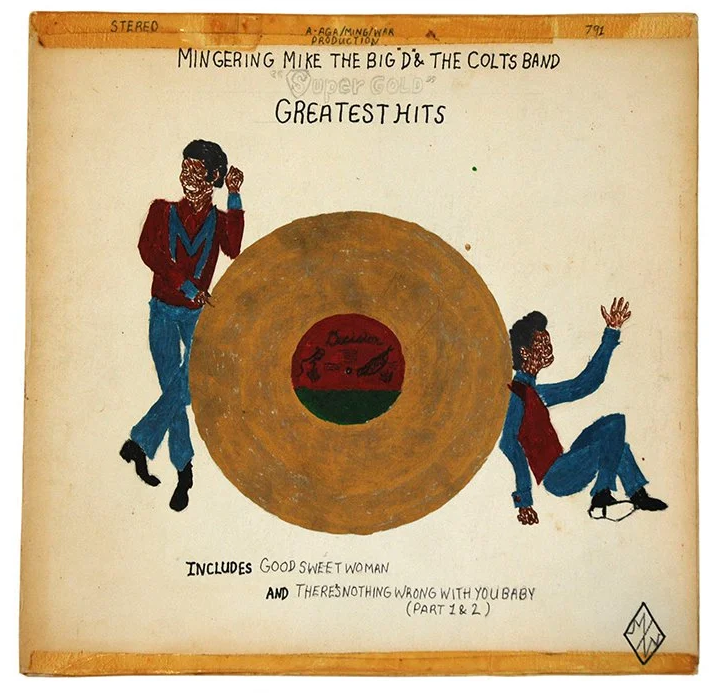 In 2003, Dori Hadar, criminal investigator and record enthusiast was rooting through a record box at a Washington DC flea market when he stumbled on something unique; a haul of soul records from an artist he'd never heard of, a certain Mingering Mike. As an avid collector of vinyl and an ardent soul and funk champion with over 10,000 records at home, Hadar thought he'd found an undocumented rarity. It was when he looked closer that he found the album covers were hand drawn and painted on cardboard.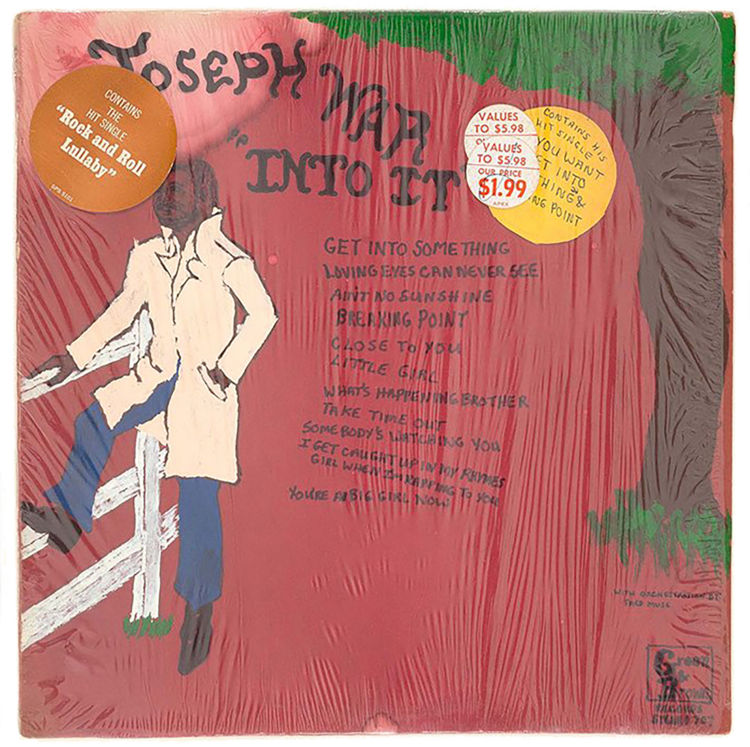 Mystified, Hadar examined the collection further and found Mingering Mike had a "Live In Paris Album 1972" on (Gold Pot records), there was a benefit album for Sickle Cell Anemia (Decision Records), a soundtrack to a Kung Foo film titled Brother Of the Dragon. Some were shrink wrapped in plastic, others had price tag stickers meticulously drawn on. There were stacks of 45's with titles like I'm Superman with B side Blind in One Eye, I found Peace in Saigon Sally, and who could forget the classic Last night I thought I Was Bruce.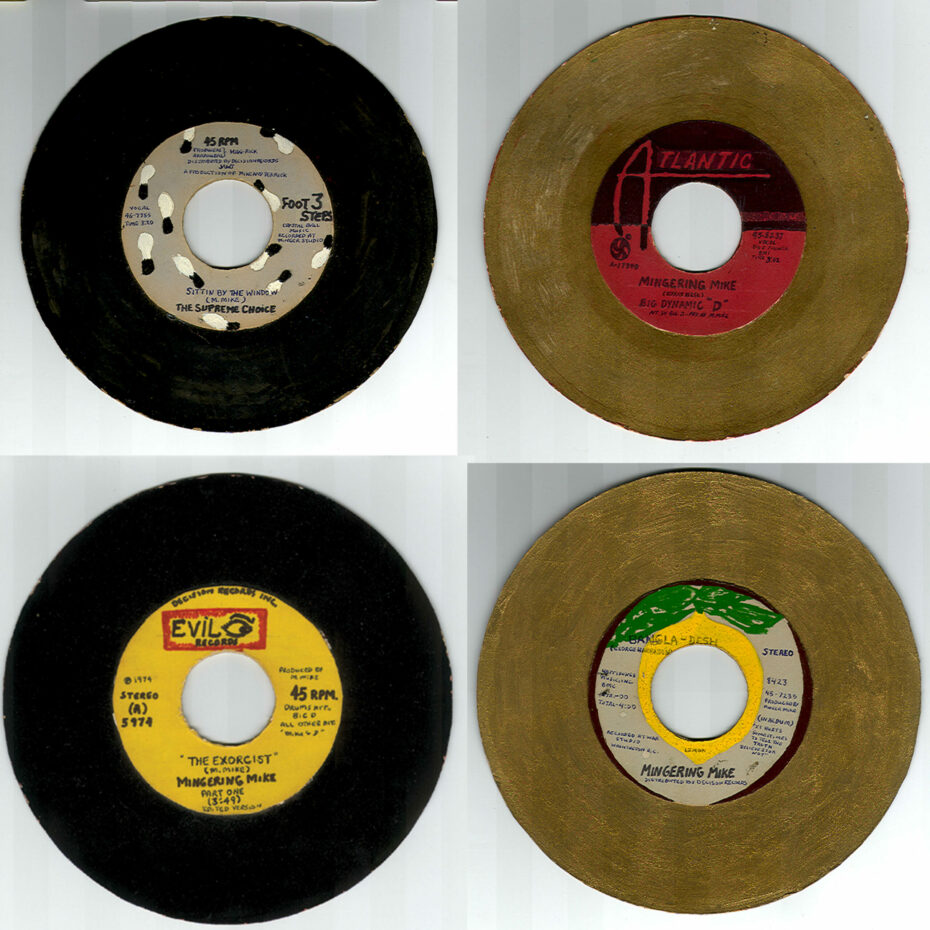 When Hadar pulled a record out of its sleeve, he found a painted cardboard disc including labels and even song grooves drawn on to the faux vinyl. There were crates full of these hand crafted records, Hadar had to know more. Who was this make believe mystery man of soul? After acquiring the back catalogue of this unknown virtuoso, which included a trip to a storage unit to pick the rest of the trove – over 150 records in all – Hadar set about trying to find out just who this labour of love belonged to. He posted what he'd found to an online record forum called Soul Strut with the message: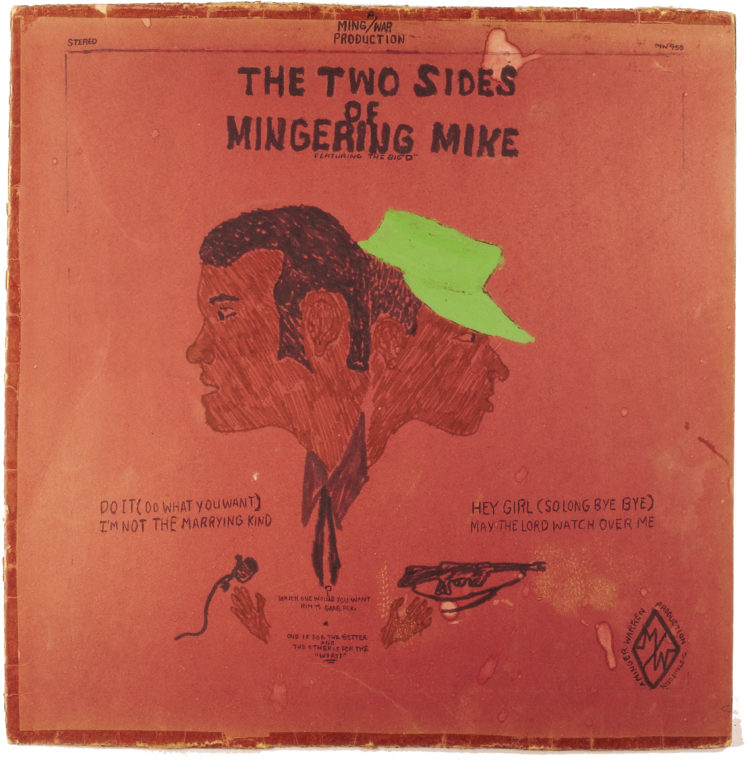 ''Here's a long shot: anyone happen to know Mingering Mike? This stuff came out of an abandoned/forfeited storage unit here in DC, they probably mean a lot to the guy.. I guess he could be sick, down and out, in jail, or worse.''
The response was overwhelming. Mingering Mike blew up on the site. Who was this enigma? Everyone wanted to know. Hadar decided to put his detective skills to work to see if he could track down the man behind the music. After finding a PO box number on one of the album covers for a Mingering Mike fan club, but receiving no response, Hadar went to the storage unit where it all originated and found an address.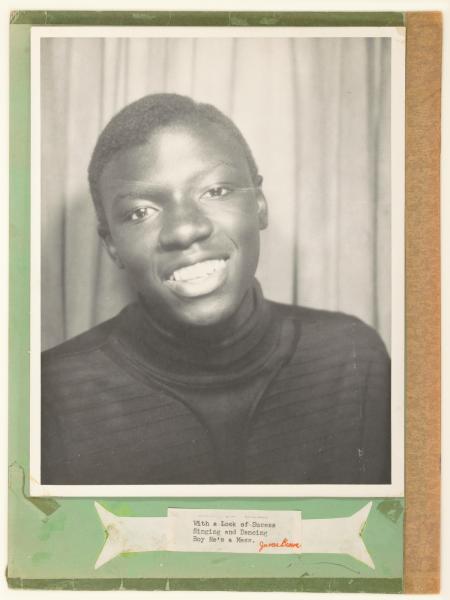 When Dori Hadar turned up at a Washington DC doorstep one day in 2003, Mingering Mike had been out of the public eye for a long time. He'd not done an imaginary gig or released a fictitious album in over 20 years. Mike was suspicious. Who was this guy and why did he have his records? Hadar explained, and told Mike of his new-found internet fame. People were curious, they loved his work, and he had fans! Mike was reticent, after all, was fame really what he wanted?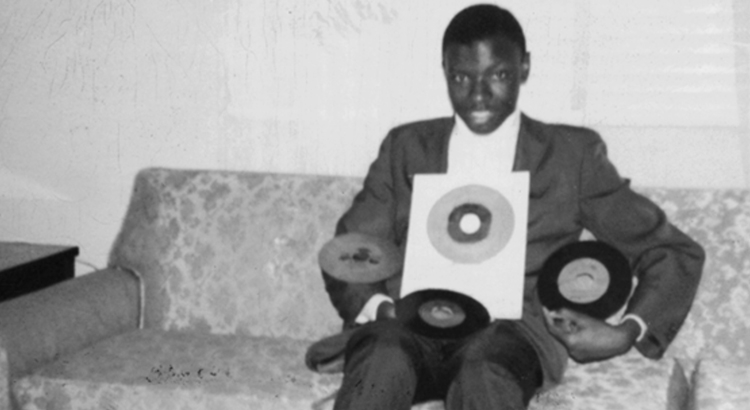 Mike had grown up in the tough neighbourhoods of Washington DC, moving a total of 13 times in his young life. His mother had died from Lupus when he was young and his father, having been diagnosed with schizophrenia, had disappeared. He was sent to live with an older sister and slowly withdrew, taking refuge his own private world. Mike was a "loner", and like so many who feel isolated, his imagination ran wild.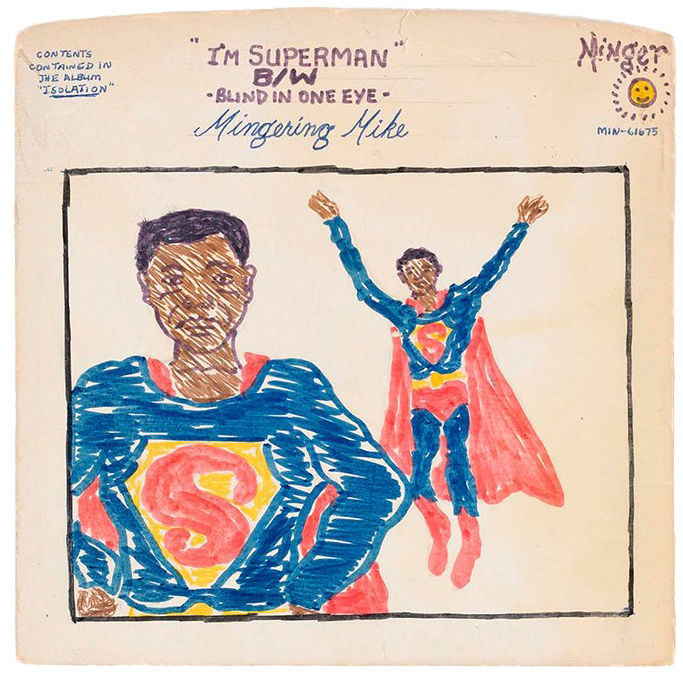 An intensely shy young man, Mike's passion became music and he immersed himself in the sound of Motown and the songs of James Brown, Marvin Gaye, and Little Anthony, listening to the soul stations of the day. Mike's Brothers worked at the local Howard theatre, the venue where he would release his acclaimed fictional live album Mingering Mike Live from the Howard Theatre.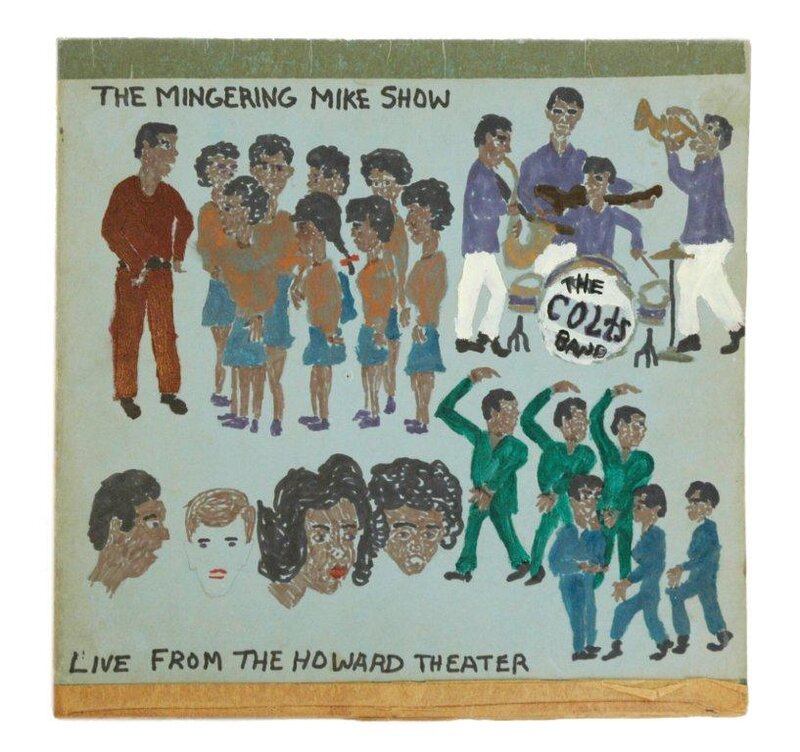 It was there, that he actually saw some of the best live acts of the day, from Aretha Franklin to Otis Redding. Captivated, Mike wanted to be like them, he wanted be the biggest soul star in the world. The only problem was, he didn't play a musical instrument, he didn't even sing, nor have a band, or know anyone who had a band. This might have stopped many aspiring wannabe superstars but not Mike. In 1968, he released his debut Album Sittin' by the Window with linear notes by Jack Benny who didn't write, "A bright and intelligent young man with a great, exciting future awaiting him".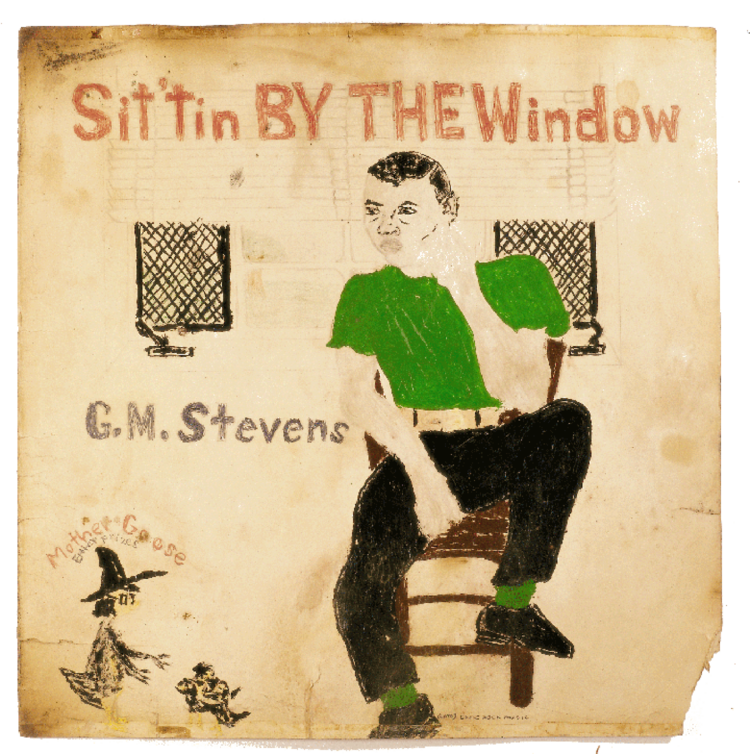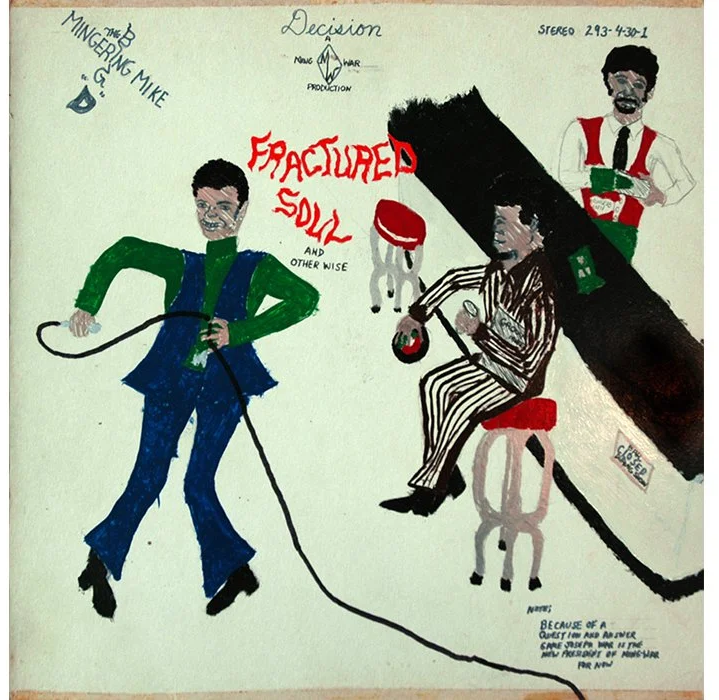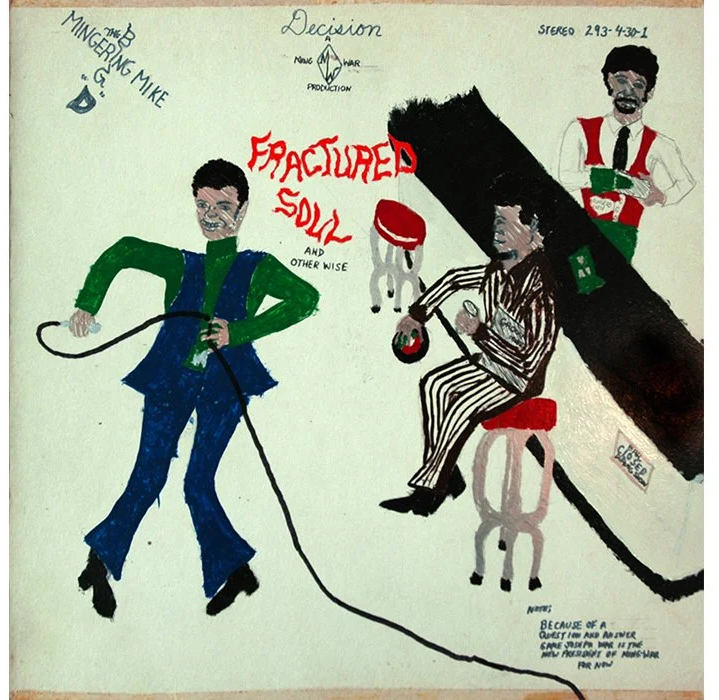 Mike realised he didn't have to go outside; he didn't have to learn an instrument or join a band. He could do it all in his head, a fantastical musical odyssey – all he needed was cardboard and some paint. Mike's imaginary career started in 1968. His debut album was received well and sold moderately. But what Mike needed was a new name, "Mike Stevens" just didn't have that je ne sais quoi. He needed something with pizzaz, a real super star title. So he would become "Mingering Mike", a made up word for a made up star. Other releases followed his debut like I'll get it together, All I can do is cry, and  the hit Eat Yourself Silly, all on Mike's own label, Mother Goose Records.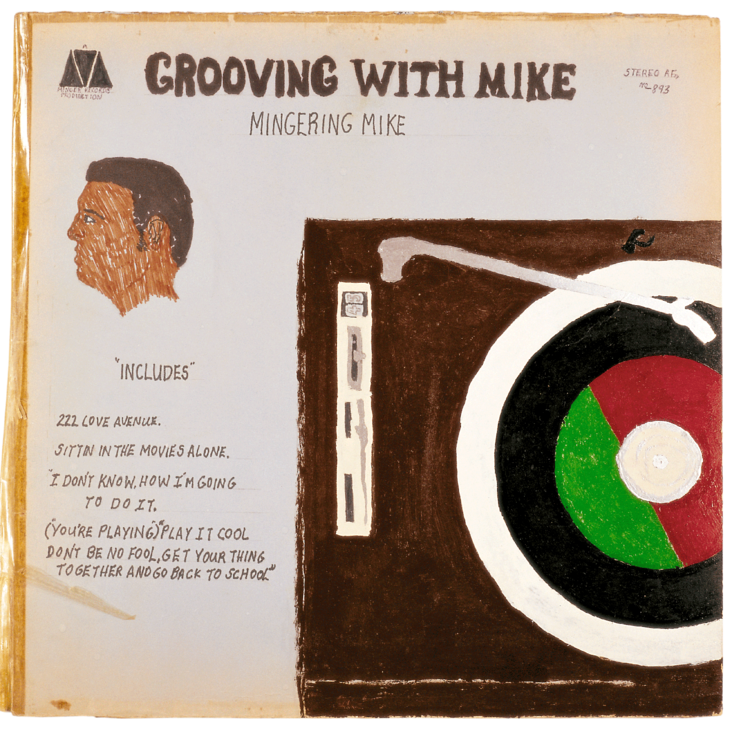 All in all, Mike had 35 record labels. Mike wasn't alone in his mythical musical journey though. Early on, he had roped in his cousin Derrick, or as their non-existent fans would know him, 'The big D'. And D would appear on a lot of Mingering Mike albums; their collaboration would continue throughout the 1970s. Mike would also manage other acts, namely his cousins; there was Rambling Ralph (Cousin Ralph) Joseph War (Cousin Warren) and Audio André (cousin André).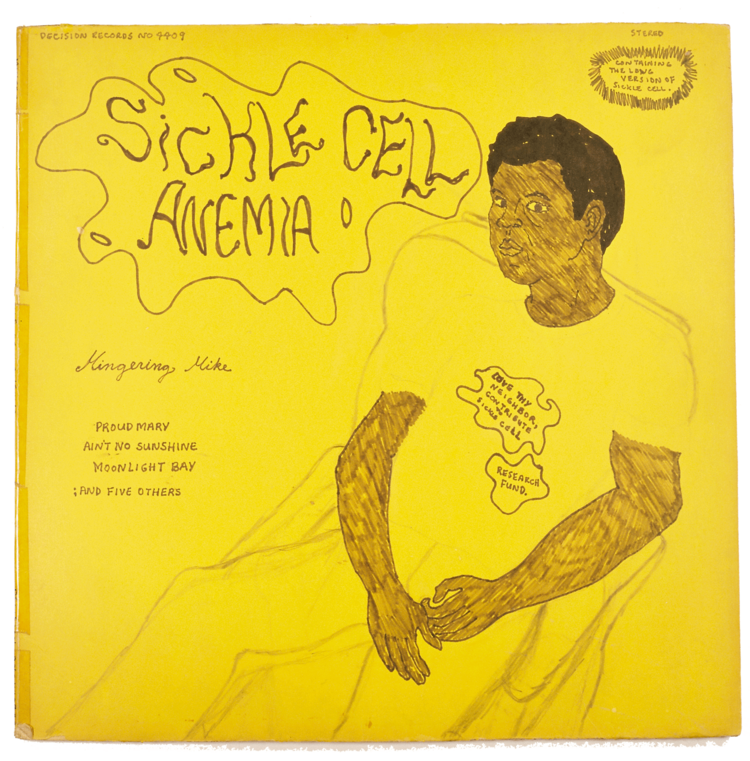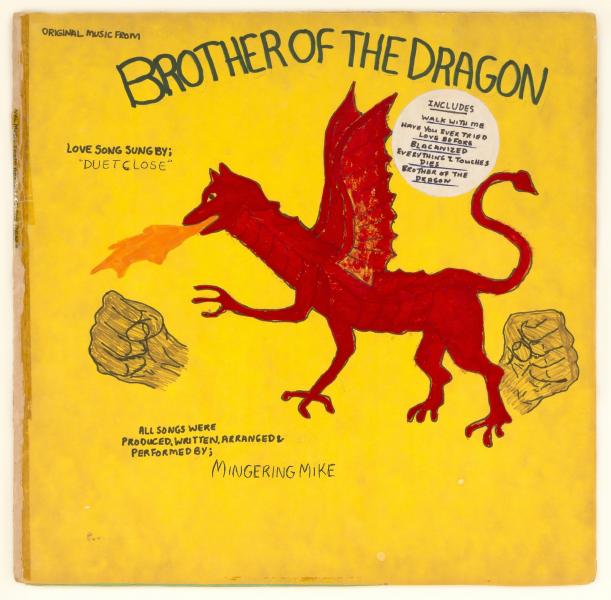 Mike and Derrick, not satisfied with just living out their musical dreams in 2D, had taken to writing and recording their own compositions. They retreated to their new studio (the bathroom) which any budding musician will tell you offers ideal acoustics for laying down some vocals! In the toilet, Mingering Mike and The Big D would accompany each other in an experimentation of sound. They hummed the various musical instrumentation and laid down beats by Slapping the phone book with their palms, a kind of early incarnation of beat boxing. Mike would later claim to have written over six thousand songs and made dozens of these bathroom recordings; sadly few of these early tracks exist today.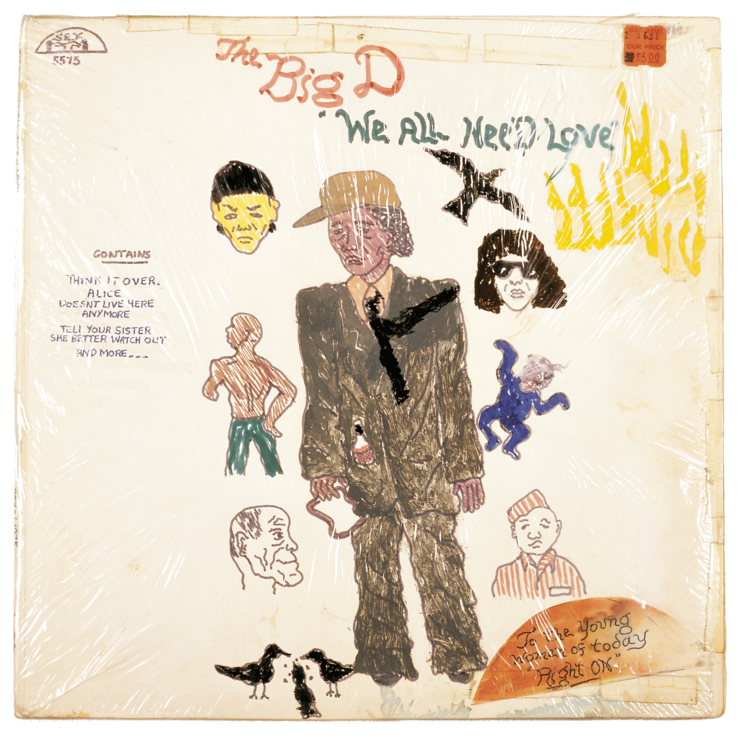 In 1970, both Mike's imaginary career and real life would be threatened. He'd received his draft card for Vietnam. Mike was under no Illusion, apart from his superstardom, that he wasn't made for the army. He didn't want to fight and kill people thousands of miles away, so Mike went Awol. If he'd been isolated before, now he really retreated into his own world. He went into hiding and couldn't leave the house. This would become Mike's most prolific period and his music took on a more morose and introspective aspect. In 1972 he would make over 15 LP's And over 20 singles. There were titles like Lowdown Blues, Isolation, Homecoming, But When You Drink, You Drink Alone. Mike, now with years of self-imposed seclusion had fully retreated into his fantasy, a safe place to exist in his musical illusion.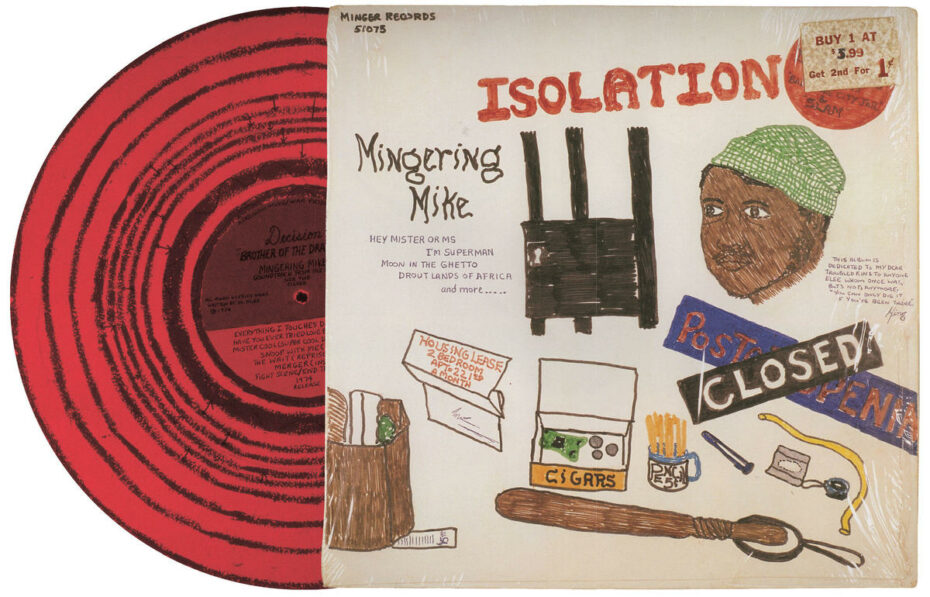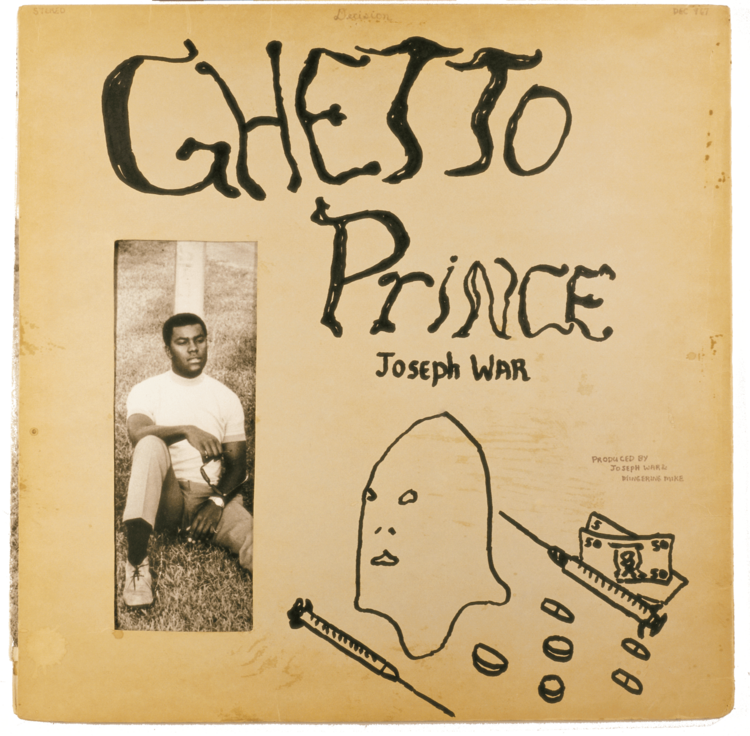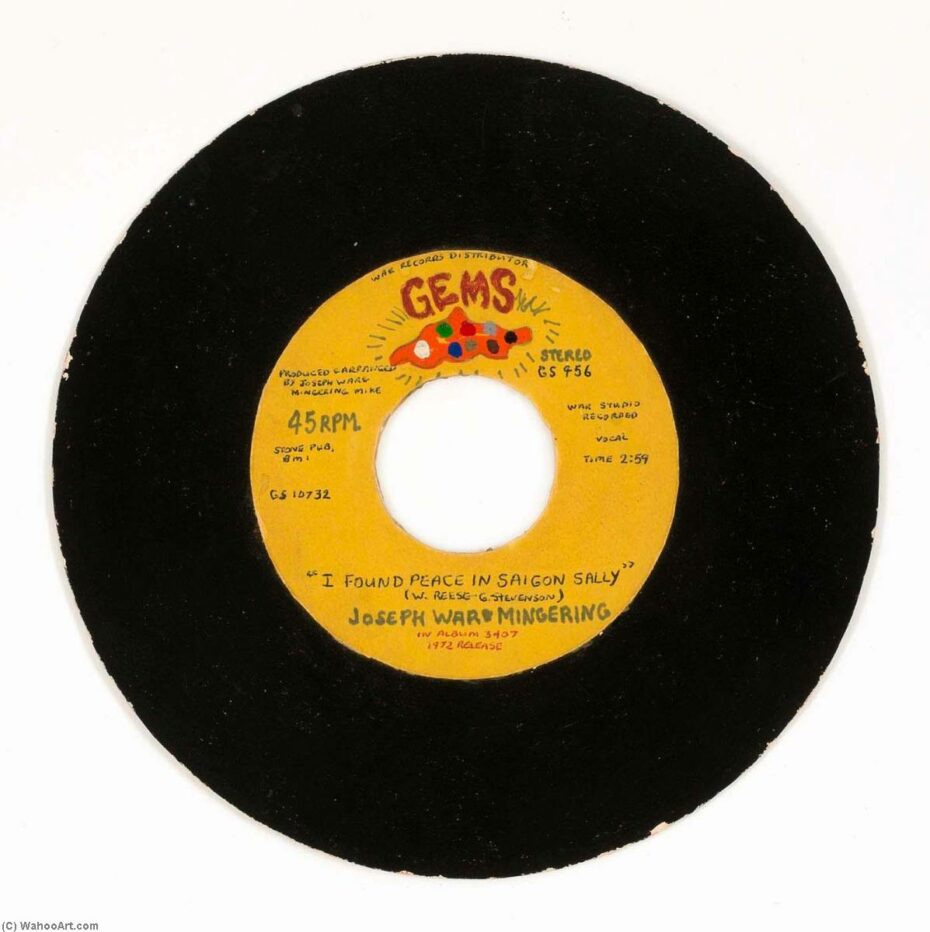 In 1977, Jimmy Carter pardoned the draft dodgers and Mike was set free from his exile and his make-believe musical journey came to an end. Times had changed and Mingering Mike just wasn't selling like he once did. It was time to become a man and put away childish things. He found a job at a Sunny's Surplus, an outdoors store and Mingering Mike retired, the fan club shut down, the musicians disbanded and the albums were put into storage. After Mingering Mike's re-emergence into the spotlight in 2003, thanks to his championing by Dori Hadar, his work and mythical musical career intrigued and delighted an army of new fans – and this time they were real. In 2015, the Smithsonian American art gallery acquired over 100 pieces of Mike's art and exhibited them the same year. When he was invited to a panel discussion, he decided to go in disguise; he'd been through this before, of course – and this time he preferred to go into the spotlight anonymously. Mike has given talks and made appearances; there was even mention of a Hollywood film to tell the story of his life. David Byrne of the band Talking Heads supposedly wanted to purchase the rights to his legacy.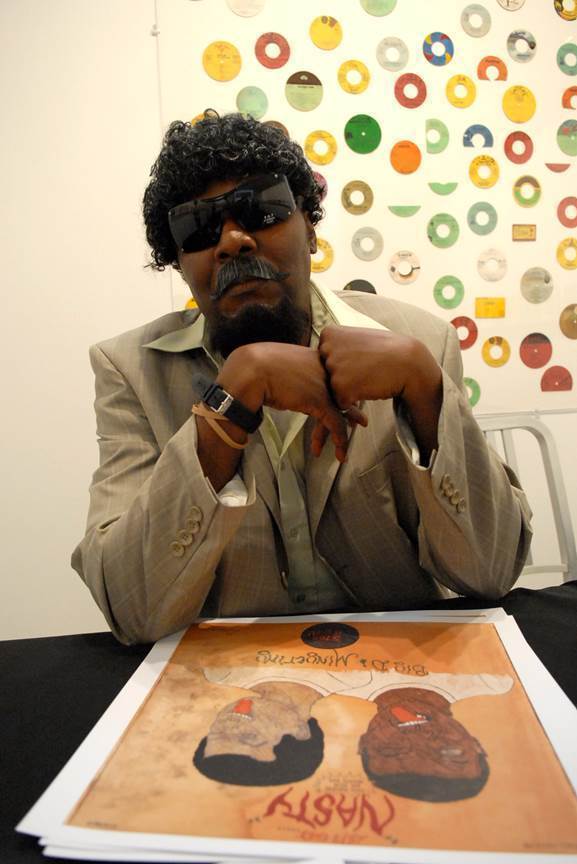 But Mike has kept his options open. He has always valued his creative freedom over fame. But who knows, maybe one day, he'll unleash that new album and the world tour everyone has been waiting for. He is after all the one and only Mingering Mike, the super star of soul that never was.