In a small town called Otega in the state of New York, there is an independent used bookshop with something very special about it. For decades, the owner of Popeks bookstore, which was passed onto Michael Popek from his father, has been collecting and cataloguing the unusual and forgotten things he finds inside the pages of dusty old books. "I started working at my family's used bookstore when I was about seven; now, I run the shop … In a typical day of sorting, I can go through five or six hundred books. If I'm lucky, I'll find five bookmarks of real interest."
Over five years ago, Michael created the Forgotten Bookmarks website, the online counterpart to his accidental career of bygone bookmark collecting. His archives seem to go on forever, a reflection of what the real thing must look like. "I can't tell you how many otherwise worthless books I have stashed away over the years just because there was an interesting inscription or drawing." From the bank of "personal, funny, heartbreaking and weird things" found by Michael, here are a few of my favourite things found inside books…
1. Monopoly Money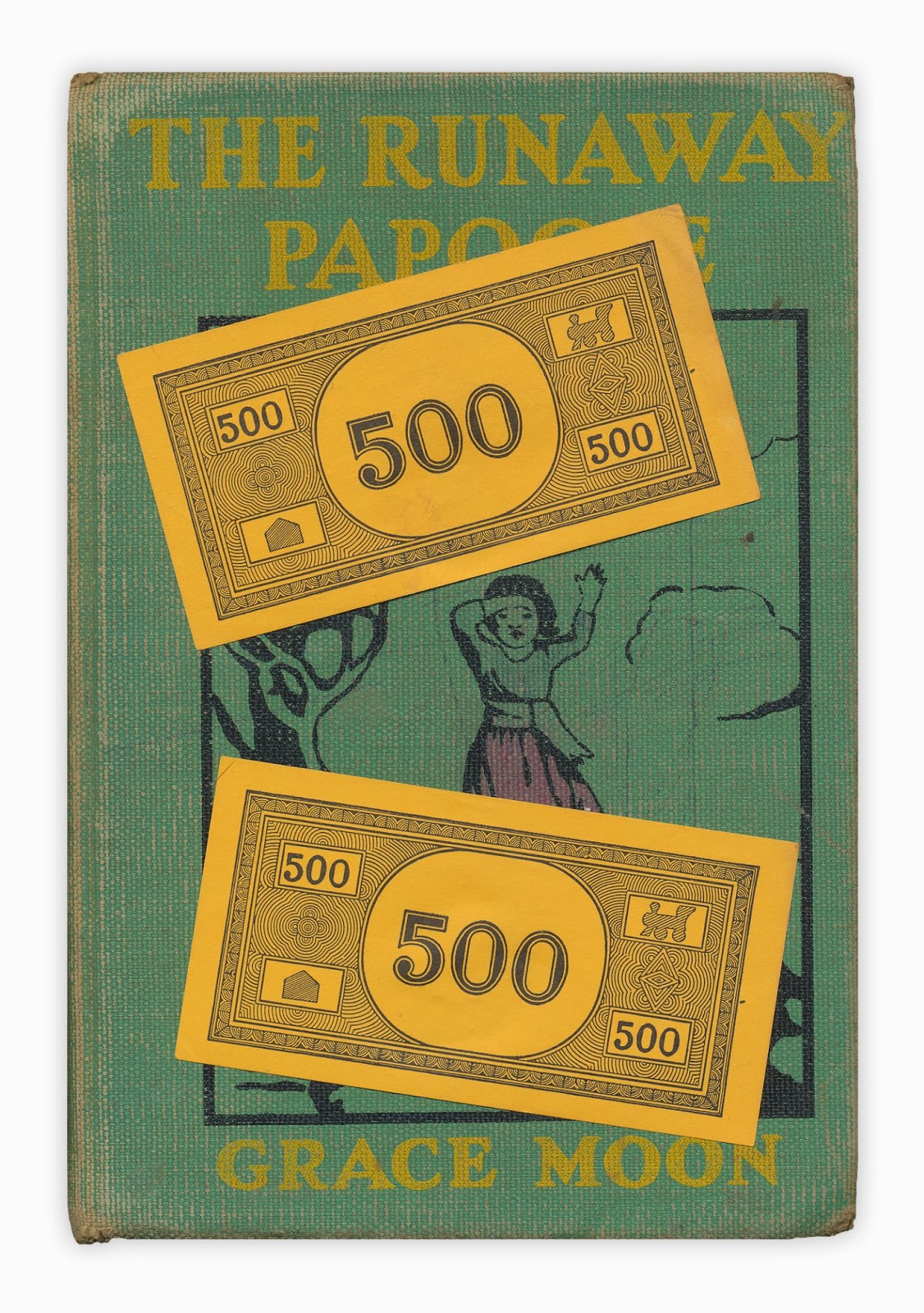 Two $500 bills from a Monopoly game.
Found in "The Runaway Papoose" by Grace Moon. Published by Doubleday & Doran, 1929/ 
2. Fabric Samples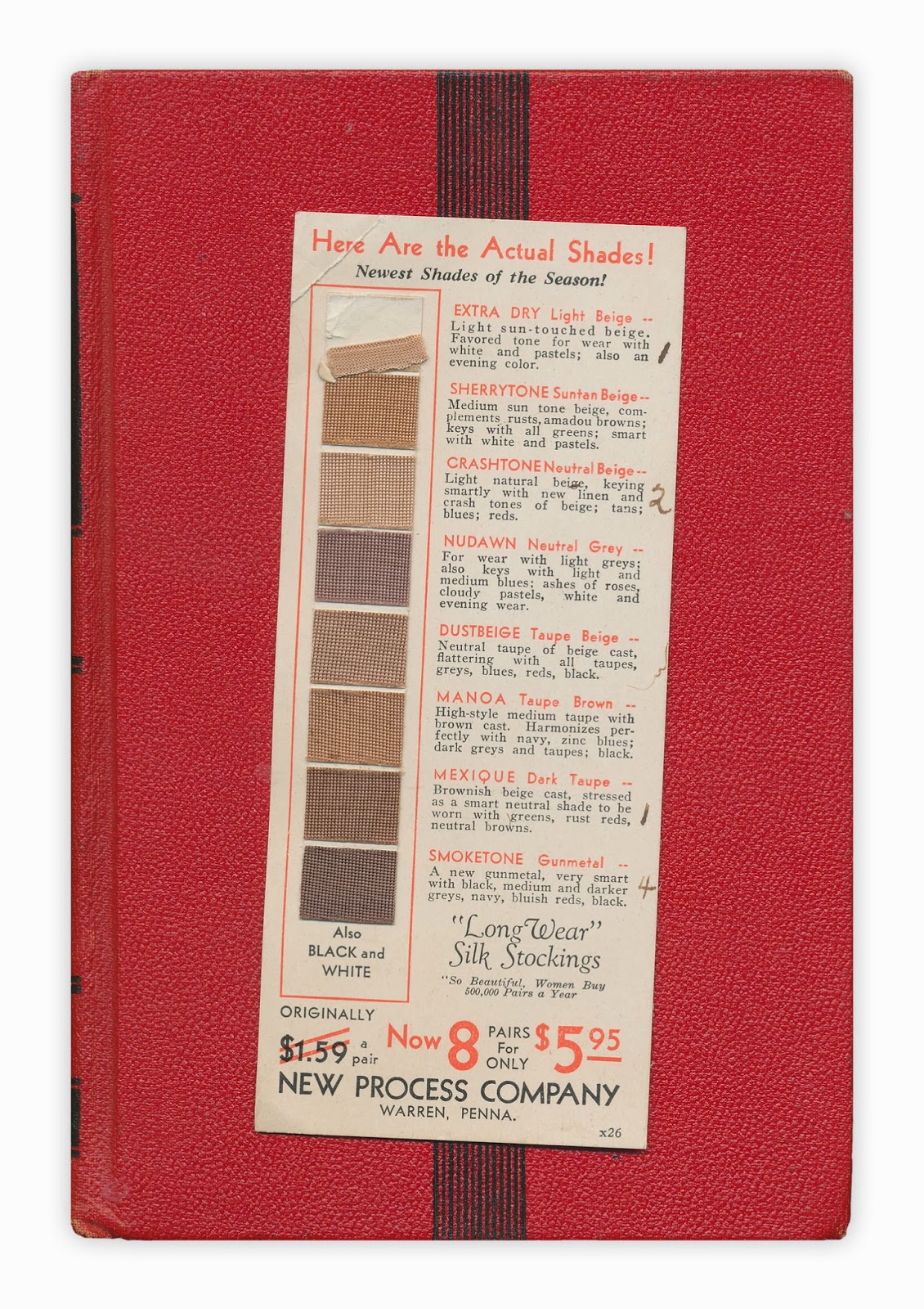 Advertisement from the New Process Company, maker of "'Long Wear' Silk Stockings,"showing off the "newest shades of the season!"
Found in "River Supreme" by Alice Tisdale Hobart. Published by Collier, 1934
3. Keys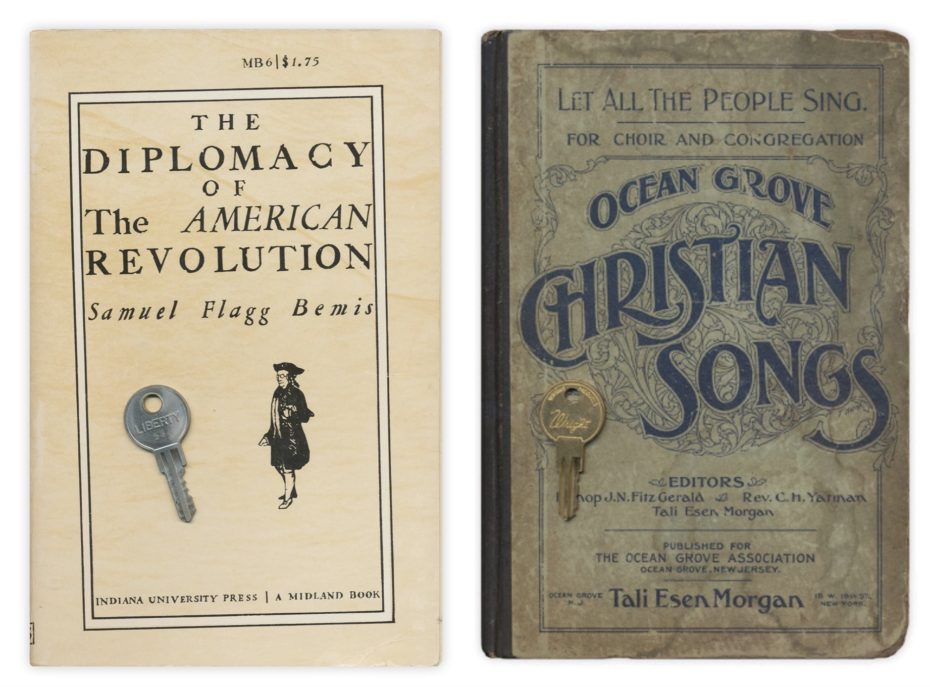 4. A Marriage Certificate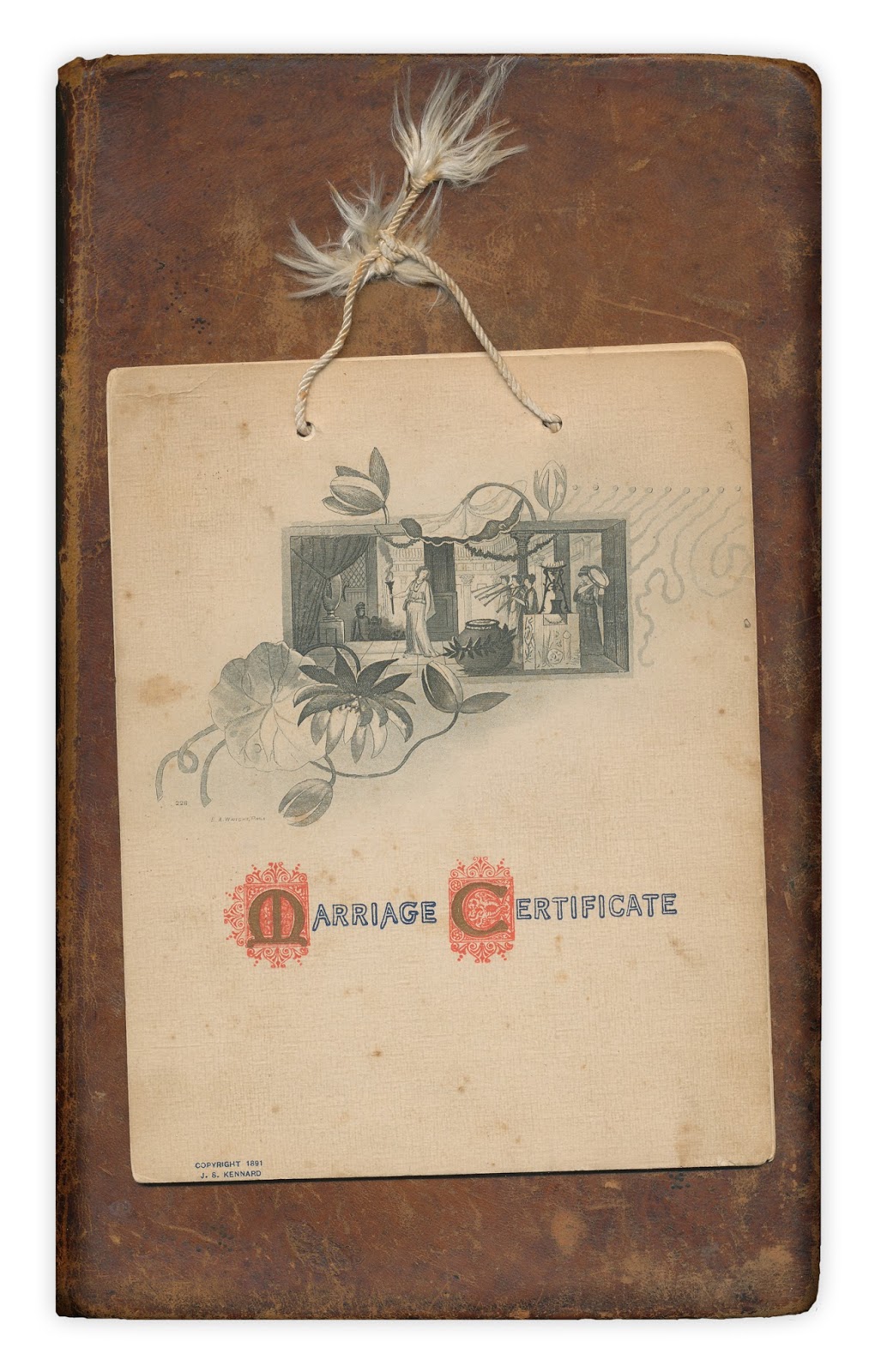 Here's a marriage certificate, dated October 18, 1899. It appears to be more of a keepsake than a legal document.
Found in "The Holy Bible" published by Samuel T. Armstrong, no date, circa 1850.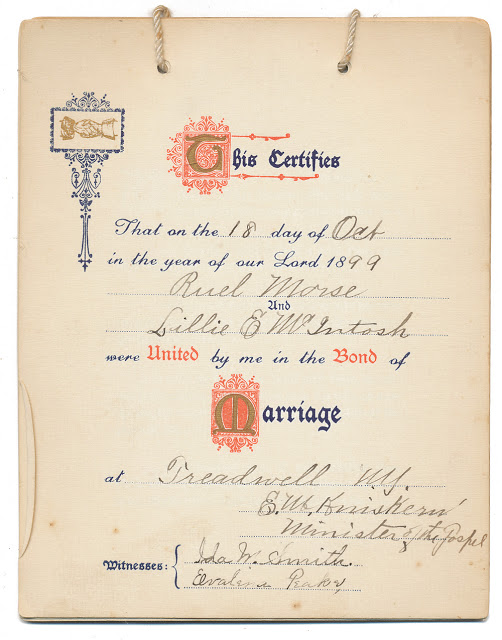 See the rest of the marriage certificate
5. Fashion Advice
Found in "In Thackeray's London" by F. Hopkinson Smith. Published by Doubleday, 1913.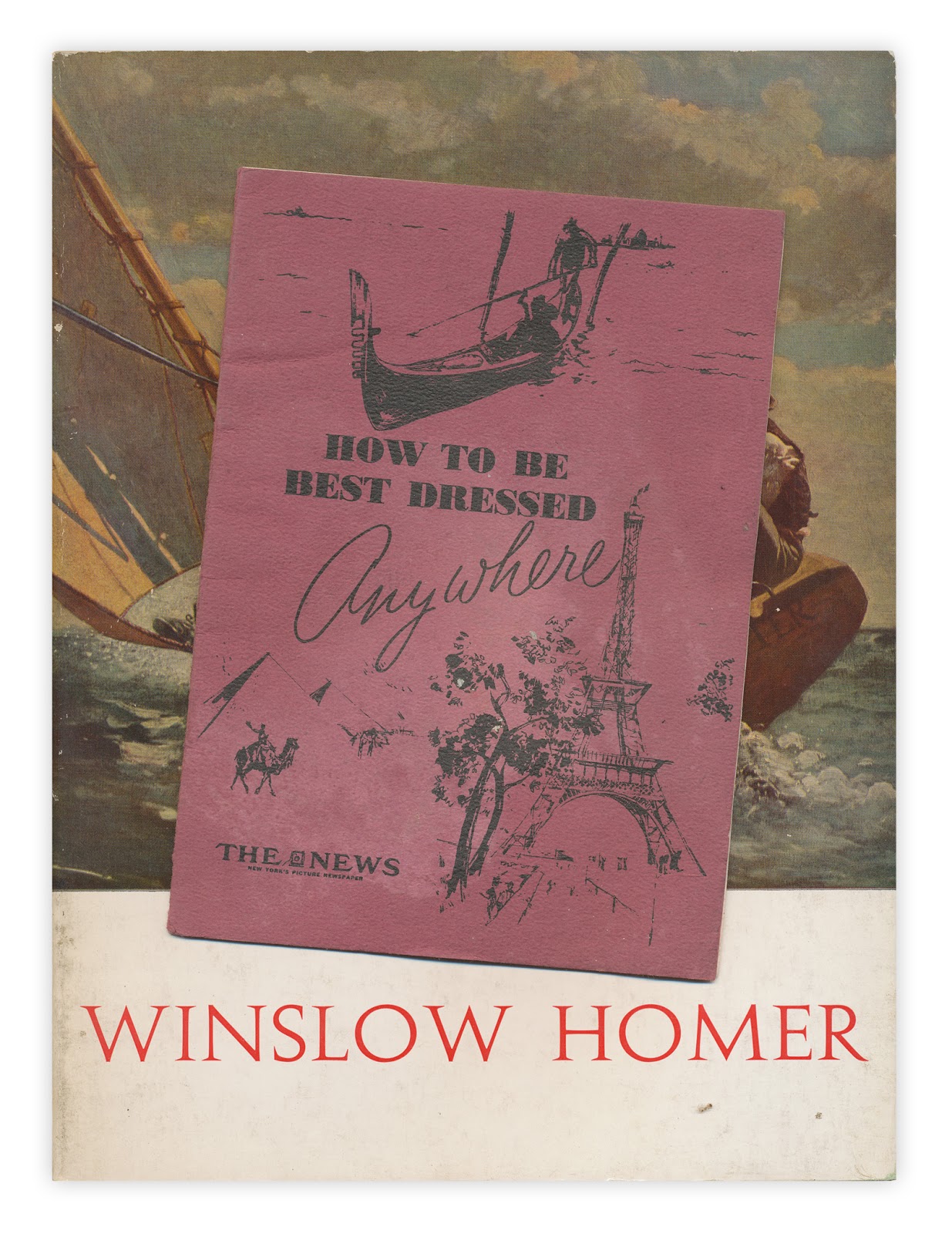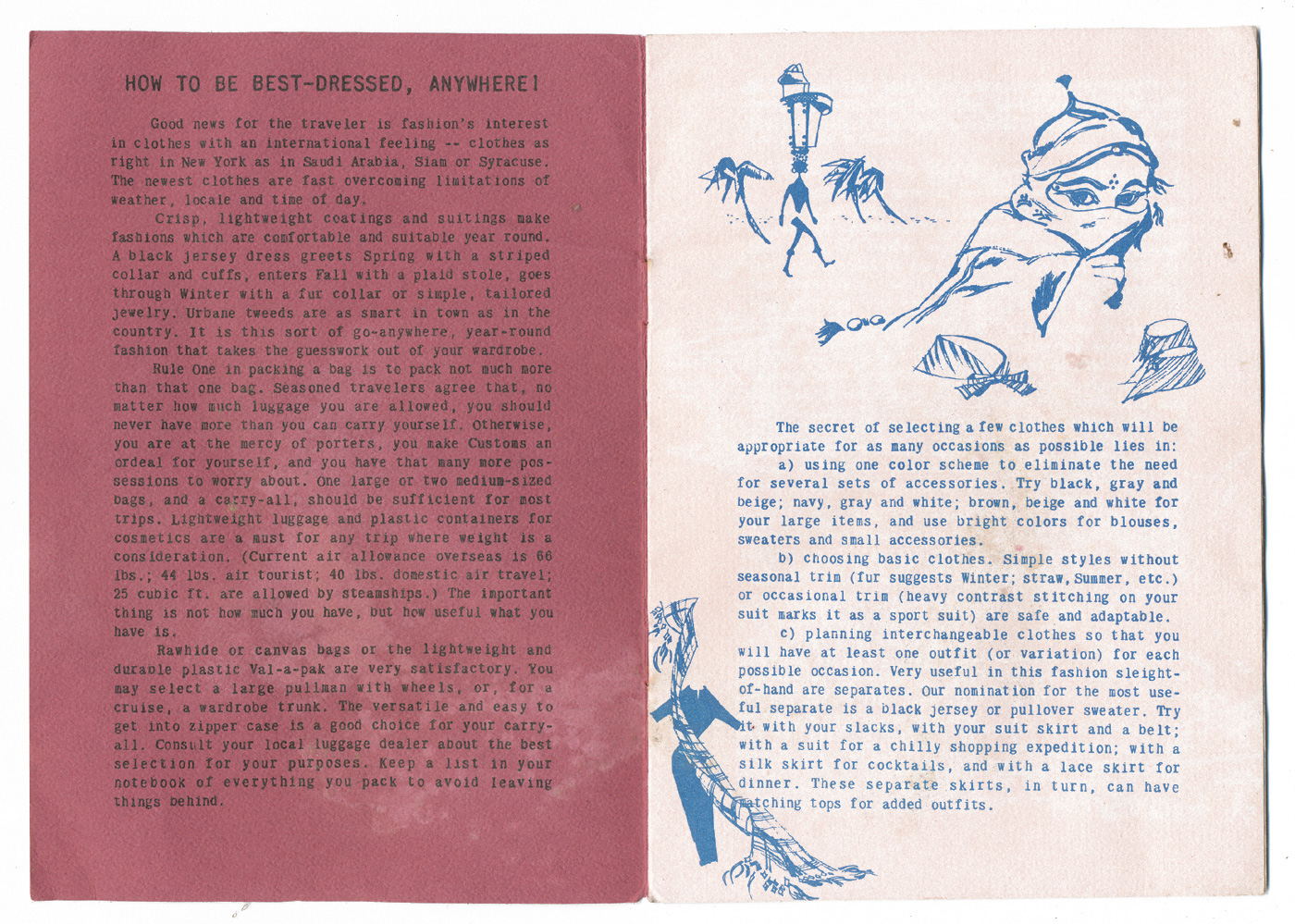 I found this amusing but informative booklet inside a Winslow Homer art book. It's titled "How To Be Best Dressed Anywhere" and it was put out by The News Corp. sometime in the 1950s, I would guess.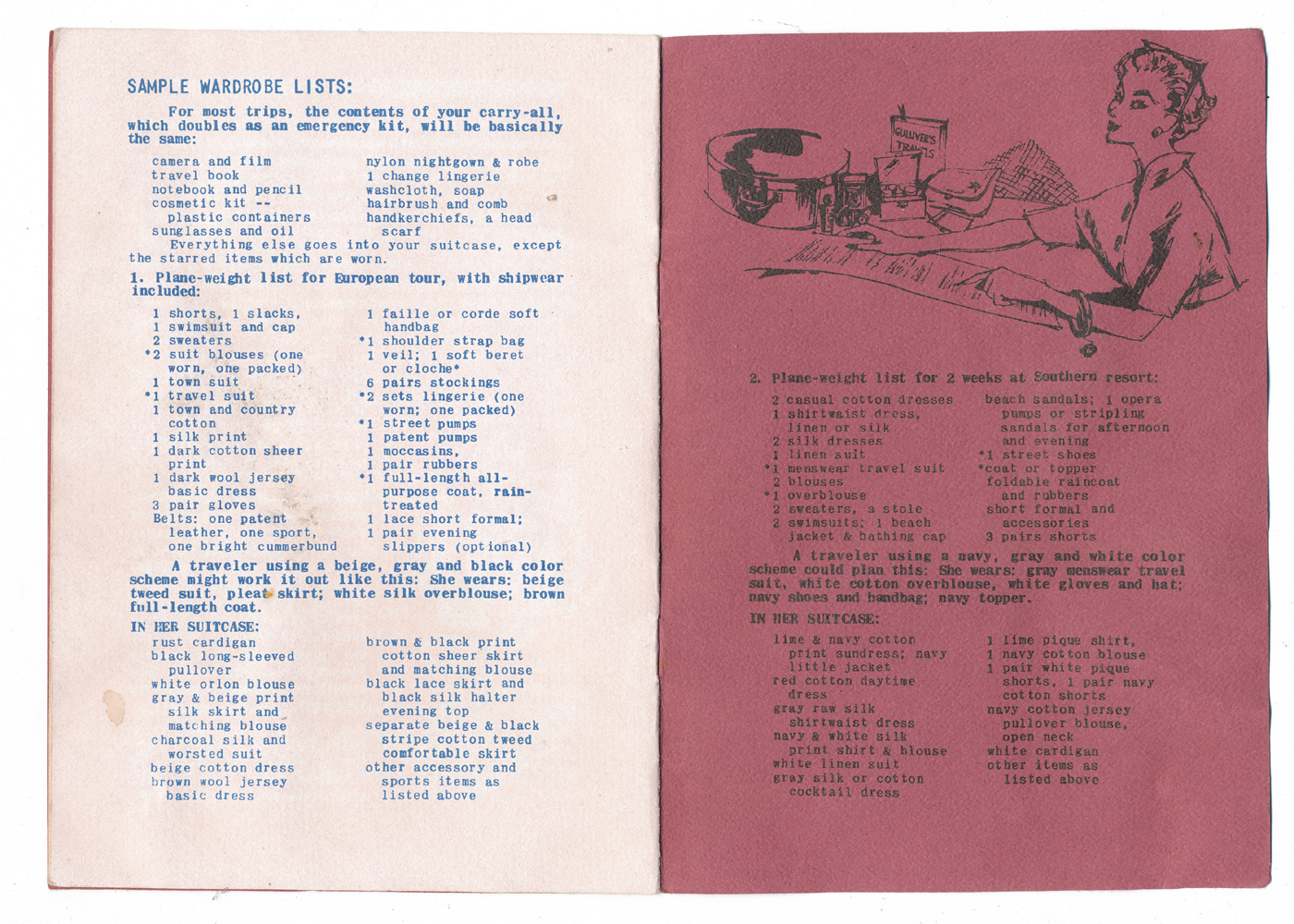 View more pages from the booklet. 
6. Pressed Flowers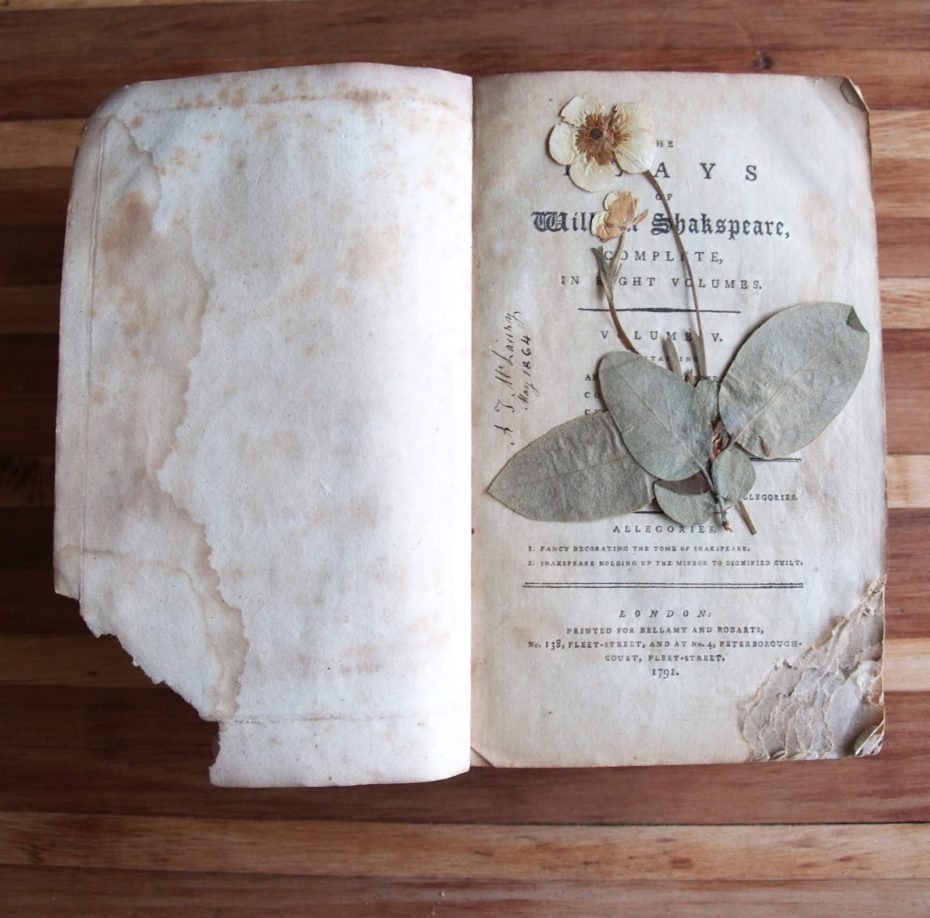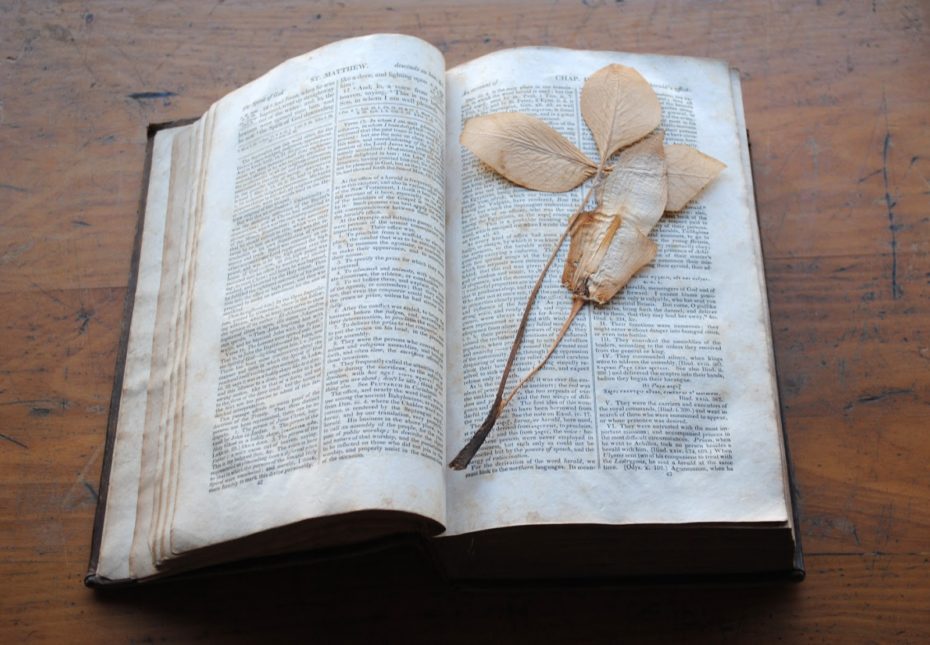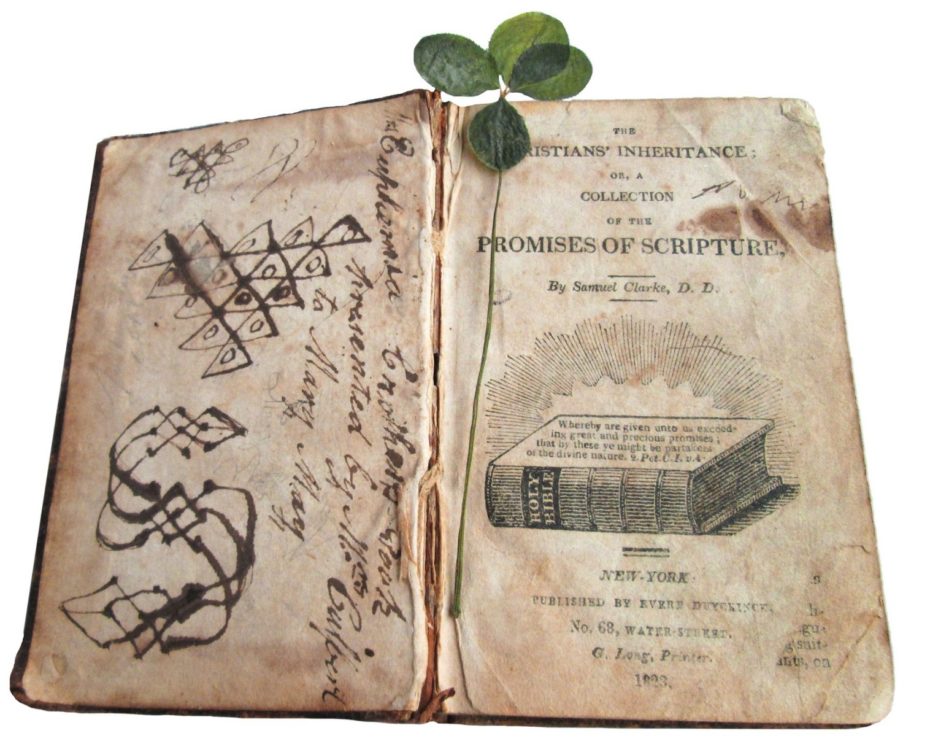 7. Oil Shares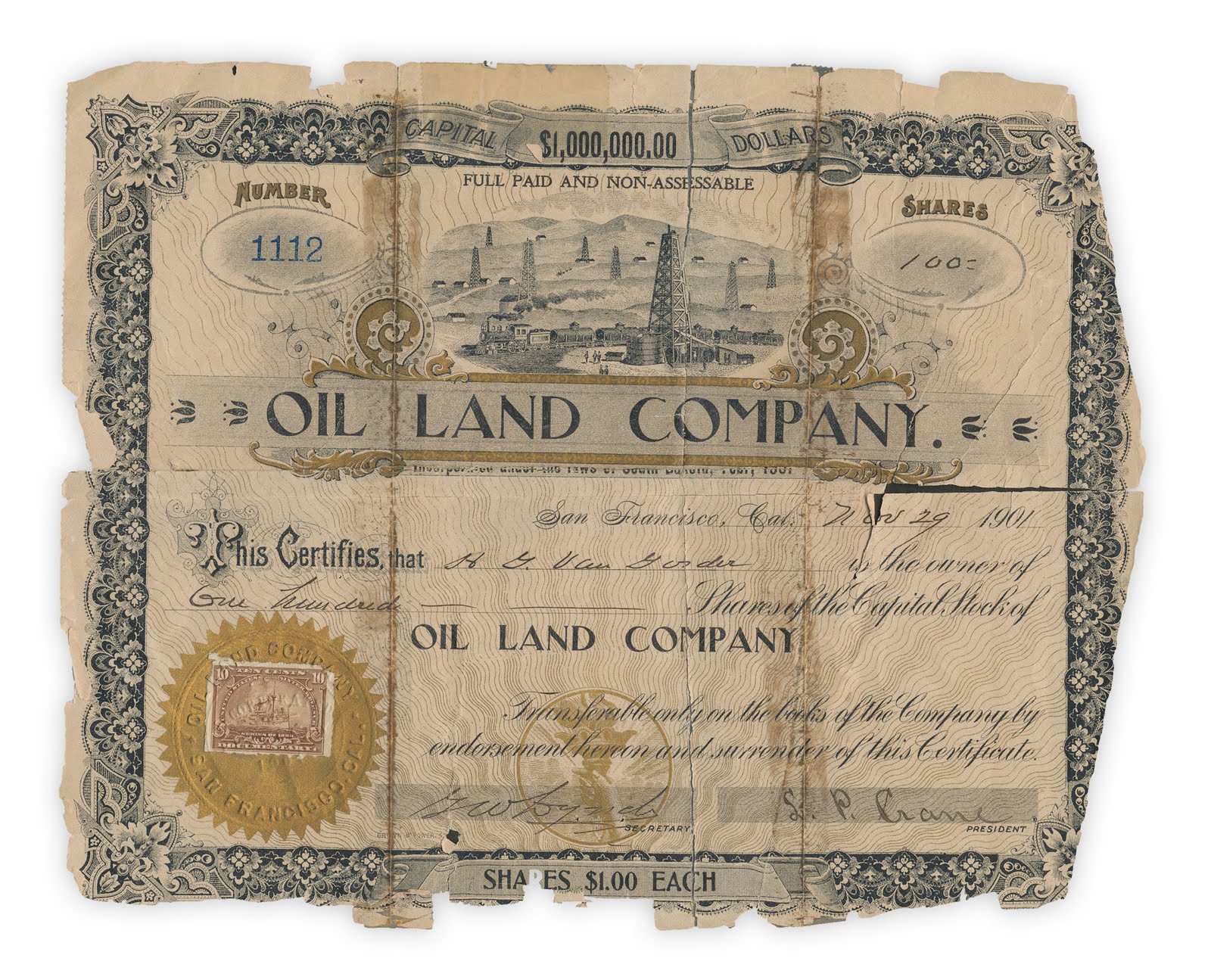 100 shares of "Oil Land Company" of San Francisco, California. The certificate is dated November 29, 1901.
See the fully photographed certificate here.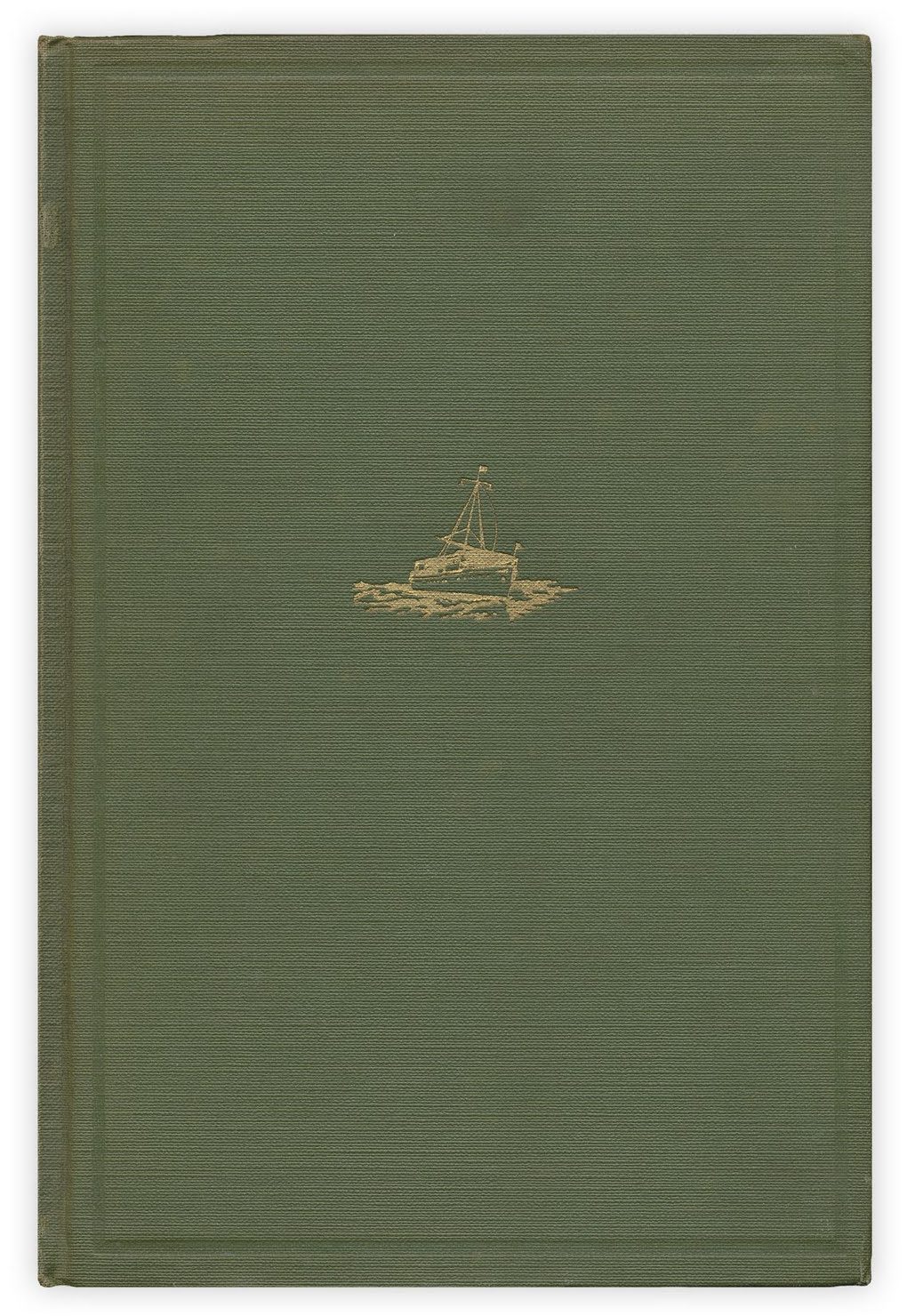 Found in "Sea-Tracks of the Speejacks" by Dale Collins. Published by Doubleday and Page, 1926.
8. Vintage Recipes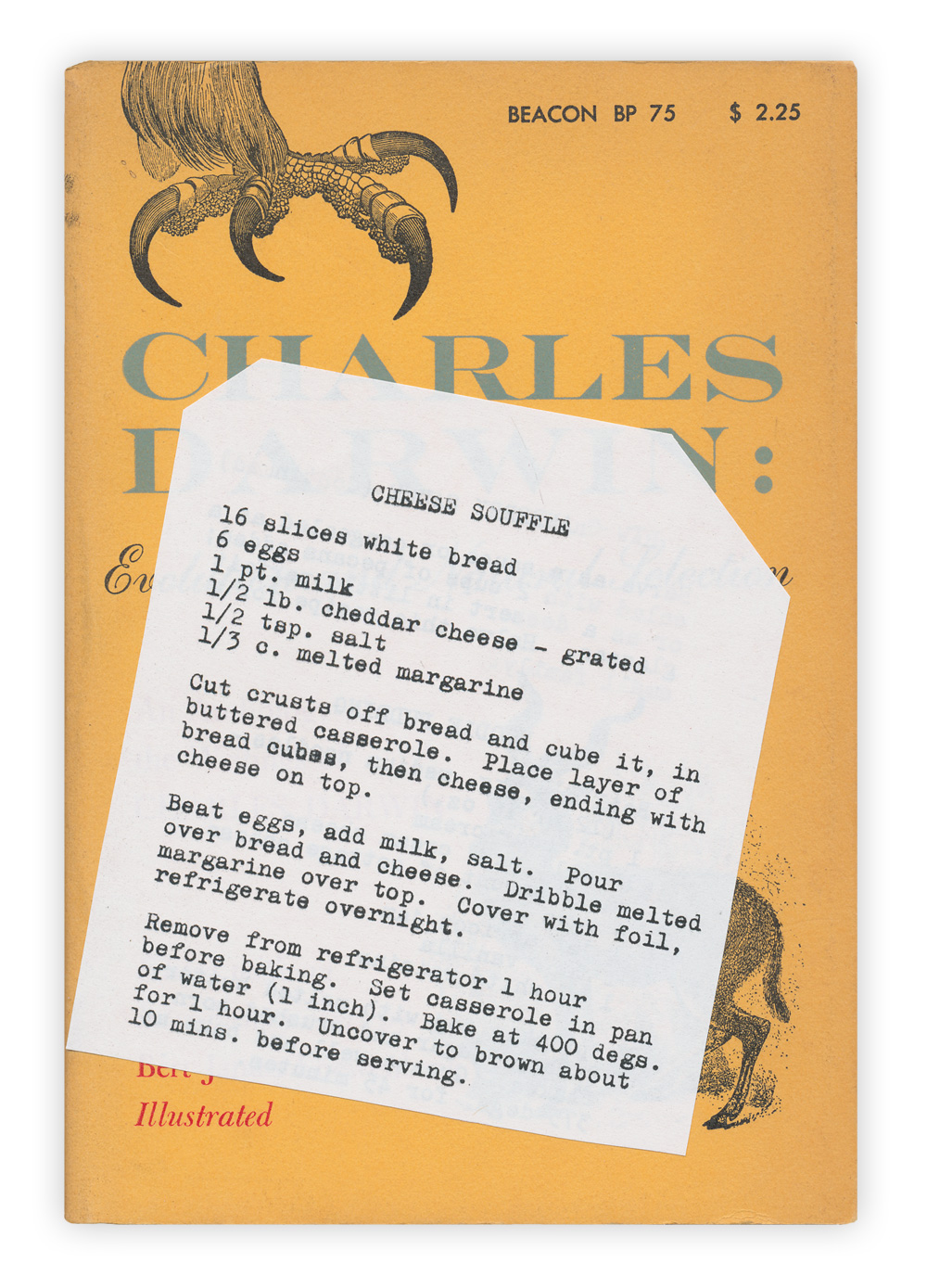 Recipe for Cheese Soufflé, found in "Charles Darwin: Evolution and Natural Selection" edited by Bert James Loewenberg. Published by Beacon, 1959. Link.
And some very timely stuffing recipes for Thanksgiving…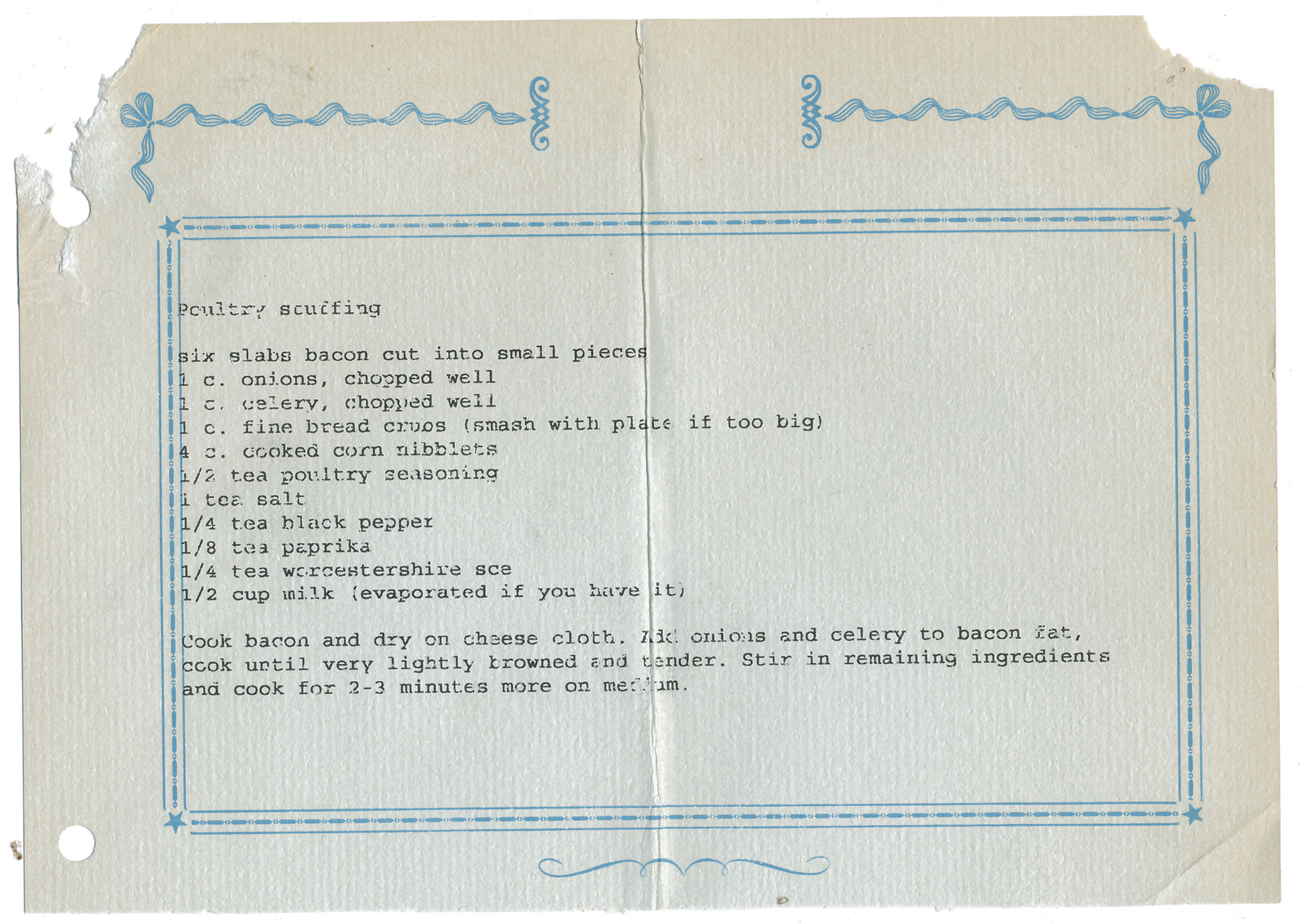 Found in "Gone With The Wind" by Margaret Mitchell. Published by Macmillan, 1938.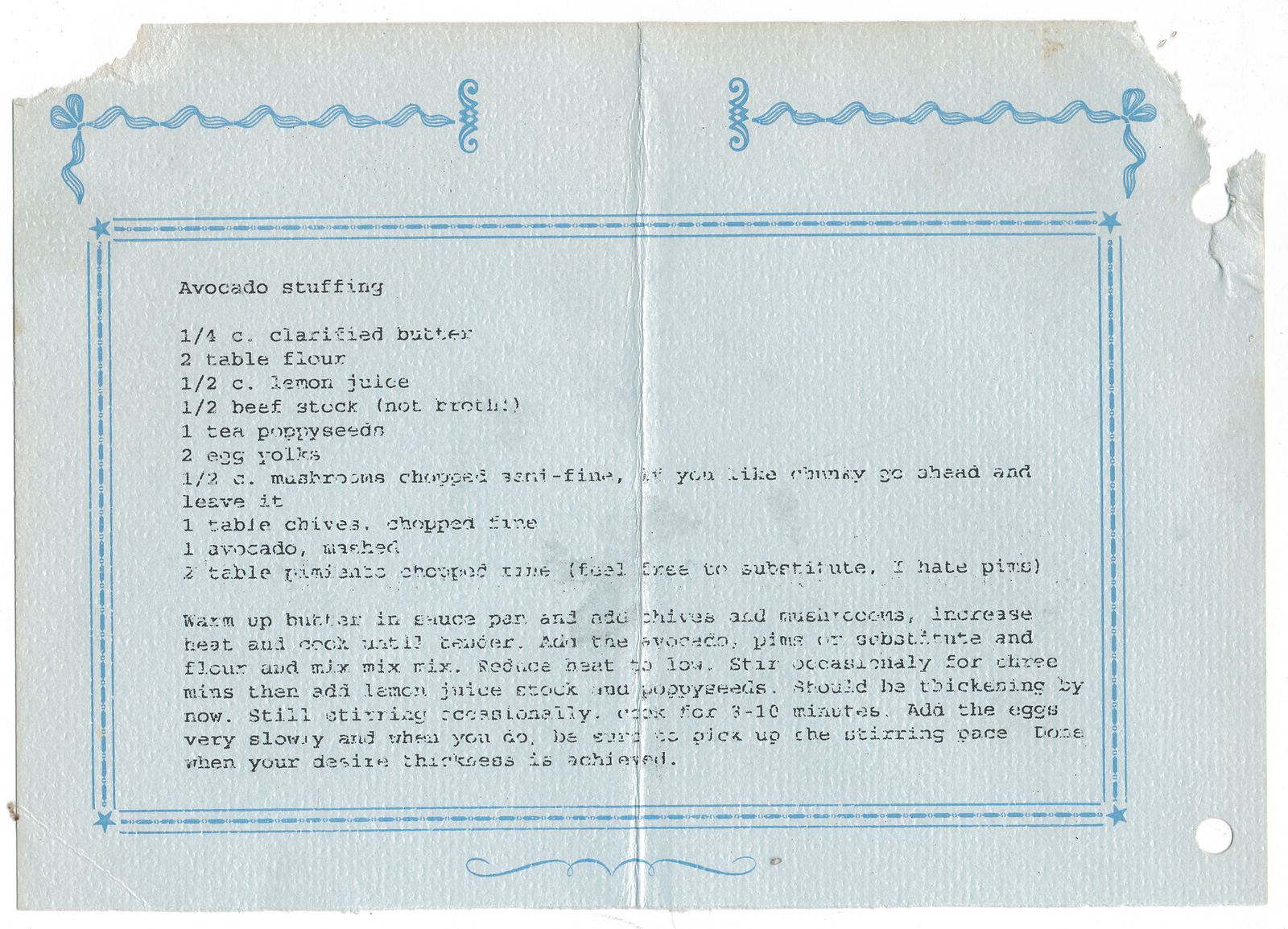 9. Carrie Fisher's Signature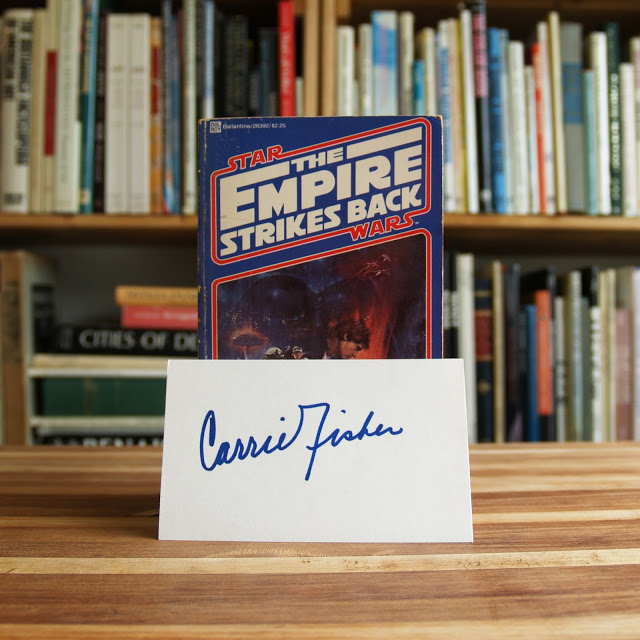 10. Records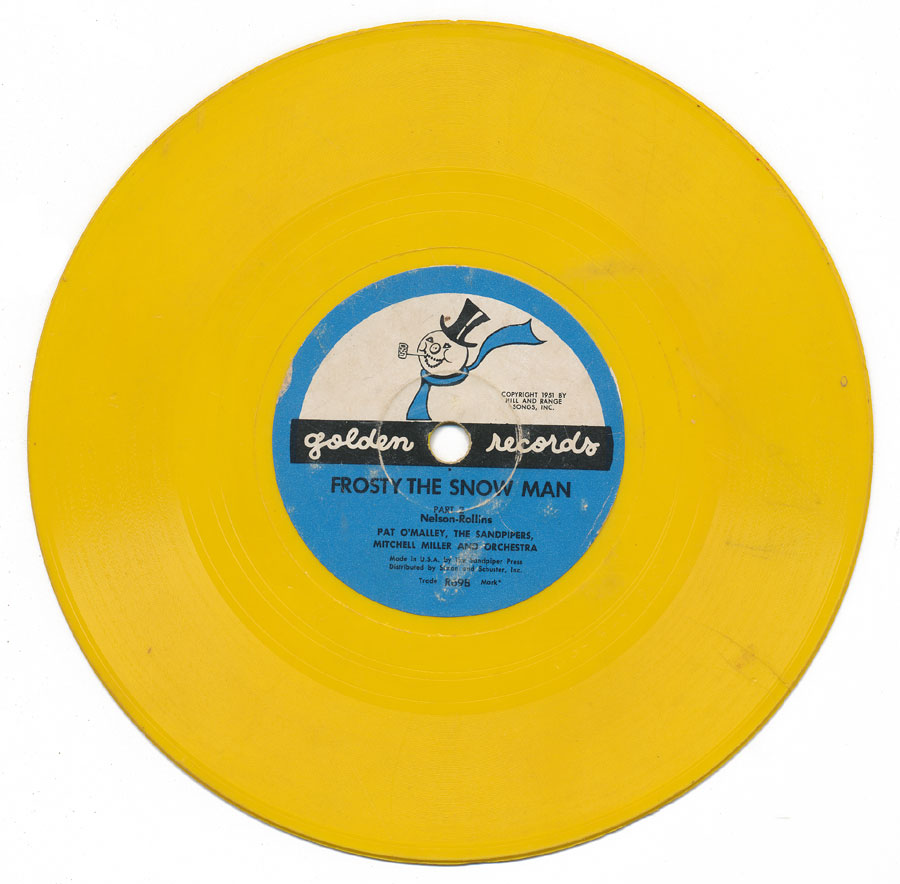 Two records, a little smaller than a standard 45 RPM. They might have been for one of those children's record players that are so collectible now. EDIT: reader Danzel informs me that they are 78s.
First one is "Frosty The Snow Man (Parts I and II) from 1951. The second is "Open Up Your Heart / THe Lord is Counting On You" by Roy Rogers and Dale Evans, no date. 
Also found in "Horton Hatches the Egg" by Dr. Seuss. Published by Random House, 1940 (although it could be a later printing – Seuss copyrights are notoriously tough to pin down).
11. BB Gun Pellets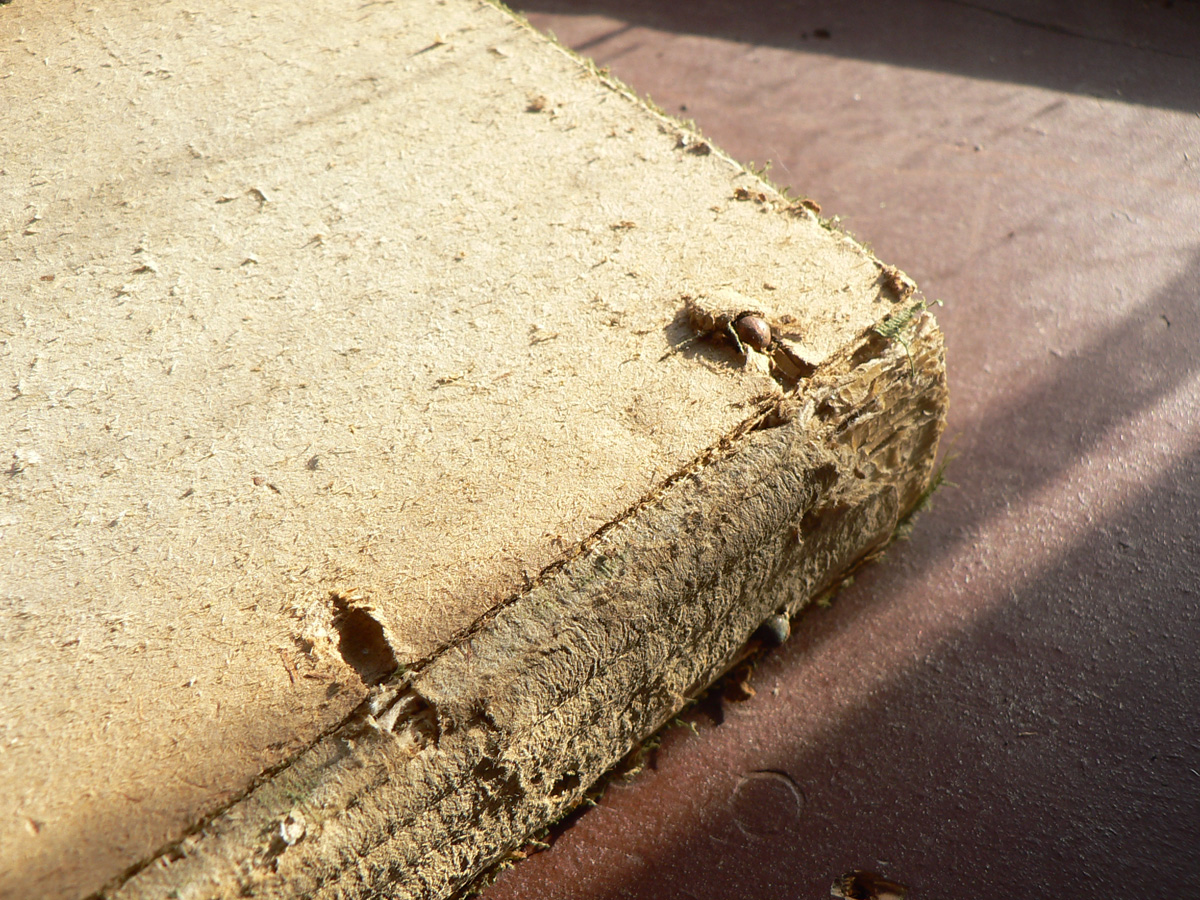 I found this poor soul of a book this morning, looks like someone used it for target practice.
You can see the embedded BBs or buckshot pellets that are still left, a few have fallen out over the years.
The book is "Herbert Hoover: A Reminiscent Biography" by Will Irwin, published by Grosset and Dunlap, 1928.
12. Iridescent rock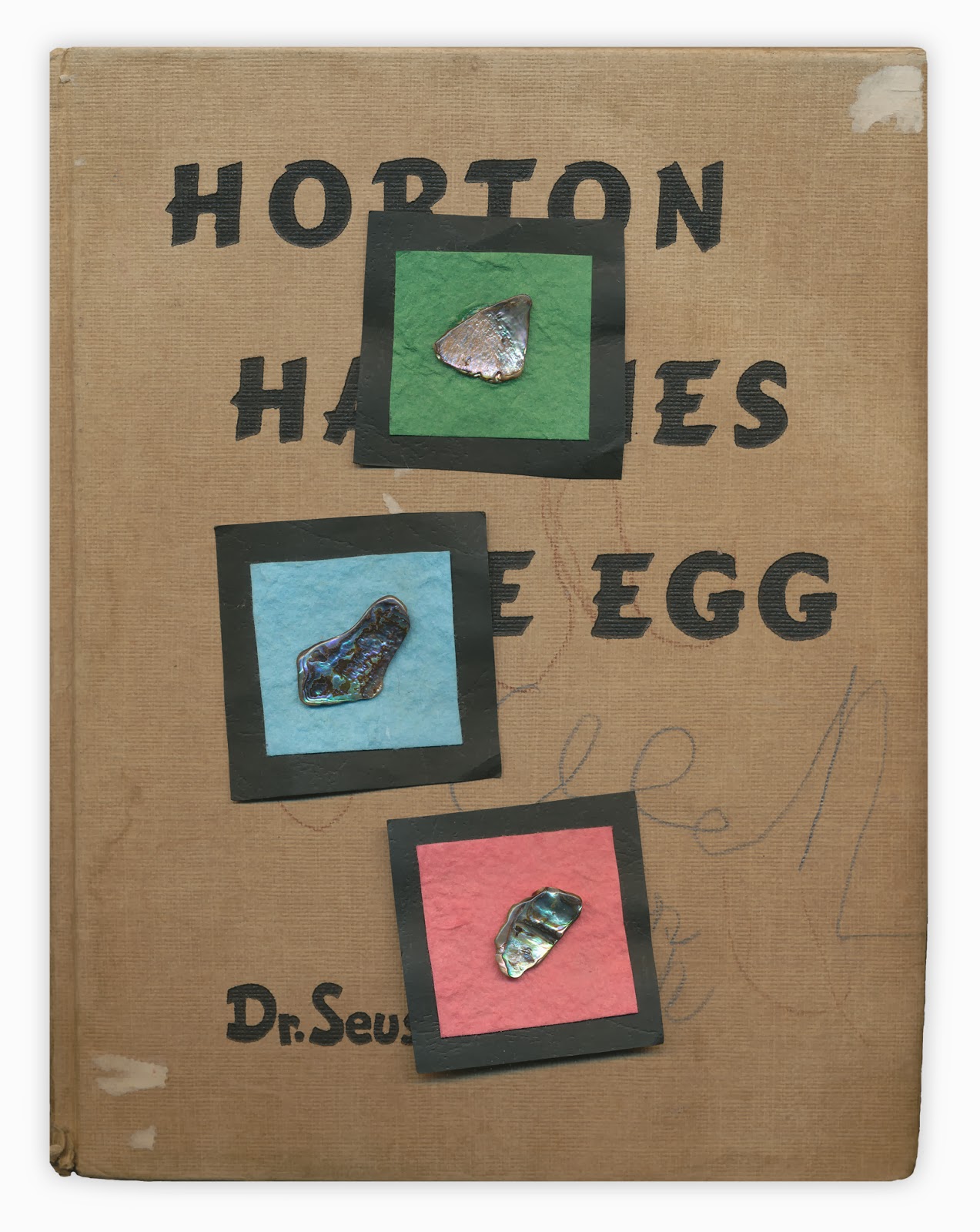 I'm not really sure what I have here, these three objects appear to be little bits of iridescent rock glued to construction paper.
Found in "Horton Hatches The Egg" by Dr. Seuss. Published by Random House, 1940.
13. Beautiful old photos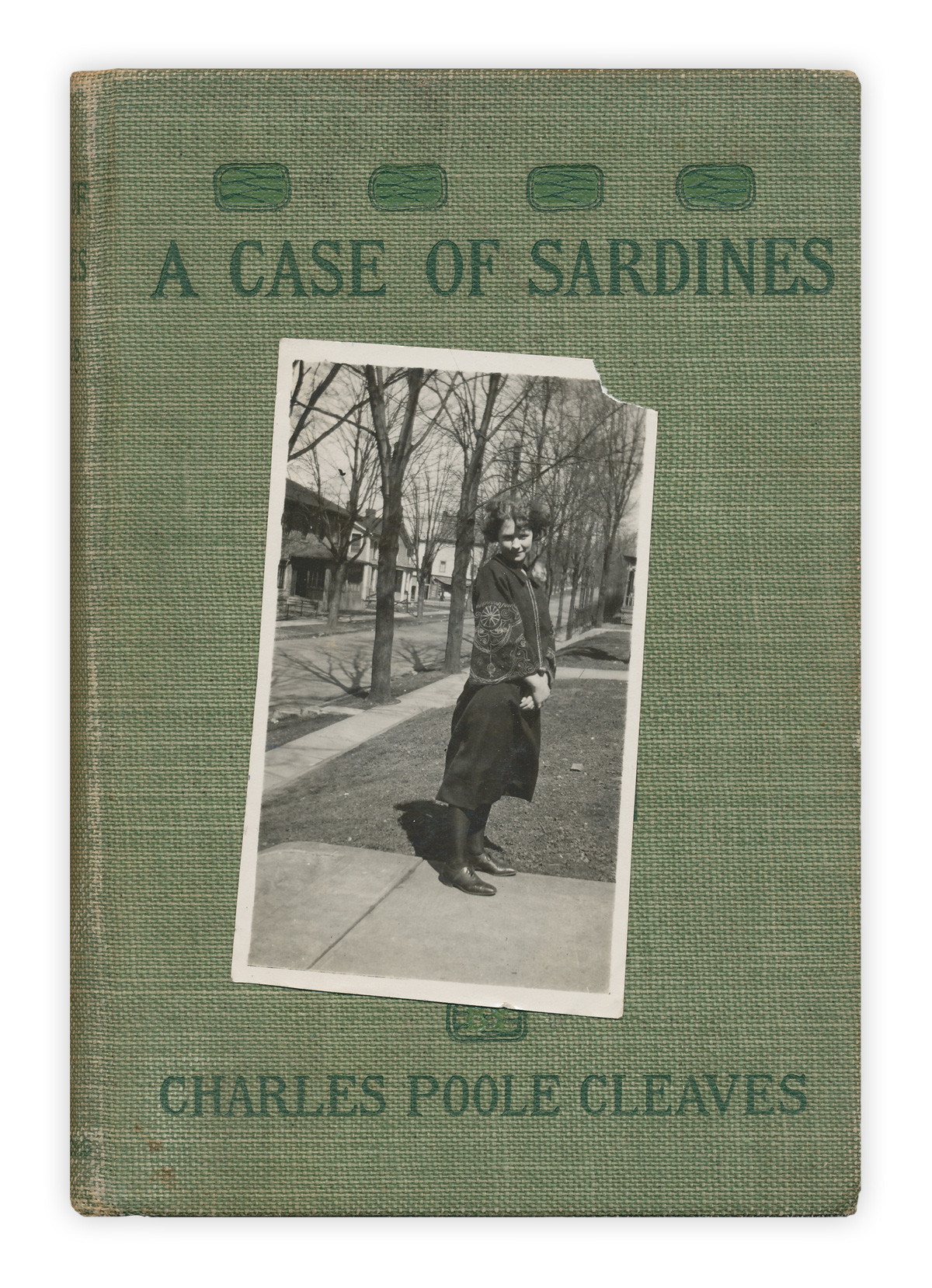 I believe it says "Winona (Winora?) Messer – April 1, 1923 – Sweetheart" on the back.
Found in "A Case of Sardines" by Charles Poole Cleaves. Published by The Pilgrim Press, 1903.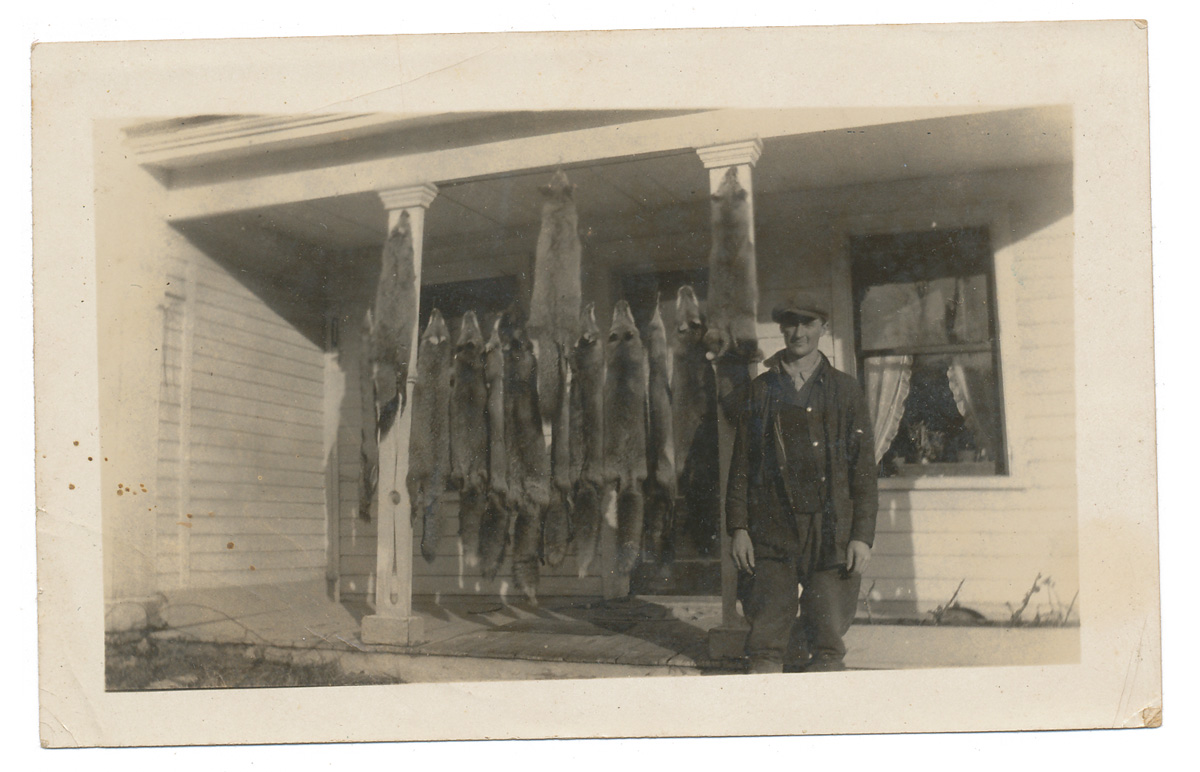 (A bad day for foxes).
Black and white photo, no date or markings.
Found in "Everybody's Guide; or Things Worth Knowing" by R. Moore. Published by The World Publishing, 1884.
14. Vintage Maps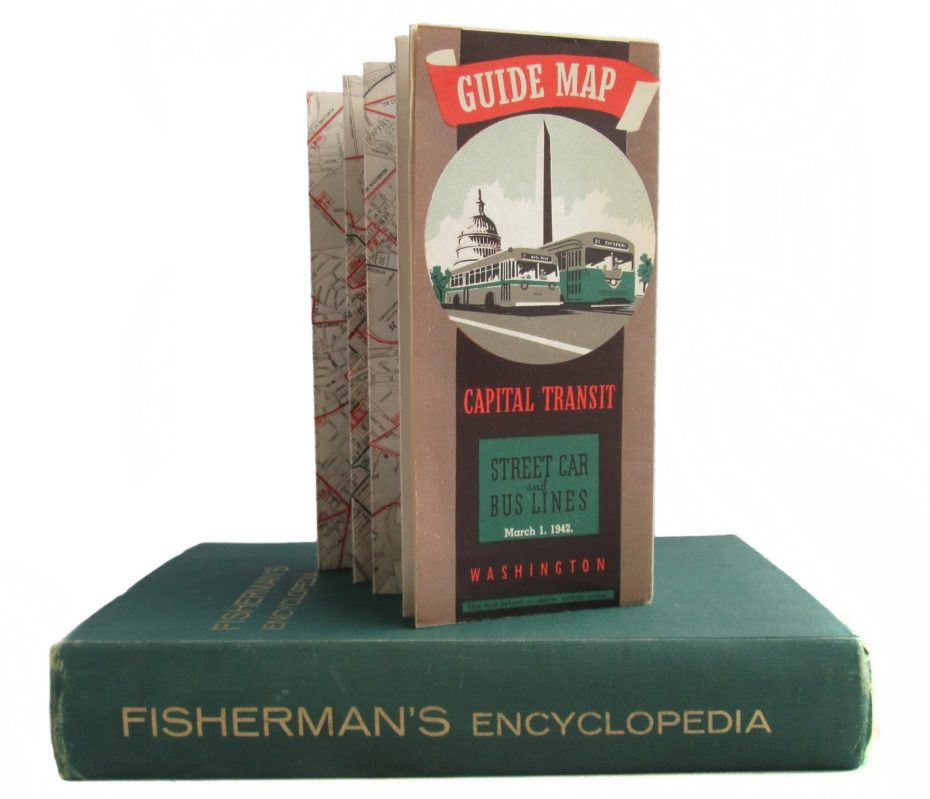 15. A Letter to Aeneas, "I cannot believe what a slime you are."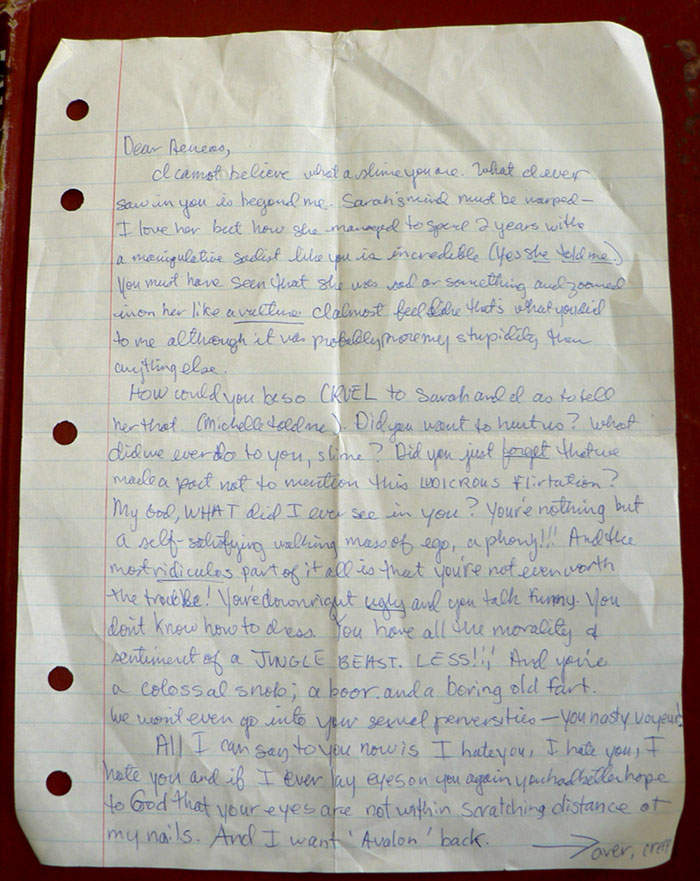 Dear Aeneas,
I cannot believe what a slime you are. What I ever saw in you in beyond me. Sarah's mind must be warped – I love her but how she managed to spend 2 years with a manipulative sadist like you is incredible (yes she told me.) You must have seen that she was sad or something and zoomed in on her like a vulture. I almost feel like that's what you did to me although it was probably my stupidity then anything else.
How could you be so CRUEL to Sarah and I as to tell her that (Michelle told me). Did you want to hurt us? What did we ever do to you, slime? Did you just forget that we made a pact not to mention this LUDICROUS flirtation? My God, WHAT did I ever see in you? You're nothing but a self-satisfying walking mass of ego, a phony!!! And the most ridiculous part of it all is that you're not even worth the trouble. You're downright uglyand you talk funny. You don't know how to dress. You have all the morality & sentiment of a JUNGLE BEAST. LESS!!! And you're a colossal snob; a boor and a boring old fart. We won't even go into your sexual perversities – you nasty voyeur!
All I can say to you now is I hate you, I hate you, I hate you and id I ever lay eyes on you again you had better hope to God that your eyes are not within scratching distance of my nails. And I want 'Avalon' back.
—-> over, creep.
Not and never will be either –
Yours –
Mary.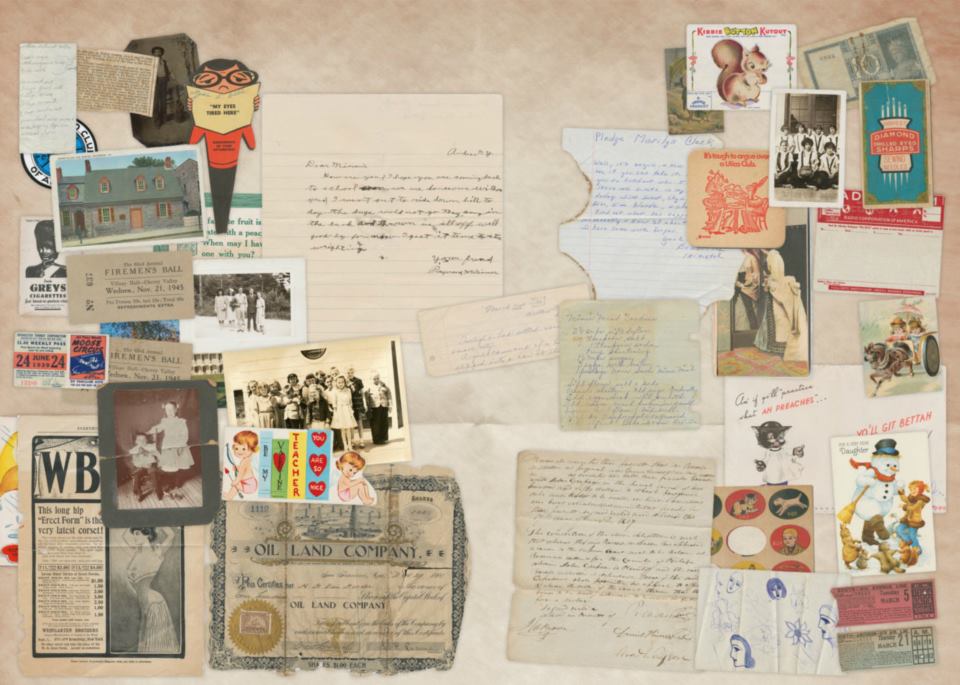 If anyone wanted to start their own collection, Michael recommends dictionaries and cookbooks. "They always seem to have something," says Michael, who last year published his second book, Handwritten Recipes: A Bookseller's Collection of Curious and Wonderful Recipes Forgotten Between the Pages.
He also put together his most interesting items as well as bookmarks that aren't featured on the blog into his first book, Forgotten Bookmarks, a scrapbook of sorts for the objects he has found among the stacks at his store.
So what is the most common objects he finds in books?
"Pressed leaves are by far the most common. I've actually stopped saving them, they are too fragile to keep and I don't think there's much interest in 100-year-old maple leaves. Sometimes I find money, like an old crown, but that's rare," says Michael, who will occasionally put items up for sale or do a giveaway on his blog, but mostly stores them away in boxes. "The most unique was a suicide note from the 1930's, but I decided not to post that one."
If you'd like to visit Michael Popek's world, the Popeks Used and Rare bookstore is located at 356 Main Street (Route 7) at the stoplight, across from the elementary school in Otego, In the meantime, I can't recommend anything more highly than to get lost in his treasure chest that is Forgotten Bookmarks.
Michael posts his latest discoveries to Facebook and Twitter.
:::
YOU MIGHT ALSO LIKE:
.