Books aren't fair weather friends. No matter what, we can always rely on the words of the authors we love to taste life twice (so says Anaïs Nin, who sure lived a spicy life). Now, more than ever, it's our turn to help support the guardians of these words: our cities' independent booksellers. We're talking Mom & Pop cookbook shops. The sellers with a streak of the beatnik, the poet, and the anarchist. You may recall our round-up of New York City bookshops that will steal your heart, and today we're honing in on even more charming NYC sellers who we'll be supporting with a follow on social media, a purchase, a gift card order and more…
Joanne Hendricks Cookbooks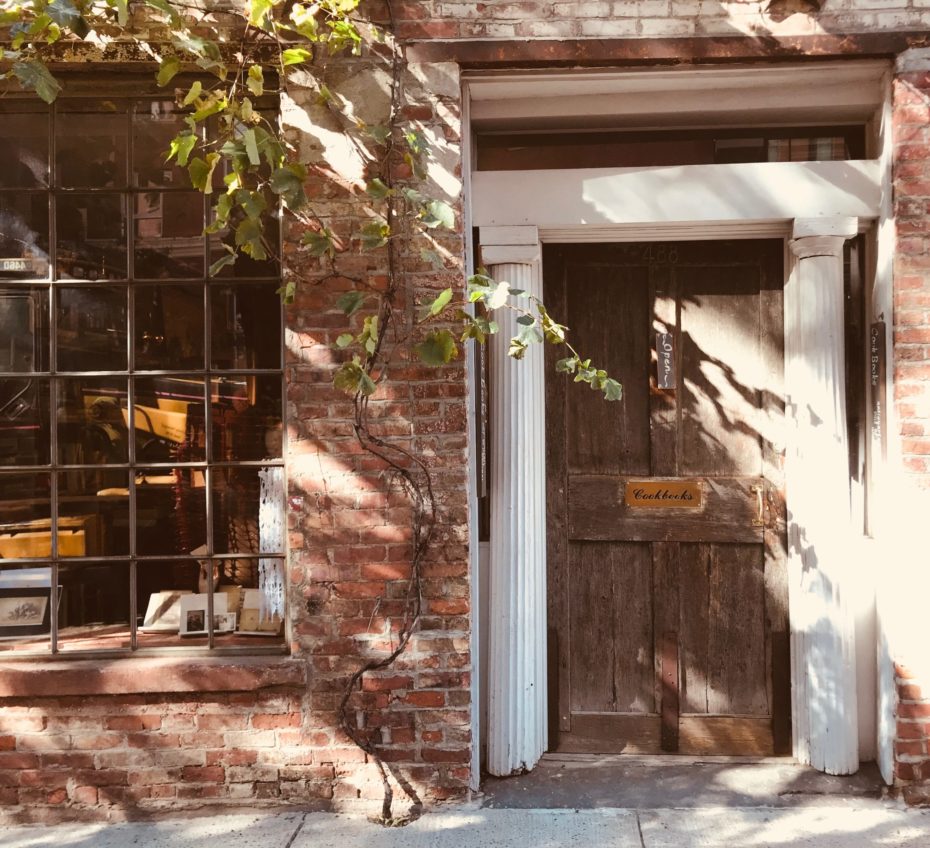 We have a real soft spot for Joanne Hendricks, owner of this little red brick house of rare cookbooks in Greenwich Village. Built in the 1820s, this is the kind of bookshop you just don't find anymore (Joanne and her husband also live just above it). There are books about how to tell one's fortune from tea leaves and antique first editions worth thousands of dollars. (You'll gush over her beautiful wallpaper and the dinner table trinkets and collectibles that sit on the shelves in between hundred- year-old books.) Joanne's store is a place of much welcome respite, and while it is closed at the moment, she invites you to peruse her website for updates and her juiciest finds. "I hope to be open again in the coming weeks," she told us by phone. In the meantime…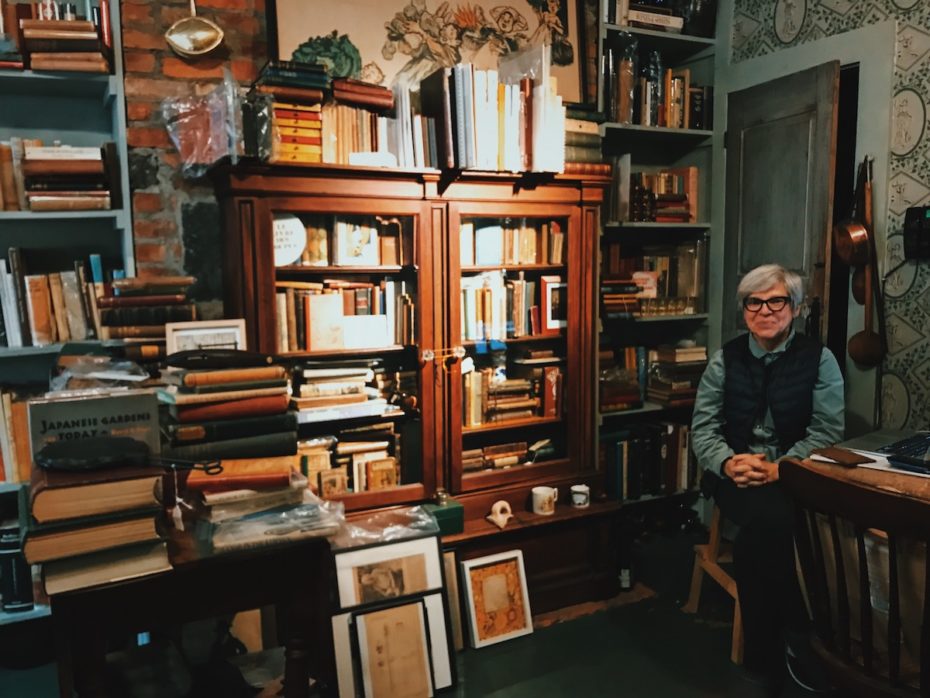 Visit Joanne's website, and follow her on Instagram
Molasses Books
In Bushwick, Molasses Books paints a picture of what Brooklyn felt like when the very first writers and artists of New York's beat generation came over the bridge from Greenwich Village. The books are organised by genres like "sexuality/gender" or "Religion/ Occult/ Nu Age". This is a bookshop where you can find anything from gender studies to UFO theories and also pick up a well-read vintage copy of Jurassic Park, and by the looks of their Instagram announcements they're still shipping! You can also help support them by donating to the store and its employees on Venmo.
Visit Molasses Books' website and follow them on Instagram – oh yah, don't forget to show your love on Venmo if you can. Every bit helps!
Unoppressive Non-Imperialist Bargain Books
If Bob Dylan and Bernie Sanders opened a bookshop, this would be it. Since 1992, New Yorker Jim Dougras – a wise with long silver hair topped by a cowboy hat – has been running the "Unopressive" bookstore all of us need. Meaning: you can still afford a book here if you're stone-broke. Allen Ginsberg regularly browsed these shelves in the last few years of his life, and there's an entire corner dedicated to Bob Dylan books. We're not sure if they will be operating during this time, but some love the Socials can go a long way.
Visit Unopressive Non-Imperialist Bargain Books' website,email them at unoppressive@gmail.com, and follow them on Instagram and Twitter.
Argosy Bookstore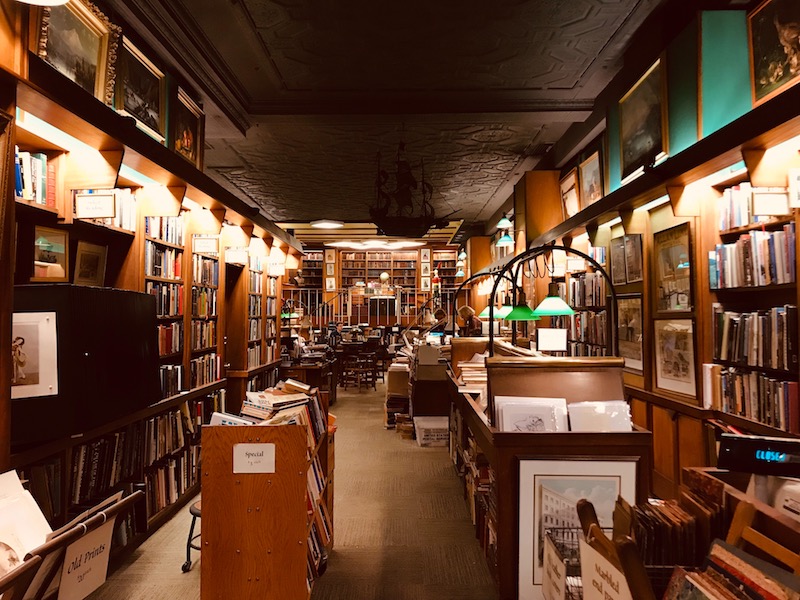 Remember that bookstore Audrey Hepburn worked at in Funny Face, before she left Manhattan for Paris? You'll think you've walked into the real thing at Argosy Bookstore — or something close to it. Founded in 1925, it's now in its third generation of family ownership with an enormous stock of antiquarian and out-of-print books, as well as art, antique maps and prints, and the history of science and medicine. Argosy is closed until further notice, but they will still be able to fulfill online orders (and gift cards), adding, "What could be more comforting than reading a great book during your voluntary isolation or while practicing your social distancing? Stay safe, take care of one another, and we WILL be seeing you again soon!"
Visit Argosy's website, and follow them on Instagram and Facebook.
Quimby's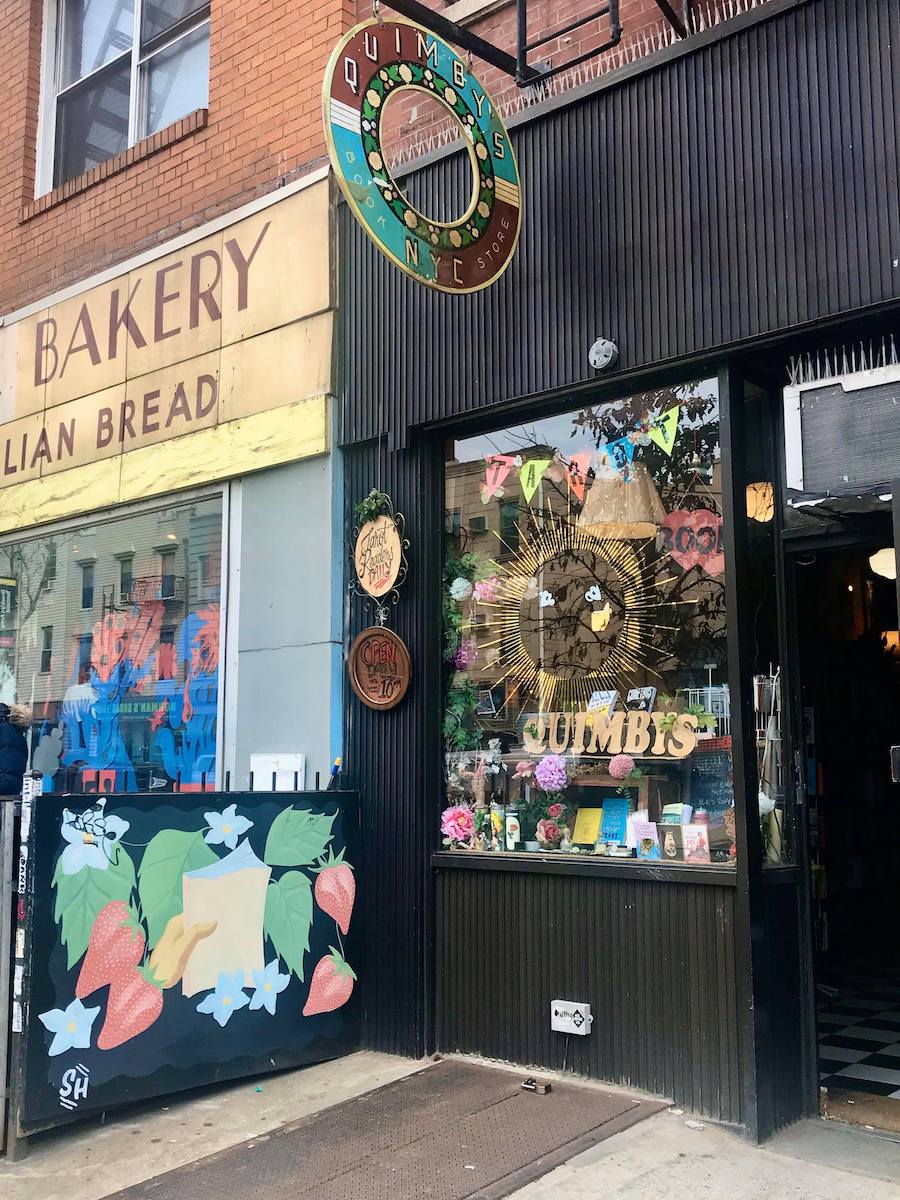 Over in Williamsburg, Brooklyn, you'll find Quimby's. This lovingly irreverent bookstore serves up "unusual publications, aberrant periodicals, saucy comic booklets and assorted fancies" and, lucky us, "someone will be [there] to fill mail orders and to provide curbside pick up." In the words of their team: "Buy something over the phone with your credit card (773-342-0910) and we'll bring it out to you in your car or bike at our curb (provided it is before 5pm, at which time remaining staff will go home). We'll pretend we're on roller skates with a tray of fries."
Mail order things from Quimby's webstore and follow them on Instagram.
WORD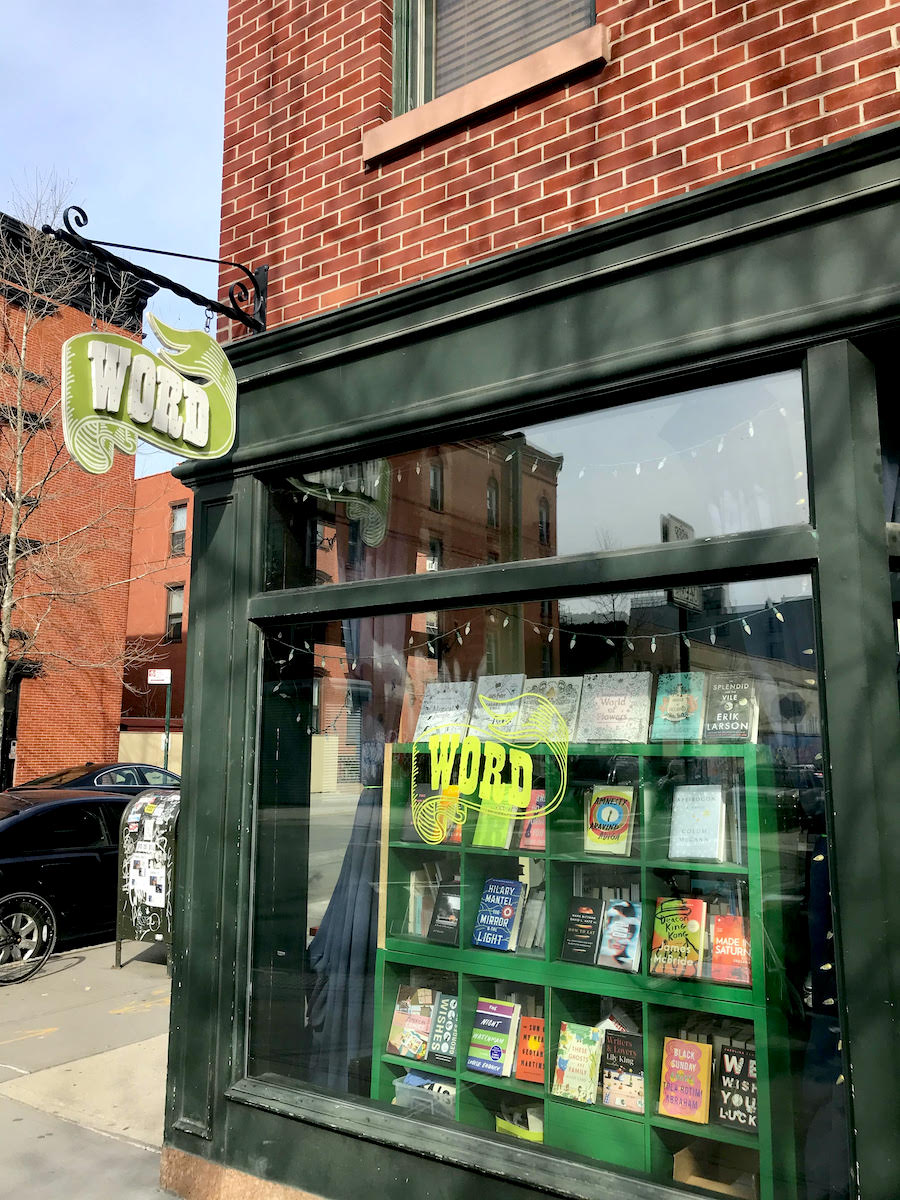 WORD is charming corner bookshop in Greenpoint, Brooklyn, whose green facade is sure to beckon you in from the streets on a sunny weekend. She may be closed for now, but its knowledgable staff has a solid game plan (and some very innovative ideas) for getting you your books in the coming weeks. Online orders still going through, and they have an entire page of their site dedicated to how we can help support them through gift cards and the like. Our favourite idea? The "homeWORDbound" Box. "If you or someone you know is unable to venture out of the house," their team says of the special gift, "or is being treated at a hospital, why not send them a curated mystery box containing a book plus other gifts to help make their time alone more enjoyable?"
Visit WORD's website, and follow them on Instagram.
Spoonbill & Sugartown, Booksellers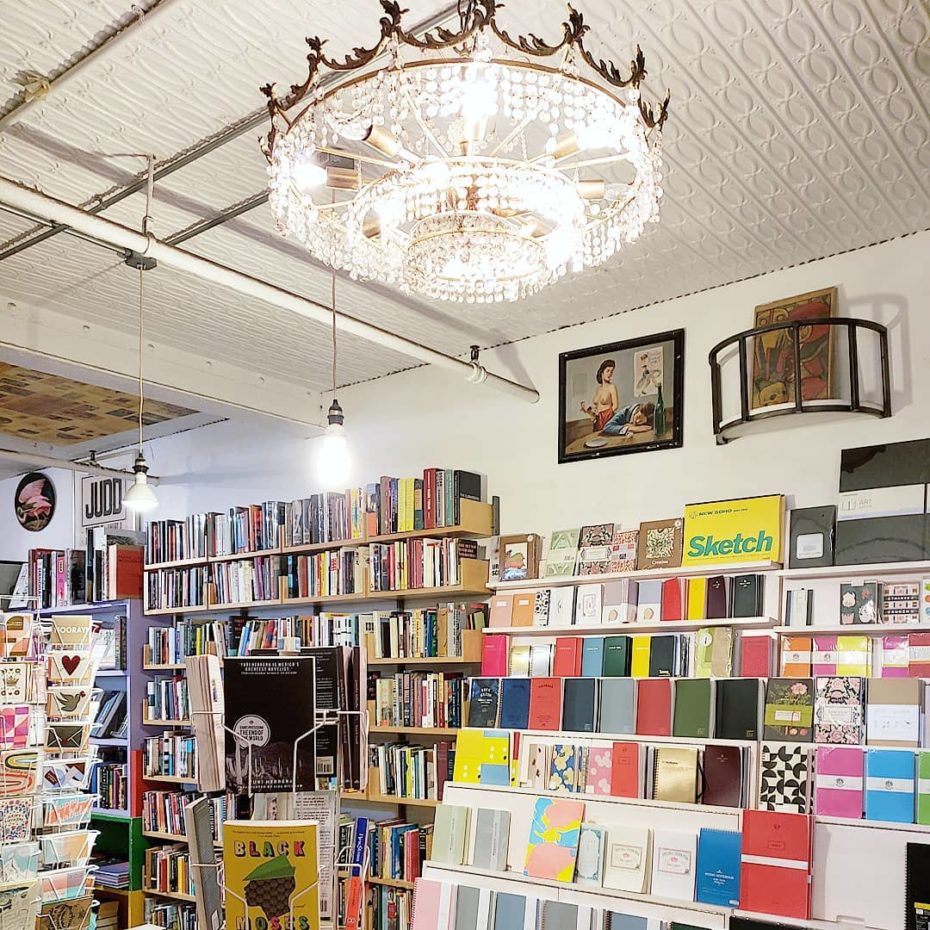 In the heart of gentrified Williamsburg, "Spoonbill" is a place dedicated to "looking, making, thinking, growing" and of course, "chilling." They offer "second-hand, rare as well as new books on Contemporary Art, Literature, Philosophy and various Design fields," says their team, "but we also hand-pick thousands of good books of all stripes every month to try and satisfy print-lovers from all over the world." At this time, they're still taking online orders (with free shipping!).
Visit Spoonbill's website, and email sugar@spoonbillbooks.com (and follow them on Instagram!)
Catland Books / Join a Witches Coven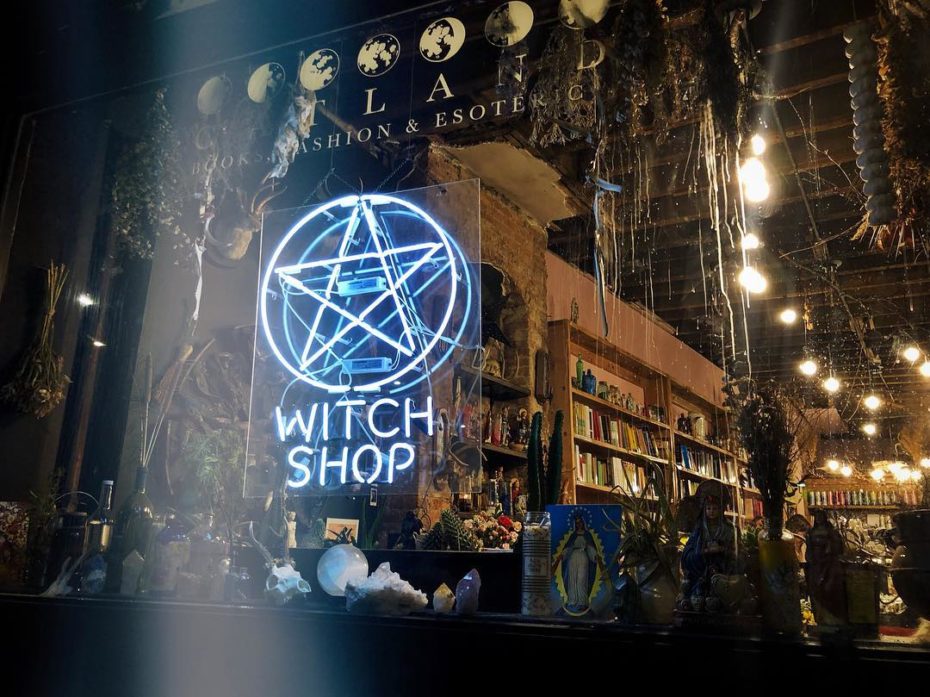 Because there's no better time to lean into your inner-witch than a quarantine – or, as a great meme we read this week said, "in exile for the good of the realm" (so much more mysterious!) and join a coven. Catland is a wonderful occult bookshop & witches supply store in Bushwick, and we're delighted to say they're still delivering (with free shipping!). It looks like they're also cooking up ways to offer online classes (past courses include plant magic, pagan anti-Capitalist courses, and more).
Visit Catland's website and Instagram for more information.
Bluestockings Bookstore, Cafe & Activist Center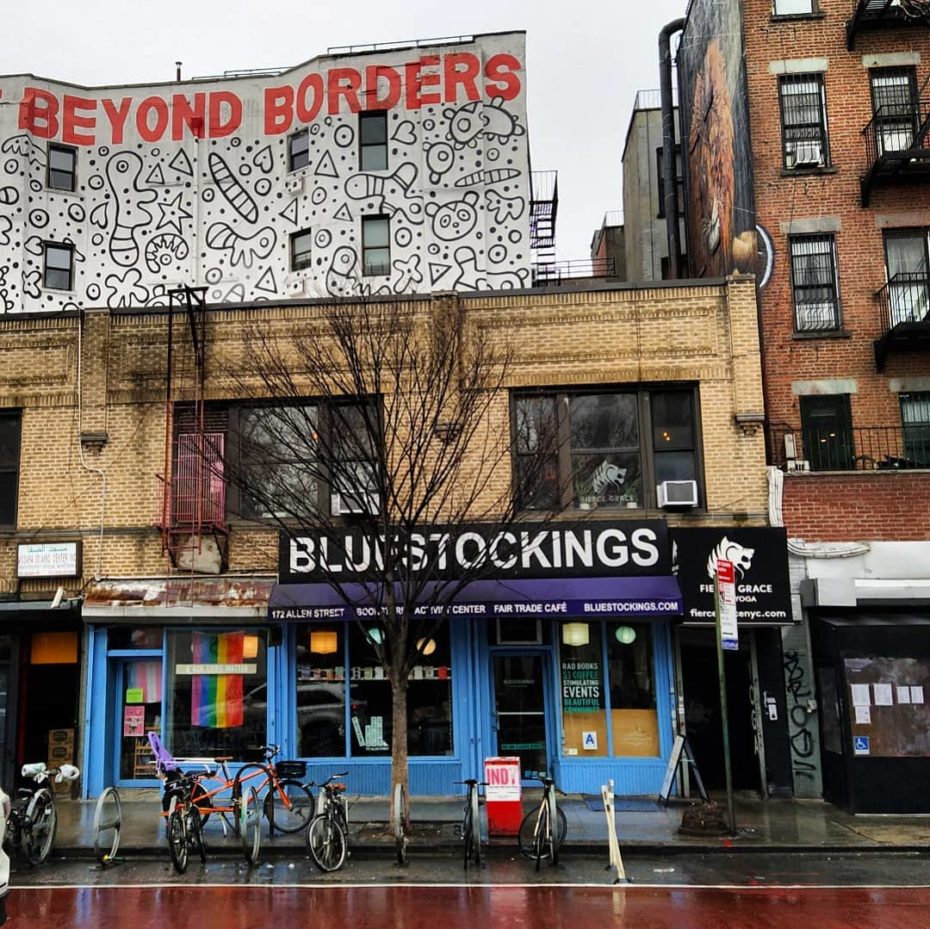 Our lineup wouldn't be complete without "Bluestockings." The bookstore's name is inspired by the Bluestockings Society, a revolutionary 18th-century women's educational movement (which also started out as a women's literary discussion group), and for 20 years it has carved out a safe space, inclusive of all genders, political persuasions and familiarities. Not to mention, $1 coffee. This volunteer-powered, collectively-run bookstore needs our help now more than ever, and they've got a donation web page set up.
Visit Bluestockings' website and give them a follow on Instagram. Also, check out their 20th anniversary video for a boost of inspiration!
We might add: you can reach out to us as well at contact@messynessychic.com, Instagram, and Facebook if you're a small business owner needing support during this unprecedented time. We're waiting by the inbox, ready to help.
Strand Bookstore
We'll finish with one of the most iconic spots in Manhattan, Strand Bookstore. Since 1927, this family owned establishment – with its 18 miles of new, used and rare books – has been mecca to bookworms from across America, boasting an impressive lineup of titles and speakers. After almost 100 years in the business, you can bet they're not gunna let anything get between you and your bestsellers. Not only can you order a gift card from them, but they will "send you all the literary goodness you need," assures their staff; "While our physical stores are temporarily closed, we welcome and appreciate all your online orders."
Head to Strand Bookstore's Website, and follow them on Instagram.