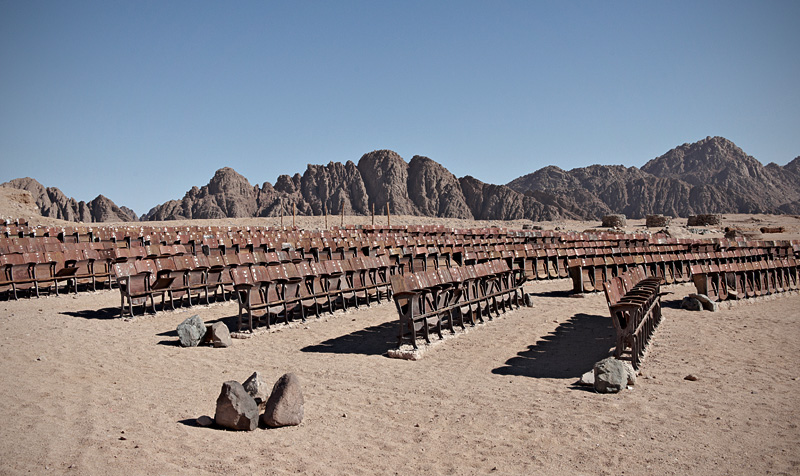 As if the auditorium had risen from the sands of the Sinai itself, an abandoned cinema lies in waiting for an audience that never came. A movie-worthy mirage, you'd be easily forgiven for not trusting your eyes upon stumbling such a surreal sight in the heat of the dusty Egyptian desert.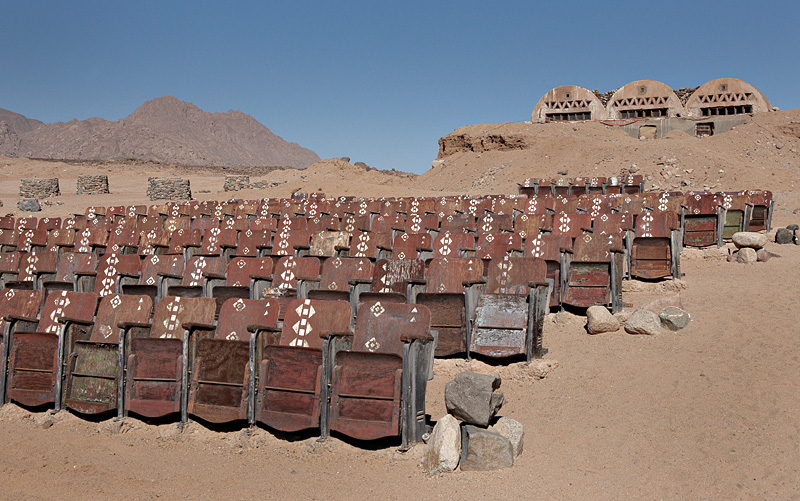 This extraordinary outdoor cinema was captured by Kaupo Kikkas, an award-winning Estonian photographer who explains the story as he heard it. After running it through Google translate from his Estonian website, this is what I gathered from his account of what happened to the abandoned cinema of the Sinai…
Firstly, it hasn't been around that long. Kaupo says it was installed "somewhere in the beginning of this millennium". And it wasn't built by Egyptians but rather one crazy Frenchman. As the story goes, Dynn Eadel (agreed, not a very French name) who likes to smoke a lot of cannabis (and presumably has a bit of money to throw around), was hanging out in the Sinai desert one day with his friends and decided that the one thing the place was missing was … a movie theatre! (Duh).
With the idea firmly planted in his head (and an urge to watch David Lynch's Dune on his very own cinema screen in the desert), he returned to Paris, and began working on the idea with investors. He had a special screen designed and bought all those beautiful wooden seats, additional furnishings and projector equipment off an old movie theatre in Cairo…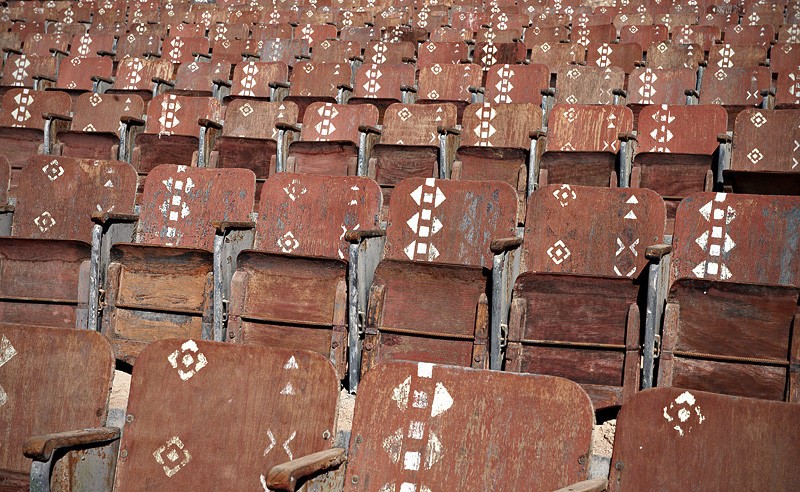 Soon enough, the cinema was ready and a grand party was planned for its opening. But the Frenchman forgot one thing, says Kaupo. "Egyptians do not like it when the Europeans have better ideas". But let's just go with, 'tension with the locals'.
Details are a little blurry, but allegedly on the night of the grand opening party, with the Sinai governor in attendance, the electric generator was mysteriously sabotaged. No film was screened that night, or any other night, ever. The Frenchman's crazy desert movie dreams fell flat, and the cinema has been left there ever since, like a monument of the Pharaohs from another dimension.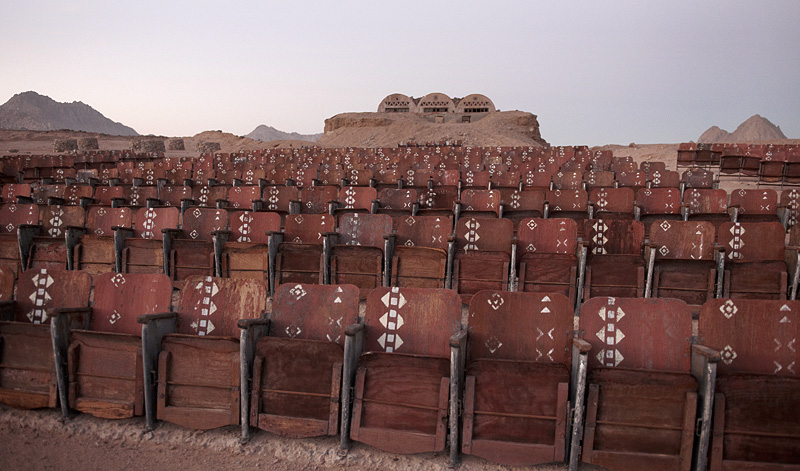 Photos and information about this place, other than Kaupo's, is strangely hard to find. It basically doesn't exist on the internet, unless it's come from him (although there is this single photograph I found on Flickr)– which, in this day and age, all strikes me as a little odd. How does a place like that remain such a well-kept secret? Is someone trying to keep it a secret? Is it even real?! Fortunately it is, and here is the original flyer for the Frenchman's cinema which was called "La Tête dans Les Etoies", (head in the stars).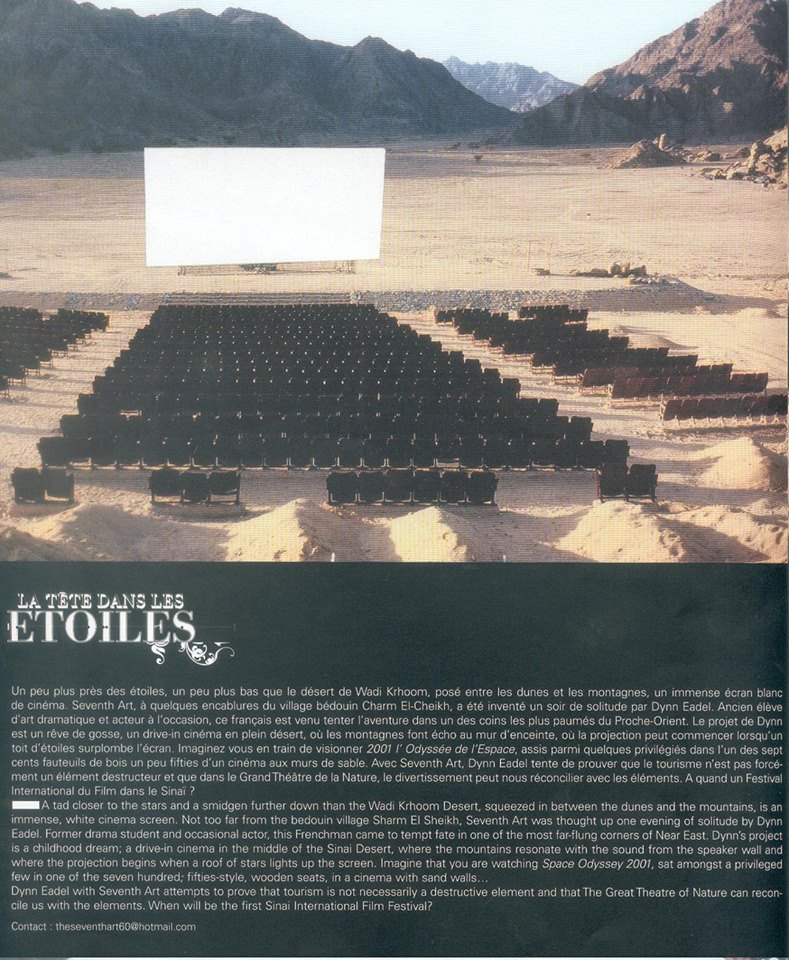 And here is trusty old Google maps to show us exactly where it is….
Have a couple good zoom-ins and see the auditorium appear from the desert sands of the Sinai valleys… [URL link here]
View Larger Map
If you then zoom out, you can see we're near the famous Egyptian coast of Sharm El Sheikh. The closest road is the appropriately named 'Dusti road', but to reach the cinema, you have to take several kilometres of winding desert off-road tracks through the valley.
If you happen to be planning a trip to Egypt and would be interested in scoping this place out with a local guide who might reveal more of the story, there is one other tiny and obscure mention of the cinema I found in a Trip Advisor review, in which a couple writes about their experience with Sinai Safari.
They write: "Local guide will show you the Echo Valley, the American firing range and maybe the old abandoned Cinema – yes a full Cinema in the desert!" 
That's all I got for now. But hey, it's not an adventure if you don't have to do a little searching, so I'll let you do the rest. It all seems very secretive, mysterious, and twilight zone-ish. Just the way we like it.
Here's to getting our bottoms in those seats one day, preferably with some popcorn and Lawrence of Arabia up on the big screen. 
Kaupo Kikkas photography website
UPDATE:
It is with a very heavy heart that I have to share with you the sad news that the secret cinema of the Sinai has been destroyed. Noha Zayed, possibly a fellow reader of Messy Nessy Chic, recently took it upon herself to find the site. She took these pictures of what is left of the cinema…
"So we decided to find and visit "The cinema at the end of the world". Upon arriving at the site we thought we got our coordinates wrong. The chairs were all knocked down as if on purpose. The place has been shattered, levelled and destroyed; the site disintegrated. It was quite a disappointment. 
Sorry to burst the bubble."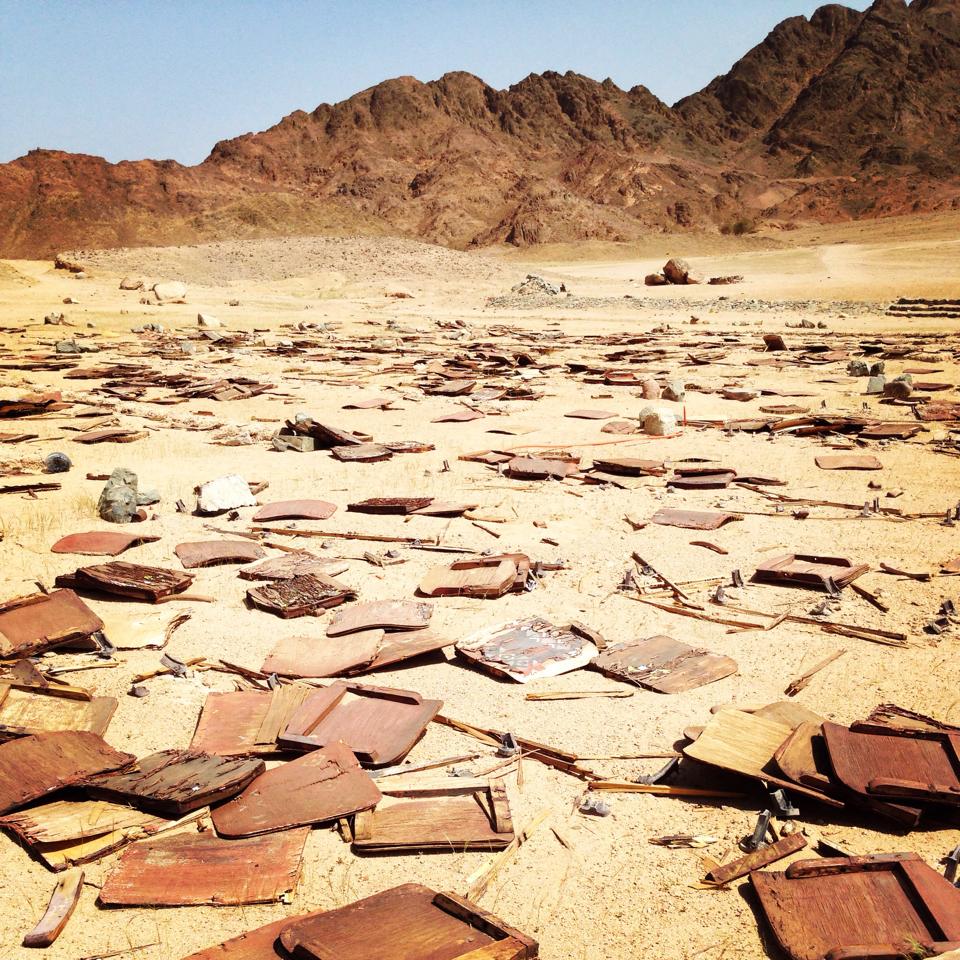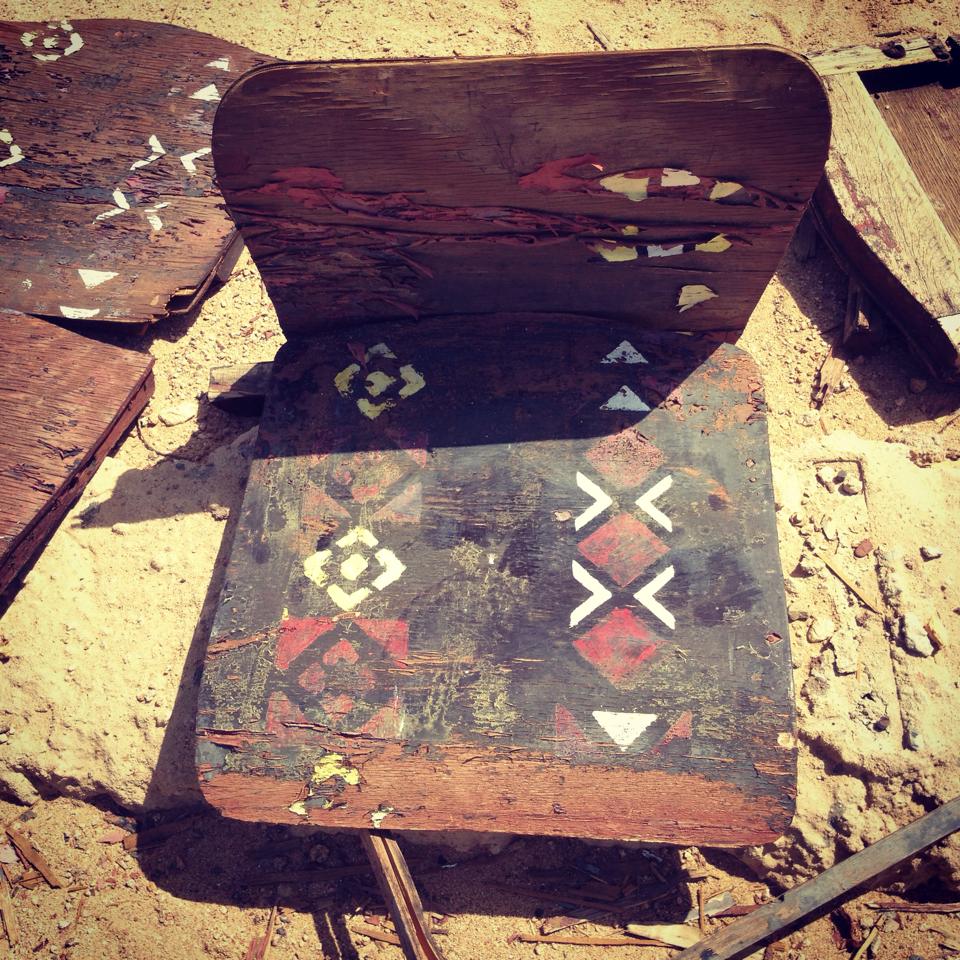 I can't understand the lack of appreciation for these beautiful old chairs. The wood has been left while the metal fixtures holding them together seem to be missing. It's likely they were stripped for their scrap metal.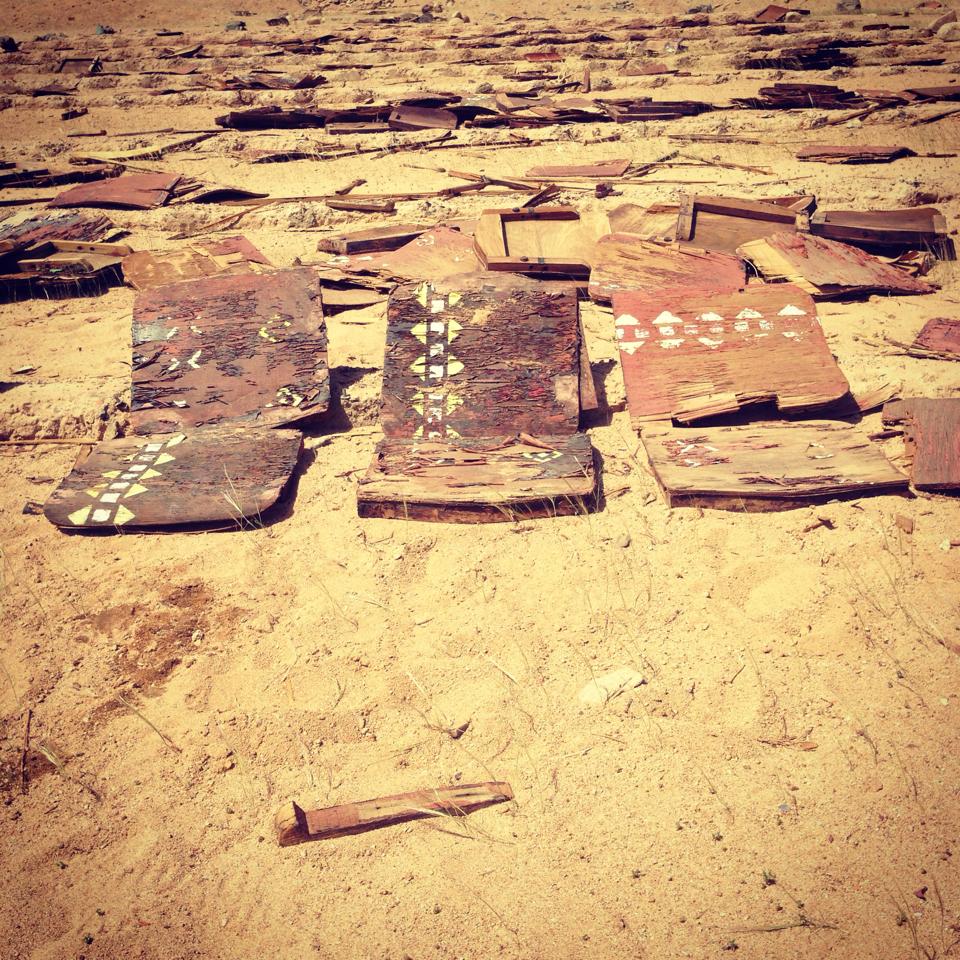 It is unclear when this all took place, but I'm well aware that my article was the first to spark this cyber "renaissance" of interest in the failed cinema built in the early 2000's. Do I feel responsible? If I wasn't directly responsible for the loss of this unique place on earth, as a human being, I've certainly contributed to the loss of something else. However, perhaps more importantly so, it inspires and motivates me to seek a more pro-active role in the preservation, revival and protection of all these amazing places that I'm compelled to share with you. I hope it inspires you as well.
I'd also like to thank the efforts of the Facebook page created in the aftermath of the article going viral, which was striving to help revive the cinema. If you really feel passionate about an "at risk" place you see on Messy Nessy Chic and you'd like to share your ideas on how to help, please get in touch.