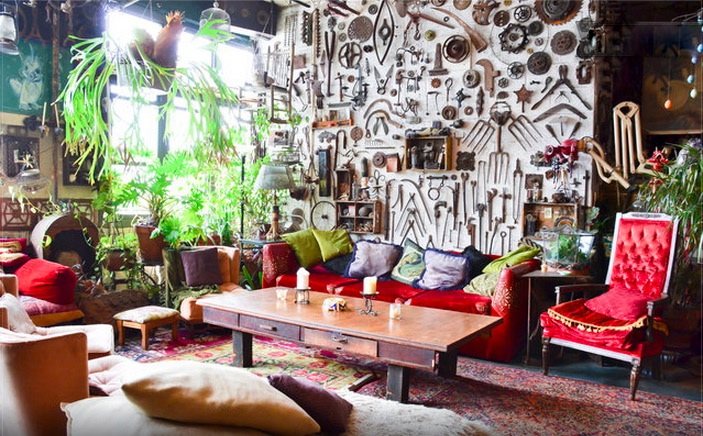 Do you remember that time we discovered the 'Museum of Every Object you can Probably Think Of'– that old farming estate in Parma, Italy with an an archive of more than 60,000 everyday artifacts masterfully arranged around the old house? Well I think I just found its stateside equivalent right in the heart of Williamsburg, New York. Welcome to the House of Collection, a real-life cabinet of curiosities with a room for two…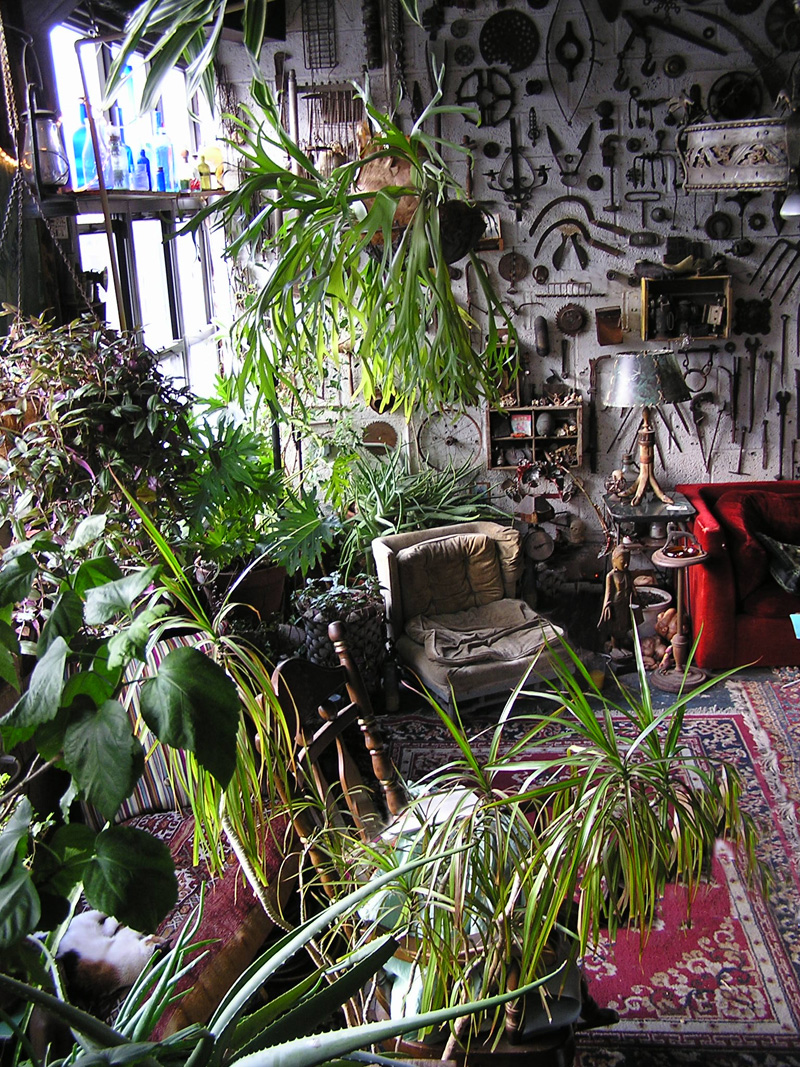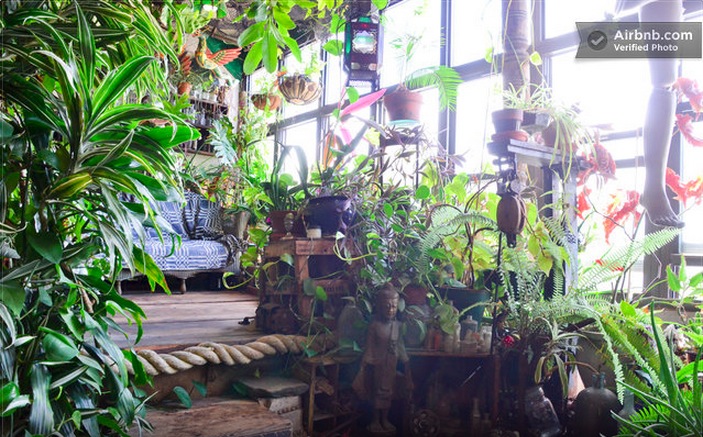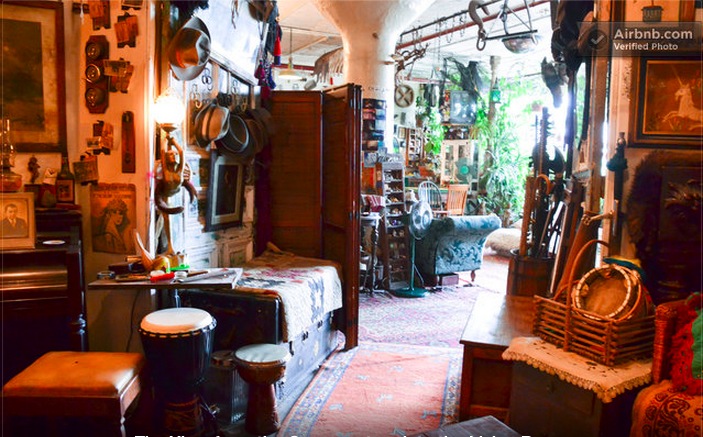 To make a home like this, it helps to have had an eccentric upbringing. Paige Stevenson grew up in the 1970s, living inside a tepee on a commune in California, then on a goat farm and later in a Victorian house in San Francisco which her father and stepmother shared with a troop of drag performers. In the mid 1980s, Paige left her nomadic life behind and settled in New York City where she has remained since she attended Columbia University in 1985. But as can probably tell, it doesn't seem she could quite kick her nomadic living habits…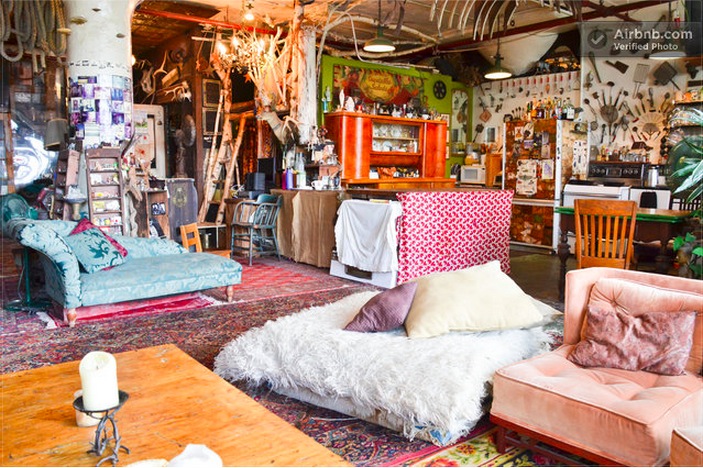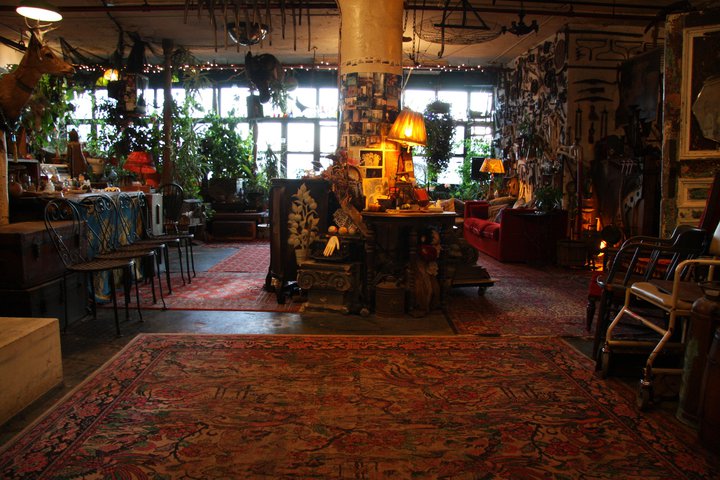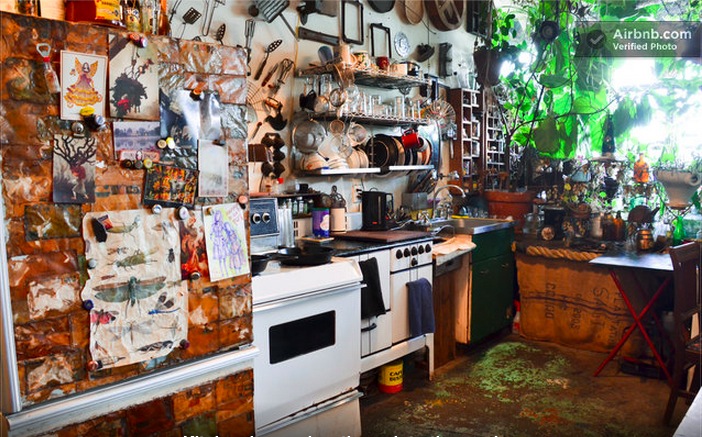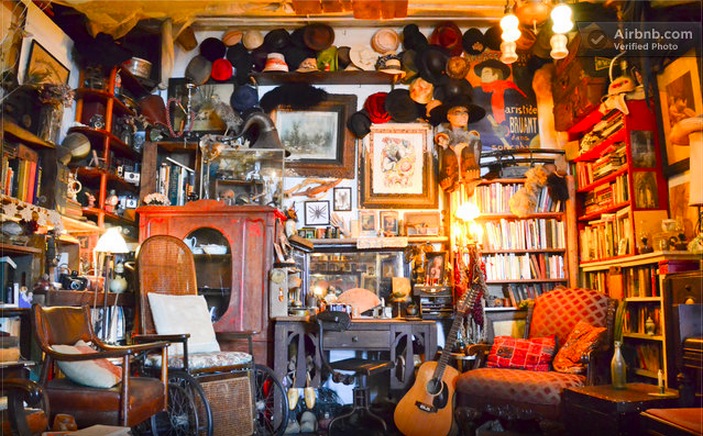 The 2,000 square foot loft has been dubbed a "21st century cabinet of curiosities" by a New York Times reporter who was tipped off about the home in 2011 and ran a feature and interview with Paige and her partner Ahnika.
"Dozens of rusted farm tools and industrial artifacts, for instance, are displayed salon-style in the living room, grouped by shape or function on a white wall of painted cinder block. A cow skull and other bones, picked up in Montana by Ms. Stevenson's parents, are arranged on another wall that is covered in the ornate pressed tin common in Brooklyn restaurants. An early 20th-century plow, found in a salvage yard, hangs overhead… A trove of plants, about 70 or so, sits on an elevated platform beside the windows, and vines wend their way through a dangling fishing net that Ms. Stevenson found in Nova Scotia…. Nearly an entire room that they call "the conservatory" (because objects are conserved there) is filled with pieces from Ms. Meyer's family that would not be out of place at an antiques fair, like a 1913 Chickering piano and a cash register from the same era."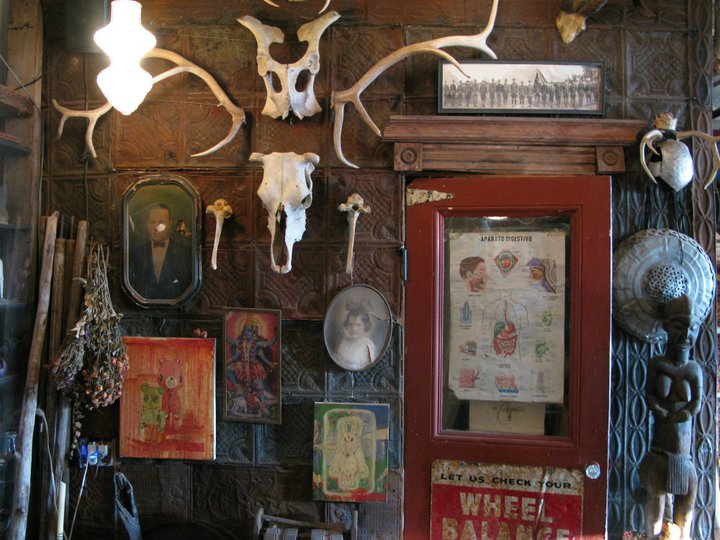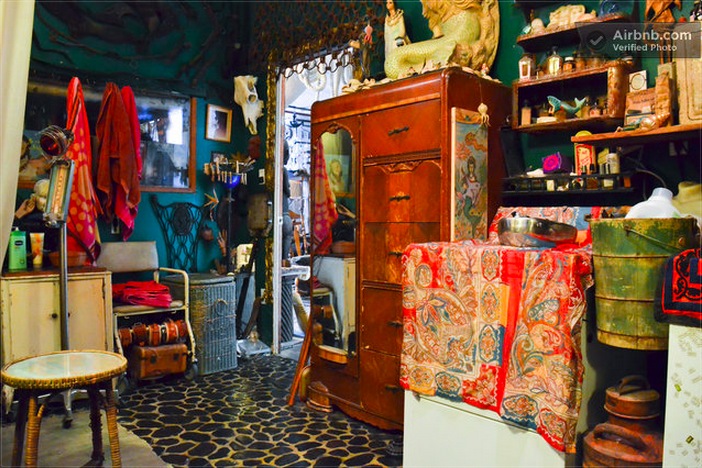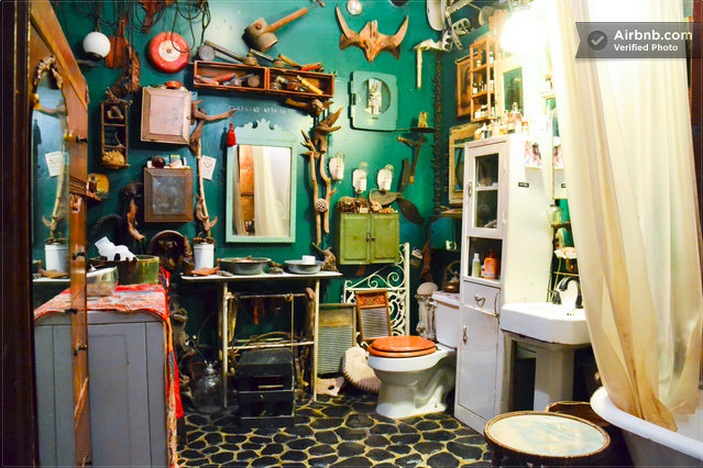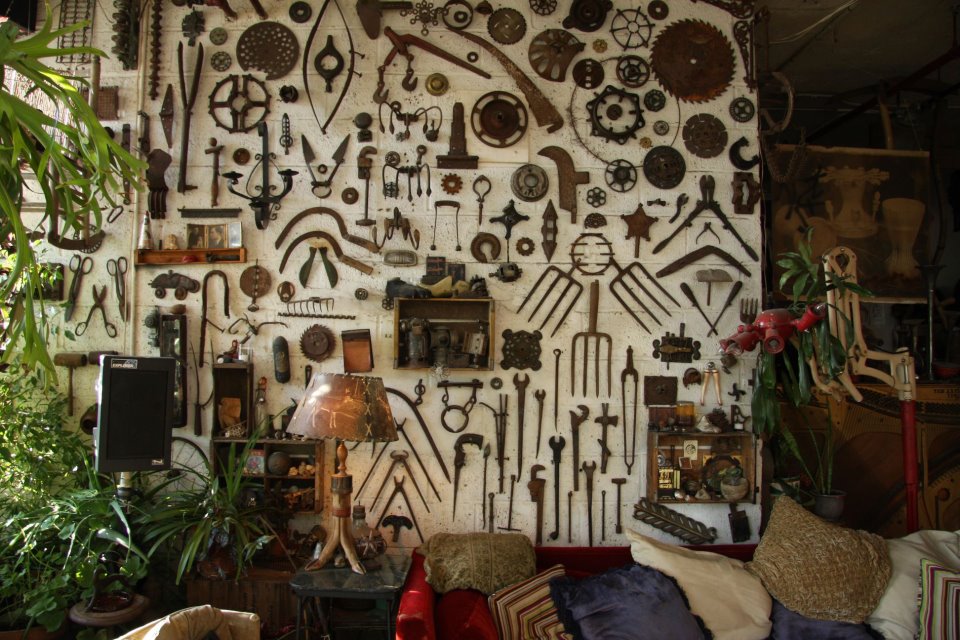 Now before we get completely ahead of ourselves, this is not your typical AirBnB rental set-up. Being somewhat of a museum in its own right, the House of Collection operates as guest house and understandably cannot be rented entirely without the owners present.
"Due to recent events in the world of Homesharing, we are not renting out our space when we are not present," writes Paige on the AirBnB listing. "This listing is not for the entire home. We are happy to host you, and can give you lots of exciting insight about the neighborhood & places to visit throughout the city, as well as answering questions about the space."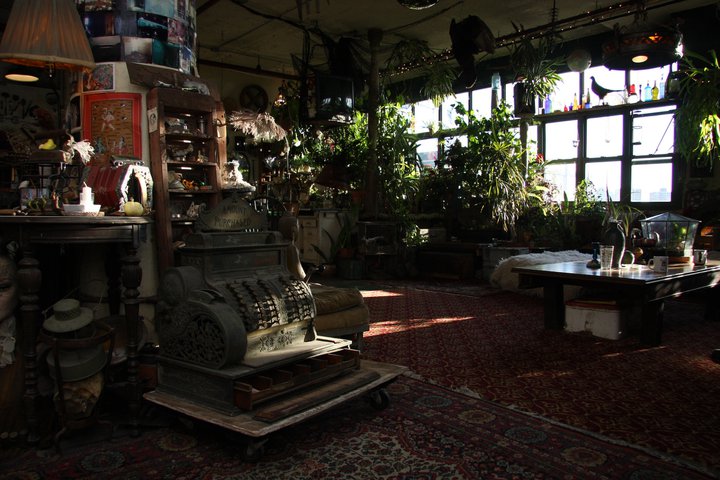 Initially, this turned me off the property, as traditionally, when we search on AirBnB, we're looking for a private rental. But then I had a look at some of the reviews…
"The photos of The House of Collection (although amazing!) don't do it justice – it's far more welcoming, comfortable, spacious (it's huge, full of nooks and crannies and great places to hide) and accessible than it might appear. My daughter and I stayed here for four nights and felt immediately at home – we could have happily moved in! The only downside is that you'd need at least a year to check out every detail in the space. Paige and Ahnika are extraordinary people and excellent hosts – happy to shoot the sh*t when you're in the mood, but unobtrusive when you're not. If they're around when you stay, it's worth it just to get the opportunity to hang out with them!"
"Paige and Ahnika's apartment isn't for everyone – thankfully. We are rather torn between keeping it a secret and telling everyone about it. I doubt there is anything else like it. For those with an eccentric, artistic, creative, bent and for crazy collector types, it can't be beaten."
"My stay at Paige & Ahnika's place was nothing other than magical…The place itself is one of the most amazing places I've ever been, unending inspiration. If you're looking for a magical experience, or even just a very very cozy place, stay here. You'll not regret."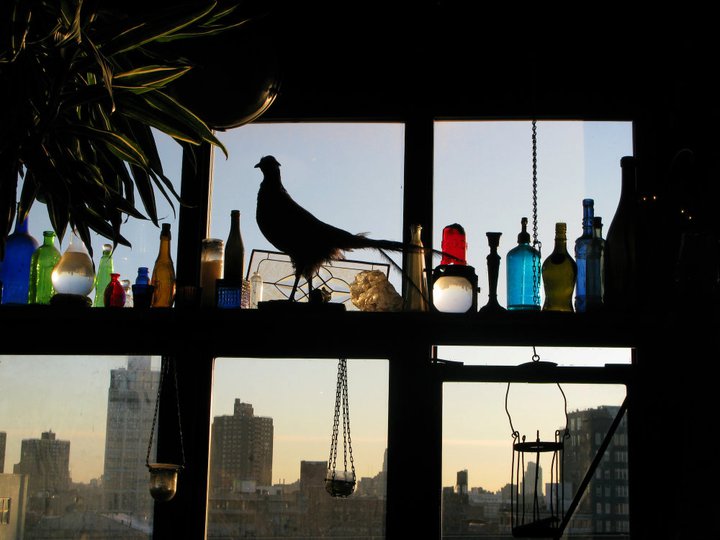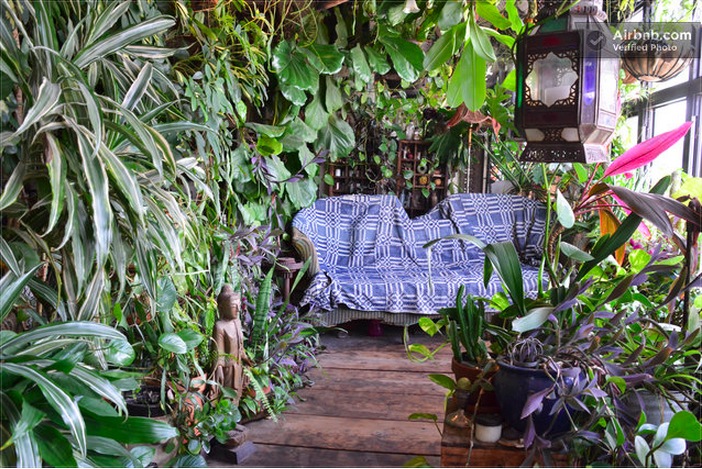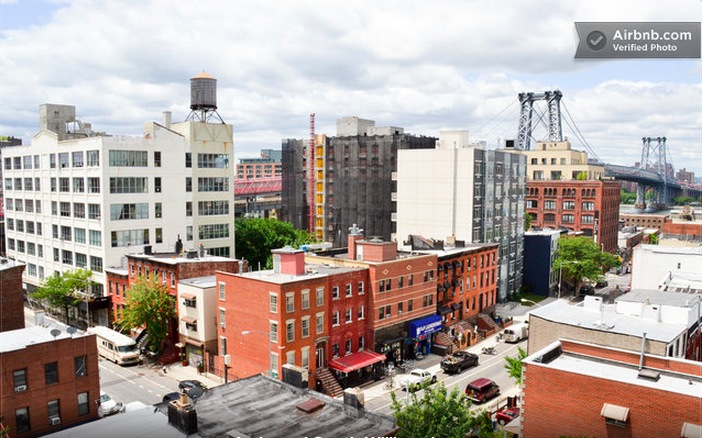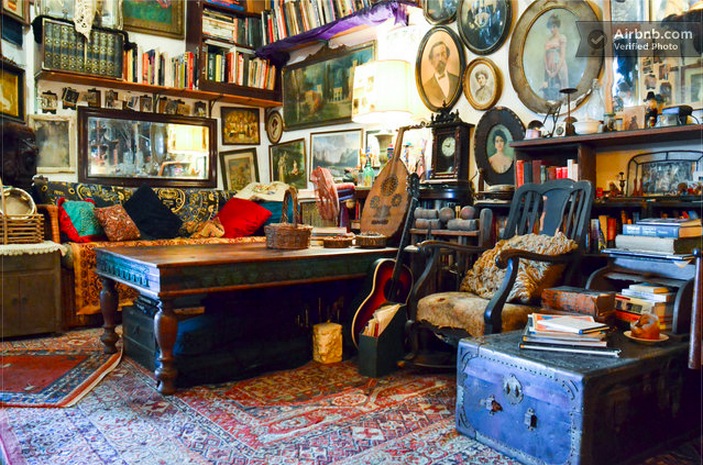 The House of Collections offers a one bed loft area that sleeps two, but the conservatory can sleep an additional four guests on sofas and an inflatable mattress. The apartment is also available for photo or video shoots.
More information on the AirBnB listing here.