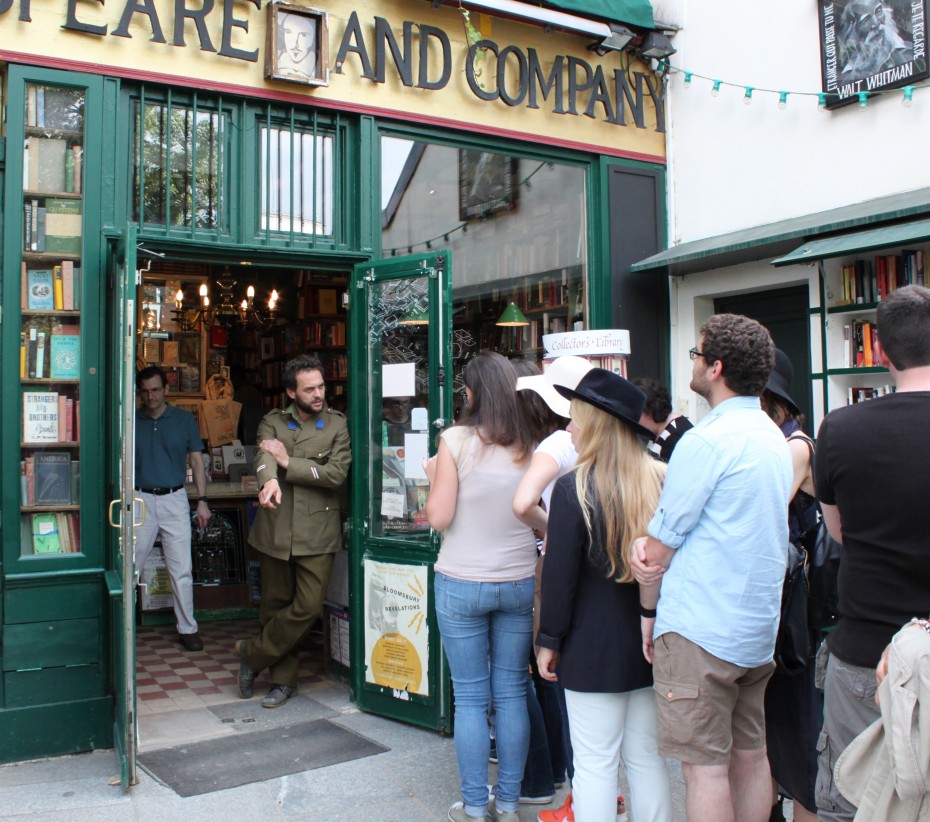 Last weekend, four American tourists were attacked in Paris by a raving madman with an invisible dagger.
As the long line of visitors swelled in the heat at the legendary bookstore Shakespeare & Company, no one seemed to notice a customer in the queue curiously dressed as an old-fashioned WWI soldier…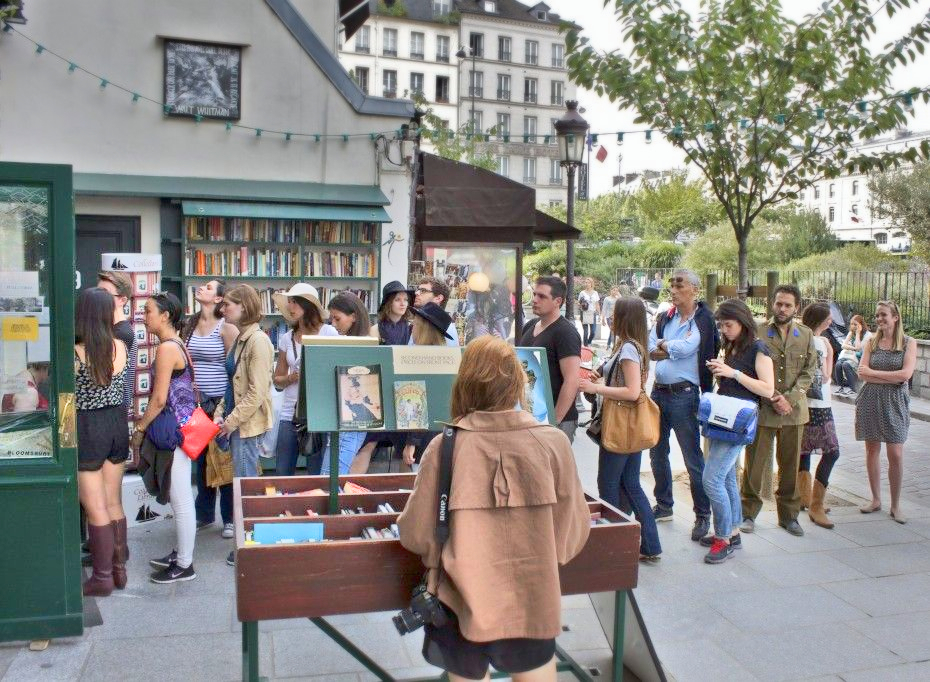 He soon caught everyone's eye as he began wildly gesticulating and muttering frantically to himself. People started to gawk as he became more and more agitated, sputtering in violent language about murder. Suddenly, he stopped and looked dead at me.
"Should I gesture with my left hand instead?" he asked.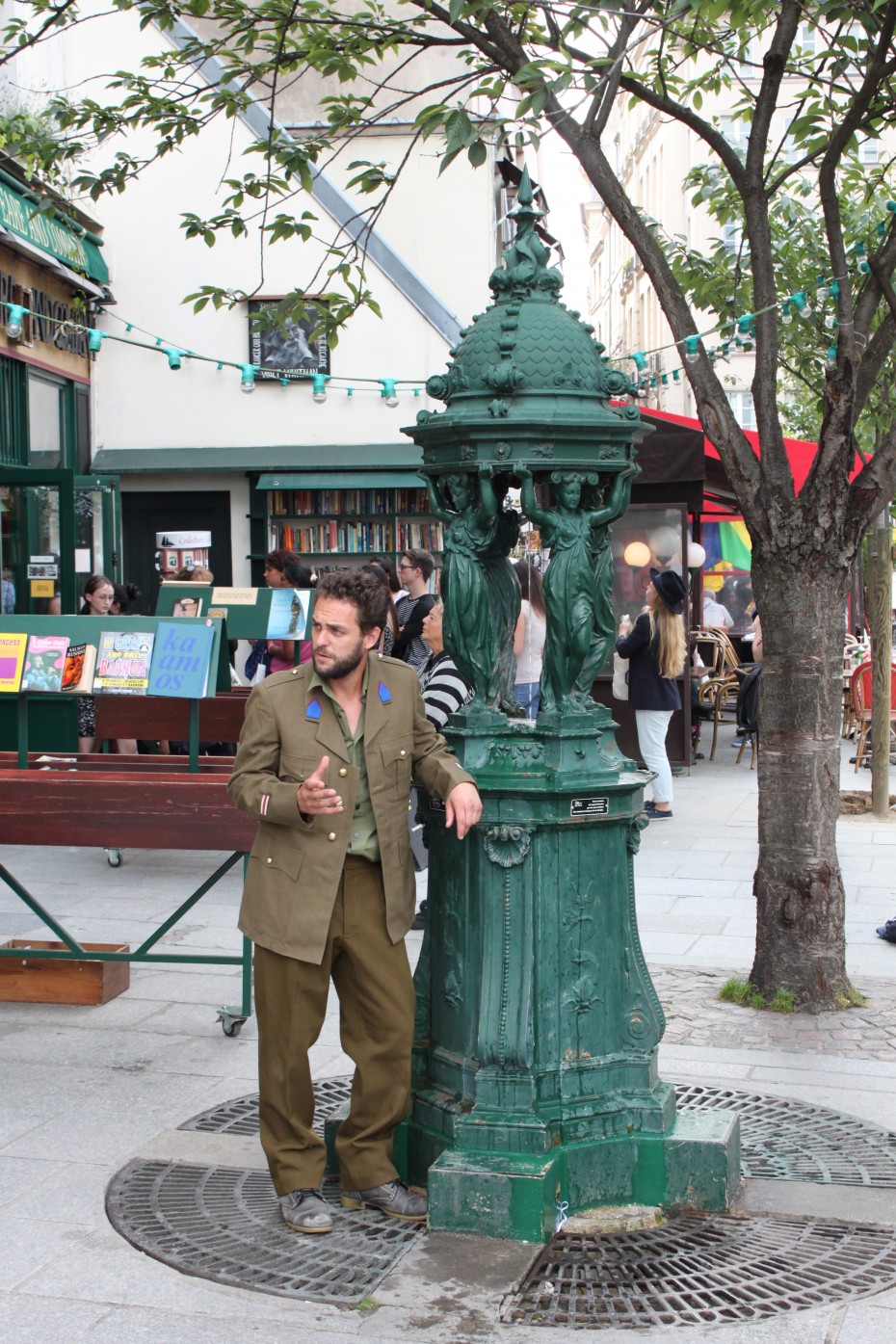 Safely behind my camera, it didn't even occur to me to call the police. Instead, I told him to take it once more from the top. The talented actor Florian Hutter tossed me a quick smile before curdling into the sour, tortured Macbeth and continuing the famous monologue, "Is this a dagger which I see before me?" Meanwhile, the short-lived audience turned back into tourists waiting patiently to buy their books.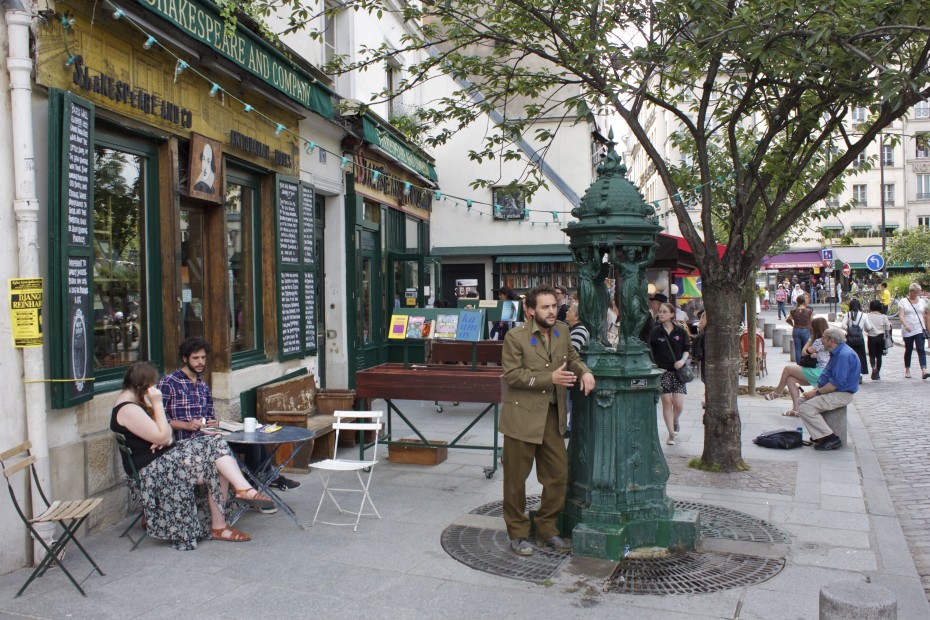 Whimsical surprises of this sort are the norm at Shakespeare & Company, an institution renowned for hosting illustrious writers and letting quirky strangers sleep among the bookshelves. However, things are going to get especially festive starting this Wednesday, the 23rd of July, when they celebrate Shakespeare's 450th birthday (two months belated but I'm sure he doesn't mind). The birthday bash, Bard-en-Seine, will last until July 27th and involves sonnet readings, talks by acclaimed Shakespeare writers and live jazz performances by a talented musician and staff member in residence at the Shakespeare & Co bookshop, along with his band. And of course, the centrepiece of the five-day Shakespearean extravaganza is an intriguing production of one of Shakespeare's most morbid, disturbing plays, with Paris as its stage (and a rather old tree, but we'll get to that in a minute)…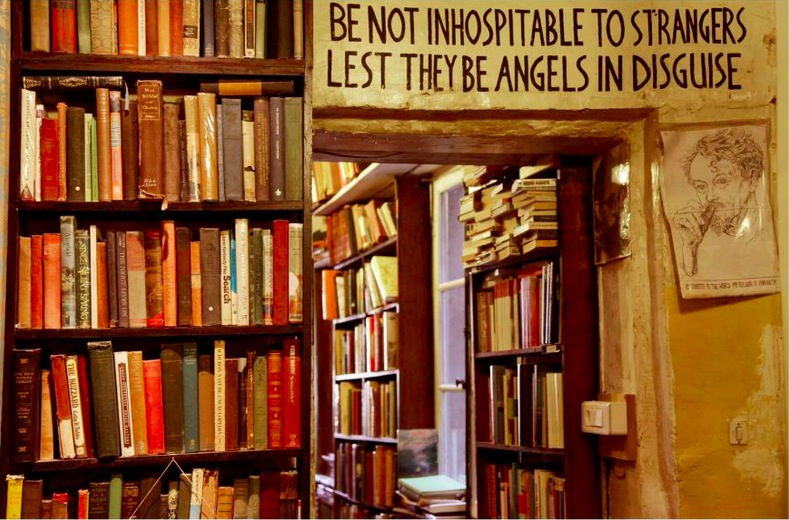 Photo via Shakespeare & Co
Truth be told, when I heard that they were doing Macbeth for a breezy, summer festival, I was skeptical. After all, it's a story with ten deaths and is supposedly cursed. Many actors believe that simply uttering the word "Macbeth" in a theater brings bad luck and instead refer to it as "The Scottish Play." But it all made sense when the director, Cressida Brown, explained that 2014 also marks the centennial of World War I. By setting the play in that era, she's weaving tragic themes from the early twentieth century into a four-hundred-year-old story.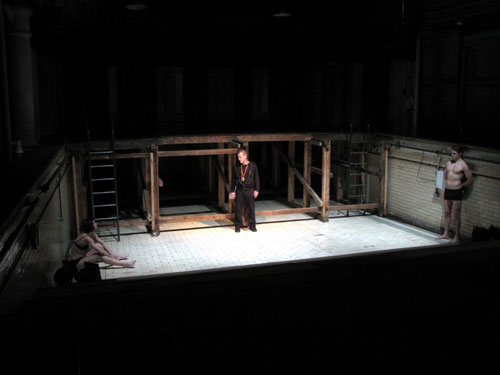 I was admiring Cressida's innovative approach when she casually mentioned that she's used to directing plays in abandoned industrial tower blocks and ancient ruins. She once excavated a derelict swimming pool to use as a theater space. In fact, she's so passionate about theater in strange places that her company, "Offstage Theater," specializes in just that.
Above: The set of Amphibians, staged in an excavated swimming pool. Photo (c) Georgia Lowe / Below:  Photo via Pinterest.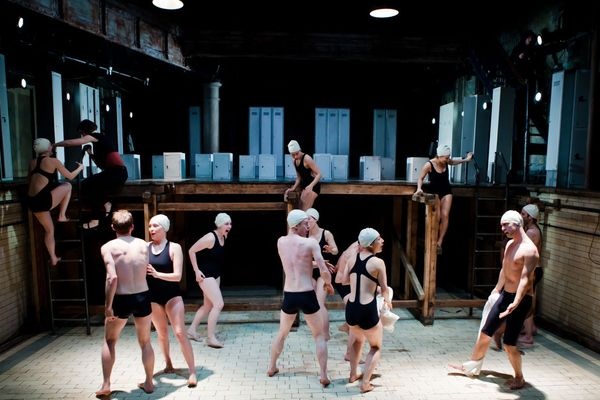 I looked around me. We were now sitting cross-legged on the "stage" of Macbeth—the gorgeous park neighbouring the Shakespeare & Co bookshop, Square René Viviani. The grass was green, flowers were blooming, lovers were cooing nearby… it wasn't exactly a hair-raising location.
"Soooo, why did you choose this place for your play?" I asked. Cressida confirmed my suspicion that its proximity to the bookstore was key, but added: "Once we saw the tree, that was it." I turned to my left.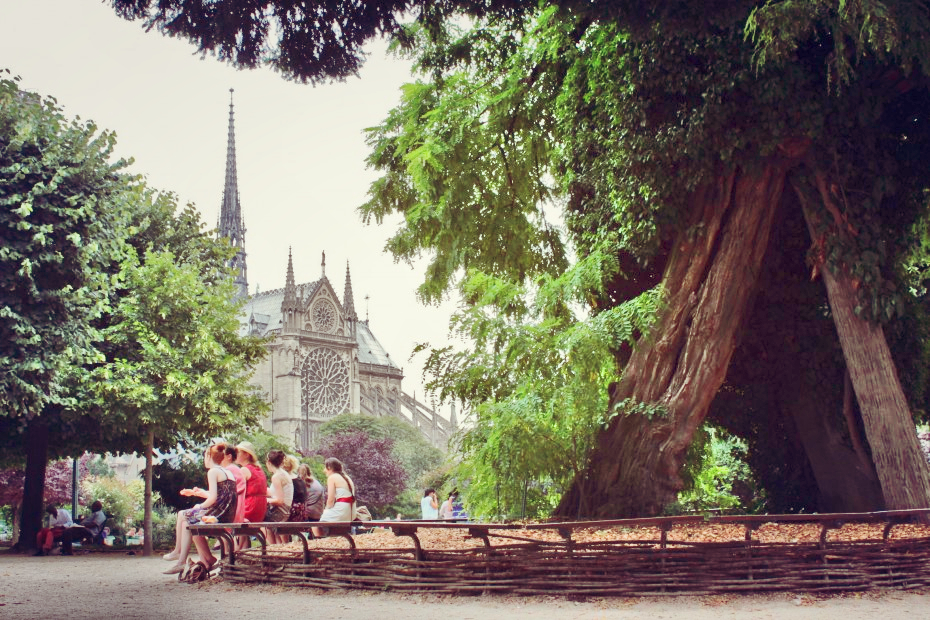 There, planted when Shakespeare was about 37 years old, was the oldest tree in Paris, leaning quietly on its crutch. Cressida confided that the tree is often used by the three witches in the play. Hang on a second. Witches in a play based in WWI? How does that work?
With a devilish twinkle in her eye, Cressida refused to let me in on the secret. Luckily, she let me in on rehearsals…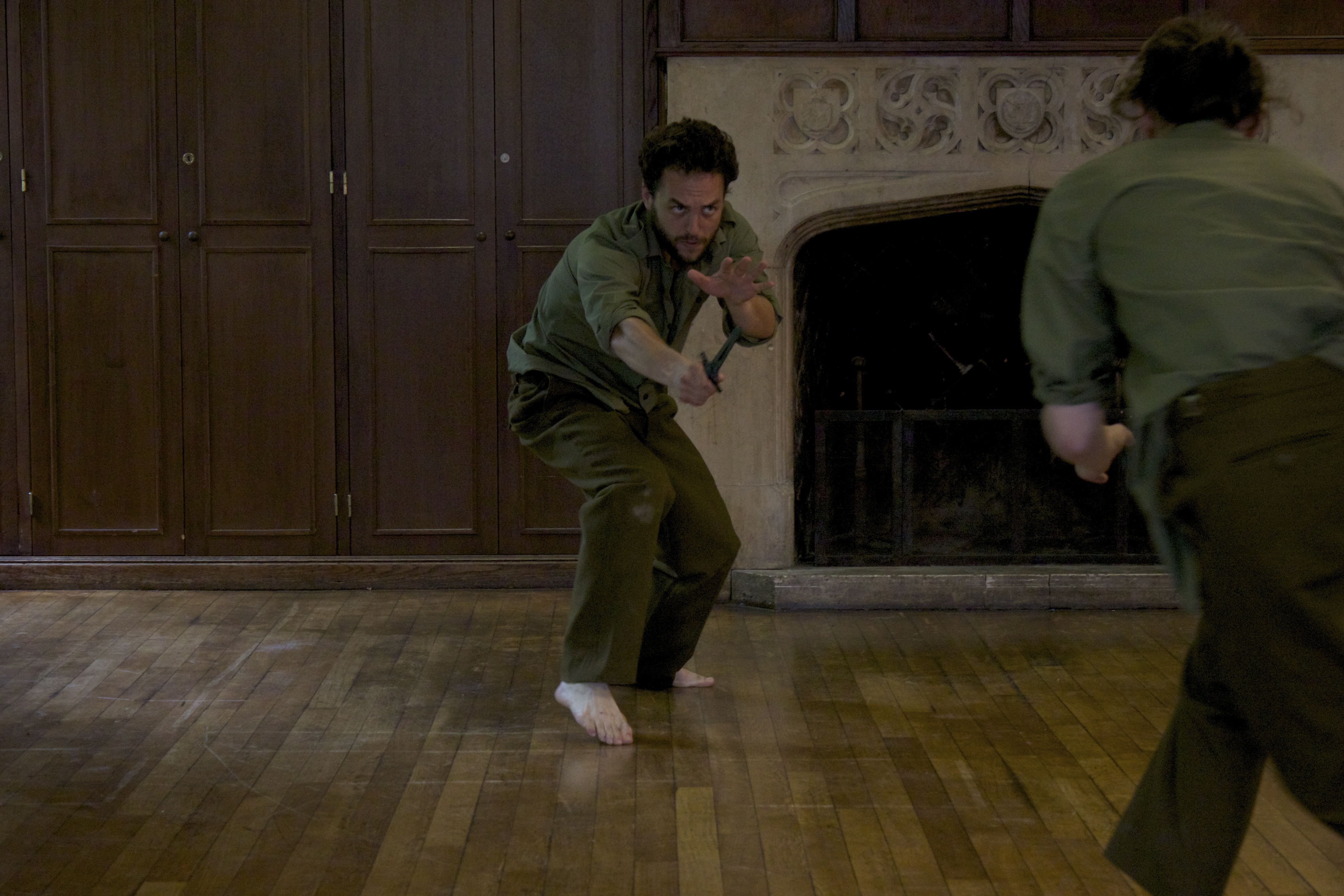 We began at the American Church, which has generously hosted all of their practice sessions and has been very understanding of the occasional bloodcurdling screams interrupting wedding rehearsals.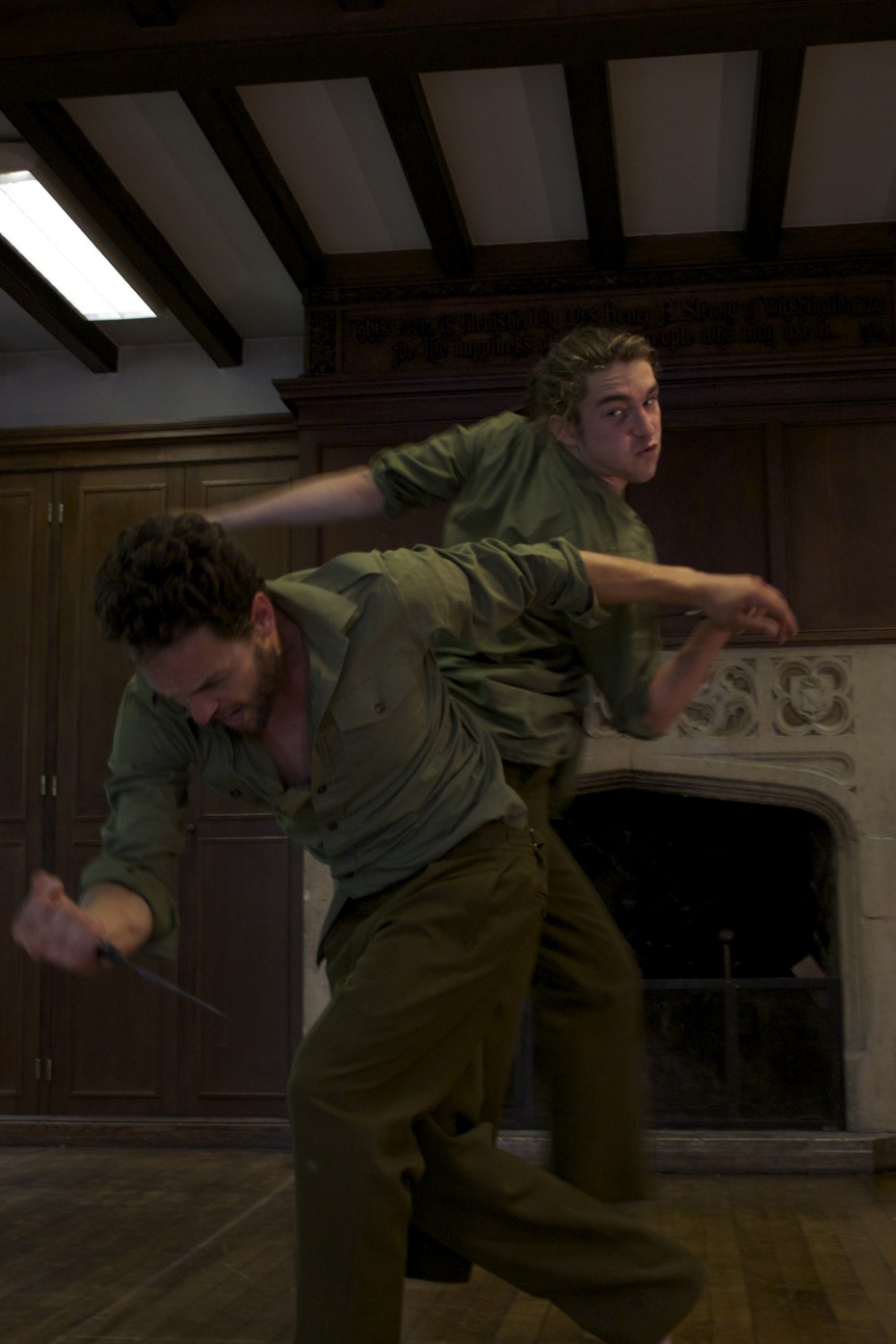 From the final fight scene, between Macbeth and his nemesis Macduff, they moved on to the twisted romance between the protagonist and his manipulative wife…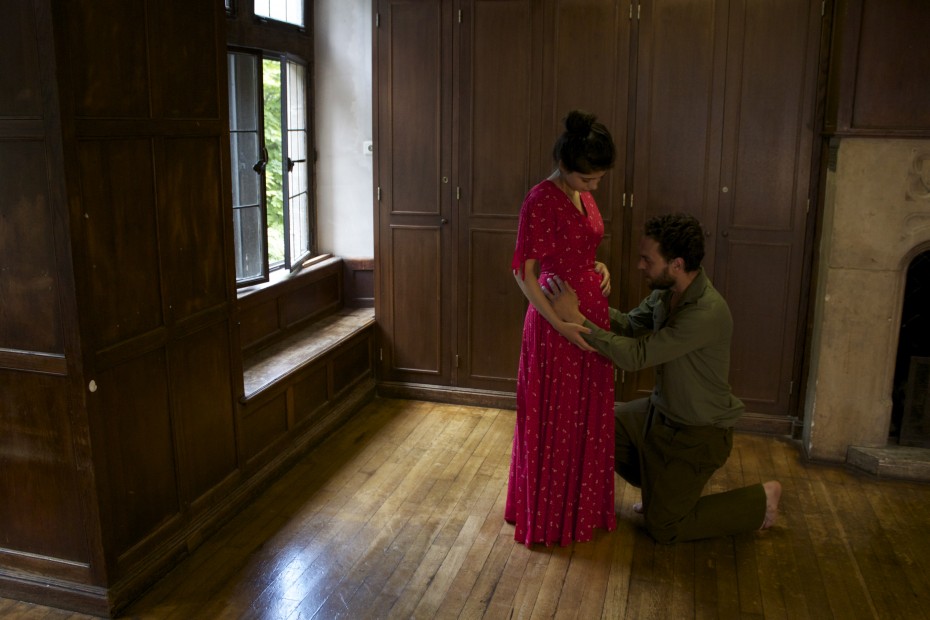 But what was this, Romeo and Juliet? "Exactly!" said Cressida. "Imagine what would have happened if those two teenagers, obsessed with one another to the point of suicide, had lived?" Hmm…
The play quickly became much more than a tale of corruption, murder and madness.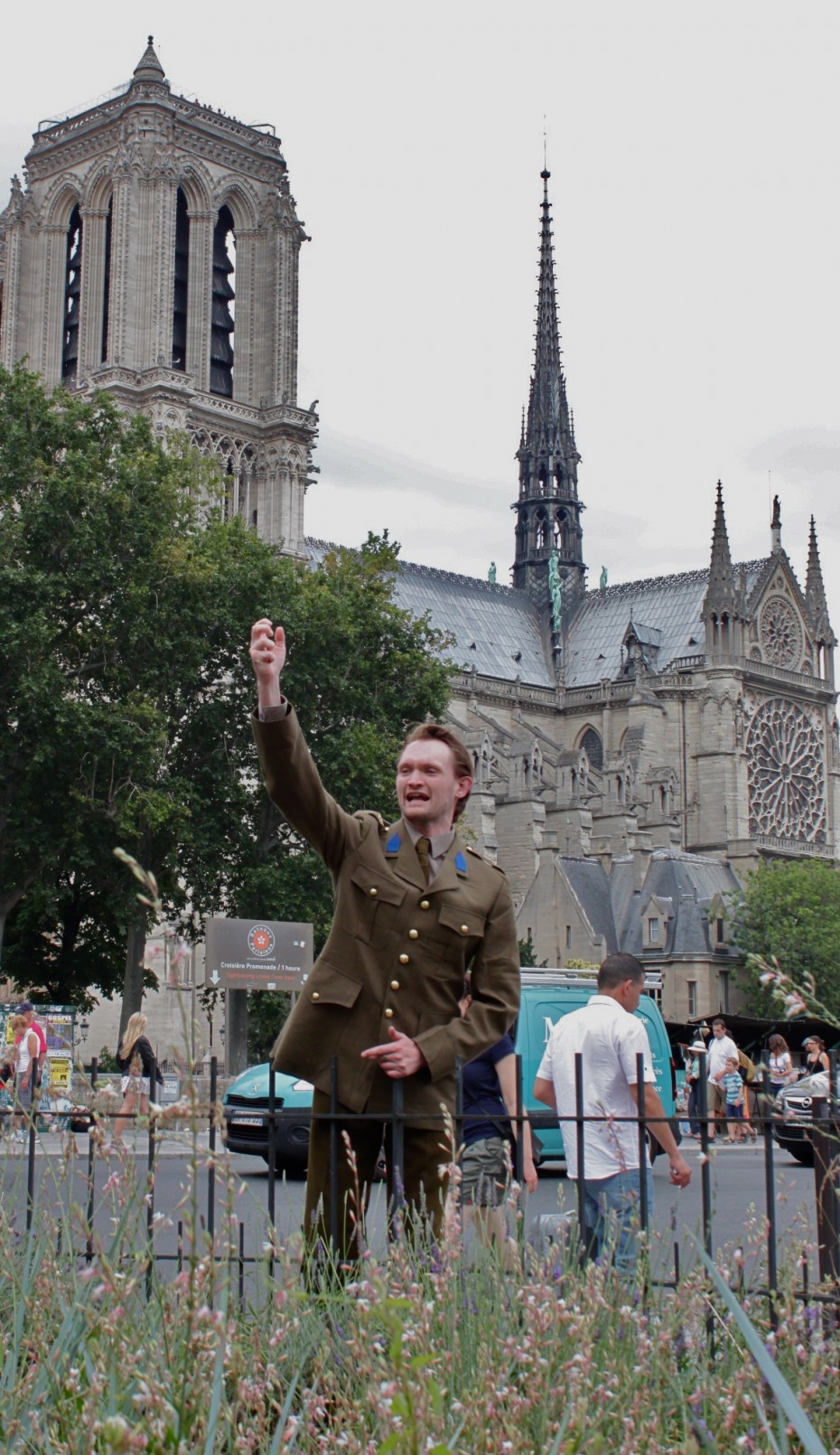 (Tom Cuthbertson as Malcom, Notre Dame as itself). 
The company packed up their things and we headed for the bookshop. Out in the sunshine, my spirits lifted as the best part was saved for last: outdoor Shakespeare performances in the heart of Paris.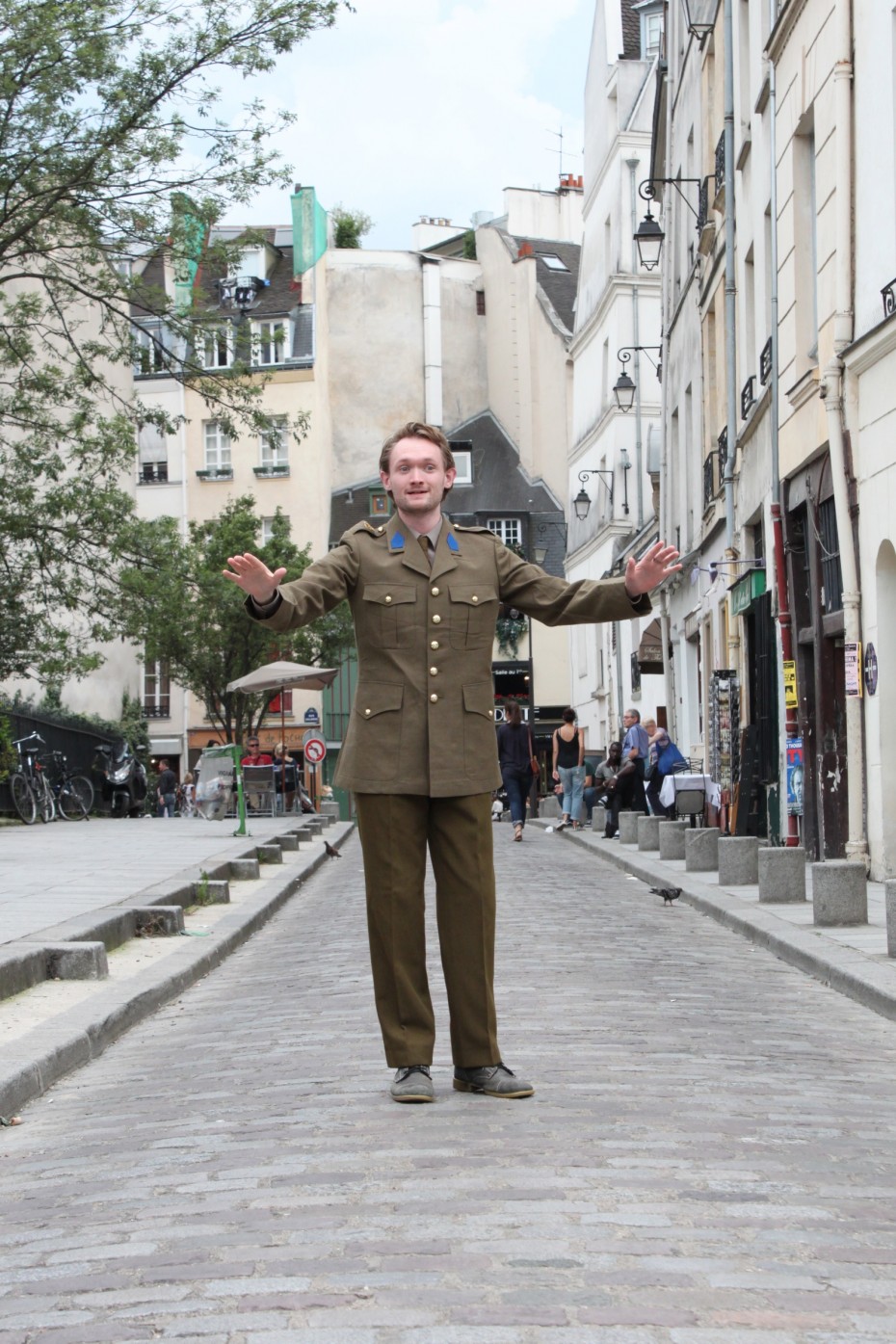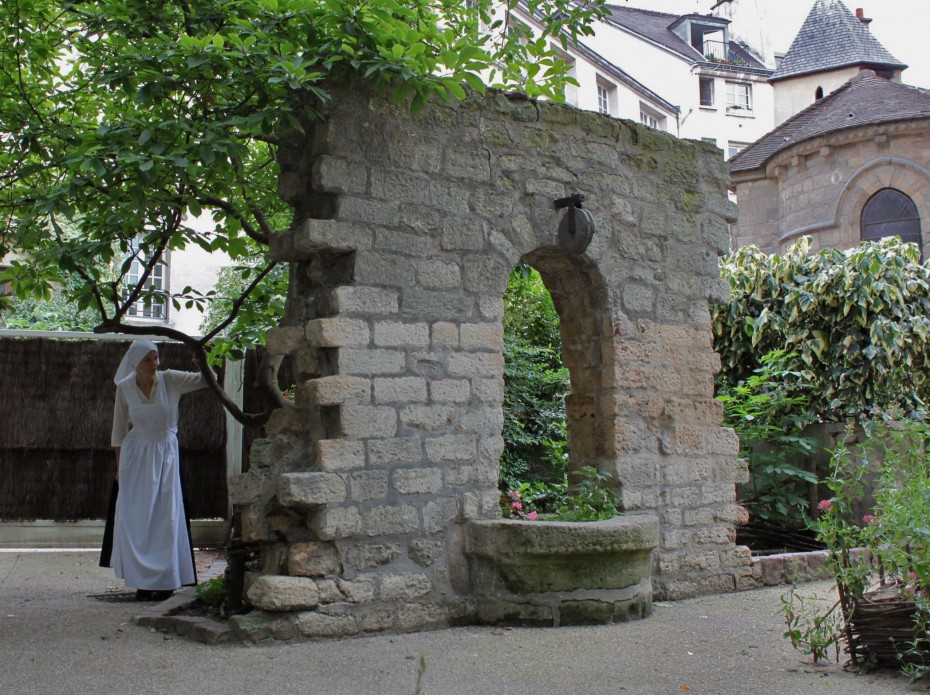 When Paris is your stage  … Vibe Nielsen as the Nurse, worrying backstage about her mistress, Lady Macbeth.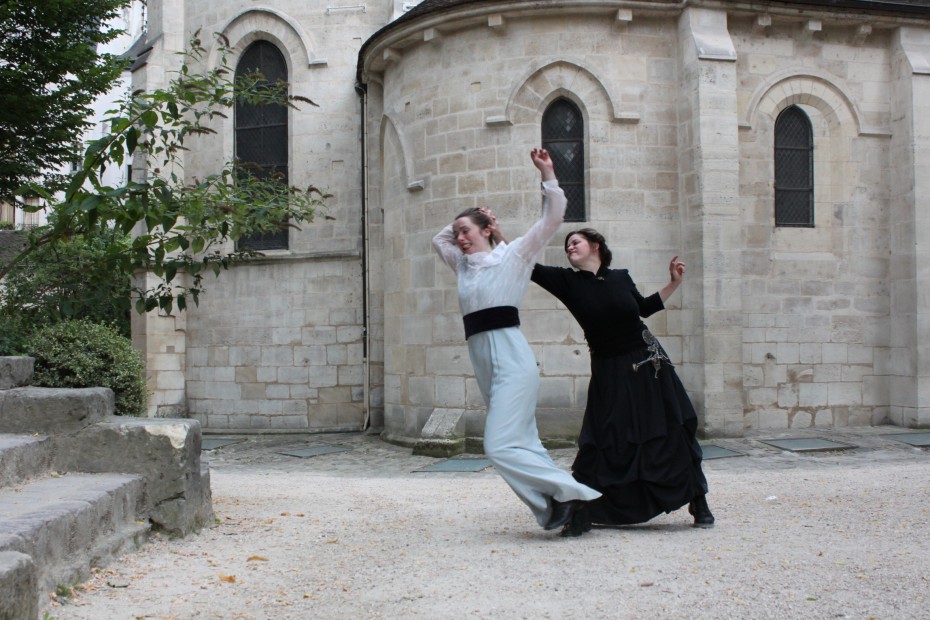 Miriam Neeham as Lady Macduff being thrown by Seyton, played by Vikki Perry. Don't worry, tourists! It's only pretend!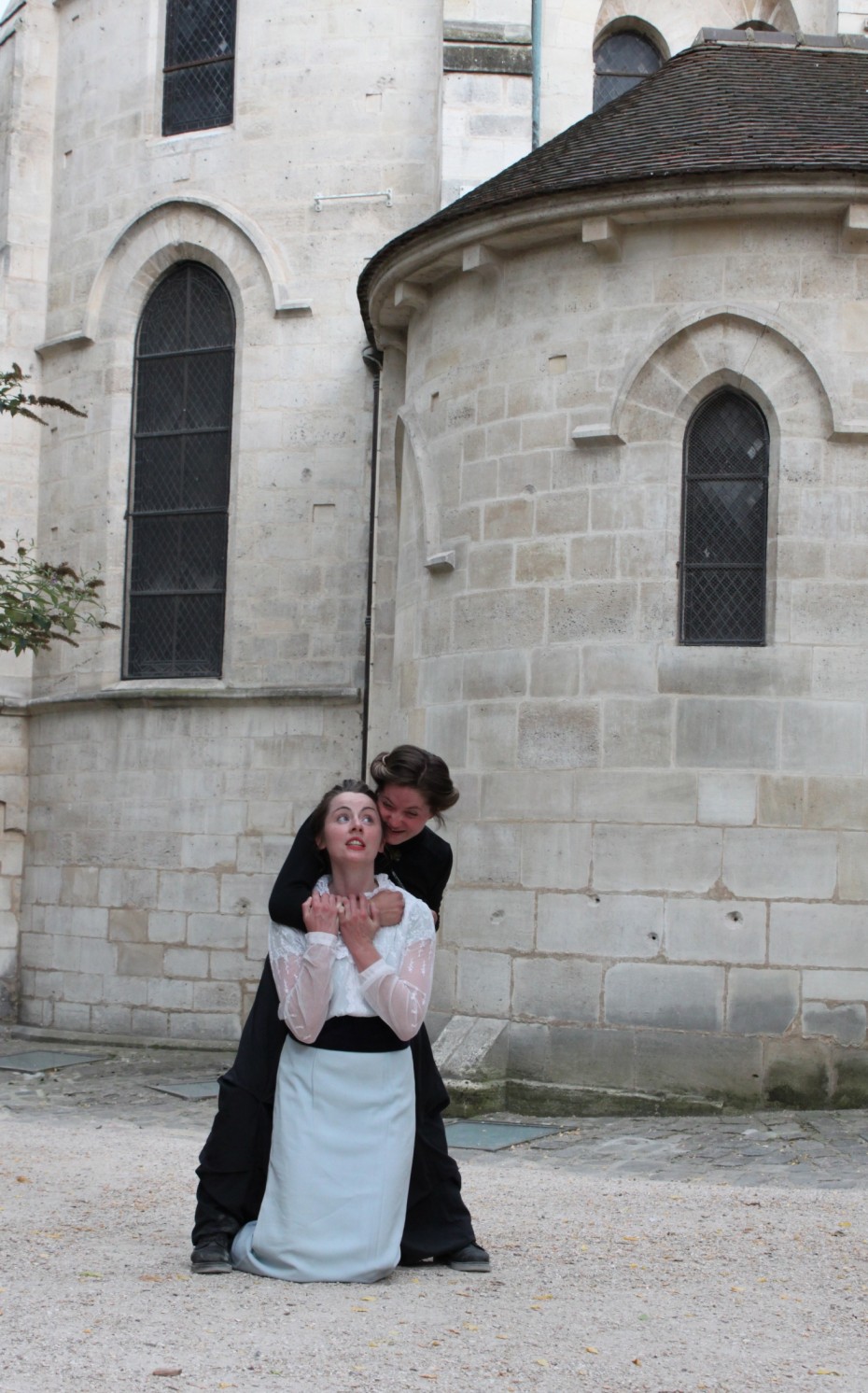 A clap of thunder broke up the theatrical scuffle. The actors hurriedly finished the photo shoot under their favorite tree before the rain came.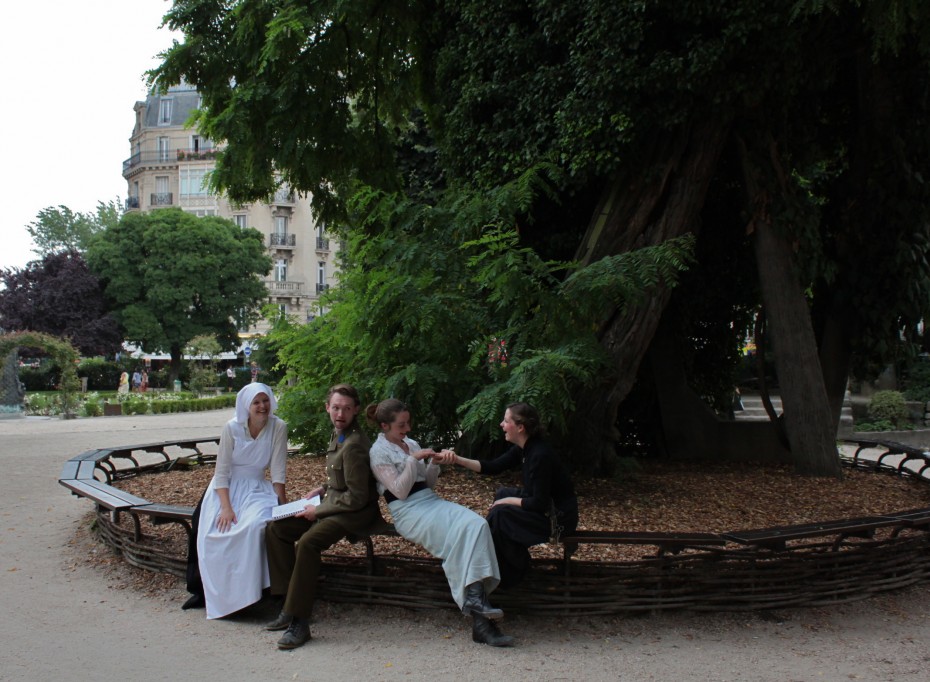 If you're in town this week, come join the Bard-en-Seine festival, which is free to the public, and say hi to these guys!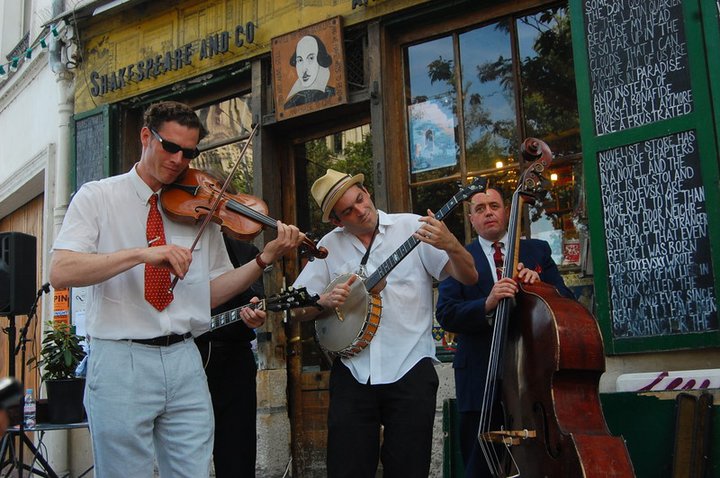 Photo via Shakespeare & Co ; all other photos unless indicated by Rozena Crossman. 
Check out the program:
Wednesday, July 23rd
18h30: Macbeth (Square René Viviani)
Thursday, July 24th
16h30: Alan Riding (author of the Essential Shakespeare Handbook)
17h30: Jazz interlude 
18h30: Macbeth (Square René Viviani)
Friday, July 24th
16h30: Summertime Shakespearean Sonnets, w/ Lola Peploe & Charlotte Corman
17h30: Jazz interlude
18h30: Macbeth (Square René Viviani)
Saturday, July 26th
16h30: Stanley Wells on Shakespeare, Sex & Love
17h30: Jazz interlude 
18h30: Macbeth (Square René Viviani)
Sunday, July 27th 
16h30: A Shakespearean Forest Montage
17h30: Jazz interlude
18h30: Macbeth (Square René Viviani)
Learn more about Shakespeare & Company here.
About this contributor
: 
Rozena Crossman moved to Paris on a whim two-and-a-half years ago. Bilingual assistant by day and adventurer by night, she is relentlessly improving her linguistics in both English and French at the Graduate School of Life.

You can connect with Rozena via her Twitter / Instagram / LinkedIn profiles. 
Also by Rozena: Hunting for the Lost River of Paris